45 Beautiful Tablescape Ideas: The Best Wedding Table Decorations
Planning your wedding reception décor is a really fun part of your wedding planning prep. Your wedding table decorations – from centrepieces to table runners and even napkin choices – allow you to show off your theme, colour palette and creativity.
Whether you personalise your wedding with funny table names, make a dramatic statement with a grand centrepiece or DIY your wedding favours, we have loads of ideas to inspire you.
If you're on a tight budget, cheap wedding table decorations can bring a venue to life; if you can splash out, your candles, flowers and favours will be the perfect finishing touches.
Your guests will spend a significant portion of the reception at their table so put in as much effort as you would for all your other décor. Think about using complementary and accent colours to your palette, and adding height, light, scent and interest to the table (but nothing so high it stops people speaking across the table!)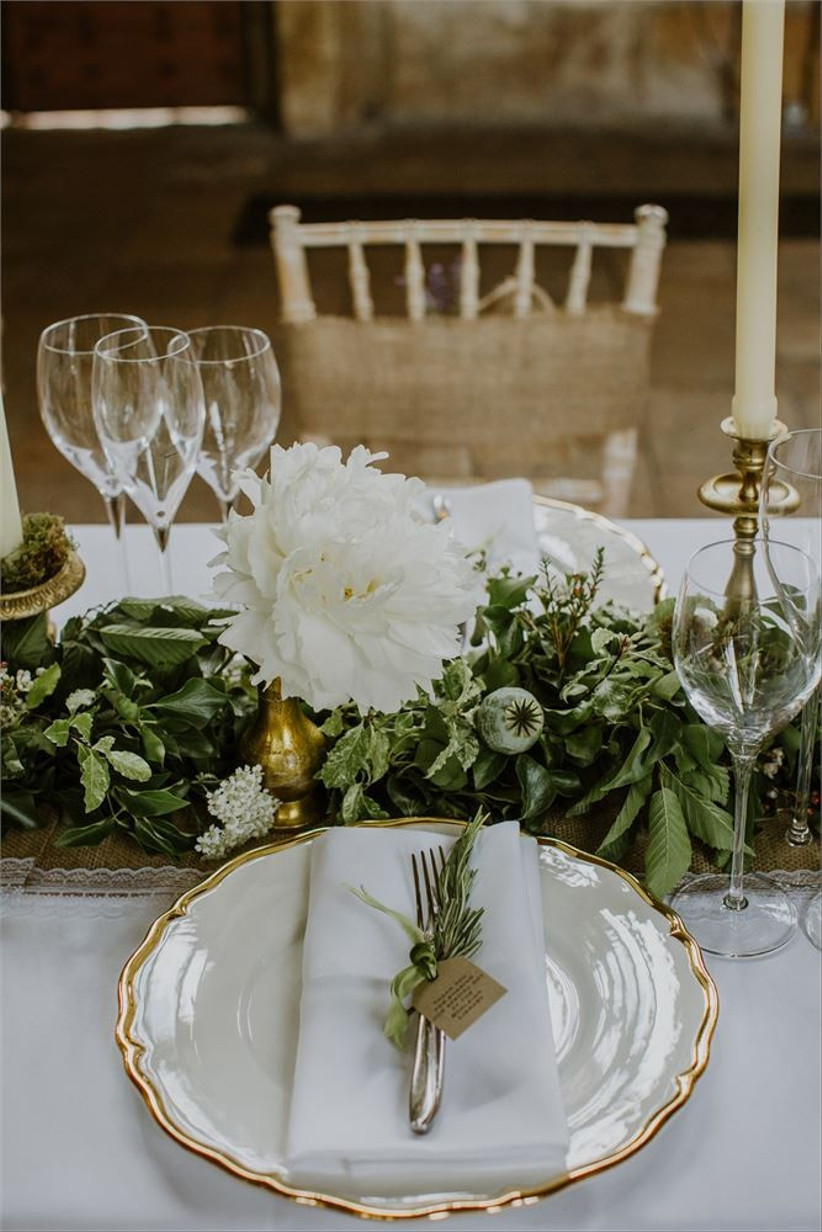 Here are our 45 favourite wedding table decoration ideas:
Wedding Centrepieces
Your caterers or venue will normally provide white or ivory tablecloths as a blank canvas to decorate. At a minimum, each table will need a centrepiece and table name or number, and each place setting will have a place card, wedding favour, napkin, and some additional flourishes, such as a spring of rosemary on top of your menu.
The easiest way to immediately add vibrancy and interest to your wedding tables is with a centrepiece. Here are some of our favourite wedding centrepiece ideas.
1. Build up different levels of candles in jars and lanterns for a warm, modern look that's great with metallics and plenty of green foliage. You'll need to check if you're allowed naked flames at your venue, otherwise use LED candles. We're obsessed with these dripping gold candle holders from Not On The High Street for a contemporary, glamorous display.
READ MORE:50 DIY Wedding Centrepiece Ideas
2. For a rustic wedding centrepiece, logs look amazing. How cool is this personalised log centrepiece that doubles as a vase for these wildflowers! These were handmade by the couple, but you can buy a similar style here.
3. For more wooden looks, try vintage looking wooden crates, a personalised rustic birch vase or slices of log as a base for flowers and candles.
4. Photo frames don't need to be just for photos! Although obviously they're great for that (or displaying table names), we love the idea of filling them with a peacock feather for a stunning vintage idea. It works so well with the purple and gold colour scheme. These frames are resting on brass easels – just £2!
READ MORE:19 IKEA Decor Hacks You Have to Try
5. Mini easels are great for holding polaroids as part of a country chic centrepiece. Pop photos of your happiest moments in them for a unique, personalised table display. These ones are a bargain for less than £2 each from Etsy!
READ MORE:39 Wedding Favours for £1 or Less
6. Fill a birdcage with flowers for a great rustic or vintage wedding centrepiece idea. White cages suit a crown of gypsophila around the base, while metallic ones work with quirky touches like a pocket watch nestled in the middle or a large candle.
7. Small vases and mason jars filled with wildflowers are beautiful as wedding centrepieces.
To turn them into a more dramatic centrepiece, we love this idea of placing them on a base of vintage books. Stacks of your favourite hardback novels (or even random ones from a second-hand shop) work equally as well on their own.
8. Fairylights aren't just for the ceiling. Fill a lantern or fishbowl with them for a cute look as the night draws in. It's perfect for autumn or winter weddings. Make your own using this set of battery-operated firefly lights.
READ MORE:21 Vintage Wedding Décor Ideas
9. Add bunting to your top table decorations. We love Ginger Ray's 'Just Married' hessian bunting for only £13.99.
10. Got a sweet tooth? Marshmallows are a delicious centrepiece alternative. Either fill jars with them or turn them into a cute display like this grass one. They can even double as a small wedding favour.
READ MORE:17 Fun Ideas For Your Wedding Reception
Floral Table Decorations
Flower centrepieces naturally add elegance and romance to your reception tables, but you don't need to go for one big display. With subtle floral and foliage additions, you can transform your table.
11. Your florist package will likely include floral centrepieces for your tables, usually the same flowers as your bouquets with more foliage. You can save money by re-using your ceremony flowers for your reception flowers if there's enough time to move them over.
12. We absolutely love tall floral centrepieces that have space underneath for guests to keep the conversation going.
This works well year round as it's adaptable to each season, for example, use pussy willow branches as your base in winter, or birch branches painted white.
READ MORE:How Much Do Wedding Flowers Really Cost?
13. Succulents make as good wedding table decorations as they do wedding favours. We love the one in the little gold terrarium – a large terrarium can make an amazing centrepiece.
14. Try potted herbs as centrepieces. They add gorgeous scent to your table, as well as colour if you choose a herb like lavender.
Try to match your herbs with the seasons: mint and basil are fantastic for spring and summer, hardier herbs like rosemary and thyme work for autumn and winter.
15. For something completely different, a hanging floral installation creates interest, texture and scent above the table if having too many flowers on it might look too cluttered.
We adore these opulent garlands of white orchids if you have the budget – if not, faux flowers are a great alternative and you can easily hire them!
READ MORE:23 Ways to Add More Flowers to Your Wedding
16. In spring and summer, a smaller selection of vibrant wildflowers is enough to bring a table to life. Choose bright-coloured blooms like cornflowers, foxgloves, cowslips or poppies that are simple but statement.
17. Use fruit to add a whole other dimension to your floral displays. Obviously, avoid soft fruit like berries, but autumn really suits apples, pears and pomegranates, plus vegetables like marrows and little squashes mixed with golden leaves.
18. Winter wedding? Combine pine cones with wintry foliage like boughs of holly, branches of fir, mistletoe and Poinsettia leaves. Fake snow and candy canes give it that little extra festive touch.
Table Runners
If you're holding a wedding dinner with long tables instead of lots of round ones, a table runner is a great way to jazz up a white tablecloth and thread in your colour scheme.
19. Look for accent colours from your flowers for your wedding table runners. Think fabrics like chiffon, silk or linen to add interest to the table, and decide if you want them to run off the end of the table or be the exact length.
Amazon, Etsy and eBay are fab for ready-made table runners – but it's just as easy to head to a fabric shop (even IKEA!), buy the lengths you need, lay them out and leave the edges natural or tie with a ribbon.
20. If you're looking for a rustic table runner, lace and hessian are your best friends. Top with small jars of wildflowers for a boho touch.
21. Boho brides, is there anything more free-spirited and cool than a macramé table runner? You can get them custom-made to the length of table you need for great value on Etsy.
22. Table runners are a great chance to add texture to a plain table. We adore using a long strip of velvet as table runner – it looks so chic! Once again, Etsy is your go-to for any colour you could imagine.
READ MORE:Your Ultimate Month-by-Month Wedding Checklist
23. Not all table runners need to be fabric. How stunning is this bold rose and foliage display against the rustic wooden table underneath. It's accentuated here with tealights and candles in clear and metallic holders.
24. What about incorporating your favourite book? We never advocate ripping up books, but if you find a tatty version in a charity shop, sticking the pages together can be a cool way of giving your favourite story a new life as a rustic table runner.
If you don't want to DIY your own, we love these circular ones and you can request your favourite books.
Table Names and Numbers
Your guests need to know where they're sitting! Alongside place cards, you'll need a seating chart with corresponding names or numbers on the table. They don't have to be a boring addition to your wedding table decorations – especially with these table number holder ideas.
25. A super easy DIY way to display your table numbers is on old wine bottles. You can either leave them as they are, spray paint them gold, or fill them with flowers.
READ MORE:47 Fun and Unique Wedding Table Names
26. If you're having an outdoor or summer wedding, embrace the nature theme with leaves as your table markers. It's an eco-friendly way to number your tables and lots of exotic leaves are more than big enough!
27.Mini chalkboards are ideal for table numbers and you can use extras to label your dessert table, card table, buffets and more.
28. Photo frames are really versatile for naming and numbering tables. Ikea's Lerboda picture frames are £3.50 each and can easily be filled with dried flowers, photographs or leaves. All you need do then is write on the table numbers. We love this chic metallic frame from H&M the most.
29. Hold printed table numbers in the same style and colours as your invites in mini easels.
Table Confetti
You'll likely have had a shower of confetti over you as you walked out your ceremony. Now it's time to continue that theme with some confetti as a wedding table decoration. It can instantly jazz up a plain white tablecloth.
30. What better confetti than personalised confetti! You can choose from nine colours including gold, silver or rose gold glitter for these table confetti pieces that can be personalised with whatever names or short message you'd prefer.
31. Make a quick impact with wooden table confetti – it's a bestseller on Etsy for a reason! We adore this love heart design.
32.Table crystals add glitz and shimmer to your reception tables easily and cheaply. As a replacement to confetti, they definitely have one big advantage – they're so much easier to clear off tables at the end of the night!
33. For a winter wedding, these mini bells make for a super fun confetti alternative! It won't just be the young guests who love rolling these around the table.
READ MORE:How to Make Your Own DIY Confetti Cones
34. And of course, the classic petal confetti must get a mention. Made from biodegradable dried petals, it's the eco-friendly option. Go for an accent colour that complements with your overall flower theme.
Place Cards
We've got a huge number of ideas for your traditional place cards. Here are some ideas for place settings that'll make a big impact that you might not have thought of.
35. Give your guests a pot plant as a wedding favour and a place setting. It kills two birds with one stone and they'll have something to plant back at home to remember the day.
READ MORE:The Prettiest Wedding Place Cards
36. We've got quite the thing for wax seals at Hitched – aren't they stunning? Amplify a plain place card with a bit of calligraphy, a gold wax seal and a leaf. Simple.
37. Heck, why not go for a big leaf as the whole place card? It's environmentally-friendly to choose something biodegradable over paper or plastic, and it adds a cool, tropical vibe to the table.
38. Doesn't that look as pretty as a peach. Wedding table decorations can be a simple as a peach used to hold your place cards as long as it works with your theme.
40. Little vases can make a big statement. Here the couple have used thistles – ideal for a Scottish wedding. You could follow the theme with other traditional flowers, such as the daffodil for Wales, rose for England etc, depending on where you're from as a couple.
READ MORE:20 Ways to Display Flat Place Cards
41. Pine cones aren't just for Christmas – use them any time of year as an easy way to hold your place cards.
Place Setting Garnishes
There are plenty of quick things you can do to make your place settings more beautiful. It depends whether you put your wedding favours on top of the place setting or not. If not, then these simple wedding table decorations will transform your place settings.
42. A piece of fruit like these satsumas immediately adds vibrant colour and scent to your wedding table. Adapt to the seasons so the fruit is cheaper and fresher: apricots and kiwi fruit in spring; cherries, peaches and nectarines in summer; apples, grapes, plums and figs in autumn; lemons, pears and pomegranates in winter.
READ MORE:26 Personalised Wedding Favours Your Guests Will Love
43. Most venues will provide tablecloths and napkins for you in your package. However, you can up the ante with some gorgeous personalised napkins on your place settings.
44. A bit of coloured muslin tied with a ribbon and topped with a sprig of herbs or leaves is fantastic for rustic weddings. You can DIY these so easily or buy ready-cut squares of muslin.
45. Acrylic is one of the hottest trends for this year. We love this acrylic menu which will work with any colour scheme or theme.
If you're looking for more reception decor ideas, check out our favourite wedding decor under £10.
Sours: https://www.hitched.co.uk/wedding-planning/ceremony-and-reception/wedding-table-decorations-for-your-reception/
The table layout of a wedding reception can be challenging to plan, but a good table set up for a wedding encourages mingling, conversation, and celebration. By planning the tables carefully, the bride and groom can ensure their wedding reception is a success.
Sample Wedding Reception Table Layouts
No matter how long the guest list, the wedding reception table ideas must be planned carefully. The venue's dance floor location or bar may determine where tables are set. However, it still helps to have a few examples of wedding table set ups to work from for ideas.
Related Articles
Basic Design for Modification
This is a basic table layout design for a rectangular space. The food table (or bar, if food is served by wait staff) and the head table are on opposite ends of the room. You can modify it for any size of wedding needed; just eliminate or add tables in the center. It's especially nice for a small room.
Centered Dance Floor Design
This is a set-up that has the dance floor front and center. It allows people to see both the head table and the dance floor at the same time. Centering the dance floor means everyone has a great view of the special wedding dances and songs and no one is placed too far back. Place your VIP tables (parents, grandparents, special guests or attendants not at the head table) between the head table and dance floor so they are close to everything.
Rectangular Table Design
If your reception doesn't have many round tables, you'll have to create a design that works with rectangular tables. It's also a good design for large weddings, and shows how to set up long tables for a wedding reception, since rectangular tables can frequently seat more people in the space. Try to keep room between the tables without people seated on the ends so that there's plenty of space for movement. Rows may not be the most exciting design, but they are efficient. Make sure the dance floor and head table are in full view of the tables. You can designate just the front part of the VIP tables for their seating and leave the rest for general guests.
Room Layout Considerations
Factors to consider when planning the wedding reception table layout include:
Dancing: Enough space should be left for a dance floor so guests can dance the night away without crowding.
Visibility: Key spaces for reception events need to be clearly visible from all tables. The couple's grand entrance, first dance, cake cutting, and wedding toasts are popular photo events and guests will need good visibility to capture these romantic moments.
Movement: There should be enough space between tables to allow for smooth traffic flow to restrooms, a buffet area (if necessary), the bar, the dance floor, and for general mingling.
Lighting: Tables should be positioned effectively for the available lighting. For an evening event, be aware of how a setting sun may blaze through windows, and be sure there is plenty of light for guests to enjoy dinner.
The Head Table
The head table is one of the most important at the wedding reception. In addition to the bride and groom, other individuals commonly seated at the head table include the couple's parents and the bridal party, or at least the maid of honor and best man depending on the available space. For the head or wedding party table to look its best:
Decorations: Add extra head table decorations to distinguish it from other reception tables. Backdrops, special lighting, and elaborate centerpieces are easy ways to make this table stand out.
Face guests: Keep everyone at the head table facing the guests. Round tables are generally inappropriate for the head table.
Elevation options: Keep the table visible. Tiered or elevated designs are popular, especially for large bridal parties.
Individual Tables
Once the head table has been placed, couples should start planning the wedding reception seating chart and other details for individual tables. Items to consider when planning individual tables include:
Personal space: Cramming too many guests at a single table will be awkward and uncomfortable. The number of guests a table can seat depend on the table's size and the type of meal: guests will need more space for a full, formal dinner than for light snacks.
Children: If there will be children at the wedding, they can be grouped together if they are old enough to sit away from their parents. Younger children should always be seated next to at least one parent, grandparent, or guardian.
Ease: A large reception may have a complicated layout, and there should be an easy way for guests to find their seats. Place cards are popular, or place a labeled table diagram near the entrance.
Miscellaneous Tables
While not all of these tables will be needed at every reception, knowing how to place them effectively will help keep the reception both beautiful and efficient.
DJ: The wedding DJ or band may need special table arrangements. It is best to place these tables near the dance floor or room entrance.
Gift table: Guests may bring gifts to the reception and a display table can showcase them elegantly. The table should be placed in a discreet location away from the entrance for better security.
Guest book table: To encourage all guests to sign the guest book, this table should be in a visible location near the entrance. Many couples opt to put the guest book table in a foyer or other prominent location.
Wishing well: Like a gift table, a wishing well should be discreetly placed where it is more secure but still visible.
Cake table: The cake has a special moment during the reception and should be placed in a visible location or have enough décor around it to make it noticeable. At the same time, be sure there is enough space around the cake table for pictures without any danger of the cake getting damaged by a crowd.
Use Your Venue's Suggestions
Most reception venues will have sample layouts available to assist couples with planning the table layout of a wedding reception. Planning the tables for a wedding reception can be complicated, but good planning will help the reception flow more smoothly and be more enjoyable for everyone.
© 2021 LoveToKnow Media. All rights reserved.
Sours: https://weddings.lovetoknow.com/wiki/Table_Layout_of_a_Wedding_Reception
Beautiful Ideas for the Welcome Tables at Weddings
Every country around the world has different wedding traditions, they even differ from area to area. And it is up to the bride and groom to choose which tradition they want to include in their wedding and pre wedding events.
When it comes to weddings in the Arab world, there are many common traditions such as the Zaffa (The bridal entrance), the wedding favors, and one of those traditions it the wedding table for your wedding guest filled with delicious treats and favors.
One of the wedding details or traditions in the Middle East and specially in the Gulf region is the welcome wedding table known as "Istekbal", or welcome tables.
These tables are usually placed outside of the wedding venue or wedding hall, usually at the entrance of the wedding hall. And brides are getting very creative when it comes to their wedding welcome tables.
The details on the wedding tables and the decorations can be whatever you want them to be, let your creativity flow and choose something that will suit your wedding theme and colors.
Your welcome wedding table should complete your wedding style and vibe and not clash with it. Make sure your welcome table compliments your wedding and prepares the wedding guests of what is waiting for them inside the wedding hall.
Some brides choose to have their place cards on their wedding tables, with some sweet treats, another idea is to have your wedding favors or even your guest book surrounded by delicious sweets or candy. There is no limit to how creative your welcome table can be, so feel free to bring new ideas and ask your wedding planner for some unique ideas as well.
Many brides in the GCC choose to have some perfumes and oud and even some bakhoor on their welcome tables, to pamper their wedding guests before entering the wedding.
Brides are always looking for the latest ideas and the most creative ways to decorate their welcome wedding tables, and this is why we chose some beautiful ideas and pictures to help you create your welcome wedding table.
To help you create the most beautiful welcome wedding tables, we bring you some great ideas, with different themese, colors, and details, take a look at these amazing welcome wedding tables and get inspired for your wedding.
Sours: https://www.arabiaweddings.com/tips/beautiful-ideas-welcome-tables-weddings
Create Your Own Greenery-Filled Wedding Decor with Lynzie Kent
21 Ways to Set Up a Card or Gift Table at Your Wedding
You've put together an amazing wishlist of items you know you'll love. Now, it's time to figure out how you'll collect the presents your guests purchase. Many modern registry services let buyers send gifts directly to the couple, and even if that's not an option for you, well-wishers who have your address might anyway. That being said, it's never a bad idea to prepare to receive presents in person at the wedding itself. Whether somebody just didn't get the memo or simply prefers to hand-deliver the gift, it'll be awkward if they aren't sure what to do with it once they arrive on the big day. So, we recommend designating an area of your event space for this purpose. Here, we're offering some pretty and creative ways to accept presents at your celebration. While a standard wedding gift table is certainly an option, it's just the start.
If someone's bringing something to the wedding, it's probably a card. In turn, we've rounded up some unique ideas for where to have guests put their envelopes. Our suggestions range from modern glass boxes (like this one planned by Ashley Gain Weddings) to vintage-themed receptacles, so you can be sure there's something included to match your event's theme. Celebrants might also bring bigger gifts, so we've featured suggestions for that, too. Those include plenty of decorating inspiration for tables, wagons, and more.
Click through to find a gift-collecting method that suits your wedding's needs. Now, all that's left to figure out is how to get the presents home!
Sours: https://www.marthastewart.com/7869866/wedding-gift-table-ideas
Design wedding welcome table
18 Ideas for Your Wedding Gift Table
01of 18
Mix Rustic With Romance
A reclaimed wood and glass card box brings a bit of rustic flair to the mix. Tuck it in amongst a beautiful floral arrangement at the welcome table, right where guests are sure to spot it.
02of 18
Create a Bed of Roses
Dreamy watercolor florals are the standout moment of this gift table. Find a unique side or accent table that looks great on its own and drape it with a custom-dyed silk runner to create a focal point that guests can't miss.
Use slate to create signage with stunning calligraphy, and house cards in a beautiful glass box lined with coordinating flowers, creating the illusion of the cards floating on a bed of florals.
03of 18
Use a Chalkboard
Chalkboard signage is definitely a creative way to share pertinent information with your guests and is an especially appropriate tie-in for a barn wedding, or even a modern affair in a renovated industrial warehouse. Combine your efforts to keep things ultra-simple: Place the guestbook at the gift table as well.
04of 18
Combine Your Efforts
There are plenty of creative ways you can give direction to your guests to ensure a smooth transition from ceremony to reception. One of the most common ways to do so is with an escort card table for guests positioned at the entrance (or at least close to) the reception space. It makes total sense to combine both the seating assignments and gift table into one space, ensuring any last-minute drop-offs make it to the right location before guests sit down and enjoy the party!
05of 18
Add Something Personal
When it comes to your big day, the more personal touches, the better. Decorate the gift table with gold leaf-covered resin letters that signify the initials of the happy couple. We also love the idea of a custom monogram sign. Either way, this is one element of decor that you can repurpose long after the wedding day is done!
06of 18
Think Outside the Box
A country wedding doesn't always mean 'down on the farm' but sometimes it just makes sense to do so! An old-fashioned hay way will undoubtedly serve as an inventive, out of the box gift table, perfect for an outdoor bash.
07of 18
Keep It Minimal
Perfect for a modern affair, opt for an acrylic card box for the gift table. Keep it closed with a delicate piece of silk or satin ribbon tied in a bow as the accent on a gift table that exudes romantic simplicity.
08of 18
Give It a Glow
Who can say no to a gift table bathed in candlelight? Use a variety of candles, from taper to pillar and even floating, to create an ethereal glow that will totally set the mood for your romantic affair. 
09of 18
Light It Up
Consider purchasing or even renting a large lantern to serve as the receptacle for the cards guests are sure to deliver on your big day. Repurposing a previously used lantern that's large enough and functional enough to allow you to place cards inside is a unique alternative to the standard card box, and when lined with moss or succulents, will serve as your own elegant version of a terrarium.
The 16 Best Wedding Lanterns to Light Up Your Big Night
10of 18
Do Something Unexpected
No matter your wedding style, when it comes to bringing your design to life, it's all in the details. A floral-adorned mailbox is a creative alternative to traditional card boxes. 
11of 18
Make Something Custom
We love the idea of going totally custom for the gift table. A custom card box decal will ensure you get every detail just as you want it, whether you're planning a wedding by the sea or a destination wedding in the French countryside. 
12of 18
Stick to the Theme
This decorative box is giving us major miniature greenhouse vibes. Ideal for a garden wedding, a simple sign will alert guests to exactly what the cardholder is for, and can even make a great accent piece for your home in the future.
13of 18
Use Something Unique
Incorporate musical accents throughout the day, right down to the guest table. An open guitar case boasts plenty of room to hold the bevy of gifts and cards you'll undoubtedly receive, and absolutely set the tone for the fun affair that awaits.
14of 18
Add a Touch of Whimsy
For a fairy-tale wedding, nothing could be more perfect than a chariot gift table to match. Adorned with baby's breath and a hand-calligraphed sign, this pretty wedding gift table will surely draw eyes all evening long.
15of 18
Utilize Antiques
We're all about great accent pieces on a wedding day. A mid-sized antique mailbox is a clever alternative for cards, while also being a fun, unexpected accent piece to weave into your décor—we love it for a backyard wedding at home.
16of 18
Find a Decorative Box
A decorative box is always a pretty pick for your wedding gift table, and when it comes to options for shapes and sizes, your choices are practically endless. This shabby-chic painted glass option feels ideally suited for beach, seaside, and nautical-inspired weddings, as well as tropical destination weddings, too.
17of 18
Keep It Rustic
Fall weddings beg for rustic details. This antique wagon was painted and transformed into a clever gift table for an outdoor bash, but we think wagons of all sorts of shapes and sizes could work for this purpose (once they've been cleaned up a bit).
18of 18
Use a Birdcage
Keep it simple and easy: Guests can slip their cards through the bars of a pretty, decorative birdcage. With a moss-lined tabletop, leave just enough room for gifts to be placed on the table and plan to pile them high underneath.
Sours: https://www.brides.com/wedding-gift-table-5101057
Round Vs Long (Farm) Tables at Wedding Receptions
And in fact, it turned out such a position that Oksana's boobs hung nipples down, not covered by anything. And then Andrei quickly clicked the camera. - Oksanochka, now let's take it off the back.sit with your back to me, neck slightly to the right, excellent.
You will also like:
And also. also smelled of a man. a male. Probably not normal, but smells give birth to me.
1117
1118
1119
1120
1121