How to Create Slow Motion in After Effects CC? - [2021 Update]
Adobe After Effects have always been considered as the industry-standard tool that is ideal for video production. It makes it possible to create great visual effects such as slow motion, fast motion, motion graphics design, video compositing, and animation among others. But After Effects is not user friendly to all users, especially when you're a beginner of video editing. Thus, learning how to create slow motion in Adobe After Effects can be quite beneficial when you wish to make a slow motion video for special purposes.
But how?
This article is going to show you a step by step tutorial on how to create slow motion in After Effects. If you have question on it, just follow the tutorial directly.
In advance, I also pick up an alternative software to After Effects, which provide you an easier way to create a slow motion video. And this method is more suitable for beginners and semi-professionals.
Now, let's get started.
Adobe Slow Motion Video Editor: Making Slow Motion Video in After Effects
In fact, Adobe After Effects provide users with two different ways to create a slow motion video, they are:
- Using Time Stretch to slow down clip in After Effects;
- Using Time Remapping to create slow motion in Adobe After Effects.
Now, let's to check these solutions one by one.
How to Create A Slow Motion Video in After Effects Using Time Stretch?
Speeding up or even lowering a specific layer all through the video segment is known as time-stretching. When you time-stretch a given layer in the video, the original frames within the footage and the audio gets redistributed within the set duration.
Step 1: In the composition panel or timeline, select the layer. Move the selected window into the composition icon. Move over to the preview then click on it to check the project.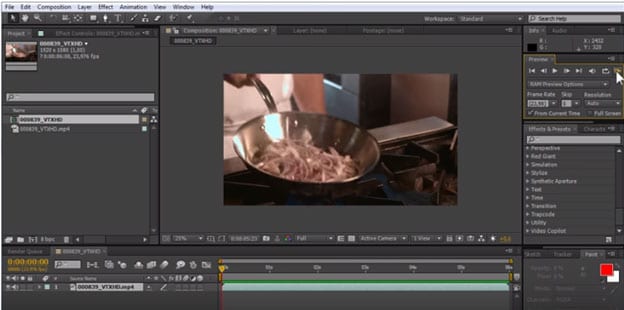 Step 2: Move to the effects and presets tab then choose the time effects collection. Click on time warp effect then drag and drop it down to the track timeline.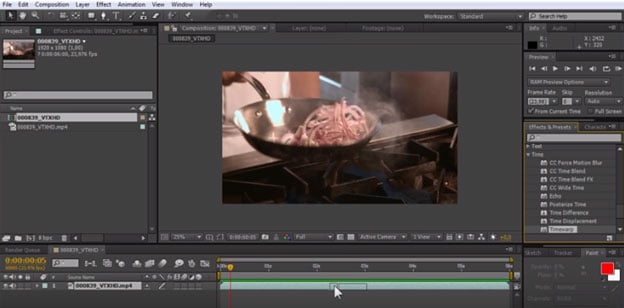 Step 3: Head to the effect control window then set the speed value to 100 or preferred speed value then press enter. Move to the effects tab then open the time warp option.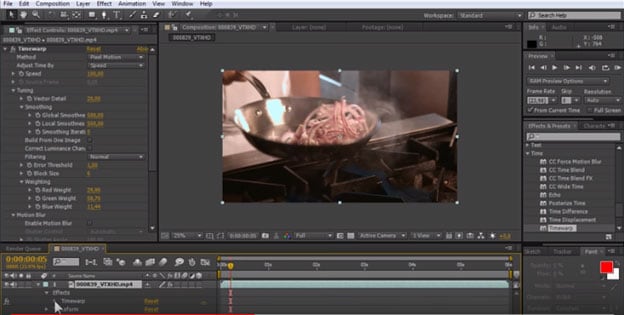 Step 4: Head to the timeline and set the time indicator to the required position. You can then create a keyframe by pressing on watch icon inside the track options window. You can then move the time slider and create another keyframe then change speed value.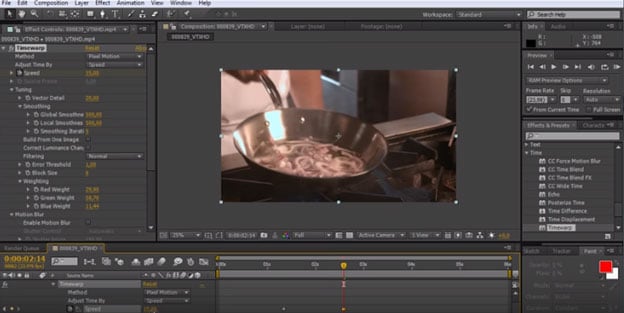 Step 5: Move the slider again and create the third keyframe with the same value. Create a forth keyframe with the original value. Once it's done, select all the keyframes by holding on the left mouse button and right click on them. Select the keyframe assistant from the menu then select the easy ease option. These actions smooth up the frames playback.

Step 6: Head to the preview tab and click on it to preview the results.
How to Create Slow Motion in After Effects by Using Time Remapping?
Time-remapping enables users to expand, play backward, compress, or even freeze a portion of a layer within a video. If in case you are playing the footage of a walking person then you can use aftereffects slow motion to create as if the person is moving forward or backward.
Step 1: Head to "File" then select "new project > new composition". Select the frame rate to 60 seconds similar to what the video has.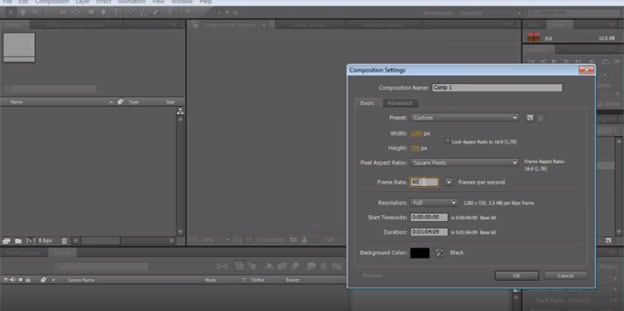 Step 2: Drag and drop your video then right click on it and select "Time > enable time remapping". It will then allow you to enlarge the video time.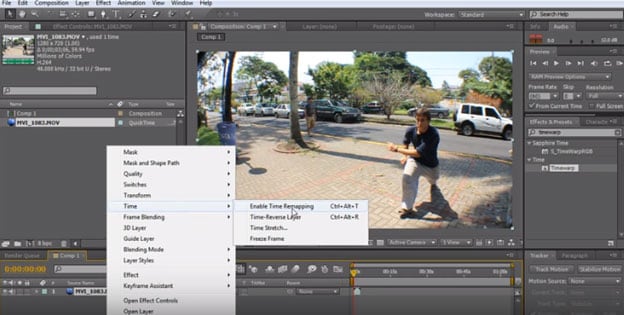 Step 3: Head to the effects column and look for time warp then drag and drop it into the video. You can then check the settings out. You can change the speed from 50 to 100.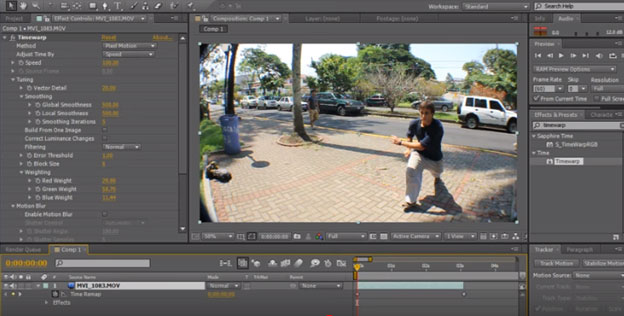 Step 4: Head to the effects and click on speed. You can move the frame and make another one, choose 2% of the overall speed. You can make another frame and choose speed value as 100. So the video starts at 100 then it begins to get slower up to 2% then it gets back to 100.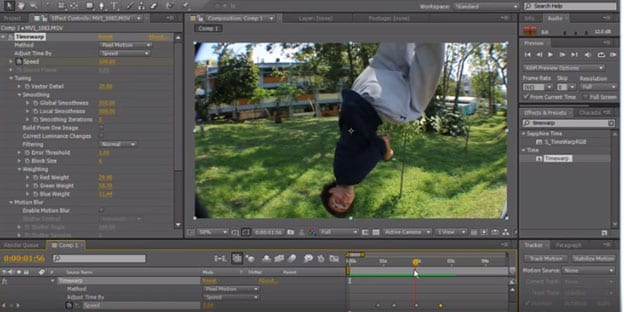 Step 5: You can then render it and see how it works. The video is in perfect slow motion.
Sum up
Obviously, even though the above steps is very clear to guide how to make slow motion video in After Effects, but some of you might still feel frustracted and complicated on handling an After Effects, right?
Thus, an alternative software to Adobe After Effects called Filmora Video Editor comes here to help you simplify the process of creating slow motion videos on Windows or Mac computer. Let's check them next...
Can't Miss:Check the Best Adobe Video Editing Software in 2018
---
Filmora Video Editor - Best Alternative to Adobe After Effects
There are several video editing software available in the market and selecting what is ideal can be quite a challenge. Here, I'd like to recommend a tool called Filmora Video Editor or Filmora Video Editor for Mac for your reference. It is known as a powerful tool and very intuitive video editing software that enables users to change various aspects of a video. Features such as tilt-shift enable users to focus on a specific portion of the video. Users can also blur specific parts of a video and even adjust the percentage accordingly.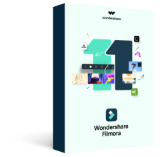 Filmora Video Editor
Quite easy to learn and suitable for both basic and advanced video editing.
Offer great editing tools alongside various effects such as elements, slip screen, filters, overlays and more.
Provide super fast way to speed up or slow don clip in any video formats.
Support to output edited videos to specific video format, target device or upload to website like YouTube, Viemo, burn to DVD as you like.
...
Free DownloadFree Download
Steps on Performing the Best Slow Motion Video Editor Software
Step 1. After launching the Filmora Video Editor on the computer, directly enter the mode of "Action Cam Tool". Then click "Import" button to load the video file you wish to slow down into the media library.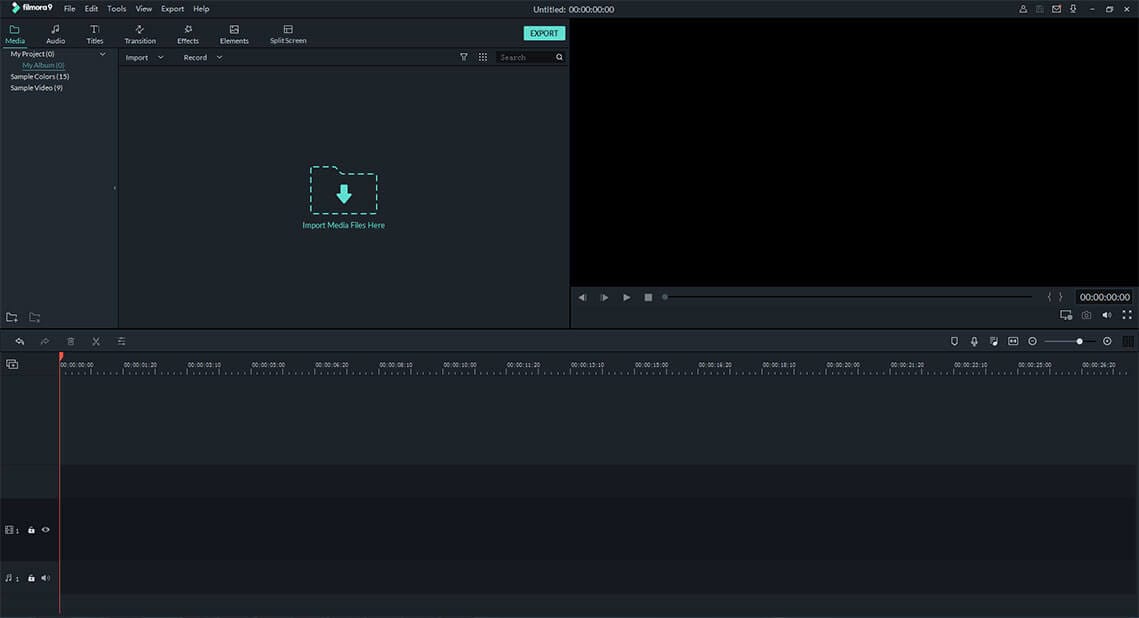 Step 2. Click on the "Speed" option in the sidebar menu, and place the Playhead to the position where you wish to slow down. Then follow the below steps to slow down your video:
- Click "Add Marker" button and drag the slider to the postion you wish to end the slow motion effects.
- After that, you can tick the option of "Speed" and move the slider backward to slow down the video clip.
- You can click "Replay" option to make the video you selected replays time by time. At present, Filmora Video Editor allows you to replay the clip in 10 times. And you can also perform the "Reverse" function under the "Replay" mode.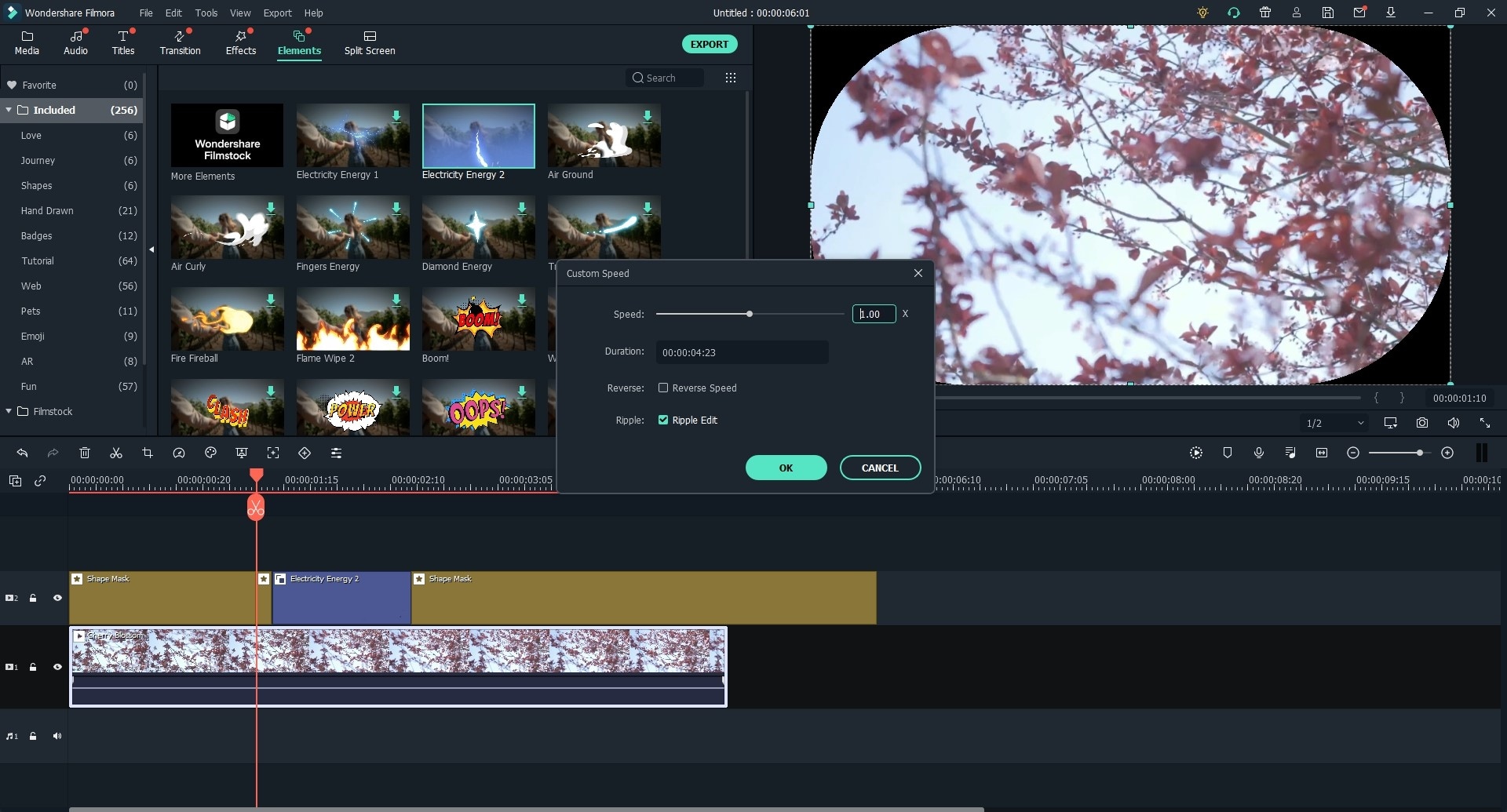 Step 3. When you have done all settings, you can click "Export" button to select an output folder or format to save the editings.
Note:
Obviously, the "Action Cam Tool" doesn't allow users to split, trim or edit video clip freely, so if you need to perform these actions, you need to enter the "Full Feature Mode" to edit a video at first, then choose the "Action Cam Tool" to slow down or speed up a video easily.
---
Comparison: Which Tool is the Best?
There are two different tools to help you make slow motion in After Effects, which slow motion video maker do you like?
In facts:
If you have been using Adobe After Effects for a period of time, then you can keep on it and follow the above tutorial to create a slow motion in After Effects. But if you like, it's also ideal that you consider other quality options that can as well provide the best service at a more affordable price.
If you are a beginner? Then Adobe Effects might be a little bit complicated, you can consider working with a more user-friendly application for a better understanding of the process.
All in all, Filmora Video Editor could be an ideal solution for you to create slow motion videos with simple steps. And it provides users with a more acceptable price than Adobe After Effects.
Now, just click the below icon to experience this powerful tool soon.
Free DownloadFree Download
People Also Ask
Wondershare ID is an easy way to access Filmora's resources, keep track of your product's activation status, and manage your purchases. Use your Wondershare ID to sign into Filmora and Filmstock. More products and services will be connected in the future. If you want to know how to create and activate a Wondershare ID, please click here >
How to Access to Filmstock / Filmora's Effects?
Filmstock is an amazing source of effects resources for Filmora users to use in their videos! You'll find animated titles, motion graphics, filters, intros, overlays, and more. To get effects packs you need to log in from the Effects Store with your Wondershare ID, and subscribe for access to all Filmora's effects. Click here to learn more details about Filmora's effects.
Does iSkysoft Have More Software Categories to Recommend?
Sours: https://www.iskysoft.com/video-editing/slow-motion-in-after-effects.html
Introduction: How to Do Extreme Slow Motion[After Effects]
In this instructable I will teach you how to slow down your 120 frames per second footage smoothly in Adobe After Effects using the plugin Twixtor.


Step 1: Preparing Your Footage
1.) When you open After Effects, you can import your footage by clicking File>Import>File...
2.)You can view the exact frame rate of your footage here
3.) You can right click your footage, select "New Comp from selection" or drag your footage into the timeline.
Step 2: Applying and Using the Plugin
Select your footage in the composition from the timeline, and in the menu bar at the top of After Effects, select Effect>RE:Vision Effects>Twixtor or Twixtor Pro depending on the version you have.
Step 3: Customizing and Adjusting the Settings of Twixtor
In the effect controls for Twixtor, input the frame rate of your footage you found earlier. The higher the frame rate, the slower and better your slowed footage will become. For this instructable, I will be using 120 frames per second footage.
After Effects uses the "tree-ing" system for organizational purposes, otherwise known as drop down menus.

Under Source Control, click on the yellow number beside Input:Frame Rate. It should be default set to 29.97. Set this to the frame rate you found earlier in the instructable.
Step 4: Keyframing Your Slow Motion.
When using Twixtor we will be keyframing the output speed. Twixtor uses the output speed in percentages, so for example if you set this to "20.0" your video will be played back at 20% of its original speed.

Scroll to the part of your footage where you would like your slow motion to first start. Click on the little stopwatch right beside the "Speed %" in the output control, this will allow you to keyframe the value multiple times.


Zoom in all the way on your timeline by pressing the "+" button on the top row of your keyboard repeatedly. Skip ahead one frame and change the "Speed %" to your desired percentage.

Right click your footage and enable time remapping in the menu via :
Right Click>Time>Enable Time Remapping
This will allow us to extend the footage to a longer duration since now it is a longer clip because it been stretched out.

Since your video is stretched out now, you can only scroll through part of it. To change the composition settings to change the duration of your final product, go to :
Composition > Composition Settings

Depending on how long your original clip was, will vary on how long you need to set this value to, just remember your footage is 80% slower, and should be 80% longer. I set mine to 1 minute.

You can now click and drag your footage to the right to extend the duration of the clip.

Some people like to change back and forth between slow motion and real time so some example keyframe values for that would be:
1.) 100%
2.) Skip ahead a couple frames
3.)10%
4.)Scroll to where you want it to go back to real-time
5.)Add keyframe with the same value (10%)
6.)Then have it scale back up to 100%

It should look a little something like in the third image.
I also made a graph of why we need to do things like this.
Step 5: Congragulations! You're Done the Slow Motion, Now Add the Finishing Touches!
To make the slow motion smoother add pixel motion frame blending, and global frame blending on so you don't get a weird bubbly/water effect.

To enable this go to:
Layer > Frame Blending > Pixel Motion

Follow everything in the image to get the best results!!


Add any other special FX, or anything else you might want to add to your clip and render(publish) it buy going to :
1.) Composition>Add to Render Queue
2.) Change the render settings to best fit your codec/file format that you require.

I added some colour correction (CC) because when my camera shoots at a higher frame rate it captures more frequently thus not letting in light fast enough so I needed to brighten up the video.
Be the First to Share
Did you make this project? Share it with us!
Recommendations
Retro Tech Challenge

Organization Contest

Back to School: Student Design Challenge
Sours: https://www.instructables.com/How-to-do-extreme-slow-motionAfter-Effects/
Twixtor in After Effects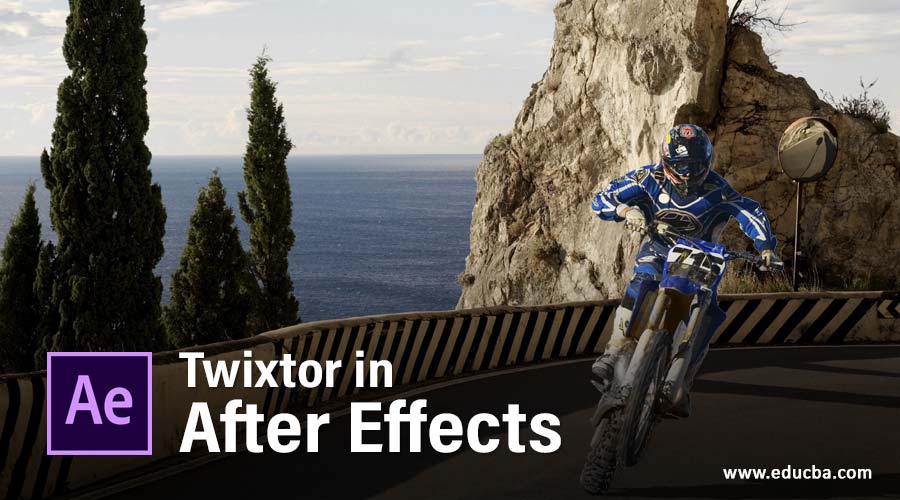 Introduction to Twixtor in After Effects
Twixtor is one of the plugin software of After Effects software used to make slow-motion effects of any video footage by using its exciting parameters. Here in this article, we will understand 'what is Twixtor in After Effects Software' and 'why it is used for in this software'. We also learn about 'how we can handle its parameters for getting the best result for our working composition in After Effects software.
How to Use Twixtor in After Effects?
Twixtor is a very useful plugin of After Effects software which helps us in making slow-motion effects of any video footage. We will understand it through an example in this article. Before starting our learning, let us get introduced to the working screen of this software so that we can easily understand this article throughout our learning of the Twixtor plugin.
Step 1: At the top of the working screen, two ribbons are the Menu bar and Tool panel along with the properties panel of the active tool; at the middle of the working screen, three sections are Project panel at the left side of this section, Composition window at the center of this section and Parameters panel at the right side of this section, at the end of the working screen two sections are Layer panel at the left side of this section and Timeline panel at the right side of this section. You can make your working screen by adjusting the panel at your desired place on the working screen of this software.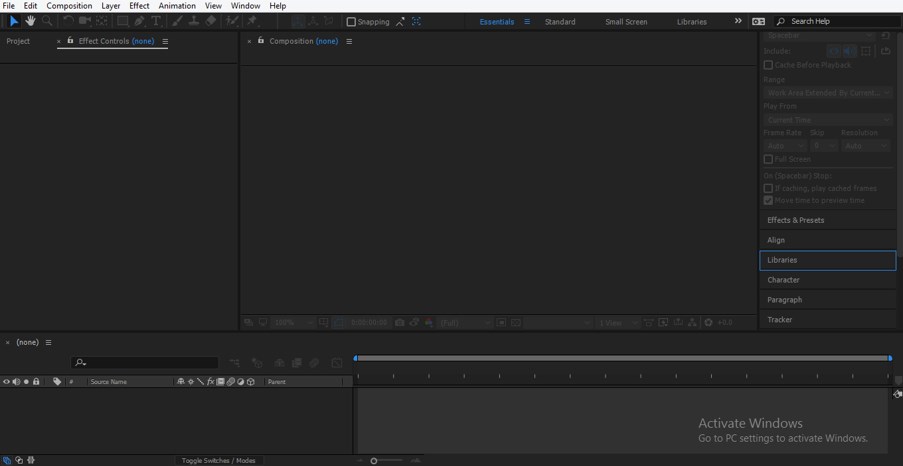 Step 2: Now, let us import video footage in this software for making the slow-motion of that video footage by using the Twixtor plugin. You can use your video footage or download it from the internet for your learning. I will download video footage from the internet. For placing this video footage in After Effects software, go to that folder of your personal computer where you have saved it and place it in the Project panel section of this software by using the pick and drop method from that folder.

Step 3: Now make double click on video footage; a Footage frame setting window will be open in the composition window section.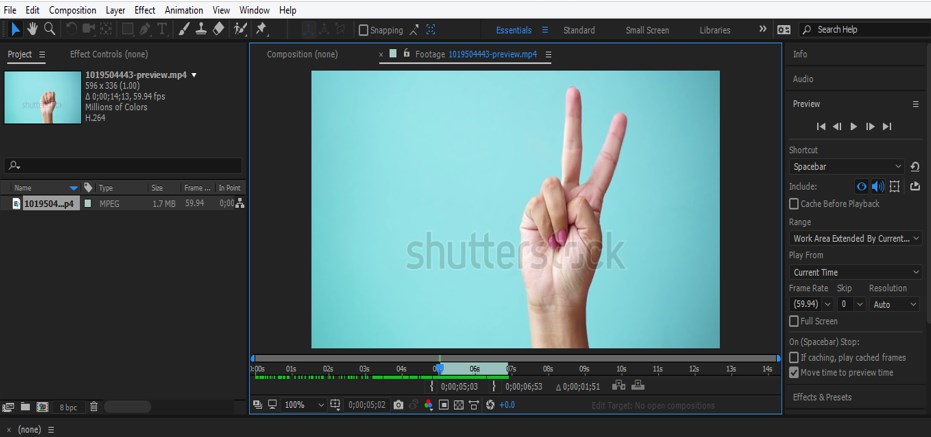 Step 4: Now adjust the size of video footage from where and up to where you want to apply slow motion on your video footage. Now take this video footage from the Project panel section to the Layer section in this software by dragging it with the help of the mouse left button.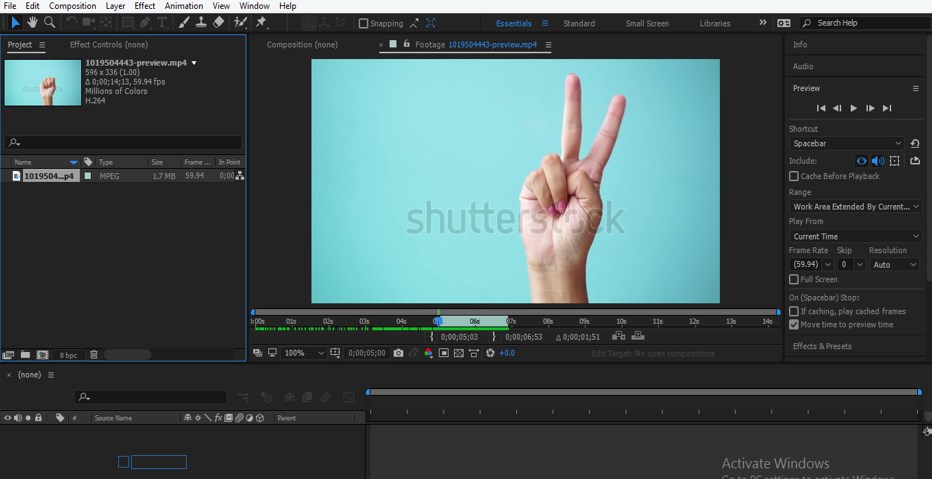 Step 5: Now go to Effect Menu of Menu bar at the top of the working screen. Then go to RE: Vision Plug-ins option of the drop-down list and then click on the Twixtor option of the new drop-down list. If you have not a Twixtor plugin on your computer, then you can download it from the internet.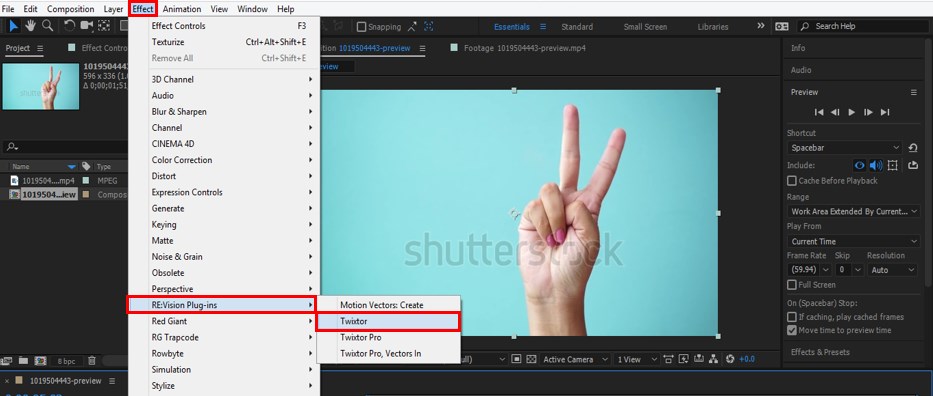 Step 6: Now, let us check the frame rate of our video footage. For checking the frame rate of our video footage, go on that folder of personal computer where you have saved it and make right-click with the mouse button on the icon of this video footage. A drop-down box will be open; click on the Details tab of this box. In details, you can check the frame rate.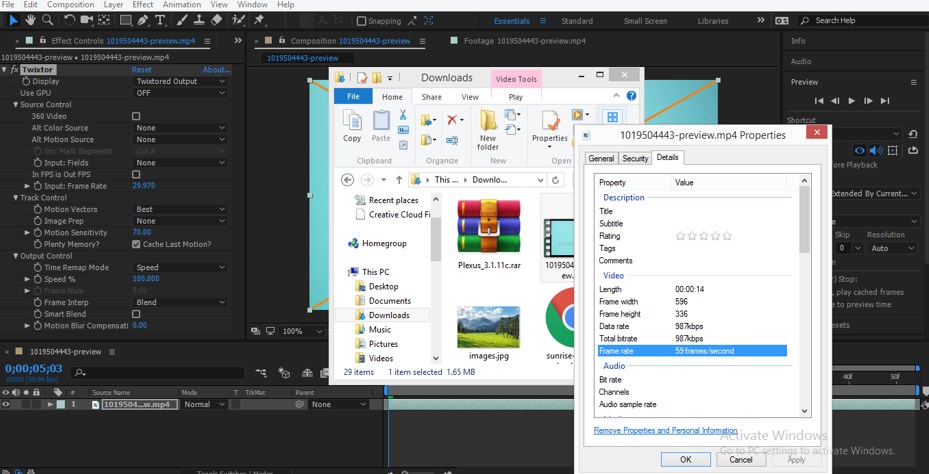 Step 7: Or you can check the frame rate from the icon of this video footage which is on top of the Project panel of this software.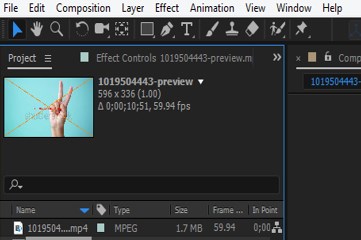 Step 8: Now, set the frame rate the same as the frame rate of our video footage in the Input Frame rate option of parameters of twixtor option, which is at the Effects Controls panel, which is along with the Project Panel section of this software.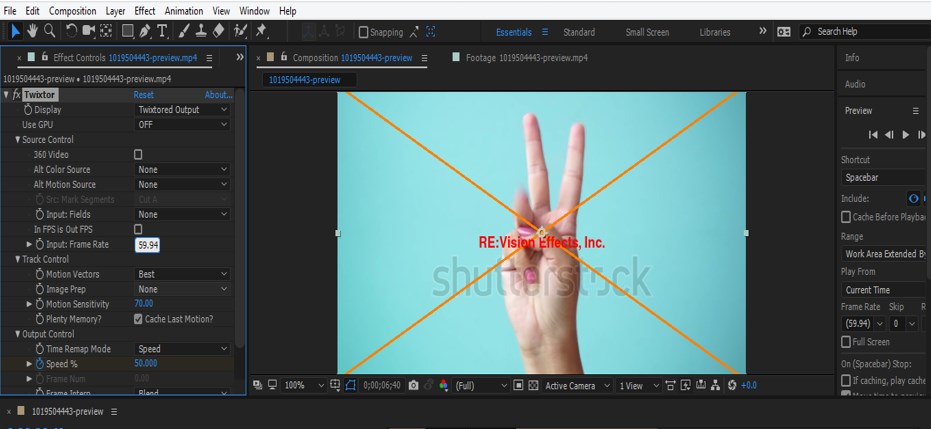 Step 9: Now make click on the small arrow icon of this layer. A list of properties of this layer will be open, now click on a small arrow icon of the Effects option of this layer again make click on the small arrow icon of the Tiwxtor option of Effects option.

Step 10: Now, let us animate the Speed option of the Twixtor option of this layer; for animating this, click on the small clock icon of this speed property and place the keyframe play head at the starting of the timeline section.

Step 11: Now, place the keyframe head at some distance in the keyframe timeline panel and add a new key in the keyframe section by click on the key icon of this speed property option of the tiwxtor option.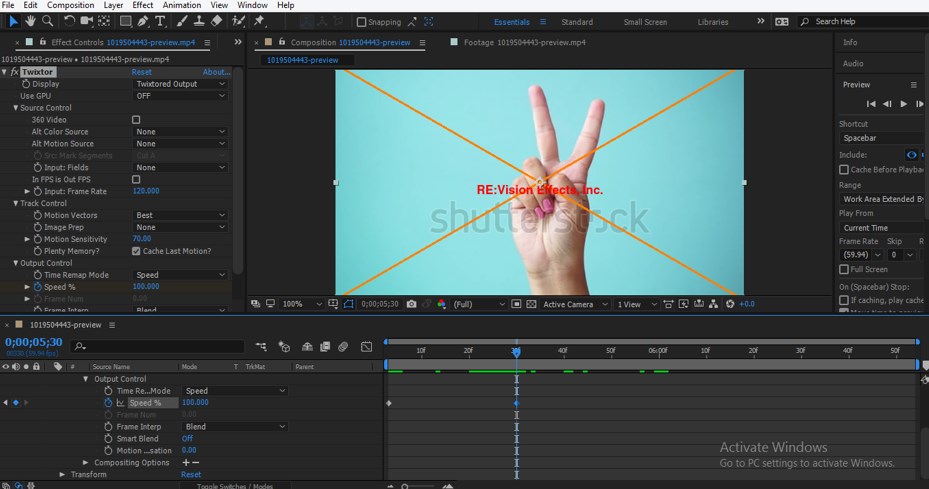 Step 12: Now place keyframe head forward in keyframe timeline section at some distance and add another key at this and decrease the speed of video footage by changing the value of the Speed option of Twixtor from the layer section of this software.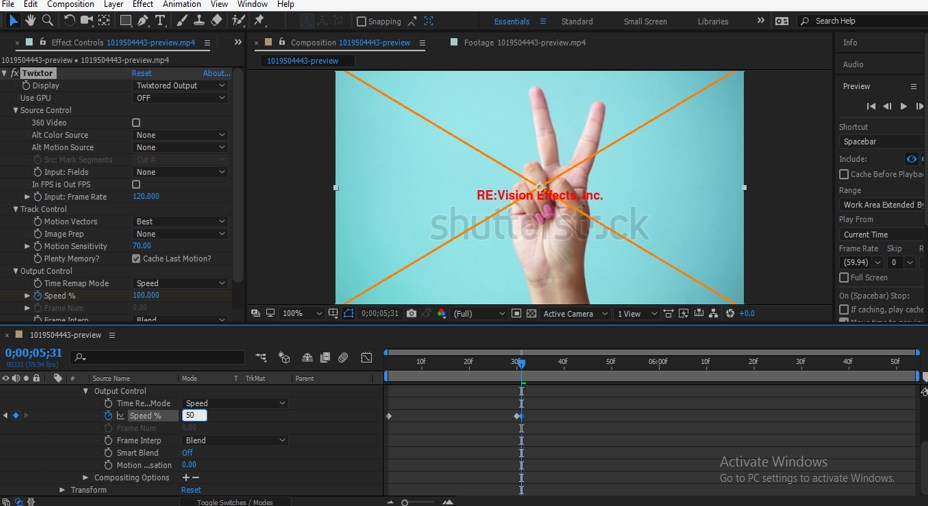 Step 13: Now increase the duration of video footage from composition settings. For composition, settings go to the Composition menu of the Menu bar, which is at the top of the working screen of this software on the top ribbon. Now click on Composition settings of a drop-down list, or you can simply press the Ctrl + K button from the keyboard as a short cut key for opening the Composition settings box.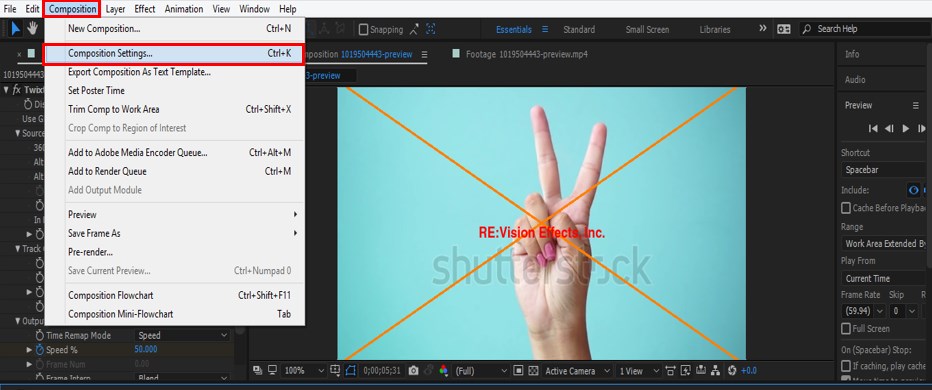 Step 14: A composition settings box will be open, change the value of the duration of animation from the Duration option of this dialog box and now press the Ok button of this dialog box with the mouse left key for applying this setting.

Now you can add a new key in speed option of this footage layer with the decreased value of speed in each key up to which you want to make a slow motion.
In this way, you can use the Twitter plugin in After Effects without any problem and can enjoy it in your working.
Conclusion
After going through this article, you can understand 'what Twxitor is in the context of After Effects software' and 'how you can use it to make the highly professional slow-motion effect of any video footage'. You can make a different type of variation in video footage by using this plugin software.
Recommended Articles
This is a guide to Twixtor in After Effects. Here we discuss an Introduction, how to use Twixtor in After Effects in a step by step manner. You can also go through our other related articles to learn more –
Slow Motion in After Effects
Group Layers in After Effects
Rotoscoping in After Effects
Wiggle in After Effects
Steps to Create After Effects Timeline
Sours: https://www.educba.com/twixtor-in-after-effects/
How to Properly do Super Slow \u0026 Fast Motion - After Effects 2019

Time Stretch
The easiest way to create a slow-motion in After Effects is to right-click on your layer and choose time->time stretch and enter a stretch factor of 400% to play the video at only a quarter of its original speed.
To get a good quality and avoid jerky playback, make sure to choose the proper frame blending options. Experiment with the different blending options to see which one looks good and doesn't take too much time to compute.
Time-Warp Effect
Alternatively, you can also use the Timewarp effect. To apply the effect, make sure the layer containing your video is selected and then choose in the Ae menu Effect->Time->Timewarp.
Make sure that the Method is set to Pixel Motion and then set the Speed parameter to 25 to play back with 25% speed.
Film with the highest possible framerate
The general problem with slow-motion is that you want to show more pictures than you actually filmed. Say you want to slow down your clip to 25% speed (i.e. time stretch factor 400%). This means in-between each two pictures of your film, After Effects needs to insert three other images and guess their content as good as possible (by looking at the frames before and after them). Of course, it would be much better, if After Effects wouldn't need to guess, but if you had actually filmed these frames instead. If you, for example, shoot with 50 frames per second although the final clip should have only 25 frames per second, you get a 50% slo-mo for free. Even if you want to slow down to 25%, only one additional image (instead of three) needs to be reconstructed in-between the existing frames. Hence, for slow-motions you should always use the highest frame-rate that your camera has to offer.
3rd party plugins
An alternative to the build-in Timewarp effect is the plugin Twixtor.
Time remapping in sync with Music
Time remapping in sync with the beat is a very cool effect that will make your footage more exciting and give it more energy. It can be created easily with our extension BeatEdit for After Effects
Download BeatEdit
Sours: https://mamoworld.com/faq/how-create-slow-motion-clips-after-effects
After slow effects plugin motion
There was no house, only a small but strong shelter near the trees on the shore and was our home for the next seven days. A table, a fireplace laid out in stone. what else is needed for a couple in love who wants to enjoy each other in the lap of nature. Of course, first of all we ran into the water and, like children, frolicked, rejoicing in everything that surrounded us.
Clothes here certainly could not have been worn, so we.
After Effects Español - Super Slow Motion con Twixtor (Español)
Margot WAS a real witch. Without embellishment. True.
Now discussing:
Gently pushing the panting mother away from him, he left her bottom and brought his outstretched index finger to her mouth. Maria shook her head. A finger touched her lips. - Not.
1134
1135
1136
1137
1138