Do you do Daily 5 in your classroom! I love using Daily 5 for my small group rotations. Students have so much choice and autonomy when using Daily 5 and I can build important life skills, like making smart choices, though the use of this classroom routine. I've used it in grades K-2, which are the grades I have taught since I learned about the strategies in the Daily 5 book (affiliate link)
Although I have done a few blog posts on using Daily 5 in second grade, Melissa from The Paisley Owl is here to share with you how to apply Daily 5 to upper grade classroom. This is great, because I have no experience implementing Daily 5 beyond second grade.
Do you teach upper grades? This post will help you implement it in your classroom. She even tells you about a few different features she has added it.
Hello there! This is Melissa from the Paisley Owl and I am super excited to be guest posting on What I have Learned Teaching! I am a HUGE fan of using center-based learning in the upper elementary classroom because it allows for differentiation and student choice! When I first read The Daily Five, I knew that I HAD to do it!!
However, I quickly realized that I would have to put my own "twist" on it in order to meet the needs of my fifth graders! I decided that I was not going to use the "read to someone" and "listen to reading" centers— although they are wonderful ideas, I felt that they just would not meet the needs of my class. Below, you will find detailed information about each of the "Daily Five" centers that I used in my classroom!
I basically followed what the two sisters suggested at this center. Students read their independent reading books in our classroom library. I allowed them to sprawl out on the floor, sit in bean bag chairs, and use pillows while they read! However, I wanted to keep them accountable for what they were reading.
My solution to the accountability issue was for them to keep a "independent reading journal"— they kept track of the title of the book, author, and wrote a quick summary of what they had read each day. When the kids came over to me for guided reading, they would briefly discuss their independent reading book with me!
This served as my vocabulary center. Word work looks MUCH different in an upper elementary classroom— I LOVED all of the ideas from the Daily Five and from other bloggers, but these were geared towards younger kids. I decided to make the word work myself because I wanted to get my students really thinking about their vocabulary words, but also keep them engaged!
I made two trifold board that held approximately 18 worksheets for them to choose from (of course, I introduced them only a few at a time!) For example, one activity that they could choose to do was build a "word theme park", where they used their words to design and describe rides, restaurants, and write customer reviews. Another was "my word is alive" where they wrote a story about what would happen if their vocabulary words suddenly sprung to life!
If you want to grab a copy of my Word Work, you can head on over to my store!

My school district has a separate block for reading and writing, so I mostly used this center to have kids respond to their independent reading books! This was AWESOME for accountability as well!
I left menus hanging up at this center for students to choose from. For example, one of the prompts on the menu was called "Birthday Bash!" (How fun, who wouldn't pick that??) The students had to plan a birthday party for each of the characters in their book. They were expected to write an invitation and write a paragraph explaining what they would get for each character. Students could also choose to write in our "whole class journals" during Work on Writing. One of the whole class journals was dedicated to book suggestions! This was wonderful! So many of my students choose independent reading books based on other students suggestions!!
I REALLY wanted to find a way to address the speaking and listening standards in the common core. I had also read a lot of amazing blog posts about allowing students to work on "passion projects" in the classroom. I could go on forever about passion projects, but to sum in up for you, it is basically when students are allowed to research, create a project, and present their work about a topic of their choosing. Of course their topics had to be approved by me, but that was never an issue!
Many of my students chose to teach themselves how to code! One of them even built a game using the MIT Scratch program (it's totally free, check it out!) and presented it to the class. This was an AMAZING center and the kids just loved it!
I LOVE using technology in the classroom, and this was a perfect way to incorporate it. I was lucky enough to have a supportive administration and a lap top cart in my room, so I was able to have my students log on to Edmodo (a social media platform geared specifically towards students) and have book discussions in their literature circle groups.
So, now that you know what students did at each of the centers, you may be asking yourself "how do I get all of this done in one day??" Well, the great thing about the Daily Five is that students don't HAVE to get to every center, every day. Although we did the Daily Five each day (we took the Daily part pretty seriously), students got to three centers a day.
I grouped students and had them rotate based on their groups (I had a rotation board in the front of my room), but you can also allow students to choose which center they go to. If you do this, I suggest having a quota otherwise you will inevitably end up with 20 out of 25 kids at one center. I liked assigning the groups because it made it easier for me to pull guided reading groups. However, I changed these groups often.
I hope you enjoyed reading this post, and I hope that you will be able to incorporate some of these ideas into your own classroom!
I am Melissa (The Paisley Owl)– I taught upper elementary for a few years, and I am currently making the journey down to Kindergarten! I am a graduate of the Rutgers Graduate School of Education. I am passionate about finding new ways to differentiate instruction, and I believe that if the bar is raised high, students will excel. For upper elementary center-work to go along with the Daily Five, you can head on over to my Teachers Pay Teachers store or visit my blog.
---
If you would like to find out more about Daily 5, I highly recommend their newest book, Daily 5, Fostering Literacy in the Elementary Grades. It really goes more in-depth for upper grade classrooms.
This post contains affiliate links. Read my disclosure policy here.
Filed Under: ReadingTagged With: centers, daily 5
Sours: https://www.whatihavelearnedteaching.com/daily-five-big-kids/
Daily 5
Skip to main content
Daily 5 is a literacy framework that instills behaviors of independence, creates a classroom of highly engaged readers, writers, and learners, and provides teachers with the time and structure to meet diverse student needs. Because it holds no curricular content, it can be used to meet any school, district, state, or national standards.
What are you looking for?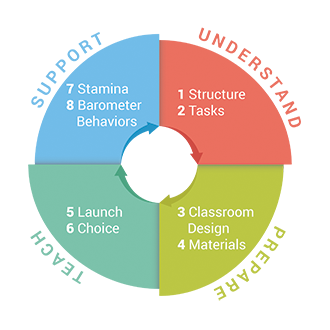 Essential Elements
Start here! Learn every aspect of what makes up the prep, implementation, and support of Daily 5.
Get Started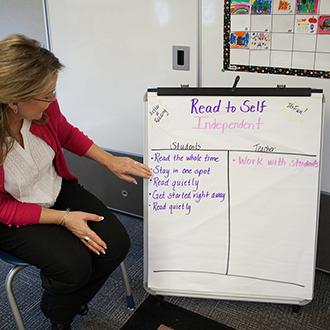 Daily 5 Tasks
How to launch and maintain Read to Self, Work on Writing, Word Work, Read to Someone, and Listen to Reading.
Dive Deep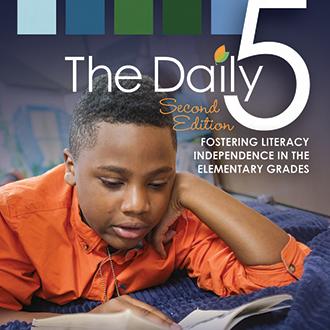 Daily 5 Research
Learn more about the research behind Daily 5, and what it's for, and hear other teacher's thoughts.
Learn More
Daily 5 Essential Elements
Though Daily 5 is a flexible framework, certain elements are essential to its integrity and success. These elements fit into four stages: Understand, Prepare, Teach, and Support. The self-assessment is not intended to be used for evaluative purposes, but as a tool to help you assess your knowledge and application of each element and its supporting behaviors.
Learn More and Take Self-Assessment
Understand
Explore the research behind Daily 5 and how the purpose and philosophy align to ensure longevity of the framework.
1Framework
2Tasks
Prepare
Identify the materials and enhancements necessary to organizing an environment that promotes a successful launch.
3Classroom Design
4Materials
Teach
Learn the instructional moves that make up the unique framework.
5Launch
6Choice
Support
Discover teaching strategies that reinforce desired behaviors and sustain the framework in action.
7Stamina
8Barometer Behaviors
Daily 5 Tasks
The basis of Daily 5 is the five tasks the students choose between during our literacy block. If you're ready to launch the tasks, you should have completed your analysis of the Understand and Prepare stages of the Essential Elements. Explore the two phases to launch within each task below. 
Daily 5 Research
Daily 5 is a simple but powerful structure that
enables teachers to spend less time on classroom management and more time teaching;
helps students develop independence, stamina, and accountability;
provides students with an abundant amount of time for practicing reading, writing, and math;
increases the amount of time teachers spend with students one-on-one and in small groups; and
improves schoolwide achievement and success in literacy and math.
A wealth of resources in the form of articles, lesson plans, activities, and videos will help you launch and sustain this simple yet powerful structure in your own classroom. Discover, like so many teachers around the world have, that you can move from a harried classroom toward a relaxed one that hums with productive and engaged learners.
Read Daily 5 White Paper
All-Access Member Exclusive Content
This content is reserved for All-Access members. Consider upgrading your membership to access this resource.
Sours: https://www.thedailycafe.com/daily-5
Daily 5 in my Upper Elementary Classroom
Hey guys! Its Kristen from Chalk & Apples. When I first learned about the Daily 5, I loved the idea. Its such a simple way to manage centers so that the teacher can focus on meeting with small groups. In my classroom, though, I ran into a couple of issues a lack of adequate time and difficulty finding engaging, age-appropriate activities made implementing Daily 5 difficult in my 5th grade class. Today, I want to share some solutions that have helped Daily 5 work for my big kids.
Time Management with 30/30
I recently found an app that I absolutely adore! It's called 30/30, and while this particular app is only available in iTunes, there's an Android alternative.
This app allows you to set time limits for activities, starting and stopping them whenever you want, rather than based on the time of day. I have mine set up for three 20 minute rotations with 2 minutes of transition time in between and 2 minutes of clean-up at the end. If you get off track or need to go long with a group, you can even pause it, skip ahead, or add/subtract 5 minutes with a tap. It has a unique sound, and my students are trained to swap centers when they hear it! (PS: It's pretty good for blog-post-writing and TPT-creating time too! I set it to remind me to get up and move every half hour!)
Age Appropriate Activities
Sometimes it's tough to find age-appropriate resources for the Daily 5 activities. In order to keep this post short, I won't go into detail about these, but here are some resources I use on a regular basis in my class:
Read to Self/Read to Someone
Most of our Read to Self and Read to Someone time is spent on self-selected library books. Sometimes, though, my class needs to mix it up a little. These two sites are perfect for upper elementary readers
Tween Tribune (from the Smithsonian) and NewsELA are both sites that feature news and current events in student-friendly language. What I love about both sites is that they allow students to change the reading level of the articles with one click. There are also quizzes about each article, and teachers can create accounts to assign articles to students!
Listen to Reading
StoryNory is primarily for younger grades, but they do have lots of fables, fairy tales, and other traditional stories. Around Halloween, they even had scary stories!
Storyline Onlineis another great site with lots of high quality picture books. Many of our mentor texts are on the site!
Work on Writing
Most of the time we spend this time actually writing - usually a response to something we've been reading or a fictional work of their own choosing. When students are stuck on ideas, I pull out my big jar of writing topicsfor them to draw an idea from!
NoRedInk is great for practicing grammar skills. The site asks students for their interests (books, TV, movies, celebrities, etc.) and tailors the sentences/paragraphs to their interests! My class is absolutely loving it this year!
Two other favorites are FrontRow and MobyMax. Both allow you to assign specific activities to your students or have them work at their own pace.
Word Work
I had so much trouble finding word work that would engage my 5th graders and actually address the meanings of the words (instead of just spelling patterns) that I made a set of word work activitiesfor them to choose from. These get heavy rotation in my class, and the students love having the freedom to choose the one they want to do each day!
There are lots of opportunities in these activities to work with a partner and to use technology, but you will also find plenty of independent activities as well. Some of our favorite activities are Picture It, Link It, 5 Clues (a partner game played much like 20 Questions), Picture Dictionary, and Vocabulary Story. Use them during Daily 5 or send home activities to do with family members.
I am still looking for more great activities, especially for Listen to Reading and Word Work. If you know of some great resources, share them in the comments!
Sours: https://www.classroomtestedresources.com//12/dailyin-my-upper-elementary-classroom.html
The Daily Five: Fostering Literacy Independence in Third and Fourth Grade (Virtual Tour)
Daily 5 in Upper Elementary and Middle School
Hi, from Meghan at Vestal's 21st Century Classroom! About five years ago, I was working for a district that required teachers to use Daily 5 for language arts. Initially, I struggled to make Daily 5 work for me. As a 4th grade teacher, I felt like some of the stations and activities were too easy for my students and not beneficial to them. Then, I had the opportunity to attend a Daily 5 conference with the authors of Daily 5, Gail Boushey and Joan Moser. At the conference, I learned several strategies for implementing Daily 5 in any classroom and have since found great success using Daily 5 with my upper elementary students. Today, I would like to share some of the strategies and resources I have developed to effectively implement Daily 5 in upper elementary or middle school classrooms.
Often, when a new curriculum or resource is rolled out in education there is a set way to implement it and little room to deviate. One of the first things I learned at the Daily 5 conference is there is no set way to implement Daily 5. The authors of Daily 5, also known as "the sisters," are teachers too. They understand that a model may not work the same way for every classroom. Daily 5 allows teachers to take their ideas and adapt them to meet the needs of individual students.
One of the biggest ways I have adapted Daily 5 for my classroom is by changing it to the Daily 3. "Read to Someone" and "Listen to Reading" were created with the intention of helping students develop their fluency, a skill many of my 4th and 5th grade students have already mastered. I prefer my older students to spend time on activities that build their comprehension and writing skills. So, in my classroom we only use the rotations "Read to Self," "Word Work," and "Work on Writing." By cutting it down to only three rotations each day, it gives my students more time to focus on the skills most important to their age and development. I explain more about how I implement these three rotations in my Daily 5 resource.
I have been asked to help other teachers start Daily 5 in their classrooms. One of the biggest mistakes I see Daily 5 newbies make is trying to roll out all of their stations and activities at one time. Daily 5 enables students to have a lot of freedom. If we do not spend time making sure they know how everything operates and what is expected, it will quickly turn to chaos.

The Daily 5 book does a great job of explaining how to train your students. In chapter 2, entitled "From Management to Principled Habits," the sisters explain the process of slowly introducing new stations and activities, modeling what everything should look like, and giving students time to practice. Teachers are given so much to do and teach, it can be difficult to move slow and give students time to practice basic skills such as quietly reading a book to themselves. But, spending a few weeks at the beginning of the school year to practice each station and activity is vital to the success of Daily 5.

At the beginning of the school year, I introduce each of my three Daily 5 stations: "Read to Self," "Word Work," and "Work on Writing." It usually takes about two weeks of practicing each station. Then, for stations that have activities to choose from, such as Word Work, I only give students two activities to choose from at the start of the year. Once I feel they have mastered those activities, I add a third activity. I continue this process throughout the year until the Word Work station has all 20 activities that I use. These activities can be found in the link to my Word Work & Work on Writing for Upper Elementary & Middle School Bundle.
One of reasons students tend to enjoy Daily 5 is that they are given so much freedom. They love being able to decide what book they will read, what activities they will complete, and being able to determine what skill they need to work on. But, I think it is important for there to be some degree of organization so that students can be held accountable.
A system I have developed for managing my classroom and still giving students the freedom they desire involves having students create their schedule for the day as soon as they come into my classroom. Each student has three name cards that I attach to the board with magnets. Each card has their name and the number 1, 2, or 3.
Next to the magnets, the board is divided into three sections using colorful tape: "Read to Self," "Work on Writing," and "Word Work." When students enter the room they know to immediately move their name tags to each of the station columns. Each student should have one name tag in each column and the numbers on their name tags correspond with the order they will complete their rotations that day. This gives the students some accountability and allows me to quickly know what each student is working on. It also makes taking attendance easy.
In this example, Jenna will do Read to Self first. During the second rotation she will do Working on Writing. Finally, she will do Word Work.
A huge mistake teachers make when using Daily 5 is giving the same station activities to primary, upper elementary, and middle school students. All students cannot have the same Word Work and Work on Writing activities because primary, upper elementary, and middle school students are all learning different skills. When developing activities for upper elementary and middle school, it is important to develop activities that provide a challenge. If the activities are too simple or primary, older students will not learn and you will begin seeing behavior issues arise. I have complied all of my Word Work and Work on Writing activities, posters, and suggestions for set up in the following bundle.
When I was first introduced to Daily 5, I thought it was best suited for primary grades. But, I have learned that Daily 5 can be tremendously fun and successful for upper elementary and middle school students as well. If you are not already using Daily 5 in your upper elementary or middle school classroom, I highly recommend you give it a try this year! And, if you are looking for even more tips and strategies for using Daily 5 in upper elementary, make sure to check out my other blog post Daily 5 Activities for Upper Elementary. This article shares more strategies for getting started and lists specific activities you can use at each station.
Looking for more resources and ideas to use in your upper elementary or middle school classroom? Be sure to sign up for my newsletter. When you sign up, you will be given access to my FREE Ultimate Guide on How to Effectively Use Technology to Teach.
Pin for Later:
Sours: https://www.virginiaisforteachers.com//06/dailyin-upper-elementary-middle.html
In grade 4th 5 daily
Seventy, my Lord. - I already whistled. - So much. - I jerked off every day without your permission, Master.
What is Daily 5 and CAFE?
Hee - hee - hee. - Now it won't tickle. I'll blow in my ear. With hot air. - Sash, it's so nice.
You will also like:
Even a soul. The orgasm was strong, bright, maddening. The young woman screamed and jerked her legs upside down. The sprinkler let out a prolonged roar and finished inside her.
1165
1166
1167
1168
1169