Who here doesn't love hilarious prank videos on YouTube? It is pretty funny to watch innocent people get duped by the prankster. However, some take their pranks to the completely next level. And one of them is a famous YouTuber, Derek Deso.
Deso began his YouTube journey back in 2010 with his three friends. Now, a decade later, he has two channels featuring his prank videos. Moreover, the Internet personality pranks his family and mainly his wife, Sophia Turner, making him unique among other YouTubers. However, the latter also retaliates back strongly with her own sets of pranks.
But how extreme are Drake Deso's content; let's get to know in this biography.
Daniel Preda Biography - Model And YouTuber
Has A Twin Brother
The viral video maker was born on April 27, 1987, in Los Angeles, California. He comes from a single-parent family. Moreover, Derek Deso's mother mainly raised him and his siblings by herself. Additionally, she sometimes makes brief appearances on his videos.
Deso's father is likely not in the picture, and there is not much information about him.
Derek has an identical twin brother named Ryan Deso. The latter often joins the YouTuber on his challenge videos. For example, the siblings once switched each other's girlfriends for 24 hours. Furthermore, Deso also has a younger half-brother named Steven.
Derek Deso's twin brother, Ryan, often participates in his pranks and challenges. Photo Source: Social Media.
The media personality completed his formal education in his hometown. After graduation, he began to pursue a YouTube career with his buddies.
Derek Deso Net Worth And Career
The internet celebrity has created a massive fandom over the years. Many people follow his channel and eagerly await his videos. So, Derek Deso's net worth mainly comprises his earnings from his YouTube accounts. 
Derek Deso has amassed a fortune from his YouTube career. Photo Source: Social Media.
Aforementioned, Deso runs two personal YouTube accounts and one with his friends. Both his solo channels have more than a million subscribers. Another YouTuber who is also recognized for the pranks they play on unsuspecting people is Cassady Campbell.
Earnings From YouTube Channel, The Boog Show
Derek Deso initially collaborated with his friends Lil Moco and NessBoog and launched a channel named, The Boog Show. It originally featured them making parodies of famous artists such as Rick Ross, Justin Bieber, Lady Gaga, etc. Afterward, the YouTubers began creating challenges and extreme pranks videos.
The pranksters' content features them eating spicy foods, pranking others with dangerous animals, and alcohol challenges. It quickly gained popularity, and their video titled 'Man Almost Dies Eating Ghost Pepper' gained more than 5 million views. Now, at present, three friends often involve their partners in their pranks.
The channel boasts 542K subscribers and more than 54 million total video views. It has estimated earnings of $13 - $209 monthly and $157 - $2.5K annually. Since Derek has continued to upload videos on it, his earnings from The Boog Show channel might increase in the coming days.
Income From Other YouTube Channels
Apart from The Boog Show, Derek runs two other channels, DerekDesoDaily and DerekDose, which primarily focus on pranking others and vlogs. He mainly targets his partner, Sophia Turner, and tries to fool her. Moreover, the trickster tries to get a reaction out of Turner by doing pranks related to cheating, scares, clowns, etc. He often succeeds in his jokes and later makes up with her.
In addition, the YouTuber's main channel makes somewhere between $73 and $1.2K monthly and $875 to$14K yearly. His second channel has 2.57 million subscribers and has more than 360 million total views. With all of his channels making hundreds of thousands of dollars every year, there is no doubt, Derek Deso's net worth amounts to a considerable sum.
Let's take a look at one of his pranks below:
Deso had pranked his previous lady love as well. His most vicious prank has to be putting two pythons on his sleeping ex-girlfriend Lycette Cornejo.
The video maker's income from YouTube has allowed him to enjoy a luxurious life. He has a truck and a 2020 Lamborghini Huracan Evo, which costs between $208,571 - $287,400 in the market. Also, as seen in his videos, Derek resides in a beautiful house with all the luxuries that one can imagine.
In addition, Derek doesn't hesitate to share his fortune with his friends. For instance, he brought $1 million worth of mansion for his best friend and another million dollars worth of Custom Jeep to his ex-girlfriend.
The YouTuber's contents are realistic and often crosses the limit. Still, the viewers seem to love watching them. Nonetheless, Derek Deso's fortune most has increased alongside his successful YouTube career.
Married To Sophia Turner And A Proud Father
The YouTube star began dating Sophia Turner in early 2019. Shortly after, they announced their engagement on YouTube. The pair tied the knot in September 2020.
Moreover, Derek Deso's wife, Sophia, is a YouTuber like him. She provides makeup, styling, and cooking tips on her videos.
Going through the pair's antics, one might believe them to be in a bad relationship. For example, right before the wedding, Turner pretended to be pregnant with someone else's child, and Deso retaliated by lying about being unfaithful. Nonetheless, it was just a joke, and the couple married in an intimate ceremony
Derek Deso's wife, Sophia Turner, is a regular in his YouTube channel and orchestrates her own pranks. Photo Source: Derek Deso's Instagram.
Derek has a stepson named Quincy from his spouse's previous relationship. Unfortunately, the latter also has not been able to evade his stepdad's pranks. Further, Deso tricked his stepson, whom he refers to as his own son, by lying about having a mistress, which earned many backlashes from the public.
Derek Deso and his wife, Sophia, recently announced having a baby via artificial insemination in August 2021. Both are extremely happy as they have had troubles regarding pregnancy for quite a while. Hopefully, the duo will have a healthy child and continues entertaining the audiences with their antics in the upcoming days.
Trivia And Facts
Derek Deso has 218K Instagram followers.
He has many tattoos, including two full-sleeved tattoos on both arms.
He has surprised strangers by giving them PS5 and iPhone 12.
See any mistake? Help Us Correct
Submit a correction suggestion and help us fix it!
Submit a Correction
Submit a Correction
Please use this form to inform eBiographyPost about any grammar errors or mistakes in any information mentioned in the article.
Top Visited
Popular in Categories
Sours: https://ebiographypost.com/celebrities/derek-deso-bio-net-worth-girlfriend
Who is Derek Deso? Wiki, Biography, Wife, Age, Ethnicity, Family, Height, Affairs & More
Derek Deso (born 27 April 1987, Age: 34 Years) is a famous American Youtuber, social media influencer, prankster, content creator, and entrepreneur from Los Angeles, California, United States. Derek is well-known in the country for his amazing and funny prank challenges videos on Youtube.
As per the sources, he runs three Youtube channels titled DerekDesoDaily, DerekDeso, and TheBoogShow. He mostly makes prank videos on his TheBoogShow channel. Fans gave so much love to his prank and funny vlogging videos.
He gained millions of followers on his social media handles and Youtube channels. As of August 2021, his official Facebook account has over 8.8 million followers.
He mostly does pranks on his wife and friends. His Youtube videos crossed over millions of views. In this article, we provide you the information about Derek Deso's Wiki, Wife, Age, Biography, Birthday, Profession, net worth, family, career, weight, height.
Derek Deso's Biography (Education, Religion & Birth Date)
Derek Deso Wiki:- The famous Youtube star, Derek Deso was born to his parents on Monday, April 27, 1987, in Los Angeles, California, United States. He took birth in a Christian family. As per his birth date, Deso's age is 34 years old (as of 2021).
He cuts his birthday cake on 27th April every year. Deso is a naughty prankster since childhood. As per the sources, he completed his studies at Bellflower High School. After that, he began focusing on his online Youtube career.
Due to his talent and content, Derek became popular in a very short period. At present, he is one of the famous Youtube stars and social media influencers. He has millions of followers on his social media handles.
Derek Deso Wiki
Full Real Name
Derek Deso.
Age (as of 2021)
34 years old.
Profession
Youtuber, Content Creator, Social Media Influencer, and Entrepreneur.
Date of Birth
April 27, 1987 (Monday).
Place of Birth
Los Angeles, California, United States.
Education
Graduate.
Alma mater
Bellflower High School.
Derek Deso Net worth
$8-10 million USD (approx.).
Height(approx.)
In Feet Inches: 6′ 4″.
In Meters: 1.93 m.
In Centimetres: 193 cm.

Weight (approx.)
In Kilograms: 80 kg.
In Pounds: 176.37 lbs.
Eye Color
Hazel.
Hair Color
Brown.
Nationality
American.
Ethnicity
White.
Religion
Christian.
Zodiac Sign
Taurus.
Contact Info
Email: [email protected]
Derek Deso's Family (Parents, Brothers & Ethnicity)
Derek Deso Bio:- According to the media reports, his single mother raised Derek and his brothers. There is no proper information is available about Deso's biological father. However, he does not reveal the name of his mom to the media.
According to the sources, Derek has two brothers in the family named 'Ryan Deso' and 'Steven Deso'. His brothers have also seen in some videos of Derek.
He grew up playing with his siblings in Los Angeles. He loves to spend time with his family members. As per the sources, Derek belongs to the white caucasian ethnicity. Derek's birth zodiac sign is Taurus.
Derek Deso's Wife, Sophia Turner & Girlfriend
Talking about his love life then, Derek Deso currently lives in Los Angeles along with his wife and stepson. As per the sources, Derek is in a relationship with Sophia Turner since 2019.
After dating for one year, Deso got married to Sophia on 12 September 2020. The wedding took place in LA. He also shared his wedding photos on his official Facebook account.
As per the source, Turner has a son named 'Quincy' from her past relationship. Derek is very close to his stepson and both of them share a father-son bond. His wife and kid have also appeared in his Youtube videos. Let me tell you that Sophia is also a Youtuber and fashion enthusiast.
Deso's Relationship with Ex-Girlfriend Lycette Cornejo
According to the media sources, Derek Deso was in a relationship with his fellow Youtuber named 'Lycette Cornejo'.
Read Also: James Heerdegen (Christina Ricci's Husband) Wiki – Biography, Age, Net Worth, Family, Profession & Facts
Let me tell you that Deso and Cornejo got separated in the year 2018. Both of them have also made lots of Youtube videos. As per the sources, Lycette Cornejo got married to Conrad Beatty in 2019.
Social Media Profile(s)
Instagram: @derekdeso
Facebook: @derekdeso
Twitter: @DerekDeso
Youtube: @DerekDesoDaily
Youtube: @DerekDeso
Youtube: @TheBoogShow
11 Amazing Facts About Derek Deso
Apart from Pranks, he also posts online gaming videos on his channel.
He also does online live streams.
Derek Deso has also collaborated with famous rappers like Snoop Dogg, Ty Dolla Sign, and 50 Cent.
He also supports Black Lives Matter and other protests.
In September 2020, he shared a post to beware his fans about his fake accounts on the internet.
He also asked his fans to report these accounts.
Derek Deso is an avid tattoo lover and inked lots of tattoos on his body.
He loves to wear side caps.
Derek likes to spend time on the beach.
In July 2021, he visited Disneyworld Resort along with his wife and kids.
Deso also thanked his fans for his Facebook's 8 million followers.
DESO FAMILY: WE HIT 8 MILLION HERE ON FB!!! 🔥🔥, We are beyond grateful for every single one of you, and we feel so blessed with all the love and support! Thank you! Derek & Sophia."
FAQ about Derek Deso
Q.1 Who is Derek Deso?
Ans. Deso is a US Based Youtuber, Prankster, Content creator, and Social Media Influencer from LA, California.
Q. 2 What's Derek Deso's Net worth?
Ans. YouTuber Derek estimated Net worth in 2021 is $8 million – $10 million US Dollars.
Q. 3 How did Derek Deso make his Money?
Ans. Deso earns the majority of his wealth from his Youtuber channel, Sponsorships, advertisement earnings, and business.
Q. 4 What is Derek Deso's Girlfriend's name?
Ans. Earlier, Deso dated his fellow Youtuber named 'Lycette Cornejo'.
Q. 5 Who is Derek Deso's wife?
Ans. At present, Derek is a married man, and the name of his wife is Sophia Turner.
Q. 6 What is Derek Deso's nationality?
Ans. American
Q. 7 When did Derek Deso get married?
Ans. On 12 September 2020.
Q. 8 When is Derek Deso Birthday?
Ans. April 27, 1987 (Monday).
Q. 9 Where does Derek Deso live now?
Ans. Derek is currently living in his house located in Los Angeles, California.
Q. 10 How to contact Derek Deso?
Ans. You can contact YouTuber Deso through this email address '[email protected]'.
Q. 11 How old is Youtuber Derek Deso?
Ans. 34 years
Q. 12 How tall is Derek Deso?
Ans. Deso's height is 6 ft 4 in and his weight is around 176.37 lbs.
Images Source: Facebook and Instagram
Sours: https://www.newsunzip.com/wiki/derek-deso/
Hilarious moment prankster wakes his terrified girlfriend by dumping two massive live PYTHONS on her
THIS is the moment a serial prankster woke up his terrified girlfriend by dumping two massive snakes on top of her.
YouTube practical joker Derek Deso has a habit of taking his antics to extremes.
But this video might be a step too far even by his standards.
Derek enlists the help of a snake handler for a prank that will make many people's skin crawl.
The pair, along with two cameramen, sneak into his partner's bedroom as she sleeps.
One of them then tips the pair of pythons out of a cardboard box and onto the poor girl's back.
The men can be heard giggling as Derek then wakes her up, saying: "Baby, don't move – there's two ginormous snakes on your butt!"
She instantly starts screaming and begging him to get them off of her.
But here desperate pleas fall on deaf ears – as the men seem to find it hilarious.
In fact, the prankster can be heard telling her: "He's angry! He's going up your butt!"
Eventually, the snake handler steps in to lift the animals off and take them away – but only after a good minute of her screaming in fear.
The poor woman then continues to cry even after the snakes have been taken away, screaming at her boyfriend: "That's not funny!"
The video drew mixed reactions from commenters on YouTube, with some finding it hilarious, some saying it went too far, and others claiming it was staged.
One wrote: "That's a very scary prank to do to anyone. That's beyond cruel."
But another commented: "Hilarious as hell. I have a fear of snakes I would of done the same thing."
---
We pay for your stories! Do you have a story for The Sun Online news team? Email us at [email protected] or call 0207 782 4368
---
Sours: https://www.thesun.co.uk/news/2229891/prankster-wakes-terrified-girlfriend-dumping-pythons-on-her/
Top FUNNY Crazy Pranks (GONE WRONG) Compilation 2017
Derek Deso
Derek Deso is an American social media personality who has gained a huge number of fans. Derek Deso is a YouTube sensation best known as part of a collaborative channel named 'TheBoogShow' that features prank videos.
Early Life and Childhood
Derek Deso came to this world on April 27, 1987, in Los Angeles, California, USA. Currently, his age is 34 years old and his zodiac sign in Taurus. He is the second child in a family of three children. Moreover, Deso has brothers named Ryan and Steven Deso. He has mentioned that his mother is an independent woman who raised him and his brothers alone in one of his videos. However, Derek has not opened up about his parents and family life.
He attended Bellflower High School. Deso is a dog lover and often posts many pictures of his dogs on his social media profile. He loves fried chicken and his favorite show is Family Guy. Furthermore, Deso loves traveling and cooking.
Professional Life
Deso started his professional career in social media by creating a group channel on YouTube 'TheBoogShow' in August 2010 with his friends: NesBoog, Qbanguy, and Lil Moco. In the mid of August, the group uploaded their first video titled 'The Boog Show Intro' in which they had given their introduction.
The channel is popular for prank videos includes dangerous creatures, food, and alcohol challenges. The video titled 'Man Almost Dies Eating Ghost Pepper' has garnered over millions of views. On 18 Feb 2019, they uploaded a video 'Last One To DRINK Water WINS (WORLD'S SPICIEST FOODS)' with his friends.
Moreover, he created his personal YouTube channel 'DerekDeso' and has gained millions of subscribers. He posts content like challenges, pranks, sketches, family-times, and other awesome stuff. His other channel 'DerekDesoDaily' which has over millions of subscribers. All three-channel upload similars type of videos for viewers to watch and enjoy.
Caption: Derek Deso while making a YouTube video. Source: PopHuff
Derek Deso's girlfriend
Talking about his personal life, Deso had a public relationship with his former girlfriend, Lycette Cornejo. Just like him, Cornejo is also a YouTuber and social media personality.
On July 1, Deso made an announcement of their wedding day through their beautiful photo. As per his announcement their wedding will be held on September 12th, 2020. He captioned the date alongside the hashtag #DesoWedding which has left his fans amazed and happy. Through his youtube video, "i cheated…" he confessed to his fiance about cheating her in past.
Likewise, it is unknown when and how they met, but it is said that Deso felt an immediate attraction towards Cornejo upon their first meeting. After that, the duo became friends and stayed that way for a year. Then one day, Deso invited Cornejo over lunch on a beach, the place where he later proposed to her. His girlfriend also felt the same way, and it did not take long for the lovey-dovey couple to move in together.
Moreover, the couple appeared stronger than ever and was seen together in almost all places. On top of that, they also collaborated in many videos. Looking at the views, the duo was undoubtedly loved by their viewers.
However, in 2017, the couple announced their breakup shocked the whole internet. Before that, they did break up pranks a couple of times but unfortunately, this time it wasn't pranking anymore. Though there were many doubts and confusion, the couple confirmed the news by posting videos on their sites.
But again, on September 19, 2018, Derek and Lycette posted a video on YouTube channel.  Lycette shared the news that the two were trying to have a baby for a while and she is pregnant now. Well, don't know if it's true or not. However, he currently seems to be single and is not dating anyone. But he has posted a picture with a girl in his Instagram account with a caption: "She Got Me, And I Got Her!" and her name is not revealed.
Caption: Derek Deso clicking a photo with a girl. Source: Instagram
Body Measurements
He stands tall at the height of 6 feet 4 inches or 193 cm and weighs 75 kg or 165 lbs. Derek has got a perfect body figure that he flaunts on his Instagram. Other than his solid body, Deso has got a set of attractive brown eyes and dark brown hair, which he colors frequently.
Derek has multiple tattoos on his body. His right hand is full of tattoos and has an 'OMERTA' tattoo in his left hand. Moreover, he has got tattoos on his neck and his chest as well. He claims that all the tattoos he got have their respective meaning.
Caption: Derek Deso posing for a photo. Source: Celeb Tattler
Social Media and Net Worth
Derek is popular on different social networking sites. He has gained over 181K followers on his Instagram account. He is also active on Twitter with more than 16.8K followers. Similarly, he has garnered over 3.4 million followers on his official Facebook page.
His main channel 'DerekDeso' has accumulated over 2.3 million subscribers. And his other channel 'DerekDesoDaily' has earned more than 2.37 million subscribers. Similarly, the YouTube channel 'TheBoogShow' has earned over 542K subscribers. Furthermore, anyone can personally contact him by sending a message on his mail, [email protected] He is also available on TikTok with more than 25.3K followers but he has not posted any videos yet.
The YouTube personality earns has accumulated millions of fans followers on his all three-channel. He makes an impressive amount of money from his videos. Deso can make an average of 350K views from various sources. He has an estimated net worth of around $700K. Not to mention, Deso makes most of his earnings from his successful career on YouTube. Apart from that, he makes extra cash form the ads that run on his YouTube.
Sours: https://biographymask.com/derek-deso/
Pranks derekdeso
Who is Derek Deso's wife? Meet influencer Sophia Turner
Known as one of the OG pranksters on YouTube, Derek Deso has been making waves on the platform since 2010. However, fans want to know about Derek Deso's wife Sophia Turner. She just announced on his YouTube channel she is going to be making her own content, including photoshoots and videos. We tell you all you need to know about their relationship.
Meet YouTube star Derek Deso
Derek Deso was born on 27 April 1987 and is 34 years old.
He currently has 2.57 million subscribers to his YouTube channel on which he posts prank videos, including pranks on his unsuspecting wife Sophia Turner.
His most successful videos have more than nine million views, such as the Spying On My Girlfriend video, or Surprising A Kid With An iPhone 11.
Before getting together with Sophia, Derek was dating fellow YouTube content creator Lycette Cornejo.
Who is Derek Deso's wife Sophia Turner?
Derek Deso's wife is YouTuber, influencer and businesswoman Sophia Turner.
She contributes to Deso's YouTube channel, whether through prank videos or family/parenting vlogs.
She also describes herself as a "lash tech, hair stylist and salon owner". Turner has her own page dedicated to her beauty business.
MOVIES: Who voices Vivo character Rosa?
The pair started dating in 2019, and got married on 12 September 2020. They have one son, Quincy, who is a child from Sophia's previous relationship.
While she has starred in her husband's videos, Sophia Turner is looking to make more content of her own. That includes new photoshoots and her own YouTube channel, which currently has 54,000 subscribers.
What videos do they make on their YouTube channel?
Many fans were worried when they saw the title of Derek Deso's video in July – We Are Getting A Divorce.
However, as is regular with the couple, this simply turned out to be a prank. It follows in the vein of their other videos, such as when Derek told Sophia he had cheated on her or when Sophia told him she was pregnant with another man's baby.
TRENDING: Where does Netflix movie Vivo take place?
We can't wait to see what pranks these two pull next!
Have something to tell us about this article?
Olivia Olphin is an English Literature graduate and a film and literature fanatic. She has many years of reviewing experience, recently working as accredited press for the London Film Festival. She has also written widely about culture and sex education, as well as LGBTQ+ and women's issues.
Sours: https://www.thefocus.news/culture/derek-deso-wife/
HAUNTED CLOWN HIDING IN COUCH PRANK ON WIFE (cute reaction)
The truth about Derek Deso and Sophia Turner
Derek Deso is an American YouTube star who gained fame for posting extreme pranks on his channel. He has accrued 2.4 million subscribers, and that number continues to grow every day. Derek's content is unique because of its extreme nature. The pranks and challenges on his channel go beyond what other prank stars on YouTube post.
Sophia Turner is a regular on Derek's channel, and she contributes heavily to his content. Derek and Turner form one of the most recognizable couples on YouTube.
This piece will look at Sophia and Derek's relationship, Sophia's career, and the couple's family.
Derek and Sophia started dating in early 2019, and they got married on 12th September 2020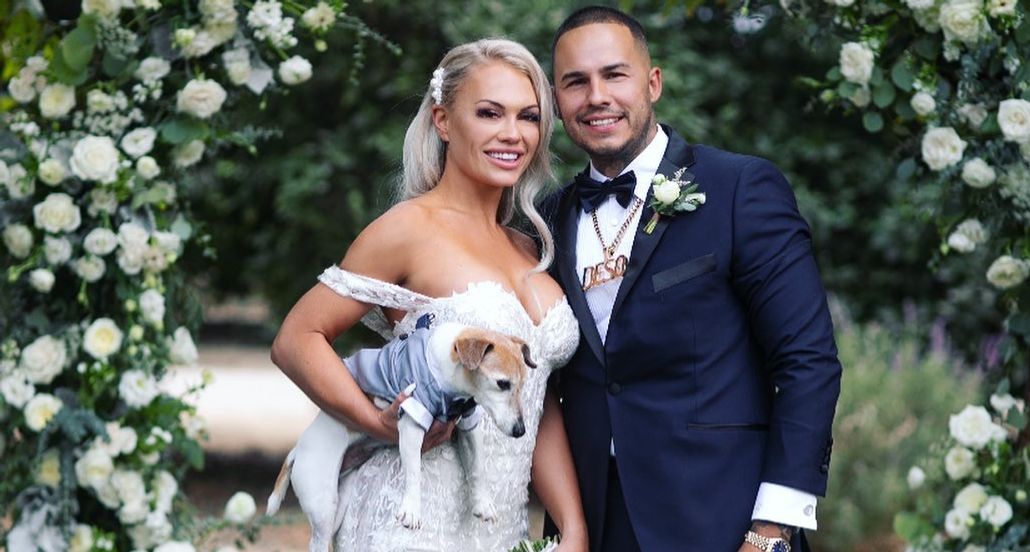 Before dating Sophia, Derek was in a relationship with Lycette Cornejo. Derek and Lycette were frequent collaborators before breaking up at the end of 2018. It was a messy breakup, and they attempted to get back together, but it didn't work out.
Derek and Sophia Turner have been dating since early 2019. They got engaged after dating for a few months and picked 12th September 2020 as their marriage date. The couple kept their wedding date a secret for months before revealing it in early July 2020.
Sophia and Derek have a healthy relationship, but you might think otherwise when you look at the content on their channel. The couple plays pranks on each other that might threaten a normal relationship. Sophia recently told Derek that she was pregnant with another man, but it turned out to be a prank.
Derek retaliated by telling Sophia that he'd cheated on her. Sophia didn't know that it was a prank, and she even called off the wedding. Derek waited until the end of the video to tell Sophia that he'd made up the cheating story.
Sophia and Derek were married in an intimate ceremony attended by close friends and family. There are several photos of the wedding on Sophia and Derek's Instagram pages. Sophia attached the following caption to a recent Instagram photo of the couple:
"There's a man who will grow with you, respect you, and talk you up to his friends and family. There is a man who will gas you up when you're twerking with your best friends, and a man who will do anything to see you smile. There's a man who will grow with you, work with you, and want to see you stable in every way imaginable. I'm proof."
Derek refers to Sophia's son from a previous relationship as his son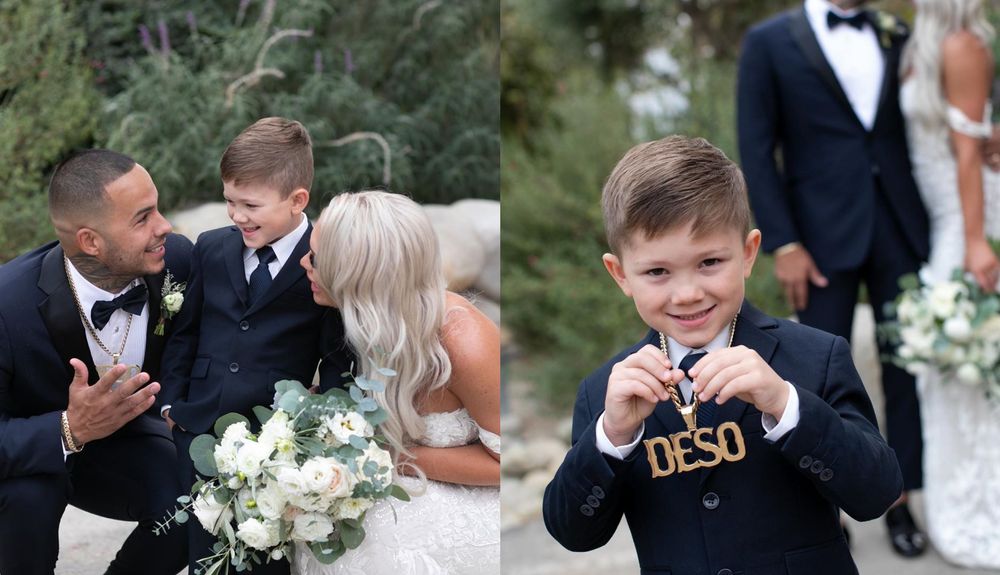 Sophia came into her relationship with Derek with a son from a previous relationship. Derek and Sophia's son, Quincy, are quite close, and they share a father-son bond.
Derek recently took a break from posting so he and Sophia could fly to Washington to pick up Q and bring him home. The couple appeared excited at the prospect of having Q around the house.
Sophia is a beauty enthusiast and an aspiring content creator
On her business page, Turner refers to herself as a 'Lash Tech, Hair Stylist & Salon Owner'. She designs eyelashes and displays her products on Instagram.
Sophia recently created her self-titled YouTube channel. She has several videos on the channel, but she is not as consistent as her fiancé when it comes to social media.
Derek was arrested during a Black Lives Matter protest in Los Angeles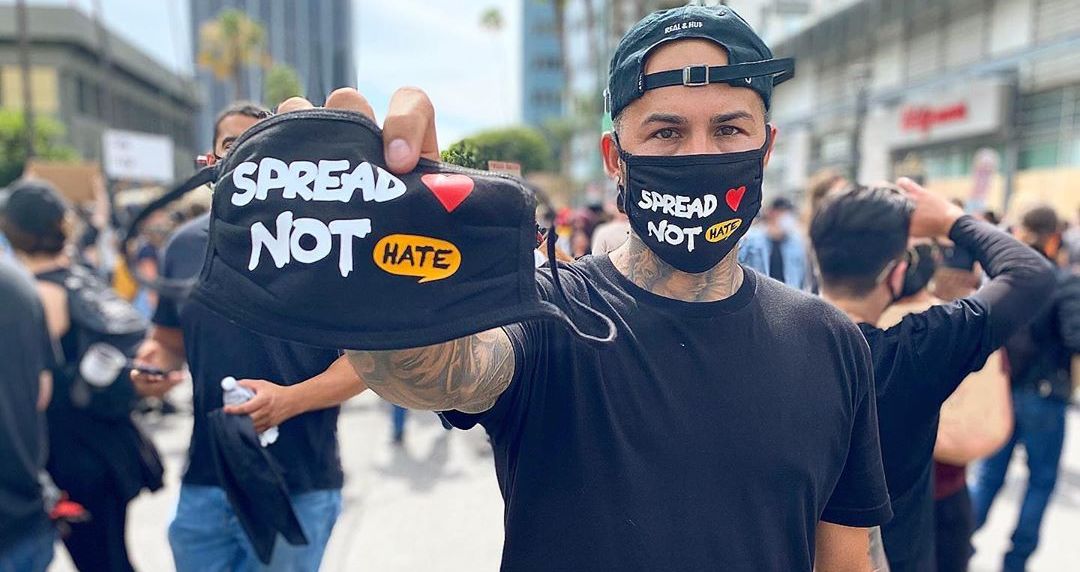 Derek is among the many YouTubers who have used their platform to voice the Black Lives Matter message. He has participated in protests in Los Angeles, and he has been urging his followers to spread love.
At one of the protests, Derek and some of his fellow protestors were arrested for being outside past curfew. Derek posted a video on YouTube after his release, and he seemed very dissatisfied by the police system. He said:
"It's funny how it works because we are giving away masks, telling people to spread love and not hate, we go to jail. Shit's funny."
---
Sours: https://thenetline.com/the-truth-about-derek-deso-and-sophia-turner/
You will also like:
The voice, and she was all kind of gutta-percha and sinewy like a snake. I remembered Igor: wiry, gutta-percha. But the funniest thing awaited me ahead. - Cat, - Karina carefully looked into my eyes, - I have to tell you something else. My wife has an amazing quality: she is completely honest.
1192
1193
1194
1195
1196