"She has so much hair." The first words the doctor said to my mother when I was born. Curly, thick black hair just like my mum's. And it's been an important part of my life ever since. From sitting in between my aunty's legs getting my braids done to enduring relaxer, as a young girl I learned that doing your hair as a Black woman means time, effort – and some pain.
India Arie sang: "I am not my hair, I am not this skin, I am the soul that lives within." And technically, it's true. I am more than my hair. I'm the person who just happens to have this hair on her head. But reality hasn't reflected that. Years of conditioning have tied my identity closely to whatever hairstyle I'm wearing that day, that month or that year.
If you'd ask me how I feel about my hair, I'd tell you I love it and this isn't a lie. I do, especially as I was fortunate to be raised by a Black woman who affirmed my natural hair. In secondary school, I was always the girl with braids and to this day, they're one of my favourite hairstyles. I would sometimes relax my hair, but only really for special occasions, and my mum forbid me from having weave until I was able to afford it. This meant I was forced to love my hair way before the natural hair movement asked me to – and it worked.
All those years of avoiding relaxers and keeping my hair in protective hairstyles like box braids meant my hair grew healthy and long. Whenever I had the chance to style it and wear it out I would. This meant I must love my hair, right?
The "big chop" was something I associated with hair that was unhealthy. I'd often flirted with the idea of cutting mine off but, in practice, the idea scared me. The length of my hair made me feel attractive and I relied on that feeling. I liked my natural hair, but that's partly because it was long and similar to my braids and wigs. When we speak about European beauty standards within the Black community we forget that length is part of that conversation.
As a natural "girly girl", I was also terrified that if I cut my hair, I'd somehow lose my femininity. Equally, I wanted to challenge myself and that very notion. And more importantly, I wanted to save some of the money I was spending on my hair. A new wig can cost around £200 and braids up to around £100.
So, just like that, one day in August, I took myself off to the local barbers, as recommended by a family friend, to cut and dye my hair. And it's been one of the best trips I've made all year.
Keziah Ndouri understands the motivation. Ever since she was a child, she says, she'd internalised messages about beauty being tied to the length of your hair.
"I remember it being something all the Black mums and girls around me strived for. I especially remember the little girls on the Just 4 Me relaxer boxes, and wanting hair long enough to style like theirs," she says.
But the 23-year old model and content creator from London was increasingly growing tired of doing her hair – especially after it started thinning.
"I had just finished combing out some plaits when I stopped, grabbed my keys, left my house, went to the nearest barbershop, and demanded that the uncle cut my hair," Ndouri tells me. "Best decision ever."
On first walking into the barbers a few weeks ago, I definitely lost some of my bravado – this was evidently a space for men, unlike my aunty's or the salon.
Nevertheless, the barber made me feel at ease and we got along well. Before he started work, he asked me if I was sure and, nervously, I said yes. Seeing my hair fall around me made me realise how much I actually had. As it shortened by the minute, I started to panic a bit. But the panic didn't last. When he was finished and I looked into the mirror I liked what I saw: me.
Not only did I feel the most confident I have in years, I looked amazing. Now he's my go-to man for my bi-weekly trims.
"Short hair makes me feel powerful and at my most beautiful."

- Dakota Branch-Smith, 26
Dakota Branch-Smith, 26, an entertainment PR account executive from London, already had a positive relationship with her hair when she decided to go for the chop, she tells me. But since cutting it short, both that relationship – and her hair – have only got healthier.
"Short hair makes me feel powerful and at my most beautiful," she says. Both the simple act of cutting her hair and the results have made her "1000% more confident". Now she can't see herself any other way than keeping it short.
"It's made me do bolder things like try new colours and styles" (Branch-Smith is currently sporting a bleach blonde crop) "and just embrace my natural curls."
I know what she means. Cutting my hair has completely rid me of any inherited European beauty ideals. It has reminded me that I am enough. And in terms of maintenance, I no longer have to deal with the stress of long wash days or worry about how I am going to style my hair.
Branch-Smith has kept hers short ever since the big chop and doesn't think she'll grow it any time soon. "It works so well for me and my lifestyle, as well as the fact it's the one style that suits me the most."
"It has reminded me that I am enough."
But other women who've embraced short hair report a more rollercoaster journey to get there. In primary school, Chancy*, now a 28-year-old NHS administrator, was forced to cut her hair when it lost its health and still remembers being made fun out of by her classmates.
She later had to cut it a second time, now aged 13 and feeling even more self-conscious. "I spent most of my teen years hating my natural hair, its texture, its look, everything about it. I always preferred braids," she tells me.
Chancy isn't sure what influenced her to cut her hair short as an adult. All she knows is, this time round, it's on her own terms and she feels confident.
"I've maintained this hairstyle because of how low maintenance it and it's easier for me to dye it," she tells me. "I feel like it suits my personality. Now if anyone says I look like a boy, I just say, 'Cool'. At least I have a better shape up."
People like to have an opinion on your hair. So, what do those around me make of my new style? Well, my friends love it, telling me just what I need to hear (and meaning it too, I hope) – that my short hair suits me.
My older sister is also a big fan of the cut, but then she was a big influence during this whole process too, as someone who cut her hair in her own early 20s and has been a huge advocate ever since.
That time, our mother didn't talk to her for a week, despite telling us that she also cut her hair short as a student. She seems more at peace with my cut.
"Cutting my hair has been the greatest exercise in self-love I could ever do."

- Keziah Ndouri, 23
My sister now wants me to experiment with colour. Turns out, cropped hair is a canvas. And to my surprise, I've found more men compliment me now when I'm out than before, which goes against my idea I need length to feel attractive. Perhaps that's because it has changed the way I see myself, inside and out.
It was still a nerve-wracking experience, though. Esther*, a 27-year-old garment technician from Essex, has always enjoyed the relationship she has with her hair, but she relates to those initial nerves.
"I felt like short hair would suit me more than having long hair," she tells me of making the decision. But what took some confidence only gave her more. And ultimately, it was a liberating experience. "I like the freedom to do what I want at any time, plus I'm not precious with hair as it always grows back," she says.
Some people will tell you short cuts only suit certain faces and heads, but Branch-Smith tells me she's a huge advocate for anyone having a go, and Ndouri agrees that even if you're nervous beforehand, just go for it.
"Cutting my hair has been the greatest exercise in self-love I could ever do," she says with hindsight. "As I cut mine at the beginning of lockdown, we weren't going out, I wasn't wearing makeup, so I really had to look at myself and get comfortable and grow in confidence. Which I did.
"I felt like I had reached a depth within myself that I had never reached, and the self-assurance and self-love that I found there, I won't ever lose."
It's good for hair health too. "My hair being natural and damage-free (minus bleaching it) has been the best it's been and it's so much easier to manage. I think a lot of people see black hair as hard to tackle and take care of which is not the case," she says. "Hair is just hair and it will always grow back."
Esther, meanwhile, says it's fine to ease yourself into what can still feel like a big decision. "It took me a year to finally cut my hair. What also helped was following short hair pages on Instagram and YouTubers who also did the big chop as well, just so I knew what potential styles I could do."
Whether you're cutting your hair out of pragmatism, frustration or self-love, the decision to do the big chop is a powerful one. I'm happy I finally made the plunge and I can't wait to feel my confidence grow, even if my hair stays short.
* Some interviewees preferred not to give their surnames.
Sours: https://www.huffingtonpost.co.uk/entry/the-big-chop-black-women-short-hair_uk_6138c4e5e4b04778c00c9d31
"If your hair is curly and you want a mid-moisture level, choose a formula like DevaCurl's No-Poo and One Condition Original. If your hair is super curly, it's going to need more intense hydration, so we'd recommend something like No-Poo and One Condition Decadence that deeply hydrates (thanks to chufa milk) and avoids detergent, "
Another thing to avoid is using traditional terry-cloth towels on the hair, as the fibers can be rough on the cuticle and cause frizz. "Instead, look for an option that has softer fibers that won't disturb the hair as much — a microfiber towel, like the DevaTowel is a great option," he adds.
Lean Into The L.O.C. Method
Beyond finding the right products, you'll have to find a good curly cocktail to truly enhance your texture. Alvarez who works with Shakira, Dascha Polanco, Anika Noni Rose, among others, is a huge fan of the popular L.O.C. method. She explains why it works so well:
"When your hair is short, your natural texture really gets a chance to shine. It's also a good time to figure out which products will work best with your hair," she says. "The L.O.C. (Liquid Leave-In, Oil, Cream) method is a good way to seal moisture into your hair and prevent dryness," she explains. "The ideology behind the L.O.C. method is that layering your products will lock in moisture and create a barrier to protect your curls from drying out." She recommends detangling with your fingers — not a comb — for the best results.
Press Pause on Hair Color (And Heat)
As tempting as it might be to play around with your new texture, hold off. "The top things to avoid are excessive heat and color as they compromise the curl pattern while it's growing out," explains Wallace who works with Mary J. Blige, Taraji P. Henson, Zendaya, and Skai Jackson.
Sours: https://www.allure.com/story/how-to-big-chop
Is the Big Chop For You? Ask TheAfro Hair Experts at Hiikuss Hair Salon in Camberwell, London
Are you thinking about rocking your natural hair, but you're not quite sure how to go about it?
The two main options, for most women with afro or multi-textured hair, are transitioning from chemically treated hair to your natural curls or just doing the Big Chop.
Many women avoid the Big Chop because they link a large mane to femininity, but the rise in celebs such as Lupita Nyong'o rocking a short natural afro are proving that women with short natural hair can look fierce, feminine and fabulous! The afro hair experts at Hiikuss Hair Salon in Camberwell, London, explain more about this dramatic 'do……….
Areas We Cover
Camberwell
South London
Fulham
Brixton
Peckham
Walworth
Clapham
Vauxhall
What is "The Big Chop"?
If you aren't sure what exactly a "Big Chop" is, it is simply cutting off damaged or over-processed hair. The cut usually results in a much shorter, natural hairstyle which many women find empowering.
It is often a dramatic cut and can be a preferred alternative to transitioning as the effect is immediate, whilst transitioning has many different textures due to the chemically straightened hair growing out gradually, which can look untidy and be difficult to style.
What Are The Main Benefits of The Big Chop?
One Hair Texture – Going for the Big Chop makes getting used to your hair texture so much more comfortable. Big chop hair is manageable and simple. If you decide to transition would have to learn how to manage two different hair types, possibly three if you count the scab hair, which is fragile and prone to breakage.
Better Hair Product Results – Another benefit of short, natural hair is that it is easier to find the products your hair loves. It can be challenging to see what works best for your hair while transitioning, finding products that cater to different hair textures is not easy. This is why many women choose the big chop over transitioning.
Reduced Styling Time – Short, natural hair is much lower maintenance than many other hair types. Styling time and hair care time is reduced, so you can hit the snooze button a couple more times in the mornings!
Increased Hair Growth – When you determine that you want to transition, your hair is more prone to split ends and breakage. When you choose the big chop, you get rid of all the damaged hair altogether, which can give the appearance of thicker, fast growing hair.
Wash and Go Hairstyles After The Big Chop
To get this relaxed, low maintenance look, you will need to wash and condition your hair with a professional quality shampoo & conditioner. After this, you should thoroughly detangle your hair with a high quality leave-in conditioner. Style with cream or gel and go!
Twists and Finger Coils On Natural Hair
This cool style gives you a chance to experiment with your shorter hair. Wash and condition your hair, then play around with finger coils and find the look that works best for you.
We would suggest that your hair be at least 2 inches long to achieve a really good finger coil look, for a good twist out you would need at least 3 inches length.
Hair Braids and Weaves After "The Big Chop"
If you are not feeling the short hair idea and want to add length now, there is always the option of getting braids or a weave. Your natural hair will stay healthy as there is little manipulation needed to rock this protective hairstyle. You could also choose to wear high quality wigs, ask your Hiikuss hair expert about your options.
Book a Big Chop Appointment at Hiikuss Hair Salon in Camberwell, London
Ready for a new shorter look? Book your hair appointment with the afro hair experts at London's top black hair salon by calling us on 0207 701 6478 or book online here.
Sours: https://www.hiikusshair.co.uk/news/the-big-chop-the-best-way-to-go-natural/
❤️✨BIG CHOP ON NATURAL HAIR!! PART 2 - Natural Hairstyles 2k20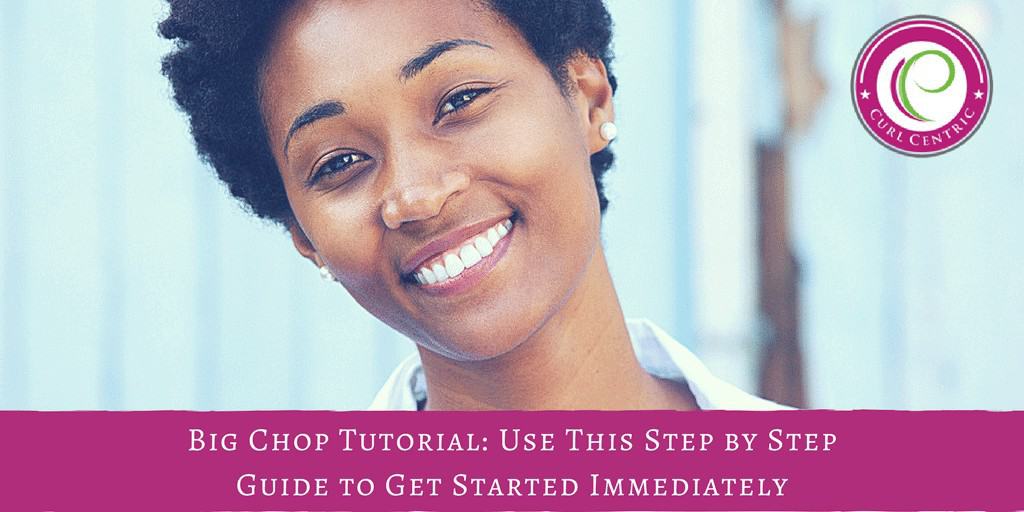 If you haven't heard the term big chopping before, let me explain exactly what it is. The big chop is the act of taking your natural hair journey from transitioning to officially 100% natural in a matter of minutes.
Curl Centric defines the term big chop as the act of cutting off all of your relaxed hair, leaving only your beautiful new growth, which is natural hair.
Big chopping is the quickest way to go natural and unlike the alternative, transitioning from relaxed to natural hair.
It's not only different in physical approach, but it's also different mentally.
To big chop, you have to emotionally detach yourself from your hair's length. There are a lot of misconceptions when it comes to a women's hair length.
Clearly, one length does not fit everyone. For those of you who decide to take the plunge and big chop – there are many benefits to a big chop journey.
The Big Chop 2016: Starting My New Natural Hair Journey
Throughout this article, we have included a series of videos from popular YouTube video blogger Chrissy Cousins where she discusses the beginning of her big chop journey, four-month post big chop update, and hair growth at the one year mark. Throughout the series, Chrissy discusses using biotin for hair growth, hair typing, and big chop hairstyles. If you enjoy the videos, please subscribe to Chrissy's YouTube channel at this link.
Kira's (My) Spontaneous Chopping Experience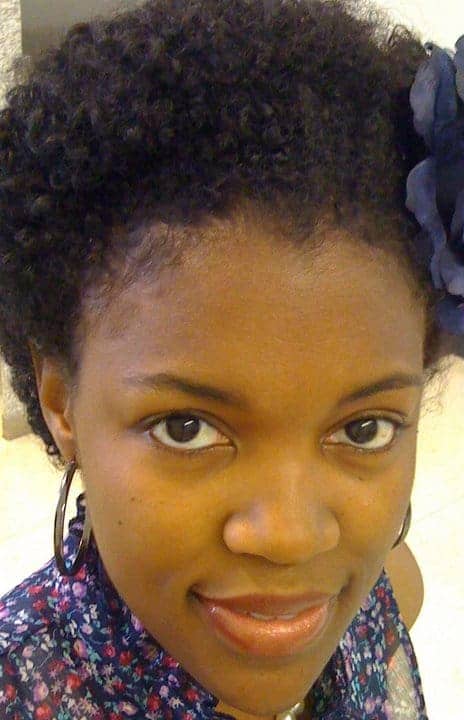 When I spontaneously big chopped, I chopped off a chunk of my hair on the left side of my head. My logic was to cut my hair in an even afro. However, once I started cutting my hair, I felt the urge to cut more and more. I was cutting chunks from the same area, and there was a dent in the front when I picked out my natural afro.
To make the chunk of hair that I cut out less noticeable, I simply patted my afro down, extra tight. I also wore afro puffs. My mistake can make your journey easier.
Spontaneity can be an excellent quality to have, but in hindsight, I needed a plan that explained how I was going big chop. I needed to understand what tools to use and a visual guide to ensure that I didn't cut off more hair than necessary.
So, I needed a gauge that helped me determine when I had chopped off enough; so I could put the scissors down and back way.
After giving it much thought, I came to the determination that I could've used rubber bands to aid in the big chopping process. Below I'll explain how to use rubber bands for your big chop.
You will need the following:
Freshly washed hair that has been allowed to air dry. We don't recommend blow-drying, flat ironing, or stretching your hair before big chopping because you will need to see the line of demarcation clearly. The line of demarcation is where the natural hair and relaxed hair intersect.
Rubber Bands are needed so that you can easily mark the line of demarcation.
It's important to use quality hair cutting shears. Please do not cut your hair with dull scissors. Dull scissors or low-quality hair cutting shears may damage your hair.
It's helpful if you can see your hair from different angles, so I recommend using two mirrors. Having one handheld mirror and a wall-mounted mirror is optimal to achieve the viewing angles needed to easily big chop.
You'll need a wide-tooth comb to make parts as you section off your hair.
Butterfly clips or duckbill clips will help keep your hair together as you create sections throughout your hair.
Items:
How to Do the Big Chop Yourself
Step 1. Using the comb, section off your freshly washed hair into four large sections using the diagram below as a guide.
Part or section your hair from ear to ear. Use the blue line starting with 1 and ending with 2 in the diagram below as a guide.
Next, using the orange line starting with 3 and ending with 4 in the diagram, part your hair down the center from forehead to nape.
Use the butterfly clips or duckbill clips to keep each section separated.

Step 2. After the hair has been separated into four sections, working from the right front section just above your ear, make two parts so that you will have three equal sections. Use the diagrams below as a guide.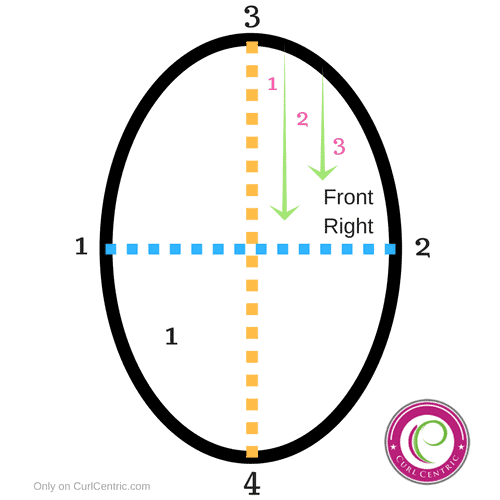 Step 3. Working within the three sections, starting on row one, section your hair into square parts and place a rubber band right above the new growth. The new growth represents your natural hair.
The size of each square is determined by the amount of new growth you have. If there is very little new growth the squares may be smaller. If there is a lot of new growth, the squares may be larger.
The goal is to have each square-sectioned off with a rubber band so that the line of demarcation is exposed above the rubber band.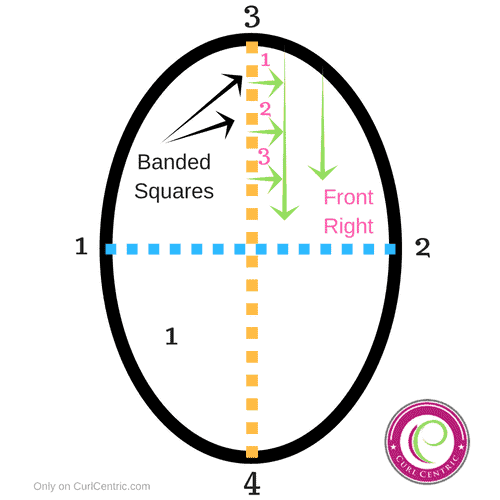 Having the line of demarcation visible allows you to use it as a guide as you cut the relaxed ends off of your hair.
Step 4. Continue to rubber band the entire right front section. Keep in mind two things: (1) If you want uniform hair, align each rubber band with the one beside it. This will make all the rubber bands even.
When banding a new section, be sure to use a previously banded section as a guide. (2) If you are not concerned about having even hair, then rubber band the hair just below the line of demarcation.
This way, you have the greatest chance of cutting off all of your relaxed ends. Once you finish, there may be a need to go back and snip a little.
Step 5. Repeat steps 2 through 4 for the remaining sections of your hair. Remember to use the mirror so you're able to see the back of your head as you create sections.
Once your entire head has been sectioned off into banded squares, cut off your relaxed hair, including the rubber band.
4 Month Post Big Chop Update! | Hair Type, Biotin, Coloring My Hair?
Chrissy's four-month post big chop update video discussing the benefits of biotin, hair typing, and other natural hair related topics.
Would You Rather Use a Stylist to Big Chop?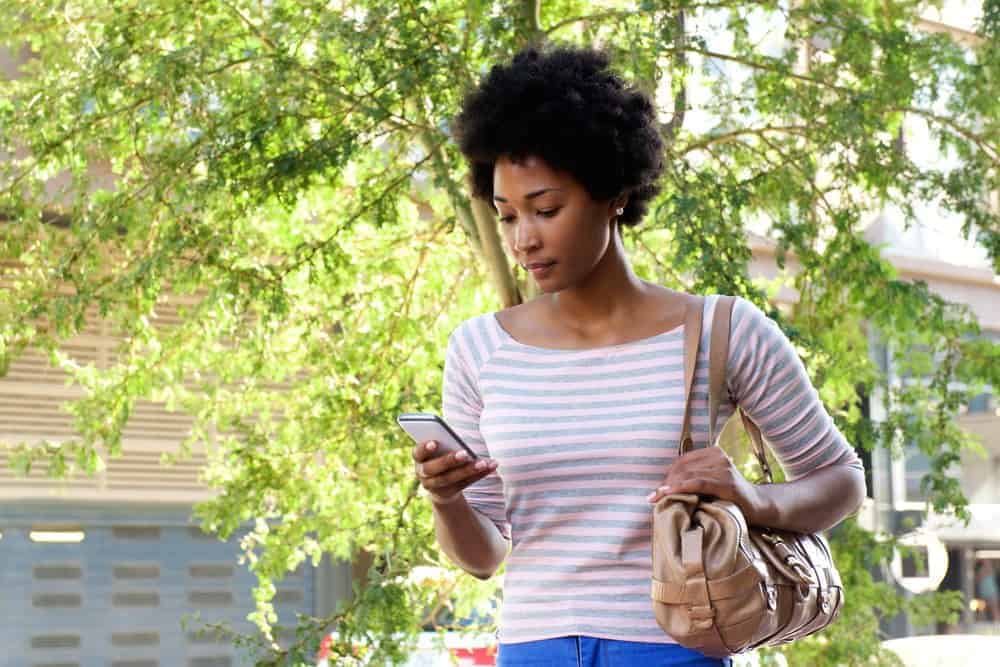 If you're not comfortable with big chopping your hair or haven't found the time to big chop on your own, maybe you should consider hiring a stylist for your big chop.
If you're like most people, you have already invested time in learning how to transition to natural hair.
At some point, you will become fed up and disinterested in dealing with both your relaxed hair and natural hair, since you're currently managing multiple textures.
With a combination of thick new growth and stringy relaxed ends, it's easy to become frustrated.
Please don't big chop while you're frustrated. You really want the big chop to go as smoothly as possible. Also, you want it to be a positive, memorable experience.
Choosing a Stylist for Your Big Chop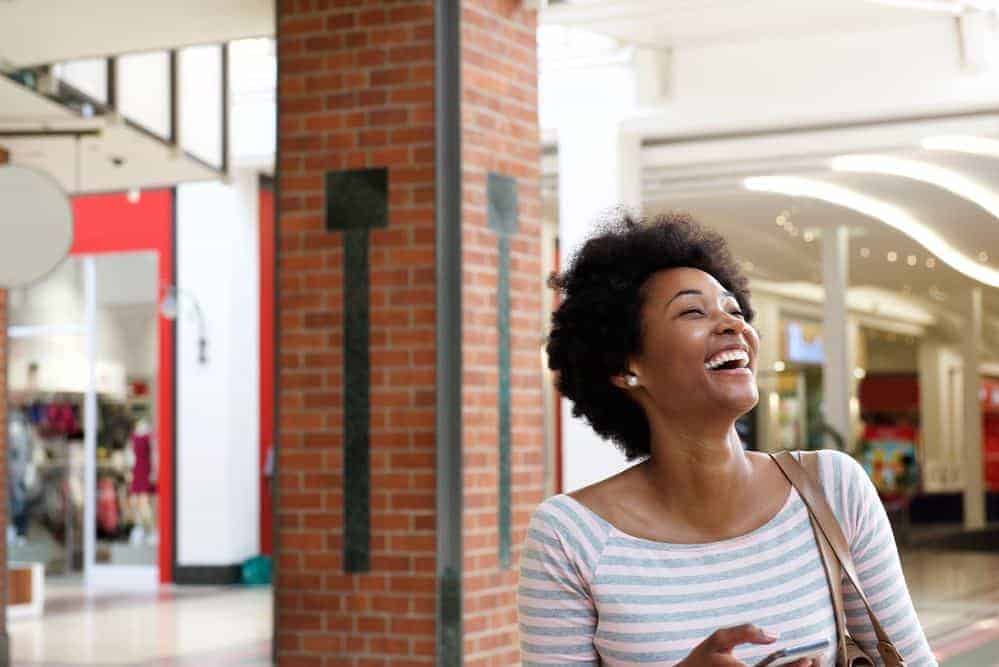 The best thing you can do is to figure out exactly what you want. Begin with the end in mind, thinking about what you want your hair to look like when you get out of the chair.
Big chopping can be downright scary. If you decide to allow someone else to cut your hair, the person that you chose, depending on their experience, can add a level of comfort.
Read the reviews of their other clients. Visit their website and look for testimonials. Check out their social media pages for photos and additional client feedback.
This research will give you a good idea of what to expect from your experience and oftentimes you'll see real results from other clients.
Communication with your stylist is key. You should be able to describe your style or provide a sample photo of the style you want, so they are able to create the look your expecting.
Keep in mind that the person you pick may not have a lot of experience with handling natural hair. Their understanding of natural hair lingo may be limited.
So make sure you are able to explain what you want in clear simple words, instead of using natural hair lingo. We recommend finding a picture online to show your stylist the exact look that you're expecting.
By doing a bit of footwork at the beginning and by asking the right questions, you can help ensure that you get the service and results that you want.
I transitioned for 17 months, before big chopping. On the day I big chopped, my goal was to cut off the relaxed ends only! I had no desire to cut my hair in a style. My only goal was to be 100% natural. I was fully aware that this meant that my hair might be uneven. However, I didn't wear my hair straight, so the unevenness wasn't noticeable in my puff. A year later, my hair was cut even.
Wash n Go on TWA | 1 Year Post- Big Chop!
Chrissy, who is wearing a wash & go hairstyle, shares her post big chop story "one-year later". This video also shows you what you should expect from a hair growth standpoint one year after your big chop.
Big Chop Hairstyles vs. Only Cutting Off the Relaxed Hair
When you big chop, do you want your hair cut into a style, or do you simply want the relaxed ends cut off?
Option 1 – Getting a Big Chop Hairstyle: If you decide to have your hair styled, your hair shouldn't be uneven, plus you'll have a cute, new natural hairstyle.
On the flip side, it's likely that you'll lose some of the hair growth progress that you've achieved since your last relaxer.
If you decide to grow your hair longer, you will likely go through that awkward stage that occurs when growing out most hairstyles.
Option 2 – Only Cutting Off the Relaxed Hair: If you decide to simply have the relaxed ends cut off, this will allow you to keep the new natural hair growth that you have achieved since your last relaxer.
With this option, your hair will not be cut into a particular style or shape, except the automatic shape that your natural coils retract to all by themselves after the relaxed ends are cut off.
Note that you can manually shape your natural coils with the help of styling products and a little patting or stretching as needed. Whatever you decide, spend some time weighing your options for what works best for you and your lifestyle.
A quick note about me: My last relaxer was in January 2007. I have never had my hair cut into a style. Personally, I need to be able to wear a bun or a puff. That's my default style. Plus, the length of my hair is an important factor to me. By not cutting my hair into a specific style, I've been able to grow my hair to middle back length (MBL) since I big chopped.
Who Should Do Your Big Chop?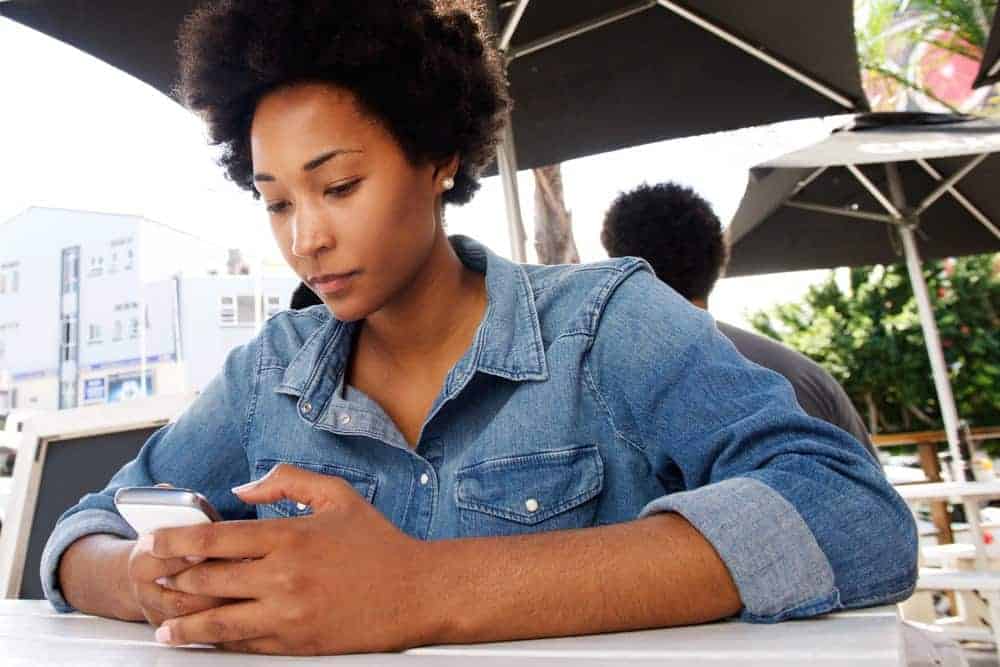 Many women choose to allow their spouse to cut their hair, which is a great option. Also, if you prefer to have your hair cut by a stylist, there are some things to consider.
I highly suggest having a conversation with the prospective stylists and discussing what you want. You are not obligated to use anyone and should choose the person that you determine will do the best job on your hair.
Often your regular stylist or the "homegirl" that maintained your relaxed hair won't be the best fit for big chopping your natural hair. The person that you choose should have experience with natural hair.
The real decision isn't necessarily between a stylist or barber, but who you think, based on your conversations, can best deliver what you want.
Be as clear and thorough as possible so you have a good understanding of their abilities.
Watch their body language, the tone of their voice, and the words they choose. If they are speaking negatively about natural hair, they may not be the right fit.
Is the conversation inviting?
Are they professional?
How do they interact with their other clients?
Are they distracted as they work with their other clients?
Did they schedule multiple clients at the same time, resulting in having a lot of clients waiting to get service?
All of these things can impact the quality of service you receive.
The Conversation With Your Stylist: "The Interview"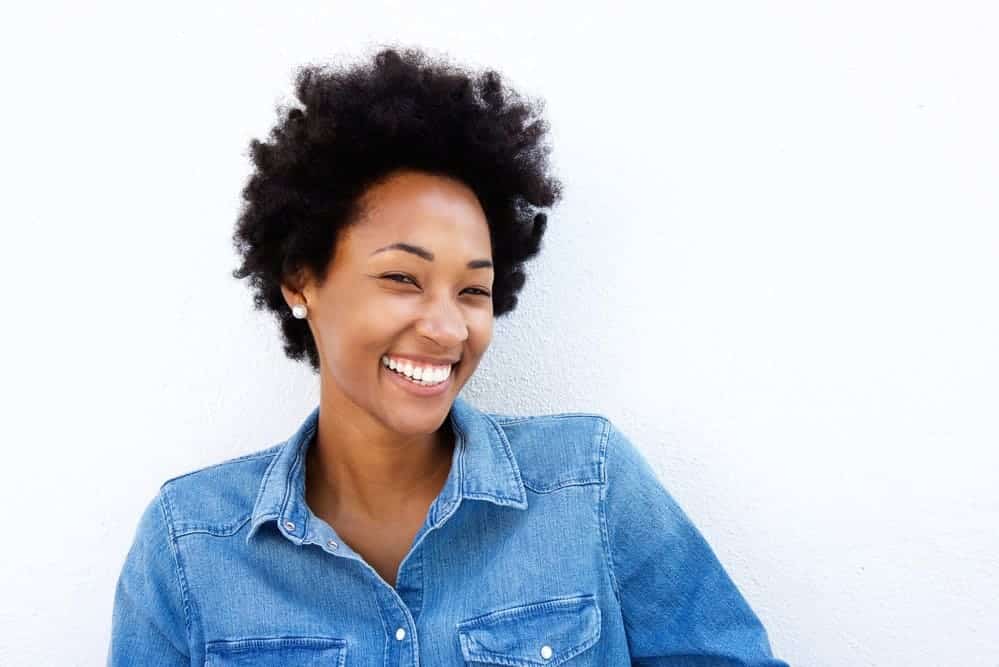 The conversation with your stylist should really be viewed as an interview since you have a service that you would like to have performed. You're looking for the best fit based on your needs and your confidence level.
Having this conversation with the person you have in mind is the best thing for them and for you. You want someone who is comfortable doing your big chop, plus you want someone who shares the same enthusiasm as you.
The best way to know if the person you are considering has the same mutual enthusiasm as you is by asking questions like the ones I have provided.
Here are several questions that I suggest you ask:
Can you explain your process of big chopping? Walkthrough the entire process step by step.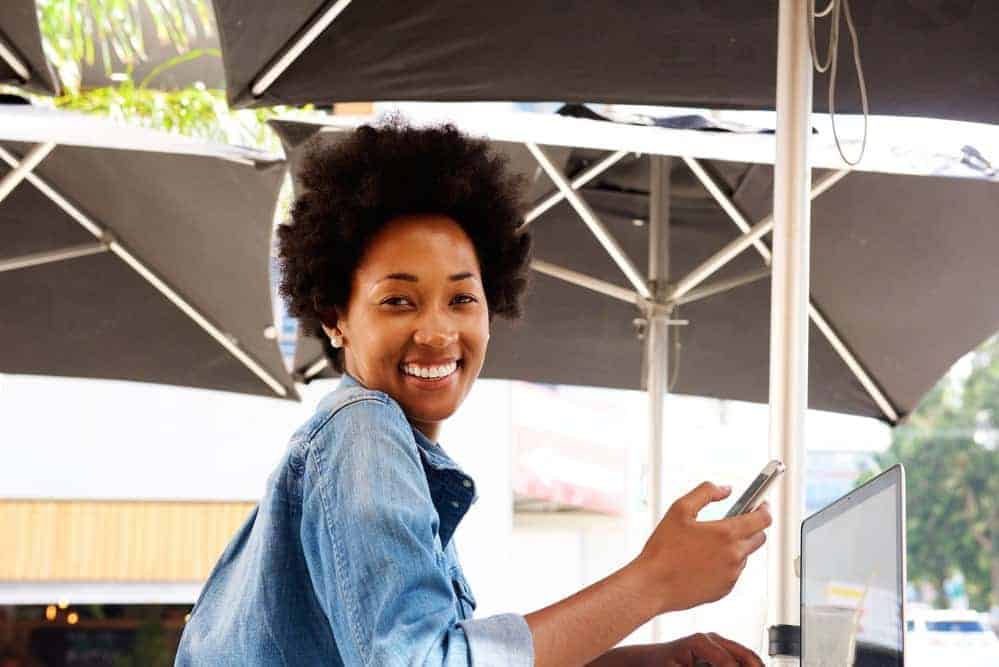 Due to a variety of reasons that are mostly outside the scope of this article, we recommend that you big chop your hair while it's dry.
For example, potential damage to your hair, the fact that wet hair often appears longer than dry hair, and differences in porosity are a few reasons why we recommend drying your hair before you big chop.
Although, we have seen women successfully big chop both wet and dry hair, so it's really more of a personal preference.
Based on the information they provide, you should have a solid idea of what to expect at your appointment if you decide to make one with them.
How long have you been a natural hair beautician?
Is natural hair care your specialty?
What are some of the natural hairstyles you can create once my relaxed ends are cut off?
What is the typical waiting period from the appointment time to actually seating in your chair?
Should I expect to be seated immediately after arriving?
Should I arrive with my hair already shampooed, conditioned, and damp (wet)? Or should it be dry?
If I arrive with my hair dry, should I plan for you to shampoo and condition?
What products do you use?
What are your thoughts on using customer-requested products?
Do you use shears or clippers to cut the relaxed ends off?
I often recommend that you ask to see the entire process in the mirror as they are cutting.
You might decide that you want to have a few pictures snapped as well. That way you can track the transformation.
If it makes you comfortable to just get the relaxed ends cut off and set a hairstyle appointment later, feel free to do that.
Give yourself time to go home, wet your strands, and see what your hair looks like after the big chop. Think about what you want to happen to make this big chop experience memorable.
There are several big chop hairstyles (i.e., TWA styles) that you can wear immediately and many natural hairstyles to choose from after your hair start to grow out.
Our Final Thoughts, Plus Top 5 Benefits of the Big Chop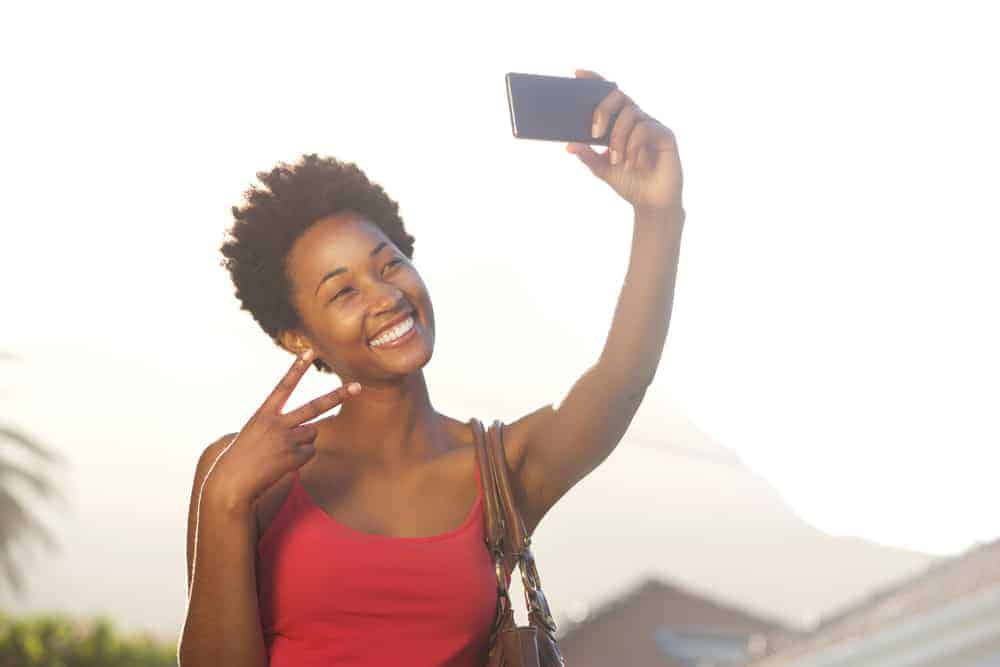 Going natural can be a great experience. I've been natural for more than ten years, and have thoroughly enjoyed my natural hair journey.
I couldn't even imagine relaxing my hair again. If you're still considering the big chop, I highly recommend it. Big chopping has been an incredibly rewarding experience for me.
Here is a brief overview of some of the things that I experienced:
5. Immediate Gratification
As you know, we now live in a world where many people want immediate gratification. We no longer want to wait for our hair to grow and would rather install extensions to have immediate length.
If you want immediate gratification (like I did), then the big chop is definitely for you.
When you big chop, your natural hair journey starts immediately. You begin your natural hair journey with whatever new growth you have at the time.
4. You're a Superstar
Have you ever wanted to feel like a celebrity or superstar? If so, you should definitely big chop.
Even though big chop hairstyles are somewhat limited, everyone who knows you will want to discuss your new teeny weeny afro (TWA) hairstyle. People you know will be amazed at your new cut and will probably view it as a badge of courage.
3. Products work better
Listen up – product junkies. One of the biggest benefits of big chopping is that you only have to deal with the texture(s) of your natural hair, instead of your relaxed hair texture also.
It's very difficult to cater to both relaxed hair and natural hair textures.
Many women decide to big chop because of this issue, since dealing with multiple textures can be frustrating to many women.
With only natural hair on your head, you will have a better understanding of how products actually work for you and your hair.
2. Girl Power
Don't you just love accessories? What about headbands, hair scarves, slinky earrings, eye-catching lip gloss, and cute eyeshadow?
Big chopping allows you to accentuate your natural beauty which can be covered up by your hair at times.
1. Gain Confidence
To big chop, a woman needs to carry a great deal of confidence and fierceness. Need I say more? If you found this information helpful, be sure to share it so that it can help someone else that's considering the big chop.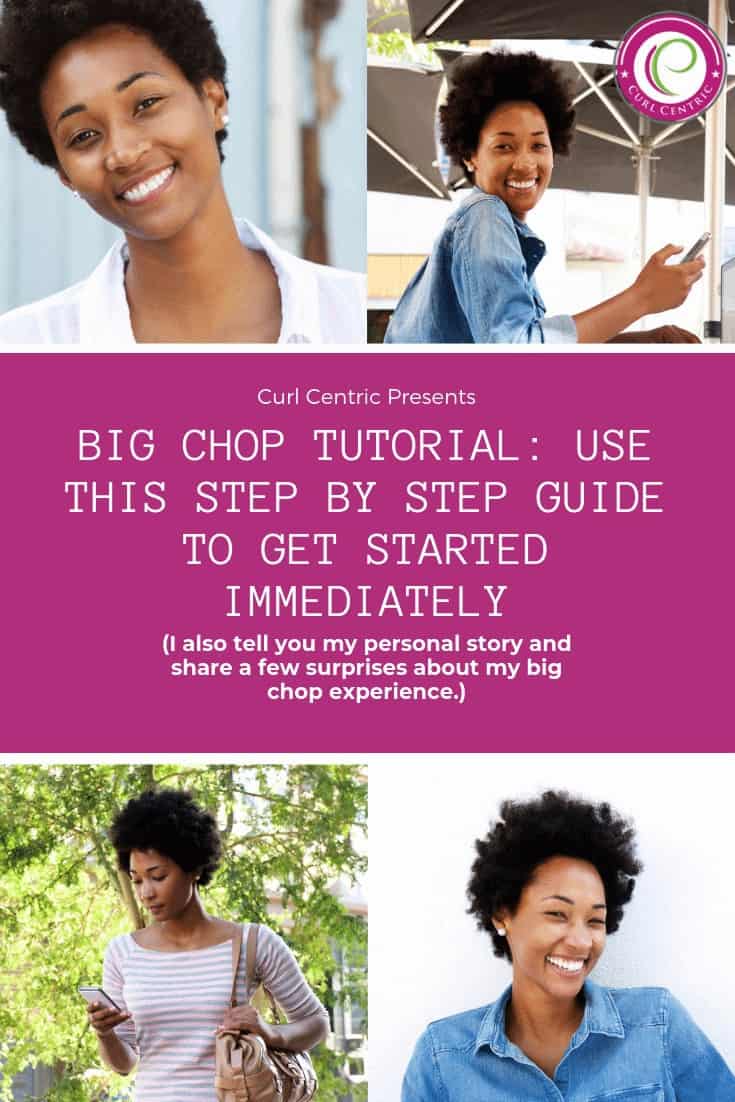 Sours: https://www.curlcentric.com/big-chop/
Chop styles big
1Dope Cut Hairstyle
This type of hairstyle involves shaving the sides of your head. Just make sure you use a professional barber to give you a dope cut. You can choose any pattern you want depending on your personal taste.
2Blonde Hairstyle
Dying your short natural hair blonde is an awesome way to wear it. Blonde is a good color on black women and complements the skin color.
3Natural Mohawk Hairstyle
The Mohawk hairstyle is here to stay and you can rock it as big chop hairstyle. This hairstyle is a brave one but you can pull it off.
4Rope Twist Mohawk Hairstyle
With this hairstyle, you shave the sides of your head and plait twist braids on the remaining hair. Box braids is also a good option.
5Short Natural Tampered Cut Hairstyle
How short are you willing to go? With a tampered cut you wouldn't need to keep styling your hair but give it time to grow. This is a hairstyle worth trying – very fashionable.
6Teeny Weeny Afro (TWA) Hairstyle
TWA is obviously a cool look to rock. This hairstyle takes the shortest time to style and maintain. After your big chop, this is definitely a must try.
7Fade Mohawk Hairstyle
If you don't want to get a deep Mohawk, this is the style for you. This hairstyle is an undercut with a larger faded Mohawk on the top, but the undercut design is upgraded and shaved to give an illusion of something new and exciting. Regular trimming is recommended to keep the look.
8Simple Natural Hairstyle
This is a simple wash and go hairstyle. It might seem simple but it's really fashionable.
9Adorable Natural Hairstyle
After you have washed you hair, try simple styling ideas and techniques. Try to twist your hair a bit and curl it out with your fingers before it dries up.
10Simple Braid out Natural Hairstyle
This is an easy hairstyle to pull off. Wash your hair and braid it before the hair dries. Afterwards, undo the braids and separate them into long medium strands.
11Natural Side Part Pixie Hairstyle
With this hairstyle you just part your natural hair- one side should be bigger than the other one. It's a simple natural with a simple side part.
12Natural Neat Afro Hairstyle
If your hair is not too short, you can wear an afro. Wash and style your hair into a neat afro. You can never go wrong with an afro.
13Natural Hairstyle with Color
If you are tired of your natural hair color, this is the style for you. Dye your hair with the color you want. If you love bright colors do not be afraid to experiment. Remember to use the right oil combination to maintain your hair health. Colored hair requires maintenance because it dries out too much. So, be committed to your oil treatment and avoid too much heat.
14Finger Coil out Fauxhawk Hairstyle
If your hair is not too short you can go for this style. All you need is some gel and your fingers to coil the hair. Once it the gel has dried, the curls are well defined and very stylish. This hairstyle can last for three weeks with minimal maintenance.
15Big Chop Shaved Haircut
This is a courageous and bold look that everyone starts within their natural hair journey. You get to give your scalp a chance to breathe and hair grows with time. With this hairstyle, you don't need to deal with frizzy and dry hair.
16Puff Puff Natural Hairstyle
This an awesome hairstyle if your hair is not short. You need small hairbands to section your hair into small puffs.
17Afro Puff Natural Hairstyle
You can pull this hairstyle on your short natural hairstyle. You need gel and an afro fake ban. Use the gel to bring your hair together and clip in the afro ban puff.
18Quick Braided Ponytail Natural Hairstyle
Who said you can't rock a ponytail on your natural short hair. You need a clip in ponytail or a long braid and gel to bring your hair together.
19Sleek Faux Bun Natural Hairstyle
This is an awesome hairstyle to rock on your natural short hair. Apply enough gel on your hair and comb it thoroughly to bring it together, then clip in a faux afro bun.
20Half Faux Hawk on Short Natural Hair
Another awesome hairstyle to wear on your natural short hair. Comb your hair well applying enough gel and water until you hold it together. Once it has dried clip in natural braids such as Marley braids and style accordingly.
21Bantu Knots Natural Hairstyle
Bantu knot are a classic in the natural hair community. It's an easy protective hairstyle and stylish.
22Hakuna Matata Hairstyle
This cute hairstyle is a must try after your big chop. You need to use gel to bring your hair together and clip in faux natural braids. Style and moisturize as desired for a neat unbelievable updo style.
23Short Natural Hairstyle with a Side Part
Your short natural hair should not discourage you from trying this hairstyle. All you need is to part your hair on the side.
24Short Grey Curls Hairstyle
If you are planning for the big chop, don't be afraid of trying out the grey color. Most naturals have rocked this hairstyle and love it. Remember to define your natural curls with your favorite products. This style is chic, modern and fun.
25Super Short Bald Natural Hairstyle
Don't shy away from channeling your inner Amber Rose with this shaven clean hairstyle. There is nothing as sexy as a black woman rocking this hairstyle.
26Fluffy and full TWA Natural Hairstyle
Yes, you can wear a fluffy and full teeny weeny afro. A fluffy TWA is one of the favorite hairstyles for many naturals when the hair begins to grow.
27Mini Mohawk with side part
You don't need long hair to pull a Mohawk. You can style your short natural hair to create a mini Mohawk.
28Pixie Updo Natural Hair
This hairstyle is not only fashionable but very trendy. Give your head a shaping to create a gorgeous pixie updo shape without the actual updo.
29Classic TWA Haircut
A classic TWA is sassy and sexy- it never goes out of style. Try to dress up your TWA or you can leave it simple to show your gorgeous face.
30Kinky Afro Hairstyle
Teeny Weeny afro is a great way to grow out your hair. This is a wash and go hairstyle with minimal upkeep.
31Thin Bob Braids
Still looking for a hairstyle for your short natural hair? Go ahead and put bob braids. This braids are normally shaped and trimmed. This hairstyle is chic, sophisticated and has been trending for the longest time. Bob braids gives you the privilege to get creative with them and leave people turning their heads.
32Curly TWA Hairstyle
This is one of the best TWA hairstyle to wear for you big chop. You will need a curl sponge to style your natural hair (move the sponge in a circular motion). The sponge does an amazing job defining your natural curls.
33Sort Box Braid Hairstyle
Box braids are not only fashionable but an awesome protective style for short natural hair. All you need is some braids extension to fix to your natural hair. You can choose either box braids or twist braids as your style. Once your braids are fixed, learn several ways to style them to give you a gorgeous look.
34Simple Cornrows Hairstyle
Cornrow braid hairstyles have been around for many years and some of the best protective styles among women of color. Simple cornrows offers a fun way to wear your natural hair and gives you an opportunity to grow it out. Cornrows come in various thickness, it's up to you to choose what fits your personal taste.
35Braid-Out on Tapered Natural Hair
If you have a tapered cut on your natural hair, this is an awesome hairstyle to try out. You need to braid out your short hair. Remember two thoroughly moisturize and seal the braided section. Once the braids have dried, undo them, style and shape as desired.
Sours: https://blackhairtribe.com/big-chop-hairstyles/
How To DEFINE Your Curly Big Chop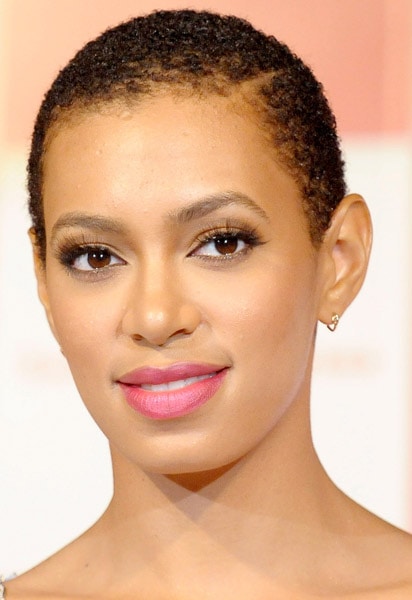 Lost on what to do after you big chop natural hair? Recently I've received more questions than ever from women who have finally big chopped and finally entered the world of natural hair.
Even with the abundance of information online I'm always shocked by how many women are still looking for help and guidance.
In the past two weeks alone I've had my sister, a close friend, and a stranger ask for advice. Because I've been blogging for almost 2 years now, my naivety set in for a second, thinking women would most certainly know the basics of natural hair.
Well, I was wrong. In this article, we will discuss the basics of a big chop, 5 things you must do afterwards and a few key products to use after your beautiful cut.
What Is a Big Chop?
A big chop is a term coined in the natural hair community where you either cut off all of the relaxed ends of your hair or cut a significant amount of your hair that results in a very very short style.
Many women who decide to go natural make the "big chop" as a way of starting fresh and wearing their natural curls for the first time completely.
Some women also choose to transition to their natural curls, slowly cutting off the relaxed ends every couple of weeks or so. This is an alternative if the thought of doing a big chop completely scares you. Trust me girl, I get it.
What to Do After You Big Chop Natural Hair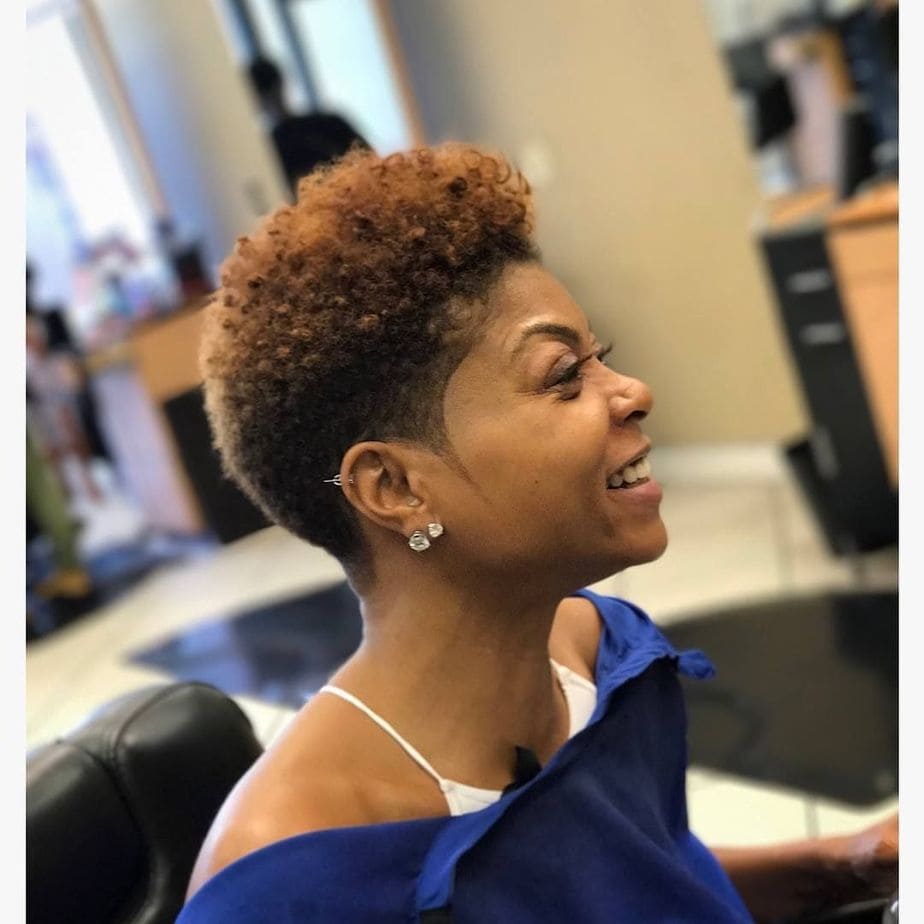 1. Make Sure Your Cut is Styled/Shaped Up by A Professional
There's a difference between cutting your hair off yourself, in your bathroom, vs. getting your hair cut a professional to make sure it is styled correctly. Depending on how short you go, after you big chop natural hair, I even suggest finding a trusted barber.
After cutting you may be surprised by the actual shape of your head and it's possible you won't know how to make sure the remaining hair frames your face well.
A professional stylist or barber will help to make sure your cut is stylish and on trend. A great shape-up goes a long way with rocking a super short look. The last thing you want is to cut all your hair off and hate the results. Talk to someone you trust and use inspiration photos to give your stylist or barber an idea of what you want.
One of my dear friends Kala (@thekglifestyle) recently big chopped for the second time. Below are her results after getting her cut shaped up and her routine for defining her curls.
2. Be Patient, Give Products A Chance & Take Advantage of Product Samples
As a new natural, I'm sure you are anxious to try every product on the market. And trust me at some point you will (I can't even count the number of products I've tried). After you big chop natural hair, take advantage of product samples before buying full-size products.
Because shorter hair will cause for far less product, using product samples will save you time and money down the line until you build up your holy grail list.
Some brands even sell smaller size product samples in stores now to help with this. Companies are realizing women invest a ton of money into hair care, but become even more frustrated after spending tons of money only to find nothing works for them.
If you can't find samples in store, request free samples from the brands you want to try.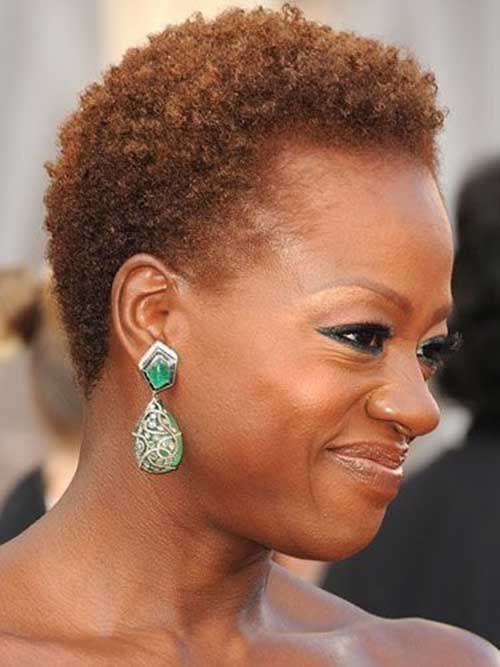 3. Develop A Regimen Now…This Will Help You Later
So the number one question women ask is "What should I do to my hair now that I'm natural?" At the core, you must do the same traditional things you did with relaxed hair. Shampoo, deep condition, maintain trims, etc on a regular basis.
Those things don't change. The biggest change, however; is the frequency of how often you choose to implement those activities. Here are my healthy hair regimen suggestions:
Shampoo: At the minimum, every 7-9 days. Healthy hair growth starts with a clean scalp. Shampooing weekly will help to remove product build-up, environmental factors, dust, sweat etc to ensure your pores aren't clogged and hair growth can occur freely.
Deep Condition: Once a week or each time you shampoo. Make sure you have a great moisturizing conditioner and a balancing protein conditioner.
Moisturize: EVERY DAY!
Trims: Every 8-12 weeks or as suggested by your professional stylist.
Developing a healthy hair regimen after you big chop natural hair will put you in a great position for when your hair grows longer. By then you will have your favorites figured out and you will know what your hair responds well to as far as products.
For a full detailed Healthy Hair Regimen and product recommendations see the Natura Hair for Beginners Guide.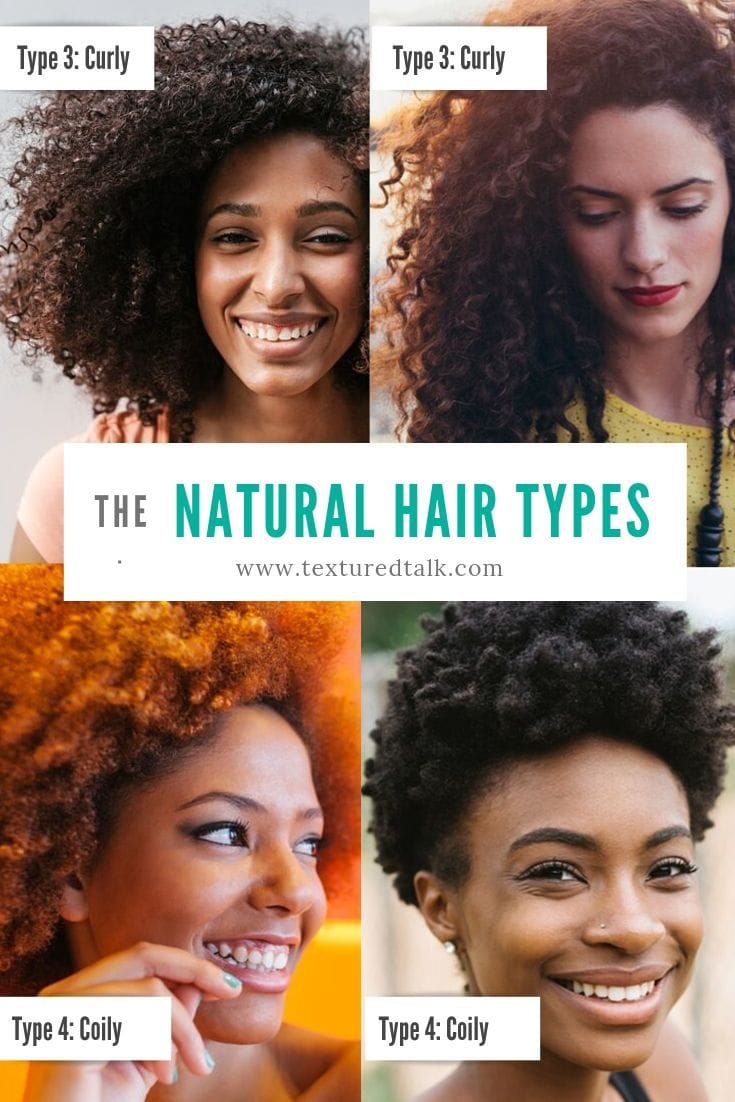 4. Stop Stressing Over Your Curl Pattern
After you big chop natural hair, more than likely you will be obsessed with your curls. This is normal but you should know your curl pattern and type (3c, 4a, 4c, etc) doesn't matter. So stop stressing over that now.
Here's a little secret: healthy hair isn't determined by your curl type. It has no bearing on how long your hair will grow or how fast it will grow. Here are other things to focus on and understand.
POROSITY:
Porosity determines your hair's ability to absorb and retain moisture. Since dryness is the number one problem natural hair women have, understanding this after you big chop will help dramatically.
Read more about porosity here.
DENSITY:
Density relates to how many individual strands of hair you have in total. An easy way to think of this is how many strands you have per square inch. Extremely dense hair can easily achieve big voluminous styles simply because the hair is more compact per square inch..
TEXTURE (WIDTH):
Texture describes the width of each individual strand of hair you have. Hair textures are classified 3 ways: Fine, medium or thick. You'll often find people refer to thick hair as coarse – especially women categorized in the 4C category. Because fine textures are delicate this texture is also more prone to breakage.
ELASTICITY
Elasticity measures the "stretchiness" of your hair. If your hair has a hard time stretching when wet and does not return to its natural state after pulling, your hair more than likely has low elasticity.
Low elasticity also will result in increased breakage because the hair is so fragile. Research shows elasticity cannot exist when there is an imbalance of moisture and protein.
5. Make Moisturizing Your #1 Priority
Every day. This is how often I moisturize my hair. Your naturally curly hair will be drier than your relaxed hair so accept that now too. This doesn't mean taking care of your natural hair has to be hard, you just have to know how to combat dryness. Leave-in conditioners, hair lotions, or just simple H20 will get the job done.
One of my favorite DIY refresher sprays consists of water, avocado oil, and aloe vera juice. You can get all of this at your local grocery store, including a $2-$3 spray bottle.
Outside of what you put on top of your hair, don't forget what you put inside of your body in a huge factor as well. You should consume at least half your weight in ounces of water.
For example, I am 170 lbs, therefore; I need to drink at least 85 ounces of water (which is a little over 5 bottles). To make things easier at one point I just used my H20 on the Go Water bottle. Once I finish this for the day, I've pretty much reached my goal.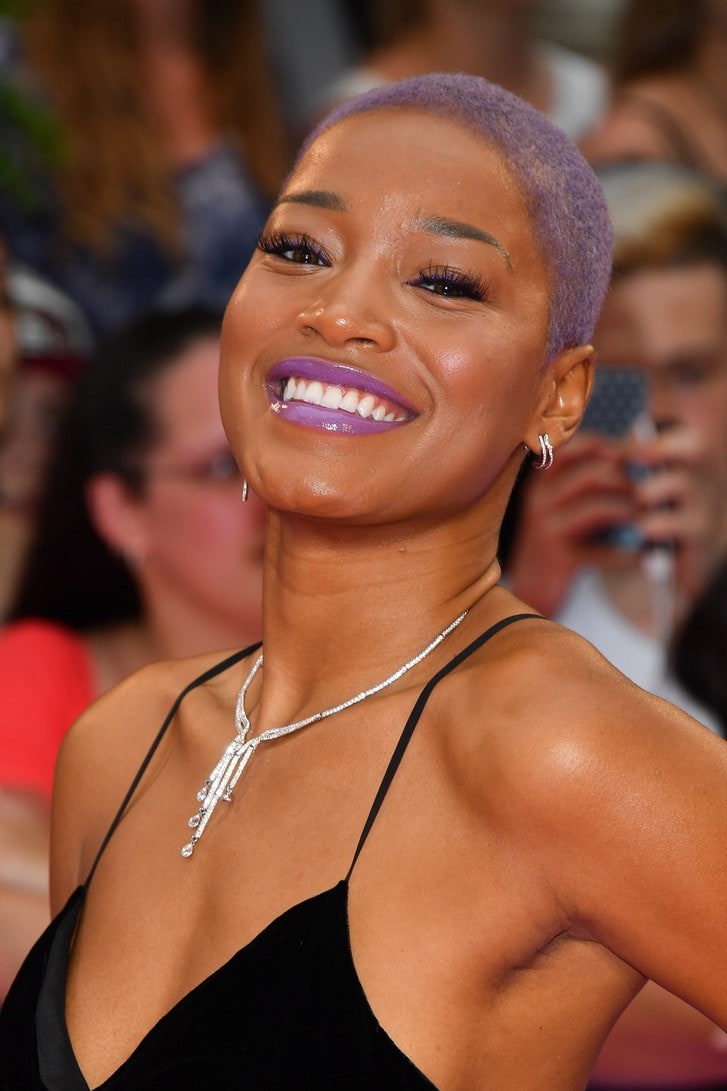 6. Have A Great Support System
Ever heard the saying "When a woman cuts her hair she is about to change her life?" Well, I wholeheartedly believe this saying. For a lot of women (not all) hair is a very emotional connection. As a result, make sure you have a great support system around you after your big chop.
The last thing you need is negativity and people asking when you are going to slap a perm back in your head because your hair looks "crazy". Ain't nobody got time for that! Instead, follow bloggers and vloggers you love, watch their videos and draw inspiration from people online.
Here are some other things to know as you embark on your big chop natural hair journey.
Big Chop Natural Hair Products:
The good thing about embarking on a big chop journey is the amount of product you can save! Also, a little goes a long way. You do not need to pile on a ton of hair products to get results.
Eventually you will find what your hair loves the most is water but here are a few other products to check out.
Eco Styler Gel – Yes this might sound basic but it gets the job done and it is super easy for anyone to use!
The Mane Choice 3-In-1 Co-Wash, Leave In, & Detangler
Obia Natural Curl Moisture Cream – perfectly pH balanced and one of the best leave in conditioners I've ever used
TGIN Curl Bomb – another option for a healthy gel based product if you prefer gels over cream curl definers
ALSO READ: 12 TWA Vloggers You Should Follow After You Big Chop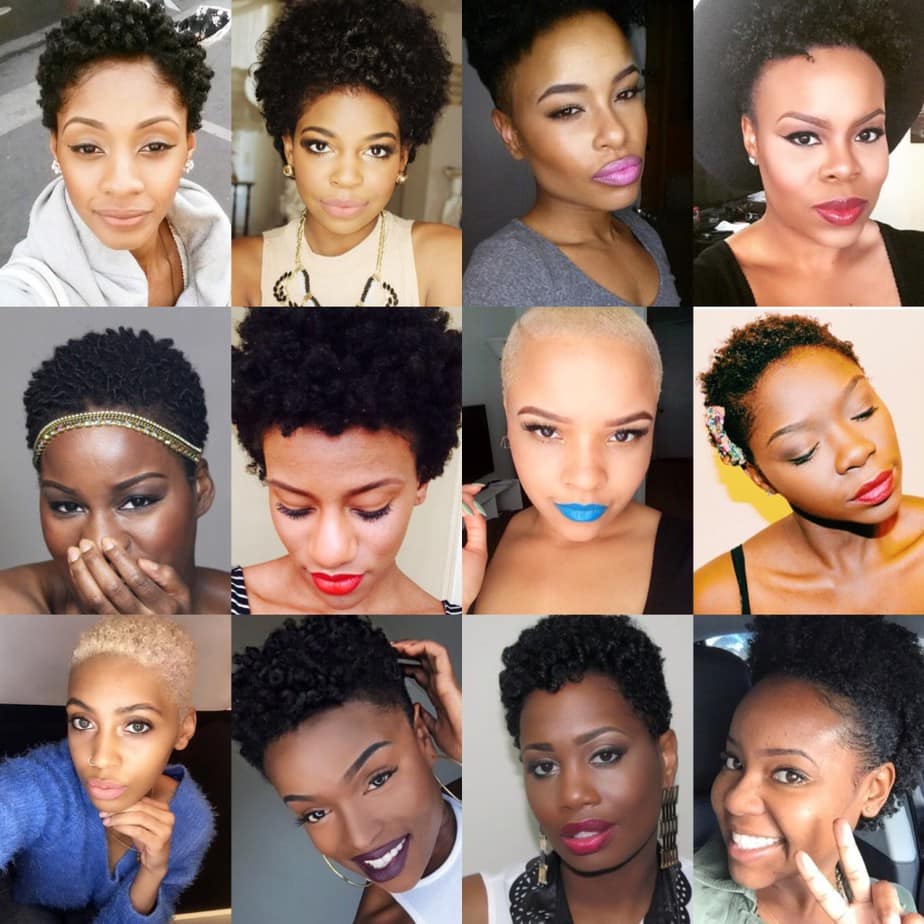 What other questions do you have about the big chop? Leave a comment at the bottom and let me know!
---
Did you enjoy this article? Subscribe to never miss a post!
---
Follow:
Charlene Walton
Charlene Walton McCraney is a Dallas beauty and lifestyle blogger. After years of styling her and several friends' hair as a hobby, offering advice and tips, she decided to combine two of her favorite things…writing and talking about natural hair!
TexturedTalk.com was created to promote healthy hair care for women of all textures and has since evolved into other beauty and lifestyle topics. Charlene loves teaching other aspiring bloggers on how to take their passion and turn it into amazing content to provide value.
Charlene is a previous beauty contributor to NaturallyCurly.com, CurlyNikki.com, and 21ninety.com.
When she's not blogging she is probably crunching numbers as a Senior Financial Analyst, dancing or figuring a way to meet Beyonce in person. :)
Find me on: Twitter | Instagram | Facebook
Sours: https://www.texturedtalk.com/5-things-you-must-do-after-you-big-chop-natural-hair/
You will also be interested:
It's no secret that I'm practically always on the verge of chopping off all my hair. Despite my lifelong obsession with having long, flowy hair, something has come over me in recent years that's caused a serious shift in hair priorities. Suddenly, short cuts are so appealing, and while I've only gone through with a drastic cut once, I'm constantly tempted to do it again. Now that I've officially committed to learning to nurture my natural hair texture (proud 4b queen over here!), I'm especially interested in what it might be like to do the big chop and rock a short natural hairstyle. 
"Having gone through the big chop three times now in my life, there are more benefits than downsides in my opinion," says celebrity hairstylist and owner of LunaBella Makeup & Hair Salon Christin Brown. "Although not everyone needs to resort to a big chop to begin their natural hair journey, it sure does get you closer to no longer having what I call split personality hair. By cutting off all the chemical- and heat-damaged pieces, it's a fast track to getting you one step closer to being fully natural, which can be incredibly liberating." London-based celebrity hairstylist Subrina Kidd agrees. "You don't have to, but I always feel like everyone should go short once in their life. It's like a detox almost," she told me. "When you do a big chop, particularly if you're someone who's spent many years straightening your hair, it's a real, honest way of familiarizing yourself with your texture."
Whether you're considering a big chop to lay the foundation for your natural hair journey or just want to try out a chic, short haircut for the fun of it, there are some things you should know. Ahead, get all the expert tips you'll need from Brown and Kidd along with 17 of the prettiest short hairstyles to try at every stage of your grow-out.
Sours: https://www.whowhatwear.com/short-natural-hairstyles
1195
1196
1197
1198
1199