YAMAY Smartwatch 2020 – Review of Features (023 Version)
Rectangular smartwatches is the trend this year. Smartwatch fans prefer this type of form factor compared to the circular ones. Rectangular smartwatches screen is more optimized to show messages and has a much better UI placement compared to circular smartwatches.
One of the smartwatches with rectangular design that is top favorite among fans is the Yamay smartwatch 2020. The latest version is the Yamay 023 smartwatch version, with a much stylish design. Still, the wearable has a simple, minimalist design with slight curved on the edges. Having one rectangular physical button, a clean design and bezel.
The smartwatch has a metal body frame that is light as well as durable. According to its specifications, the smartwatch has an interchangeable band, featuring a quick release pin for easy removable of straps. Straps available for the smartwatch are classic solid TPU strap and a breathable outdoor style strap.
Its overall body is IP68 water-resistant, it is full waterproof, rain proof wash proof and dust proof as well. Its product page says that you can wear it while swimming, but I don't advise it, especially on this type of smartwatches.
Good Display, Full Touch Screen Operation
Its rectangular displayed is measured 1.3″ inch TFT LCD color screen. It has a full touch screen display. The 1.3″ inch has a 240 x 240 pixel resolution and with high definition sharp and crisp color display. Its screen is touch sensitive, with intuitive UI, the makes more attractive with its preloaded watch faces (at least 4 watch faces to choose from). The display is protected by a 2.5D tempered glass screen, giving the smartwatch a premium look and feel.
Sport and Fitness Features of Yamay Smartwatch 2020
Multi-Sport Mode – the YAMAY Smartwatch it loaded with 9 sports mode, it has walking, running, hiking, basketball to name a few. Some of the fitness function supports connected GPS, you can use your phone's GPS to have a map trajectory of your outdoor workout.
Automatic Activity Tracking – Additional fitness function includes, automatic step tracking with calorie and distance tracking. With graphs for each monitoring and all are compiled in a weekly total section.
Health Functions – health options included are Heart Rate Monitor with 24 hours continuous heart rate monitoring. There is also Female health tracker, sedentary reminder, sleep monitoring; checking the status of your sleep, its number of hours, the wake-up time, deep sleep, light sleep with stats and graphs .
Additional Functions
There is also a music control, timer, alarm settings for brightness level, watch faces, anti-lost and more.
Smart Notifications
Of course it got the basics such as call and SMS alerts, social app support like email, calendar, Facebook, Twitter, Whatsapp, LinkedIn, Instagram and other popular apps.
Yamay Smartwatch Full Specifications
Display Screen: 1.3 inches LCD TFT color display screen with Touch Screen Operation
Body: Metal, TPU Strap with Stainless Steel Buckle
Bluetooth: Bluetooth 4.0
Battery: 210 mAh battery, 30 days standby time, 7-10 Days of Battery Life normal usage.
Support App: VeryFit Pro App
Compatibility: Android 4.4 and iOS 8.0 and above
Package Include:
1 x YAMAY 020 Smart Watch
1 x Charging Cable
1 x User's Manual
Share
Sours: https://www.smartwatchspecifications.com/yamay-smartwatch-2020/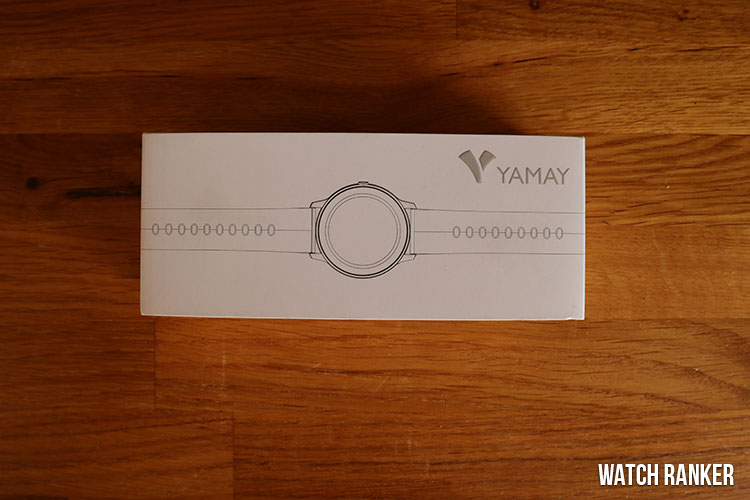 With thousands of reviews on Amazon, the YAMAY SW022 is one of the most popular budget smartwatches sold via the online retailer. But, is it actually any good?
Well, I've purchased the watch and have been wearing it for a week now, in this article I'll share everything I've learned about the watch during this time and whether or not I recommend it.
Yamay Smartwatch – Overall Verdict 
The YAMAY SW022 is a stylish-looking smartwatch in the under $50 category.
If you're looking for a device that tracks basic daily fitness goals and mirrors your notifications, then the YAMAY offers excellent value for money and good battery life.
However, there are areas where it falls down. For example, the music player is poor, longer messages cannot be shown in full and there's no GPS or voice assistant, if these features are important to you then you'll probably want to spend a little more for something like the TicWatch E2.
PROS
CONS
✅ Watch has a stylish design
❌ Functions are very basic
✅ Feels comfortable on your wrist
❌ Music controls are basic and hard to reach in the user interface
✅ Ideal for tracking daily fitness goals
❌ Messages are not displayed in full
✅ Great value for money
✅ At least 7-day battery life
Yamay Smartwatch Review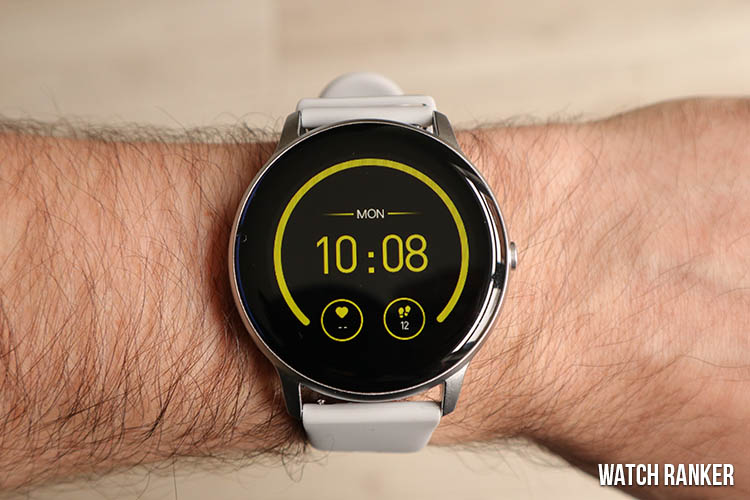 YAMAY is a Chinese tech brand specializing in a range of budget fitness trackers and smartwatches that are sold across Europe and North America.
They sell products under their own YAMAY and Willful brands, offering a range of square and round smartwatches that come with a basic operating system.
In this review, I'll be looking at the YAMAY SW022 which is a round smartwatch with a zinc alloy shell and a silicon rubber band. I'll cover unboxing, design and build, features, health and fitness tracking, and battery life.
What's In The Box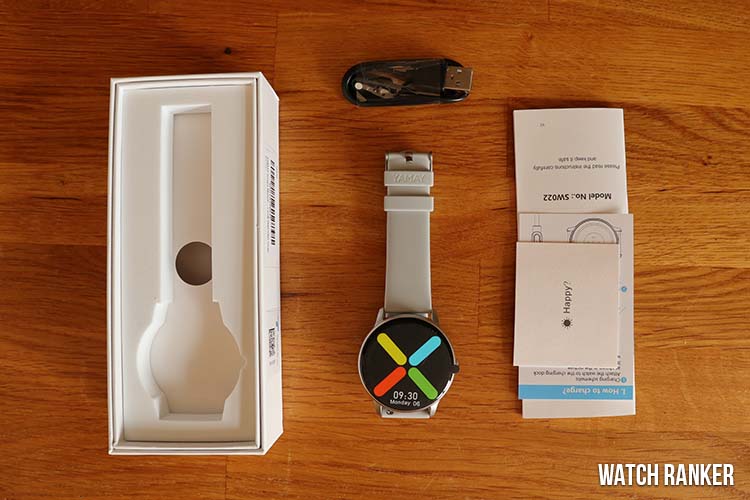 The watch comes in a simple white box with branding on the outer and inner case. The packaging is nice enough that you could give it as a gift, although nothing to get overly excited about.
Inside, you'll find the watch, some quick-start instructions, and the magnetic charger. This has a USB attachment on the end so you'll need to source a wall adapter yourself.
Design & Build Quality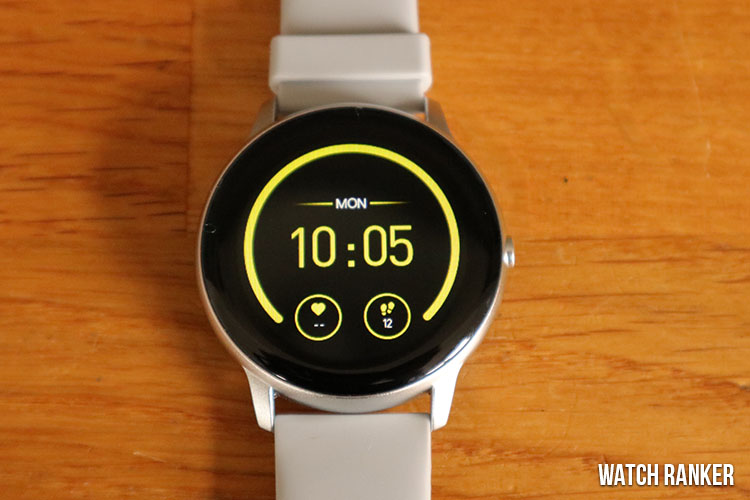 Let's first take a look at the design of the watch. Considering its price point, I am impressed with the way the YAMAY SW022 looks and feels. The watch weighs 54g and is noticeable on your wrist, however, it didn't feel obtrusive and was a pleasure to wear. It is suitable for wearing throughout the day and during workouts, although I felt that it was slightly too bulky to wear whilst sleeping.
The watch looks very similar to the more expensive Galaxy Watch Active 2, and that's not a bad thing at all. The round screen is sleek with no protruding bezel which makes it look premium and stylish.
The strap itself is a silicone rubber strap with a traditional ardillon buckle, it's smooth to wear and suitable for use during exercise too. The strap has YAMAY branding on one of the strap keepers, but this is the only branding present on the watch itself. The strap has quick-release pins which allow it to be easily swapped out for another color or design as you wish.
There are several strap colors to choose from, I had opted for the grey band which matches the silver casing to provide a sleek-looking watch. There are also black, green, and pink straps to choose from.
The watch has an IP68 rating which means it can be submerged up to 1.5m in water for 30 minutes. I didn't get a chance to try it whilst swimming, but it was nice to keep the watch on when caught out in the rain or washing my hands without worry.
Display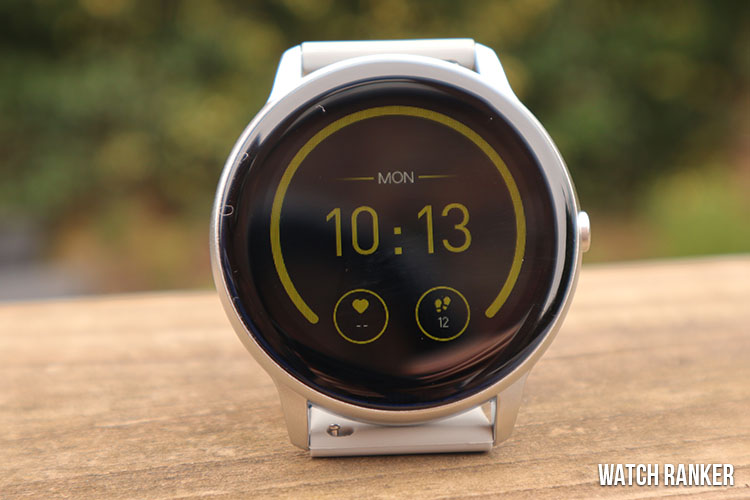 The watch has a 1.28″ TFT display with a capacitive touch screen. The watch is very vibrant when used indoors, although can sometimes be hard to see the screen outside but this is a common issue with budget smartwatches.
There's no always-on screen which is presumably to save battery, so you have to raise your wrist to wake it. This works well and it recognized every time I raised my wrist, it's quick to wake never taking more than a second to show the watch face.
Features
Let's now take a look at the main features you can use on the YAMAY SW022.
The watch uses Bluetooth 5.0 which provides a speedy and stable connection to your phone. The watch can track your daily fitness goals and 15 different workouts with the data synced to its companion app. More on this later.
The YAMAY can mirror your notifications, but you cannot interact with these notifications or send messages from the device. There is no microphone or speaker on the watch so phone calls and voice assistants are also out of the question.
When your phone rings, the watch does notify you and gives you the option to accept the call, however, you can't take the call on the device so will still need to get your phone out. This feature could come in useful if your phone is connected to a speaker or Bluetooth headset.
There is a basic music player on the watch which allows you to play/pause and skip through songs that are playing on your phone. You cannot put music on the device or browse through any music apps as it doesn't support third-party app installs.
The final features to mention are the stopwatch and the 'find my phone' feature within the quick settings menu which makes your phone ring.
Software Experience 
User Interface
With only one button that's set as a back button, you are relying on the touchscreen for navigating the watch. Luckily, there's aren't too many functions and no third-party apps so you can reach most screens with just a few swipes.
Swiping from the top will reach the quick settings where you can see battery status, set the brightness, find your phone, and turn on night mode.
Swiping to the left reaches the main menu and swiping to the bottom will show you a feed of recent notifications.
The biggest downside to the user interface is the music control. The only way to reach this is by swiping right through five fitness screens before you finally arrive at the music controls. This is a lot of swiping just to skip forward a track so I would have liked to see this in a more convenient place.
Watch Face
There are 40 watch faces to choose between in the OnlyFit app, with a range of digital and analog-style faces. There's an option to upload your own photo to the watch face, I was impressed with this feature but in the end, opted to stick with a simple watch face to match the sleek style of the watch.
Most of them have the same widgets which consist of time, date, daily step count, and heart rate. It's not possible to customize the widgets on each watch face.
Buttons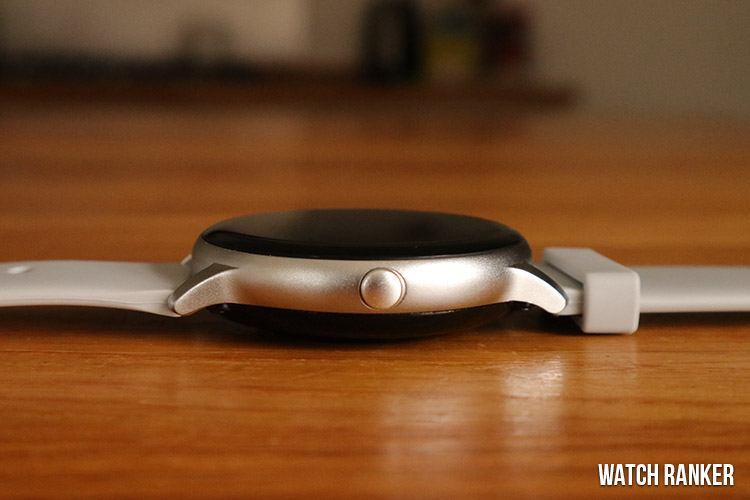 There is only one button on the watch which functions as a back button. Whilst it would be nice to have a few additional buttons for the home screen or pre-programmable functions, I can appreciate the minimal look of the watch.
There is no crown dial or scrolling bezel as is found on other smartwatches, so scrolling must be done via the touch screen. As there is no messaging and the menus are fairly short, this was never an issue for me.
Notifications
The watch mirrors notifications from most messaging and social media apps, there's a dedicated section within the OnlyFit app for customizing which notifications it will display. This is helpful to avoid a constant buzzing on your wrist.
The watch will only show the information from the notification itself, this means that longer messages are cut off so you'll need to open your phone to view the whole thing. There is no interaction with the notifications.
The watch has a do not disturb (DND) function which you can activate via the quick settings by swiping down on the home screen. You can also set DND to come on via a schedule is useful if you'll be wearing the watch at night to track your sleep.
Health & Fitness Tracking 
Health Tracking
The YAMAY tracks daily step count, distance walked, and calories burned. It asks for your height and weight when setting up the app to calculate the latter. All three goals are shown when swiping to the right and there are also watch faces
There is no GPS on the watch and it doesn't access your phone's GPS either, so it appears that the distance walked is calculated based on your steps, either way, I wouldn't want to rely on it for accuracy.
There is also heart rate monitoring displayed on a separate screen. Continuous heart rate monitoring is turned off by default to conserve the battery and will only turn on during workouts. However, you can easily turn this on in the companion app if you'd like to review your resting heart rate.
It does have sleep tracking, however, this is a very basic feature and is limited to time awake and time asleep. It does not give details on sleep cycles like more expensive watches. I also found it to be a bit bulky to wear at night so I can't recommend this feature.
Fitness Tracking
The watch can track 13 different sports, these are running, walking, cycling, climbing, yoga, skipping, tennis, baseball, basketball, badminton, football, rugby, and table tennis. You do not need to have your phone with you when tracking sports which is ideal if you're going for a run.
For each activity, the watch will track the time you've been working out, the calories burned, heart rate, and where applicable the steps you have taken. This is all synced to the OnlyFit smartphone app. There is no GPS on the watch and it cannot use your phone's GPS either which might put some people off.
Within this app, it's possible to see steps and calories burned by day, week, or month. Unfortunately, there is no integration with other fitness apps like Google Fit or Strava so you are limited to the basic reporting.
One of the downsides to tracking sports on your watch is that you cannot do this in the background. Once you have started a workout, you cannot access any other watch features until you end it. This was particularly frustrating when I wanted to skip a song during my workout as the media controls were inaccessible.
Smartphone App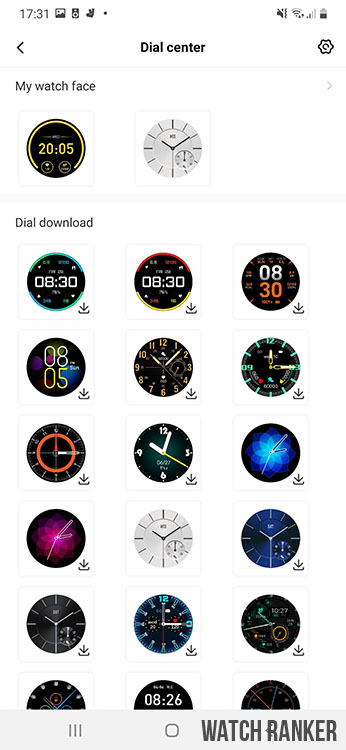 The watch connects to the OnlyFit app which is available on both Android and iPhone. I found the OnlyFit app to be very basic in terms of features with a home tab, a tab that shows your health and fitness tracking, and a tab to update the watch's preferences.
I found it frustrating that most features were turned off by default so it took me a while to realize that I wasn't making the most of the watch's features. I'd recommend you spend plenty of time familiarizing yourself with the app to make sure it's set to your requirements.
Some areas of the watch had been poorly translated from Chinese or English, however, this did not impact the usability of the app.
Battery Life 
The watch has a 340mAh battery capacity which YAMAY claims can last for 7 days whilst in use or 30 days in standby mode. During my own tests, the battery indicator barely dropped lower than 50% after a week of wearing it with light usage, so it more than met my expectations.
Verdict
As far as budget smartwatches go, I'm a big fan of the design of the SW022 and it feels comfortable on your wrist. There's no denying that its features are very limited, but if tracking your daily fitness goals (steps, distance, and calories) and notification mirroring is all you're looking for, then this sub-$50 watch will do the trick and offers a good battery life too.
However, if you're looking for anything more than this, then the watch won't fulfill your needs. The music player is very poor, there's no GPS or contactless payments, you cannot send messages from the device and only shorter messages will be displayed in full. Without any speaker or microphone you cannot make calls or access a voice assistant, nor can you install any additional apps to improve functionality.
If you're looking for something that offers these features, you might want to consider the TicWatch E2, or for a full smartwatch experience, something like the Samsung Galaxy Active 2 which looks quite similar to the YAMAY.
If you're still on the fence, check out these Amazon Reviews of the Yamay SW022 .
YAMAY FAQs
Are Yamay Watches Waterproof?
Yes, the Yamay SW022 smartwatch has an IP68 waterproof rating which means it can withstand submersion in up to 1.5m of water for 30 minutes.
Is Yamay a Good Watch Brand?
Yamay is a budget smartwatch brand that makes a range of reliable and competitive smartwatches at a budget price. However, the features of these smartwatches are very limited.
Where Are Yamay Watches Made?
Yamay smartwatches are made in Shenzhen, China.
Who Makes Yamay Smart Watches?
Yamay smartwatches are made by Shenzhen Electronics Co, Ltd. This is the same manufacturer as the Wilfull range of smartwatches.
Can You Text on a Yamay Smartwatch?
No, it's not possible to send text messages on a Yamay smartwatch.
How to Reset Yamay Smartwatch?
Here are the instructions to reset a Yamay SW022 smartwatch:
Swipe down from the top of the home screen to reveal the settings bar.
Choose the settings icon.
Select 'reset' and choose the tick icon to confirm.
Resetting the watch takes less than one minute, however, you'll need to go through the process to pair it with your phone again.
How to Connect Yamay Watch to Phone?
Here are instructions to pair the Yamay SW022 smartwatch to your phone:
Download and install the OnlyFit app available for Android and iPhone.
Head to the 'Devices' tab and select 'Bind new device'.
Select the watch image and choose SW022 from the list.
Your watch should now connect.
Specs
SPECIFICATIONS
Case Dimension 
265 x 46 x 13.5 mm
Screen Protection
Glass 2.5D
Band Length
22 mm
Body Material
Aluminum Alloy
Weight
36  grams
Battery Life
7 Days
Heart Rate Monitoring
Yes
GPS
Yes
Call & Message Notifications
Yes
Sleep Tracking
Yes
Step Counter
Yes 
Calorie Counter
Yes
Multi-sport mode
Yes
Waterproof Rating
IP68
Color Options
Black, White, Green, and Pink
Categories SmartwatchesSours: https://watchranker.com/yamay-smartwatch-review/
YAMAY IP68 Fitness Tracker with Heart Rate Monitor
YAMAY Fitness Tracker with Heart Rate Monitor, Fitness Watch Activity Tracker Smart Watch with Sleep Monitor 14 Sports Mode,Pedometer Watch for Kids Men Women (Color Screen,IP68 Waterproof)
【 Color Screen & IP68 Waterproof】- This watch has all the traditional functions as a fitness tracker,at the same time,it adopts the most popular features in 2018:color screen and slim design,and up to IP68 waterproof standard,making it a star and best choice in fitness trackers
【 Fitness Tracker with 14 Sports Mode】- This is a powerful fitness tracker.It can accurately track your daily steps, distance traveled, calories burned and activity time all day automatically.It also support additional 14 sports tracking to help you better monitor your various workout
【 Heart Rate Monitor & Sleep Monitor】- Adopt the latest HR sensor for accurate and effective heart rate monitoring;This watch will detect your sleep automatically at night and analyze your sleep quality with deep sleep,light sleep and awake time.The silent vibration alarms can wake you up without disturbing others
【 Check Call SMS SNS on Wrist】- Check and read call, calendar, SMS and SNS (Facebook, WhatsApp, LinkedIn, Instagram, and Twitter) just on this watch.This functions will be very practical when you are doing workout or work hard and can't focus on your cellphone
【 Long-lasting Battery & Warranty】- Built in USB Charge(no cable needed).One full charge gives you 5-7 days of working time.We offer 30 days full refund, 12 months warranty. Any problems, please feel free to contact us. We reply most messages less than 12 hours
Product Description
Key Features:
Newest HD Color Screen
24 Hour continuous heart rate monitor
Automatically monitor and analyze sleep quality
Support 14 sports modes (3 default exercise modes on the watch)
Connect phone's GPS to show route in the app
Call / SMS Notification from Facebook, Twitter, Whatsapp,LinkedIn, Instagram etc..
Pedometer to display steps, calorie, distance, heart rate, pace and time duration
Additional Features:
✔ Waterproof Rating: IP68,swimming and diving available ✔ Wrist Sensor Switch ✔ Up to 10 alarm clocks ✔ Sedentary Remind ✔ Long Battery Life ✔ Remote Camera Control ✔ Slim and Lightweight Band ✔ USB charge,no cable needed
Specifications:
Screen: 0.96″ OLED,color screen
Control Method:Touch Button
Charge Time:2 hours
Working Time: 5 – 7 days
Wrist Strap Size:5.5 inch to 8.3 inch
Require: iOS 7.1 & Android 4.4 above(Smartphone only, not for PC, iPad or Tablet).VeryFitPro app may NOT work with US version Samsung Galaxy J series mobile phones (e.g. Galaxy J3,J7).
App Name: VeryFitPro. ( You can download it from Apple Store or Google Play)
Tips:Please walk more than 40 steps continuously to make the steps counted effectively. The fitness tracker will count valid steps.When the consecutive steps are more than 40, it can be counted. In order to reduce unintentional movement, such as move your arms carelessly.
Package Include:1 x YAMAY Fitness Watch;1 x User Manual
Sours: https://www.neucleusfitness.com/product/yamay-ip68-fitness-tracker-with-heart-rate-monitor/
The highest reviewed $35 smartwatch: YAMAY smartwatch for android
YAMAY Smart Watch for Android and iOS Phone IP68 Waterproof
About Product YAMAY Smart Watch
YAMAY Smart Watch for Android and iOS Phone IP68 Waterproof, Fitness Tracker Watch with Heart Rate Monitor Step Sleep Tracker, Smartwatch Compatible with iPhone Samsung, Watch for Men Women
Fitness Watch with Full Touch Color Screen: Newest HD color screen,easy control with the sensitive touch screen
IP68 Waterproof Fitness Tracker: IP68 waterproof standard,you can wear it when swimming (can't track swimming data)
Pedometer Watch: Display steps, calorie, distance, heart rate, pace and time duration
Heart Rate Monitor Watch: 24 Hours continuous heart rate monitoring
Sleep Monitor Watch: Automatically monitor and analyze sleep quality
14 Modes Activity Tracker Watch:Support 14 sports modes (Select and control the modes from the app)
GPS Sport Watch: Connect smart phone's GPS to show route in the app
Smart Watch with Notifications: Receive alerts from call,sms, email,calendar,Facebook, Twitter, Whatsapp,LinkedIn, Instagram etc..
Stylish Watch for Men Women: Support 4 clock faces to choose from
Super Large Battery: One full charge can support 7-10 days of usage
Brightness Adjustable: This watch can adjust the brightness automatically according to the environment.You can also adjust the brightness manually and can see the display screen clearly in the sun.
Additional Features:
✔ Stop Watch ✔ Timer ✔ Female Health Tracker ✔Breath Guide ✔ Wrist Sensor Switch ✔ Up to 10 vibration alarm clocks ✔ Sedentary Remind ✔ Find Phone ✔ Music control ✔Long Battery Life ✔ Changeable Bands
Specifications:
Screen: 1.3″ TFT LCD color screen
Material: Solid and durable metal frame,breathable double holes designed TPU band
Control Method: Touch Screen and button
Charge Time: 2 hours
Working Time: 7-10 days
Wrist Strap Size: 5.7 inch to 9.2 inch,can fit for adult and kids' wrist
App Name: VeryFitPro. ( You can download it from Apple Store or Google Play).VeryFitPro app may NOT work with US version Samsung Galaxy J series mobile phones (e.g. Galaxy J3,J7).
APP Requires: iOS 8.0 & Android 4.4 above (Smartphone only, not for PC, iPad or Tablet).
About the Workout Data: YAMAY 020 watch can only connect and sync data with smartphones via VeryFitPro,but you can sync the data from VeryFitPro to Google Fit,Apple Health and Strava
Package Include:
1 x YAMAY 020 Smart Watch;
1 x Charging Cable;
1 x User's Manual
Sours: https://mobileandapps.com/product/yamay-smart-watch/
Ip68 watch yamay smart
Get it from Amazon
---
This is my honest Yamay Smartwatch Review (ip68). I am a huge fitness enthusiast who loves to start my day with a long run. However, I always feared that I'd deviate from this daily activity if I couldn't turn it into some fun.
Fortunately, I came across Yamay Smartwatch (ip68). I was a bit hesitant to buy at first but the features hooked me right in. This smartwatch and fitness tracker has been my buddy for months now and it aids me to track my step counts, sleep patterns, pace, heart rate, and whatnot. In short, this fitness device has made my mornings fun.
READ MORE: Remarkable Things to Buy With 100 Dollars (or Less)
Yamay Smartwatch Review: Pros & Cons in a Glance
PROS
Variety of sizes available (5.7 to 9.2 inches), covering for kids and adults both.
Flashlight.
The band is replaceable.
Sensitive touch screen.
It comes with a charging cable.
1-year warranty
CONS
The app doesn't sync with Samsung J series phones.
Doesn't sync with iPads and tablets
Yamay Smartwatch Review – Video
Yamay Smartwatch Review – Features
Here's what I think of the Yamay Smartwatch fitness tracker:
Tracking
The Yamay smartwatch tracker amazed me with its tracking capabilities. It can measure your heart rate, distance covered, the pace of walk/jog, calories burned in a day, sleep patterns, and a GPS to track distance. In short, this one is a complete package.
Special Options
You must be thinking what's so special about? Every fitness tracker has almost the same functionalities. Well, this one actually goes the extra mile.
Breath Guide: I tested the breath guide feature and it got me really excited. It notes the reading when you exhale and inhale, and guides you on how to meditate.
14 Modes Activity Tracker: Another feature that caught my eye was the 14 modes offered by this tracker. It lets you choose a cycling mode, running mode, jog mode, walk mode and many other modes as well. This way you can enjoy a mix of exercises.
Female Health Tracker: You must be thinking why do I need a female health tracker for? I don't. I just found out that this tracker is great for females too. It can track menstrual cycle periods for women and prepare them for the next ovulation. There aren't many trackers that can do this.
Social Media: If you're a social media addict like me then you will love this tracker. It connects to all your accounts and passes your notifications.
Smartphone Alerts
The Yamay fitness tracker kicks up a notch by offering excellent smartphone alerts. I connected it to my iPhone using the VeryFitPro app and now I don't have to take my phone out every time I get a message, an email or a call alert. This tracker shows it all. In fact, it lets me control music on my phone too.
IP68 Waterproof
I love to fact that this watch is waterproof and I don't have to take it off when I go for a dip in the pool or worry about removing it when it rains.
Countdown Timer And Stopwatch
What good is a fitness tracker if it brings no improvement in you? This one helps you out by offering an accurate timer countdown. You can time your laps and push yourself every day to become better and faster.
Charging And Battery
Honestly, I wasn't content with the last fitness tracker I had because it had a poor battery timing. However, there's no such case with this one as it runs for almost a week or even longer than that. Moreover, it only takes 2 hours to charge completely.
Sleep And Vibration Alarms
I love the fact that it doesn't only track my sleep schedules but wakes me up with alarms as well. You can choose from 10 various alarms.
Design And Build
The wristband is made up of a durable material called TPE which is a blend of both rubber and plastic. Hence, it can take rough handling. I found it both flexible and durable.
HD Color Screen
The screen is black and white but I did like the 4 clock faces it offers. Moreover, you can also adjust the brightness in the sun.
Accuracy
The vitals shown by this tracker is quite accurate and help you determine the intensity of your workout. It will let you know if you're overperforming or underperforming.
More Yamay Smartwatch Reviews
Here are some more Yamay Smartwatch reviews from other people who bought the product from amazon.com. You can read more customer reviews by clicking here.
First Time Buying Fitness Activity Tracker and It was a BOMB!!
Review by Edwin Ng | July 9, 2019 | Verified Purchase
This is the first fitness tracker that I got and surprisingly I felt in love with it. I have used it daily for a week, and I was satisfied with how portable it is and made it easier for my daily workout.
First of all, it had a wider screen compared with other fitness trackers. I can easily see what time it is and who is looking for me as it vibrates and show who texted me when I am doing exercise. Very impressive that it's light, tight enough and easy to fit in and take off while I always have a busy schedule as an entrepreneur. It not just has the tracking function but also takes care of our daily routine. And it was very user-friendly too 🙂 It just took me a few minutes to get used to it; just download the app they requested then I can start using it! Very user-friendly 😉
For the tracking program, it can track your time, heartbeat and distance of running, hiking, and bicycle. For people like me who usually didn't quite aware of these "numbers", discovered that I actually just walked 4k+ steps per day, which supposing 10k per person daily for a healthy life. It motivates me to walk more, move more and know myself more.
I definitely recommend those of you that are looking for an activity tracker. Give it a try with this reasonable price! (source)
This Yama Smartwatch has more features than I expected!
Review by K. Leasure | July 17, 2019 | Verified Purchase
I bought this Yama smartwatch because I trusted their quality from a previous purchase. I wanted a bolder looking smartwatch and that's what I got!
I ordered the red strap and combined with the wider, brighter screen have been encouraging toward my journey to a stronger self. I'm walking more now and I love that I can see clearly how many steps I'm taking.
It even measures my heart rate. I love that it is waterproof and it was put to the test when I went on vacation and swam in the pool. My girlfriend wants one now also! We walk together 2x's a week together and I'm feeling a difference.
I'm trying to lead a less sedate life and when I'm sitting too long a feel that little buzz reminder to get moving! I'm not even a techie yet unboxing it and following the instructions were not too challenging.
I hooked it up to my charger and downloaded the app. I liked how easy it was to make this smartwatch sync to my phone and allowing me to see exactly how I'm progressing.
I wear it to bed and it even analyzes my sleep pattern, so I know the next day that the coffee I had later last night did affect my deep sleep and I'm changing even those habits. There are many great features i.e it can check simple text messages but that's not why I bought it even though that's a plus. Yama you've done it again with an even greater product.
I can't express enough how vivid the screen is so that even when I'm not wearing my glasses I'm able to see the face clearly. PS The lightweight band is perfect! (source)
Awesome Fitness Tracker, just the one for everything!!
August 1, 2019 | Verified Purchase
I got this amazing tracker a couple of weeks back and not to mention the fast delivery as it was delivered well before even I was expecting it to be home. This is my first smartwatch so I had a lot of expectations from this cool device and I am really moved and fascinated by the way this cool gadget works.
Starting with the build this gadget is really strong and feels really sleek with a sensitive touch screen. The IP68 glass is really glossy and the details are really crisp when in the display. it really is full of features that I wasn't even aware of when I got this tracker. It has got a relax feature wherein you could really relax once done with the workout.
It tracks heart rate, quality sleep time, alarm and 14 different modes of operation. It gets connected to the Bluetooth devices very easily ( I have only tried on my android device and it works like a charm).
The pedometer displays the calories burnt, steps walked distance pace and the time I covered during my workout which is all the information I ever wanted from a tracker. can be easily connected to the phone to view the GPS positioning.
It works great for the message alerts that come on to the phone on Facebook, Twitter Whatsapp and all other messaging apps which is really cool. It has got two switches to route between the screens and is equipped with a strong battery which works for 6-7 days if I wear it all day long which is really nice for such a small gadget.
It also has this brightness adjustment feature which works under different lighting environment. It has got easy replaceable bands which can be done by switching the clicker on each band on the tracker.
Having all the cool features and also being waterproof is what makes this gadget a must-have for this price. Works great while swimming and the glass is very strong which can handle the wear and tear during heavy workouts. I would really recommend this tracker for the first-timers to get started with this tracker and give it a go.
The fitness tracker can be tracked by the app which goes by VeryFitPro which can be found on the google play store. The app is very user-friendly and is not clunky like other applications out there for tracking. I would give it a 5 star for all the features that this gadget possesses for this price. (source)
Yamay Smartwatch FAQs
Here are some frequently asked questions about the Yamay Smartwatch
Does this smartwatch support Spotify?
Is this smartwatch compatible with iPhone 8 Plus?
Yes, it is compatible with most iOS 8.0 & Android 4.4 above smartphones.
Is the Yamay Fitness Tracker Compatible with TCL XL phones
Yes, it is compatible with TCL XL phones
We hope you enjoyed our Yamay Smartwatch Review. If you've found it useful, feel free to share this review with your communities and help us reach more people.
Related Products
More Reviews
In this Backyard Revolution review, we explore the pros and cons of this free energy-producing, DIY guide as well as other backyard revolution reviews from people from around the world. In A Glance – Backyard…
In this article, we review the Evatac PRO-XML Tactical Flashlight. This popular Military Grade, Tactical Flashlight is one of the best Tactical Flashlights that exist in the market at the moment. Before you continue with…
Buying a tactical flashlight? If so, you're often getting one for outdoor use. You'll either carry it as a "pocket item," or you'll use it for a natural hobby (like camping or hiking). Well, in…
Welcome to our Creative SXFI Air Headphones Review. In today's review we are talking about Creative's SXFI Air Headphones that are making waves among the gaming amd movie-fans industries. Creative has long been known to…
Welcome to our BenQ E-Reading Led Desk Lamp Review. BenQ may be known for its quality displays, but it has also made us used to a number of special and unique gadgets that aim to…
Welcome to our Creative Sound Blaster G3 Review. In this article, we review Creative's Sound Blaster G3 – one of the best accessories for gamers that will drastically enhance your audio quality. Creative with the…
Sharing is caring!
Sours: https://techodom.com/yamay-smartwatch-review-ip68-fitness-tracker/
✅ Yamay Smartwatch Fitness Tracker Review - Budget-Friendly Smart Watch
Yamay is one of the most trusted and reliable smartwatch brands that gives you high-quality smartwatches at a very cheap price. If you want to know something special about Yamay Smartwatch then you are in the right place. In this guide, I can read a complete Yamay Smartwatch review that is really helpful for you.
If you are looking for some special wearable that comes with all the necessary features but it has a low price tag then your Yamay smartwatch is best for you. This smart wearable gives you all the important features that are found in every fitness watch and help you achieve your fitness goals.
Moreover, there are also some special features in this smartwatch which I tell you in this guide. Especially there are 9 sports modes, includes different indoor and outdoor activities. I am sure after reading this guide you will be able to decide if the Yamay smartwatch is good for you or not?
[lwptoc numeration="decimal" numerationSuffix="dot" toggle="0″]
What is Best in Yamay SmartWatch
It comes with multiple features that give you a lot more help to track you all day's different fitness activities. You can easily track your heart rate, blood pressure, blood oxygen level, calories counter, step counter, and other such things.
Thanks for its long-life battery that helps you to track your fitness goals for a long period of time. There are also 9 different sports modes includes Walking, running, hiking, cycling, treadmill, fitness, spinning, Yoga, and mountaineering.
I am sure you can't find such features' smartwatch at a cheap price. Also' the Yamay smartwatch comes with IP68 waterproof standard you can also wear it during swimming. There are also a lot of amazing features which I will discuss in this article.
A Best Cheap SmartWatch 
What I don't Like in this SmartWatch
You know along with pros there are always some defects and deficiencies. This smartwatch has a low-quality design. Sometimes this Yamay smartwatch gives you inaccurate results especially when you measure blood pressure and blood oxygen level.
There is also no NFC feature in this smartwatch. Also, sometimes its mobile app doesn't sync with the watch on an accurate and continuous basis.
Pros:
Best Budget SmartWatch
WaterProof
Includes a lot of features
9 Sports Modes
Long Battery life
Easy to use and setup
Universal Compatibility
Comfortable and Soft Band
Bands are interchangeable
Cons:
No premium Quality
Sometimes give you inaccurate results
NO NFC feature
Price and Availability
There are a lot of other smartwatches available in the market but their prices are so high. If you want to buy some cheap and best budget smartwatches then the Yamay watch is the best option. This smartwatch is available across the globe.
Check Price
Features- Yamay Smartwatch Review
You should see some of the important features before buying any smart wearable. Yamay smartwatch gives you all the necessary features that help you to measure your daily fitness activities. Let's see all of its features and functions.
Design:
This smartwatch comes with a square-shaped dial which is very common and looks quite elegant. A highly durable material is used named TPE which basically a mixture of both plastic and rubber. Overall, the Yamay smartwatch is very comfortable and has a very soft band.
In addition, the display (3-inch) of this wearable is bright and has a high resolution. You can also adjust the brightness level per your need. There is a total of three different colors available you can choose any of them according to your choice.
Main Tracking Features:
Like all other smartwatches, the Yamay smartwatch also has several important features. Like it measures your heart rate, blood pressure, blood oxygen level, step count, distance measure, and sleep tracker. But one thing I love about this wearable is its calories tracking feature which really helps you to balance your diet and achieve fitness goals.
9 Sports Mode:
No other cheap smartwatch comes with 9 important supports mode. This smartwatch is also a perfect choice for Sportman because it gives you 9 sports modes. These modes include; Walking, running, hiking, cycling, treadmill, mountaineering, spinning, yoga, and treadmill.
There is also some other Yama's variant available which gives you a couple of extra sports mode but You can also buy that one. But according to you my recommendation you should buy this Yamay's variant.
IP68 WaterProof Standard
This smartwatch comes with IP68 waterproof technology means your wearable is totally waterproof. You can also wear this smartwatch during swimming, bathing, etc. In addition, this smartwatch is also scratch, and dustproof.
Connectiivty
Yamay smartwatch has universal compatibility you can connect it with your android phone as well with your iOS phone. But you should have android version 4.4 or above and the iOS version should be 8.0 or above. There is also an app that you can install on your smartphone in order to see the insights of your daily activities.
Notifications
During your exercise, you can remain updated with Yamay's smart notification system. You can read different messages directly on your smartwatch includes SMS, calls, social media notifications. This one is a really helpful feature that enables you to never miss anything important. In some situations, you can't access your smartphone at that time this watch will helps you to remain updated.
Long Battery Life
No other smartwatch with such a cheap price tag gives you long battery life. But Yamay smartwatch gives you 10 days of long battery life. Such a long battery helps you to measures your daily fitness goals for long period. In addition, there is the magnetic charging method which allows you to charge your smartwatch anywhere anytime. You just need to put your watch on charge for 2 hours and then use it for a maximum of 10 days.
Dial Customization
Now you don't have just one static theme on your smartwatch's dial. You can change or customize your dial as per your choice. And this is the best feature that I really like. You can choose either digital dial, analog-style, or any custom dial. This feature is very rare in the cheap smartwatch. But all the Yamay smartwatches allows you to customize your dial.
Weather Forcast feature
Another amazing and special feature of this smartwatch is the weather update. When you connect your smartwatch with your mobile phone, a weather icon will appear on the screen by tapping on that icon you can see the current weather situation. You can also make settings in weather measuring parameters e.g; you can change Fahrenhight into Celsius.
Alarms
In most cases, you can't access your mobile phone or your phone's battery is deas. In such a situation smartwatches play an important role to give you the necessary features like Alarms. You can set alarms on this smartwatch and also change the tunes of your alarms.
Yamay SmartWatch App
No smartwatch will be perfect if it doesn't have an app. Yamay watch comes with an app that you can install on your android phone as well on the iPhone. After installing the app just connect your smartwatch with the app and boob!!! now you lot more to explore.
You can see detail and insights of your daily fitness activities on your smartwatch that helps you to give motivation. And a daily basis you can improve your exercises or workout. It really helps you to achieve your fitness goals.
Interchangeable Band
You can also change your bands. There are a lot of colorful bands available and it's quite simple and easy to change bands. Firstly you need to remove the silver pins and then gently pull off the band. Now again one-up each of the pins next to the corresponding hole located at the base. Now place the new strap against the case in order to line up the pin before releasing the lever. Once you release the lever pins will automatically fix in place
GPS
This smartwatch also allows you to measure distance during your different exercises. You need to connect your Yamay wearable with your smartphone GPS and it will automatically show you how much distance you cover. I tested it and it gives you highly accurate results that help you to set your daily fitness goals.
Real-Time Result
Not all other smartwatches with such cheap prices give you real-time data. Yamay smartwatch is perfect for measuring real-time heart rate and blood pressure. In addition, you can also measure your heart rate and blood oxygen level in the app. This one is also an amazing and helpful feature.
Camera and Music Control
Connect your smartwatch with your smartphone in order to control your smartphone camera. Now with just a single tab on your watch, you can capture amazing photos on your smartphone. This means this smartwatch acts as a remote control for your smartphone camera.
On the other hand, you can also control the volume and position of music via this smartwatch. For doing this you need to connect your Yamay smartwatch with your smartphone.
Should You buy such a Cheaper watch?
You know there are a lot of other expensive watches available but not everyone can afford such smartwatches. So everyone from us looking for the best budget-friendly smartwatch that gives a lot of things at a cheap price. And also it's quite difficult to search for the best wearable under $50 because not all are equal. Some watches don't give you important fitness features.
But I think the Yamay smartwatch has all those features which help you achieve balance in your daily routine. This is your best companion and will never underperform and disappoints you.
This smartwatch is made on large capacity and low power consumption design which is very rare in smartwatches. And to be honest you can't find such a smartwatch in such cheap price tags.
Is it best for Females?
To remain fit and healthy women also need to do different exercises. And this smartwatch is the best trainer for your daily routine exercises. Especially this watch supports female health trackers. It can track menstrual cycles and helps female to prepare for their next ovulation. Not all fitness trackers have this special feature.
I saw that women prefer jogging in the morning or in the evening because it allows them to remain healthy and fit. During your morning or evening walk, this Yamah fitness watch is your best companion which measures your steps, distance, and calories burned. So don't forget to warn this smartwatch during your jogging.
Another best feature for females in this wearable is Yoga mode. This feature helps them to accurately perform Yoga and gives you a complete insight into your daily Yoga. Similarly, Females also love cycling and again Yamay smartwatch helps them to measure distance during cycling and measure other important factors.
Conclusion
This Yamah smartwatch is the best thing for beginners that gives you all the required features and functions. At a cheap price, you can make the best fitness companion that helps you to achieve your fitness goals. From the above Yamay Smartwatch review, I hope you are now able to decide that either this smartwatch is perfect for you.
If you have a fixed budget and you should go with this smartwatch, this one is the best smartwatch under $50. Although. there are also few other models of this watch available in the market. But I prefer you to Buy the Yamay smartwatch 2020 version.
You can but it from my affiliate link in this way I can also make some pocket money for me and my home. Thank you so much for reading this article.
Can I control audio apps like Pandora, TuneIn, Spotify, etc
Yamay Smartwatch can control Pandora and TuneIn, but this wearable can't control Spotify. But you can connect to the technical staff, technical staff will continue to improve this product, making it better and better.
What is the price of Yamah Smartwatch?
This is a cheap and budget-friendly smartwatch you can get this wearable in just $45
Is this watch is compatible with iPhone
Yes, this watch has universal compatibility.
How long does the battery last under a single charge
It depends on the usage of the smartwatch, what features you are using, and how long you sports mode. But its average battery time is 7 days under a single charge
Can I buy an extra charger?
Yes, If you need an extra charger you can easily buy it from amazon
Can I play music on this smartwatch?
No, you can't play music on it. But you can control your smartphone's music volume and songs selections. For doing this you first need to connect your smartwatch with your smartphone.
Does it only work if you use the app?
No, the Yamah smartwatch can also measure various activities without connecting to the app. But for the first time using a watch, you require to connect it with your smartphone.
What is the name of Yamay Smartwatch App?
Veryfitpro, you can download this app from Google Play store in case of android phone, and from iPhone install this from Apple store.
What is the Screen Size?
The size of dial is 1.65×1.42inches(4.2×3.6cm). The eighth picture in the product Picture can see the screen size and strap size.
What is the return policy on this?
Amazon has a 30-day no-questions-asked return policy. And this smartwatch offers a 12-month warranty
How to change the time and date on Yamay smartwatch?
You do not need to set a time and date on your smartwatch. It will automatically sync with your phone after you connect via "veryfitpro" app.
Is this smartwatch is WaterProof?
Yes, Yamah smartwatch comes with an Ip68 waterproof standard, you can also wear it during swimming and bathing, etc.
Does it support magnetic charging?
Yes, this smartwatch supports magnetic charging technology. You need to put this watch on charge only for 2 hours and its battery will fully be charged
Can I interchange bands?
Yes, you can interchange bands and choose your favorite band, There are lot of other colorful bands available depending upon the outfit, sports, and modes.s
How can I sync outlook ios email and calendar alerts?
Firstly, make sure that your smartwatch is connected to your phone. Now from your phone go to Settings>Notifications>VeryFitPro>Allow Notifications;
2. Now Turn on SMS Notification in the'VeryFitPro' app: Just Open App>Device>SNS Alert>Allow notification>Switch on SMS>Click'√' icon to save–>setting done.
3.Please make sure that message' notification is also open in your phone's setting: Setting>Notifications>'Messages'>Allow Notifications;
Note: Turn on the calendar reminder in the app Make sure Lock Screen/Notification Center/banners are open.
Run'VeryFitPro' app in the phone background and make sure the device is paired with your phone successfully.
Related
Categories ReviewsSours: https://gorilla-fitnesswatches.com/yamay-smartwatch-review/
Similar news:
Yamay Bluetooth Smartwatch review: specs and price
Yamay Bluetooth Smartwatch
Yamay Bluetooth Smartwatch
Why is Yamay Bluetooth Smartwatch better than the average?
Battery power?
350mAhvs310.49mAh
Screen size?
1.54"vs1.38"
Height?
40mmvs44.42mm
Number of microphones?
1vs0.99
Design
The device is dustproof and water-resistant. Water-resistant devices can resist the penetration of water, such as powerful water jets, but not being submerged into water.
Damage-resistant glass (such as Corning Gorilla Glass or Asahi Dragontrail Glass) is thin, lightweight, and can withstand high levels of force.
Resistance to sweat makes it ideal for use while doing sports.
You can operate the device easily, by pressing the screen with your fingers.
The watch band is removable and can be replaced by any standard watch band of the correct size, allowing you to customise it to your liking.
The device has an electronic display to present information to the user.
Resolution is an essential indicator of a screen's image quality, representing the maximum amount of pixels that can be shown on the screen. The resolution is given as a compound value, comprised of horizontal and vertical pixels.
The user can see information such as date, time, and notifications even when the screen is off. The functionality can be enabled or disabled.
The bigger the screen size is, the better the user experience.
Sensors
A heart rate monitor can help show your fitness levels, enabling you to calculate a suitable intensity of exercise.
GPS enables global positioning, useful in map, geo-tagging or navigation apps.
Your blood oxygen level is a measurement how much oxygen is reaching your muscles. It is important because low levels mean that you will become easily fatigued during exercise. The more exercise you do, the better your blood oxygen levels will become.
An accelerometer is a sensor used to measure the linear acceleration of a device. A common application is detecting when a device changes between vertical and horizontal positions.
A compass is useful for gaming, maps, and navigation software.
This measures barometric air pressure. It can predict weather changes, for example a sudden drop in air pressure could mean a storm is coming. When calibrated correctly it can be used to determine altitude, which helps GPS devices to lock on quicker and with greater accuracy.
With a temperature sensor you can monitor changes in temperature to measure your exertion levels and avoid hyperthermia.
A gyroscope is a sensor that tracks the orientation of a device, more specifically by measuring the angular rotational velocity. Initially, they were built using a spinning rotor to detect changes in orientation, like twisting or rotation.
A cadence sensor measures the number of pedal revolutions per minute when you are cycling. It enables you to monitor how fast you are pedaling.
Activity tracking
It can track your sleep, such as how long you sleep for and the quality.
It tracks how many steps you take throughout the day, allowing you to see how active you have been.
Measuring pace shows how much time it takes to travel one kilometer or one mile. For example, in running, a 4 minute kilometer would be a very good pace.
Your activity data is analysed to give you reports, available to view through the app or website. This allows you to see how active you have been and to help you make improvements.
Your sleep data is analysed to give you a report, available to view through the app or website. This allows you to see the quality of your sleep and to help you make improvements.
The device automatically detects when you start an activity such as jogging, saving you from entering it manually at a later time.
It can detect changes in elevation, such as when you are climbing stairs.
Connectivity
NFC (near-field communication) allows a device to perform simple wireless transactions, such as mobile payments. Note: this feature may not be available in all markets.
The device syncs all of your data wirelessly, without the need for cables.
The device automatically syncs your data when in range of your computer or smartphone.
Bluetooth is a wireless technology standard that allows data transfers between devices placed in close proximity, using short-wavelength, ultra-high frequency radio waves. Newer versions provide faster data transfers.
It is compatible with a range of iOS devices such as iPhones, iPads and the iPod Touch.
Devices that use cellular technology can connect to mobile networks. Cellular networks have much wider signal coverage than Wi-Fi.
Wi-Fi 4 (802.11n) is a wireless standard released in 2009. It has faster transfer rates and improved security compared to its predecessors – a, b, and g.
Battery
With a longer battery life, you don't have to worry about charging the device as often.
Battery power, or battery capacity, represents the amount of electrical energy that a battery can store. More battery power can be an indication of longer battery life.
The manufacturer offers a branded wireless charging kit. To charge the device, you simply put it down on its charging base.
There is less chance that you will run out of battery during an adventure.
The time it takes to fully charge the battery.
In power save mode you can still check what time it is and other basic functions. A long battery life is good if you wear the device day to day.
With a long battery life, you can train for several hours a week and only have to recharge the device every few weeks.
Features
The device has a speaker and microphone that allow you to answer calls made to your smartphone.
The device has a feature that allows you to find your smartphone if you have misplaced it.
The device alerts you to incoming calls on your smartphone, and allows you extra control such as muting or rejecting the call.
If you get a notification such as a call or message, the device will vibrate on your wrist or make a noise to alert you.
The device can wake you using vibration, so as not to disturb anyone else sleeping in the room.
Vibrating alerts have a variety of uses, such as interval training.
It determines when you are in a light state of sleep and wakes you up within a set period of time before your alarm. This can allow you to wake up feeling fresher and more alert.
Random-access memory (RAM) is a form of volatile memory used to store working data and machine code currently in use. It is a quick-access, temporary virtual storage that can be read and changed in any order, thus enabling fast data processing.
Which are the best smartwatches?
Samsung Galaxy Watch Active2 LTE Stainless Steel 44mm
Samsung Galaxy Watch Active2 LTE Aluminium 44mm
Samsung Galaxy Watch Active2 Stainless Steel 44mm
Samsung Galaxy Watch 4 Classic LTE 46mm
Samsung Galaxy Watch Active2 Aluminium 44mm
Garmin Tactix Delta Solar Edition
Apple Watch Series 5 GPS + Cellular Aluminium Case 44mm
Show all
This page is currently only available in English.
Sours: https://versus.com/en/yamay-bluetooth-smartwatch
1219
1220
1221
1222
1223