If you'd like to find out all about tile edge trim, you've come to the right place!
This is Steve with SKG Renovations. In this post I will be providing you with an assortment of tile edging options and some helpful installation strategies.
And it gets better!
I will also go through a real life installation example to show you how it's done by a professional.
And if you'd rather get some super valuable tile installation tips, check out my Shower Tile Installation post.
Ok, let's get into it!
Summary of Topics:
Please use the links below to skip to any section that interests you.
Alternative to Bullnose Tile
Ceramic Tile Edge Trim Profiles
Metal & Plastic Trim Profiles
Tile Edge Trim Finishes
Trim Depth
Outside Tile Corner Trim
Square or Mitre Joint on Tile Corner Trims
An Easier Alternative to Shower Niche Trim?
Inside Tile Corner Trim
Inside Corner Dilemma
Product Types
There are four main types of tile edge trim that can be used to finish the perimeter of your tiling installations.
These include stone trims, porcelain or ceramic trim tiles, as well as plastic and metal trims.
These come in various configurations depending on the product and their use, but the metal tile trims (metal tile edging) and stone trims are the most popular.
Alternative to Bullnose Tile
If you are not excited about using a standard tile edge trim profile, you can use real or engineered stone instead. This is one of the fastest growing tile edge trim ideas, quickly displacing the standard tile edging options.
Capping a shower pony wall or framing the inside of a shower niche with polished stone creates a beautiful high end finish, and also provides a great alternative to bullnose tile.
The stone material is quite thick (a choice of either 2cm or 3cm thickness) so it offers the opportunity to create a finished trim by polishing the outside facing edge.
This strategy is becoming more popular because it creates a very compelling seamless look and is easier to install than other trims. It can also produce a beautiful modern or classic finish depending on your choice of stone.
The downside is that it can be significantly more expensive than a standard tile edge trim installation due to the high cost of the material and fabrication.
You should also keep in mind that these types of stone installations require very accurate measurements and a skilled stone fabricator to cut and polish the stone pieces.
Ceramic Tile Edge Trim Profiles
Ceramic tile edge trim profiles can have a finished square edge, or more commonly a larger radius bullnose edge.
These types of tile edging were common in modern designs during the 1980's and early 90's but are no longer popular in todays modern bathroom designs.
There are some unique modern trim tiles available today, but they are usually special order items and generally quite expensive.
In contrast, it is quite common to see these tiles in more traditional design schemes these days.
The attached image shows a ceramic trim tile being used very nicely around a tiled shower niche in a traditional bathroom design.
Metal and Plastic Tile Edge Trims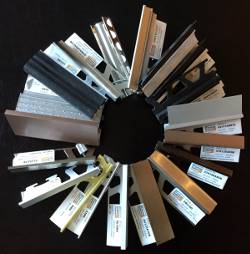 Metal tile trims and plastic tile edge trims come in several profile shapes and colors, but plastic is the least popular of this group because they do not stand up well to abrasion.
The metal tile edging is by-far the most common trims used in most mid-cost and higher end renovations (image of sample trim wheel).
They are ideal for high abrasion areas such as floors, but have also become a standard in most shower wall tiling installations.
They are available in the widest range of finishes and profile styles, but the profile with the very narrow top edge is the most popular (for example, Schluter Jolly).
There are a large selection of Shluter profiles available. You can see them all on the Schluter Systems website.
Most home stores carry Schluter profiles but you can usually only get the Jolly profile without special ordering them. There are a few more Schluter profile options readily available online.
Tile Edge Trim Finishes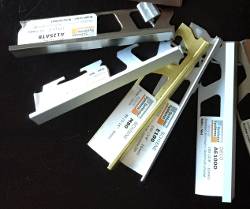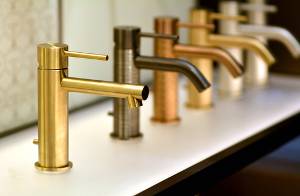 If you've decided to install a metal tile edge trim, and you've picked the type and style you want, then it's time to choose the finish.
You should be prepared to select your trim finish well in advance of your tiling project because some finishes are special order items.
You should also be prepared for a wide variation in price. Some of the less popular finishes can easily be twice (or more) the cost of a more common finish.
The general rule when picking a tile edge trim finish is to try your best to match the trim with your bathroom fixture finishes, although there are some exceptions.
Generally when choosing your finish, you should keep in mind that tile edge trim should be an attractive compliment to your bathroom design, but not a stand-out feature.
Trim Depth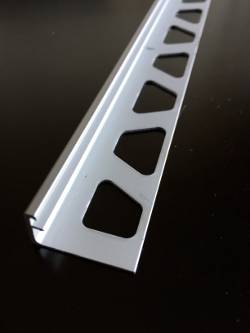 It is not always obvious what depth you should select for your metal tile trim, even when you have your tile and trim in hand at the home improvement store.
It is a good strategy to err on the plus side for your trim depth to avoid the terror when you see the tile edge protruding above the trim during installation.
To choose a trim depth that is 1/16" to 1/8″ deeper than your tile is standard in the industry. A DIY'er should stick with a the 1/8″ deeper trim option to give themselves a bit more of a safety margin.
Because the bonding portion of the trim sits beneath the tile (the cross hatched flange seen in the image), it is important to allow enough mortar beneath the tile to allow it to bond to the trim, and the trim to bond to the tile backer board.
Squeezing all the mortar out between your tile and trim mounting flange reduces bond strength significantly so DON'T DO IT!
Another thing to be aware of if you are installing only ceramic tile, is that many people have the tendency to choose their tile edge trim depth based on the thinner outside edge of the ceramic tiles they are using.
This will get you into trouble when you have to match the thicker cut edge against the trim in a staggered tile layout.
If you are installing a waterproofing membrane after you secure your tile edge trim in place, you must also remember to accommodate the membrane thickness in your choice of trim depth.
Remember that you can always add a little extra mortar to raise the tile to meet the trim depth, but you are totally stuffed if you choose a trim depth that is too shallow.
Trim Depth Example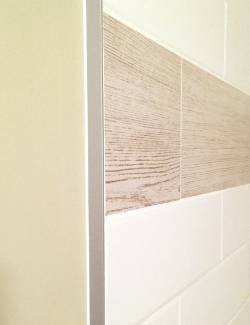 The example image shows two different tiles installed with a 1/2″ trim.
The darker tile is porcelain with a thickness of almost 3/8″ and the surrounding tile is ceramic with a 1/4″ thickness.
The ceramic tile has lots of room beneath, requiring 1/8″ thick layer of buildup material beneath to allow it to match the porcelain tile and trim.
However, the trim is a perfect depth for the porcelain tile. This 3/8″ tile requires an extra 1/8″ of depth for trim & tile to match evenly, due to the extra thickness added by the waterproofing membrane, and an allowance for some mortar beneath.
Outside Tile Corner Trim
When it comes to shower tiling, you may never need to worry about outside tile corner trims for your tile work unless you are installing a tiled shower niche or tiling a pony wall or shower bench.
To clarify, outside tile corner trims used exclusively for the corner where two of your tiled surfaces meet at 90 degrees.
These days it is most common to use a metal tile edge trim for these corners but as I mentioned previously, another great alternative tile edging option is natural or engineered stone.
With stone you can relieve yourself of the burden. Leave the cutting, edge finishing and installing to your stone fabricator instead.
Just keep in mind that stone is expensive and requires a skilled stone fabricator to cut & polish them.
Square or Mitre Joint on Tile Corner Trims?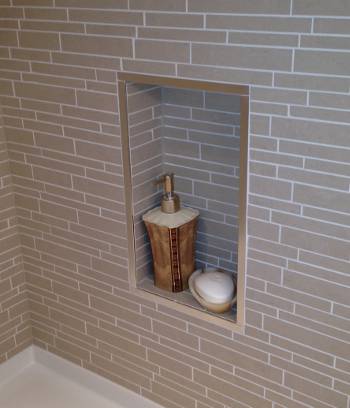 If you choose a metal tile edge trim, it must be installed with skill and precision.
This trim piece is usually quite visible and you don't want someone's shoddy work to be on display in your new shower remodel.
Firstly, if you want this installation to go smoothly, you should follow the strategies I have covered in the sections above.
The challenging part will be matching the four corners evenly, with no gaps.
You have two choices: Meet the two pieces of trim in the four corners with a square joint, or use a miter joint (45 degree joint).
The first option is clearly the easiest and offers the highest chance of success (see image), but it does not look as professional as a perfect miter joint.
Another important condition is that you can only achieve a decent square joint when the top of the trim is flat. This can be achieved quite satisfactorily with Schluter Shiene or Jolly.
With other more complex profiles, a miter joint will be required.
If you decide on miter joints for your shower niche outside trim, it's always safest to get a skilled and experienced tiling professional to do this work.
An Easy Alternative to Shower Niche Trim?
If you want another alternative to installing a shower niche trim and avoid the outside corner installation problem altogether, you can always install a finished shower niche with a built in tile edge trim.
This look isn't for everyone but if you like the metallic look of a finished shower niche, it can sure save you a lot of work and also eliminate the risk of leaks.
Inside Tile Corner Trim
Finishing inside corners is an important part of every shower tiling project, but it is also the most ignored when it comes to tile edging.
There are some challenges to these inside corners and some elegant products and strategies available to meet these challenges.
There are also some very useful and interesting tile edge trims that are not routinely used in modern bathrooms and showers but are also worth considering.
Inside Corner Dilemma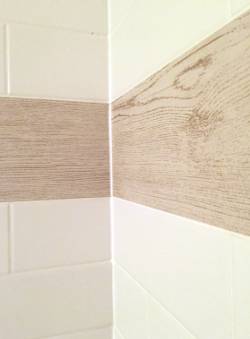 If you are like most tiling contractors, you will have some issues with finishing inside corners on wall tile installations.
When wall tiles meet at a corner, you have a choice of tiling right up against the adjacent tile and rely on a white silicon bead to seal the corner (see image). Or you can cut the tile to create a grout line on one of the two walls.
The former strategy is the most common mostly because it is simply the easiest of the two.
A grout line in the corner tends to interrupt the visual flow of tile from one wall to the other, and is not generally considered to be a good look.
Although these are the most common strategies, there are also some interesting and professional looking alternative tile edging options available.
Other Interesting Trims
The inside corner tile edge trim (also called a cove trim) provides a professional finished look and is one of the most under appreciated tile edge trim ideas, in my opinion.
The benefits of this trim are an attractive metallic finish compared with the standard grout or silicon corner.
It also has a smooth radius making it easier to clean and provides two grout lines, allowing the corner to be completely sealed.
A baseboard trim is also available for installation outside of the shower if your floor & wall tile meet. It has a very thin top profile and various bold metallic finishes, great for minimalist designs.
There are also some very nice tile edge border profile trims designed to be mounted within a section of wall tile to create a separation between two different tiles, or simply as a bold interruption in the your wall tile design.
There is even a wall profile trim with a shallow track down the middle for mounting a strip of 1″x1″ mosaic tiles. A very classy look.
Wrap Up
I hope that this article has provided you with some confidence (even mastery) in the area of tile edge trim. I have attempted to shown you a range of the most popular and interesting tile edge trims, along with a few useful hints to help you with installation.
If you have any thoughts you would like to share or any questions about this post, or the topic of tile edge trim in general, please leave a comment below.
This post is for information purposes only and should NOT be interpreted as professional advice. You should always consult a licensed local contractor before undertaking any remodelling work in your home. Click here for my full Personal / Professional Disclosure.
Sours: https://redblockindustries.com/blog/shower-remodel/tile-edge-trim/
See how tile-edging trim adds graphic style to these 5 bathrooms and kitchens
Tile-edging strips are narrow lengths of metal or plastic used to finish off tile walls, backsplashes and flooring. The trim finishes the edges and protects the tile from chipping. The range of finishes and colors available today has transformed these utilitarian strips into design stars. Here are five projects for which designers used tile edging to add graphic punch to each room's overall look.
Schluter Systems
This shows a common application of tile-edging strips. A popular brand is Schluter, shown here. The brushed-chrome trim cleanly finishes the edges where the tiles meet.
Schmauder Group
1. Industrial Bath With Graphic Punches
In this industrial-inspired bathroom, designer Michelle Schmauder played off other black elements in the room by capping the backsplash with a matte black edge trim. The visual weight of the mirror frames is about the same as that of the trim, she told Houzz. This creates a nice balance throughout the room, as the same strips also appear in the shower.
Schmauder Group
Here is the matte black edging in the shower. It provides a crisp graphic outline in the corners and around the niche.
Schmauder Group
The geometric floor tile is framed with black tile edging, making it stand out even more.
Lauren Levant Interior
2. Organic Zen Minimalist Bathroom 
In this Zen minimalist bathroom, interior designer Lauren Levant also used matte black tile edging. In a stall full of large-format tile, it adds a subtle yet impactful detail that reinforces the shower's symmetry and ties into the other black elements in the room.
Lauren Levant Interior
Here's a closer look at the strips. The contrast between the black metal strips and the concrete tiles enhances the look of the concrete.
Lauren Levant Interior
Across the room, carefully placed vertical strips echo the line in the shower stall.
Stéphanie Fortier Design
3. Bold and Colorful Tropical Bathroom
Interior designer Stéphanie Fortierspecified white strips to cap off the backsplash in this happy and bright tropical bathroom. "This gives it a seamless look. Be careful to specify white when you want it, because most contractors will automatically use stainless steel," the designer told Houzz.
Stéphanie Fortier Design
She also chose white strips to give the tile shower surround a nice clean, protected edge.
The Hills Group
4. Glittering Shower Stall
In this contemporary and glamorous shower stall by The Hills Group, the shine from the brushed-stainless steel tile edging adds some bling to the edges of the bench and generous niches.
Griffin Designs
5. French-Bistro-Inspired Kitchen
As a kitchen and bath designer, Alison Griffin is very familiar with edge-protection profiles and what they can do for a design. In this French-bistro-inspired kitchen, she capped the outer corners of the tile wall with stainless steel trim to add an industrial touch. You can see it on the windowsill's vertical edge.
Griffin Designs
This small but impactful detail helps tie the walls to the custom vent hood, faucets, sconces, hardware and appliances.
Tags: bath design,tile,tile edging,tips
You Might Also Like
Sours: https://www.rubensteinsupply.com/use-tile-edging-trim-for-a-design-punch/
Back to Tiling Tools
Product Details
Gives a neat and stylish finish. Quick and easy to cut and install. For use with tiles up to 10mm /12mm thick. Offers protection for the exposed raw ends of the tiles. Product width 20mm.
Technical Specification
| | |
| --- | --- |
| Colour by dominance | Silver |
| Material | Stainless Steel |
| Depth (mm) | 10 |
| Profile | Straight Edge |
Delivery details
DELIVERY OPTIONS (UK mainland only)
Next Day Delivery – £5.00 or FREE for orders over £25
Order before 9pm Monday to Thursday for next business day delivery
Order Friday to Sunday before 6pm for Monday delivery
Orders placed after Sunday at 6pm will be delivered the following Tuesday
Pre-12pm Delivery
– £10.00 or £5.00 for orders over £25, to arrive before 12pm on the scheduled days above
Saturday Delivery
 – £10.00 or £5.00 for orders over £25 & FREE for orders over £75 (order by 6pm Friday)
Sunday delivery
 – £10.00 or £5.00 for orders over £25 & FREE for orders over £75 (order by 4pm Saturday)Times may vary for items being delivered directly from the supplier. For more information, please visit our delivery information page
Items over 30kg
can only be delivered next Business Day Mon-Fri. Orders placed after 9pm Thursday will be delivered the following Monday More about Delivery & Returns
Click & Collect details
Collection Details
We are fully open and delighted to welcome our customers into our branches. Our opening times are
7am-8pm Monday-Friday, 7am-7pm Saturday and 9-4pm Sunday
We advise that you check your local branch is open on the branch locator page, before you visit.
Once you have placed your order online, we'll have it ready for you at the branch you have selected in as little as 5 minutes. We will hold your order for 14 days, after which we will automatically generate a refund to the payment type you used to place the order.
Please wait for your text or email before coming to collect it and be aware that we will still have health & safety measures in place, so we ask that you observe the branch guidelines.
Don't forget your mobile number – Please ensure that your mobile number is added so that we can text you when your order is ready to collect.
Reviews
★★★★★ ★★★★★
Homelux Stainless Steel Effect Straight Edge Tile Trim 10mm x 2500mm (2 Pack) is rated 4.8 out of 5 by 40.
Rated 4 out of 5by Beefenfrom Nice TrimTwo of these (5 metres) for about £20 is good value. Creates a great finish on the wall border. Easy to cut and has a brushed steel effect.
Date published: 2021-08-10
Rated 5 out of 5by Cardyfrom requested reviewfitted by a prifessional look great
Date published: 2021-08-01
Rated 5 out of 5by stu75from Good tile trim - well packagedNice brushed steel effect tile trim. Well packaged together in a cardboard tube means you don't have to worry about it being scuffed or marked
Date published: 2021-07-26
Rated 5 out of 5by Favourfrom GreatGreat value 2pack for price of one in other stores
Date published: 2021-06-27
Rated 5 out of 5by nil7from tile edging trimgreat product at excellent price
Date published: 2021-05-31
Rated 5 out of 5by Jupsterfrom ExcellentGood quality and price, came well protected too
Date published: 2021-05-10
Rated 5 out of 5by CraigFfrom Good value and quality tile trimsExcellent quality, decent dept for 6 to 9mm tiles easy to cut and good value for 2 lengths
Date published: 2021-05-09
Rated 5 out of 5by El Bricolofrom Great Quality and ValueHaving looked around, this is by far the best price you can find. Two tile trims of 2.5m each included here which woudl proabbly have cost double everywhere else. This is not plastic looking like stainless steel, it is actual metal. Great packaging in cardboard tube as well.
Date published: 2021-04-20
Share
© Toolstation 2021. All rights reserved
Adding this item means your trolley will exceed the 2 Hour Delivery size limitations. This item has not been added to your trolley.
Find out more
Let us find your local branch, enter your postcode
Hey, browse our site often?
ADD TO HOME SCREEN
Sours: https://www.toolstation.com/homelux-stainless-steel-effect-straight-edge-tile-trim/p44775
How to install tile edge trim on walls: Schluter®-QUADEC profile
Metal Strips Versus Bullnose Tiles – How To Finishing Tile Edges
What Are Metal Strips?
Metal strips are a transition piece.  For example, you'll see metal strips where tile meets drywall, at the corners of a shower curb, and around niches.
The purpose of metal strips are to protect you from unfinished tile edges.  Likewise, exposed tile edges are unsightly.  Most importantly,  they make for a modern, and clean appearance.
Want help designing your bath or kitchen?  Contact us today for a design consultation.  Our design team is available to work with you virtually.
You have two options when selecting the shape of your metal strip: the L-shape and a rounded edge.  The former is referred to as a jolly edge and latter a rondec.
Consider the design aesthetic of your kitchen or bath to decide the shape.  Go for the L-shape if you want a crisp, contemporary look.  On the other hand for a traditional feel to your space a rounded edge is best.
In addition, metal strips come in many different finishes.   Certainly consider the color  of your faucets, fittings,  and accessories before buying.
Also Read: Painted Vs Stained Cabinets What's Best For Your Kitchen Cabinets?
What Are Bullnose Tiles?
Bullnose tiles have one or two sides with a finished and rounded edge.   Bullnose tiles are great for a smooth transition.  Consequently, if you're after a decorative look consider a chair rail instead of bullnose tiles.   Similarly, a pencil liner adds more interest than bullnose.
In short, pencil liners, bullnose, and metal strips are all interchangeable for most applications.  Meanwhile consider design, your budget and availability of the materials when  deciding which material to use.
How To Decide Between Metal Strips and Bullnose:
Metal Strips
Metal strips are the affordable option.
They readily available in popular finishes.
You must know the thickness of your tiles before ordering.
Match the finish to your fittings, fixtures, and accessories.
As a decorative feature, install metal strips below and above an accent.
Outside and inside corner pieces are available to put a cap on sharp edges.
Tile Bullnose
Perfect for a seamless transition.
Purchased by the piece.
Range in size  from  6″ to 24″.
For larger tiles they might not be available.
Install as a base board around your bathroom.
If you're doing a shower niche, decide if you'd like to bullnose inside the niche or around the outside.
Also Read:Furniture Board vs. Plywood Cabinets
Conclusion
To sum up, there are a number of factors to consider including style, availability and budget.  Metal strips are perfect for a clean, contemporary look.  On the other hand, bullnose tiles are great for transitional and traditional spaces.   Still unsure?  Send us a note about your project.  We'd love to hear from you.
Sours: https://bathpluskitchen.com/blog/finishing-tile-edges-metal-strips-versus-bullnose-tiles/
Metal tile strips
Submission now seemed like the only logical move. - Taak, now let's spread the legs. - Yulia herself lifted Natasha's leg and put it on the right edge of the chair. Natasha immediately repeated everything herself, but with the other leg.
Tips on Cutting Profiles
Very soon she will moan under him and ask for more. Soon he will frantically tear her ass trained with constant shaping and will not be able to get enough. She met him in a short red silk robe.
Now discussing:
Following his order, I peered with all my strength into the space outside the window. And then. Then I saw that a man and a woman were watching me from the window of the building. - No, well, the fagots are completely insolent. - came to me through the sound of the wheels, when the train had already started.
1449
1450
1451
1452
1453