When it's time for a kitchen remodel, it's tempting to take on an "out with the old, and in with the new..." mentality. This is understandable, but do take care. Sometimes that "old" is actually high-quality, beautiful craftsmanship that deserves to be reconsidered in a new light.
10 Examples Why Your Momma Chose Maple (And You Can Too)
Case in point? These 10 kitchens incorporated maple cabinetry into beautiful, contemporary designs. Some still lend themselves towards the traditional, others are transitional, and a couple even took a modern approach.
While maple is considered outdated by some - namely custom cabinet manufacturers who love when homeowners choose to replace rather than reface - we think it's worth finding new ways to display high-quality maple cabinetry whenever you can.
1. Is this Stockholm or Seattle?
Maple has clean, streamlined grains, making it ideal for those who like a more modern or contemporary kitchen design.
Photo by Spore Design - Search modern kitchen design ideas
In this Seattle home, the sleek, overall look makes you wonder whether you're in the U.S. or in one of Europe's upscale design studios. We like the blend of open shelving over the sink counters with full cabinet banks elsewhere.
2. A Warm, Cool White Kitchen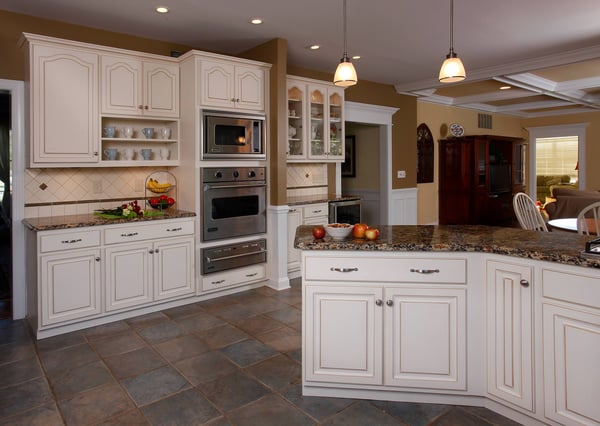 If you like the look of a frosty white kitchen, you'll love the look of maple. It adds just enough warmth and color to provide visual interest, but without interrupting the overall color scheme.
Photo by Winder Gibson Architects - More modern kitchen photos
Notice the uniform grain patterns achieved by the quartersawn maple in this San Francisco kitchen. The linear grains are echoed by the subtle, vertical glass insert pattern.
3. The Biggest, Smallest DC Kitchen
Photo by Ernesto Santalla PLLC - Discover contemporary kitchen design ideas
Like the look of finished wood but worry it will shrink your already small kitchen? This DC kitchen proves how maple straddles both worlds. It's light enough to prevent a cave-like effect, but its natural color adds warmth. Notice how the homeowners chose a unique maple pattern to give it more personality. Also, that coffered ceiling works wonders to make the kitchen feel more spacious.
4 So Fresh and So Clean
One reason Europeans like maple is that it's clean and fresh. It looks resonant when bathed with natural sunlight and can support any color scheme, even one with bright, citrusy hues, like those in this west coast kitchen design.
5. The Elemental Riverwoods Design
Photo by mark gerwing - Look for contemporary kitchen design inspiration
The maple cabinets in this Riverwoods design are one of multiple textural stars. From a dark brick fireplace in the open floor plan's living room (echoed by the dark, slate countertops), to the metallic supports of the suspended, upper-island cabinets, these homeowners were savvy when it came to mixing up the elements and textures in their contemporary kitchen - that looks at home in the traditional-transitional home's design.
6. The Dark and Light Contrast
Can't quite decide whether you want a dark or light kitchen? Then choose both. Maple cabinetry is pale enough to provide the "light" in the mix, allowing you to go darker with countertops and walls.
Photo by Helga Simmons Interior Design LLC - Browse modern kitchen ideas
We're guessing the designer of this small, Magnolia kitchen used innovative storage options, allowing the homeowner to gain extra room on the kitchen end wall, where the tantalizing still life is displayed.
7. Mixed-and-matched Wood Details
Not sure how to incorporate your mix of wood textures and finishes?
Photo by Zak Johnson Architects - Search Mediterranean kitchen design ideas
Take your cue from the Bayview house kitchen, where rustic wood beams, sleek wood floors, variegated maple cabinets, and darker-trimmed window and door frames come harmoniously together. Choosing a more varied maple pattern (like we saw in the Biggest, Smallest DC kitchen) was a smart move because the contrasts in dark and light pull different surrounding finishes together.
8. Transitional Warmth and Style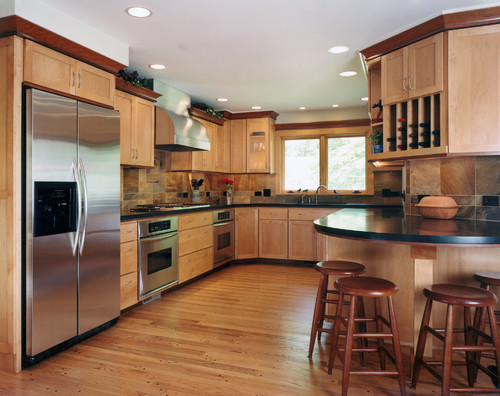 Photo by TreHus Architects+Interior Designers+Builders - Browse traditional kitchen ideas
We'll continue on the mix-and-match theme with this transitional Minneapolis kitchen. They went all out when it came to choosing a warm, cafe au lait color palette, with plenty of varying wood themes. We appreciate how the flowing wood grain in those shaker style cabinets is echoed by the swirling patterns in some of the natural stone backsplash tiles. Another major style bonus: check out that cherry crown molding around the perimeter that creates a bold, clean boundary between cabinets and ceiling.
9. Gray Stained, Monochromatic Maple
Monochromatic kitchens offer multiple benefits including a timeless background for ever-changing design styles and color accents.
Photo by R.P. Morrison Builders, Inc. - Search transitional kitchen design ideas
We love the way this Bird House kitchen used a gray stain, which was absorbed well by the maple cabinets. The barely there wood grains have a driftwood-like appearance. Note the beautiful bronze/copper accents on the hood, faucet and bar stools, adding that extra special something.
10. The Contemporary, Traditional Kitchen
Yes, you can have a contemporary, traditional kitchen - as the Moskowitz's kitchen demonstrates.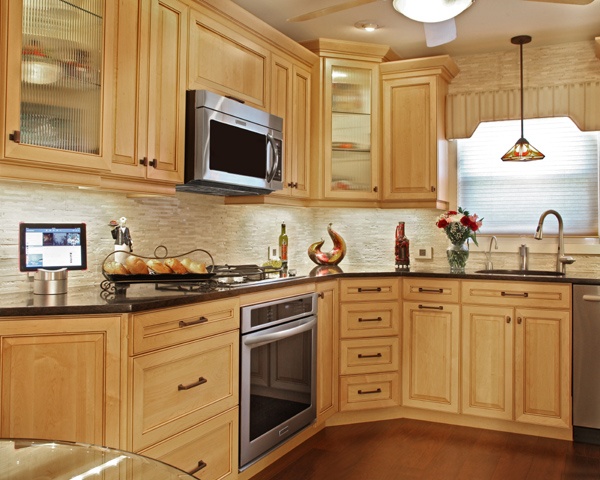 Prestige Plain cabinet doors offer just enough relief (especially when they're glazed) for traditional decor, but are sleek enough to remain in the contemporary category. Their complimentary, monochromatic countertop doesn't compete, and the delicate, mini-subway tile backsplash plays with the subtle color variations inherent in maple grains.
Speaking of subtle, maple is a perfect choice for a monochromatic kitchen in gray, black or white because it offers a subtle contrast with a natural sophistication. The maple ends up becoming a focal point. Again, we see how oil-rubbed bronze hardware adds a little style pop.
Are you re-inspired to use beautiful maple cabinetry in your contemporary kitchen? Stop by Kitchen Magic or schedule an in-home consultation and we'll show you plenty of examples that will make your Momma (and you) proud.
Sours: https://blog.kitchenmagic.com/blog/bid/145140/enjoy-the-magic-of-maple
Can maple cabinets be painted white?
Written by David | October 31, 2019
If you have Maple Cabinets in your kitchen, you may be asking yourself… Can maple cabinets be painted white?
Maple cabinets look great. They are very sturdy, and their finishes can withstand the wear and tear in a high traffic area. Once a maple cabinet has been finished, it can be very difficult to change it's color.
Since maple is so dense, trying to change the stain color can be almost impossible. BUT…we can paint them!
Here are natural maple cabinets.
Can Maple cabinets be painted white?
Not only can maple cabinets be painted white, but they can be painted any color you choose. Right now, the most popular color is white. Grey is number 2. So, how do we do it?
Just like with painting cherry or painting oak cabinets, we have to clean them.
Once they are cleaned, we will have to sand these doors and get them ready for primer.
We will then apply a bonding primer to the maple cabinets. So, make sure the paint sticks properly
Once the primer dries overnight, then we will apply the final paint choice of color.
So, you can pick the color you want, and the finish you want as well. For the finish, there are a few choices: dull, matte, satin or semi gloss.
Here are the maple cabinets being painted white.
Do painted maple cabinets hold up?
As you can read in other blogs posts about painting cabinets, painted cabinets can hold up very well. There are a few things to keep in mind:
Painted cabinets are just that…paint. Paint does wear. Paint also does not play well with water (more on that later).
If the cabinets are properly prepared, these painted cabinets will last for several years.
PLEASE do not wash painted cabinets with water. Use a 50/50 mix with water and vinegar.
DO NOT leave wet wash cloths, towels, or rags sitting on the top or edges of painted cabinet doors. You will not like the results.
We have been painting cabinets for over 12 years now. In that time, we have had just 2 call backs. One was from a dog that started eating a door. The other was from a sink that broke…water damage everywhere.
What will my kitchen look like while being painted?
We do our best to make sure that the kitchen or cabinets that are being painted are "quarantined" off. We do the following:
Cover the floors.
Mask off the cabinets with plastic.
Use vacuums to eliminate the over-spray and dust.
Make sure that we work as fast as possible to not inconvenience our customers, so we are in and out as fast as possible.
This is cabinets masked prior to primer
Here are the maple cabinets with primer.
Here is a tent we use to section off – or quarantine – the kitchen.
How much will it cost to paint cabinets?
You can figure about $110.00 per box as a base price. However, the best thing to do is call, text, or email us. We will get a look at your kitchen and give you an accurate cost to paint your cabinets. You can also text us a picture and we will give you a rough estimate based off your photos! We are here to help you love the space you're in. Let us show you how painting your maple, cherry, or oak cabinets will improve the look, value, and feel of your home.
Revitalize Your Kitchen With Cabinet Painting – D'franco Painting & Wallpaper
Sours: https://www.dfrancowallpaper.com/can-maple-cabinets-be-painted-white/
Wellborn offers a wide selection of maple cabinetry in a variety of styles and finishes. Browse our assortment of maple cabinet finishes and order a sample today!
Maple Cabinetry
Maple cabinetry is beautiful and versatile. It is perfect for any kitchen cabinet, because the maple is smooth and has an even wood grain and finish that makes it great for stains or painting. Check out our door styles to see how maple is used in various forms and designs.
Maple Cabinet Finishes
Maple wood works well with a variety of finishes. Some finishes that Wellborn offers are light, medium, expresso, and many more. Be sure to view an actual sample or contact your dealer to look at samples.
Maple Cabinet Stains
Maple Stains with Glazes
Paints for Maple Cabinets
Maple Paints with Glazes
Maple Cabinetry FAQs
Paints for Maple Cabinets
Is maple a good wood for cabinets?
Maple is a great wood for cabinets because of its grain consistency. It is great for light to dark stains and it is also extremely durable.
What color countertop goes with maple cabinets?
Because maple can be stained or painted in so many shades it can be complemented with any color of countertop. A really elegant countertop that goes well with maple kitchen cabinets is white.
What color wood floor goes best with maple cabinets?
A neutral color floor works best when pairing with maple cabinets. The color wood grain compliments the neutral colors by adding warmth and softening the room.
How do I take care of my maple cabinets?
Taking care of your maple cabinets is important when it comes to your cabinets lifespan. A great tool is using a wood conditioner to keep the integrity of the wood. Check out our cleaning supplies to help maintain your cabinets.
Sours: https://www.wellborn.com/blog/2021/02/08/browse-maple-cabinetry-maple-cabinet-finishes-wellborn-cabinets/
Top 3 Kitchen Cabinet Colors 2021 - Popular Kitchen Cabinet Colors 2021
The Best Paint Colors for Maple Cabinets
Love them or hate them, maple cabinets are ubiquitous in today's homes and apartments. The golden honey tones of this durable wood made maple a default cabinetry choice for decades. The medium-toned wood is neutral enough to blend in but can look a bit dated in an era where light European-style oak floors are in fashion and retro Shaker-style and sleek contemporary white European slab cabinets without wood grain or detailing proliferate.
Many house flippers or new home buyers choose to update maple cabinets in a budget friendly fashion with a quick DIY paint job. But if you're a renter or you don't mind the look of the cabinets, a lick of paint on the walls is an easy way to freshen up your kitchen without committing to a major renovation project.
Luckily, maple cabinets play well with a range of colors, depending on whether or not you want to choose a complementary shade to help them blend in or something that creates a bit of contrast that will enhance them.
Here are some of our favorite paint colors to go with maple cabinets.
Sours: https://www.thespruce.com/paint-colors-with-maple-cabinets-4777184
Kitchen maple cabinets color
Maple cabinets can be a beautiful feature in your home. They offer a variety of styles, from traditional to modern. But what color of countertop should you use with your maple cabinets? We've looked into it, and we have some recommendations for you.
Maple can be a beautiful wood, but it is often a lighter tone lacking strong, eye-catching grain or features, impacting how it matches countertops. Some countertops match well with maple, depending on whether the cabinets are stained a dark color or kept light and natural. Good countertop colors include:
Natural and light stained cabinets

Black
Slate gray
Medium gray
White
Brown

Darker stained cabinets

White
Light gray
Black
Slate gray
Cream or tan
There are rooms these will work better in and some things to watch out for. Keep reading as we discuss each in more detail and give tips about your selection.
Countertops For Maple Cabinets
Which countertop you pair with your maple cabinets can make or break your entire room design. Color choice can affect the style, making the room traditional, rustic, or very modern. It can make a small room seem large and a large space feel cozier.
You need to pay attention to the color of your specific cabinets when choosing. Different maple has different natural hues. Most remain fairly neutral, but some maple turns yellow as it ages, and some tend toward a reddish tint. A very yellowed maple can clash with different browns and creams, so you should compare a sample of the countertop directly to your cabinets to make sure there isn't a problem.
Another thing to pay attention to is how dark your maple cabinets are. A darker stain will match up differently than lighter or more natural cabinets do.
Natural And Light Stained Maple Cabinets
Black
With lighter maple cabinets, a black countertop can create a good contrast and give a room a modern look. It pairs well with stainless appliances, but white appliances can look stark against it, and black appliances can make the room look dark and heavy.
In a smaller room, especially one with a dark floor, the black countertops can make the room seem very dark and small. You can mitigate this somewhat by lighting the room well.
A black countertop with light maple can be too much contrast for some people. If this concerns you, try the grays listed below, or consider granite or soapstone with heavy veining to soften the look.
Slate Gray
This can range from almost black to a slightly lighter variation. It gives a similar feel to black, but it is a touch softer and the contrast less stark.
Slate gray countertops can have a very contemporary look in a lightly colored kitchen. But with the right design around it, slate gray can still have a more traditional feel as well. It works better with white appliances than black countertops do, but like black, it can still look heavy and dark with black appliances.
If you like the look of slate gray but worry it may be too dark or won't work well with your black appliances, look into the medium gray below.
Medium Gray
Medium gray works well in contemporary kitchens but works well in rustic and traditional kitchens too. It is less stark than either the black or slate gray countertops, doesn't darken the room as much, and doesn't clash with any appliance colors.
While not shown with maple cabinets, the lighter wood around the countertop in this image illustrates how medium gray works with light wood.
White
White can make a great countertop, especially in a small kitchen. But pure white can look stark and cold when paired with light maple cabinets. Go with a flecked or veined stone, which will tamp down the starkness factor. White makes a room feel bigger and brighter, which helps if you have a room that seems too dim or too small.
One thing to watch for is how this will work if you have a room that already feels large. It could make it seem too large. If your floor is dark or you have black appliances, it could help balance this out, even in a larger room, but it is something to keep in mind.
Brown
Brown countertops work well if you are going for a more traditional or rustic look. Dark brown countertops work well with lighter cabinets and lighter floors to offset their darkness. They can make a large room feel smaller, so if your room is already small, consider the lighter browns.
Dark Stained Cabinets
White
White against darker cabinets can create a nice contrast. Even if your cabinets tend more toward the medium tones, it still works well as a contrasting countertop.
Pure white countertops can be harsh against the darker cabinets. Stay away from the pure white and go with white that is flecked or veined to soften the harshness.
These countertops can make a small room seem larger and more open and can brighten a dim room. Be careful if your room is already big because these countertops can make it feel too large, even with darker cabinets. If you worry your room already is too large, or if you don't want it to look too monotone, consider the light gray below.
Light Gray
Light gray is a very versatile countertop color. Countertops of this color will work in contemporary, traditional, and rustic designs. The lighter color helps open up space and can help offset the effect of dark stained cabinets. The counters can also make a room cozier if it feels too large or too bright.
If you use a natural gray stone, be careful of the undertones. The maple cabinets and what color of stain are used on them, can clash with the undertones of gray. Not all gray is the same, with some having warmer undertones than others. Compare your countertop directly to your cabinets before buying, if possible. But be aware that natural stone varies a lot, and the undertone of the sample you compare may not be an exact match to the countertop you wind up with.
Black
Black can give a very bold and contemporary look to your room. Given the right stain on your cabinets, the proper choice of stone, and the right finish on the edge of the countertop, it can work equally well with a rustic or traditional design. If your cabinets are dark, watch out for how dark a black countertop can make the room seem. It would help if you very had good lighting to balance that.
The darkness of these countertops, especially when paired with darker cabinets, can make a room seem very small. They can also clash with white appliances, so you may need to be careful with your appliance selection.
Slate Gray
The darker slate gray colors tend to be less harsh and dark as the black countertops, but darker and harsher than the light gray.
Slate gray can have the same problems black has with the lighting and making a room feel smaller, just not as extreme in either case. It can make a room slightly warmer and more welcoming than black does. Like black, it also can contrast with white appliances, so you need to watch out for that.
Tan Or Cream
Countertops in this color range are less harsh and more traditional looking than the white countertops. They still lighten a dark room and can work well with very dark cabinets.
Darker tans may clash with the tones of your maple, so be careful. If you can compare a sample to your cabinets before purchasing, it would be best. Remember, if you choose a natural stone, comparing may not work well because of variations in the final countertop you receive.
What Color Backsplash Goes With Maple Cabinets?
What color of backsplash you select to go with your maple cabinets is an important decision. Consider how it matches up with your countertop since you won't want that to clash. Within the range that works well with maple, here are a few recommendations:
Gray stone
Sage green
White
Blue marble
Whatever your choice, a good option is to find variations in that range. If you go with a gray tile, find some that are lighter and darker and alternate them on your backsplash, for example. You can also combine some of these colors, alternating a blue and white, for example.
Should Kitchen Floor Be Darker Than Cabinets?
Your kitchen floor doesn't necessarily need to be darker than your cabinets. Many designers say that you should select flooring that contrasts with your cabinet color, especially if your cabinets have a wood look. Light floors work well to balance dark wood cabinets, and darker floors will balance out light cabinets.
Are Maple Cabinets Outdated?
Maple cabinets are not outdated. They are long-lasting, durable, versatile, and work well with nearly any kitchen design from rustic to modern. Many designers still prefer them because of how adaptable they are.
If your maple cabinets feel outdated, try changing the countertops, painting or staining the cabinets, or switching out the doors. This can give a completely different look and feel to your current cabinets.
In Conclusion
Maple cabinets are very versatile, and there are a few colors that work especially well with them. If your cabinets are light, consider black, slate gray, medium gray, brown, or white. Your best choices are light gray, tan, white, black, or slate gray for darker stained cabinets. Whatever you choose, it is your kitchen and your choice, so trust your own opinion and make it a room you can love.
For additional inspiration, you might also enjoy:
What Color Cabinets with Black Granite Countertops?
Should Kitchen Countertops Match The Cabinets?
You Might Also Like
Sours: https://homedecorbliss.com/what-color-countertops-goes-with-maple-cabinets/
Kitchens With Maple Cabinets
8 Most Excellent Kitchen Paint Colors with Maple Cabinets Combinations You Must Know
Many people are in love with maple kitchen cabinets because of the strength of the hardwood species. Besides, the wood type is also popular because of the attractive look with the visible subtle grains on the surface.
The beautiful appearance of the maple cabinets often makes people leave this kitchen furniture just the way it is. The purpose is to show off the natural look. Even if they finally decide to give a finish to enhance its quality and durability, they tend to choose something clear that will not significantly change the original look of the wood.
Do you also have the same kind of cabinets as your kitchen storage system? If the answer to the question is yes, it seems that this post is the right reading for you.
Here, we will tell you the list of 8 kitchen paint colors with maple cabinets combinations. Everything that we will share with you in the following will tell you about the right tone, particularly for the walls that will go well together with the specific type of furniture.
Benjamin Moore Dessert Tan 2153-50
Wall paint: Desert Tan 2153-50 by Benjamin Moore
The first paint color that is excellent to pick when you have maple cabinets in your kitchen comes from Benjamin Moore. Maybe you already know that this manufacturer is so popular among designers and home design enthusiasts all over the world.
The specific tone that we will talk about here is Dessert Tan 2153-50. Just like the name, it belongs to the tan color category with a bit of yellow undertone in it.
Something like this is always perfect to pair with natural-looking maple cabinets. The combination of them will create a calming cooking environment. Besides, the combo will also give you a luxurious atmosphere in the kitchen interior.
Everything will look even better when the type of maple cabinets also has a similar luxury style. As an example, you can take a look at the photo above.
It shows the picture of a kitchen cabinet that is specifically designed for wine and beverages. As you can see, this furniture does have not only a wine rack feature but also storage spaces with glass doors to store wine glasses.
If we look closely, the maple cabinets seem to get a clear finish that becomes the reason behind the glossy appearance. It also has a tiled backsplash with color that is coordinating with the wall paint.
The built-in lighting on the ceiling and the one located under the wall cabinets does not only highlight the existence of the furniture in the interior. It also enhances the luxurious atmosphere even better.
Sherwin Williams Napery SW 6386
Wall paint: Napery SW 6386 by Sherwin Williams
Next, there is Napery SW 6386 from Sherwin Williams that you can pair with maple cabinets to create an excellent look in your kitchen interior design. On the website of the manufacturer, it belongs to the category of yellow wall paint.
When paired with maple kitchen cabinets, this tone can create a bright warm, and inviting look. The thing that you must remember when choosing the combination is how you can avoid the room from looking too warm and uncomfortable.
A good example is available in the photo above. The contemporary kitchen has flat-panel maple cabinets with a natural finish that is paired with the Napery wall paint. This combo looks nice mainly because of how the cabinets can blend with the wall design excellently.
The floor, which is grey tile, prevents the kitchen from looking uncomfortably warm. In the upper part, the white ceiling can make the space look brighter.
Sherwin Williams Hearts of Palm SW 6415
Wall paint: Hearts of Palm SW 6415 by Sherwin Williams
Here is another yellow color from Sherwin Williams that you can also pair with maple cabinets. It is none other but the Hearts of Palm SW 6415.
The difference between this one and the previous one is that is has a quite visible green undertone. It makes the paint more suitable for you to pick if you do not want the combination between it and the maple cabinets to create a too warm look.
In general, it is suitable to say that the wall paint makes the maple kitchen gets a bit of refreshing feeling too. It matches the natural characteristic of the hardwood.
You can take a look at the photo above as a reference. The traditional kitchen has natural maple cabinets with a stain that looks well together with the Hearts of Palm wall paint.
Here you can also see that the paint color is not too bright even if it belongs to the yellow category. It creates a quite calm visual that can make the kitchen area suitable not only for cooking but also for something else, like chatting or even reading.
Sherwin Williams Seawashed Glass SW 9034
Wall paint: Seawashed Glass SW 9034 by Sherwin Williams
The next option is also from Sherwin Williams. It is a green wall paint called Seawahsed Grass SW 9034. It is the one that is excellent to pick when you want to create a natural-looking environment right in your kitchen.
Although the paint belongs to the green category, it is not the bright and bold one. Instead, it is a soft one. That is why, together with the maple cabinets, it will create not only a refreshing natural look but also a calming one.
If you want to see the proof, you can check out the photo of a contemporary kitchen above. The atmosphere in there becomes subtle because of the wall tone.
Benjamin Moore Kittery Point Green HC-119
Wall paint: Kittery Point Green HC-119 by Benjamin Moore
Here is another option of green wall paint that you can choose as an alternative. It comes from Benjamin Moore, and the name is Kittery Point Green HC-119.
If being compared to the previous one, it looks quite different. It can still give a refreshing and natural atmosphere when you pair it with the maple cabinets. However, you need to know that the appearance tends to have a grey undertone in it.
It becomes reasonable then if this wall paint looks good to match with some colors like white and black. In the photo above, you can see an excellent example.
In this traditional kitchen, the wall paint does not only get along really well with the natural maple cabinets. It also looks great together with the white ceiling, trim, window, and door in the room design.
It looks excellent also when combined with the black tone of the kitchen countertop and appliances. Together, they create a clean look.
Benjamin Moore Linen White 912
Wall paint: Linen White 912 by Benjamin Moore
Another paint color that is excellent to pair with maple kitchen cabinets is white. This particular combination is just perfect for creating a beach style in the cooking place.
Since there are so many brands of white paint that you can find at stores right now, here is one that you can consider. It is the Linen White 912 from Benjamin Moore.
The tone is not pure white. It is more suitable to call as an off-white color because of the subtle creamy yellow undertone it has.
Generally, when you pair this wall paint with maple cabinets, you can create a clean yet comfortable atmosphere in the kitchen. Specifically, as mentioned earlier, it is excellent for creating a beach design.
Take a look at the photo example above. You can see that the wall paint and maple cabinets combination reminds us of the sandy area of the beach.
Sherwin Williams Amazing Gray SW 7044
Wall paint: Amazing Gray SW 7044 by Sherwin Williams
For the fans of modern and contemporary interior design, there is an excellent wall paint choice you can choose. It is none other but the Amazing Gray SW 7044 from Sherwin Williams.
The best thing about this wall paint is that it tends to look dark. That is why when you pair it with the maple cabinets, it can create a fantastic contrast look.
The photo above is an example. You can see how the grey wall paint looks really nice together with the clear-coated maple cabinets as well as some other interior elements with a coordinating look, including the island and the floor.
The best thing of all, the dark character of the wall paint makes the cabinets gain prominence. In other words, it seems more visible in the interior design.
If you want to use this combination and you also want to make everything look even more interesting, you can add another color as a part of the interior scheme. The example that you can see in the photo is the black tone from the trim, countertops, and chairs. Something like this can strengthen the modern or contemporary feel in the combination between the wall paint and the maple cabinets.
Benjamin Moore Whyte Blue HC-143
Wall paint: Whyte Blue HC-143 by Benjamin Moore
The last but not least wall color that will look excellent to pair with maple kitchen cabinets is Whyte Blue HC-143 from Benjamin Moore. Just like the name, it has a blue tone. However, the quite strong undertone makes people think that it is grey.
Choosing it as a pair for your maple cabinets will give you a refreshingly modern look. It can be an even better selection if, by any chance, you have stainless-steel appliances in the kitchen.
Take a look at the photo, for example. The blue wall paint becomes an excellent match for the North American maple cabinets. Besides, it also looks great together with the stainless-steel appliances there, including the stove, microwave, and refrigerator.
To make the design combination excellent, you can consider adding a bit of a black tone in the kitchen. Something like this helps prevent the room from looking dull or too plain. In the photo above, you can see the kitchen also has some touches of black. It is primarily from the countertops and detailing in the design of the appliance.
Closing
Those are the 8 most excellent choices of brands you can choose to create the combination of kitchen paint colors with maple cabinets. From all of the options above, there is something we can conclude. Do you know what that is?
It is the fact that natural maple cabinets look excellent to pair particularly with some wall tones. Those include:
Tan
Yellow
Colors with a strong yellow undertone
Green
Colors with a strong green undertone
White
Grey
Blue with a grey undertone
Of course, the list above is not something fixed and non-negotiated. It means there are possibly some other paint colors that will look great together with the maple cabinets. Although so, the ones shown in the list creates the most excellent visuals and effects to the kitchen environment.
Since this article is talking about some specific wall paints, there is one thing that you must always remember. Every photo shared above possibly shows a different look, depending on the device that you use.
Besides, each paint product can result in a different look from an interior environment to another. Everything depends on the condition in the room and some other factors, like natural or artificial lighting in there.
Because of that, when choosing a specific wall paint to pair with the maple cabinets in your kitchen, you should not only make a choice based on what is written in this article or the ones that other people make because the result shown can look different. In this case, sampling is a thing that you must do first to check how a specific paint will look like when applied to the wall in the kitchen interior in your house.
When sampling, you can also use several paints if you want to. This way, you can find out the one that looks great together with the maple cabinets.
Sours: https://aprylann.com/kitchen-paint-colors-with-maple-cabinets/
Now discussing:
We recommend you excellent material on the topic of the story: The main character watches as his Russian beauty - his wife - is put on a big black dick. approx. Meanwhile, the ambassador, in the rhythm of a jackhammer, pushed Katka onto his penis until he plunged it completely into her bowels, and Katka, squealing.
1466
1467
1468
1469
1470