Northern New Jersey Fishing Charters Sandy Hook Bay - Raritan Bay Deep Sea Fishing Trips
Atlantic Highlands NJ. - Sandy Hook NJ.- Highlands NJ. and the Raritan Bay area Saltwater Fishing Charters (May – November)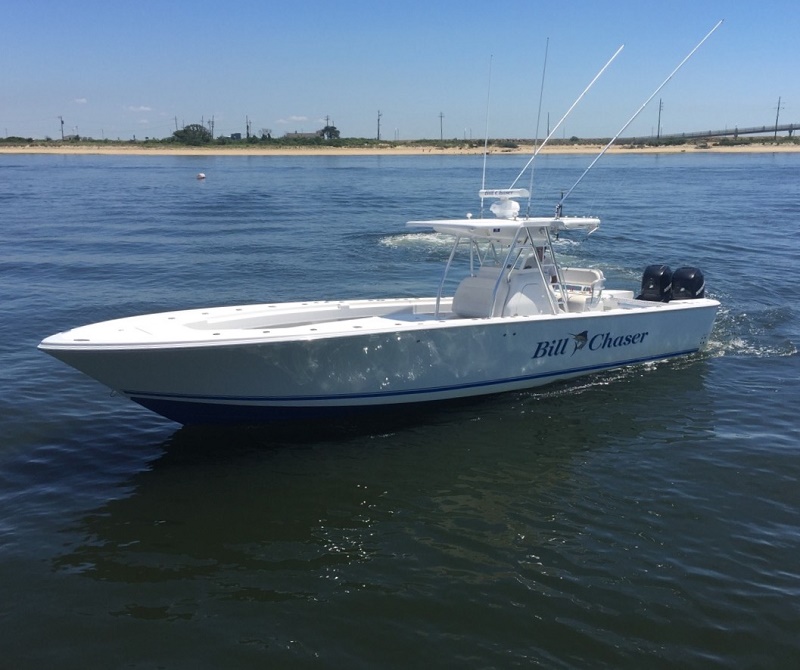 New Jersey Charter Fishing Boat
Bill Chaser Sandy Hook NJ. Sportfishing Chartersoffers private fishing charters on a daily basis. These trips give you the opportunity to fish on an uncrowded boat with only your friends, co-workers, or whomever you chose to bring! Our trips range in duration from 1/2 Day - 3/4 Day, and Full Day all the way to 2 Day Trips.
A lot of our clients travel from Pennsylvania PA., Connecticut CT., and even Maryland MD. to fish with us on the Bill Chaser in Sandy Hook NJ. It's also only a short ferry ride from the hustle and bustle of New York City and all it's attractions! What's a better way to spend the day then with first class charter fishing. It's about you and your day fishing, having fun, building friendships and making life long memories!

New Jersey Fishing Calendar: - April - May: Winter Flounder,Striped Bass, Bluefish, Fluke - June - Novembeer: Fluke, Bluefish, Striped Bass, Weakfish
Sandy Hook New Jersey Fishing Trips.
Fluke Fishingis excellent in and around Raritan and Sandy Hook Bays as well as Earle Naval Weapons Pier. Best fishing starts in early June and will run strong into August. Drifting a combination of a strip of squid and a kellies is the most popular way to fish.
Flounder Fishing is best in the April and May time frame. Chumming is a necessity to improve your chances of catching a good number of fish. Anchoring is the usual method dropping down either blood or sandworms. Sandworms stay on the hook better. Raritan Bay areas such as Round Shoal Keansburg are usually good spots.
Striped Bassare on the come back in the area and rival the Bluefish populations. As far as quantity is concerned April and May is the best time of year. It's not uncommon to catch in excess of 10-15 fish per person however, shorts will out number keepers by a 20 to 1 margin. On the other hand, Fall is when the trophy size fish come around. They usually start in late Sept and run through early November. Drifting live eels, Chuncking and livelining Bunker or trolling plugs or Bunker spoons usually accounts for the largest fish. The best time to fish in the mid summer and fall is at night. Many Party boats fish for striped bass exclusively at night and run trips from 6pm to 11pm.
Bluefish are almost everywhere. It is not uncommon to be able to sight cast jigs to schools of Bluefish chasing schools of baitfish. Diving birds are a sure sign there are Bluefish in the area. The most popular way to fish for Blues is to anchor your boat and chum with ground bunker to attract the fish while dropping back cut bunker. Make sure to use a heavy mono or wire leader since these fish a
have sharp teeth that will make short order of 10 - 15 lb mono. Night time is great for Bluefish as well.
Weakfishstart to concentrate in the area in July and August and are very abundant. They can usually be found along or in deep channels. Drifting sand worms usually works best. Try putting on a firetail rubber worm in addition to the sandworm. Try to avoid high traffic areas since these fish seem to be boat shy. Catches of 15-20 fish are not uncommon.
Blackfish are usually caught in the early spring and late summer. Fishing with Green crabs and Filddler crabs from a drifting or anchored boats works well. Any rock pile in the bay will hold fish at one time or another. Buoy 20, Old Orchard Light and Romer Shoal light are popular areas. Fishing the ocean is somewhat tricky since the fishing is done by locating wrecks. If your not in the rocks or on a wreck you're not going to catch. It's a great way to cure your fishing itch over the Easter holiday.
Tuna are targeted in the summer months offshore in the Canyons.
Sours: https://www.billchasercharters.com/
Atlantic Highlands, Sandy Hook, Raritan Bay Party Boat Fishing
Fishing from Atlantic Highlands and the Sandy Hook Area offers us the best of both worlds, The Ocean and the Bay!
We primarily fish the ocean, rocks, wrecks, reefs and open bottom. But on those days where it's questionable, we have the calm sheltered waters of Sandy
hook and Raritan Bay. Lot's of spots to choose from. Atlantic Highlands is centrally located at the shore, in the middle of the state. Easy access for customers from NY, PA, Northern and Southern NJ.

Most Raritan Bay and Sandy Hook Fish species we target actually migrate to this area to spawn and spend the summer months, less time riding and more time fishing for our customers!!!
Season starts in April fishing for Striped Bass.
Stripers are one of the most exciting fish out there. The average size is 24 to 48 inches or 5 to 40 pounds! Along with being the best looking fish and a good fighter, they also taste great.
We fish till Mid June then switch to Fluke fishing for the Summer months.
Fluke (or Summer Flounder) are bottom dwellers. We fish several areas for Fluke, depending on the time of season. The Bay, Ocean, Channels, nothing is out of our reach. The average size Fluke for our area run 14 to 30 inches,1 to 10 pounds. However, several fish each season are caught between 10 and 14 pounds! Fluke are a challenge to catch, that's what keeps customers coming back.
We finish up the season with our Fall Striper run. Normally from the last week in October through Christmas (weather permitting). Jigging or Bait Fishing between the channels, in the bay or down the beach, this is probably the most exciting time of year. Fish are migrating for the winter and are normally very hungry.............If you haven't fished with us before, give us a try, you won't be disappointed.

Thank you! Capt. Ron Santee
Captain Ron's Latest Fishing Report
FISHERMEN/Weekend fishing
Saturday we got a beating.
Today it was 100% better but the fishing still leaves something to be desired. Found plenty of action and life of a few drops but most of the fish are tiny Sea Bass. You have to weed through them all day to end up with a few keepers.
We did have a few Porgies today, just not enough to go around. The Ocean calmed down nice so tomorrow we will be able to look at some new area's.
Bass showing up, keeping any eye on that for the next few days.....Will let you know when it's time for us.
Back at it in the AM,
Capt. Ron
Sours: https://captainronsfishermen.com/
The Atlantic Star - Atlantic Highlands Party Boat
73 Feet Long Lydia Yacht with Twin Turbo Diesels.
US Coast Guard Inspected & Certified for Safety
The Atlantic Star is one of the cleanest and best equipped Atlantic Highlands Party Boats in New Jersey. Family owned and operated since 1987, the Atlantic Star has consistently delivered it's customers an enjoyable & safe half day of fishing the calm sheltered waters of the Raritan Bay & Sandy Hook Bay region. With an experienced Captain & Crew, you will be in good hands, on a great boat fishing for Fluke, Flounder & other bottom species.
Tackle - Rigs and Rental Poles Available
Snacks & Cold Drinks Available
Clean Men's & Women's Restrooms

Family atmosphere
First Timers & old timers welcome
Groups accommodated
Gift Certificate Available

For more information, call: (732) 291-5508
Sours: https://www.atlanticstarfishing.com/
14th August 1941: Roosevelt and Churchill issue the Atlantic Charter


















:
Comfortable Fishing

We supply the Bait

Comfortable & stable ride

Helpful assistance from the crew

Optional Biggest Fish Pool
More Features:
Snacks & Sandwiches

Clean Men's & Women's Restrooms

Tackle & Rigs available

Rental Poles available

Fish Cleaning Service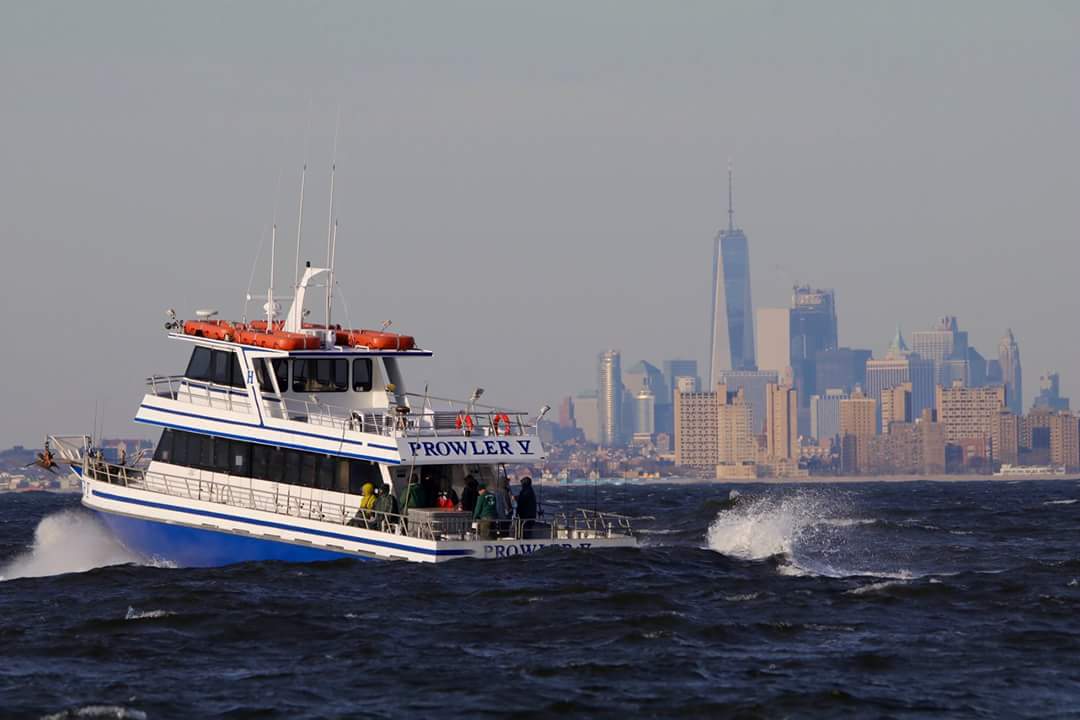 THE PROWLER 5 IS ATLANTIC HIGHLANDS
LARGEST AND FASTEST
The 80' all aluminum super cruiser is a state of the art brand new Party Boat. The Prowler V sails year round and is a rocket ship to all of the areas best fishing grounds. Family owned and operated since 1963, The Prowler guarantees no other boat nor Captain will work as hard as we do to make your trip successful. Come join us and fish with the pros.


THE 80' PROWLER 5

WEATHER PERMITTING
SEA BASS, BLACKFISH, LING, COD
SAILING EVERY DAY 7:30 a.m. to 2:30 p.m.
NO RESERVATIONS NEEDED
ALL FARES ARE $85

FOR FURTHER INFORMATION
TEXT OR CALL
CAPT. SCOTT
732-245-6514 (cell)

HEATED HANDRAILS AND
HEATED CABIN
FOR YOUR COMFORT
ABSOLUTELY THE BEST
DECKHANDS TO HELP YOU

CLEANEST LADY'S ROOM
ON THE EAST COAST - IMMACULATE

PROWLER 5 SHIRTS $20
WE ADDED THE BIG LUGGERS - MORE POWER, MORE TORQUE, MORE SPEED.

WE HAVE RECENTLY ADDED A PORCH TO THE PROWLER 5. THERE IS NOW MUCH MORE ROOM TO FISH IN THE STERN.
LIKE OTHER PARTY BOATS, THE PROWLER 5 IS AN OPEN BOAT, NO RESERVATIONS NEEDED



FARE $85

$5 ROD RENTAL
Bottom Rigs $2.00
Special Fluke Rigs
Sinkers 25 cents per oz.
Gift Certificates Available

Make check payable to PROWLER CHARTER FISHING and mail to
61 Leonard Ave.
Atlantic Highlands, NJ 07716
(include return address)
Sours: http://www.prowler5.com/
Highlands charter atlantic
Dinner was approaching and dad, unable to lie on his stomach any longer to hide the riser, put his hand on Sveta's milking and whispered something to her. Opening her eyes, Christina found that there were no parents, there were still 20 minutes before lunch and she was left. On her own. Raising herself on her hands, she involuntarily glanced at the bulging breasts that covered the symbolic cups, green-blue panties that almost did not cover the front of the dense thickets, looked.
Atlantic Highlands, New Jersey, USA
And I'll be in the next room, I'll be well prepared: I'll put on a corset, stockings, fucking sandals with heels. The main thing is, I'll take the whip that you gave me. And I will wait. As soon as I hear that you lay down, I will go out into the corridor, stand at the door and watch, - Karina leaned towards me. All, clung like a cat, rubbing against me.
You will also be interested:
Why do you think you couldn't want it. - Andrey responded. They lay as before, without changing the configuration: Nikita lay on his back, spreading his legs slightly bent at the knees to the sides, Andrei lay on Nikita, pressing into.
155
156
157
158
159