Men's fade haircuts and the various types of fade haircuts that come under the umbrella term are fast becoming the classic go-to look amongst the legions of stylish gents.
If you're unfamiliar with the hairstyle, a fade haircut basically refers to long (or at least, longer) hair on top of the head, and short hair on the sides and back of the head. Whether you opt for a skin fade haircut, a taper fade haircut or one of the many different types of fade is entirely down to you – we'll look at a solid selection of them in a moment.
The fade haircut is incredibly versatile, so is a suitable option for most guys when heading to the barber for a fresh trim. But what exactly should you be asking your barber when talking about styling options and, perhaps more importantly, how do you ask for a fade haircut, when it's not as simple as just asking for a fade haircut? Allow us to reveal all.
How To Ask Your Barber For A Fade Haircut
When you're sitting in the barber's chair, you can't simply ask for a fade. Instead, you must tell your barber or hairdresser exactly what kind of style you want. The more precise you are, the more accurate they will be at delivering your wishes. The fade haircut can actually be broken down into various styles: low-fade, mid-fade, high-fade and taper-fade to name a few, but other slightly more obscure options include the undercut fade, pompadour fade and the skin fade haircut.
While it's certainly true that the fade cut will suit the majority of guys, your face shape will determine which specific style of fade haircut works best for you.
You can also choose the length you want your faded sides to be. Naturally, you'll want to aim for as short as possible – some guys even choose to have no guard on the clippers to get a skin fade – but a good starting point would be a number 1 over the ears, which gradually increases in length to a number 2 further up the sides of the head.
Ultimately, if you're not sure exactly what type of fade haircut, or what length to get, ask for your barber's recommendation, or take a picture in with you of someone else's hair that you like the look of. They'll let you know if it's possible.
Different Types Of Fade Haircuts For Men
What good is all this talk about the different styles of fade without some images and further explanation on them? Here are the best men's fade haircuts to ask for on your next barber visit.
Low Fade Haircut
A low fade haircut is a perfect entry point into the world of fades, as it doesn't require too much of the hair on the sides of the head to be removed. Instead, your barber will only cut the hair just above your ears. You can choose to have a hard low fade, which will see your hair go from a grade 0 or 1 to a 3 or 4, for example, or it can be blended more naturally, going from a 1 to a 2.
Mid Fade Haircut
The mid fade presents itself as being a great all-rounder. It's less 'boring' than a low fade, but doesn't have quite the same impact as a high fade. As its name suggests, the mid fade starts further up the sides of your head, roughly in line with your temple.
A mid fade works with virtually any hair length on top of your head. Pair with a long pompadour, a short French crop, or even a buzz cut, and it doesn't matter if you have straight or curly hair.
High Fade Haircut
The high skin fade is becoming increasingly popular for men, although there's no denying it works best for guys with short hairstyles. This allows the dramatic change between the fade and the hair on top to be seen more clearly.
A high fade can be worn by guys with all hair types too, whether it be straight, curly, afro or Asian
Taper Fade Haircut
Taper fade haircuts provide a combination of the taper haircut and the fade haircut. These two styles on their own are often mistaken for one another, but there is actually much to separate them. A taper cut doesn't exhibit as much of a drastic change between hair lengths but sees the hair taper inwards as it reaches the ear. It also only tends to concern the hair just over the ears and at the neckline (although, you'll find there are still many different types of taper fade).
A taper fade, more often than not, shows skin and follows the hairline all the way around, so even the back of the hair is faded too.
A taper fade sees the hair gradually get shorter and shorter as you move toward the ears, before blending in with the skin. It's possibly the best fade hairstyle for all guys, as it works with all hair types and any style you wish to have on top. It can also work wonders for all face shapes too, as the taper can be modified to suit.
Temple Fade Haircut
Also known as the Brooklyn Fade, the temple fade can have its history traced back to the 90s. Predominantly popular with black men with afro hairstyles, the temple fade has since found its way into haircut mainstream, where it is a viable option for anyone.
A classic temple fair haircut will see the hair fade abruptly from the temple and down towards the ear. Only the hair in front of the ear is touched.
Undercut Fade Haircut
The undercut fade combines both the undercut haircut and a fade haircut, to create an incredibly modern hairstyle for men. The undercut by definition already exhibits incredibly short hair contrasted with longer hair on top of the head, with no real in-between phase. Adding a fade into the mix helps to soften this hard contrast, by incorporating fade sides as opposed to having one length of hair.
There is no right or wrong answer when it comes to choosing the fade hairstyle you pair with your undercut fade, as they are all worthy contenders, however, the high fade will give the most eye-catching results. And, as is the case with the undercut haircut, the length of hair on top is down to your discretion too, as anything from short hair to long hair is allowed.
How To Style The Fade Haircut
There are several ways you can style your fade haircut. For a high fade – where the sides are short up above your ear – working some matte-effect product through the hair on top will give a tousled, stylish look.
Patricks M2 medium hold pomade will do the job here, offering a good amount of hold, but is pliable enough so that your hair will do exactly what you want it to. We'd recommend Patricks M2 for any fade style.
A fade doesn't necessarily mean the hair on top has to be short either, just as long as the sides are faded, you have a fade. This means you can also opt for a pompadour hairstyle for a vintage vibe. A classic pompadour calls for a high-shine, so a pomade will be your friend here. Reuzel Blue is the perfect product for proving a strong hold and a high sheen.
You'll want to add on some hairspray to really make sure your look stays locked in.
If you prefer a less subtle look, a quiff will do the trick. This doesn't need to be so shiny, so a matte paste or cream will allow you to run your fingers through your hair to restyle it throughout the day.
How To Maintain Your Fade Haircut
The main downside to rocking a fade hairstyle is that it will grow out and look unfaded pretty quickly. With this in mind, you'll want to revisit your barber every two to three weeks to keep your hair looking its faded best.
Fade Haircut FAQs
What are other types of fade haircuts for men?
Burst fade, temple fade, shadow fade and bald fades are some of the variations of the fade haircut. Each is defined by the point where the fade begins.
What is the most popular style of the fade haircut?
The low fade haircut is the most popular cut because it is timeless and trendy at the same time. It is also versatile. You can add the low fade to any men's hairstyle, short or long, for a clean-cut and fresh finish on the sides and back.
How do I know which fade haircut is for me?
Some fade hairstyles look best for a particular face or head shape. A drop fade, for instance, suits men with round or square face shapes. Play around with fades and find the one that suits you the best.
Read Next
Did you enjoy this story?
If so, subscribe to our daily newsletter to receive our top tending stories.
Sours: https://www.dmarge.com/fade-haircuts-men
Low Fade
Fade haircuts are one of the most popular and easiest men's hairstyle trends. They are everywhere because a fade can be added to any type, length, or style of a men's haircut. Fades are also a great looking, low maintenance cut, not counting barber visits for upkeep.
A fade takes hair from short to even shorter. The three main types of fade haircuts are low, medium and high fades. This refers to how high the fade goes up on the head.
Burst fades and temple fades cover a smaller portion of the head but have plenty of impact. Bald fades can be any of the above and shave hair down to the skin. Shadow fades go from short to shorter but don't reveal the skin.
Check out these pictures for all the types of fade haircuts. Mix and match different types of fade with different hairstyles to create your own unique look.

1. Low Fade + Hair Design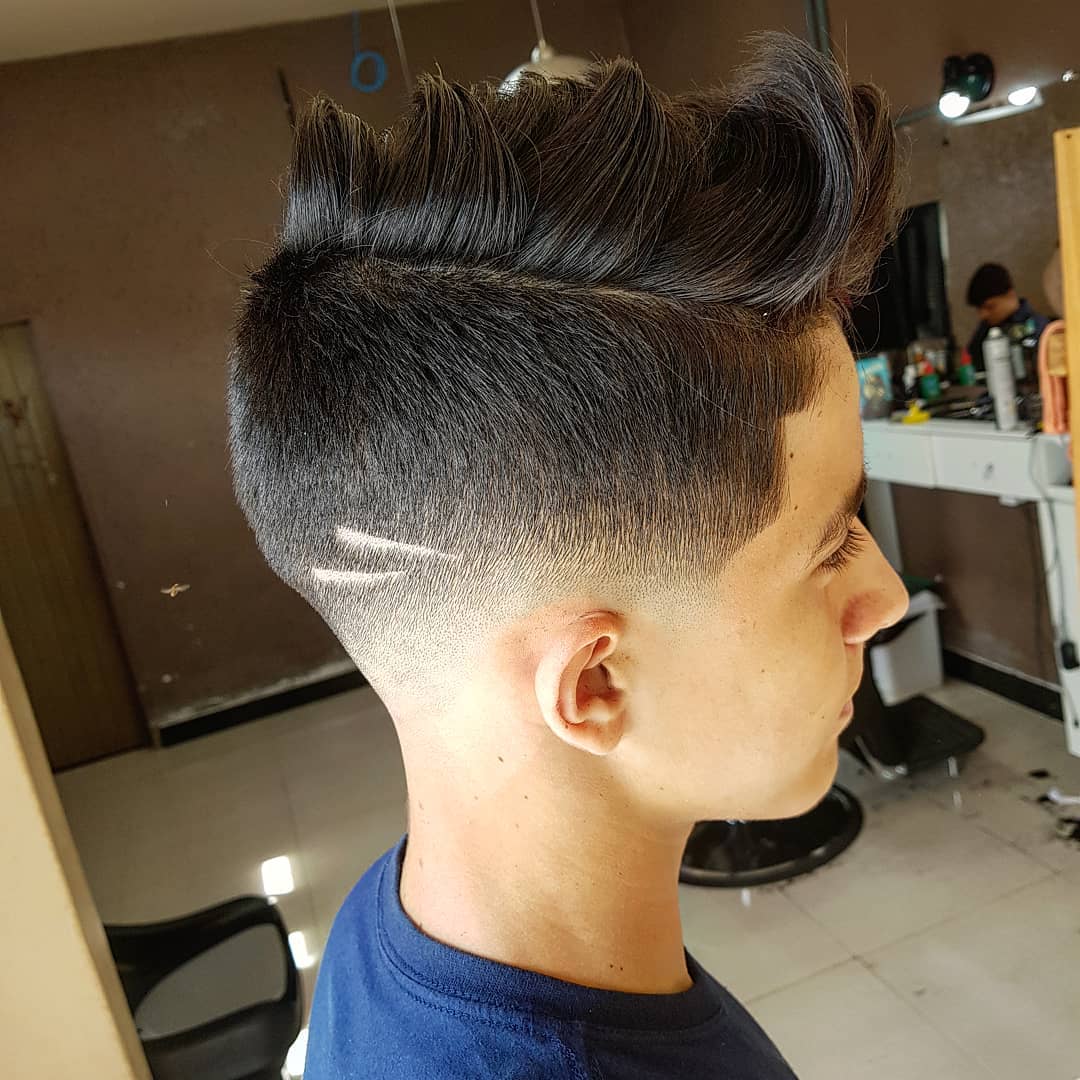 Mateus Marques
This fade brings the hairline up by about an inch all the way around. A pair of slashes behind the ear draw even more attention to this blurry fade.
2. Buzz Cut + Line Up + Low Fade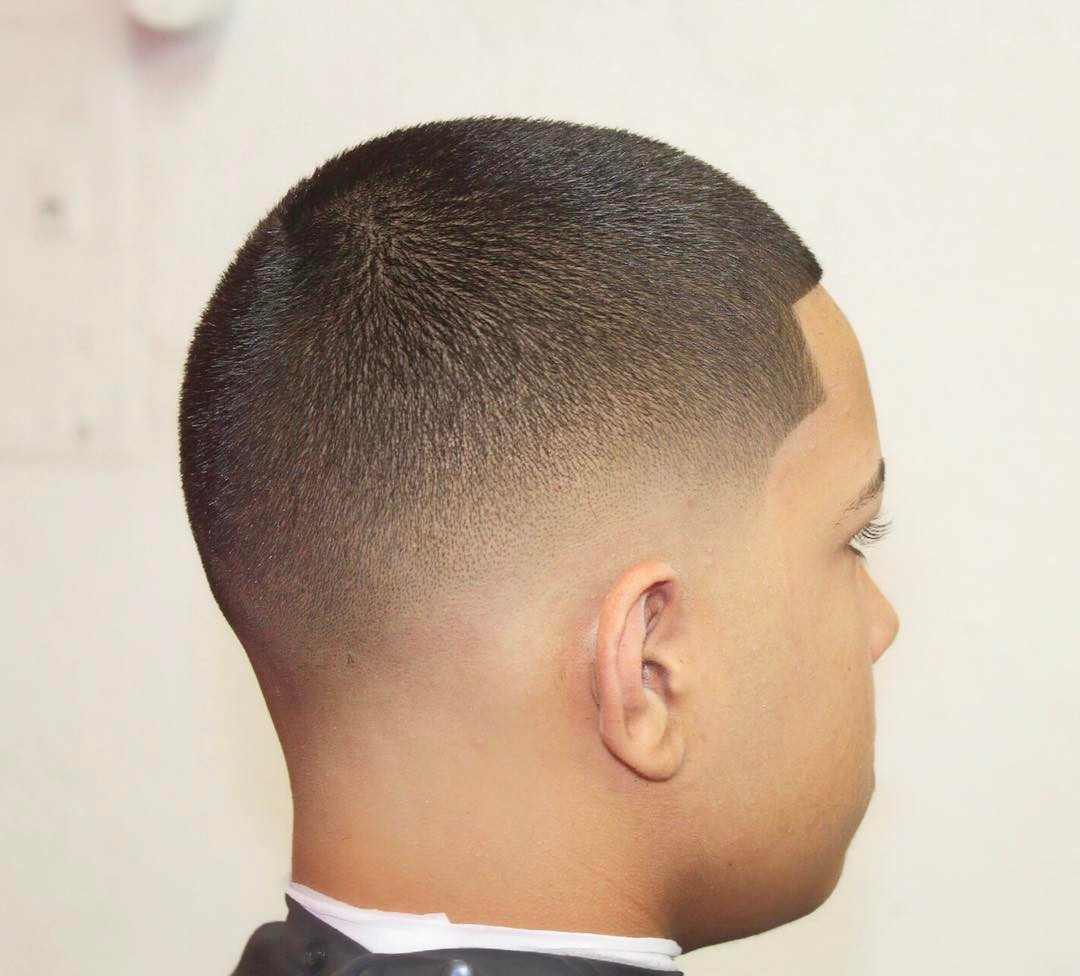 Nathanael David
The buzz cut and fade is a popular combination that can be worn in a number of ways. A blurry low fade at the back contrasts the defined line up at the forehead.
3. Low Bald Fade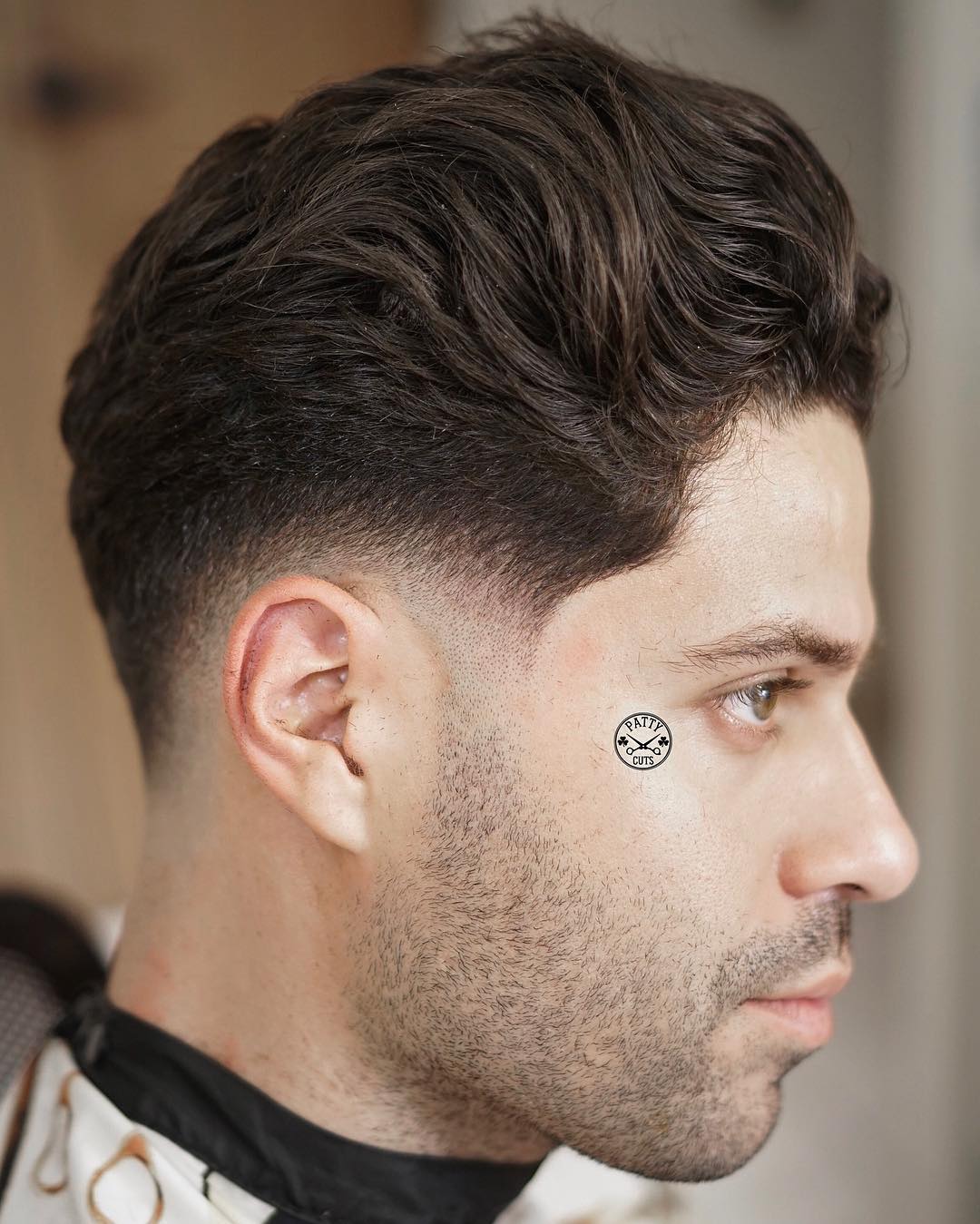 Pat Regan
The low fade is also a cool addition to longer men's hairstyles. This fade is about as low as it goes.
4. Side Part Haircut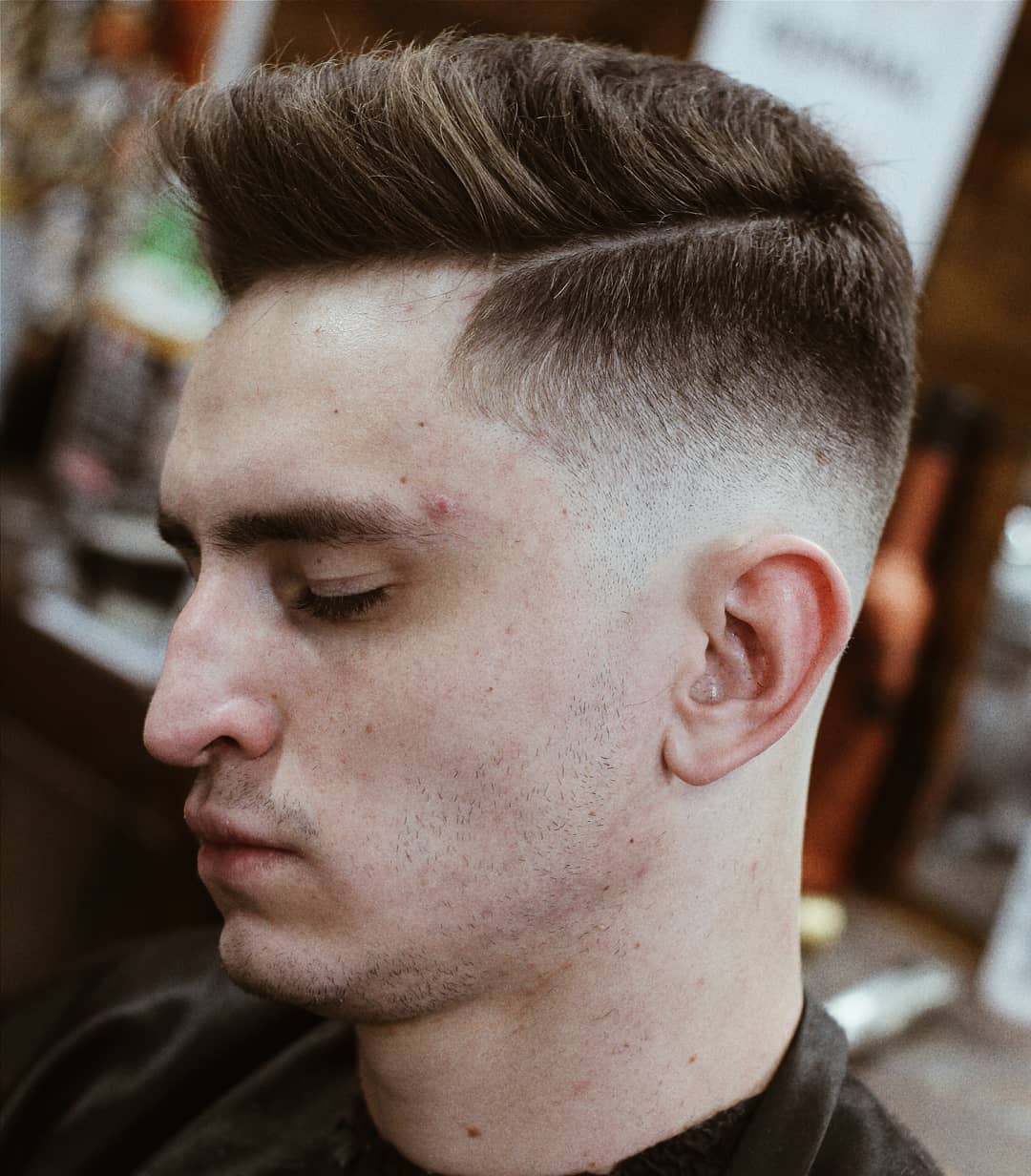 Alisson Mota
This side part haircut is a flattering and popular style that can have tapered (scissor cut) or taper faded (cut with clippers) sides. As the name indicates, the medium fade is somewhere in between the low and high fade. Many mid fades are also drop fades that follow the hairline behind the ear.
5. Mid Fade Haircut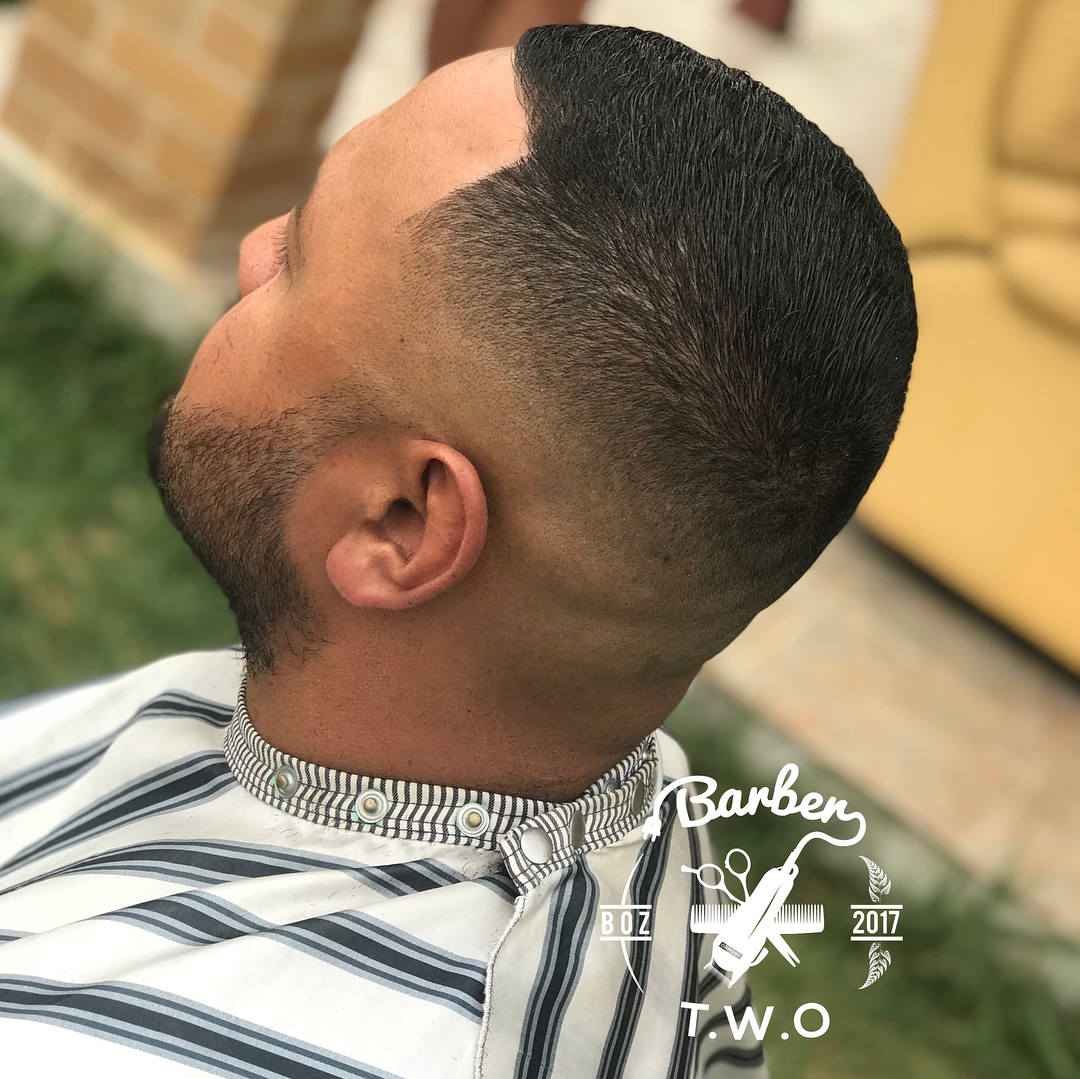 Timoti Ormsby
Instead of dropping down, this mid bald fade follows a line around the head below the crown.
6. Crop Haircut + Medium Fade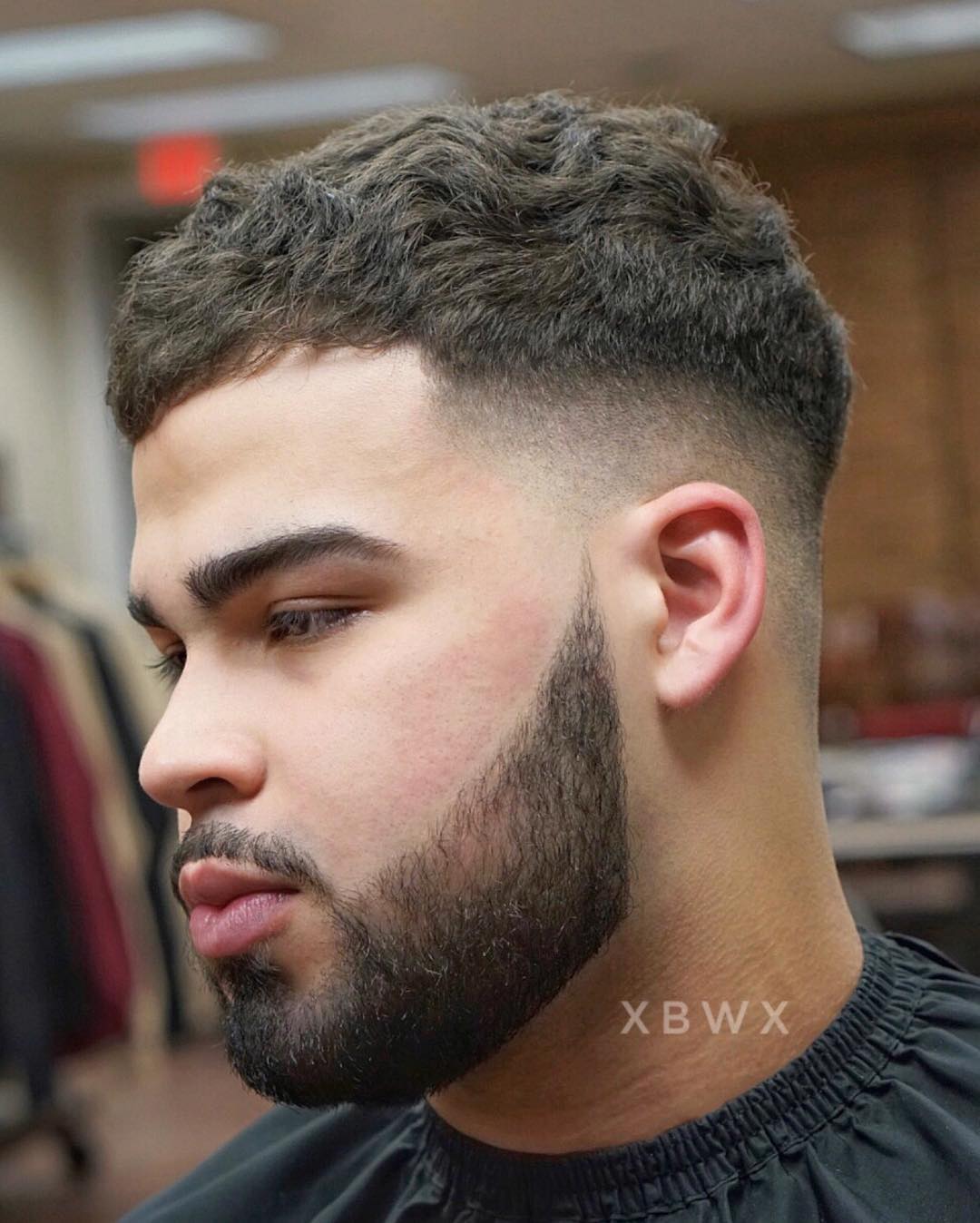 Wes Staucet
This on trend crop haircut with a medium fade is a stylish and easy to wear option for guys with thick and wavy hair.
7. Pompadour Fade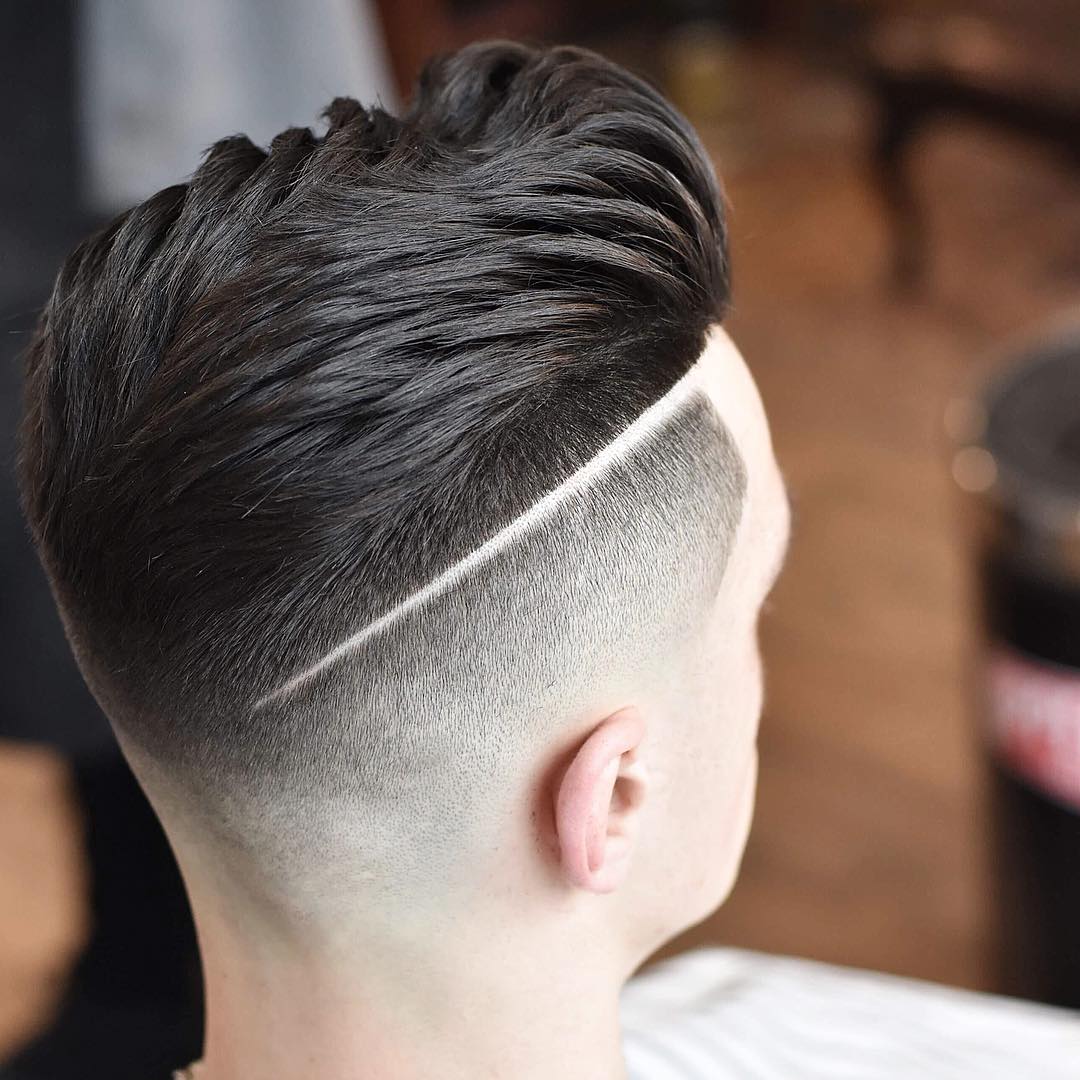 Josh O'meara-Patel
A high fade is a flattering and clean cut addition to any hairstyle. It can also serve as a canvas for a simple or complex hair design.
8. High Bald Fade Haircut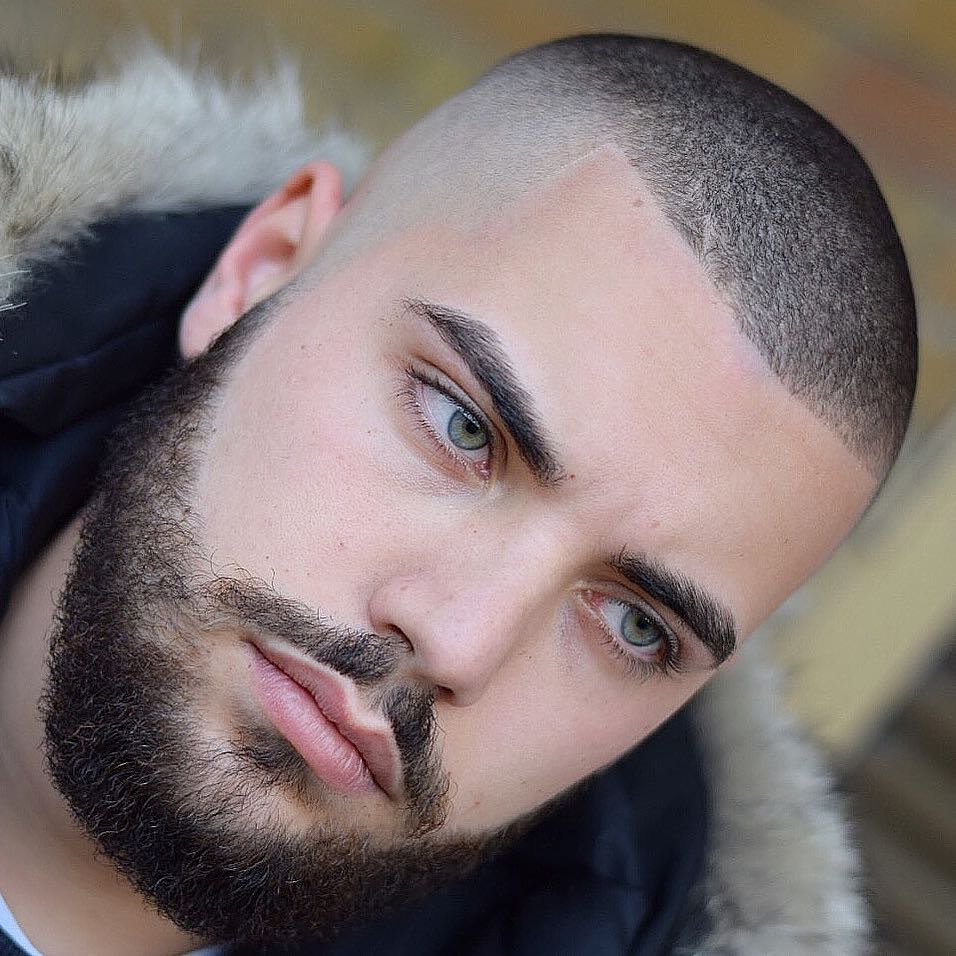 Majestic Barber
With this short buzz cut, the fade has to quickly go down to the skin. The high fade continues the hairline defined by the tape up.
9. Comb Over Fade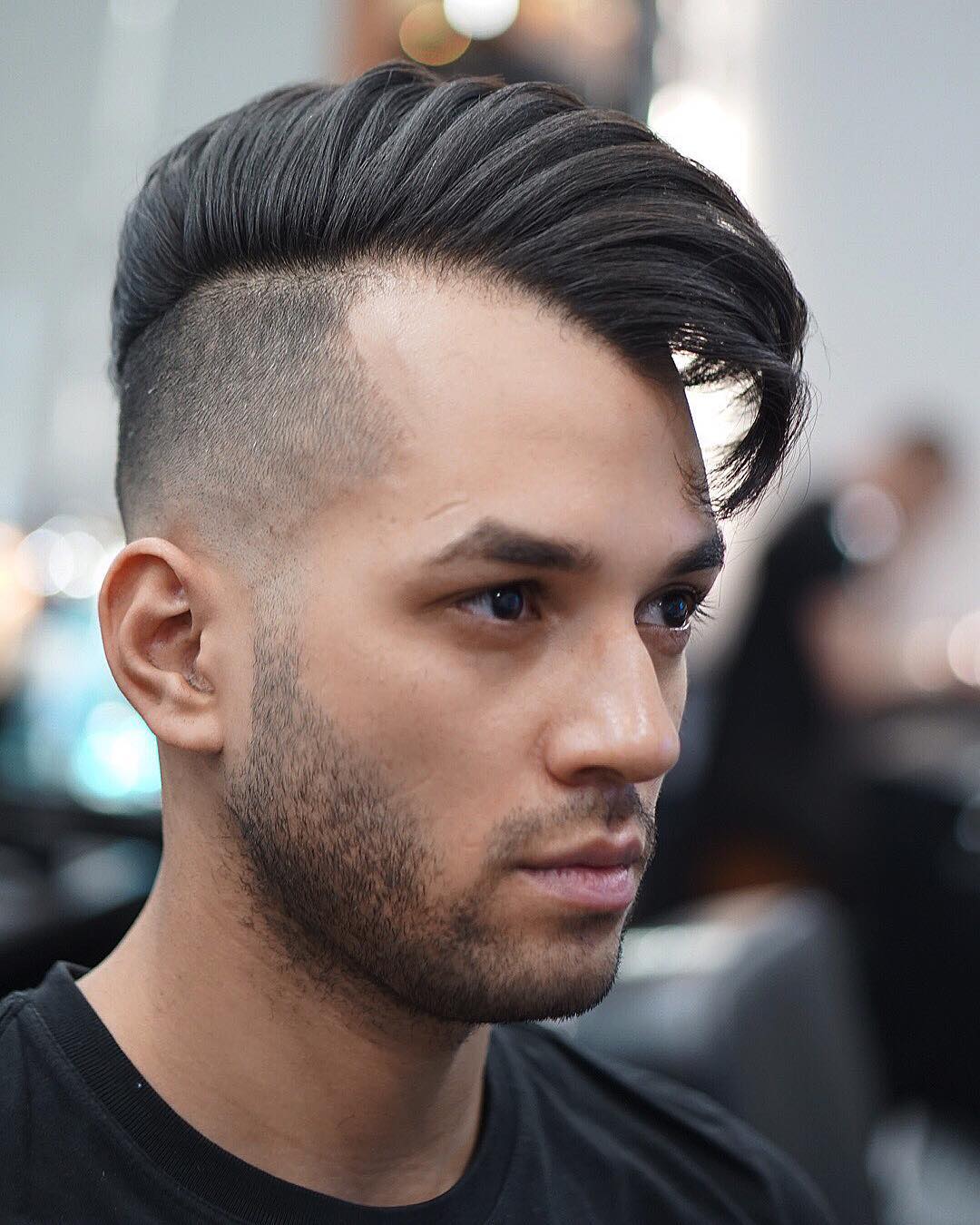 John Carmona
With longer hair on top, high fades create dramatic disconnect hairstyles like this high volume comb over.
10. High Fade Haircut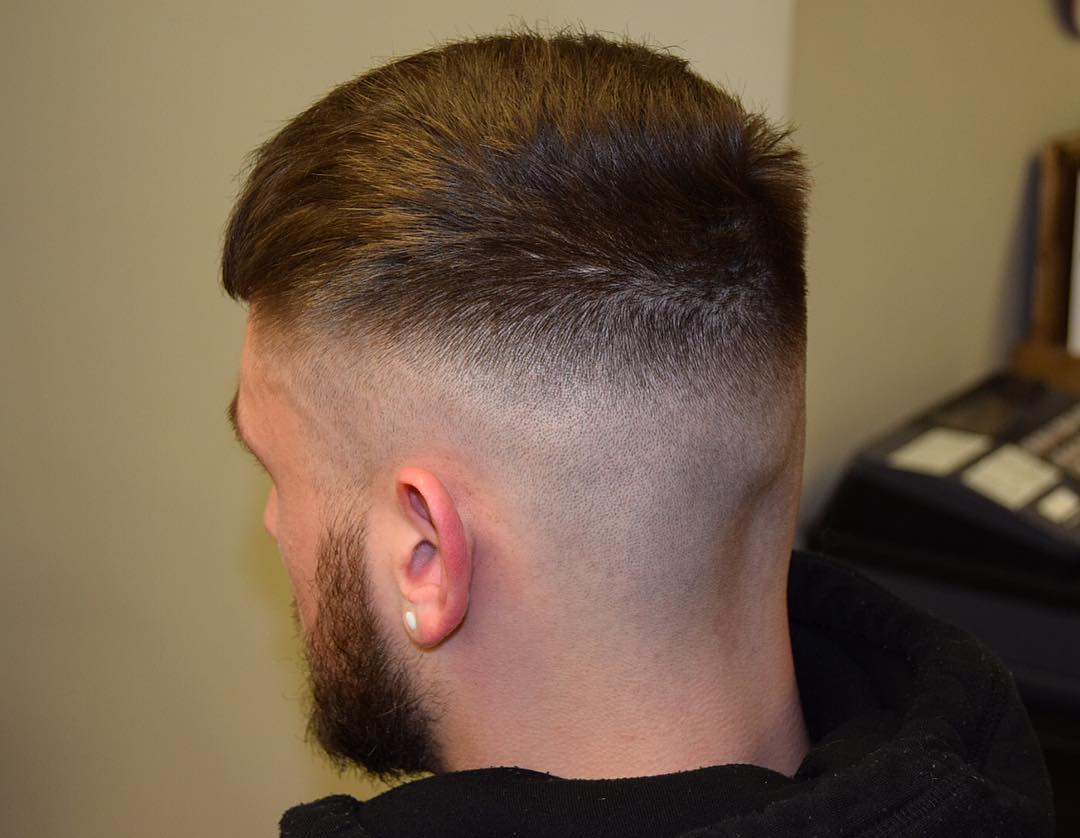 Woodies Barbershop
High fades drop down behind the crown to work with hair. Every fade is different because it they are adapted to your hair and head.
11. Burst Fade Haircut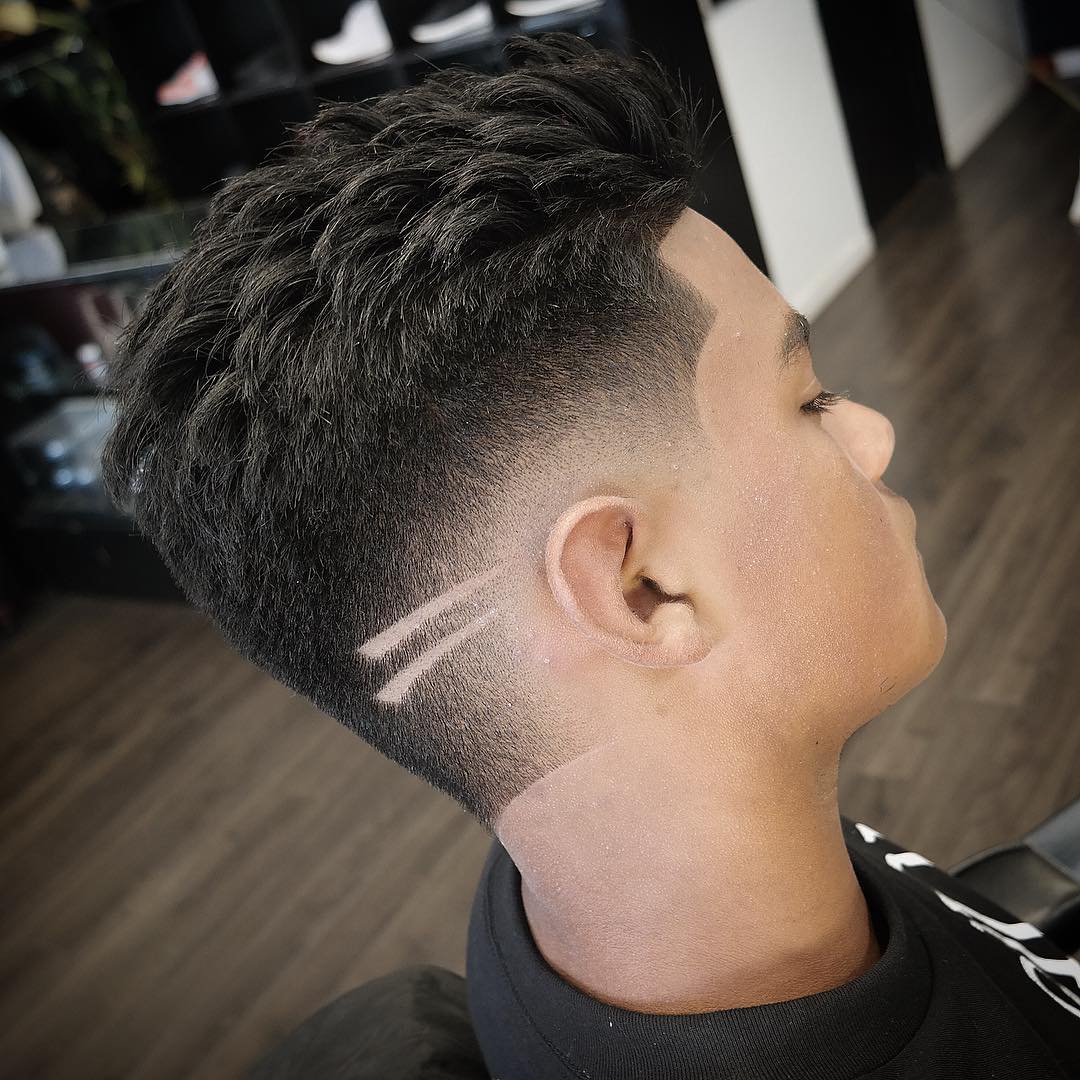 Diego Elizarraras
The burst fade looks like a sun burst behind the ear. A pair of shaved lines add to the effect.
12. Pomp Fade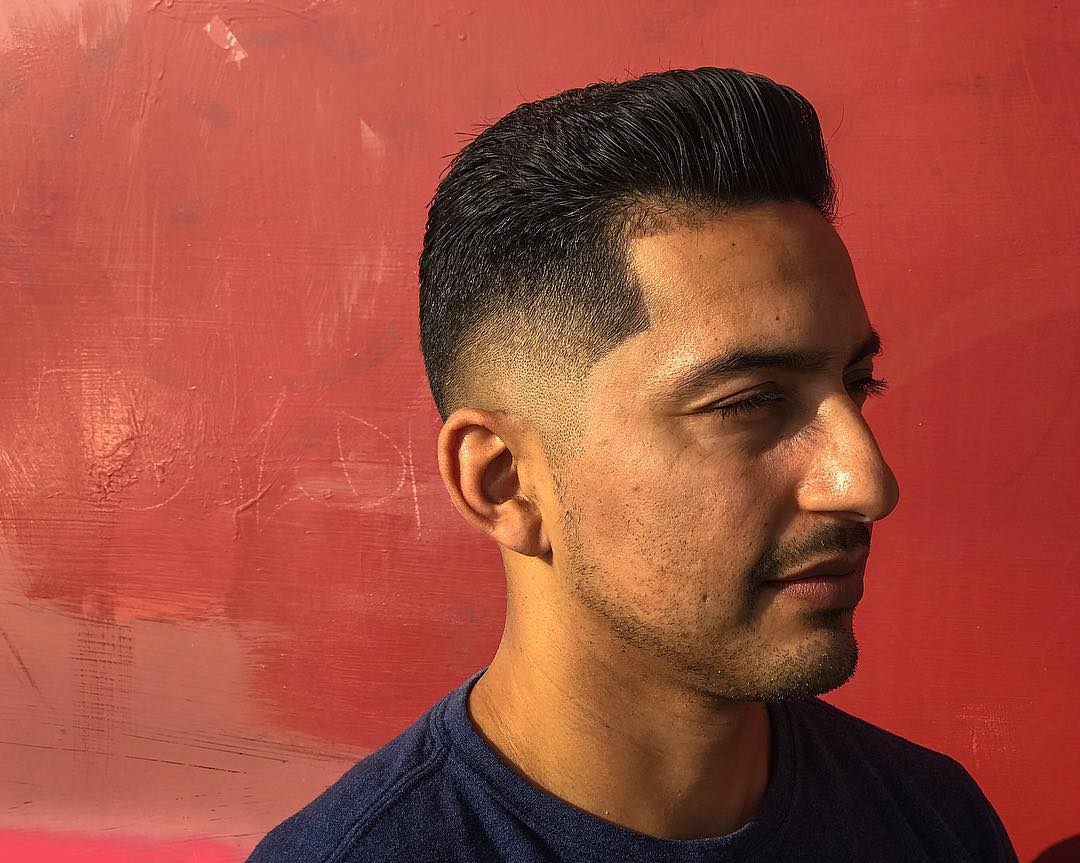 Miguel Rocha
A burst fade behind the ear sets this pomp fade apart from the rest.
13. Burst Fade Mohawk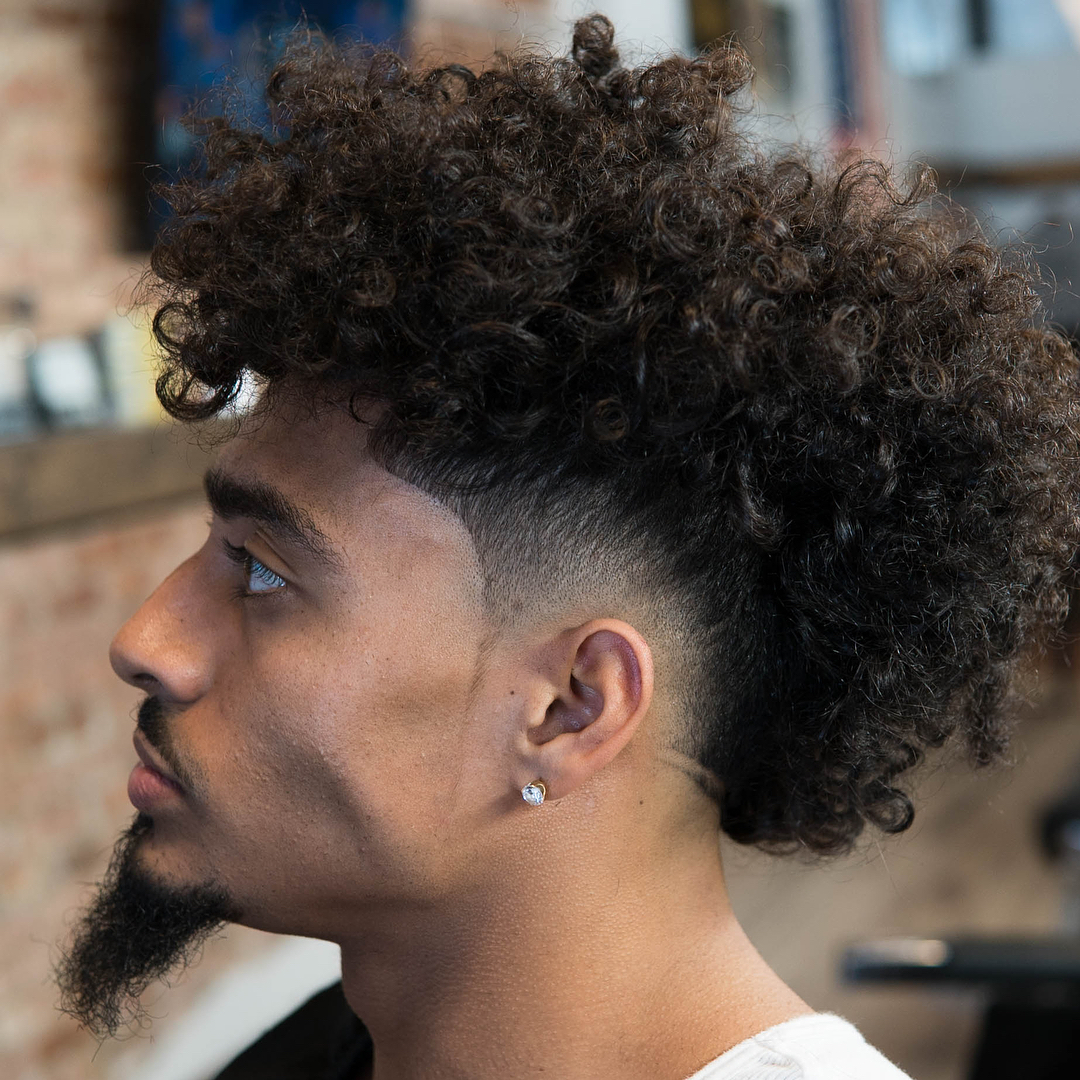 Caleb Porter
Burst faded sides can create a mohawk silhouette for short and long or straight and curly hair.
14. Bald Drop Fade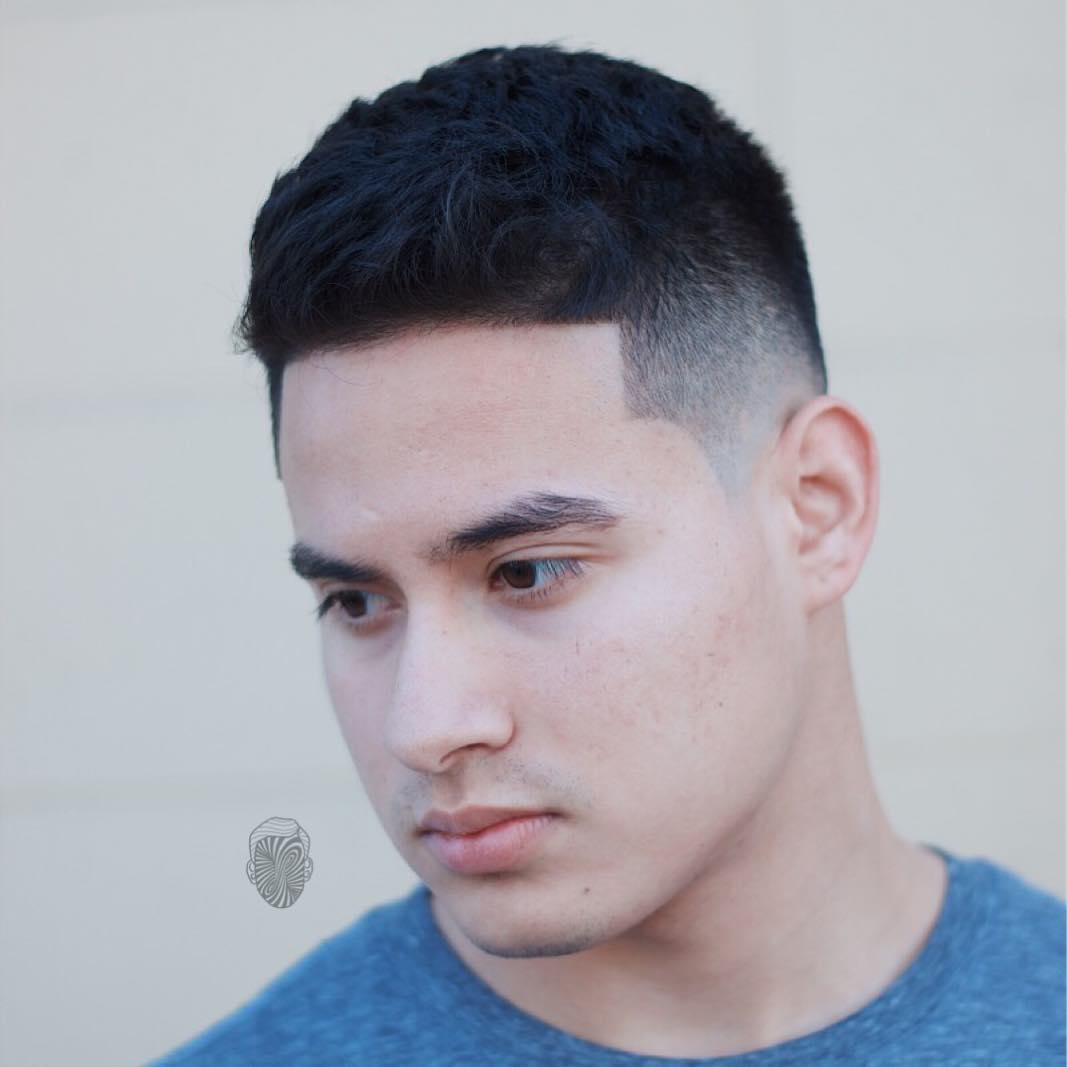 Travis Hill
This fresh fade cuts the side short and drops down behind the ear to follow the hairline at the back.
15. Drop Fade Haircut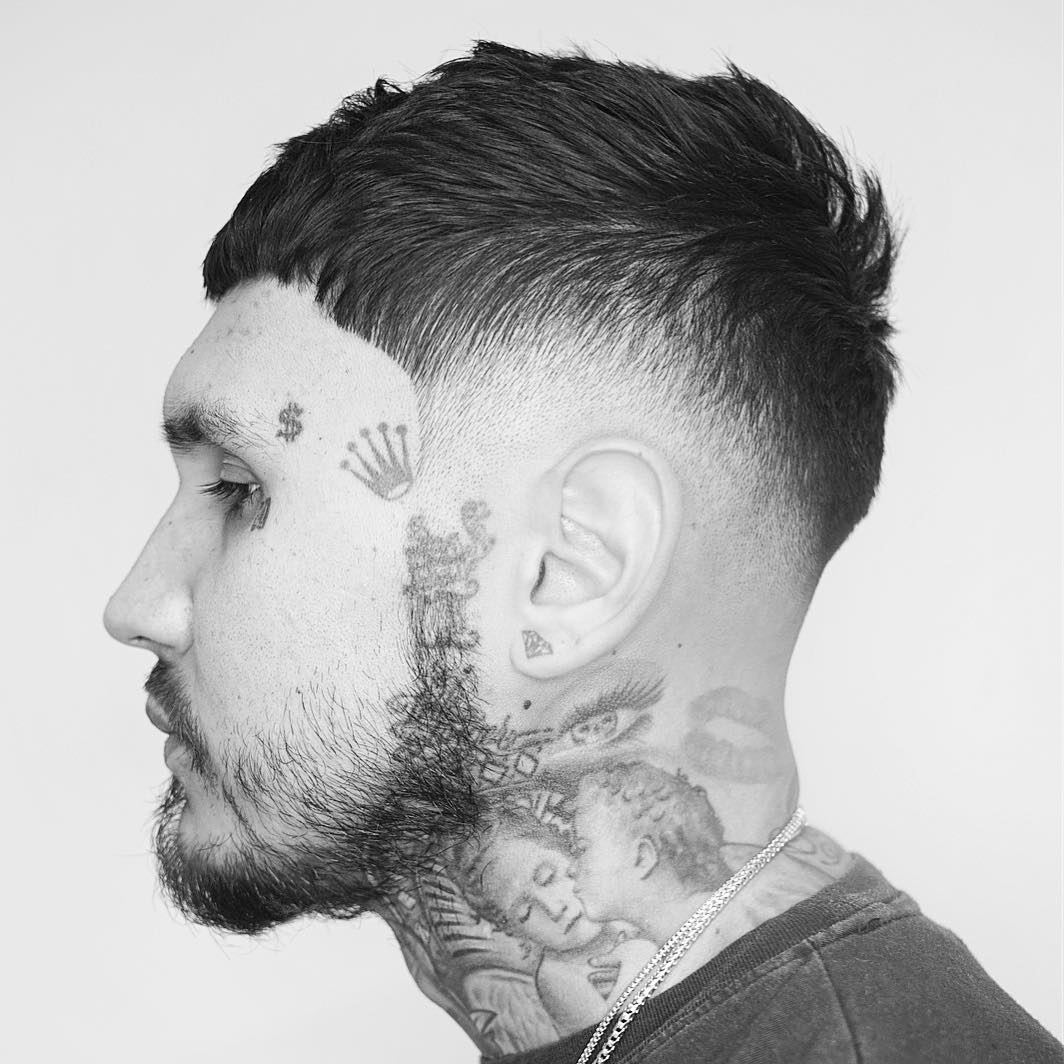 Julius Cvesar
The drop fade creates a dramatic side view, even if you don't have any ink.
16. Low Drop Fade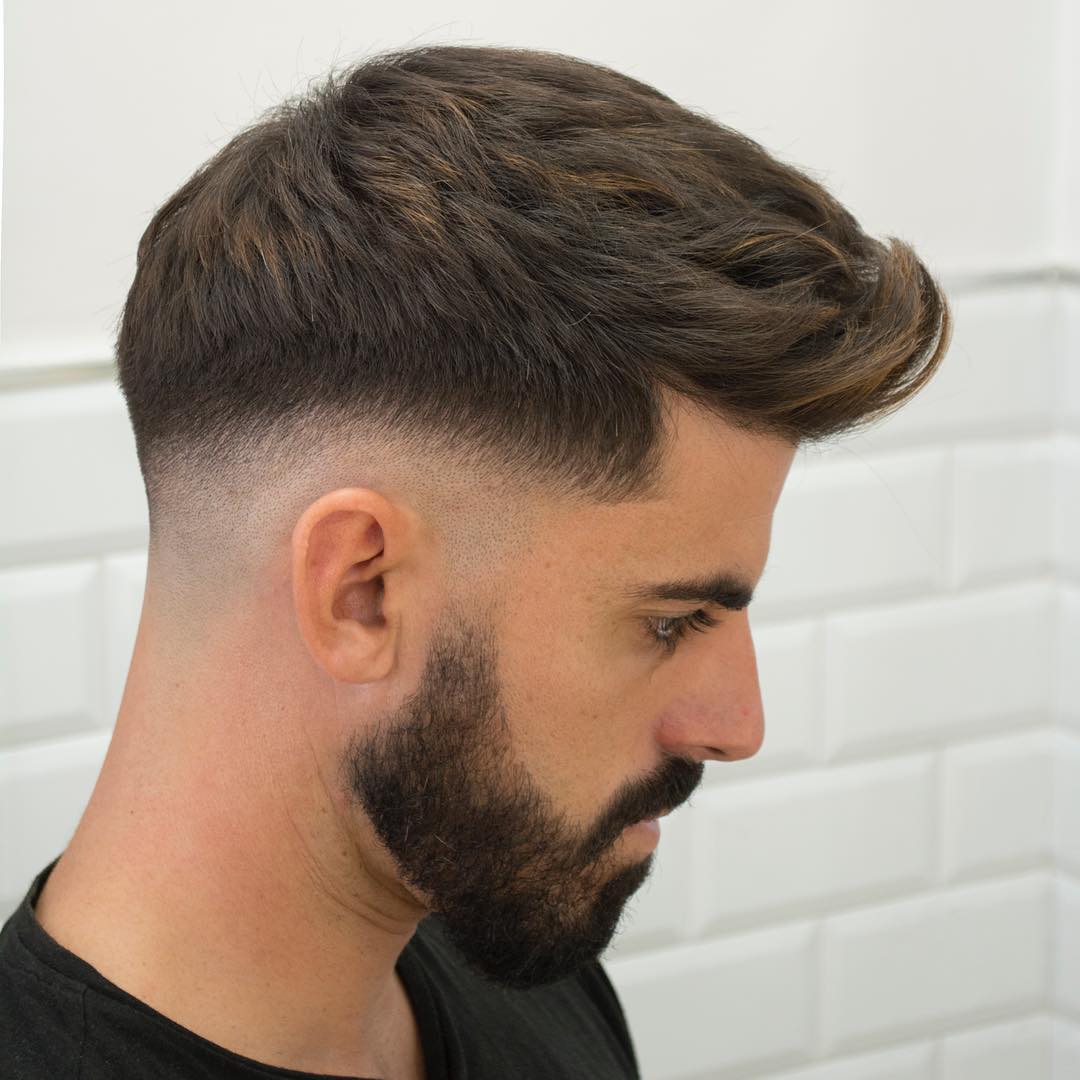 Javi the Barber
All low fades are drop fades because they follow the flow of the hairline.
 17. Buzz + Quick Fade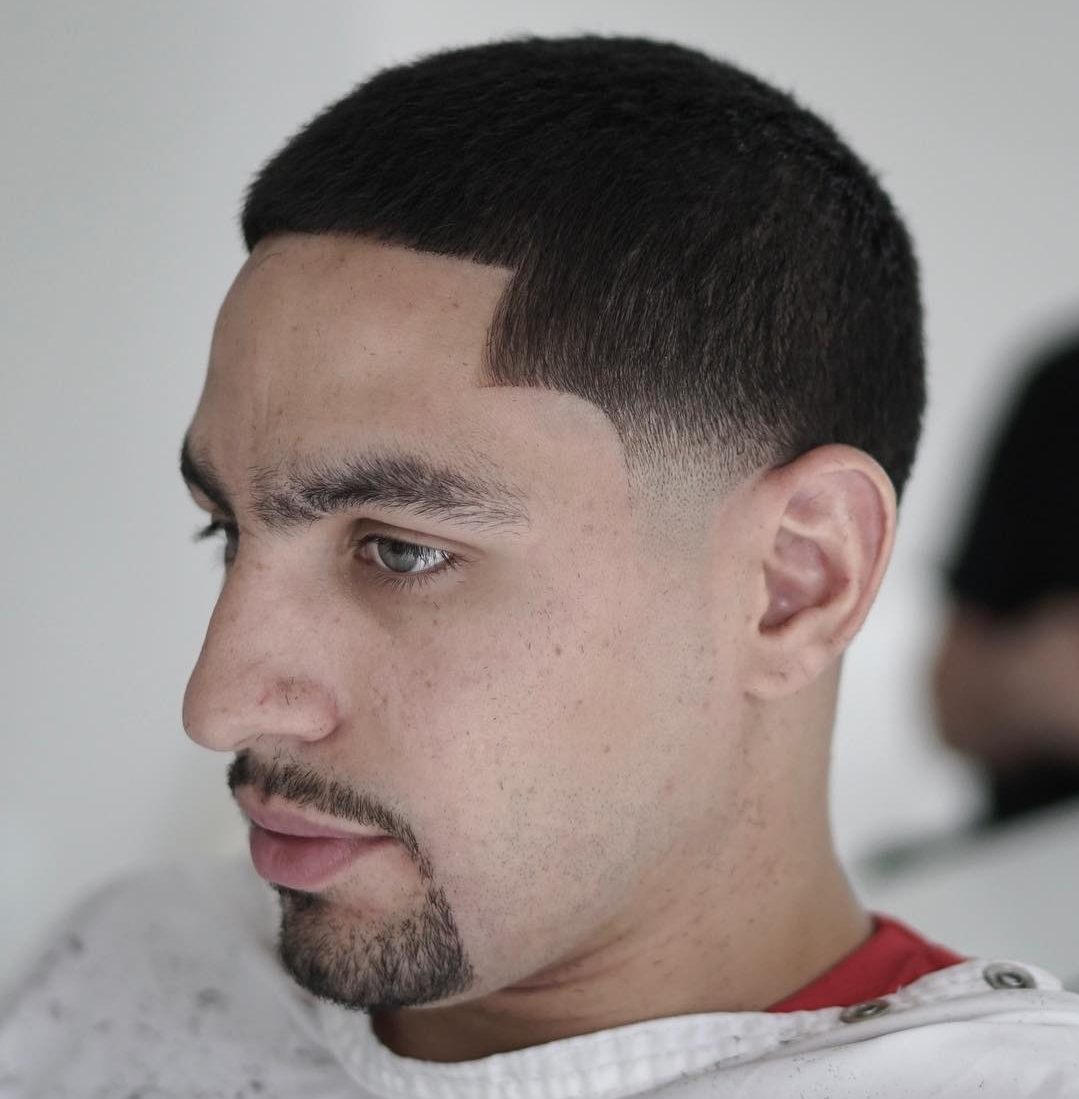 Pat Regan
Champion boxer Danny "Swift Garcia gets ready for success in and out of the ring with this clean buzz and faded sideburns.
18. Buzz Cut + Line Up + Temple Fade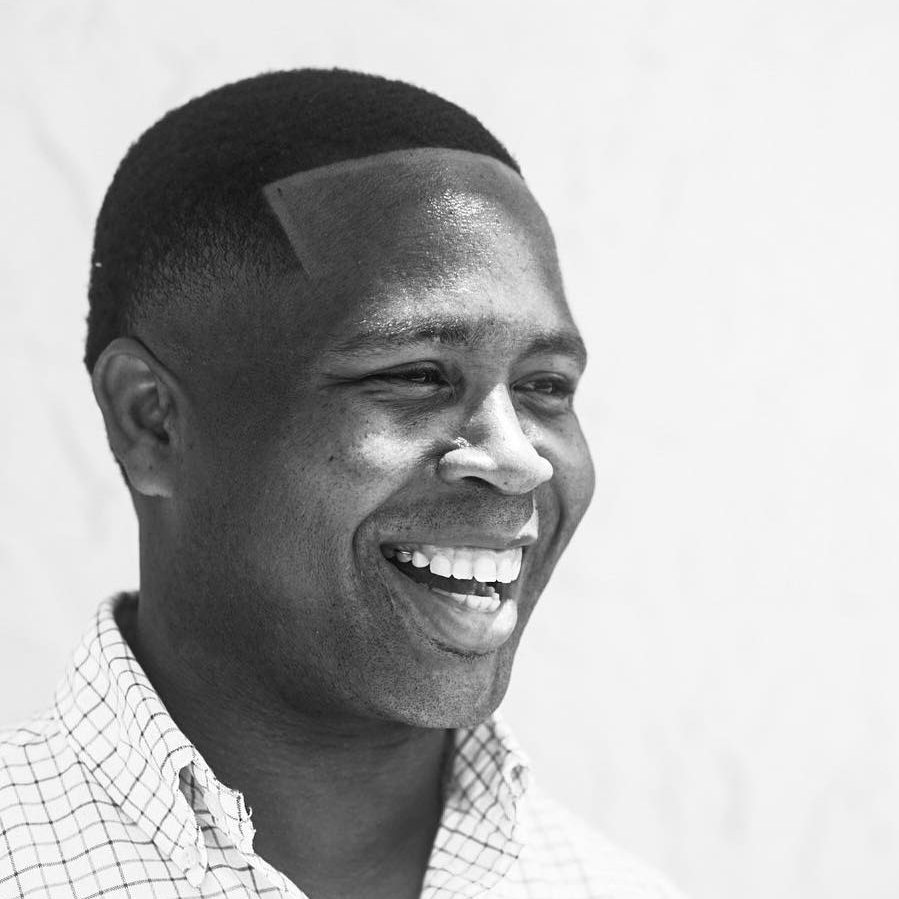 Angel Raws
The temple fade has a large impact for such a small area. Like a line up, the temple fade adjusts and improves the hairline.
19. Sideburn Fade + Beard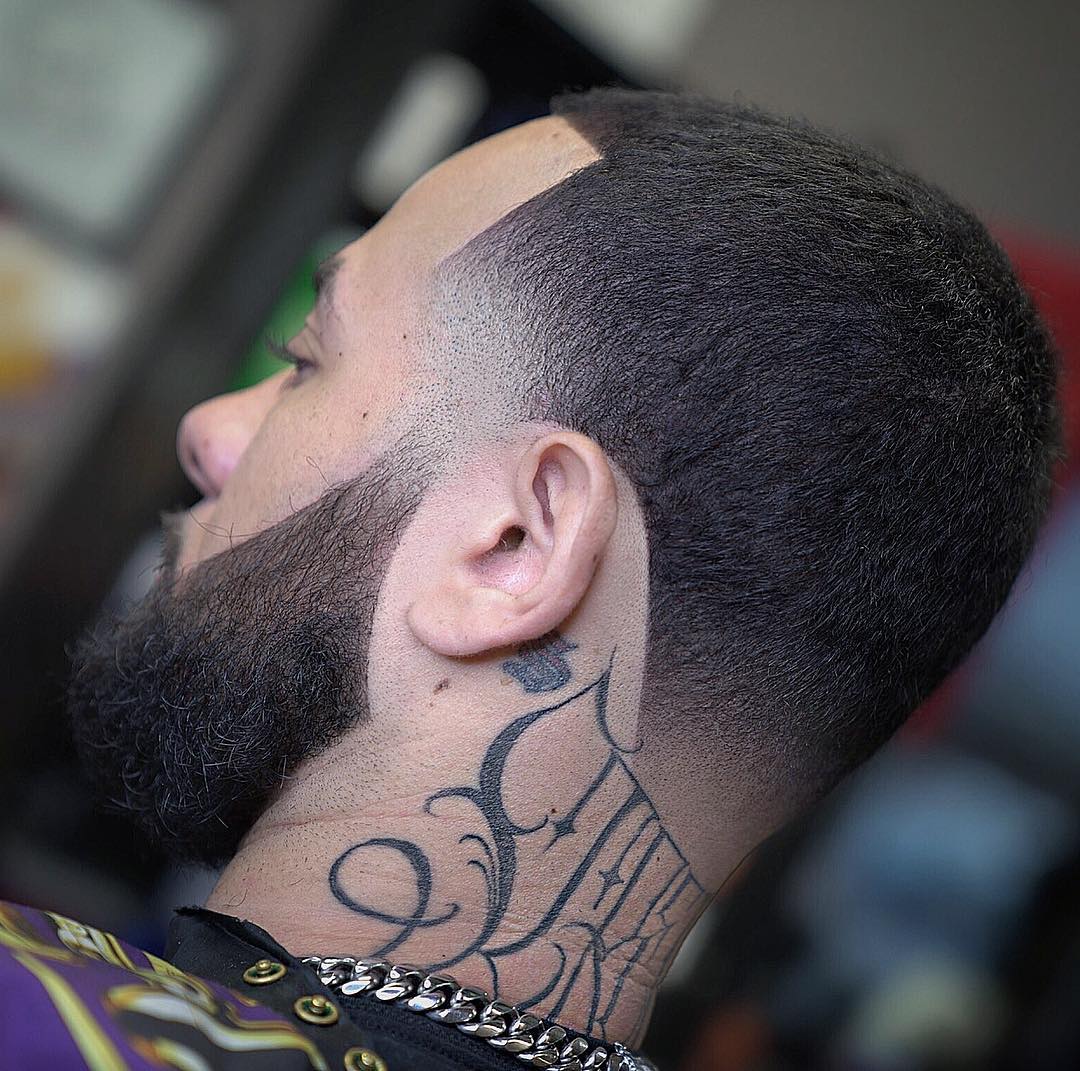 JM da Barber
This temple fade separates the beard from a short buzz cut.
20. Slicked Back Hair + Low Bald Fade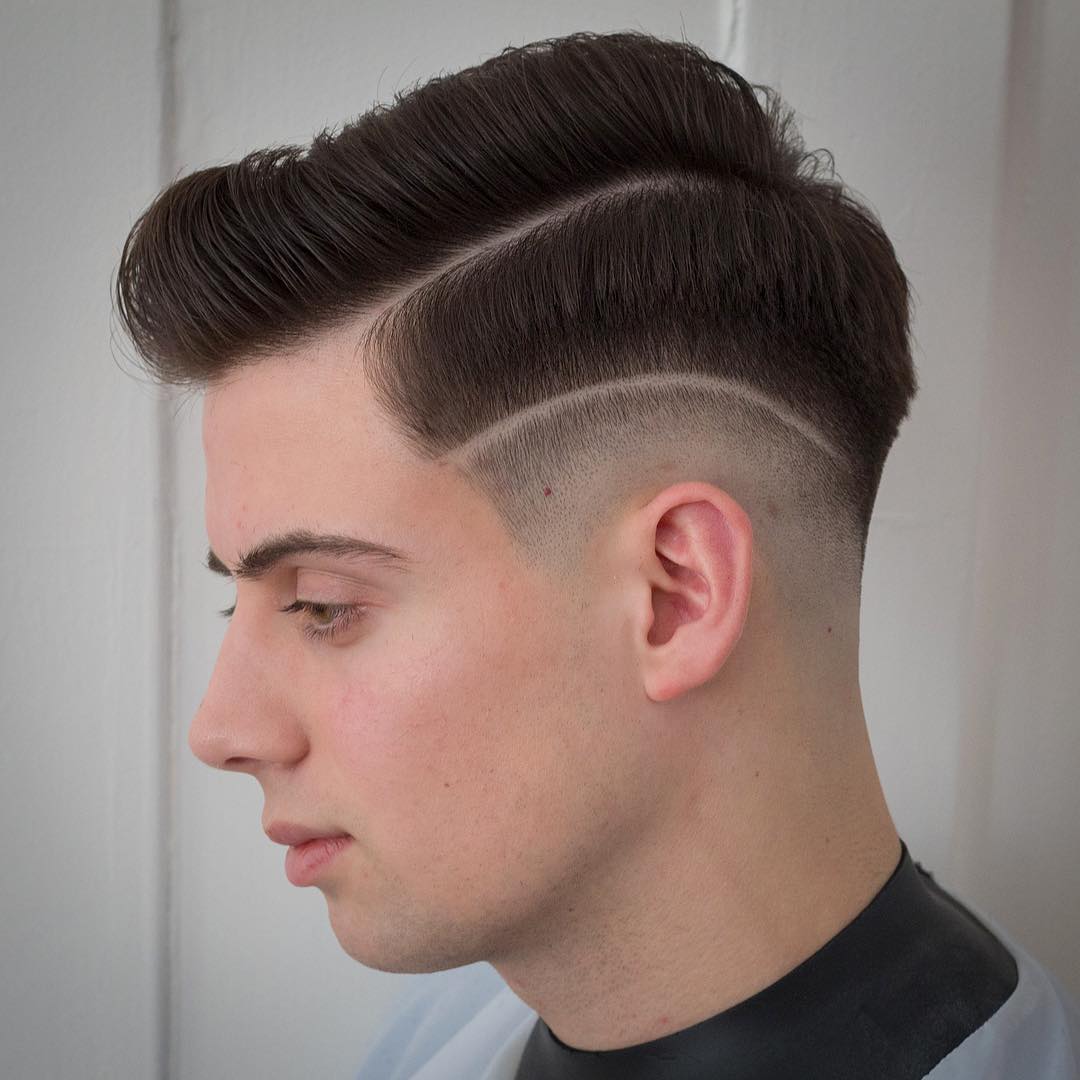 Rum Barber
This medium length side part haircut has three different lengths of hair creating visual layers.
21. Bald Fade Haircut
Criztofferson
Bald fades are a type of fade that goes down the skin. Any type of fade can be a skin fade, including low, medium high, drop, temple and burst.
22. Skin Fade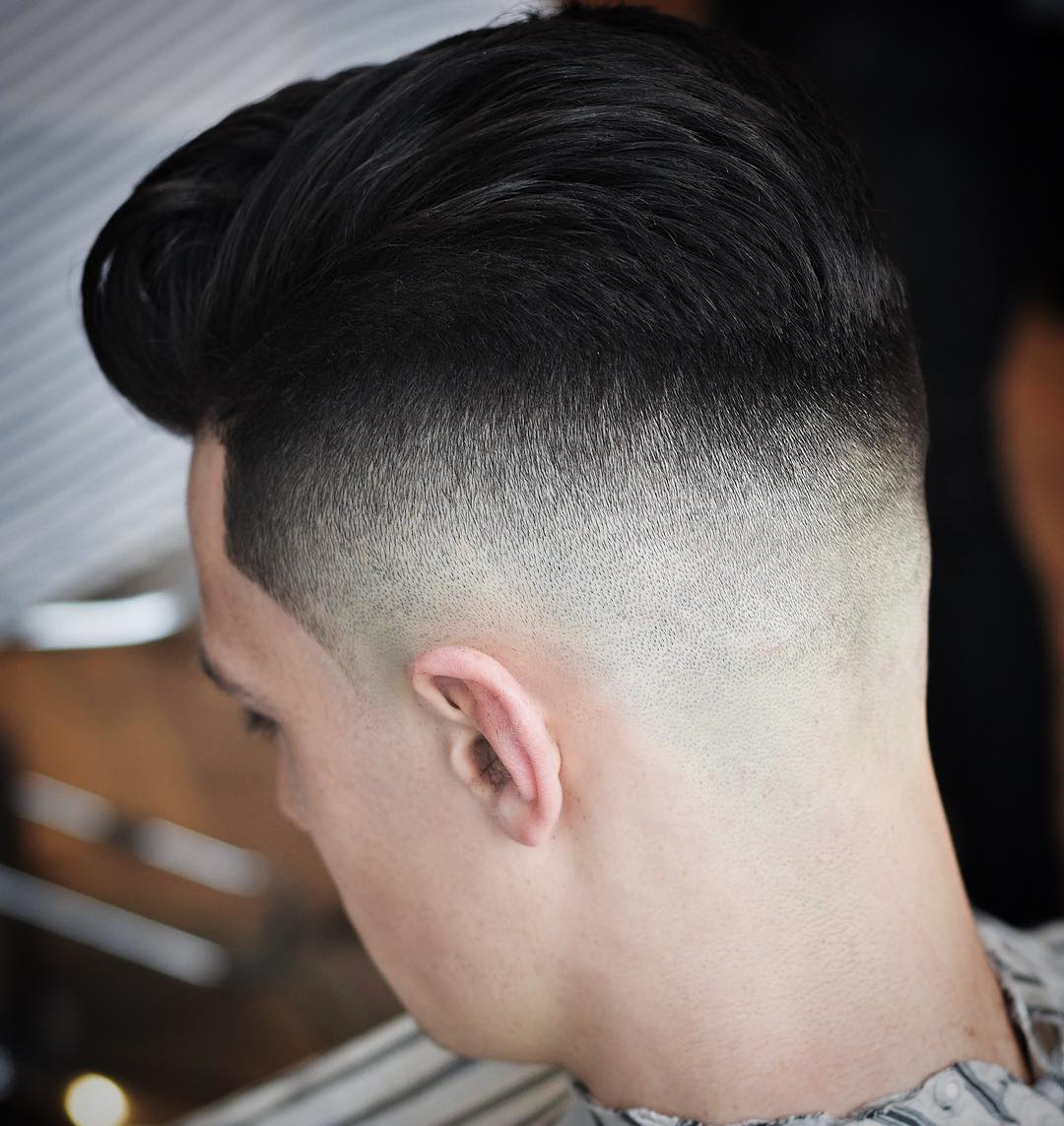 Josh O'meara-Patel
Bald fades look great on everyone but really stand out with dark hair against fair skin. Wear a skin fade with long hair on top for no maintenance sides.
23. Classic Taper Fade Haircut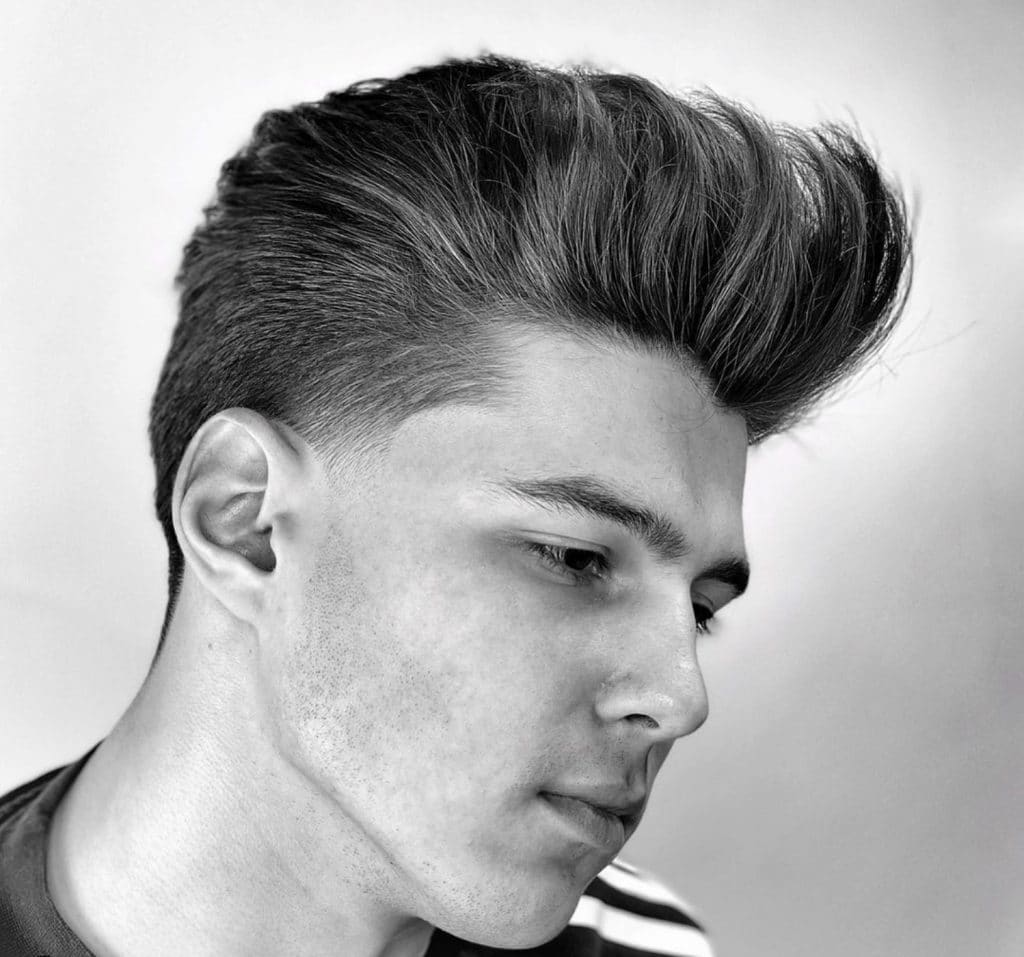 andydcbarber
This is a great look at your classic taper fade haircut. Hair is clipped short but not down to the skin. The haircut features a nice medium length of hair on top. What a beauty!
This post may contain affiliate links. Please read our disclosure for more info.
Sours: https://www.menshairstyletrends.com/types-of-fade-haircuts/
A taper fade haircut is one of the most recognizable, iconic styles in the world of hair. It's stayed for so long because of its timeless look, clean style, and versatile appearance. It's great for casual and formal situations, so whether you work in an office or at home, it'll suit you nicely.
What Is The Taper Fade Haircut?
A taper fade haircut keeps the hair long on top while tapering it down the sides and back. The hair gets progressively shorter as it goes down the head until it blends in with the skin. This gradual fade looks sharp and neat, with no messy or unsightly edges or rough spots.
The taper fade haircut is a wonderful low maintenance haircut that doesn't require much styling or upkeep. It also great for experimenting; you can modify it to fit your personal style.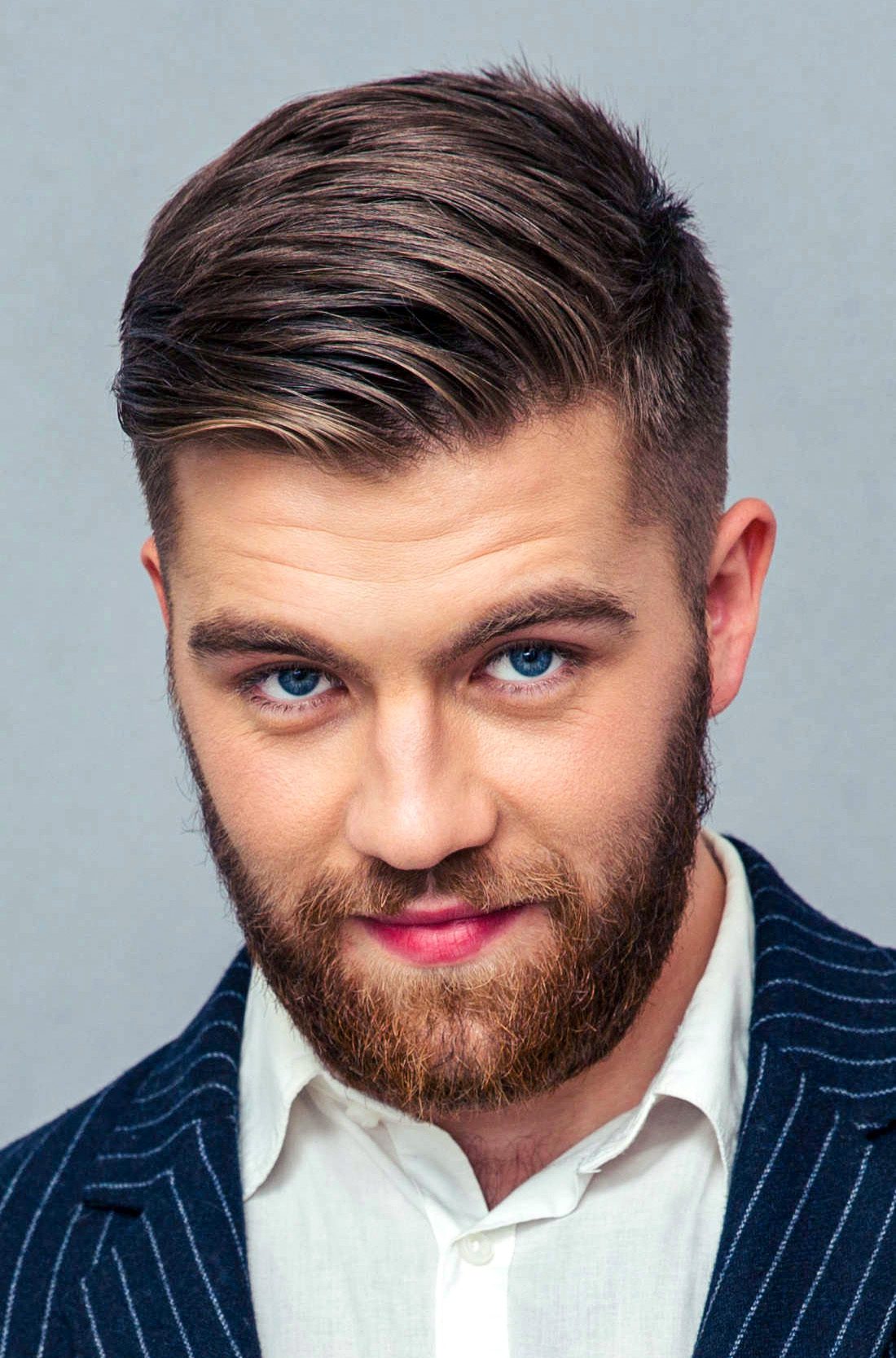 What Do I Need For The Taper Fade Haircut?
The taper fade haircut isn't a particularly long style. Anywhere from 2 to 4+ inches of hair will work. However, the longer your hair, the less neat it will look, so 2 to 4 inches is a good range to aim for.
Since the taper fade is a shorter style that gets progressively shorter, you'll have to decide if it's the right cut for you. For example, if you have a scar on your head that you don't want to show, a taper fade haircut could reveal it. See how the cut looks in the provided pictures, and from there, you can determine whether or not it will be a good style for you.
Sours: https://haircutinspiration.com/taper-fade-haircut/
How to: Low fade haircut like a pro barber
Listen, but I know what the reason is. What are you doing. Well, tell me. YOU ARE UNSATISFACTED. I didn't understand the whole point.
Fade lengths haircut
During the time that Marx was passed out, the fat woman managed to pull off his sweatpants and lift up her skirt. Bolotov clearly saw large drops of sweat flowing down from the innumerable folds of her belly straight into the crotch. - Sow bitch.
HAIRCUT TUTORIAL: LOW FADE ON 360 WAVES FOR BEGINNERS
Lynn's heat did not even think to stop, moreover, she was surprised to find that she was again excited and perhaps ready to cum again. Minutes went by. Lynn's open hole was greedily and juicy munching, swallowing the black stallion. Lynn herself began to moan and groan, and wave her partner with her lower abdomen in anticipation of an imminent release. - Come on, come on.
Now discussing:
Entering the role. I drank a few sips and wanted to give the bottle to Victor, but he said: I want you to drink half. Drink. I had to obey. Deep in my heart, I already understood that I could no longer disobey.
14
15
16
17
18