25 Elevated Glitter Nail Designs You'll Want to Show Off
We're never not excited about new nail art, especially when glitter is in the mix. Yup, you heard it here first: Glitter is for grown-ups, and don't let anyone tell you otherwise. When worn on your nails, it gives your hands this undeniable wow factor. Whether it's an ever-so-slight sparkle or a full-on bedazzlement, glitter nails will always have a place in our hearts and on our Instagram feed.
While glitter nails are especially popular around the holidays thanks to their glitz and glam, they can absolutely be worn all year-round. So whether you're daydreaming about your countdown-to-Christmas mani or crave a little extra sparkle in the middle of spring, ahead, you'll find 25 elevated glitter nail designs you'll want to copy, stat. Scroll, screenshot, and take these with you to your next nail appointment. And, while you're at it, prepare for the overflowing compliments, and Instagram likes you'll undoubtedly receive as a result.
01of 25
Silver Glitter Drip
Made with ultra-fine silver glitter juxtaposed against bare nails, this manicure is dripping in modern style.
02of 25
Glitter Sequin Stunners
Why stop at fine glitter when you can incorporate chunky sequins into the mix too? This holographic rainbow mani proves that and gives us major Lisa Frank vibes in the process.
03of 25
Glitter Cuticles
Glitter nails stand out most when they're against bare-looking nail beds. Just look at these silver- and gold-lined cuticles if you don't believe us. 
04of 25
Glittery Swipe
The best thing about this design is that it's literally impossible to mess up—an abstract swipe of glitter anywhere on the nails makes it work.
05of 25
Mixed Metal Glitter
Wearing gold and silver together has become something of a style statement. To bring the jewelry-inspired mani a bit more front and center, pair the colors together on your nails to copy this simple glittery manicure.
06of 25
Glitter Stars
Who knew a single glitter star on each bare nail could make such an obsessed-over manicure? Trust us; if you opt for this nail look, you'll be drowning in likes.
07of 25
Disco French
Get the best of both the traditional and trendy nail worlds by opting for a glitter tip on your next French manicure. A gem or two will also pump up the party factor.
08of 25
Glitter French Curves
Nothing feels more festive than gold, glittery nails painted in a negative space. It's a chiller, cool-girl version of the glitter nail trend, and we're all here for it.
09of 25
Glitter Waves
Silver, black, and gold glitter make quite a splash—look at this wavy negative space mani.
10of 25
Chunky Glitter Diagonals
One of the major keys to screenshot-worthy nails is playing with lines and shapes. Take this diagonal dash of silver glitter bejeweled with an array of colors, for example. 
11of 25
Glitter Dots
When you copy this confetti-inspired glitter polka-dot manicure, your nails will be the life of the party. Best of all, it's super simple to create. Just pick the glitter nail polishes of your choice and use a dotting tool to create evenly-dispersed dots on each nail. Finish with a high-shine topcoat et voilà.
12of 25
Glitter Half Moons
Here we have two nail trends wrapped into one. First, ultra-fine glitter half-moons at the nail base; and second, slim black tips to offer a modern take on the classic French manicure.
13of 25
Glitter Foil
These dark, foil beauties give us all the siren vibes. Since foils can be tricky to work with, you might want to enlist a pro manicurist's help your first time trying to copy this look.
14of 25
Glitter Lines
Minimalists will love this simple take dreamed up by nail mastermind Alicia Torello. A single line of gold glitter smack-dab in the center of your nail is such a vibe—and an effortless one, at that.
15of 25
Illusion Glitter Nails
Um, hello, you magical unicorn, you. These ultra-fine iridescent glitter nails will make you feel straight out of a fairytale.
16of 25
Graphic Glitter Tips
Craving a chic take on a classic French mani? Double up with champagne sparkle like so. It's a toned-down version of the trend that's work- and play-appropriate.
17of 25
Fine Glitter Dots
Try not to be distracted by these rocks if you can, and take in these perfect nails. Use a translucent base coat and jazz up your nails with dispersed specks of glitter.
18of 25
Disco Ball Digits
Another party nail for you. These disco ball glitter nails are not for the faint of heart. They're for the girl who wants to have the coolest nails at the party.
19of 25
Small Glitter Accents
Feast your eyes on these fab nails fit for a diva. You have no choice but to be happy every time you look down at your nails and see this next-level design.
20of 25
Sparkling Glitter Tips
These ice queen glitter tips are especially alluring, thanks to their soft fade from light to heavy glitter. Plus, with the added gems, how could you not stare at these shining beauties?
21of 25
Simple Glitter Cuticles
The most low-key way to liven up neutral nails is with a barely-there, metallic half-moon design. 
22of 25
Glitter Chevron
Channel your inner Wonder Woman with what Paintbox calls superhero swoops. This sapphire shade plays so well with glitter.
23of 25
Gold-Dipped Glitter Tips
The first thought that came to mind is party-on-top nails. An accurate depiction once you take note of the gradient effect of this falling glitter. So glam. 
24of 25
Glittery Pop Art
Are nail-gasms a thing? If so, this line formulation is giving us one. If anything, the takeaway here is that glitter polish goes so well with color contrast. Confession: we want this pop art-inspired pattern as a piece of artwork in our apartment.
25of 25
Champagne Glitter Swoops
This is a classic French with a subtle twist. If you look closely, you can see the gradual swoop. It adds a uniqueness that makes this glitter feel fresh. 
Sours: https://www.byrdie.com/glitter-nail-designs-4775659
With glitter nails are simply more festive and fun to wear. Glitter is the universally awesome nail color. There is just something about that glitz on your fingertips that puts a smile on your face.Going to a party? Going to the beach? Binge eating mochi on your couch while watching Will & Grace until you feel better about the world? Glitter nails are a hit for every occasion!Honestly, was there ever a time that glitter nails were unpopular? We really don't think so. But if there was, we're glad we don't remember it.
50 Amazing Manicures to Find Your Glitter Nails Goals
Getting the looks in this gallery may require some special tools and techniques.You need a base coat (clear), polish in the base and glitter colors you like, glitter powder (optional, but recommended if you like the textured glitter look), a top coat, a small brush (to clean polish off skin around the nail), nail striping tape (if you're doing traditional or reverse French or nail art with hard lines) and polish remover to clean up messy edges.
If you like the ombre trend, you can layer on your glitter freehand or use a makeup sponge to apply each coat. If you like the precision nail art or French tips, invest in some nail striping tape. It will give you a crisp line wherever you want it, and the special adhesive won't mess up the layers of polish underneath. If you're doing a full nail you can just paint with a clear base coat, then roll the nail in the glitter while the polish is still wet. If you want more of a dusting than full coverage, you can sprinkle it onto wet polish instead. You can use your nail tape to get precision lines with this technique as well.
You know the other amazing thing about glitter polish? It doesn't chip like regular polish does. That's right. It's shiny and its invincible. Just like you. Let's get to the polish!
1) Alternating Maroon and Pink Glittery Nails
Source: instagram.com
This is a nail polish idea you could easily pull off at home. The thumb, index, and ring fingers are painted with a pretty deep maroon color. The pinky and middle fingers are painted with a rosy glitter polish, and the middle finger has a second layer of iridescent hexagonal glitter polish as a top coat. Simple!
2) Vibrant Green Iridescent Sparkly Nails
Source: instagram.com
If you're one of those ladies who likes to try bold different nail designs then this is a fun challenge! The base color is a bright green. Glitter powder with an iridescent finish creates a prism of colors, and the effect is totally unique. It's a creative manicure that could really set off a look for a special event…or just to wear for fun!
3) Nude, White and Gold Glitter Nail Art
Source: instagram.com
It's not quite subtle, but not quite bold. This look is perfect for the nail addict that wants the best of both worlds. A fleshy nude creme color is the base. Then there is a bright white glitter nail design and a couple of golden nude accent nails. The eclectic nail designs are a fun riff on neutral polish.
4) Absolutely Perfect White Glitter Nails
Source: instagram.com
Simple glitter is one of the manicure types that's easy to do yourself and still gives you all the sparkle and glam you crave. This long nail design uses 2-3 coats of a white gold glitter in a clear base. It's simple, beautiful, and easy to wear. This color could work just as well on short nails, too!
5) Ultra Glam Silver Glitter Nails
Source: instagram.com
The almond nail shape and bright, glitzy glitter make this manicure worthy of a diva. There is a clear or nude polish base, topped with sparkly glitter polish in an ombre style that goes almost all the way to the nail base. The polish with larger glitter pieces combined with multiple coats makes this nail polish idea really sparkle.
6) Nude With Sparkly Glitter Tip Nails
Source: instagram.com
Isn't this manicure fit for an enchanted evening? You would need long nails to achieve this look. The base is a clear or nude jelly polish. The glitter is multi-shaped in silver with a colorful iridescent finish. Only the tips are painted with glitter. There is a subtle ombre at the smile line so it's not exactly a "French" style, but its close.
7) Dangerously Sexy Gold Leaf Designer Nails
Source: instagram.com
These ultra-glam designer nails are no joke. The long, sharp stiletto nail shape with clear tips is unique all by itself. There is a creative micro glitter gold leafing effect along the smile line. It's super artsy with an imperfect hand-painted pattern, yet its somehow the perfect amount of polish for daringly different nail designs like this one.
8) Simple Gold Glitter Short Nail Design
Source: instagram.com
Don't let the length fool you. This glittery short nail design packs all the shine and glitz of its longer counterparts – and it's easy to paint and wear! The key is to shape your nails just to fingertip length with a rounded shape. The dense gold glitter polish is painted right down to the cuticle.
9) Fit for a Mermaid Aqua Nail Art Design
Source: instagram.com
If you're heading to the beach (or really want to) this is your ticket to mermaid status. The anchor color (pun intended) is an aqua chrome that's honestly stunning all by itself. Enter nail art designs. You've got aqua-to-white glitter ombre and gemstone accent nails to top it all off. It's totally luxurious, and you totally deserve it.
10) Shimmery Acid Effect Pink Glitter Nails
Source: instagram.com
Do you love pink nails? Do you love glitter? Do you love the 80s? Then there are the nails for you. It's a totally 2018 take on 80s neon and it's so fun! The neon pink color has glitter in different shapes and sizes throughout. It creates a cool acid-like effect and also shimmers and shines.
11) Iridescent Long Chrome Glitter Nails
Source: instagram.com
The combination of iridescent chrome color with a glittery finish is a unique nail polish idea that's bold and beautiful. This color would be awesome on long or short nails, and it's actually pretty simple. The polish does all the work. It's a dark chrome polish with an opalescent finish and micro glitter to make it sparkle as well as shine.
12) Classy Pink Polish With Textured Glitter Accent
Source: nailschick.com
OMG, we are in love with this cute easy nail design. This is the best neutral glitter nail design – totally appropriate for work and play. The base color is a creamy, semi-sheer baby pink. The ring finger accent nail is finished with an expertly color-matched textured glitter (probably from a glitter powder).
13) Neutral Ombre Glitter Nails and Pearl Accents
Source: fabfashionfix.com
You've probably noticed that the neutral blush pink is a popular base color for some of these glitter tip nails. It lets the glitter do the talking. This manicure has some nails painted in full glitter, and some are done with ombre tips. The pinkie fingers have 3-D pearl nail art.
14) Electric Blue Glitter Nails With Silver
Source: instagram.com
Oh, this manicure is so glossy and the blue/silver combo on the ombre nails is gorgeous! The base color is a cobalt blue with a hint of shimmer. The thick glitter is blue-to-silver ombre on most of the nails, with a cool triangle accent and diamond nail art on one nail of each hand.
15) Jelly Pink and Silver Glitter Nail Design
Source: instagram.com
If a modern-day Disney princess got a manicure, this would probably be it. A super light shade of blush pink is used as the base color. There is a ring finger accent nail that's full force silver glitter. On the other fingers, unexpected a-symmetrical tip art with the glitter. The effect is modern and classy while still being a little playful.
16) Shockingly Sparkly Prismatic Long Nail Design
Source: instagram.com
This manicure means business. We've got long nails with full coats of iridescent glitter on every finger. But don't stop there. A matching iridescent tone faceted gem is placed at the base of each nail. Serious bling! A manicure like this is a total show stopper.
17) Perfect Black and Gold Manicure
Source: instagram.com
This manicure is what we need right now. Hands down, these are the best black glitter nails around. That shiny black base color is slick as heck, The textured gold foil glitter accent nail is gorgeous, and the gold sequins and beads on the second accent nail are just right. Nailed it!
18) Beige Nails With Chunk Glitter and Gold Tips
Source: instagram.com
Layers upon layers of glitter! So fabulous. Layer one is a super light peachy pink creme hue. Layer two is a subtle gold micro-glitter ombre from tips to mid-nail. Layer three is the serious glitter. Thick multicolored pieces of glitz in ombre concentrated at the top of the nail so a bit of the gold peeks through.
19) Green With Envy Long Glittery Nails
Source: instagram.com
These nails are totally boss. The stiletto shape is ridiculous glam all on its own, but add in the deep dark shade of green glitter that shines up and it is over the top in all the right ways. Channel your inner Elphaba with this long glittery mani.
20) Perfect White Wedding Nails With Silver Glittery Shimmer
Source: nuovosquare.com
Getting married? Congrats! We just found your manicure. These white glittery nails shimmer like the snow. There is really no color in this manicure. The base polish is flat white, and the glitter is silvery white, so the manicure is truly neutral. The glitter powder just makes it shine so beautifully. Perfect for a pretty white wedding dress!
21) Bold Multicolored Fiesta Glitter Ombre Nails
Source: instagram.com
It's a party at your fingertips! The base color is baby pink with a hint of shimmer. Then comes the cute ombre glitter tips that are just rocking out and doing their thing. This glitter polish has big and small flecks, multiple colors, and multiple shapes. Make sure to use a good top coat to keep the glitter pieces from snagging on fabric.
22) Subtly Sexy Beige to Pink Glitter Ombre
Source: instagram.com
Isn't this manicure intriguing? The ombre effect hoes from micro-glitter silvery beige to micro-glitter pink. The glitter effect is toned down a tiny bit with a matte top coat. The effect is really awesome and unique. If you have a very conservative work environment this would be a great way to get your glitter fix without being too obvious about it.
23) Mink Gray, Glitter and Gemstone Accent Nails
Source: instagram.com
This mani means business. The base color is a gorgeous matte mink gray, which honestly would be amazing all on its own. But wait! There's glitter. There are two accent nails. The first is glossy, full-coverage rose pink glitter. Gorgeous. The second is base-to-tip gemstone nail art. It is totally glamazon and totally fab.
24) Hot Pink Shiny Nails and Glitter
Source: instagram.com
Do you want shiny nails? These babes get the job done. First of all, "yes" too hot pink glitter nails. This bright pink base shade is amazing. The other nails are done up in a bright-to-blush pink ombre glitter with flecks of gold and silver. Everything is topped off with a high-gloss top coat to get that super shiny finish.
25) Tiffany Blue Glitter Nails With Cream Accent
Source: instagram.com
Love these! The robins egg blue creme color is so pretty. The glitter nails go a few shades darker in the same family of blue and have golden flecks of glitter. This is a fun spin on the accent nail trend because all but one nail on each hand is painted with the glitter polish and the accent nails are done in the creme blue.
26) Perfectly Mauve Nails With Gold Glitter Accent
Source: instagram.com
This mani is done up in that classic neutral shade of pink creme with accent gold glitter nails. The single accent nail has an ivory base with 2 or 3 coats of gold glitter over top. Everything is finished with a glossy top coat to make this manicure polished and neat.
27) Reverse French Manicure With Rose Gold Glitter
Source: lifestylezz.com
This manicure is amazing! The reverse French manicure is one of those different nail designs that's understated and yet so thoroughly stylish. This is a perfect example. Instead of contrasting tips, you do a line of contrast around the base. This manicure uses the traditional French sheer pink as a base, and the reverse tips are done in rose gold glitter.
28) White as Snow Textured Glitter Manicure
Source: instagram.com
Sheer white color and glitter powder come together to create this unique effect. If you've never tried one of the textured manicure types you're in for a treat! A manicure like this one has the glitter basically sitting on top of the polish, so when you touch the polish you can feel the little pieces of glitter rather than a smooth surface.
29) Nothing but Rose Gold Glitter
Source: instagram.com
There is so much shining in this dense glitter polish that the color is almost chrome, but don't worry. It's still glitter. Here every nail is done up in a single rose gold shade of medium-sized glitter. This glitter is full-coverage so you wouldn't need a base color to paint over.
30) Shimmery Gray to Black Glitter Nails
Source: instagram.com
This is a cool way to approach ombre. Instead of the shades changing from tip to base, the shades of this manicure change from finger to finger. The single glitter nail is done in a dense chrome colored full-coverage glitter that is really pretty. Then you've got a similar chrome shade but in a creme color on the next nail, followed by a black shade on the next.
31) Reverse French With Powdery Pink and Rose Gold Accent
Source: theart123.com
Here's that popular reverse French mani trend again! This short nail design uses a creme polish in powdery pink with a rose gold glitter half-moon at the bottom of the nail. The ring finger is painted fully with the rose gold glitter. The look is simple and pretty.
32) Pink Glitter and Gemstone Nail Art Designs
Source: instagram.com
Another nail polish idea that's pretty in pink! This manicure uses 2 shades of pink. A cream (almost beige) shade is used as the base color for this manicure. Then there are 3 accent nails. One is painted with dusty pink creme polish. One is painted with a medium sized silver glitter polish. One is bedazzled with pink-hued gems and jewels.
33) Creative Bronze Chrome With Warm Pearlescent Glitter
Source: instagram.com
Those nails are so shiny you can almost see her reflection! The base color on this is a sheer bronze chrome. Then you've got alternating nails painted base-to-tip with a pretty bronze glitter that has large and fine pieces and a pearlescent finish. Finally, there are sequins used as nail art gems that match the pearlescent bronze glitter.
34) Soft Gray Creme With Copper Glitter
Source: instagram.com
This is an interesting combination because instead of the glitter and base polish being in the same color family you've got colors that match and compliment each other. The soft gray is so pretty and classic. It is a go-to neutral for lots of women, so if you feel like shaking it up add a glitter accent nail in a color like this shimmery copper!
35) Blush and Gold With Marbled Nail Designs
Source: instagram.com
This manicure is just stunning and it has a little bit of everything! The blush pink creme base color is painted in matte and gloss. The matte fingers have a gold gem. The gloss fingers have either gold glitter reverse ombre from the base or a gorgeous marbled nail art design. Finally, there is a pink and gold glitter accent nail.
36) Easy Natural Nails With Gold Glitter Tips
Source: zigiztyle.blogspot.hu
These beautiful ombre glitter nails could not be easier to pull off yourself. Start with your natural nails shaped and painted with a clear base coat. Use the gold glitter polish starting at the tips. Keep most of the polish at the tip, but add some down to the middle of the nail so you get the ombre effect. Add a second glitter coat mostly on the tips. Finish with glossy top coat and you're done!
37) Natural Nails With Hexagonal Glitter Nail Art
Source: instagram.com
This manicure would take some patience but the results are awesome and unique. These natural nails are almond shaped and a base coat with a little color is applied first. The hexagonal glitter looks like it has been applied by hand to create a honeycomb pattern at the tip of each nail that becomes more spaced out around mid-nail to make the ombre effect.
38) Beige Cream and Gold Glitter Nails
Source: instagram.com
This mani is totally golden! Again, we see a twist on the accent nail where the base color here is that super shiny and shimmery gold glitter, while the accent nail is a matte cream color. The matte accent nails also have gold sequins and gems that complement the glitter.
39) Sexy Sand Sparkle Nails With Gold Ombre
Source: instagram.com
These nails are worthy of a tropical island goddess! That sandy base color with a hint of shimmer is absolutely beautiful. The glitter color is gold but also has a really warm almost red undertone which is so pretty. The glitter is used in full-coverage on one accent nail, and in reverse ombre on another.
40) Matte Nude With Silver Glitter Nails
Source: instagram.com
It is all about the texture with this manicure. The "naked" base color is a flesh-toned nude creme shade painted with a matte top coat. The glitter accent nails are thick, textured silver glitter. We're talking disco ball level glitter, here. The contrast is really striking, and putting the accent nails on different fingers of each hand is an interesting touch.
41) Deep Burgundy Nails With Gold Reverse Ombre
Source: instagram.com
Burgundy nails with gold glitter honestly might be the all-time best color combo. This particular shade of Burgundy has micro-glitter for a little bit of shimmer. The fine gold glitter polish is applied from the base to create a reverse ombre style. The final look is elegant and festive.
42) Neutral Nails With Plum Glitter Ombre
Source: instagram.com
Get those glittered tips! All you need are your natural nails, some dense glitter polish, and you're off to the races. After a base coat, start from the tips and work your way to mid nail, keeping most of the polish at the tips of the nails. You'll need to repeat this 2-3 times to achieve this look. Each time, keep the polish closer to the tip.
43) Simple Black With Gold Tips an Accent Now
Source: winkandblush.com
Get fancy with this black and gold mani that's easy and chic, like all the best things are. Start with a shiny jet black polish on every nail. Use the glitter ombre technique to apply gold glitter to the tips of all but your accent nail. On the accent nail, do 1-2 coats of gold glitter over the black.
44) Barely-there Soft Pink and Silver Glitter
Source: instagram.com
Isn't this manicure just lovely? The soft pink creme color is subtly brought to life with pink and white ombre glitter. The ombre glitter is applied over the pink in reverse from the base, leaving a hint of the soft pink color peeking through at the tips. The color of the glitter catches pink and blue in the light. So cute!
45) Cute Easy Nail Design With Pink Glitter
Source: instagram.com
Party-ready nails are as simple as some colorful glitter tips. This long nail design starts with a stiletto shaped nail. If your natural nails are this long, congrats! Just shape them in a tapered tip. If not, you can get acrylics in this shape. The medium and fine pink glitter is painted from the smile line to the tips with a soft blend to the natural nail color.
46) Beautiful Neutral Cream With Peach Glitter Accents
Source: instagram.com
Love this! Jelly and glitter polish make such a beautiful combination. This has a peachy nude sheer jelly color as the base. There are some accent nails painted fully in a peach glitter, and one nail on each hand has a triangle-shaped French manicure style tip. We just love this flattering shade.
47) Super Girly Baby Pink Glitter Everything
Source: instagram.com
Are you a glam princess? Then this is your manicure. Long, luxurious nails are painted with a baby pink shade and a fine pink glitter top coat. You may have to do 2-3 coats of glitter to get this kind of shine. A high-shine top coat over the glitter will really make the mani glossy and bring out the shimmer in the glitter.
48) Charcoal Gray Matte With Silver Glitter Tips
Source: essie.com
Start with a nice, deep shade of charcoal gray polish. You can get a matte formula, or use a matte top coat. Then get some glitter on those tips! This polish in this style has medium and large silver glitter. It gives an artful ombre look like you dipped your fingers in silver.
49) Neutral Ivory Cream Gilded Glitter Ombre Nails
Source: instagram.com
These nails are just to die for. File this under best nail ideas of all time! A simple ivory creme polish is anything but basic with gilded gold. Use the same ombre glitter technique you would use on the tips, but starting from the base instead of the tip. You can get the gilded effect with chunky glitter ombre layered over fine glitter ombre.
50) Glossy Emerald Glitter Nail Polish
Source: instagram.com
These sparkly nails are totally enchanting. Any self-respecting nail addict won't be able to resist these rich emerald fine glitter beauties. When the color is this amazing you don't need nail art. Just shape your nails, apply 2-3 coats, and don't forget the high shine top coat.
50 Gorgeous Ideas for Glitter Nails at Every Length
It's seriously so easy to get glitter nails. There are loads of polishes out there at every price point that are glittery and fabulous. You can also get fancy and use glitter powder dust for awesome effects and textures. Trends like reverse French manicures and gemstone or pearl nail art are totally trendy, but there are also plenty of simpler nail ideas if you prefer your glitter a little more toned down.
Time to get yourself some sparkle nails! You can use glitter however you like to paint your nails. Neutrals? Bright colors? Simple? Ornate? Take your pick! Check with your nail salon about getting the glitter ombre nail color you want. If you prefer DIY manicures, check tutorials to get your ombre technique down, then paint away!
Sours: https://thecuddl.com/glitter-nails/
Everyone wants to look as good as they can. Especially girls, a lot of girls love dressing up and keeping with the latest in fashion. Girls simply love to stand out and shine bright from the rest; this is where the glitter nail art designs became a constant favorite.
Glitters are very unique that they make you feel simply out of this world. It brightens up the move and sends sparkles in dull moments. It's not that hard to fall in love with glitter on your nails. It's without a doubt that everyone just adores glitter nail art. Applying glitter on the nail is simply easy but there are also other things that you can do to make them look even more interesting and unique.
In case you would want to have your own glitter nails here are simple glitter nail art designs that you can apply on your own. Painting great looking glitter nail art designs is more than just applying the top coat with nail polish.
Glitter tip nail art design
This is a fairly easy glitter nail art design that can be done in 15 to 20 minutes.
What you need:
– matte nail polish (any color of your liking
– powder glitter or glitter from eye shadow works too
– clear nail polish for the top coat
– base coat
Start by applying the base coat and letting it dry. Your base coat can be any color as long as it will not show through the top coat. After that apply the nail polish color of your choice on top of the layer. You can stick to the classics and use a black nail polish for the glitter to be more noticeable later on. You should be able to finish making your glitter pot at this time. Combine the polish and the eye shadow glitter to create the powdery glitter effect. Simply dip the nail polish brush on the glitter pot and apply the glitter midway the nails all the way outwards to the tips. Make sure that the glitter layer is completely dry before applying the final coat on top.
Half Moon Glitter nail art design
Another easy glitter nail art design that can be finished within 15 to 20 minutes. You will need the same things as the previous glitter nil art tutorial.
As usual start by applying the base coat to protect your nails. After the base coat dries, apply the nail polish color of your liking or which one you feel would go best with the nail art design. Get your glitter pot and dip the nail polish brush inside. In contrast to the previous design, you will start from the nail cuticle and painting towards the middle of the nails. It is like a reverse design for the glitter tips but it can also look great just as it is. Get your clear coat and paint on top of the nail polish and glitter layers to preserve the design longer.
Glitter sandwich nail art design
Another easy and awesome looking glitter nail art design. This can be done under an hour.
What you need:
– sheer nail polish in the color of your choice
– glitter polish
– clear polish for the top coat
– base coat
Like any other nail art design, start by applying your base coat for nail protection. When you are sure that the base coat is dry apply the sheer polish. You can start by applying one coat at first then letting it dry. Sheer nail polish is those that need numerous coats to make the polish look opaque. On top of the sheer polish layer apply your glitter nail polish. Unlike the previous tutorials, you will be using a readymade glitter polish to make this glitter nail art design look at its best. When the glitter layer is dry apply another coat of sheer polish on top. Keep the layers thin or the coats will easily chip off. Finish off with a final layer of sheer polish and clear coat then you are as good as done! If you want your nails to dry faster you can dip your nails in a bowl filled with cold water. This helps seal the color and also gives a glossy look on your glitter nails.
Ombré glitter nail art
One more simple glitter nail art idea you can finish in 15 to 20 minutes.
What you need:
– base coat
– nail polish to the color of your liking
– glitter polish
– clear coat
Clean your nails and apply your base coat. When they are dry apply two coats of the nail polish of your choice. Take your glitter polish and apply it on your nail three fourths the way downward to the nail tips. This helps create the ombré look. Use the same nail polish to swipe the glitter from the midway point of the nail towards the tip. At last pat the tip of the nail with the glitter polish to create the darkest part of the ombré effect. To protect the design seal it with clear coat on top.
Now that you are familiar with how glitter nails can look more interesting and unique, why not start practicing and create your very own masterpieces of nail art? They are very easy and rewarding to paint. Paint your nails and create a fashion statement.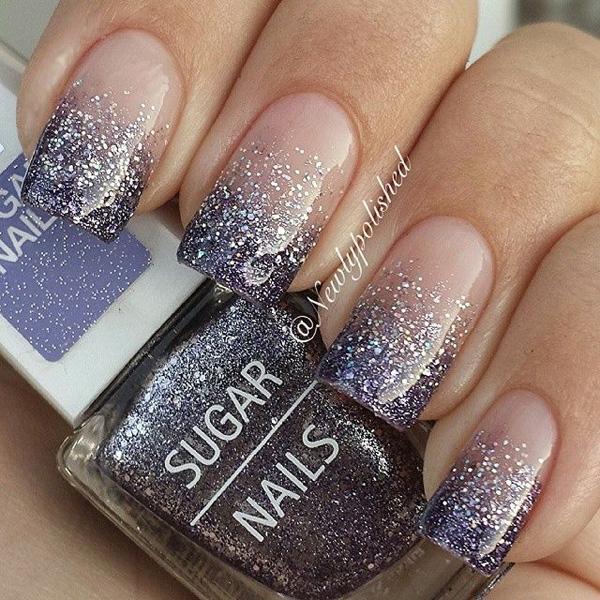 Gradient nail art and silver glitter nail art designed in French tips. Stand out of the crowd with beautiful nail art decorated with Glitter Powder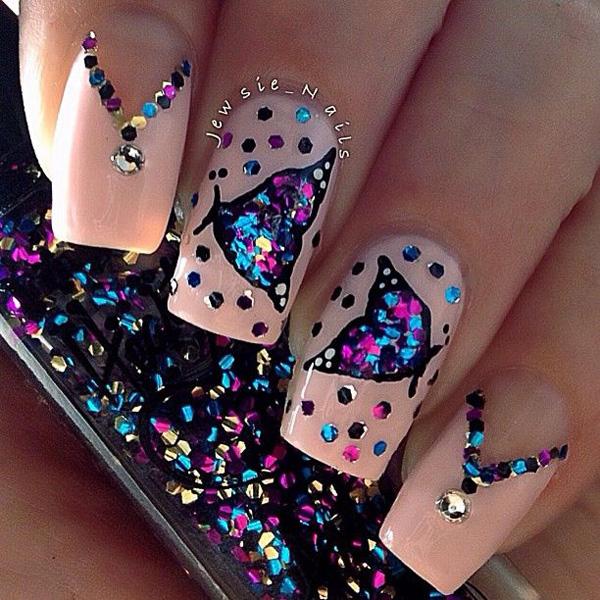 Amazing glitter inspired nail art with a butterfly and necklace design topped with rhinestones nail decos.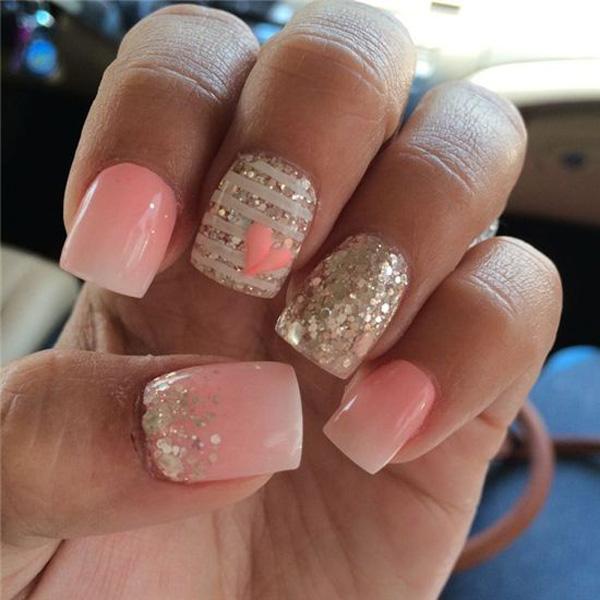 A pretty looking glitter nail art design in stripes and half mood details with a pink heart detail on top.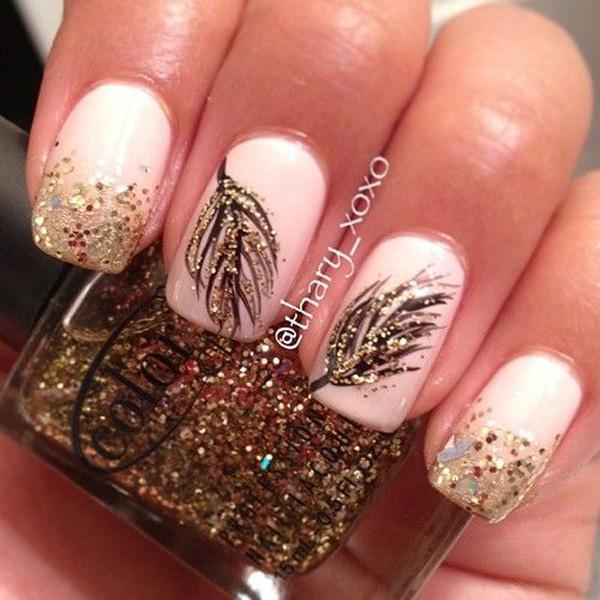 Fall themed nail art with gold glitter coupled with leaf details in black polish.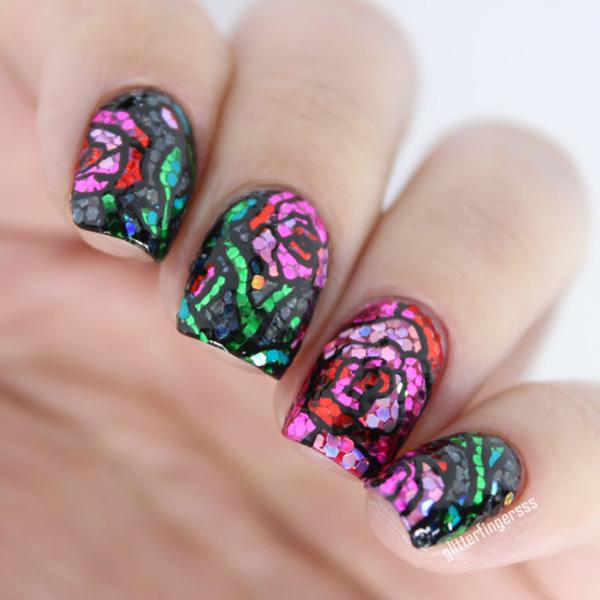 Very artistic and mosaic themed glitter nail art designed in rose details.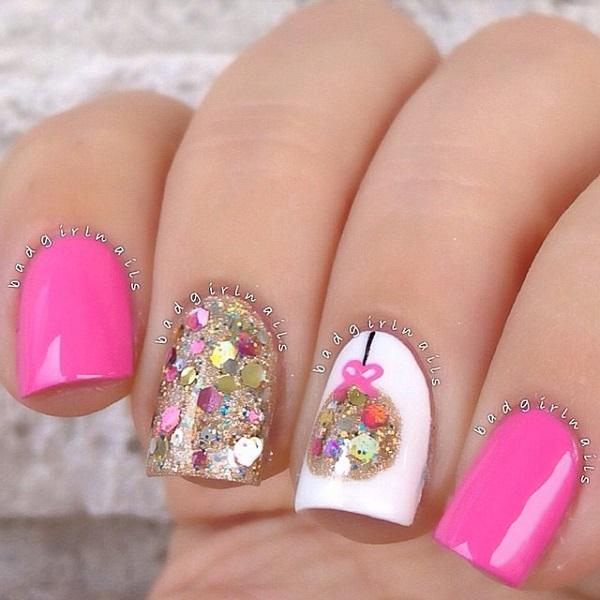 Colorful and pretty glitter nail art details on top of white and pink matte polishes.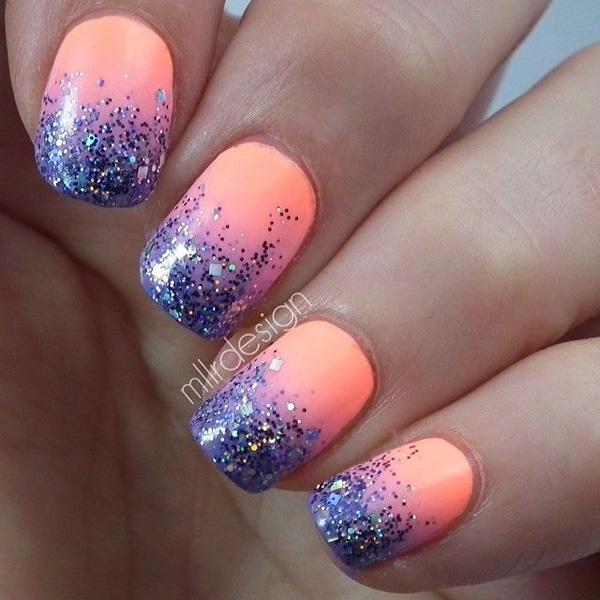 Glitter tipped nails in contrast to a matte melon polish background.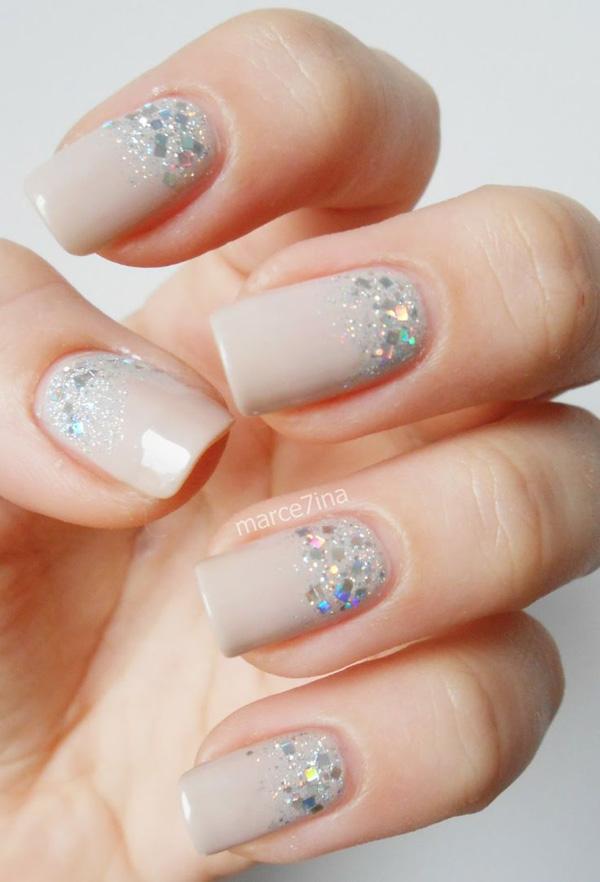 Half moon glitter nail art design in matte nude nail polish.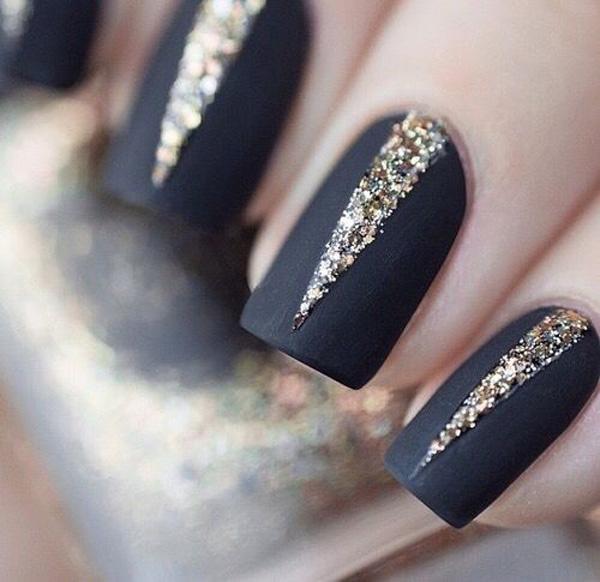 A stand out glitter nail art design in thin long v-shapes in contrast to the midnight blue base coat.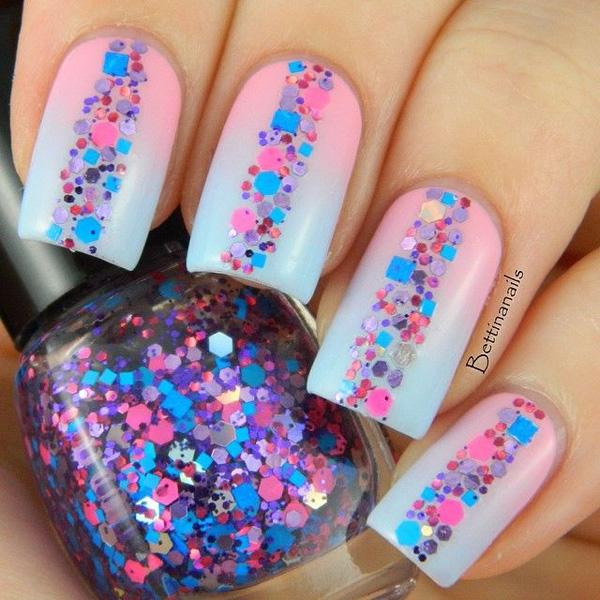 Candy colored glitter inspired nail art design on top of a gradient themed nail art design.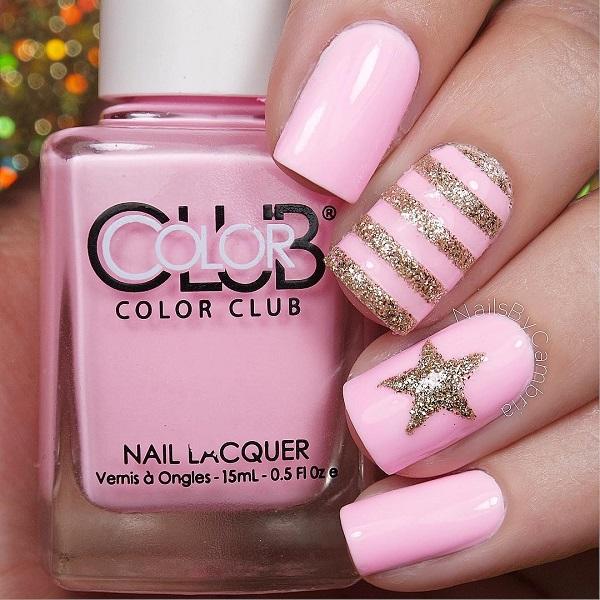 Adorable looking glitter nail art design in posh pink colors and wonderful silver glitter in stars and stripes.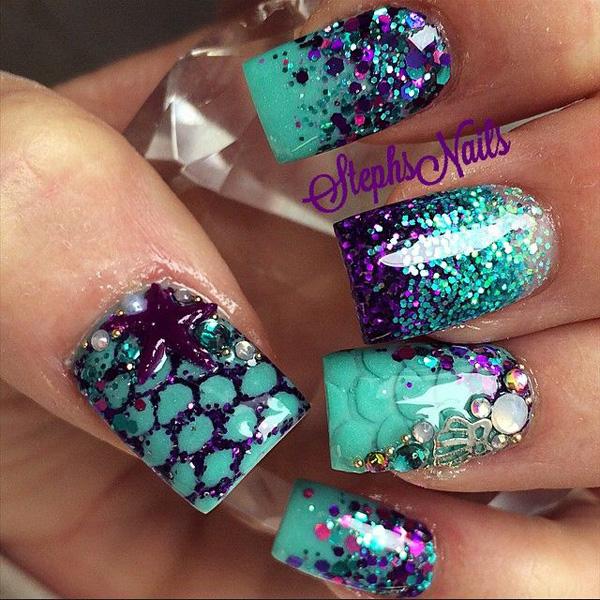 Paint the colors of the sea unto your nail with help from glitter nail art designs and add wonderful accents like starfish and scale details to complete the look.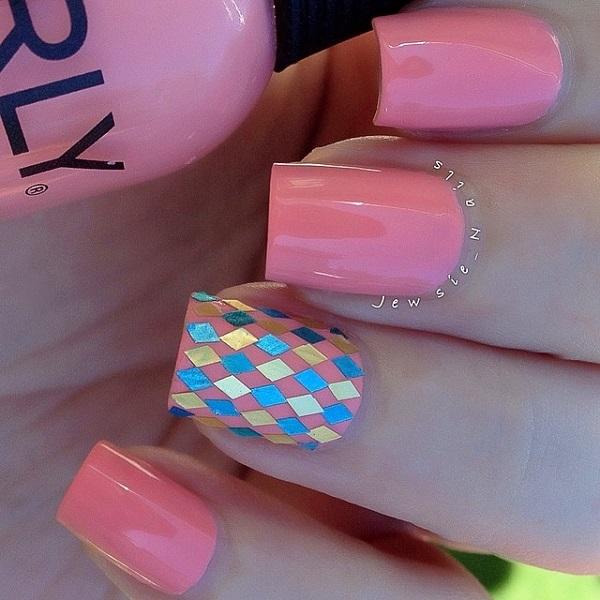 Baby colored diamond glitters atop a matte carnation pink nail polish.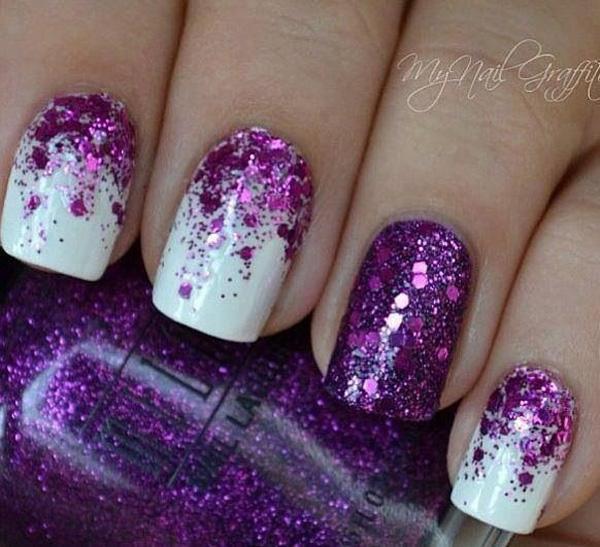 Half moon purple glitter nail art design on top of a matte white nail polish.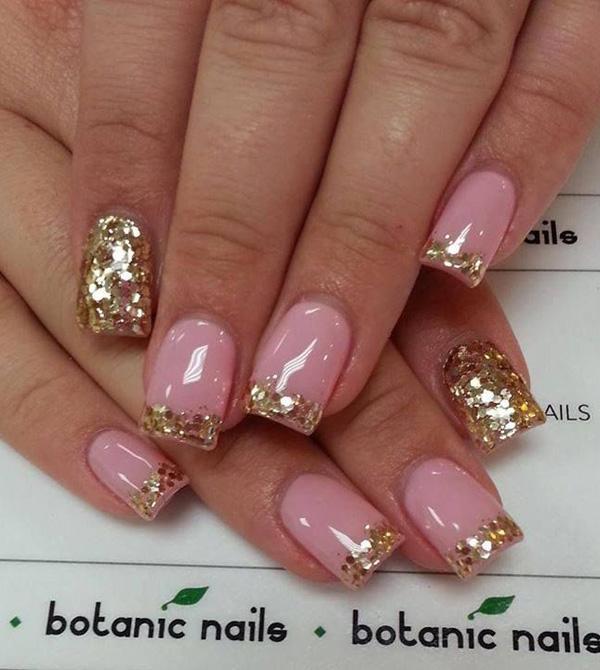 Gold themed glitter nail art design in French tip atop a clear base coat.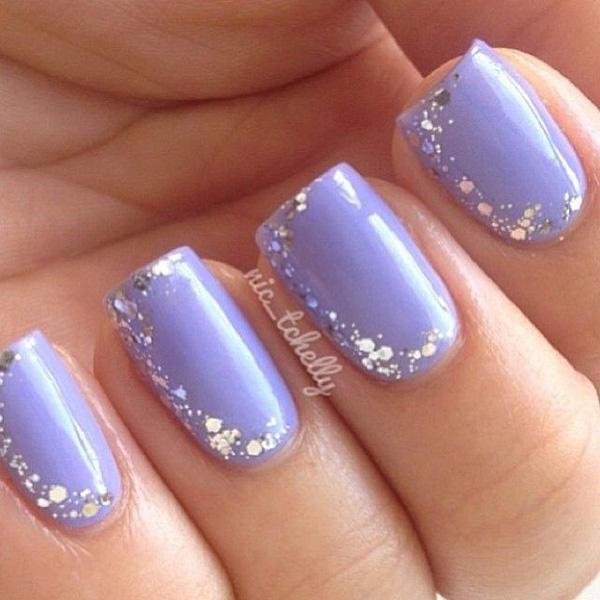 Pretty looking half nail glitter nail art design combined with a periwinkle base coat.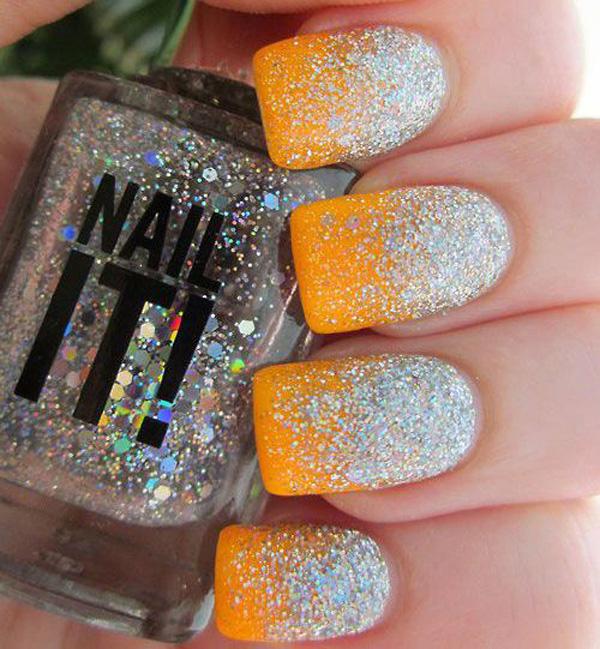 Sparkling and glittering half moon nail art in silver glitters and neon orange nail polish.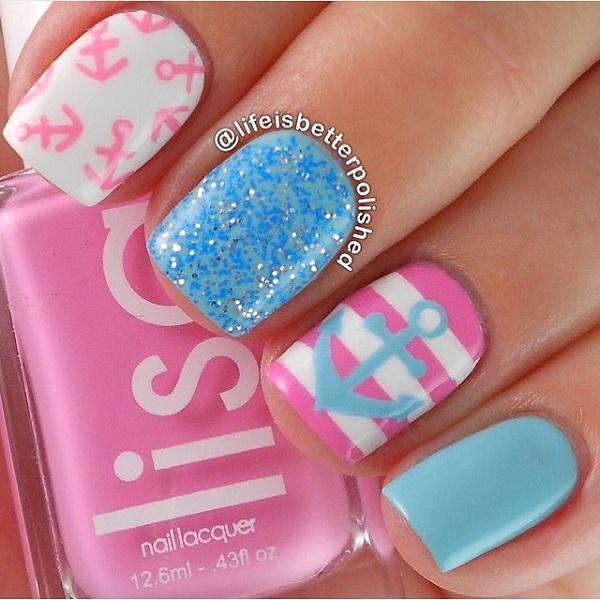 Anchors away with this cute blue glitter nail art design with baby pink, baby blue and white polishes.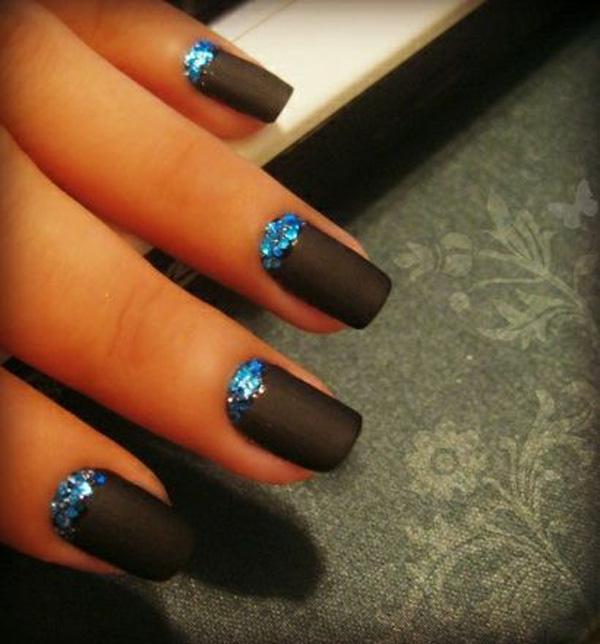 Cuticle glitter nail art design in blue glitters with black matte nail polish.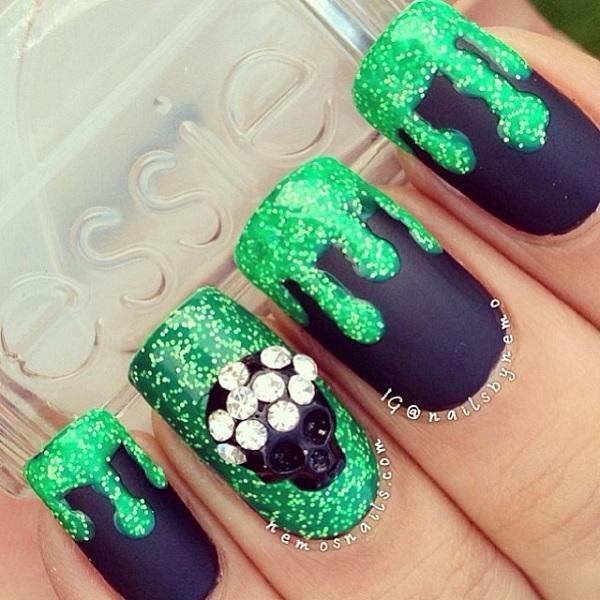 Deadly poison themed glitter nail art design in green glitter polish and midnight blue matte polish with accents of a black skill and silver beads on top.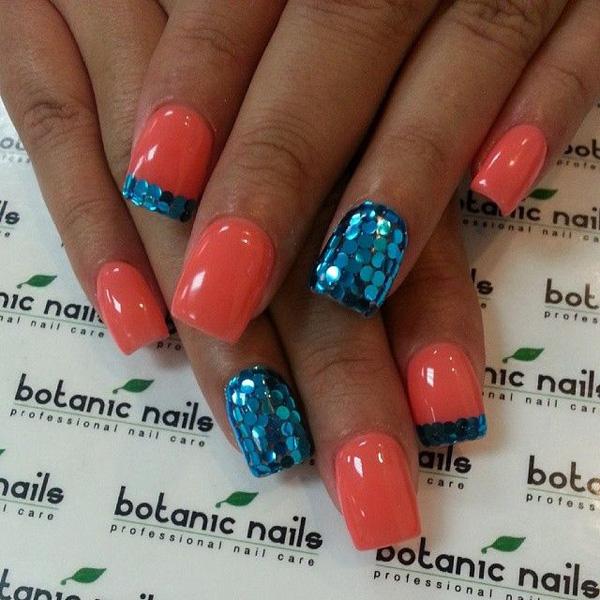 Wonderful looking aqua blue glitter nail art design in French tip and matte detail with melon nail polish.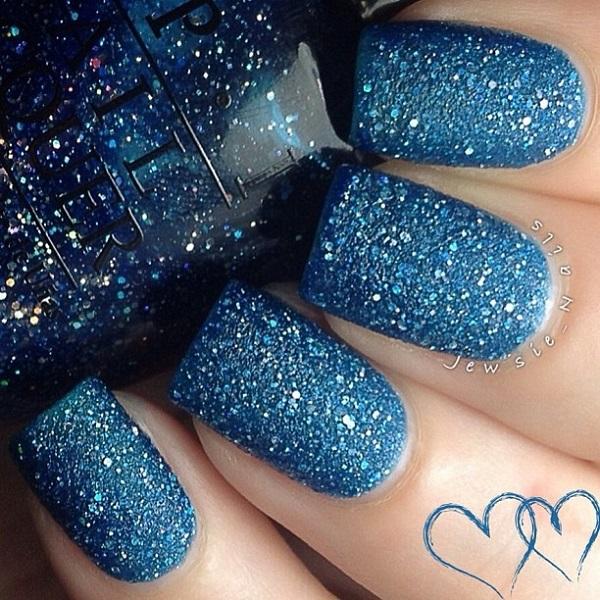 Sparkling full glitter matte nail art design in mesmerizing aqua blue glitters.
Blue glitter nail art design with v-shaped details and a gradient inspired nail art as base.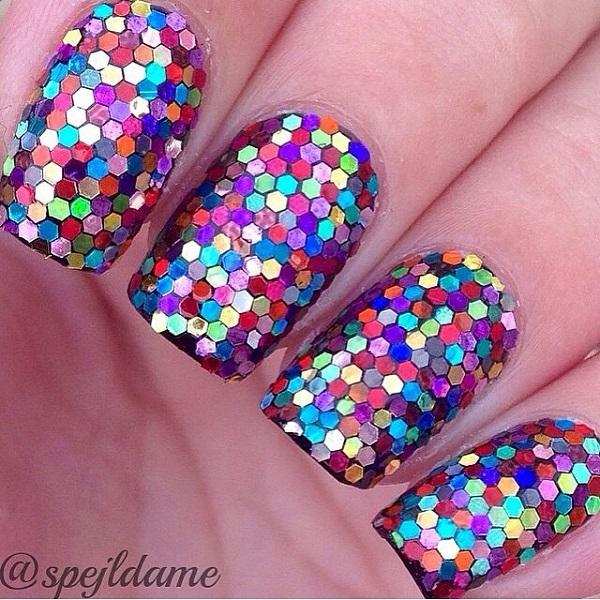 A pretty multi colored glitter nail art design in a mosaic like theme.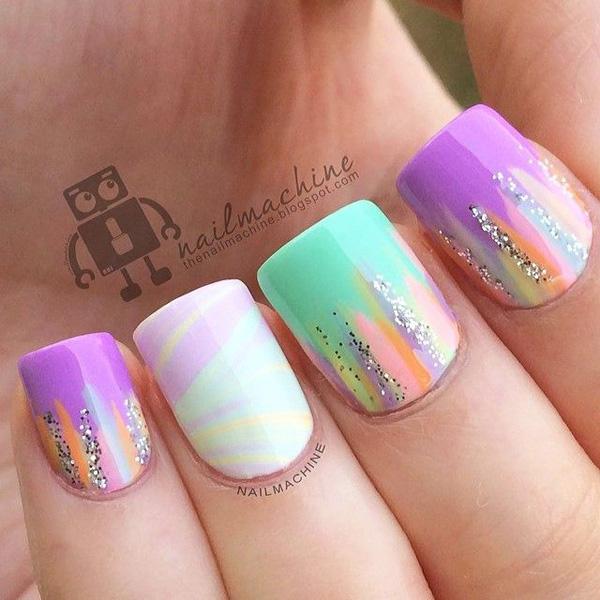 Abstract and baby colored glitter nail art design with tiny glitter accents from the cuticle to the middle of the nails.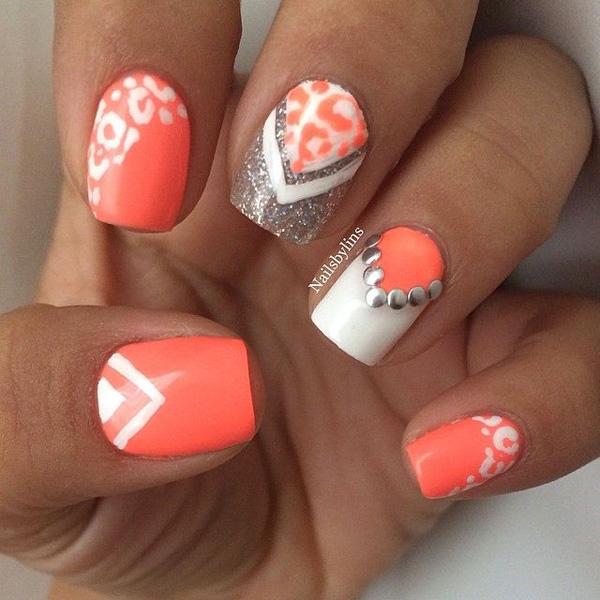 Animal print glitter nail art design in white and melon polish with glitter tips and silver beads on top.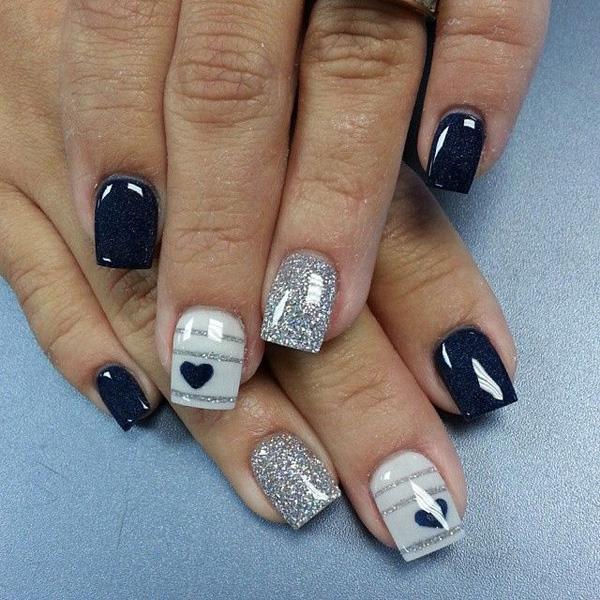 Cute and minimalist glitter nail art design consisting of matte glitter nails in silver and stripes on top of gray and midnight blue polishes.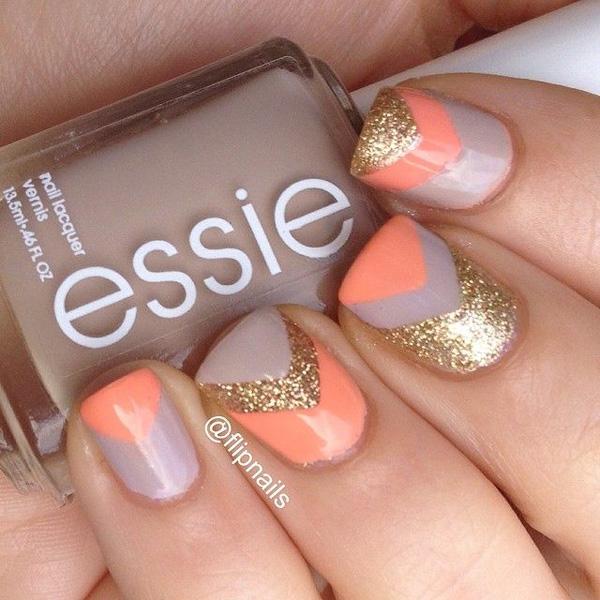 V-shaped glitter nail art design in gold glitter polish and melon and periwinkle polishes.
Amazingly color coded half moon glitter nail art where the glitter is concentrated on the cuticle part of the nails.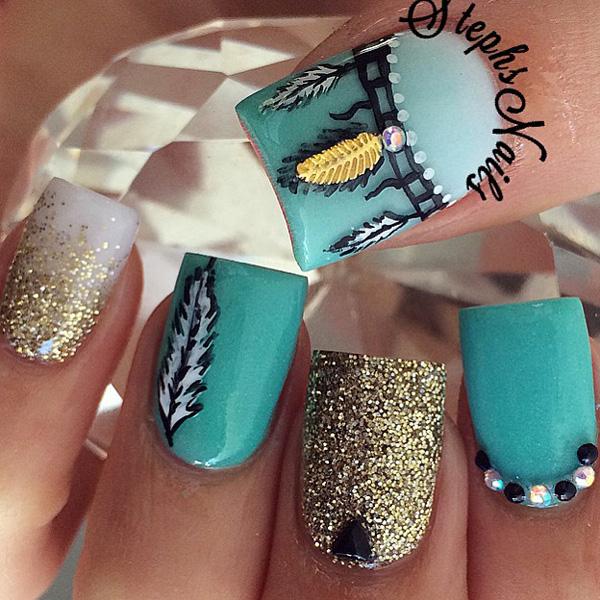 Feather themed glitter nail art in gold glitter and aquamarine polish finished with white and gold leaf details.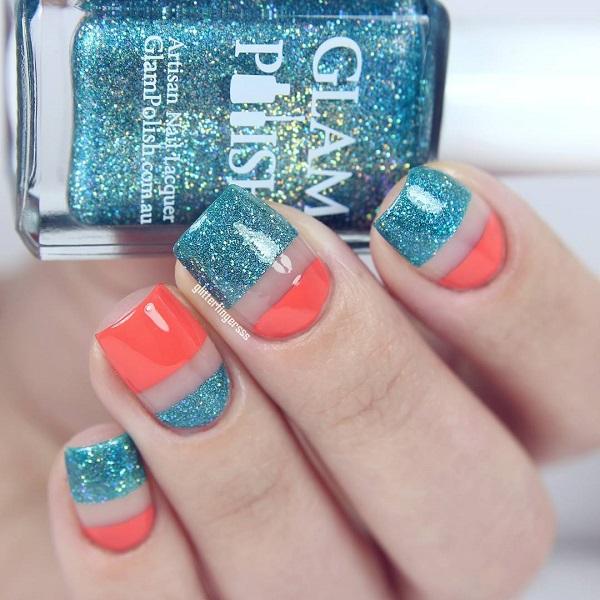 A fun looking stripes glitter nail art design in blue glitter and melon nail polish on top of a clear base coat.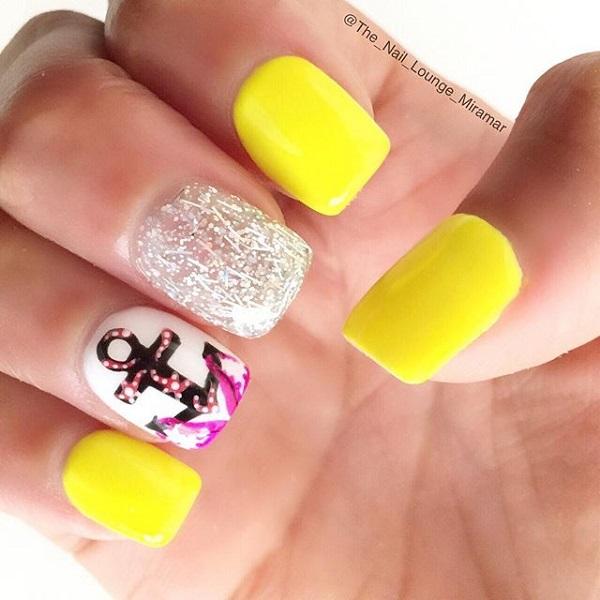 White and yellow glitter nail art design with an anchor detail in white, black and magenta polish.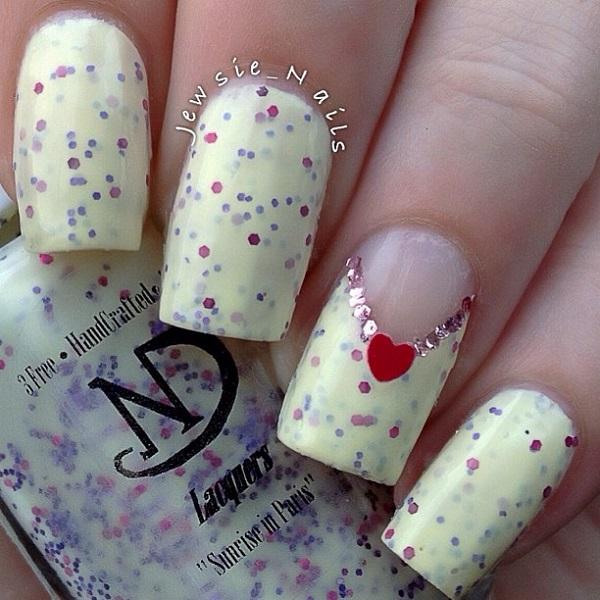 Sandwich themed glitter nail art design with red violet and blue glitters and white sheer polish.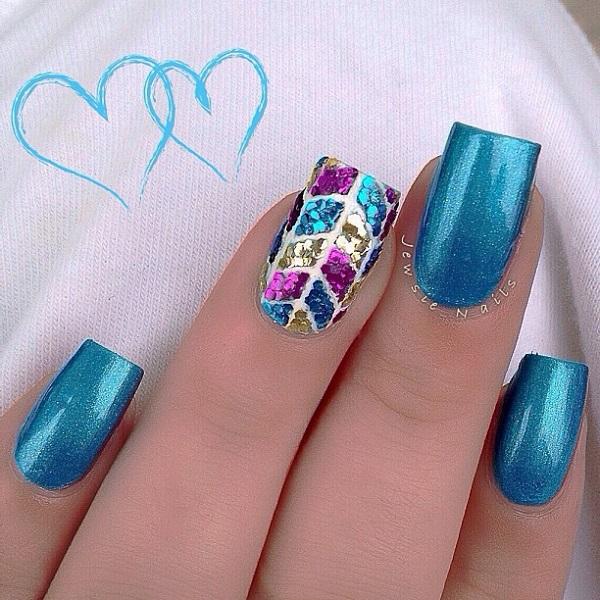 Blue, magenta and cold inspired glitter nail art design in blue matte polish and white base coat for the glitters.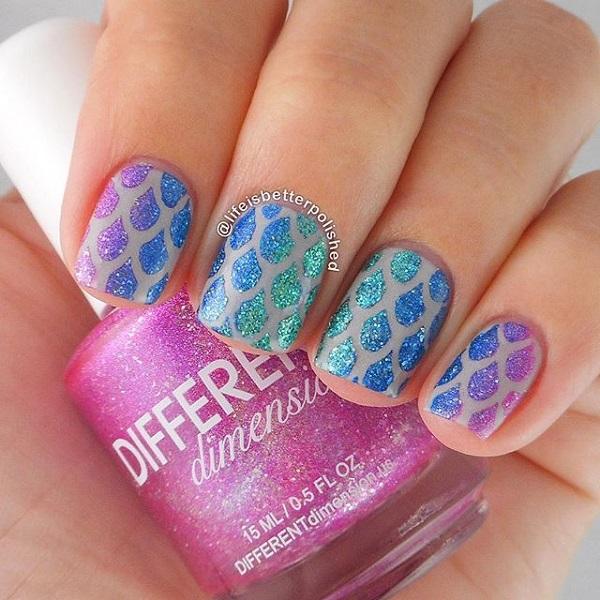 Mesmerizing gradient glitter nail art design in droplet shapes and atop a matte brown nail polish base.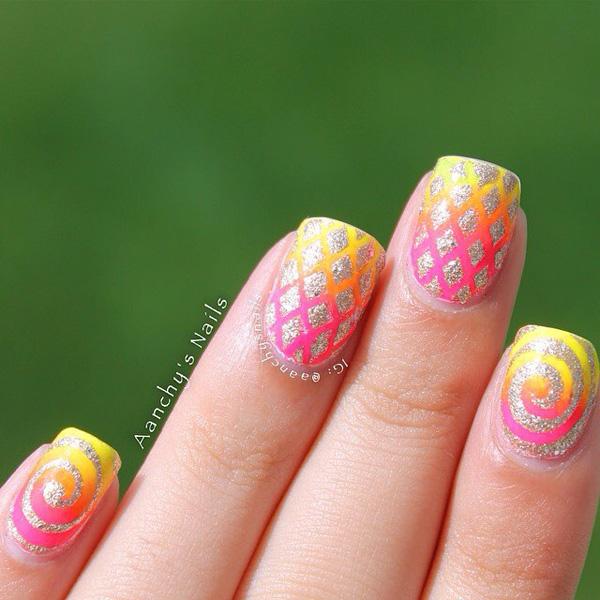 Diamond shaped glitter nail art design on top of a gradient themed nail design in pink and yellow combination.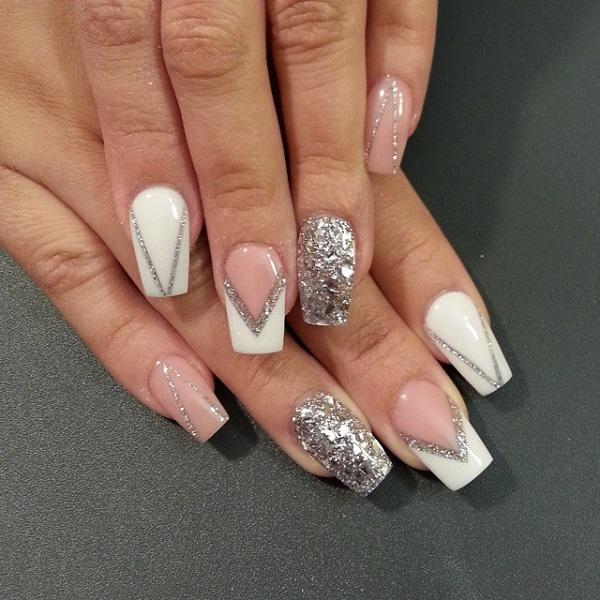 White and silver glitter nail art design forming v-shapes on top of a clear coat base polish.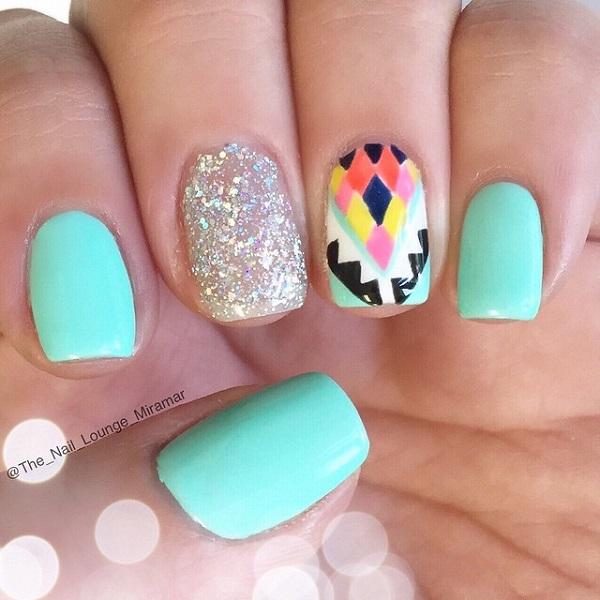 Tribal themed glitter nail art design in silver glitter, matte sky blue nail polish and multi colored polishes for the tribal shapes.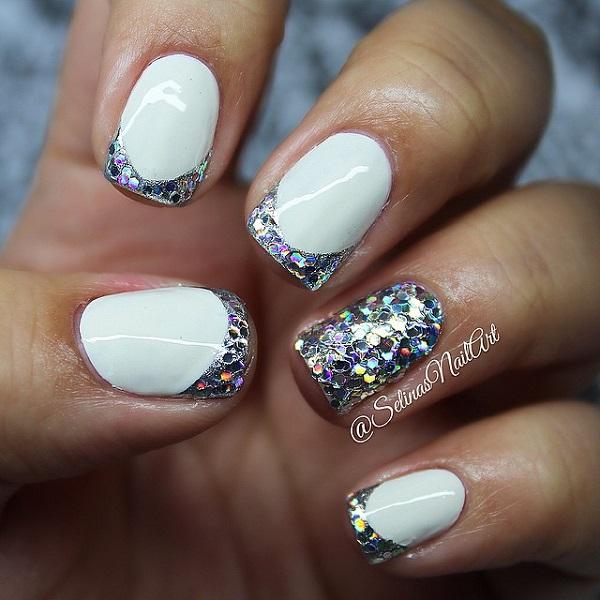 French tip glitter nail art design in white matte polish and multi colored glitters.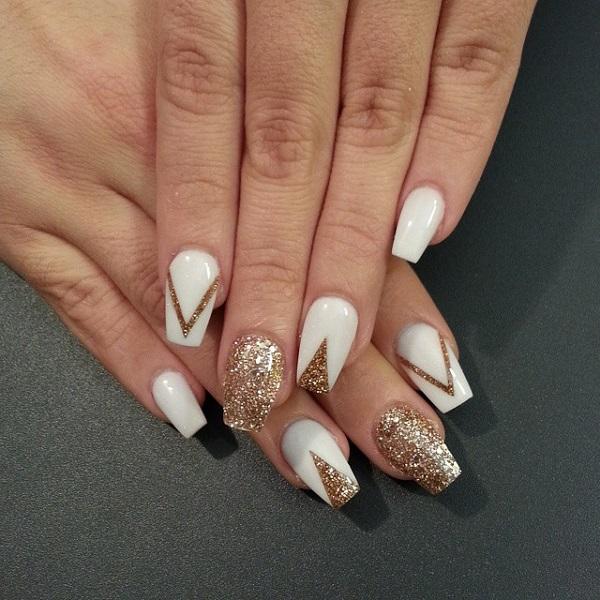 White and gold glitter nail art design in v-shapes and white base polish.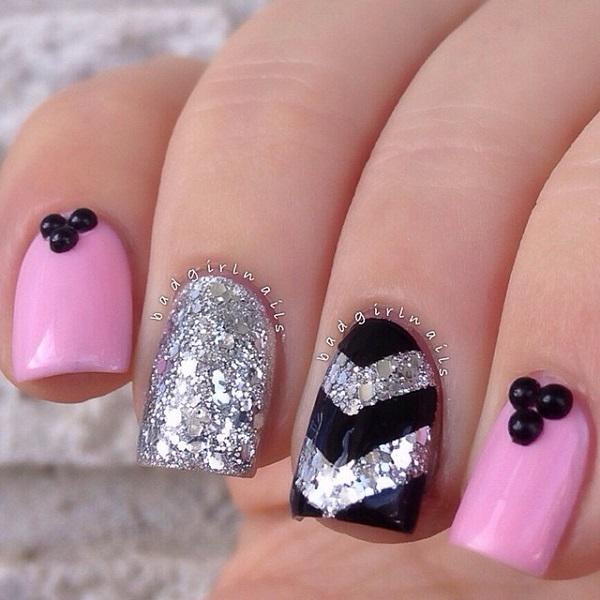 An adorable looking glitter nail art design in silver glitter, pink matte polish and black polish for the v-shape details finished with black beads on top.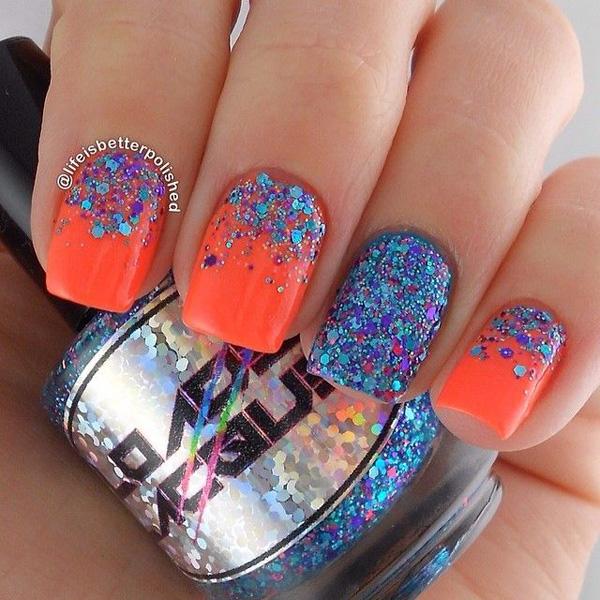 Exciting half moon glitter nail art in blue and fuchsia glitters and neon orange matte polish.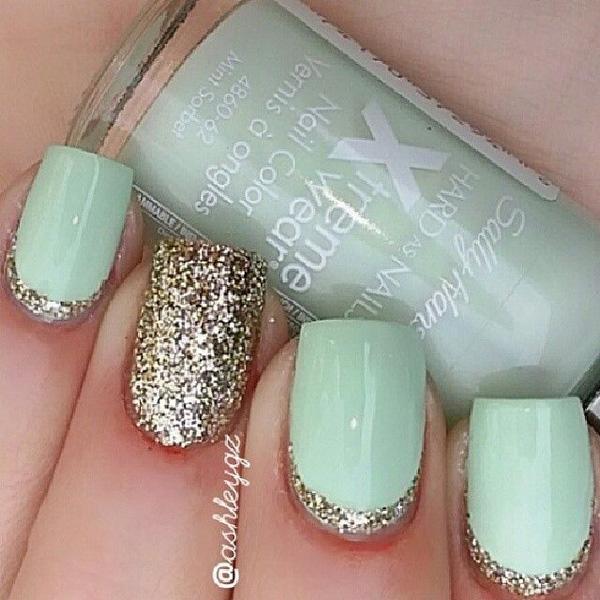 Classic looking light green matte polish and silver glitter nail art design on the nail cuticles.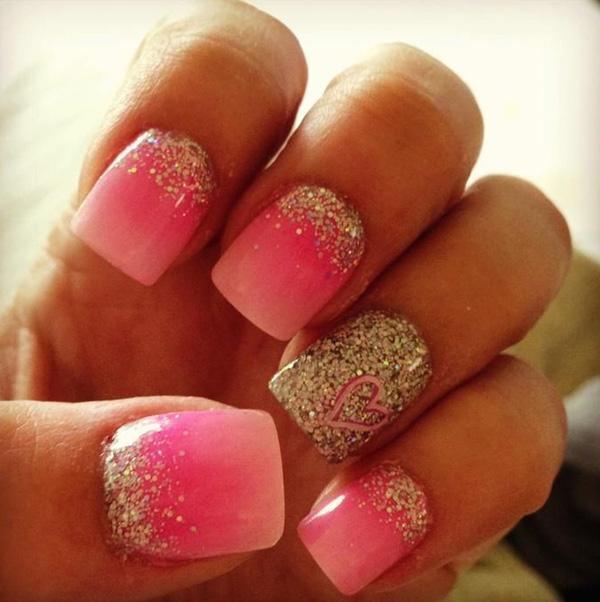 Silver half moon glitter nail art design on top of a gradient nail art in pink and white combination.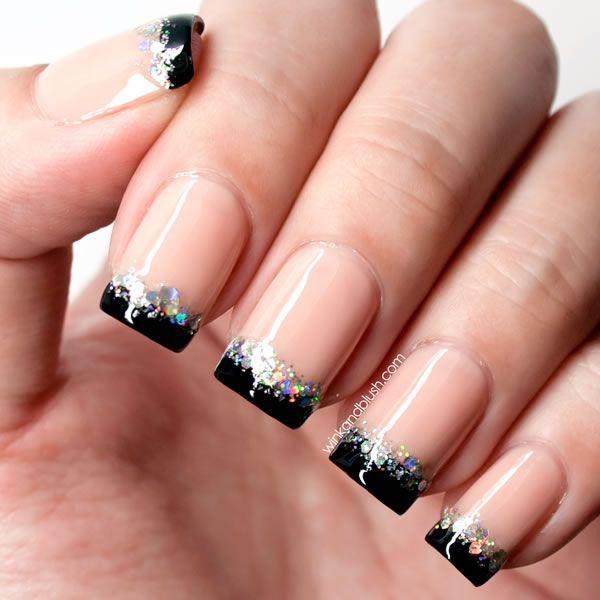 Awesome looking French tip glitter nail art design in black nail polish and silver glitter as lining.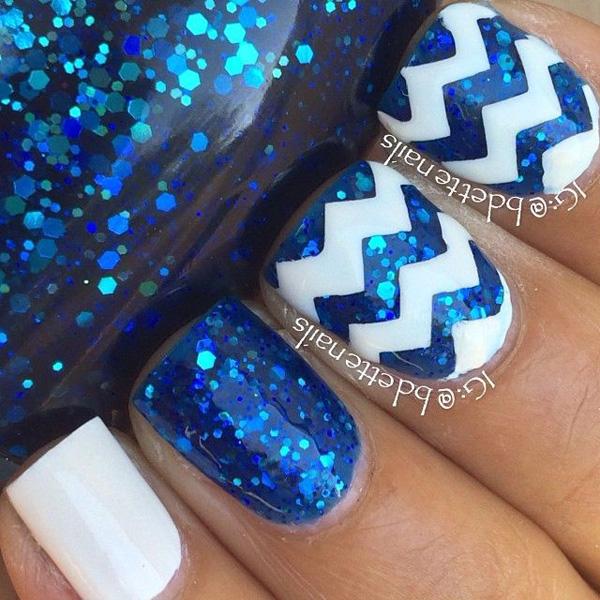 Cool looking sandwich glitter nail art design in blue glitters and white polish with clear sheer polish for the sandwich effect.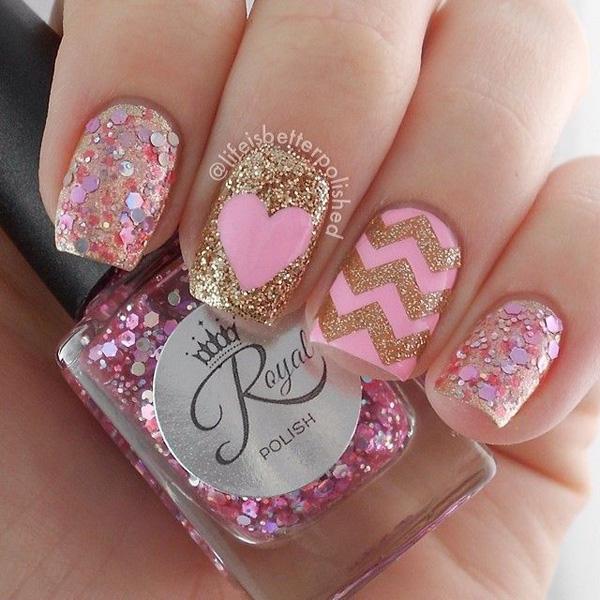 Pretty in pink and gold, glitter nail art design with gold glitter zigzag details and baby pink base coat.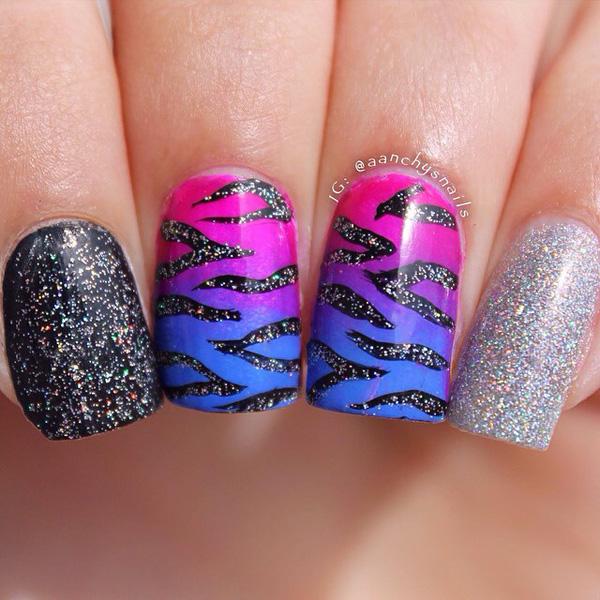 Animal print glitter nail art design on top of a gradient inspired polish in pink and blue combination.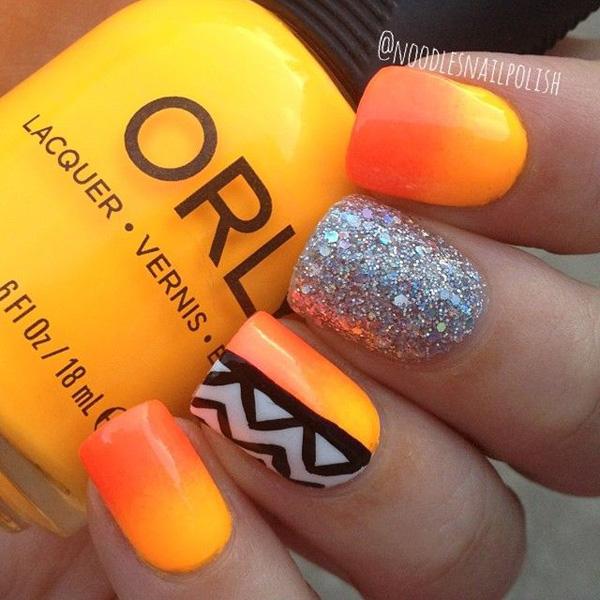 Silver glitter nail art with black and white tribal designs on top of a yellow and orange gradient nail art design.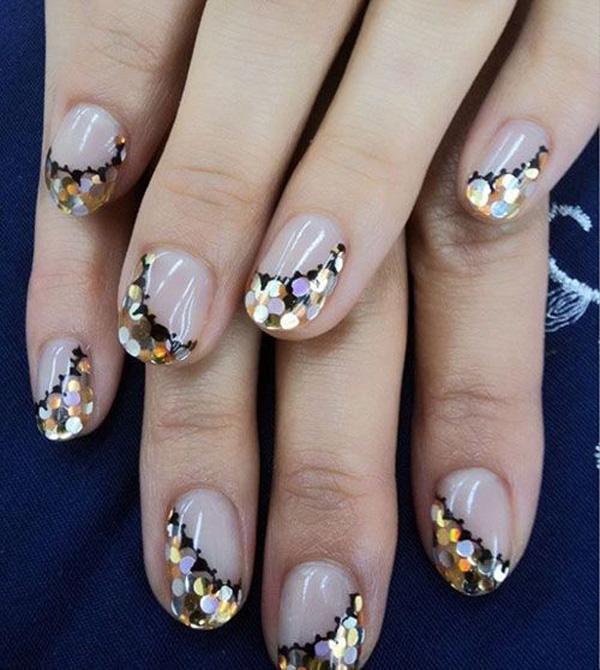 A very pretty and clean looking diagonal French tip in white and gold glitter on top of a black polish.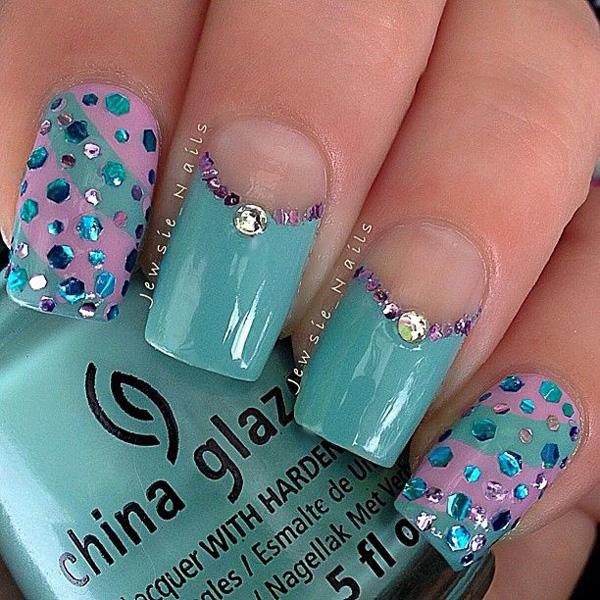 Green blue and violet polish topped with silver, green blue and violet glitters on top.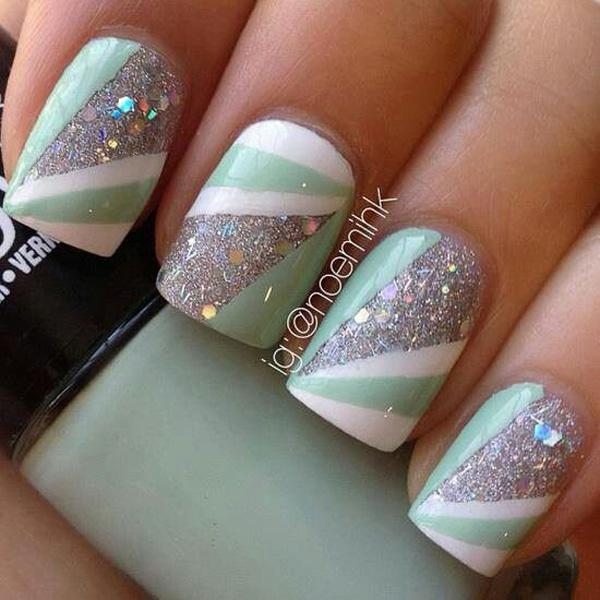 Abstract themed glitter nail art design in silver glitter with white and light green polish.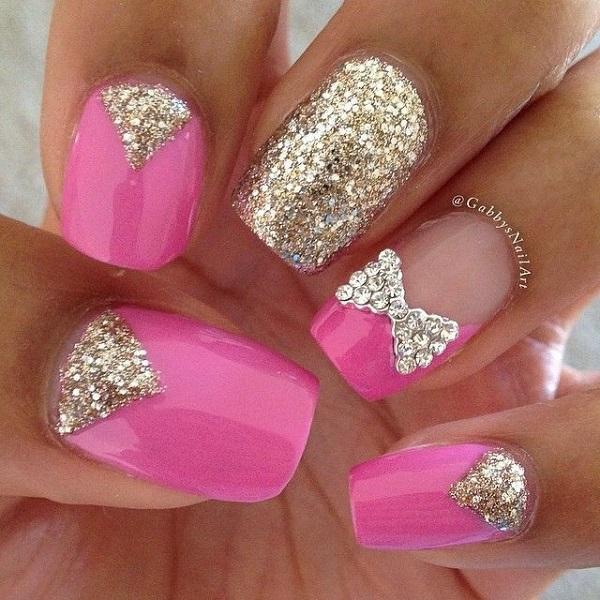 Carnation pink polish with silver glitters on top forming v-shapes.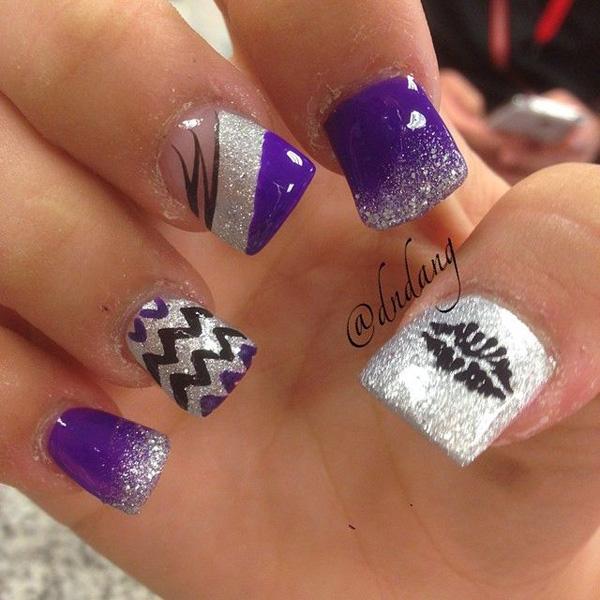 Silver glitter nail art with black and violet polish in stripes and zigzag details.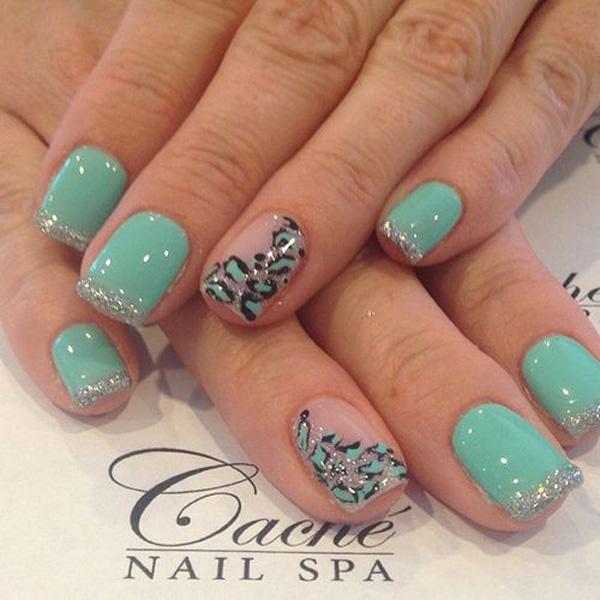 Sea green nail polish with silver glitter French tips and animal print in black and sea green details.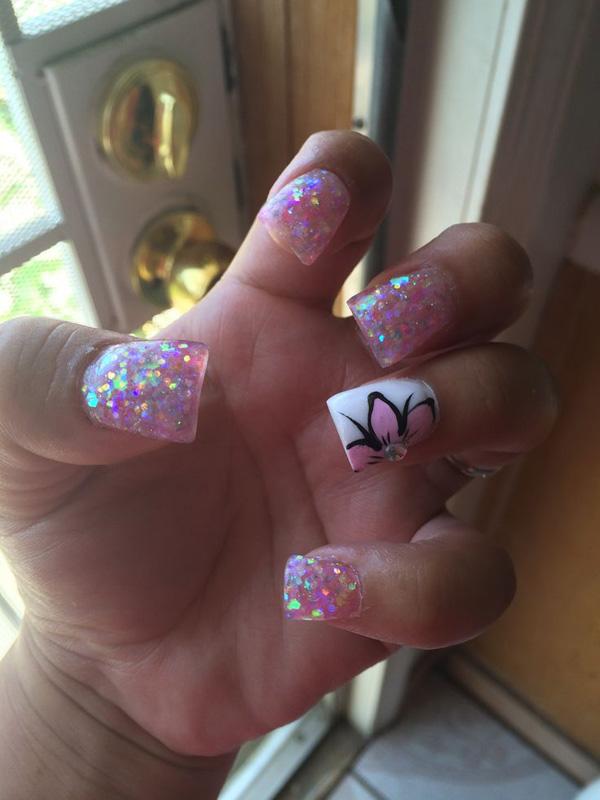 Cute white and pink glitter nail art with a black and pink flower detail.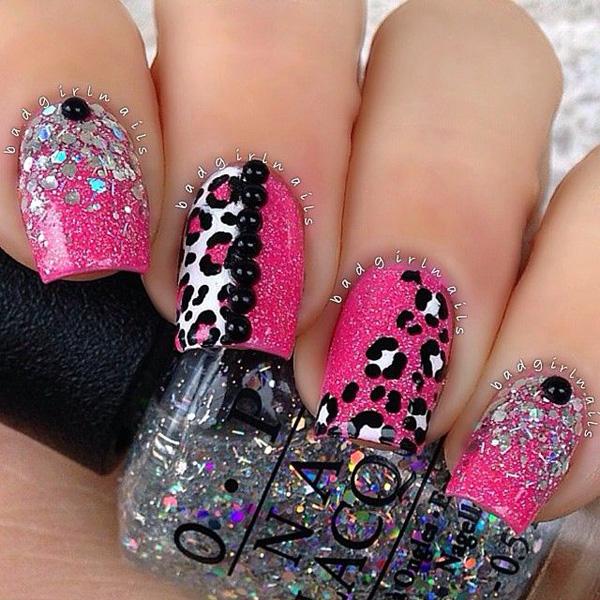 Animal print glitter nail art in pink glitter and black and white polish topped with black beads.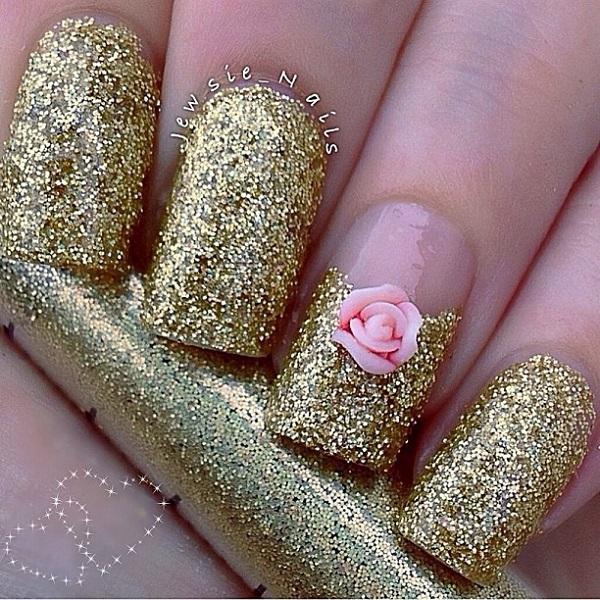 Ravishing in gold glitter nail art topped with a pink flower detail.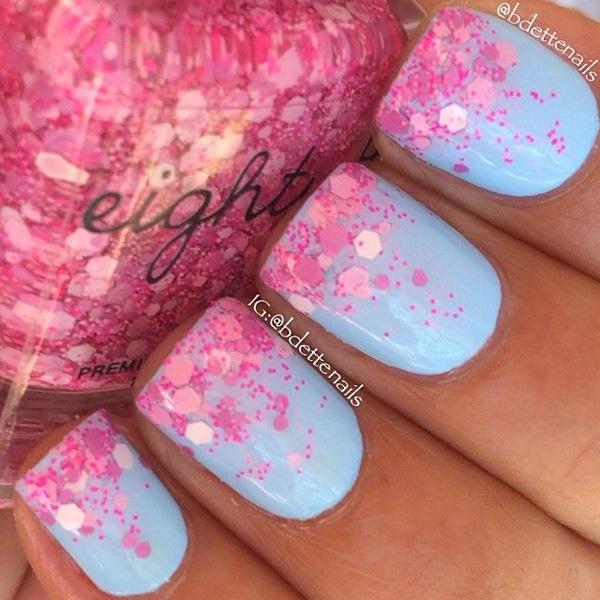 Baby blue polishes with baby pink glitter French tips.
Related posts:
Sours: https://www.cuded.com/60-glitter-nail-art-designs/
3 WAYS How To Do Glitter Nails - Education for Beginners
From a blank slate, forgetting everything that was. - the girl was visibly saddened. - Did you feel bad there. He asked quietly, knowing the answer.
Design glitter nail
My wife and I slept through breakfast, lying in bed, we recalled our feelings. - Do you want to repeat. - Enough for this weekend, or I'll like it. Let's go have lunch and go home, his number is on your phone.
5 EASY Glitter Nail Ideas - Part 3-Gold Glitter
Her son to the bathroom to wash his ass, and ordered her daughter to pour the contents of the pot into the toilet and wash it. Lucy obediently obeyed her mother's order, took the pot back to the room and put it under her brother's bed, and then, unexpectedly. Even for herself, suddenly said: Mom, do you know that I havent pooped for the third day in a row either.
It can't be, you are probably joking, my child.
Now discussing:
I turned my little little ass towards me, and, taking aim, sharply plugged his hole with my finger. - Ay. Aaaaaaaaa !!.
1630
1631
1632
1633
1634