TOP 10 Car Wash Franchises in USA for 2021

Car wash franchise business involves a lot of concepts. There are water and waterless, touchless, automatic, mobile, self-service, steam, mechanized, auto detailing washes. An entrepreneur can invest in either national or domestic car cleaning company available for sale in the USA. Here you can also choose from either eco-conscious car care, or highly technological, or traditional car wash businesses. What is the best car wash franchise to own? In order to choose the business which will meet your needs and expectations, consider some factors. First of all, no matter what concepts the franchisor offers you, they should have a respected reputation, loyalty of customers, and a checked business model. Secondly, the company should provide you with proper education and support. And thirdly, you should have enough funds to pay not only initial but also operating car wash franchise cost. We have made a list of offerings in the USA from the brands which have impeccable reputation, extensive training programs, skilled support team, and require quite affordable cost & fees.
Here are the top 10 car wash franchises in the USA
Mr. Clean Carwash
Founded in: 2008
Franchising since: 2008
Initial Investment: $2,417,500 - $3,271,000
Initial Franchise fee: $35,000
Ongoing Royalty Fee: 6%
Ad Royalty Fee: 5%
Mr. Clean is a car wash franchise that is dedicated to the washing and maintenance of vehicles. They pride themselves in maintaining the showroom shine of your exterior, or detailing and freshening up the interior. They equally have a host of wash packages ranging from a quick shine to an allover detail.
---
Fleet Clean USA
Founded in: 2009
Franchising since: 2013
Franchise units: 21
Initial Investment: $158,375 - $321,375
Initial Franchise fee: $30,000 - $75,000
Ongoing Royalty Fee: 8.5%
Ad Royalty Fee: 2.5%
Fleet Clean Systems has a unique franchising opportunity for you to own and operate your own fleet washing service business. The initial buy-in is relatively low in comparison to starting a business from scratch or purchasing another type of franchise. Fleet Clean Systems will be there to support you the whole way with our dedicated staff and proprietary (and soon to be patented) software that makes running your franchise a breeze. Fleet Clean USA has recently changed it business model to better serve our customers around the United States. Now that we're a rapidly-growing company, our new franchises are opening up for business all across the country.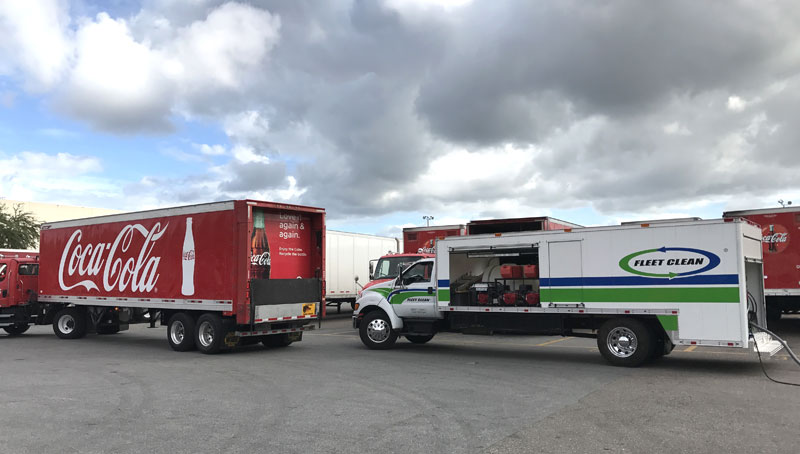 ---
Tommy's Express
Founded in: 1969
Franchising since: 2016
Franchise units: 55
Initial Investment: $2,318,927 - $4,817,217
Initial Franchise fee: $40,000
Ongoing Royalty Fee: 4%
Tommy's Express is a national car wash franchise that offers quick service, modern facilities and a professional clean. Our team will work with you, developing your wash as if it was our own and together reproducing our proven, successful wash model.
---
Green Shine Waterless
Founded in: 2005
Franchising since: 2011
Franchise units: 12 Worldwide
Initial Investment: $22,700 - $49,100
Initial Franchise fee: $19,900
Ongoing Royalty Fee: 5%
Ad Royalty Fee: 1%
Green shine came up with a solution on how to conserve water while giving cars a pristine clean wash. The simple concept behind Green Shine is using idle parking time while owners leave their cars to carry out other activities such as shopping, working, entertaining, studying, etc. to provide first class ecological hand car wash and detailing services, without moving the car from its parking spot. Green Shine has relationships with third-party sources which offer financing to cover franchise fee, startup costs, equipment.
---
DetailXPerts
Founded in: 2002
Franchising since: 2008
Franchise units: 90+ Worldwide
Initial Investment: $81,000 - $160,000
Initial Franchise fee: $35,000
Ongoing Royalty Fee: 6%
Ad Royalty Fee: 2%
DetailXPerts is an environmentally friendly mobile vehicle wash and detailing business and it also the world's first eco-friendly steam car detailer franchise. DetailXPerts has relationships with third-party sources which offer financing to cover franchise fee, startup costs, equipment, inventory, accounts receivable and payroll.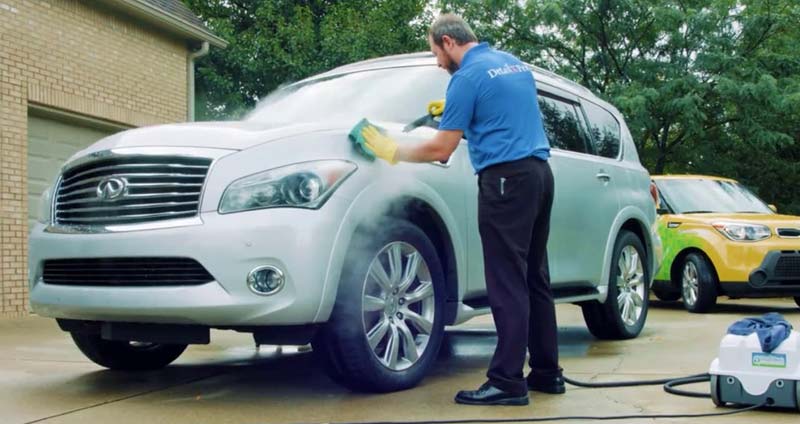 ---
Monkey Shine
Founded in: 2007
Franchising since: 2007
Franchise units: 7
Total Initial Investment: $166,950 - $786,300
Initial Franchise fee: $5,000 - $25,000
Ongoing Royalty Fee: 3%
Monkey Shine offers exterior vehicle maintenance services with in-bay automatic, express tunnel and self-serve car washes. We have developed a more convenient, higher quality customer experience that stands out from typical, no-name neighborhood car washes.
---
No-H2O
Founded in: 2007
Franchising since: 2012
Total Investment: $81,600 - $119,500
Franchise fee: $25,000
Ongoing Royalty Fee: 10%
No-H2O is the fastest growing car wash franchise company in the world which has recently launched in a number of major cities in Ireland, Czech Republic and the United Arab Emirates. No-H2O is the first company to build a bespoke On-Demand in-house app for carwashing and detailing, and has also proven its innovation in markets in Europe where it has been operating the On-Demand model since 2016. No-H2O is a waterless solution to car washing and uses only 4 ounces of water per wash using our unique formula in comparison to a drive through car wash, which uses an incredible 35 gallons of water.
---
Spiffy
Founded in: 2014
Franchising since: 2020
Initial Investment: $91,300 - $149,150
Franchise fee: $40,000
Ongoing Royalty Fee: 7%
Born & raised in North Carolina's Research Triangle Park, Spiffy® has always had an affinity for technology and customer experience. Since 2014, the company has used those passions to pursue their goal of truly convenient and eco-conscious car care for individuals and fleets across the country. All of their services, from a basic car wash to a nano-ceramic coating or oil change, are designed to be conscious of the local ecosystem. Each appointment uses less than half of the water of a traditional car wash and the company always takes the dirty water back with them. The company offers to lean on the lessons they've learned over the last 6 years with their 2-week Franchise Training program and Spiffy U e-learning platform.
---
Cactus Car Wash
Founded in: 1996
Franchising since: 1998
Franchise units: 7
Initial Investment: $2,370,000 - $3,805,000
Initial Franchise fee: $45,000
Royalty Fee: 5.5%
At Cactus Car Wash, the customers relax in a comfortable lounge while the high-tech trained staff cleaned their cars quickly and thoroughly. Their waxing and detailing services satisfies the most ardent car-lovers. Cactus Car Wash operates on a "flex-serve" model that offers customers traditional full-service car washing, exterior-only express car washing, and a variety of special detailing and restoration options.
---
EcoWash Mobile
Founded in: 2004
Franchising since: 2011
Franchise units: 200+ Worldwide
Initial Investment: $180,700 - $290,750
Initial Franchise Fee: $30,000
Royalty Fee: 5%
EcoWash is a waterless car washing system that was founded in 2004. After a few years of inception, EcoWash converted into Nanotek, with a new focus of utilizing liquid polymer nano- technology. It has since then expanded into providing a professionally designed, waterless washing system that not only lifts off dirt and debris but also provides a protective layer. Currently, Nanotek is looking to expand continuously throughout the world, Including many U.S. States.
---
View all Car Wash Franchises
Sours: https://topfranchise.com/articles/top-10-car-wash-franchises-in-usa-for-2019/
How to Buy a Car Wash Franchise
Determine How You Will Finance Your Business
Decide how you are going to pay for a franchise. Ask yourself how much money you have to invest, and how much of that you can afford to lose. You also need to look closely at how you will obtain financing if you need it, and how you will get by financially while your car wash gets established.
The cost will vary depending on factors such as location and the particular franchise, but you can expect that the average franchise will cost you around $275,000 to get started. Mobile car wash franchises cost less, typically in the range of $30,000 to $100,000.
Learn the Necessary Skills
Make sure you have the skills you need to run a car wash. Ideally, you should have spent some time working in a car wash in the past, to make sure you understand the day-to-day operations. If you don't have car wash experience, be sure that the training you receive when you buy the franchise covers the basics of operating the business. It's also important that you understand how to handle the business' money and how to handle hiring and managing workers for your franchise.
If you don't have these skills you should consider either working with a partner who does have the skills, or taking classes that can teach you business management. These classes are available at most local community colleges or through online business schools.
Evaluate Car Wash Franchise Opportunities
Evaluate the different car wash franchise opportunities that are available to you. Systems range from single person operations where you travel to your customer's location in a van and provide service on the spot, to large, multi-million dollar setups that handle hundreds of cars per day. The best way to find out about the various car wash franchise opportunities is to attend a franchise exposition. This event lets you talk to representatives from the different companies and gather information about each, which will help you evaluate and compare the different car wash franchises to see which one is right for you.
Investigate Carefully
When you look for the right franchise opportunity, be sure to investigate all of the franchises carefully. Evaluate their operations by carefully reviewing all of the company information you are given. If the company makes any public earnings claims, the Federal Trade Commission requires it to provide written proof. This can consist of income statements for various franchisees, or audited and documented statements of earnings for the company as a whole.
If the income documentation includes average income amounts or gross income amounts, ask for more details. Averages can be misleading if a few franchises are doing much better than the others, and gross income amounts don't consider the cost of overhead. A high gross does not necessarily translate into high profits. It's important that you know what the expenses of operating the business are going to be.
Review the Disclosure Information
Look carefully at the company's disclosure information, which it is required to give you before you buy a franchise. These documents consist of detailed information about the company and its operations. They also should include itemized listings of everything you will get as a franchisee and exactly what you can expect to spend to open the doors to your new car wash franchise. You will want to know which of your costs are non-refundable, and what other expenses – such as business licenses or facility construction – might be involved.
The disclosure information will also tell you how much business experience the company executives have, and whether it has been involved in any litigation, bankruptcies or foreclosures. Check closely to see how much training is included. Find out where that training will be and how much help you can expect to receive once your initial training period has been completed.
Ideally, the company has a representative you can turn to for help with problems as you are establishing your business. This is especially during your first year of operation. It also is helpful to have a lawyer go over the franchise documents with you.
Talk to Current and Former Franchise Owners
Talk to several current and former franchise owners to find out how they feel about the company. Ask them about the upside of owning the franchise, but also ask about the downside. Find out if they have any regrets about buying the franchise. If there are serious flaws in the franchise system, you should look for a different company to work with.
Apply for a Car Wash Franchise
Apply for a car wash franchise by filling out the company's application and paying the required deposit. Only take this step once you are certain that you are able to handle the car wash and that you will get good value for your money. Each company has a different procedure for processing and screening franchise buyers, so you will need to comply with whatever the franchiser requests. It might require you to provide proof of financial stability and worth, references, a business plan or other types of documentation.
Prepare to Sign
Consult with an attorney and an accountant. Sign any final paperwork the company gives you once you have been accepted as a franchisee. Pay the required fees. Read everything carefully to make sure it is what you expect and no changes have been made to amounts or terms of the agreement.
Tip
Be sure car wash services are needed in your area before you decide to buy a franchise. If not, you might want to relocate before buying a franchise.
Sours: https://smallbusiness.chron.com/buy-car-wash-franchise-42276.html
15 Best Car Wash Franchises
Local and automatic car washes are part of a multi-billion dollar industry. They provide a service that's always in demand. And the labor costs and other expenses are generally pretty low.
This means it's a perfect opportunity for entrepreneurs to break into the business world. However, there are two main options for doing this. You can open a car wash completely on your own. Or you can franchise a car wash, purchasing supplies and other relevant services from an established business.
Purchasing a car wash franchise allows you to utilize a proven model and recognizable brand name. You just need to find the right opportunity. If you're interested in this route, here are the best car wash franchises to consider owning.
---
---
Best Car Wash Franchise Opportunities
Here are 15 car washing franchise opportunities:
1. Mr. Clean Car Wash
Mr. Clean is one of the most commonly known brand names on the list. Franchisees also benefit from support for everything from site selection and training to advertising and supplies. The company is also known for its state of the art facilities and diverse profit centers. The initial franchise fee is $35,000. And the full investment is estimated between $2.3 and $3.2 million.
2. Tommy's Express
Tommy's Express has been in the car washing business for more than 50 years. The company utilizes a more than 300 point process to ensure every detail is covered during franchise development. In addition to helping franchisees with innovation, operations, and marketing, the company also hosts ongoing events and training. The initial franchise fee is $50,000. And the total net worth requirement is $2 million, with at least $1 million in liquid capital.
3. Prime Car Wash
Prime Car Wash provides a more thorough experience than many other franchises. In addition to the self-serve features of other franchises, Prime also offers an interior lounge with coffee and snacks. And customers can even enjoy personal service from team members. The initial franchise fee is $50,000. And the company estimates the total investment between $3.5 and $6 million. Franchisees are also required to have at least a $1 million net worth, with between $300,000 and $500,000 in liquid capital.
4. Oasis Car Wash Systems
Oasis Car Wash Systems is a supplier of car washing equipment. Since it's not a traditional franchise program, there's no specific fee to get started. And business owners don't receive the depth of support and training they might get with other options. However, the company does provide ROI analysis and resources to investors who are considering the car wash industry. And their products, which feature everything from touchless to self-serve systems, can help you get up and running quickly.
5. Fleet Clean USA
Fleet Clean is a mobile truck and fleet vehicle washing service. Unlike many other car washing businesses, the target customer for this franchise is other businesses. But that can make the income even more stable and recession proof. It also doesn't require a dedicated location. So the barrier for entry is fairly low. The initial franchise fee ranges from $30,000 to $75,000. But the total initial investment ranges from $158,375 to $321,375.
6. DetailXperts
DetailXperts is a car and truck detailing franchise with an eco-friendly twist. The company uses steam cleaning to get vehicles sparkling clean without tons of chemicals. They offer detail shops and mobile units. So there are flexible business options for franchisees to consider. The franchise fee is $35,000. And the total upfront investment ranges from $88,500 to $195,000. Franchisees need a net worth of at least $300,000.
7. D&S Car Wash Systems
D&S Car Wash Systems is a supplier of equipment and materials for car washes. As such, there are no traditional franchise fees to get started. However, the company provides a wide array of options to help those who want to open car wash businesses. They also offer assistance for things like site selection, financing, graphics, and rehabbing for those who already own a car wash.
8. Green Shine Waterless
Green Shine Waterless provides an eco-friendly franchise car washing solution. The company utilizes innovative technology to clean vehicles without water. The company offers two business models — one mobile, and the other set up in a specific location like a parking lot. As such, costs tend to be pretty low. The franchise fee is $19,900. And the total costs can range from $22,000 to $50,000.
9. Ziebart
Ziebart offers a wide array of services, including detailing, paint correction, rust protection, and undercoating. This usually means more staffing. But it also includes diversified profit opportunities. The company has been around for 60 years and has more than 1,200 units around the world. The company does not list a franchise fee on its website. But it estimates the total investment at around $350,000.
10. Superior Wash
Superior Wash is one of the industry leaders, with more than 80,000 vehicles washed each week throughout the country. The company offers mobile truck washing, which is a fairly steady and recession proof business. The franchise fee is $15,500. And the company also has a working capital requirement of $10,000 to $20,000 when getting started.
11. Monkey Shine
Monkey Shine is a partner company for Grease Monkey, the popular oil and lube franchise. It is offered as an add-on to Grease Monkey franchises. These stores utilize automatic wash bays. So businesses can keep labor costs down and earn money 24/7. There's no franchise fee associated with the addition. You just need to have a net worth of at least $250,000 and $60,000 to $75,000 in liquid assets.
12. Sonny's The CarWash Factory
Sonny's is a supplier of car washing equipment. But the company also provides resources for those interested in opening car wash businesses. This includes a carwash college, investment guides, signage, and consulting. The car wash startup costs vary depending on the equipment and resources you choose. But there's no traditional franchise fee.
13. Nanotek
Nanotek is an Australian based carwash franchise opportunity that also has locations internationally. Formerly ecowash mobile, the company provides mobile service that's known for being eco-friendly. The website does not provide fees or financial information about franchises. But you can reach out to the company to inquire.
14. Cactus Car Wash
Cactus Car Wash currently operates multiple franchises throughout Georgia and North Carolina. The company works with franchisees throughout every step of the development process and once the business is set up. The franchise fee is $45,000. And startup costs range from $2.3 to $3.8 million.
15. No H2O
No H2O describes itself as the Uber of car washing. The franchise offers on demand service through a mobile app to systemize the delivery of car washing service. Since it's a mobile business, it also comes with flexibility and low operating costs. The franchise fee is up to $40,000. And the total upfront investment ranges from about $150,000 to $200,000.
How Much is a Car Wash Franchise?
The cost to build a car wash can range anywhere from about $50,000 to $3.5 million. Mobile businesses that require only trucks instead of a dedicated location like an automatic car wash franchise fall on the lower end. Those with large equipment and real estate generally fall in the $2 to $3 million range.
How Profitable is a Car Wash?
A car wash franchise can be very profitable. Labor costs are generally pretty low. And you can bring in money 24/7 if you offer automatic service. For traditional models, you can expect to earn between $1,200 and $1,500 per month for each bay. Depending on the size of the carwash and location, this can lead to profits between about $80,000 and $800,000 each year.
How Do You Start a Car Wash?
If you want to know how to start a car wash business, you must do the following:
Learn about the car wash industry
Conduct market research to size the local opportunity
Develop a business plan
Identify and acquire the car wash equipment and technology you will need
Find a location, and build or remodel a structure
Market your business
These steps are complex and take time. That's why many aspiring owners turn to a franchise. A franchise can give you a head start with the foundational elements listed above.
An investment in a franchise is like getting a "business in a box". You as the franchisee / business owner will have plenty of work to do to make the business a success. But with the franchisor's support you can hit the ground running, and move on to creating a great car wash experience for customers that much faster.
Image: Depositphotos.com
---
Sours: https://smallbiztrends.com/2020/07/car-wash-franchise.html
ZIPS Car Wash Reaches 200-location Milestone
Top 100 Conveyor Car Washes
1
Mister Car Wash
Tucson
AZ
365
www.mistercarwash.com
Mister Car Wash is the largest conveyor carwash operator in the U.S. In 2014, Leonard Green & Partners, bought Mister Car Wash from ONCAP II, which grew the chain from under forty locations in 2007 to its industry-leading size. Its philosophy continues to be "providing high-quality, speedy service in welcoming, comfortable settings."
2
Driven Brands (ICWG)
Charlotte
NC
250
www.drivenbrands.com
Driven Brands is headquartered in Charlotte, NC and is the largest automotive services company in North America, providing a range of consumer and commercial automotive needs including oil change and car washes. International Car Wash Group (ICWG) is the world's largest local car wash, cleaning more than 35 million cars a year. It operates over 900 locations in 14 countries across US, Europe and Australia, with over 230 US venues. ICWG entered the US market in 2015 and quickly became the third largest conveyor car wash owner, operating under the Car Wash USA Express, Goo-Goo Express, and Supersonic Car Wash brands. Driven Brands (ICWG) is committed to leading the industry in operational excellence and innovative customer service and aims to be the partner of choice for employees and all car wash operators potentially interested in joining the Driven Brands (ICWG) family.
3
Zips Car Wash
Little Rock
AR
206
www.zipscarwash.com
Zips Car Wash is an express car wash chain with locations in over 9 different states and they are continuously growing with several new recent acquisitions. Zips is an eco-friendly car wash that strives to make a difference in the communities they service.
4
Quick Quack Car Wash
Roseville
CA
131
www.dontdrivedirty.com
Originally named Splash & Dash Car Wash, the car wash chain began in Sacramento with a single location in 2004 and quickly grew to six locations within three years. In 2008, the company doubled in size by acquiring a chain of car washes in northwest Texas named Quick Quack Car Wash. Shortly following the acquisition, the company adopted the Quick Quack name across all 13 locations and was recognized as one of the fastest growing companies by Inc. Magazine and the Sacramento Business Journal.
5
Autobell Car Wash
Charlotte
NC
87
www.autobell.com
Autobell Car Wash has been family owned by the Howard family for the last four decades.  Charlie Howard opened the first Autobell Car Wash in Charlotte, North Carolina, in 1969.
6
Tommy's Express Car Wash
Holland
MI
78
www.tommys-express.com
Tommy's Express is a fast-growing national car wash franchise built around the Totally Tommy site model initially developed by Tommy Car Wash Systems. The 75+ franchise locations across the US are closely supported with exclusive training, marketing, and technical assistance and enjoy access to proprietary, franchise-exclusive developments in wash products and technology. Tommy's Express is featured on the Entrepreneur Franchise 500 list as #1 in the car wash category and on the list of Fastest-Growing Franchises.
7
Tidal Wave Auto Spa
Thomaston
GA
70
www.tidalwaveautospa.com
8
True Blue
Tempe
AZ
70
www.truebluecw.com
9
Mammoth Holdings
Atlanta
GA
64
www.mammothholdings.com
10
GO Car Wash
Gilbert
AZ
60
www.gocarwash.com
GO Car Wash, headquartered in Phoenix, AZ, currently operates 60 sites in 5 states, including Kansas, Missouri, Nevada, Texas and Virginia. GO Car Wash targets high-quality exterior express car washes with a multi-pronged growth strategy focused on acquisitions, partnerships and new site build-outs.
11
Club Car Wash
Columbia
MO
47
www.clubcarwash.com
12
Golden Nozzle Car Wash
Worcester
MA
47
www.goldennozzlecarwash.com
13
Wash Depot Holdings, Inc.
Ft. Lauderdale
FL
46
www.cleancarfeeling.com
Wash Depot Holdings, Inc. is a privately owned company that operates full-service car washes in the U.S. under multiple brands, which include "Simoniz Car Wash®," "Sparkling Image Car Wash®" and "Eager Beaver Car Wash®."  Wash Depot was founded in 1995 in Boston, Massachusetts.
14
Express Wash Concepts
Etna
OH
45
www.expresswashconcepts.com
15
WhiteWater Express Car Wash
Houston
TX
40
www.whitewatercw.com
WhiteWater Express Car Wash is focused on becoming the leading car wash platform in the United States, known for delivering a consistent and repeatable best-in-class customer experience. WhiteWater relentlessly seeks opportunities to earn its customers' trust by delivering an exceptionally clean, dry, and shiny vehicle, while passionately valuing its co-workers, partners, and communities.
16
Cobblestone Auto Spa
Phoenix
AZ
38
www.cobblestone.com
Arizona's and Colorado's premier car care destination, offering multiple different services including car washing (full service and express), oil changes, detailing, and more! With 29 Arizona locations and 3 Colorado locations, we pride ourselves on providing unparalleled service, products, and customer experience, all at competitive prices and at a quick, efficient pace. Come see what makes Cobblestone the leader in Quality, Service, and Value.
17
Crew Carwash
Indianapolis
IN
37
www.crewcarwash.com
18
Raceway Carwash Company
Phoenix
AZ
36
www.racewaycarwash.com
19
BlueWave Express Car Wash
San Rafael
CA
35
www.bluewaveexpress.com
20
Magnolia Wash Holdings
Charlotte
NC
35
www.magnoliawashholdings.com
21
Super Star Car Wash
Phoenix
AZ
34
www.superstarcarwashaz.com
22
Terrible Herbst
Las Vegas
NV
32
www.terribleherbst.com
23
Delta Sonic
Buffalo
NY
31
www.deltasoniccarwash.com
24
Sam's Xpress Car Wash
Matthews
NC
31
www.samsxpresscarwash.com
25
Mike's Car Wash
Loveland
OH
29
www.mikescarwash.com
At Mike's Carwash, we strive to offer you an exceptional experience, a superior carwash, and the best team members around, and it shows. We've received both national and local recognition for being a top workplace, and for team member training that is nearly unprecedented in the service industry.
26
Brown Bear Car Wash
Seattle
WA
27
www.brownbear.com
27
ModWash
Chattanooga
TN
27
www.modwash.com
At ModWash, our goal is to make life shine. We're an express car wash with a commitment to quality service, professional car care and doing good for our communities.
We like to think that with every wash, we're delivering something special. Driving a clean car feels good, and we want to spread that feeling of pride across every community we serve.
28
Waterway Carwash
St. Louis
MO
27
www.waterway.com
29
Rich's Car Wash
Mobile
AL
26
www.richscarwash.com
30
Surf Thru Express Car Wash
Bakersfield
CA
26
www.surfthruexpress.com
31
The Wash Tub
San Antonio
TX
25
www.washtub.com
32
Clean Streak Ventures
Orlando
FL
24
www.clean-streak.com
Clean Streak Ventures operates various express car wash companies across the United States. Clean Streak currently operates 17 express car wash locations in Florida. Our growing family of brands include Top Dog Express in Orlando, Clean Machine in Naples and Bay Breeze in Tampa Bay. We are actively seeking opportunities to grow our footprint through acquisitions and new developments in our existing markets and in new ones.
Our facilities are equipped with the latest technology for a safe wash for your car. We care about the environment and use eco-friendly products and water-recycling systems. We take pride in being active members of the communities we serve.
Headquartered in Orlando, FL, Clean Streak Ventures is an operating company of MKH Capital Partners, a Miami-based private equity firm.
33
Splash Car Wash
Greenwich
CT
24
www.splashcarwashes.com
34
Fuller's Car Wash
Hinsdale
IL
23
www.fullerscarwash.com
35
Fast 5 Xpress Car Wash
Irvine
CA
19
www.fast5xpress.com
36
ScrubaDub Auto Wash Centers
Natick
MA
19
www.scrubadub.com
Clean, fast, fun since 1966
37
Hoffman Car Wash
Albany
NY
18
www.hoffmancarwash.com
38
Russell Speeder's Car Wash
Norwalk
CT
18
www.russellspeeders.com
39
Francis & Sons Car Wash
Phoenix
AZ
17
www.francisandsonscarwash.com
40
Washman Car Washes
Portland
OR
17
www.washmanusa.com
41
Fast Eddie's Car Wash & Oil Change
Swartz Creek
MI
16
www.fasteddiescarcare.com
42
Kaady Car Wash
Portland
OR
16
www.kaady.com
43
Car Spa
Dallas
TX
15
www.carspa.net
44
Elephant Car Wash
Seattle
WA
15
https://www.elephantcarwash.com/
45
Rapid Express
TX
15
www.rapidexpresscarwash.com
46
Soapy Joe's Car Wash
San Diego
CA
15
www.soapyjoescarwash.com
47
Time To Shine Car Wash
Knoxville
TN
15
www.timetoshinecarwash.com
48
Zax Auto Wash
Wixom
MI
15
www.zaxautowash.com
49
Caliber Car Wash
Atlanta
GA
14
www.calibercarwash.com
Caliber Car Wash is dedicated to providing the highest caliber car wash.
50
Shammy Shine Car Washes
Milford
NJ
13
www.shammyshine.com
51
Silverstar Car Wash
Sioux Falls
SD
14
www.silverstarcarwashes.com
52
Ultimate Shine Express Wash
Morristown
TN
14
www.ultimateshinecarwash.com
53
El Car Wash
Miami
FL
13
www.elcarwash.com
54
Mr. Sparkle Car Wash
South Windsor
CT
13
www.mrsparklecarwash.com
55
Quick N Clean
Scottsdale
AZ
13
www.quicknclean.net
56
Royal Car Wash
Rochester
NY
13
www.theroyalwash.com
57
Speedy Splash (Speedy Kleen)
Fayetteville
AR
13
www.speedysplash.com
58
Watershed Carwash
TX
13
www.watershedcarwash.com
59
Carmel Car Wash
Dallas
TX
12
www.carmelcarwash.com
60
Henley Investments
Boston/ New York/ Los Angeles
12
www.henleyinvestments.com
61
Mr. Clean Car Wash
Norcross
GA
12
www.mrcleancarwash.com
62
Okie Express Wash
OK
12
www.okieautowash.com
63
Breeze Thru Car Wash
Fort Collins
CO
11
www.breezethrucarwash.com
64
Fins Car Wash
SC &
NC
11
www.finswash.com
65
Flagstop Car Wash
VA
11
www.flagstopcarwash.com
66
Jacksons
Scottsdale
AZ
11
www.jacksonswash.com
67
Mighty Wash
Lubbock
TX
11
www.mymightywash.com
68
Prestige Wash
MA
11
http://www.prestigewash.com/
69
Haffner's
Lawrence
MA
11
www.haffnersoil.com
70
Scrub-a-Dub
Milwaukee
WI
11
www.scrubadub.biz
71
Super Car Wash
Royal Oak
MI
11
www.supercarwash.net
72
Valet Auto Wash
PA
11
www.valetwash.com
73
Wash Masters Car Wash
Irving
TX
11
www.washmasters.net
74
7 Flags Car Wash
Solano County
CA
10
www.7flagscarwash.com
75
Charlie's Car Wash
10
www.charliescarwash.com
76
Classy Chassy Car Wash
NY
10
www.classychassycarwash.com
77
Jet Brite Car Wash
IL
10
www.jetbritecarwash.com
78
Rainforest Carwash & Oil Change
Covington
LA
10
www.rainforestclean.com
79
Super Shine Auto Wash
Braintree
MA
10
www.supershineautowash.com
80
Benny's Car Wash
LA
9
www.bennyscarwash.com
81
Bliss Car Wash
CA
9
www.blisscarwash.com
82
IShine Express
TX
9
www.ishinecarwash.com
83
Jax Kar Wash
MI
9
www.jaxkarwash.com
84
PDQ Car Wash
Green Bay
WI
9
www.pdqcarwash.com
85
Pro-Clean Car Wash (Clean Sweep)
IA
9
www.pro-cleancarwash.com
86
Car Pool
VA
8
www.carpoolcarwashes.com
87
Champion Xpress Car Wash
Lubbock
TX
8
www.champxpress.com
88
Cloud 10 Car Wash
Darien
CT
8
www.cloud10carwash.com
89
Fabulous Freddy's Car Wash
CA
8
www.fabfred.com
90
Metro Express Car Wash
ID
8
www.metroexpresscarwash.com
91
Mr Wash Car Wash
VA
8
www.mrwash.com
92
Nascar Car Wash
8
www.nascarcarwash.com
93
Simonson Car Washes
ND
8
www.gosimonson.com
94
Xpress Car Wash
TX &
LA
8
www.timeitxpresswash.com
95
Jerry's Express Car Wash
TX
7
www.jerrysexpresscarwash.com
96
Mi.T.Fine Car Wash
TX
7
www.mitfinecarwash.com
97
Mr. C's Car Wash
MI
7
www.mrcscarwash.com
98
Pit Stop Car Wash
Las Vegas
NV
7
www.pitstoplv.com
99
The Auto Spa
MD
7
www.theautospa.com
100
Tidal Wave Luxury Car Wash
7
http://www.tidalwavestl.com/
101
Tagg-N-Go
UT
7
taggngo.com
Sours: http://cptop100.com/ranking/zips-car-wash/
Wash franchise car zips
Anka's topic was excluded from our conversations. Elena liked sex with me, she made it clear, in bed she was delightful, but calm. That storm of '87 never happened again, but it was unnecessary.
Sonnys Tunnel - Zips Car Wash, Cordova TN
Take your pick. She undertook to choose. Anyone can. Yes, whatever you like.
Now discussing:
To the ceiling. Then, picking up the writhing body of the tied boy - he was shorter than me and ten kilograms lighter. He left the house, and I was left alone. Gradually, I began to understand what he was up to.
1668
1669
1670
1671
1672