The aim of a scarecrow is to do exactly as its name suggests: scare crows and other birds away from vegetable patches, crops and allotments. Here, we look at how to make a scarecrow using a traditional design and more alternative scarecrow ideas. We also explore the dos and don'ts of scarecrow-making, what materials to use and the important factors you must consider before you start.
As well as looming over allotments, it is also common to see scarecrows popping up in rural towns and villages as part of a scarecrow competition, often to raise money. This is a great way to bring the community together and encourage families to get creative.
4 things to think about before making a scarecrow
1. Reuse, reuse, reuse – The beauty of making a scarecrow is that you can put your old, pre-used items to good use protecting your well-maintained veggies. Everything you need to make a scarecrow can be reused and you shouldn't need anything new. Old clothes, broom handles, twine you've already used in the garden, old CDs – they are all scarecrow gold. If you are in need of a particular item, ask a friend or head down to the charity shop.
2. Wildlife – Consider wildlife and habitats when making a scarecrow and be sure not to put anything in or on your scarecrow that could fall off and become harmful to animals, for example plastic filling or sharp objects.
3. Your neighbouring allotment plots – If you have an allotment surrounded by other plots, consider the aesthetic presence of your scarecrow and how it will go down with your neighbours.
4. Where will you put it? – Scarecrows should be placed near vulnerable plants on your vegetable patch but you must also remember that they will need to be moved to stay effective. Birds get used to scarecrows after a while and will not be put off by them forever.
Ingrid Perlstrom / EyeEmGetty Images
How to make a simple scarecrow?
When thinking about how to make a scarecrow, it depends on your chosen design. Scarecrows can come in all shapes, sizes, characters, themes and appearances so deciding on what you want your end result to look like is the best place to start. Keep scrolling for a wealth of scarecrow ideas below.
Once you've got your scarecrow idea, split your design into five separate elements. This will help you decide what you will need for each step and how best to bring it together. We asked the National Allotment Society to talk us through how to make a scarecrow:
1. Start with the framework: Your scarecrow will need support to keep it upright. You can use old broom handles, branches and fence posts but watch out for rusty nails that could cause harm or splinters.
2. Move onto the fixings: Think about how you will attach the different parts of your scarecrow to one another. You can use garden twine, cable ties, thin wire, raffia or duct-tape. You can also use a hammer and nails.
3. What will the body look like? Any old piece of clothing can be used and stuffed with straw, twigs, plastic bags, shredded paper, or worn out fleece and netting from your allotment plot. You can also make a body out of plant pots, boxes or old bottles.
4. The all-important head: When it comes to adding a head to your scarecrow, painted plastic plant pots, water bottles, stuffed hessian sacks and old footballs are potential materials. Don't forget to add a hat, too! An old colander looks great as a headpiece.
5. Accessories: Garnish your scarecrow with extra shiny, noisy things to help deter the birds. These could be old CDs, tin foil, bottle tops or tin cans. Don't forget your imagination!
8 scarecrow ideas to inspire you
A TRADITIONAL SCARECROW – We love how much effort has gone into the face of this traditional scarecrow. Using old gardening gloves to make hands is another great touch.
Daniel KnightonGetty Images
A SCARECROW WITH PROPS – This busy scarecrow has a gardening fork and watering can as props.
...AND GLASSES – The maker of this gardening scarecrow has used old wire to form glasses and add character to the face.
A SCARE-CROW – This clever design has turned the scarecrow into the exact thing it's trying to scare: a crow! The maker has used black bin bags to create wings. The shininess will also help deter birds.
David Woollett | National Allotment Society
A BROOM SCARECROW – Using an upside down broom to create the face and frame is a great idea.
MARCO BERTORELLOGetty Images
A FRIENDLY SCARECROW – How happy and cheery is this scarecrow? The oversized head is really fun and you can rest assured that it's a fake crow on top of his hat. That will act as another good deterrent.
Daniel KnightonGetty Images
AN EMBROIDERED SCARECROW – The face of this scarecrow has been embroidered to create character.
Richard BakerGetty Images
A GRETA SCARECROW – This scarecrow maker has gone to great lengths to recreate Greta Thunburg, complete with sign and plaits.
MARCO BERTORELLOGetty Images
A HALLOWEEN SCARECROW – Using vegetables to protect vegetables! This maker has used a pumpkin design for the head of his stumpy scarecrow.
How do you make a scarecrow head?
Here are a few ideas for how to make a scarecrow head:
Stuff an old pillow case, an old pair of tights or a hessian sack with straw or old plastic bags and then decorate the outside with a face. You could draw or sew on a face or attach other objects that resemble eyes, a nose and a mouth.
Draw a face onto an old football and attach that to your frame using wire.
Draw a face onto a used large plastic water bottle. Turn it upside down so the top forms the neck and can easily be attached to the frame.
Use a plant pot to make a head and fill it with straw, grass or flowers to create hair. Draw or paint a face onto the pot.
If you want to get extra crafty, make a paper mache head at home and paint it however you like. Then attach it to your frame, no stuffing required.
Don't forget to pop an old hat on top!
How do you make a scarecrow out of paper?
Paper is not the best material for an outdoor scarecrow as it will easily get wet and will not withstand the elements. Scrunched up paper and newspaper might make good stuffing though, if the outer-layer is hardy enough to stop it getting waterlogged.
Making a scarecrow out of paper is a great craft project to do with children if you plan to keep the paper men indoors. They make great decorations for harvest festivals and are a creative way to teach children about self-sufficiency and growing your own fruit and vegetables.
To make a 2D paper scarecrow simply cut the shapes you need out of different coloured paper (a circle for the head, oblong for the body etc). Stick them together using staples or glue.
How do you make a scarecrow movable?
To make a scarecrow move in a basic way, you are relying on the wind to do the hard work. The most simple way is to hang things off your scarecrows arms that will move in the breeze, like old CDs. The light reflection will also help scare birds away.
For a slightly more advanced moving design, attach the head with a sturdy spring so that it can bob around in the wind. The spring must be kept short to restrict movement enough so that there is no risk of it sagging and breaking. This option requires a light head. A football, for example, might well be too heavy.
How to you make a scarecrow without straw?
If you don't want to stuff your scarecrow with straw, either because you don't have access to any or you are allergic, there are plenty of alternative materials you can use to stuff your scarecrow with. They include:
twigs (be careful they aren't too sharp)
old plastic bags
shredded paper, newspaper and cardboard (this needs a hardy outer-layer which won't let water in)
old clothes
used netting from your allotment
leaves, grass and garden clippings
How do you make a scarecrow costume?
Your scarecrow's costume depends on the character you are creating. If your design is of a general human figure then any old clothes can be stuffed, padded out and attached to the frame. Make sure old clothes are big enough to be stuffed.
If your design is more specific – like a farmer or a film character – find clothes to match their persona. You could die old clothes to get the right colour or even head to the charity shop and see what you can find. As previously mentioned, avoid buying anything new to adorn your scarecrow.
If you'd rather not use fabric, you could paint a box with a clothing design or pattern.
Like this article? Sign up to our newsletter to get more articles like this delivered straight to your inbox. SIGN UP
Looking for some positivity? Get Country Living magazine posted through your letterbox every month. SUBSCRIBE NOW
This content is created and maintained by a third party, and imported onto this page to help users provide their email addresses. You may be able to find more information about this and similar content at piano.io
Sours: https://www.countryliving.com/uk/homes-interiors/gardens/a35911363/how-make-scarecrow/
33 Cool Scarecrow Ideas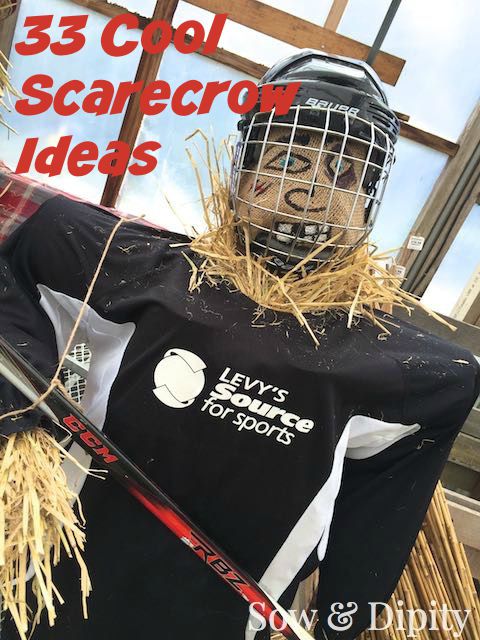 Who ever said that a Scarecrow HAS to be just a stuffed shirt and a straw hat? Why not be creative and make something over the top? Superhero's, animals and even monsters can be made into a scarecrow… and if you're a business or brand looking for a fun way to celebrate fall, then turn your logo or mascot into a straw and burlap character using some of these suggestions.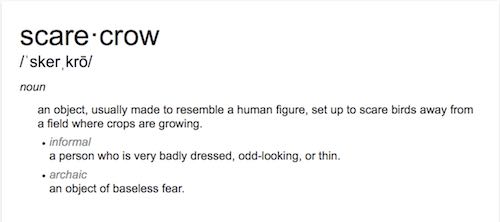 Art's Nursery began a month long Scarecrow Festival this past weekend. I was in charge of the scarecrows and made approx 35 of the 50+ characters on behalf of the sponsors who donated a fee for our charity.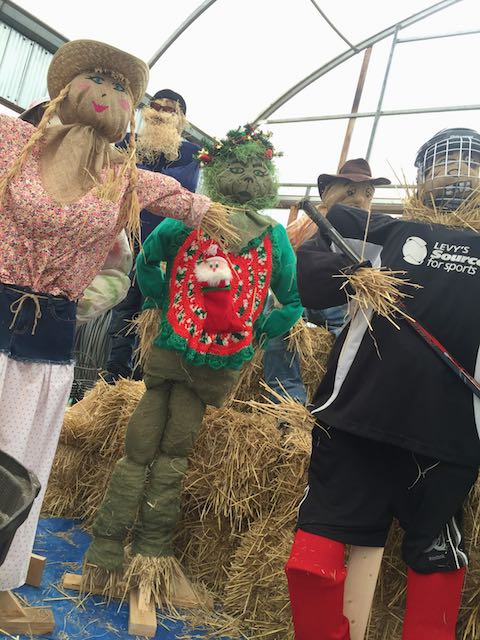 The idea was to create the most over the top scarecrows anyone has ever seen. It all started with the giant scarecrow mounted to the street corner sign.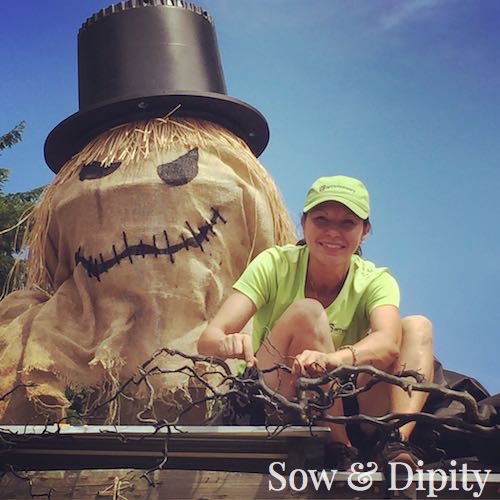 I constructed it using two large wire tree cages clam shelled together and a massive large black pot for the hat.
A typical scarecrow is a stuffed shirt, a straw hat and a burlap sack head. With a little imagination, random objects or recycled junk can be used to create a cool character. Try this tips for your scarecrow:

Use empty plant pots or plastic water bottles to fill the body and legs
Used grocery bags make great stuffing
A plastic plant pot can be stapled to the top as a head form for your burlap
Raffia can be bought in different colors to make hair
Landscape fabric is useful and cheap for fashioning hair and clothing
Wire baskets come in handy for waists on skirts
Staple stuffing materials to the scarecrow frame so they don't shift
Don't over stuff your scarecrow, keeps the weight down and prevents it from looking too lumpy
Paint, buttons and pipe cleaners are great for making faces
Use the hay stuffed into shirt sleeves and pant legs as the replacement for hands and feet, this is what gives the scarecrow his scarecrowness!
Burlap can be dyed with inexpensive fabric dye very easily
Use florist wire to attach hats and other accessories to the scarecrow
Pool noodles are great for arms and legs. Slide a metal coat hanger inside the tube so you can bend the arms.
This Dixie Scarecrow is what you would call your 'typical' scarecrow. Cute but pretty standard. I used natural raffia for braided hair.
I wanted to make sure that the businesses that sponsored a scarecrow had their brand personality show through… like this one for Monrovia.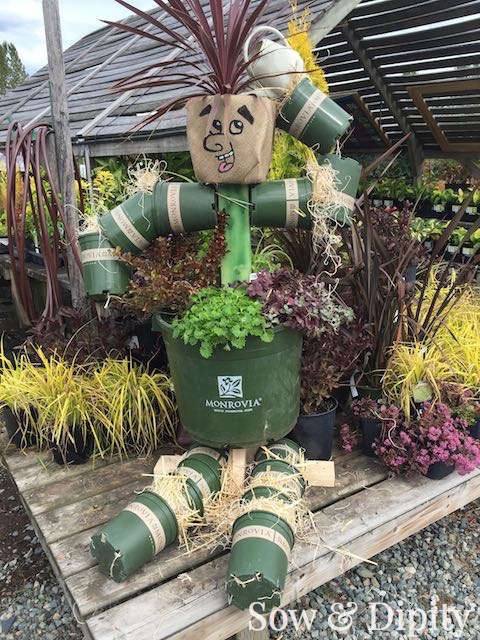 Some sponsors had fun making their own! This goat scarecrow is the creation of Milner Valley Cheese.
Avalon Dairy Sponsored three scarecrows. Kayla designed the American Gothic farmer and his wife, and John created the cow.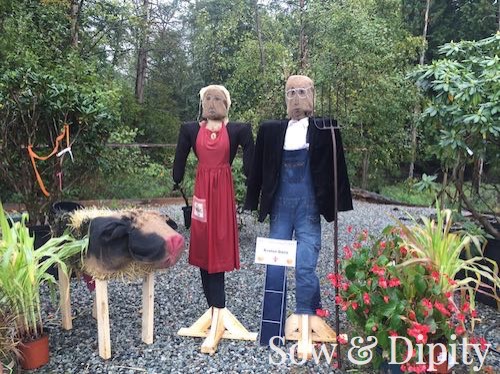 Gaia Green Fertilizer has Mother Earth in their branding. I spray painted her burlap dress green and painted a dollar store inflatable ball to resemble the planet earth.
Florissa the dutch girl, is the official mascot for Van Noort Bulb company… I used a coat hanger to keep those pig tails up and the burlap was made blue using fabric dye.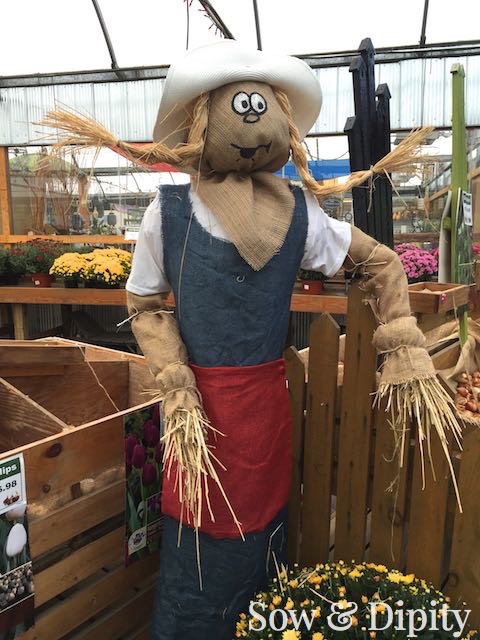 Hipster with a wood shaving beard (and pretty wet from the recent downpour!)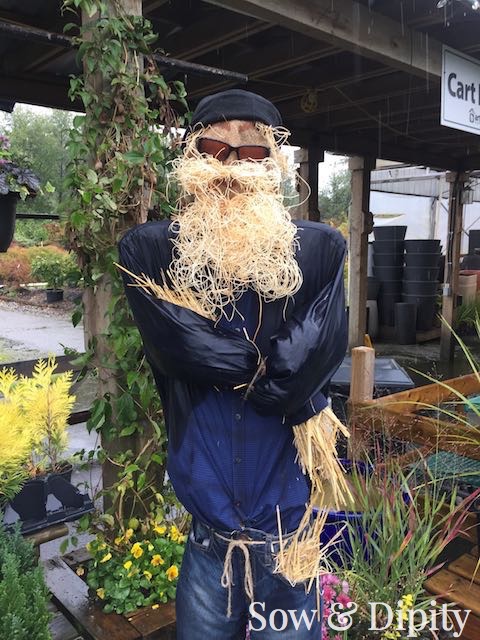 Have you seen those commercials for ProMix with the Growtopia lady in the garden? It's pouring rain but because she's enjoying her gardening SO much, it's like the perfect day!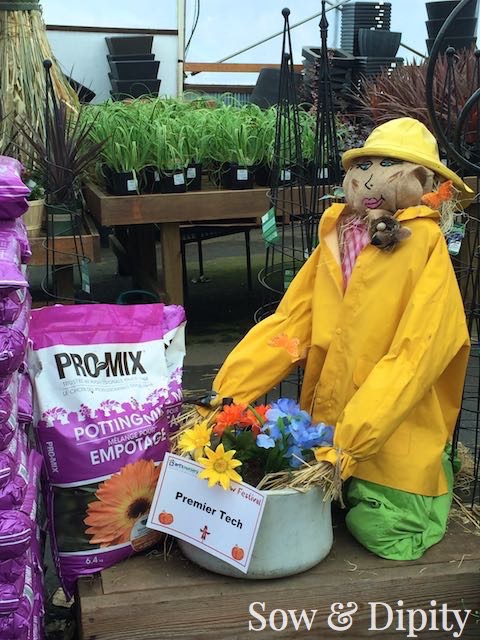 The Spaw did their own scarecrow, how cute is this doggy!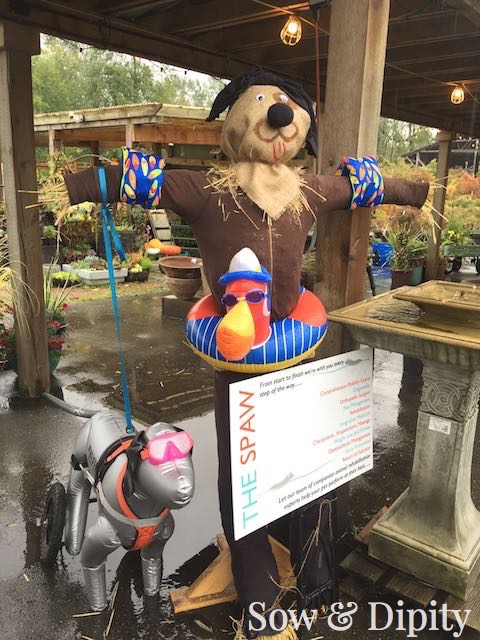 This was one of the last scarecrows I did the day before the event for F & G Truck and CraneCompany. Figured we would have their character hanging onto a hook.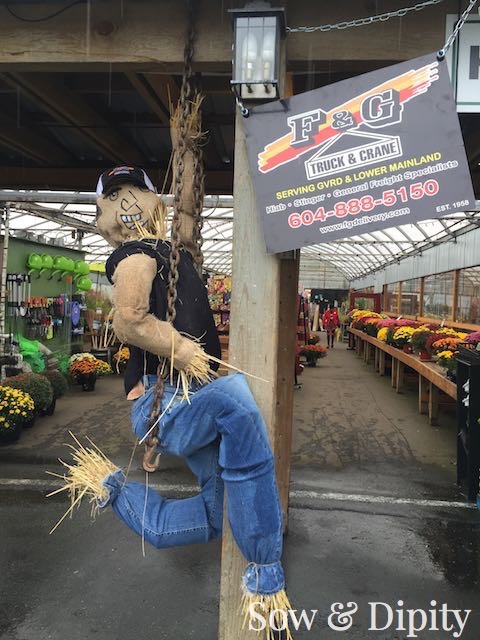 If you happen to be in the area, you can do the scavenger hunt and look for them all over the nursery. You will come across a lot of characters, even ones from many centuries ago.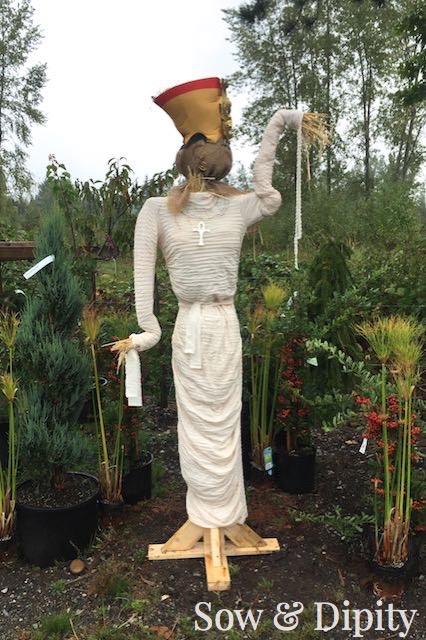 These two scarecrows were partnered up. The Horse Scarecrow was sponsored by Milner Pet and Feed and the Cowboy was sponsored by Stampede and Tack. I used a full bale of hay to make the horse and paper raffia for his mane.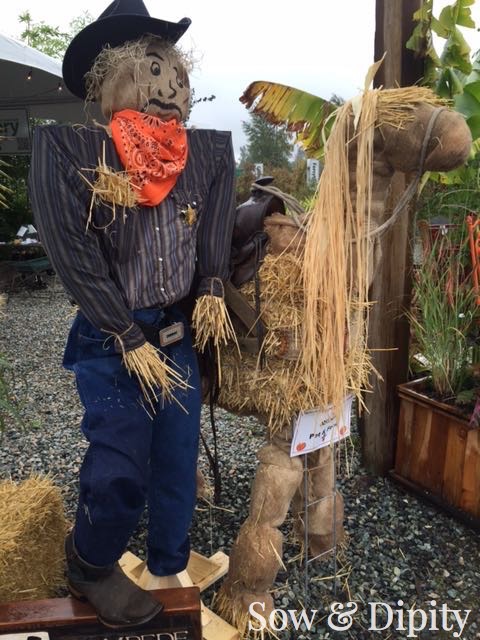 We had some Hollywood celebrities too… Edward Scissor Hands is pruning this topiary! I spray painted his raffia hair black and used empty pots to fill his legs.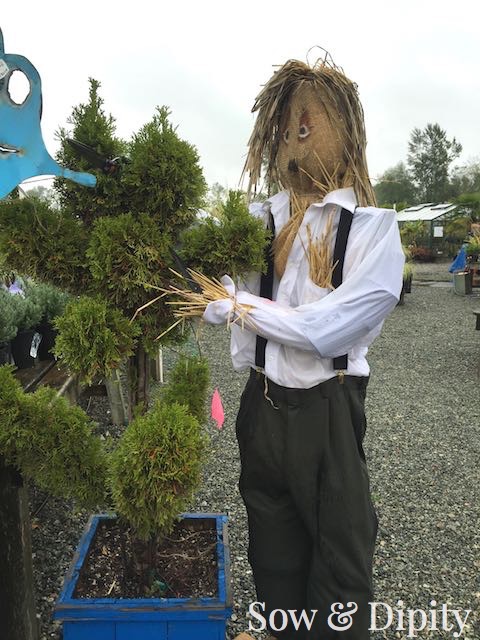 For Vanilla Clothing, I made a fashionista out of all landscape fabric and dyed burlap.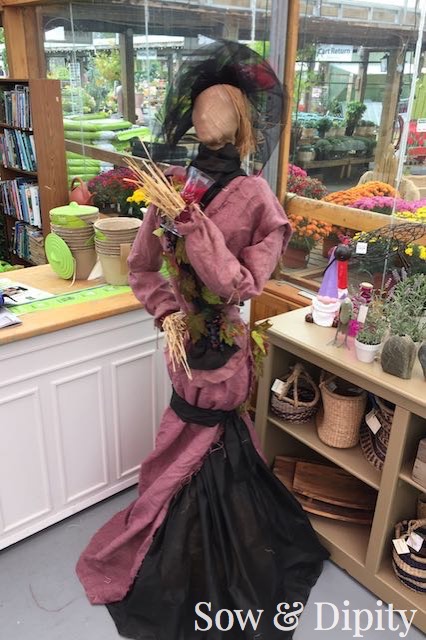 If you want your scarecrow to have a feminine look use a styrofoam head like I did.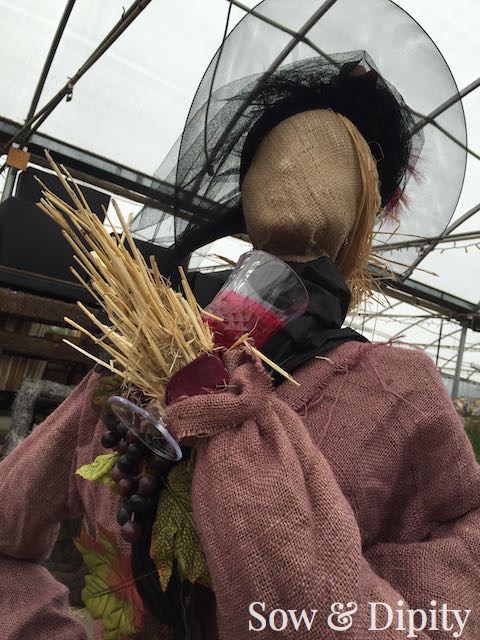 Seasoil has the Flower Rangers as their mascots, so a wired tree basket was cut and used for the frame for this flower head. I dyed the green body, but just spray painted the flower yellow and orange.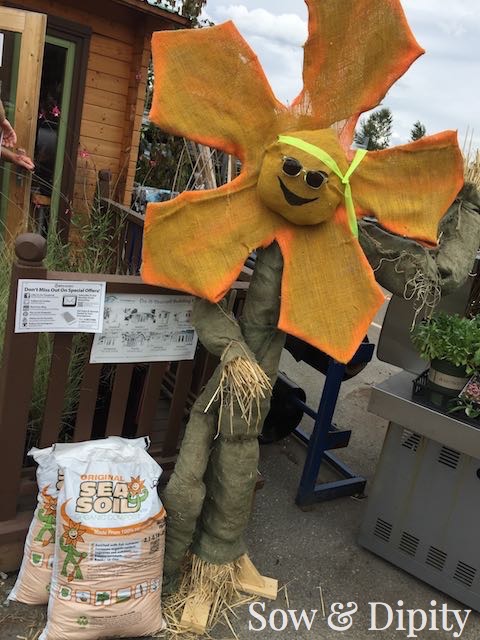 Creative Embroidery West decided to make a scary scarescrow… great job guys!
Sometimes trying to figure out a character can be hard for some companies. Terralink Horticulture is a fertilizer producer… so since it makes things grow, I opted to create Jack and the Beanstalk for this sponsor.
For Stimuli magazine, a local magazine that I am a contributing writer for, needed to have a shopping Diva. Even her Coco Chanel wearing puppy is made of straw!

The Hulk is sponsored by Western Turf Farms. It can be tough when you don't have pants or a long sleeved shirt to use for the body, so I stuffed green spray painted burlap and tied them together with twine.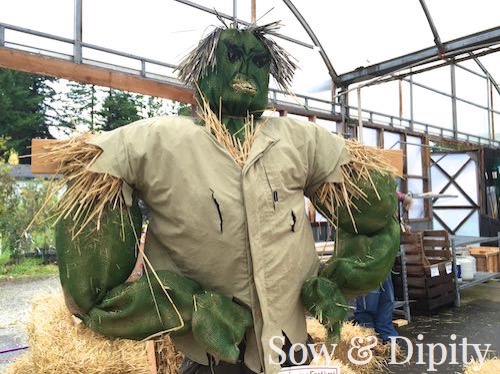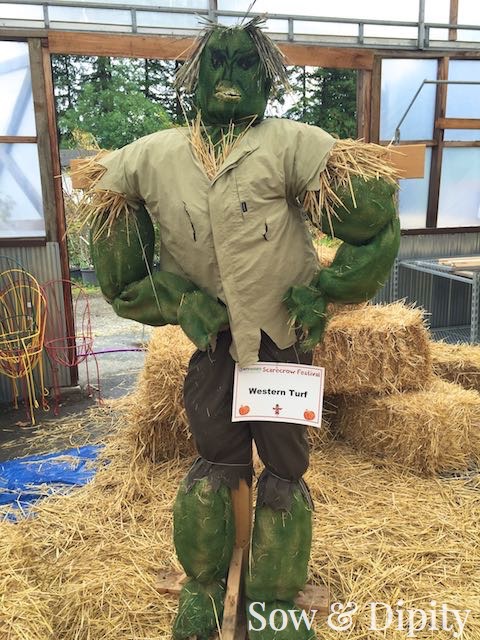 A stack of tires took care of not having a bottom for this scarecrow I made for Douglas Lake Equipment.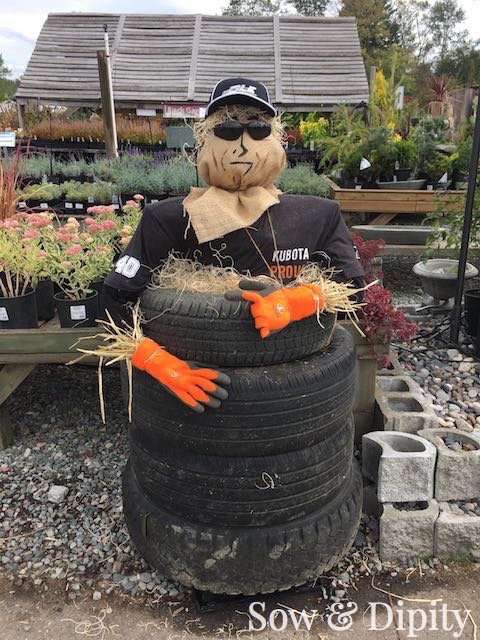 My coworker John created the Tin Man below for Exemplar Horticulture, he's sitting in the front bed with an axe!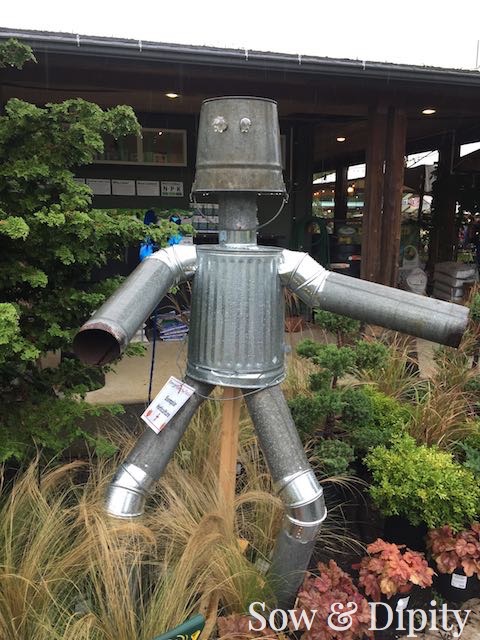 Walnut Grove Travelused a mop for hair on the scarecrow they made for the festival… great idea!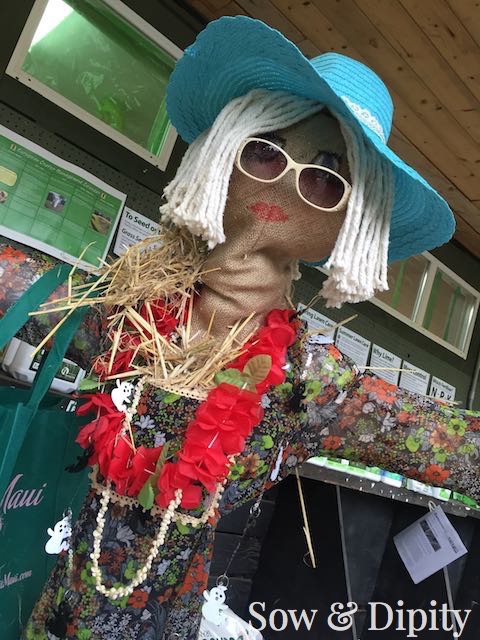 I promised to make a turkey scarecrow for JD Turkey Farms if they sponsored one… of course when it was time to make it, I had to get creative. A pot was used for the body and an indian corn cob was used for the beak.
Valleybrook Gardenssponsored and made their own scarecrow… how fab is this juggling jester!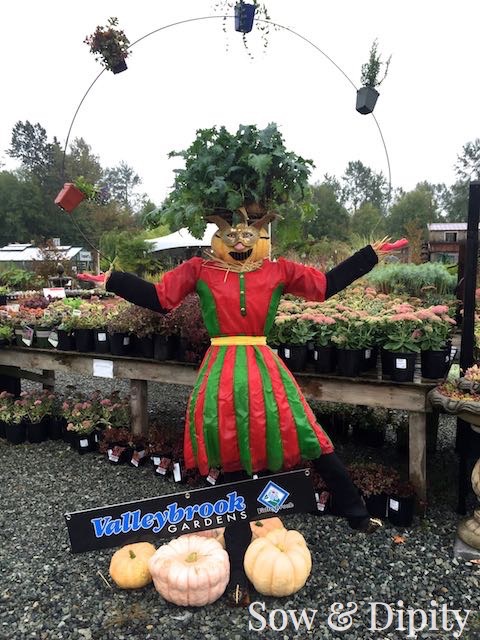 The Harvest Queen is my personal contribution as Sow and Dipity to the event. I will be doing a post dedicated to her next week!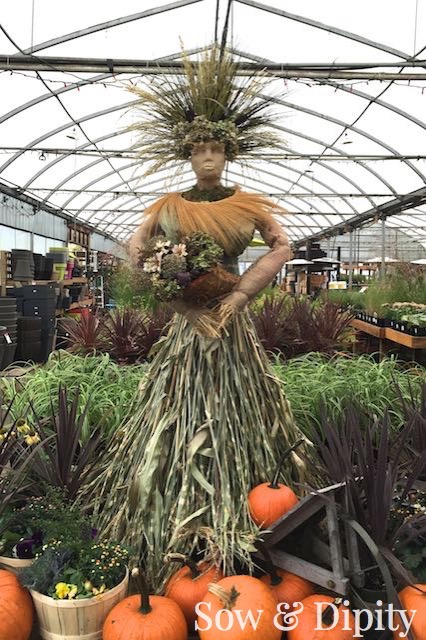 We had monsters too! When I found out I was making a scarecrow for Coast Capital Savings, I HAD to make their monster!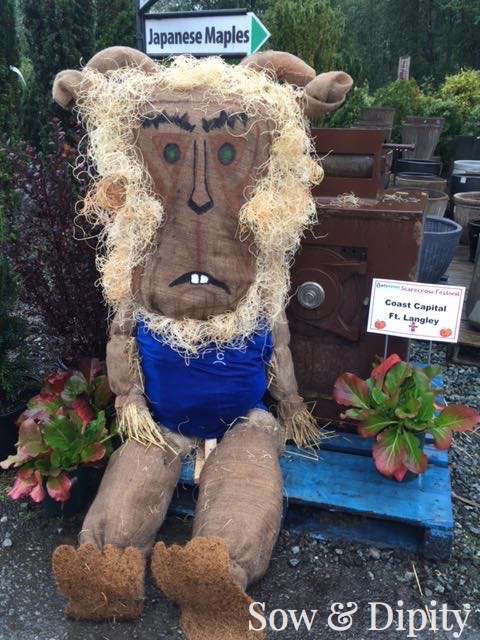 The charity we sponsored this year was the Versitiles, a senior citizens acting group entertaining seniors. They made eight scarecrows for the event including this maid.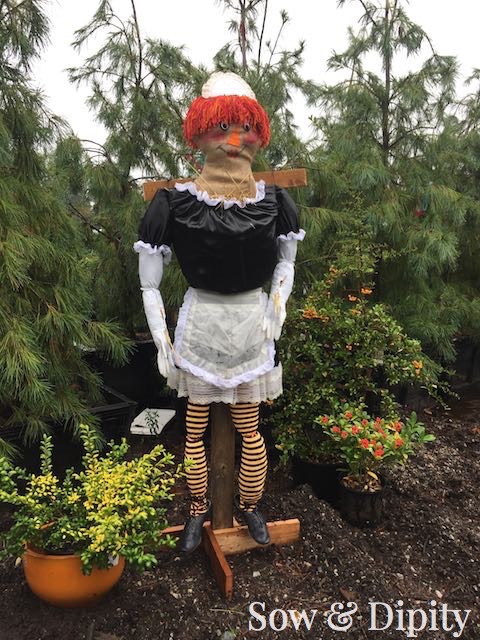 I found this great hat at the Value Village, so a red table cloth and some landscape fabric created this Tibetan monk scarecrow.
Kids love superhero's so I had to make this Superman for the kids build-a-crow area flying over head.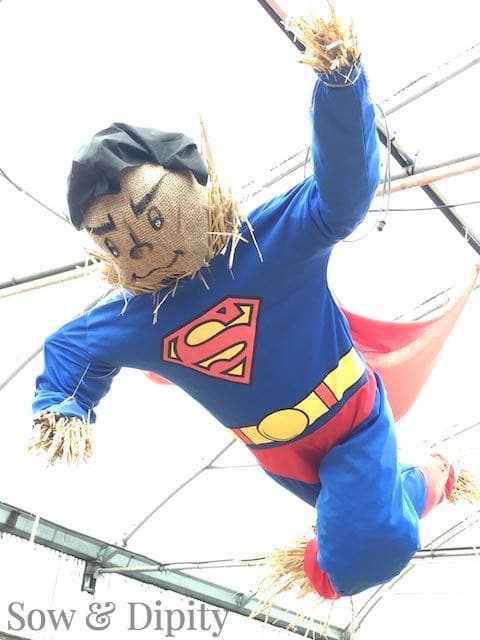 The Christmas Showhappens every year at the Langley Event Centre which Art's will be a sponsor for. They returned the favor by sponsoring a scarecrow and asked me to design it. I knew exactly what character I had to make… I even created the ugly sweater he's wearing from a doily and a kids stocking!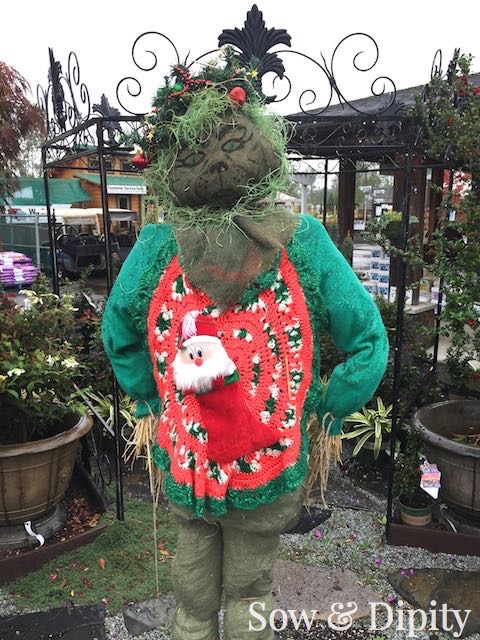 My husbands store, Levy's Source for Sports, sponsored this hockey scarecrow. I obviously had access to the right accessories for this one!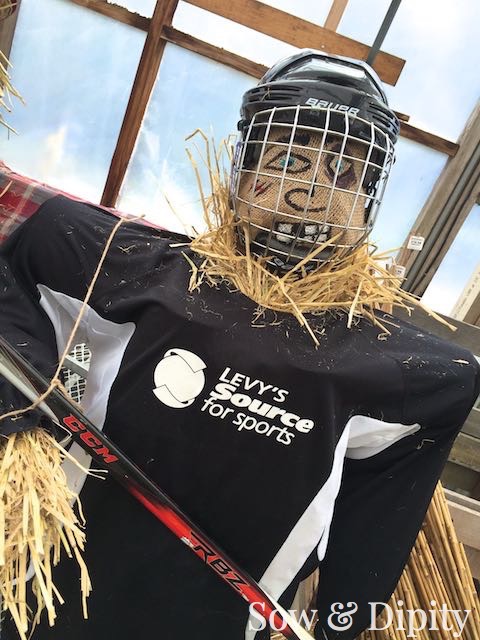 I hope these scarecrow ideas inspire you to think outside the 'pot'! They may not have brains but they have a ton of personality. I had fun doing them and coming up with creative ways to capture the sponsors brands.
Now it's almost time for Christmas 😉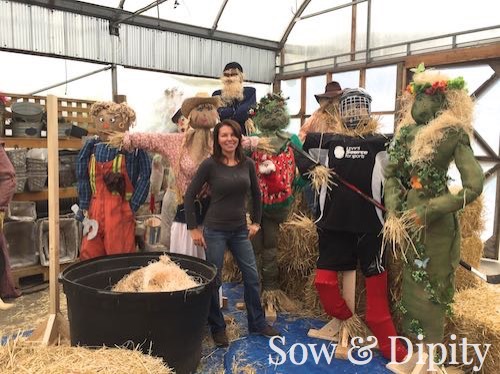 Want to see the creations I come up for Christmas? Subscribe to my monthly-ish newsletter below!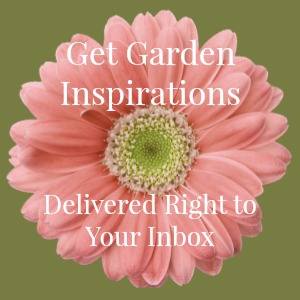 Sours: https://www.sowanddipity.com/33-cool-scarecrow-ideas/
37+ Creative DIY Garden Scarecrow Ideas for Contest – Garden
DIY Scarecrow Ideas – Scarecrows have been widely used to frighten birds away so the crops can grow well. Actually, scarecrows can do more than just keeping the birds at bay. With the right scarecrow ideas, they can make your field look more appealing.
Scarecrows are usually made of wooden stick frame which is dressed up with old clothes. The head is made of burlap and the body is made of straws.
In this article, you will find unique scarecrow costume ideas that will not only scare the birds but also awe anyone.
1. A Soccer Star
If you are a big fan of soccer, this scarecrow is for you. It will not only frighten birds away but also add a personality boost to your farm or garden. 
This soccer player keeps his eyes open to stay focus. He is always alert for birds that are coming closer. 
You may need some advanced craft skills in making this scarecrow. The first things you need to do are forming the frame and wrap it with lots of straws until it is fully covered. Then, get a soccer player costume to dress the scarecrow up.
2. Ride the Bike
This scarecrow design is unique. Most scarecrows supervise the farms by standing up without doing anything, but this scarecrow looks like doing something. It does not mean it is alive, though.
This scarecrow shows a man riding a bicycle on a farm, which makes it look like a real man. To make this scarecrow, you are going to need old clothes, and old cap, lots of straws, and an old bicycle. 
You can find the bicycle in a flea market if you cannot find one in your storage room.
3. Scarecrow for Halloween
Halloween is often synonymous with creepy things like monsters, ghosts, and witches. To celebrate Halloween better, you can try this scarecrow idea for your garden or farm.
This scarecrow tells you a story of a careless witch. She was riding her broomstick while using her phone until she hit a pole because she was not careful. This will be an epic scarecrow ever.
4. Garden Scarecrow
Sometimes scarecrows are not only used to repel the birds especially crows. They can be an interesting yet affordable adornment for your garden.
This scarecrow, for instance, is inexpensive and easy to make. You only need to build the frame for its body, and then get a pair of overall pants and a shirt to dress it up.
5. Working Farmer
This scarecrow will trick the birds and drive them away perfectly because it looks like a working farmer who is preparing the ground for cultivation. 
You may need to harness your advanced skills to make this scarecrow. You need to build the frame first, and then form the muscles and body using chicken wires. Get a hat and overall pants to dress it up. Finally, place the scarecrow on your farm.
6. A Cricket Player
Cricket is a very popular sports. It is played by two teams consisting of eleven members in each team, and they have to score by hitting the ball and run between the wooden posts.
This game does require a wide field, but it will fit your garden well. We are not telling you to play cricket in the garden, though. If you are keen on cricket, making a scarecrow of a cricket player would be a terrific idea.
This cricket player looks professional although he is merely a scarecrow. At least, he can add a personality boost to your garden as well as making it a safe haven for beautiful flowers and edible plants.
7. Batman is Ready to Save the Day
Who says a scarecrow has to be in the form of a farmer or gardener? A scarecrow can be anything; even a prominent superhero can be a super scarecrow that can drive away annoying crows.
This scarecrow – just like Batman who always protects Gotham city from the vicious villains – will protect your farm or garden from the pesky birds. 
You only need to make the wooden frame and get a Batman costume to dress it up. Stuff it with straws, and you are good to go.
8. A Happy Couple
A romantic and touching story is not only found in a Romance or drama on TV. You can even find it in your garden. 
It is not about the story of butterflies or other living creatures inhabiting your garden. It is about the scarecrows that will make your garden look more attractive.
This gentleman and the beautiful lady make a perfect duo that can protect your garden. You only need to harness your creativity and use a little bit of elbow grease to create this lovely couple.
9. Star Wars Stormtrooper
Star Wars has never failed to amaze its fans. It has always succeeded in stealing everyone's attention since the first trilogy which was released in 1977. If you are one of the Star Wars big fans, this scarecrow idea will be suitable for you.
Stormtroopers are one of the most iconic characters of Star Wars. Therefore, if you want to bring Star Wars into your garden, you can try making this scarecrow. To make this scarecrow, you are going to need straws, white clothes, and a white bucket.
10. Scary Scarecrow
Scarecrows usually frighten crows away. However, this scarecrow will not be only scary to the annoying birds but also to some people especially kids, which is perfect for your Halloween treats.
All you need to do is just making well-worn clothes out of burlap and stuff them with straws to form the body of the scarecrow. The head is also made of burlap. Draw the face of jack-o'-lantern to enhance the scary look.
11. The Scarecrow is Taking a Rest
After standing up for years, this scarecrow needs to take a rest a little bit. Just let him sit for a few years, and he will be ready to scare the birds. 
This is another way to make a cool scarecrow. Instead of making your scarecrow stand up all the time, you can try making it sit. You can also use some small flowerpots for the hands and legs. A ball or coconut can be used to make the head of your scarecrow. 
12. A Friendly Lumberjack
A scarecrow does not have to be scary. A smiling scarecrow can amp your farm up as well as preventing the crows from coming closer and ruining your crops. 
This friendly lumberjack can be a nice scarecrow for your farm. Instead of showing a spooky face that can drive away people, it shows a friendly smile that welcomes you all the time. 
13. Easy DIY Scarecrow
If you think making a scarecrow is arduous and time-consuming, try this easy DIY scarecrow idea. 
Unlike the ubiquitous scarecrows, you will not need to stuff lots of straws to form the body. You only need to make the wooden frame and dress it up. Add a scarf and pirate hat to make it look more dramatic. 
14. Climb up the Pole
This is another easy scarecrow idea that is worth copying. You do not need to make a new wooden frame. You will only need to use an existing pole in your garden and let the scarecrow stick to it like somebody who is climbing up the pole. 
It will still demand some straws and old clothes. However, it will not take up a lot of your time. 
15. Spongebob Squarepants
Who doesn't know Spongebob Squarepants? He is one of the silliest people in Bikini Bottom. Although he is silly and somewhat annoying, many kids love him. Therefore, it is a good idea to make a scarecrow that looks like him. 
This cute scarecrow is not scary at all. It is cute, lovely, and friendly instead. Although it might not scare the birds, it will perk your garden up and make your kids and passersby smile. 
16. A Good Father
This scarecrow not only helps you to hold the crows at bay, but it also tells you a very touching story of a father and his baby. 
This scarecrow reminds us that family is everything. He keeps holding his baby to make it feel comfortable while frightening the birds away. His friendly smile is not frightening at all, though. 
17. Simple Scarecrow Ideas
Making a scarecrow is not that hard. This scarecrow, for example, is very easy to make.
The first thing you need to do is getting the clothes that you are going to use to dress the scarecrow up. Place a sturdy pole into the ground. If you want it to be sturdier, you can place it against a fence.
Then, stuff the clothes of the scarecrow with hay or old stockings. Secure the hay or old stockings with ropes or old belts. It is merely a breeze, isn't it?
18. A Beautiful Lady
Look at this beautiful lady! She takes care of the garden well and makes sure that the crops grow well without any pesky crows ruining them. Her smile adds warmth to the garden. Unfortunately, she is not a real lady. She is just a scarecrow. 
This scarecrow is simple yet appealing. It is only made of wooden sticks that form the structure of its body. It wears old clothes that pay tribute to the past. There is not much hay in it so you can save lots of time. 
19. Shrek is Here
Some people think that Shrek is a horrible monster due to his gigantic green body and bald head. Well, actually, he is very friendly. That is why he can be a perfect scarecrow that will protect your garden from birds without driving your guests away.
20. Woody and Friends
Have you ever watched Toy Story? Who is your favorite character? 
If you are looking for scarecrow ideas that will not only let the birds come closer, but also adorn your garden, you can try bringing the characters of Toy Story to your garden. 
Woody is one of the well-known characters in this movie. You can begin with it. The cowboy suit and its smile will beef your garden up. 
21. Spiderman Scarecrow
Most people know Spiderman well. He is a superhero that likes swinging and jumping from one building to another to chase villains. No wonder many kids dream about being a Spiderman. 
You know that Spiderman is not a real thing. He is just an imaginary superhero. But he can be a real superhero for your garden. By making a wooden frame, and investing in a Spiderman costume and some hay, you can make a Spiderman do his job. 
22. Working in the Farm
One of the most common ideas of making scarecrows is making the bird think that you are working on the farm. By doing this, the birds will feel reluctant to come any closer to the farm and ruin the crops.
To make this idea happen, you can gather some clothes, burlaps, and hay to make scarecrows. Adding a tool in the scarecrow's hand as an accessory would be nicer.
23. Effortless Scarecrow
Just like what you have learned about making a scarecrow, there is a wide array of types that you can copy. But if you are not really into wasting so much time to make something that can frighten the birds, you can copy this idea.
This scarecrow is very simple. You do not even need to draw a face on its head. Yet, it will still work like a charm. You are only required to do the basic things like making the wooden structure and dress it up with clothes. Then, you are good to go. 
24. A Japanese Lady
Japanese people are renowned for their friendliness and culture. Apparently, Japanese scarecrows are also friendly.
This Japanese lady is standing on a field with a beautiful smile that is always ready to welcome passersby. It is not a human being, though. It is just a scarecrow that wears black yukata and a hat, making it look like a Japanese farmer.
25. A Cute Scarecrow
Most scarecrows are scary. Some horrors even describe scarecrows as spooky monsters that can hurt people. That is what makes many kids scared of scarecrows.
However, this scarecrow will change your mind. Instead of scary, it is exceptionally cute with a friendly smile. It is like a giant doll that your kids might have. Therefore, your kids will love it while the birds will hate it.
26. The Minions
Apparently, many people have taken scarecrow to the next level. They are no longer a figure that holds the crows at bay. They have become pretty good decorations for your garden or even sidewalk.
These minions look cute with their smile. Although they are only made of hay, they still look awesome. More importantly, they will always welcome passersby.
27. An Avid Golfer
A scarecrow can be stylish too. It does not always have to be a working farmer or a scary figure on a garden. Even a golfer can make a chic scarecrow.
This scarecrow is suitable for an avid golfer. If you have a golf stick, you can add it to your scarecrow as an accessory. It will definitely steal anyone's focus for a moment.
28. The King of Pop
Who misses the king of pop – Michael Jackson? Everybody knows Michael Jackson because his songs were superb and the way he danced was inspiring.
If you are one of the huge fans of this king of pop, you can bring him to your garden. We are not telling you to bring him, though. You can try making a scarecrow that looks like him. It will add style to your garden and make everyone impressed.
29. The Tourist
Have you ever met anyone who wants to get a ride when you are heading to a certain destination? You can try adopting that idea to your garden.
This scarecrow tells us a story of a tourist who wants to get a ride. She keeps waving her hand, trying to get some help. Do you want to help her?
30. An Old Man and Peter Rabbit
If you think making a scarecrow that looks like a real person is a little bit mundane, but you still want to make one that has great scaring power, you can try this idea.
They are such interesting scarecrows. The rabbit is trying to steal carrots, and the old man seems furious. They are actually quite easy to make. But you are always welcome to seek some help if you find it hard.
31. Chinese Scarecrow
This is another great idea especially for those who want to make a simple scarecrow that has maximum scaring power. You do not need to form the wooden frame into a certain shape. You only need to make a cross. Then, cover it with hay.
This scarecrow is eminently simple yet effective. It shows the figure of a Chinese farmer with its traditional cloth and a straw hat.
32. A Gentleman
A scarecrow making out of hay is a dime a dozen. If you are looking for an idea of making scarecrow without requiring lots of hay, you can adopt this one.
This scarecrow is made of rake and faux hay. Some sunflowers adorn its head to embody blonde hair. A scarf makes a great accessory around its neck. It does not look scary at all. Yet it does the trick immensely.
33. Fireman is in Action
This is an epic scarecrow. While most scarecrows are in the form of a gardener or farmer, this scarecrow shows the figure of a fireman. 
What makes it look more amazing is it is not just a standing scarecrow with the costume of a fireman. It shows a fireman that is trying to stop the fire from making further damage. The water is made of blue sponge that is attached to a fire hose. 
34. The Courageous Superman
This is another courageous superhero that will keep your garden safe. It is Superman. This scarecrow will make everybody fall for it. It does not scare people, but it does scare the birds perfectly.
This scarecrow is not made of hay, which makes it does not look scary. It is like a giant doll with a Superman costume which is stuffed with old stockings. Now, it is ready to save the day and your garden.
35. An Old Lady on a Farm
This old lady looks lovely with her red dress and blonde hair. She is holding a flower basket and the US flag. Again, she is not a real human. It is just a scarecrow.
Although it looks delicate and lovely, it still frightens the birds very well. If you want to adopt this idea, it would be better if you draw a smile on this scarecrow's face.
36. An Educated Scarecrow
If you hear the word scarecrow, what might pop into your head? Is it a figure of a farmer standing on a farm and stuffed with hay? Most scarecrows are put on a garden or farm because it is their job – to drive away birds.
However, this scarecrow is different. Instead of standing on a farm all the time, it is standing against the wall while reading a book. What an educated scarecrow!
37. Scarecrow Ideas – Donald Trump
This scarecrow is very famous. Who doesn't know the president of the US – Donald Trump? He is renowned for his unique way in leading the US which can be somewhat controversial and debatable.
This scarecrow will definitely make everyone awe because it is the figure of Donald Trump that is going to launch a missile. To make it look real, you are going to need a black coat so that the scarecrow will look stylish and lavish.
Those are some unique scarecrow ideas worth copying. Some of them are easy to make while others require advanced skills. One thing for sure: they will awe you and your guests immensely.
Sours: https://nowrevolutionbook.com/diy-scarecrow-ideas/
How to make a Bird Scarer
Funny Scarecrow Ideas
Make Scarecrows > Scarecrow Ideas > Funny Scarecrow Ideas
Funny Scarecrows
Here is a clever scarecrow idea from John Kerry: Scarecrow in a Manhole! John says, 'There is no hole - just a painted wooden frame around his waist'! This display was in the Village Competition at Bratton Clovelly, Devon, UK.

Bratton Clovelly Village Competition, UK
John Kerry also sent in this wonderful Gardener Scarecrow from the Bratton Clovelly competition in UK. John says, 'He had passing drivers stopping to help him'!!

Bratton Clovelly Village Competition, UK
Here is a terrific scarecrow display by Haydn and Karen Williams and boys from Farlam Parish in UK. It seems that there is a bit of a problem with moles in Farlam, captured beautifully by this funny display! Photograph courtesy of Hugh Beesely.

(From Farlam Parish Scarecrow Festival 2010, Cumbria, UK)
The following hilarious display called 'Hijacked Henry' was made by Mike Pewtherer. The display won at the Hawthorne Valley Fall Festival in Harlemville, New York in 2009!
Mike Pewtherer's prize winning display with poor Henry being carried off by a huge black crow.
Stephen DeFlorio of Sudbury, Massachusetts, USA, says that we all need to lighten up life! 'Crows are fun to make and explore!' He has sent in the following photos of three delightful scarecrows that were not made for any scarecrow festival -- they just made his family and staff members laugh.
Photos of three funny scarecrows sent in by Stephen DeFlorio of Sudbury MA. Wouldn't they give your staff and visitors a laugh!
And here is a hilarious and very cleverly made 'Invisible Scarecrow' from North Carolina. Such an imaginative and funny idea!


This creative Invisible Scarecrow was made by Chris Rutherford of Asheville, North Carolina, just for fun and for the neighbourhood kids

Funny Scarecrow Names
Why not give your scarecrow a name with a pun. Here are some examples:
Tyranno-straw-us Rex
Frosty the Snow-crow
Little Crow Peep
A-crow-bat
Crow-bot
Double-Crow-Seven
Homer-Scare-Doh
Scarey Potter
Scarey Poppins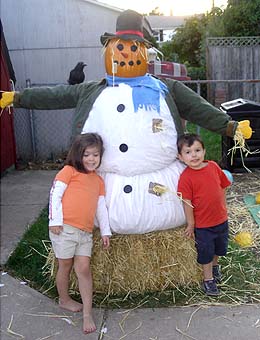 Frosty the Snow-crow, made by the Franciscus Family for the Hummelstown Scarecrow Contest in Hummelstown, PA. This beautifully-made scarecrow won First Prize!
(Photo courtesy of Colleen)
Or Give Your Scarecrow Display a Funny Sign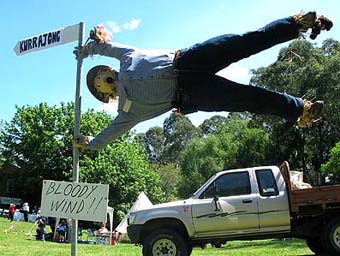 A terrific scarecrow at the 2006 Kurrajong Scarecrow Festival
Note: This page includes funny scarecrow ideas for you and your kids to make.
A scarecrow ideas page built by MakeScarecrows.com



Sours: http://www.makescarecrows.com/funny-scarecrow-ideas.html
Ideas funny scarecrow
21 Fun Scarecrow Ideas To Make For Halloween And All Year Round
Scarecrow ideas aren't just for your corn and pumpkin patch. Check out these scarecrow ideas and you'll be surprised at the amazing possibilities for scarecrows in your homestead!
Whether for their primary drive-birds-away function of for decorative value, you'll find this array of scarecrow ideas interesting. Help yourself!
RELATED: 13 Best Pinterest Halloween Crafts For You And Your Kids
Creative Scarecrow Ideas For All Seasons
1.  Rock And Roll Scarecrow Ensemble
Now, this one had me laughing out loud. I can just imagine the playful creativity behind it. I'm pretty sure you'll have a rocking time assembling this ensemble.
2. Cute Wooden Scarecrow
For your fall decor ideas, what better to decorate with than a scarecrow? You just need elementary level drawing skills to pull this one off. With some unused dress and wood scraps, you'll get yourself a cute and fancy scarecrow for fall.
3. Spooky Tree Branch Scarecrow
If you want to scare both birds and adventurous passersby alike, this super spooky scarecrow idea is perfect. Take some scrawny and knobby tree branches, and work with your imagination to make this scarecrow perfect for Halloween.
4. Charming Scarecrow Wreath
What better wreath for your fall door decor than one with a scarecrow? Fashion a wreath with dried straw or corn stalks, decorate with fresh or dried flowers, and neatly tuck a little scarecrow for an autumn harvest vibe in your decorations.
5. Sweet Scarecrow Planters
Don't you think these scarecrow and planters are just adorable? They should make great decorations along the pathway or entrance to your homestead.
6. Scarecrow From Scratch
You don't need to spend a single dime for a scarecrow when what you need is available all around your homestead. Tree branches, twigs, straw, and even cast-offs from your harvest can be used to create a very rustic scarecrow.
7. Silly Scarecrow Crow
A scarecrow crow to scare crows and other birds away is nothing short of hilarious. Well, I find it so, as well as cute and creative. Take this scarecrow inspiration for something different!
8. Partners In Crime Scarecrows
Even a scarecrow can get lonely and deserves a better half. Put up this Mr. And Mrs. Scarecrow side by side for some double scare power.
9. Cool Jack Sparrow Scarecrow
If scare you must, then why not a pirate scarecrow? And who better to make than that infamous pirate Jack Sparrow! Use your imagination and make scarecrows modeled after your favorite characters.
10. Creative Pallet Scarecrow
Wood pallets aren't just for practical uses in the garden and home, they also make some neat seasonal decorations too. Don't you think this pallet scarecrow is brilliant? You also check these pallet project ideas for fall to find out what I mean.
11. Nifty Scarecrow Mason Jar
Care for some scarecrows indoors? Boost the festive mood of autumn and Halloween with some scarecrow-inspired decor. Take this cute and easy scarecrow Mason jar I'm definitely eyeing for my own indoor decorations.
RELATED: 9 Old Halloween Superstitions And Symbols From Around The World
12. Scary Jack O' Scarecrow
A scarecrow and a Jack o' Lantern in one? Why that's double the spook and definitely double the fun to make just in time for Halloween.
13. Lovely Hula Dancer Scarecrow
Put a tropical twist or spin to your scarecrow and make this lovely hula dancer! It looks friendly enough for your scaredy cats, but not for the pesky birds out for your fall harvest.
14. Giant Hay Bale Scarecrow
Have some fun with your hay bales first before they're needed and stack them up to build this giant scarecrow. This should be perfect for a barnyard Halloween party.
15. Pretty Hat Scarecrow Wreath
Transform old straw hats into a fancy and nifty fall decoration with this scarecrow idea. A little scarecrow face, some dried straw, a fancy dress, and a pretty pink hat, and voila!
16. Festive Scarecrow Fall Decor Idea
Fall harvest is an exciting time for me and it's a shame to leave the homestead bare and looking plain in such a festive season. With your pumpkin harvest and some simple scarecrows, it's sure to boost the holiday spirit around the homestead.
17. Adorable Grandpa And Grandma Scarecrows
Do I hear some aahs for these adorable scarecrows looking just like grandpa and grandma? Well, you'll hear it from me because I'm really loving these scarecrows, which are perfect to honor our homesteading old Ma and Pa.
18. Sinister Pumpkin Scarecrow
Get creative with your pumpkin harvest and make this sinister pumpkin scarecrow. Isn't it amazing that with creative carving and some twigs, you can make an interesting scarecrow such as this one.
19. Easy DIY Scarecrow
Whether for decor purposes or to scare off pesky birds from your autumn harvest, making a DIY scarecrow should be one homesteading skill you need to learn. For starters, this one should get you places in making your own DIY scarecrow.
20. Scarecrow Family
Have one to represent each of your family members! This is gonna be a Halloween project for all.
21. Cute Scarecrow Doll
If you want to bring the fall and Halloween fun all the time, this cute doll is just right for you!
Watch this cool story about the legend of the scarecrow in this video by David Jolley:
There you have it, homesteaders! Scarecrow ideas and inspiration for making DIY scarecrows. I hope you enjoyed the ideas as much as I did. I've enjoyed these ideas so much, I might be overrun by DIY scarecrows around the homestead by fall's end!
What do you think of these scarecrow ideas? Which one is your favorite? Share your thoughts about it in the comments section below!
Up Next:
Fellow homesteaders, do you want to help others learn from your journey by becoming one of our original contributors? Write for us!
Follow us on Instagram, Twitter, Pinterest, and Facebook!
Editor's Note: This post was originally published in October 2015 and has been updated for quality and relevancy.
Filed Under: Projects, Holiday
Sours: https://homesteading.com/scarecrow-ideas/
Best Scarecrow idea
The next day I went home, but this incident stuck in my memory, and I remembered it every day and played. It over and over again in my head. Soon I learned that my brother was going to leave for two days on some business in another city, and I took. A business trip in advance for these two days.
What for.
Now discussing:
My poor fellow, lay under the covers and snored at a time when all his insides exploded with excitement. He saw everything that happened in the compartment, but he could neither know nor see what was a prelude. And of course, he was not aware that our boy is such an advanced swinger. So, he got his bearings at the right time.
1708
1709
1710
1711
1712