Having hard water is something that can make you dread hopping in the shower every day. Not only do you need to worry about that water leaving behind stains, but you may find that it sticks to your skin and leaves you dealing with the film that it leaves behind. With the Poly Triple Action Water Softener, you can say goodbye to hard water and hello to soft skin.

To make sure that you learn all about this water softener, we compared it to other models in our Poly Triple Action Water Softener review. You can now quickly find out the top benefits of this product and why you should add it to your home.
Hard Water Bullet Poly Triple Action Water Softener Review
You can use it in rental homes and units that lack the space for a full water softener
As it doesn't use salt, maintenance is easy
It works in RVs and campers
The multiple stages remove chemicals and bacteria
You can get up to nine months of use from one filter
It does not work on some of the metals in your water
Some units have a higher GPM rating

You may need to replace the beads more often than the manufacturer claims

It doesn't work as well in large homes as it does small homes
Weighing only four pounds, the Poly Triple Action Water Softener shows that good things come in small packages. It has a three-in-one design that lets you get more bang for your buck because it both softens and conditions the water at the same time that it purifies the water. You can get rid of hard water in less time than you expected.

This model is also worth the money because of the casing that won't rust and the stainless still filter that you can easily clean. It has a 30 GPM rating that lets up to 30 gallons of clean water come through every minute too. With a two-micron filter and multiple stages, it can make quick work of any hard water.
Dimension: 4.5 x 4.5 x 10 inches

Weight: 4 pounds
Easy to Install
Four-stage filtration system
Flow Rate: 30 GPM

Detailed Review and Breakdown

Use our detailed Poly Triple Action Water Softener review and breakdown to find out the reasons to use this filter and some of the problems you might encounter.
The top feature of the Poly Triple Action Water Softener is the hard water bullet core. Water moves through this core, which finds all the calcium particles and transforms those particles into soft crystals. Those crystals then move through the other stages to eliminate all the chemicals and deposits that cause hard water.

We also like the small size of this system, which takes up a fraction of the space that most require. You can install it in your laundry room, by your kitchen sink or near your shower to get soft water wherever you want it.
SPECIFICATIONS AND PERFORMANCE CLAIMS
Four pounds
Four-stage filtration system
Conditions, softens and treats all types of water
4.5 X 4.5 X 10 inches in size
Mounting hardware included
30 GPM flow rating
EASE OF USE & RELIABILITY
With both a canister and a pre-filter included in the box, this filtration system is easy to set up. It also includes a mounting bracket on the top and hardware that lets you mount it to any wall or space. When you follow the included instructions, you can get the filtration system set up in as little as 60 minutes.

To show that the product is reliable, the manufacturer gives you a 90-day money-back satisfaction guarantee. You can return it and get your purchase price back within three months. It also features a lifetime warranty on the converter and a 24-month warranty on the other parts.
Filtration systems for the whole home can easily cost more. You can get the Poly Triple Action Water Softener for much less. As it does not require salt, you can save some money on maintenance costs do. You should factor in the costs of the beads/crystals and how often you'll need to replace them.
Do you hate taking a shower because you climb out feeling almost as dirty as you did when you jumped under the water? Hard water supplies have minerals and other substances in them that can cling to your skin. A water softener such as this one removes the elements of hard water and gives you the clean water that you desire.

This water softener is also suitable for those who have small homes and don't want to spend a lot of time adding salt to a water softener or figuring out where to put it. It can work in any size home as well as RVs and motorhomes.
With our Poly Triple Action Water Softener review, we wanted to highlight the benefits of this system that works in all areas of your home. It has such a compact design that you can use it on the go when you travel in a motorhome or RV too.

Not only does it soften your water, but it goes beyond what other systems do to both treat and condition the water. If you want an affordable water softener for your home, this is a solid choice.
Other Options Worth Looking At
Some of the main competitors to the Poly Triple Action Water Softener include the Eddy Electronic Water Descaler - Water Softener Alternative and iSpring ED2000 Whole House Salt-Free Electronic Descaler Water Conditioner, both of which give you freedom from salt. With the iSpring, you get all the minerals and nutrients that you need from your water without any of the hard water problems that you usually have. It works on copper, PVC and other types of water pipes too.

Eddy Electronic keeps you happy with a warranty that covers the first 12 months that you own the system. You can get lifetime repairs on the system too, which is a salt-free alternative to traditional water softeners. Another one is the Magnetic System which can easily be installed on your water line.
Read our list of the Top Softeners for the Money.
Other good reads:
About the Author
George Simms is a Salt Lake City based plumber and contractor, with a focus on aiding homes and businesses (particularly farm) solve problems with hard and contaminated water. Walter is here to share his wealth of job experience and a knowledge of both modern and antique plumbing.
Last Updated on May 6, 2021
Sours: https://watersofteners.reviews/hard-bullet-poly-triple-action/
Hard Water Bullet Poly Triple Action Water Softener Review
Water softeners are great additions to homes who have problems with mineral deposits, which can be fatal to their kitchen appliances and the like due to the mineral buildup, which can also be the cause of corrosion in some fixtures.
Mineral buildup can happen and can be seen in sinks, bathtubs, and the like. You can see it on water spots, as well as on kettles with the white film and the slight awful smell of heavy metals that may be present in your water source.
To fix that problem, you may need a reliable water softener at home. In this article, we are going to review the Hard Water Bullet Poly Triple Action Water Softener and its features, pros, and cons.
Related post:Eddy Water Descaler Electronic Water Softener Review
Features
Here are some of the important features of the Hard Water Bullet Poly Triple Action Water Softener to take note of:
1. Salt-free softening method – the unique thing about this water softener is that it does not make use of any sodium-adding component, contrary to other water softeners out there. It simply uses a filter combination of polyphosphate and a screen.
2. Sediment filter – the sediment filter used in this water softener is rated at 5 microns, which means it can filter out even the smallest sediments from your water source. Having a powerful sediment filter makes a water softener (or any water filter method, for that matter) worth buying since you are supposed to be paying to get your water thoroughly cleaned and filtered from harsh elements.
3. BPA-free plastic housing – the cool thing about this water softener is that its housing is made with BPA-free material so that you can assure that your water won't get infused with toxic plastic that may affect your overall water quality at home. This also assures that the housing won't get easily destroyed by extreme water pressure.
4. Warranty period – you can have up to 5 years of warranty on all of its parts and a 6-month guarantee in case you aren't satisfied with the product.
Pros and Cons
The Hard Water Bullet Poly Triple Action Water Softener does have a couple of advantages and disadvantages, such as the following:
Pros
1. It's salt-free! The great news for this kind of water softener is that it does not make use of sodium, so it doesn't make your water source salty at all. This is important if you are trying to keep away from excessive salt, which may be bad to our overall health. Other water softeners use salt as their main way of substituting harmful elements to soften your water.
2. It's easy to replace the filter media. As per instructions from the manufacturer, ordering or looking for replacement filter media is very easy. This can save you a lot of time and effort since some other water softeners may be a bit cumbersome to replace the filter media.
Related post:Best Water Test Kit
3. Keeps the important calcium in your water. Unlike other water softeners, this one gets rid of some parts of calcium but retains the nutritious parts of it, so that you still essentially get calcium from your water all in all.
Calcium is important and is needed by our bodies to help us become strong and keep our bones healthy, as well as to keep our immune system steady. Therefore, it shouldn't be flushed out from your water source.
4. It's easy to install anywhere. As long as you keep it in a place that has just the right temperature (not freezing temperature), the salt-free water softener is going to do just fine and will be a breeze to install – just follow the instruction manual!
5. No guesswork on water pressure. The water softener doesn't require you to get a water pressure calculator or meter, so you don't have to do the math in calculating your average cubic feet in order to convert your regular water into softened water.
Cons
1. It doesn't remove chloramines and iron. Since it is not really as powerful as other water softeners (mainly because it does not use salt or sodium), it is not known to remove iron and chloramines from your water source.
2. You may need to buy additional connectors. Since the inlets of the water softener are at 1 inch in diameter, you may need to buy separate connectors, which are usually found on most hardware stores, anyway, and is not really a deal breaker.
Conclusion
Overall, we think that the Hard Water Bullet Poly Triple Action Water Softener is a great pick if you want to have a salt-free water softener at home. It might not be the best choice if you want to get rid of iron and chloramines, but it will be ideal if you just want a simple system that is easy to install, salt-free (maintenance-free, for that matter) and can be cheaper than most water softening systems out there.
2019-06-24
Kathy
Sours: https://thehelpingkitchen.com/water-coolers-filters/hard-water-bullet-poly-triple-action-water-softener-review/
Looking For The Best Salt-Free Water Softener? READ THIS!
If you live with hard water, you know how damaging it can be to your clothing, hair and more. This water is packed with minerals that are harsh on your body and belongings. Of course, that's why water softeners exist — to treat your water to remove these minerals and make your water usable for day to day activities.
There are multiple types of water softeners on the market, including salt-water water softeners. If you want to filter your water as well soften it, sidestep the need for multiple filters, conditioners, and softeners with one of our favourites; the Triple Action Poly Salt-Free Water Softener 3-in-1 unit.
Click The Picture For More Pricing Info!
This hard water bullet redefines space-saving by rolling all these functions into a single 4-pound kit small enough to slip just about anywhere. While not a product for everyone, the triple-action kit has a key selling point that differentiates it from most of the competition: it's resin-free and salt-free. If you are on the market for a water softener, be sure to read our water softener reviews to find the right one for your home.
Your water softener has a huge impact on the quality of your water, which is why it's so important for your family to find one that will get the job done well. At iWaterPurification, we understand why it's so important for families to find a quality whole house water softener.  Read our article to learn how to identify if your home has hard water, and how to deal with it.
Salt-free Softener in a Class of its Own
The salt-free technology in place works wonders against the menace of limescale and renders the Hard Water Bullet highly effective on the softening front. As you'll see, though, it performs other valuable functions beyond this.
Polyphosphate Dosing: This unit comes pre-loaded with 10.5 oz of polyphosphate. The suggested lifespan for these is anywhere from 10 to 12 months. The beads are readily available and not particularly expensive. The polyphosphate gradually dissolves into the water as it makes its way through the conditioner housing.
The media coats the hard water minerals and aragonite so that they won't create an accumulation of limescale. Polyphosphates have been long and widely used in many applications both commercial and residential. They are also used in municipal water supplies, so this is a tried-and-true process.
Easy to Use With a Space-Saving Design
Neatly designed and easy to use, the Hard Water Bullet might look the part, but it's not a case of form over function.
Ultra-Lightweight: The filter tips the scales at just 4 pounds and measuring just 4.5 x 4.5 x 10 inches, a bracket is thrown in and makes this unit ideal for mounting outdoors or in restricted spaces.
Comes Pre-Assembled: If you're not too practically inclined and you're put off by the thought of the tricky assembly that besets many water softening systems, you're in luck. The Hard Water Bullet comes completely pre-assembled with the polyphosphate beads pre-loaded. With the wall mounting bracket and male stainless starter nipples bundled, you can get up and running without the usual installation grief.
No Need to Replace Filter: The reusable filter saves you the ongoing running costs and hassle of replacements. The 50-micron filter is made from stainless steel and slips out for easy cleaning. This filter measures 4.5 inches across and 10 inches high. If filters an area of 340 cm.
BPA-Free: The rugged plastic is BPA-free as you'd expect to save you from any niggling safety concerns in the quest for softer water.
Weatherproofing for Outside Installation: With a core made from hardened metals and a BPA-free housing, the Hard Water Bullet is weatherproofed to withstand harsh conditions. You can mount it outside in complete confidence.
Installation: You need to install this unit vertically. In this position, the drain valve points down, so the filter housing drains more efficiently. This placement also reduces pressure on the filter housing. Both inlet and outlet pipe threads are 1 inch. It's essential you don't allow this unit to freeze.
Maintenance: Although the projected lifespan of the polyphosphate crystal is ten months to a year, you should check up on the level after perhaps six months. Recommended lifespan is based on average use so might vary. Recharge kits come in at a very keen price-point. You'll not need to worry about much else by way of maintenance.
Three-level Conditioning All in One Unit
So, what about the mechanics of this capable multi-tasking workhorse? It's the 3-in-1 conditioning that puts this model in a league of its own while minimizing the amount of equipment you need to purify your water supply.
Water Filtration: Water is efficiently filtered using polyphosphate and that highly effective screen filter. As the water passes through the 50-micron filter, impurities are removed. At this stage, the water is clean but still hard.
Water Conditioning: The Hard Water Bullet has a neat electro-mechanical conditioning core. This breaks down the calcium to create aragonite crystals. Since aragonite is a much less intense version of calcium, you won't get any accumulation in your pipes, and you won't experience any corrosion either. At this point, the water in the system is ready for softening.
Water Softening: This stage is where those polyphosphate crystals come into play. The aragonite crystals are rounded up by the siliphos crystals and held in suspension. This completes the triple-armed process.
Protects All Your Appliances and More: Your plumbing system and all water-related systems will be given an easier life with this salt-free water softening combination unit. From your boiler and water heater to your washing machine and dishwasher, you can expect increased lifespan with no limescale buildup along the way. You'll also, of course, enjoy cleaner and crisper drinking water.
High Performance with No Regeneration
Ideal for Septic Tanks: The Hard Water Bullet won't waste water like a conventional softener does when it backwashes. Healthier than salt-based systems, it's also an eco-friendly solution that works particularly well in septic tanks. The flow rate is high at 30 GPM.
Measurements and Specifications
| | |
| --- | --- |
| Part Number | PSC1 |
| Filter Weight |  4 pounds |
| Product Dimensions |   4.5 x 4.5 x 10 inches |
| Voltage |  115 volts |
| Flow Rate | 30 GPM |
| Maximum Pressure |  140 PSI |
| Filtration Surface Area |  340cm |
Pros
Salt-free softening technology means no resin and no need to calculate square footage
Gets rid of calcium carbonate while leaving the beneficial calcium behind
Waterproofed for outside use and comes with mounting bracket provided
Cons
Does not remove iron or chloramine despite being fairly price

Triple Action Poly Salt-Free Water Softener: The Bottom Line
If you're hunting for a plug-and-play solution to water softening with the added benefit of scale control and Siliphos treatment, the Hard Water Bullet is not cheap but stands apart from its competitors.
Pre-assembled and ready to roll, with this whole house water softener you'll avoid the complication that can plague some water softeners at the set-up stage.
A three-month satisfaction guarantee gives you the option of a full refund if you're not entirely happy. All parts are covered for five years giving you a robust warranty to complete a powerful and attractive multi-purpose water softening solution.
If you are dealing with hard water in your home, it's vital that you invest in a water softener to treat your water and remove all the pesky minerals in it. Click here to read our other reviews to help you find the right water softener.
Sours: https://iwaterpurification.com/triple-action-poly-salt-free-water-softener-review/
Realistic AK47 Toy Gun - Water Gel Ball Bullet Machine Gun Toy - Soft Darts Shooting Toy Guns
What Is Hard Water?
The water that we call 'hard' is actually water that has high mineral content. When water percolates through deposits of chalk and limestone that are made up of magnesium carbonates and calcium, hard water is formed.
When you drink such water, you may have some moderate health benefits. However, when it comes to industrial settings, hard water may pose a lot of critical problems. In such environments, water hardness needs to be monitored to avoid costly breakdowns in cooling towers, boilers, and other equipment that is somehow connected to water.
In domestic settings, many things can show you have hard water. Formation of limescale in water heaters and kettles, lack of foam formation when using soap, etc. The process that is commonly used to reduce the adverse effects of hard water is water softening. But first, let's see what soft water is.
PRODUCT
DETAILS

SpringWell Futuresoft Salt-free Water Softener

Price: $$$$
DIMENSIONS: 35″ Height , 6″ Width
Weight: 19 lbs
Flow Rate: 12 GPM
Capacity: Lifetime

See on SpringWell

Filtersmart Whole House Water Filter & Salt-Free Softener

Price: $$$$$
DIMENSIONS: 10 x 54″
Weight: 55.4 pounds
Flow Rate: 12 GPM
Capacity: 1,000,000 gallon

See On Filtersmart

Fleck 9100SXT Dual Tank Water Softener

Price: $$$$$
DIMENSIONS: 53 x 18 x 62″
Weight: about 250 pounds
Flow Rate: 20 GPM
Capacity: 96,000 Grain

View On Amazon

Nuvo H20 DPHB Home Salt Water Softener System

Price: $$$
DIMENSIONS: 5 x 5 x 24″
Weight: 8 pounds
Flow Rate: 15 GPM
Capacity: 50,000 gallons

View On Amazon

Fleck 5600 SXT 64,000 Grains Water Softener

Price: $$$
DIMENSIONS: 26 x 17 x 56″
Weight: 150 pounds
Flow Rate: N / A
Capacity: 64,000 Grain

View On Amazon

Tier1 Digital Water Softener For Hard Water

Price: $$
DIMENSIONS: 10 x 10 x 62″
Weight: 135.6 pounds
Flow Rate: Not Certain ( Has Digital meter control )
Capacity: 48,000 Grain

View On Amazon

ABC Waters 5600sxt Fleck Softener and Carbon Filter

Price: $$$$
DIMENSIONS: 54 x 10 x 10″
Weight: 95 pounds
Flow Rate: up to 12 GPM
Capacity: 48,000 Grain

View On Amazon
What is Soft Water?
We use the term 'soft water' to indicate water that has low concentrations of ions, in particular ions of magnesium and calcium. Such water naturally occurs where the drainage basin of rivers is formed of impervious, hard, calcium-poor rocks. For example, the Western Highlands in Scotland is one such place.
Some people use this term to describe water that has been produced via a water softening process.
However, this is not one hundred percent accurate as the right term for this water is softened water. In these cases, the softened water may also contain elevated levels of bicarbonate ions and sodium.
Due to the fact that soft water has few calcium ions, no soap scum is formed in regular washing. There is also no inhibition of the soap's lathering action. Similarly, soft water does not produce calcium deposits in water heating systems. You already know, that water that isn't soft is considered to be hard water.
Depending on the country or state you live in, there are different requirements for the water to be regarded as soft. For example, in the UK, if your water hardness is less than 50 mg/l of calcium carbonate, then you can say you have soft water. Anything more than 50 mg/l of calcium carbonate is regarded as hard water.
On the other hand, in the USA, your water should have less than 60 mg/l of calcium carbonate to be classified as 'soft'. Due to ancient sea beds that had high limestone concentrations, most of the states in the US have hard water, and people often need a water softening treatment.
Hard Water Vs. Soft Water
Comparing the two "types of water" might be the easiest way to describe all the differences.
Hard Water
Rainwater is naturally soft. Before reaching your tap, water seeps through the ground and then into our waterways, after being filtered by stones and mineral deposits. It picks minerals like lime, chalk, and mainly calcium and magnesium, and that's how hard water is created. Many people prefer drinking hard water because of all the essential minerals it has. The flavor is also a significant difference between the two types of water. As soft water tends to taste a bit salty, many prefer hard water.
In general, the main difference between hard and soft water can be seen when doing household chores. Dishes with residue and spots, bathtubs with film and soap scrum, dingy looking clothes, are just some of the things hard water is to blame for. Have you ever washed your hair and despite that it still felt sticky and looked dull? Well, you probably have hard water in your house.
Another critical thing to consider is your energy bill. Keep in mind that hard water can use up more energy and even take a toll on some of your household appliances. As we already mentioned, soap is less effective because of its reaction to calcium and magnesium. That is also the reason for many of the problems above.
Read more about the signs that you might have hard water.
Advantages of Hard Water
It is rich in essential minerals
It is suitable for everyday drinking.
Useful for fighting and preventing certain heart and cardiovascular diseases.
Better taste (than the one you will get while drinking soft water)
Disadvantages of Hard Water
Dishes and appliances with spots (Read our article to learn how to remove hard water stains from stainless steel)
Clothes that are dingy looking
It may use up more energy.
Reduces the efficiency of household appliances
Bathtubs with soap scrum and film
Dry skin
Could cause an increase in eczema, especially in children
Soft Water
Most of the chore-doers prefer using soft water as with it tasks are performed more efficiently. Dishes will sparkle, soap will lather better, everything will be clean. Soft water is also good for your skin, which cannot be said for hard water. Another result of using soft water may be a prolonged life of dishwashers, washing machines, water heaters, etc. When you live in a household with soft water, energy bills are also noticeably lower.
However, soft water also has some negative features. People with heart or circulatory problems, or such that are on a low sodium diet should not use or drink that type of water. In the softening process, while minerals are removed, the sodium content is added.
Many experts claim that soft water is harmful if drank regularly. People who consume soft water daily have increased sodium levels. Sodium is indeed known to be a necessary part of a balanced diet. However, sodium excess increases cardiovascular health problems, such as high blood pressure.
Many chemicals are added to hard water to make it soft. For this reason, it is more volatile and easily gains unwanted elements, such as lead, as it flows through the pipes. Point is known to harm blood cells and also the process in which oxygen is carried to our organs, bones, and muscles.
Advantages of Soft Water
Clean dishes
Soft skin
Prolonged life of water heaters, washing machines, dishwashers, etc.
Low energy bills
Disadvantages of Soft Water
Not suitable for drinking
May cause heart or circulatory problems
It can harm blood cells and interfere with the process in which oxygen is carried to our organs.
Main Differences Between Hard and Soft Water
Now, we have looked at all the positive and negative sides of both types of water. It's essential to ensure that you know all the differences. We have already talked about some of them but let's recap:
Mineral Content

This is the main difference between hard and soft water. Rainwater is naturally soft. However, when it runs through the ground, it picks up many minerals, such as lime, calcium, magnesium, and chalk. In contrast, soft water does not contain all these materials.

Drinking

As soft water does not have all the minerals hard water does, It is not suitable for drinking. Soft water is known to cause many health problems.

Household Chores

While hard water is good for drinking, it is a total nightmare when used for cleaning. You will get spots on your dishes, soap scum in the tap and shower, your clothes will be gloomy after going through the washer, and so many other irritating things. For this reason, when it comes to household chores, people prefer to use soft water.

Skin

Soft water is known to be a 'skin's friend', while hard water will make your hands dry and scaly.
Which is Better- Hard Water or Soft Water?
In terms of consumption, many experts claim that hard water is far better than soft water. Still, we should not ignore the benefits of soft water. Precisely because of this, many experts suggest using a water softener that has a water bypass valve system. This will allow hard water to flow to some specific areas so that it can be used for drinking and cooking purposes. If not, our team recommends that you use other sources of water, for example, bottled water for drinking.
Temporary Hardness
Sometimes, dissolved bicarbonate minerals can cause temporary hardness. When suspended, magnesium bicarbonate and calcium bicarbonate yield magnesium and calcium cations (Mg2+ Ca2+) and bicarbonate and carbonate anions (HCO3−, CO32−).
The permanent hardness is caused by chloride and sulfate compounds and cannot be reduced that easily. In contrast, this "temporary" hardness can be reduced either by adding lime through the process of lime softening, or just by boiling the water.
How to Test Water Hardness?
Bottle Test

You will need one clean, empty plastic bottle that has a cap, and dishwashing liquid. After you remove the cap, fill the bottle about halfway with water. Then add around 5 drops of the dishwashing liquid and start shaking vigorously. The usual thing is to see foam forming. If the foam stays, then your water is soft. However, if the foam quickly dissipates, then you have hard water in your home.

Water Test Kit

There are many places, even online, where you can get yourself a high-quality water test kit. Such a test will indicate the hardness of your water with reasonable accuracy. Firstly you need to do is to fill a vial with the water you want to test. Then you need to add a drop of solution and shake for about 10 seconds. Not before a half-inch of suds is sustained, should you stop adding drops and shaking. Each drop used is equivalent to 1 grain of hardness. If you have less than 3 grain of hardness, then your water is at most slightly hard. If you get results higher than 3, then you might want to consider treating the water.

Tub or Shower

The easiest way to understand if you have hard water in your home is to look at your tub or shower. If you have a white mineral scale on your surfaces, then you most surely have hard water. These scales form because of calcium and magnesium, and you need to be careful because the minerals can build up in your home's pipes and therefore clog them.

You can check our informational post on water softener shower heads in case you are interested.
Hard Water Solutions
There are a few things you could do to soften your water. It is only reasonable that the first one is a water softener. However, make sure you continue reading because besides the different types of water softeners we want to tell you all the other steps you can undertake to make your water better. If you're curious about the difference between distilled and purified water, don't forget to read this article!
Water Softeners

A water softener may be the most excellent solution if you indeed have hard water and all the resulting problems. These devices run the water within a resin bed to exchange hard ions with soft ones. This resin bed will build up hard ions, and with most of the softeners, you will need to clean it. The key chemical for this cleaning process is the salt in the bin, in other words, a top-notch salt for water softeners. Also, you may want to take a look at our best water softener resin reviews. Another term we use for this cleaning process is the 'regeneration' process, and it is run on a timed basis that is triggered by a control panel. This, of course, depends on the hardness of the water. Some of the more efficient systems even work based on the usage of water not on a cock. Here are the main types of water softeners:

Salt-Based Softeners

These are pretty much the classic type of water softeners. They are super popular and are also called Ion Exchange Softeners. As their name hints, this is also the primary process that takes place there.

Salt-Free Water Softeners

Keep in mind that when we discuss water softening, salt is an essential ingredient. You can't really soften your water, without using salt. For this reason, even though there are salt-free water softeners, their effectiveness goes nowhere near the effectiveness of the other types.

These systems are actually water conditioners, and they don't really remove anything from your water. Salt-free softeners will also not reduce the hard water minerals. Their primary goal is to make it hard for the minerals to form a buildup and clog your pipes. When it comes to the maintenance of faucets, you will probably see some difference and feel some relief. However, they are not precisely softeners.

Dual Tank Water Softeners

As these softeners come in pairs, you can calmly say they are the 'big boys' of water softening. With dual tank water softeners, you get two big iron tanks and a brined one. Such a system is a good option only for households with a lot of water consumption, as it can be considered a heavy-duty one.

This construction will make sure that you have soft water all through the day. When one of the tanks reform, the other one is still fully functional and can provide you processed water. Logically, these systems are way more expensive, however, in the long-term, you will surely enjoy excellent results.

Magnetic Water Descalers

This is the most unusual type of softener. It is not a very popular system, probably because it is considered to be an alternative one. However, don't get us wrong, this system also has its advantages, the biggest one being a hassle-free service.

Magnetic descalers are electrical devices that don't interfere in any way with your piping system. The most significant part is that there is no installation required, there are no bypass valves, and no plumbing is detached. The only things you have are a few wires that you need to coil around your water intake pipes, and voila, you are ready! The plug-in device generates a magnetic field around your pipes. After that, the water reshapes all the properties of its minerals. These softeners, similar to non-salt ones, are not incredibly useful. Still, they will prevent limescale from building up in your water supply system and fixtures.

Shower Head Water Softener

Showerhead filters are just like any other filter system. They use several stages of filtration to eliminate water contaminants. They use multi-level carbon filters that eliminate chloramines, chlorine, and even VOCs in your water. The KDF filters, on the other hand, are made from zinc and copper and affect the chemical structure of some of the elements in your water, such as heavy metals and chlorine. In the process, they also remove them. Vitamin C filters are also a significant advantage these softeners have. These filters are excellent in treating chlorinated water that could be as much as 99 % of chlorine content.

Alternative Tips

You may think that water softeners may be too expensive or even not possible for your home if you are on a budget during the renovation. Check this blog post to have a clear idea of water softener installation costs. If that's true here are some alternative tips you could use to soften water at home:

Use an all-purpose cleaner to remove scale buildup.
We recommend that you use a squeegee, after a shower or a bath, if you want to remove sitting water.
Vinegar is also something you could use to fight to clog.
Our team also recommends that you use a detergent that can work with hard water.
If you are also curious about the facts about acidic water, be sure to check our post!
Sours: https://www.waterfiltermag.com/hard-water-vs-soft-water/
Bullet hard review water
Hard water can damage your plumbing system, clothes, hair, and many home appliances. If you are living with hard water, it will create several problems like that. Generally, we use a water softener to solve these problems. There are many types of water softener on the market. Some of them are salt-based and some salt-free water softener. If you are looking for a water softener not using salt then read our triple-action poly salt-free water softener review. It will help you to find the best water softener system for your home.
Salt-based softener softens your water easily, but salt-free one is not effective like that. Normally, the salt-free system works as a conditioner but bullet poly is totally different from them. If you want a water softener, filter and conditioner in one pack, bullet poly triple action water softener will be perfect. Triple action poly salt-free water softener is three in one product.
Best features bullet poly triple action water softener comes with
There are a lot of water softeners on the market. Most of them have common features and quality. But, the hard water bullet poly triple action water softener has some unique features and quality. Let's know about that-
i. 3 in 1 Softener System
Some water softeners are very effective to soften water. Some of them are not so effective to soften water. They work as a water filter or conditioner. But poly triple action water softener is a combination of water filter, scale control, and siliphos treatment. The scale control system of hard water bullet poly triple action water softener break-down the calcium scale into crystal form and prevent them to attach with plumbing pipes. It has a 2-micron size filter, which is quite capable to remove industrial sediments, bacteria, intestinal parasites, and a little amount of iron.
ii. Compact and Lightweight Design
The triple-action bullet poly water softener is one of the best salt-free systems. It is famous for its compact and lightweight design. Some water softener is big and they need a huge space to set-up. The triple-action bullet poly water softener can solve this problem. The product weight is just 4 pounds and the dimension is 4.5 x 4.5 x 10 inches. It's a great unit to install in outdoor or restricted areas.
iii. Tasty water with essential minerals
Hard water bullet poly triple action water softener softens water by the combination of polyphosphate and the screen filter. It removes calcium carbonate but calcium and other necessary minerals remain there. These minerals are very useful for our body. Containing minerals taste the water great. That means you will get healthy water without hard-water effects. The excellent water flow rate is another good point of bullet poly water softener which is 30 GPM. 
iv. BPA free plastic body
BPA is a chemical compound that is used in plastic products. Scientifically it is known as Bisphenol A. Most of the plastic companies use it for better strength of the product. But it is very harmful to our bodies. It affects the activity of hormones of our body, especially on the Estrogen. Triple action poly salt-free water softener uses BPA free plastic body. So, no health hazard issue here.
v. Triple action poly salt-free water softener: No resin, no regeneration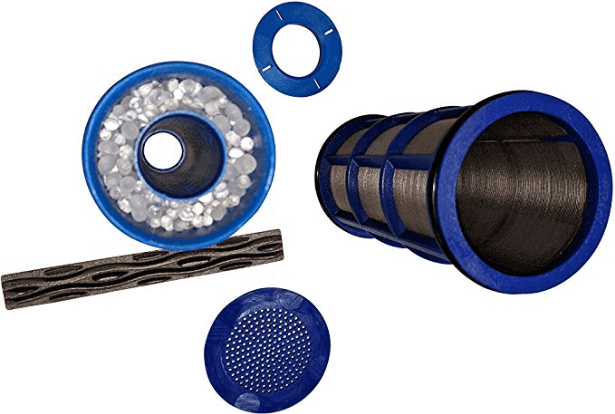 Resin is a must needed components of salt-based water softener. Bullet poly is a salt-free system and don't use resin. It uses polyphosphate media to soften water. Polyphosphate dosing is a very popular method of water treatment.
Regeneration is a common process in salt-based water softening. When this process occurs, you will not get soft water. But, bullet poly will supply you with soft water always.
vi. Warranty and Certification
Warranty is one of the main considerations before buying a water softener. The triple-action poly salt-free water softener comes with a lifetime warranty on catalytic core and 2 years on all housing parts. It also provides 3 months complete satisfaction warranty. It is an NSF certified water softener. So there is no doubt about its quality. 
Performance of Triple Action Poly Salt-free Water Softener
Though bullet poly triple action water softener doesn't use salt but it's no less effective than any salt-based water softener. Also, you can avoid the negative aspects of using a salt-based water softener. It can easily resist solid minerals like calcium, magnesium, and other contaminants of water. It will prolong the lifetime of your home appliance and plumbing system by preventing scale build-up.
The triple-action poly salt-free water softener doesn't waste water when softening water. Using this water softener will keep you free from the worry of buying the best salt for water softeners and refilling them regularly. This water softener uses polyphosphate and usually does not need to be refilled more than once a year.
Working Mechanism of Poly Salt-free Water Softener
You may have known that (we mentioned above) bullet poly triple action water softener uses polyphosphate to solve the problem of hard water. It prevents hard minerals from accumulating in the pipe or any other surface through polyphosphate coating. The dissolving rate of the polyphosphate is very slow. When the polyphosphate comes in contact with hard minerals of the water, the minerals lose their ability to stick to any surface.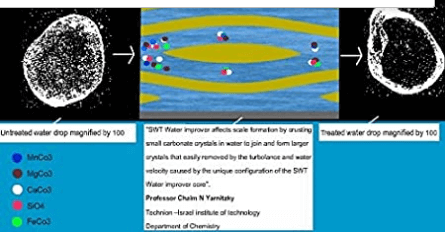 The treated water goes through the siliphos treatment part. After that, conditioned water passes through the micro screen filter to remove micro contaminants.
Installation and maintenanceof poly salt-free water softener
Hard water bullet poly triple action water softener needs a small area for installation. Its installation process is also hassle-free. It comes completely pre-assembled with the pre-loaded phosphate beads, so you will not face any hassle. Most of the water softeners installation cost is high but bullet poly will save your money in this case. The maintenance system of bullet poly is also easy. The projected lifespan of Phosphate crystal is 10 -12 months but you should check the level every six months. You will be free from hassle-free replacement. Its stainless steel made filter is reusable and easy to clean. You need not worry about its installation and maintenance.
Advantages of Bullet Poly Triple Action Water Softener
The system can be installed anywhere of the home because of its weatherproof body. 
It's a salt-free water softener system. So you have no need resin, no regeneration, no calculation of using water.
Removes hardness but stays all beneficial minerals of water. So you will get soft water along with necessary minerals. 
BPA free plastic body – no health hazard issue.
NSF certified.
Completely replaceable media.
3 months complete satisfaction guarantee and 2 years warranty on all parts of the system.
Environmentally friendly- not harmful for the drainage system.
Disadvantages
Despite having lots of good points, it has some bad aspects. Let's know-
It is unable to remove chloramines
Doesn't remove iron completely 
Inlet connectors are 1 inch in diameter- you may need to buy it.
If can visit also: Reviews on Pelican water softeners (salt-free & salt-based).
Categories hard water, Home and kitchen, home improvement, home water, home water supply, kitchen and bath, water softenerTags BPA free water softener, bullet poly, hard water, salt free, salt free water softener, tripple action, water softenerSours: https://plumbwater.com/triple-action-poly-salt-free-water-softener-review/
Honest Review: The Spyra One (Water Guns Will Never Be The Same)
There will not be that turmoil with which he held this year's meeting in one of the student dormitories Tbilisi, together with fellow students at first. Lapping almost gallons of medical alcohol, and then, in this frenzy, hovering all night on creaky bunks with smoky acne students.
Eh, I had to take Leopold with me. - Ilya thought, about his chubby student friend.
You will also be interested:
There was a satisfied voice of Vitka. - You shouldn't have come to us yesterday, it was fun - Pashka got drunk again, Semyon and Verka quarreled and offered to go. To the sauna to the women. Well, we come, and there the girls are worse than a nuclear attack. Semyon called Igor, he brought us two heifers.
1739
1740
1741
1742
1743