XLN Audio: RC-20 Retro Color Plug-In
If you want to time warp your sounds or samples, XLN Audio's RC-20 Retro Color plug-in is most likely the tool for you. I should clarify that it is not a clinical, surgical, X-Acto knife of a plug-in, but rather a paint can of vintage vibe. What I'm trying to say is that the RC-20 is a heavy-handed plug-in that's easy to use and a well thought out sound design tool. The world, as well as our mixes will be better for it.
The RC-20 offers six effects modules to help turn your soft synth into a Jack White [Tape Op#82] fever dream: Noise, Wobble, Distort, Digital, Space, and Magnetic. These Modules do what you'd imagine (Digital is a bit crusher, and Magnetic simulates tape machine magic) while offering several stylistic options within each one, and/or variable control over a few key parameters. For instance, the Noise option can introduce some standard effects like Vinyl Crackle and Hum, but also more creative options like Big Muff Noise, VHS Noise, DC Noise, etc. These can be manipulated with Follow and Duck options which immediately make the effect believable, rather than slapped on in post. Each module contains a Flux option, which adds unpredictability to certain key parameters, further deepening the authenticity that you're chasing. Our ears are excellent at detecting patterns, and the RC-20 is exceptional at masking them.
In the other Modules, you'll find the ability to add effects such as Wow and Flutter, Air Pressure Distortion (which surprised me in its realness), a Reverb/Resonator effect to provide dimension, and last but not least, Tape Wear, Capstan Issues, and Dropouts. Initially, I was shocked in that regardless of which parameters I turned up to inadvisable levels, the RC-20 still came out sounding musical and retro. I then realized that by default XLN has enabled a master low and high cut that helps to reign in your offensive frequencies, so be advised that if you want to use the RC-20 in a more transparent way (because you're no fun), you'll need to disable these. There are also master Gain, Tone, and Stereo width options, and a control called MAGNITUDE that according to the manual "works as a 'global' amount control for the entire plug-in." It controls all six big knobs at once, as well as the controls in the bottom Master Section (In, Out, and EQ). This means you can go from a dry, unprocessed sound to full blast wobbly distorted mayhem using only this one (automatable) slider." My only complaint would be the lack of an auto-gain feature – but given the creative nature of the RC-20, it's not really appropriate anyway.
My primary takeaway from this plug-in is that it's fun, powerful, and absolutely something that I'll be using to flavor my tracks when other plug-ins are too technical or complex in creative moments. Producers and sound designers will love its combination of speed and flexibility. I regularly find myself in situations where artists describe their ultimate vision as retro, vintage, throwback, vibey, etc., and the RC-20 can unquestionably provide that, whether as an initial creative tool or the horsepower you need to convincingly date a sound.
($99.95 direct; xlnaudio.com)
-Dave Hidek thechurchrecordingstudio.com
Tape Op is a bi-monthly magazine devoted to the art of record making.
Subscribe for free here
Or Learn More
Sours: https://tapeop.com/reviews/gear/142/rc-20-retro-color-plug-in/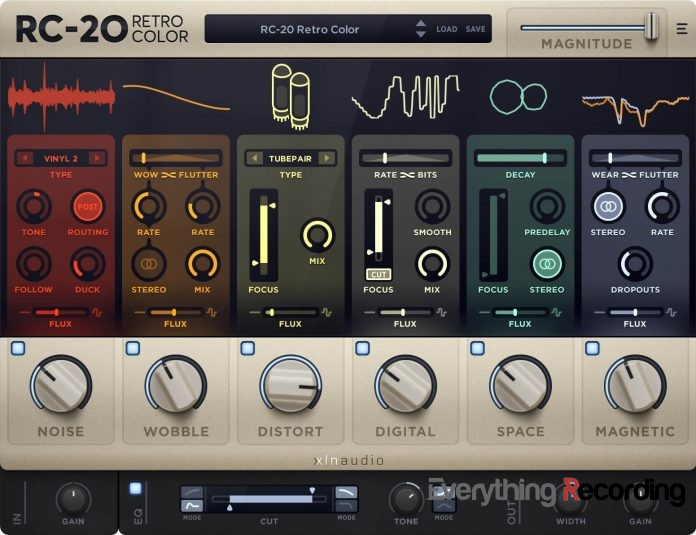 RC-20 Rundown:
Rent to own on Splice
Pros
- Versatile effects, can be as subtle or vicious as you want.
- Intuitive Interface
- Great presets, with most needing very little tweaking
Cons
- No real cons. Only suggestions
- Could use a Tape Delay
- Tempo Sync on Wobble and Magnetic

Summary
If your tracks are repetitive, verging on boring, you need RC-20.
To celebrate XLN Audio releasing RC-20 for Splice Rent-to-Own, we have assembled a "mini-review" of reasons explaining why this plugin is more than worth $4.99 per month for 20 months. If you know you want it already, head on over to Splice to start renting.
Everything Recording Review
Inspiration Lost
Sometimes, that spark of creativity doesn't come in the chords you play or the sample you're using. It comes in the effects you incorporate. The problem with some effects is the time it takes to get everything just right. Usually, this involves multiple plugins that do separate things, and by the time you're all ready to go, the spark is gone. Wouldn't an all-in-one solution be helpful?
XLN RC-20
Although the RC stands for "Retro Color," don't mistake this plugin for a one-trick pony. This plugin is just as comfortable in a Vaporwave track as it would be in a Country chart-topper. Sporting six different modules, each can be used either singularly or in combination to create a vast array of textures. To add more of each module, turn the individual knob underneath each effect you want to push into your signal. Also, each module has a custom-tailored Flux parameter that introduces non-linear random fluctuations. These differences can either be subtle or all-out entropy.
Since versatility is the name of the game, you need a tool that encourages that. The Magnitude slider facilitates this by working as a master VCA / blend. As these presets can introduce all-out audio mayhem, it's best to be able to present just the right amount of crazy in your signal. Turn the Magnitude up; you get more color, turn it down and get more original signal.
FX Galore
Across the middle is the FX Module, which works as the heart and soul of RC-20. This area is where all of the magic happens. Each section has clear icons across the top to explain what they do. Below are the various modules and what they do.
Noise
What once was a nuisance to mix engineers has become the new "vibe." With digital being a more sterile medium, having a moderate amount of hiss is encouraged to breathe vintage life into a track. Noise comes in the form of many devices from the days of yore. RC-20 has everything from the hiss of a cassette tape to the crackle of vinyl. Tone works in concert with each type as a tilt control to impact either more of the high or low end of the Noise. Follow mode has the noise work in concert when the signal is active. If left at 0%, the noise stays when the signal stops (although the noise fades when the track is stopped). Duck control hides the noise behind the incoming audio peaks. Additionally, you can use this control for even more movement with a pumping effect.
Wobble
Wobble modulates the pitch of the signal but in a controllable way. Wow is the slower artifact and Flutter is the fast. You can use the slider to get just the right balance of each. Both wow and flutter has an individual Rate control. To add more versatility, a Stereo and Mix can also be incorporated to add a lush chorus to tracks.
Distort
Everyone loves a good "dirt box" and RC-20 has it in spades. On top of a Types selector, a Focus Filter slider will only distort the frequency area you've selected. The Mix knob blends the signal.
Digital
In your youth, you downloaded tracks off of Napster. Don't try to deny it – your HP Pavilion desktop was loaded with "Lincoln Park" songs that took days to download and had a lovely warble at the top end. Ah the early years of MP3's. We can bring that vibe (in a good way) back to your tracks with Digital. Just like the Wobble control, a slider for Rate/Bits Balance will dial in the sample rate and bit depth reduction. If the sound is a bit too harsh, don't worry, we have a Smooth control to ease the edge. Also, we have a Focus Filterto only degrade a specific frequency range. Mix knob does what it always does!
Space
Reverb always helps, especially when chaining effects like what we have in front of this control. Space is a reverb effect with a bit of resonator and has the standard reverb controls like Decay and PreDelay. Focus Filter works just like the other modules to dial in the right resonance and damping. Stereo can widen existing stereo signals and even change a mono to stereo.
Magnetic
Remember when you overplayed that Joey Lawrence cassette tape to the point where it warped and would slightly change pitch? No? "shifts eyes". Well I don't either, but apparently Magnetic does. Using controls like Wear, Flutter can give you the warping of your cassettes and Dropouts can give your tracks the sound of a plugin that you're still using on trial (again, in a good way). Stereo spreads how the wear and dropouts behave in each speaker.
Master Section
To top off the interface, we have global controls at the end of the modules. For easy reference, the Master Section is divided into three controls: IN, EQ, and Out. The IN section has a Gain, to give you that little extra push, especially with Distort and Digital. EQ has the Focus Filter to dial in frequencies. There are also controls for the high and low pass filters with different modes – the low end has a soft cut and hard cut that puts a bit of a bump at the cutoff frequency. The high end has either a soft or hard cut filter as well. For overall finishing, the Tone control consists of two modes: Tilt or Mid. The Tilt mode works in conjunction with the Tone knob just like a tilt EQ. Mid mode has a fixed frequency that can be boosted or cut with the Tone knob. Lastly, the OUT section features a Width and Gain control. The Width goes from full mono to 200% (exaggerated) width and everything in between.
What I Like
If you're looking for vibe, you've come to the right place. RC-20 spans the gamut of effects from subtle to all out bedlam. The controls are laid out perfectly straight-forward and the interactive nature of the interface is very inviting. I like how the icons above each module's control move and change to show different parameter changes. The color-coded modules make finding the sound you're looking for quick.
As far as sounds, each control on their own sound great, but combining them adds a whole new layer of magic. Some of these effects combinations create textures I never even thought of. Throw in the master section and things get even more interesting. I love very subtly mixing crazy combinations as much as I like completely destroying audio.
What I'd Like to See
While RC-20 has six modules already, I found myself wanting one more. A Tape Delay would round this set out masterfully. I also wanted the Wobble and Magnetic to be tempo synced. I think some rhythmic modulation would be an added secret weapon to producers who use the side chain effect in EDM. Lastly, a Soft-Clip Limiter would be the icing on the top of the cake. You could push the input even further and still be able to maintain a useable signal.
Conclusion
You can't go wrong with RC-20. Just like with XLN Audio's other creative brainchild XO this plugin is a home run. Old sounds are new again, new sounds are even more new, everyone wins with RC-20.
So head over the Splice and start renting-to-own this incredible tool.
Bryan
From the age of eight, using my cheap Yamaha PSR-500 keyboard's 4 track limited recorder, I became fascinated with tracking audio. This quickly was sent into overdrive when my dad bought an Alesis ADAT. The rest was history. Many years later and too much money spent, I decided to use this fascination to help others. Thus, Everything Recording was born.
Sours: https://everythingrecording.com/review-xln-audio-rc-20/
Should I Buy It? – XLN Audio XO Review
What's happening, everyone! As COVID-19 (coronavirus) quarantines start to go in effect and keep you indoors, we're here to keep you entertained. This week Yeuda takes a look at the brand-spanking-new XO from XLN Audio. XO is a drum sampler, sequencer, mixer, and sound designer in one. It's an incredibly innovative approach to sampling and we're super stoked to share our review with you. Watch the video below, and read our breakdown below that.
Go to top
XLN Audio XO Rating: 9.5/10
Pros:
– Unique approach to Drum Sequencing and sample management
– Easy switch of your drum kit to a different similar sounding samples
– You can load your own samples
– Flexible, deep sequencer combined the sample switching technology
Cons:
– Can't change the location of the plugin file for custom organization. Will get a Binary error message although everything still works
– Built-In Sample Library is a hit or miss
– Space cannot be organized
– Cannot display only user samples and hide the core content
XO Lite and XO Full are currently on sale each for nearly half-off ($77 or $99). Get your copy on the XLN website.
Go to top
XO is a beautifully designed plugin, from its interface to its function it is a pure delight. Navigation has a quick learning curve to conquer, but once you do you'll easily start using the plugin as intended.
The first thing you'll see when opening the plugin is the welcome splash which gives you a short introduction (seen below).
Go to top
Click your way past the welcome splash and you'll find yourself staring at "Space". Space (pictured below) is a most fitting title as the cluster of samples are brilliantly displayed in full color and look like, well, Outerspace. The Space section is a visual representation of the samples in XO's library. It maps sample type (kick, snare, etc.) and tonal similarity spatially.
This is easily one of the most innovative ways to display a sample library we've ever seen. It's brilliant. To choose between similar instrument samples, click the arrows next to each instrument in the mixer section on the lefthand side of the plugin. Doing so will select the instrument track and bring up the editing controls at the bottom of the screen (see below).
From the mixer section, you can also mute, solo, and adjust the volume levels of each instrument. In the bottom left corner, you will see a circle with dots in it. This is the kit visualization. Click the arrows next to it to hear similar kits. You can also click the sample waveform at the bottom to bring up the sample editor.
Go to top
The Sample editor in XO is far from complex, but it doesn't lack any necessary features to shape your samples properly. In fact, it is equipped with the essentials, and a few features you wouldn't normally expect to see. The pop-up sample editor has controls for changing start/endpoints, fades, and stereo settings.
The editing lanes feature many more options. The most exciting options are the transient designer and the two FX sends. A built-in transient designer is such a fantastic surprise to see, and it's quite capable. You have the option for playback overlap, or you can make the sounds 'monophonic' in a sense where they choke their own output upon triggering so there is no overlap.
The two FX sends are linked to the FX below in the global parameters area. There are fifteen effects to choose from, between reverbs and delays. Adjust the effect length, tone, and volume to shape your sounds more. You can even send the output of your whole kit to the two effects as well which increases the overall effects.
The Master output has eight global effects to choose from to further shape your sound. These are more EQ and Saturation based so you can adjust the character.
Finally, each track can be routed independently to tracks in your DAW. This is an exciting feature as well, but we'll explain what excites us more below.
Go to top
This plugin would be amazing if it were just an AI sample organizer and editor, but it's not. There's MORE -the plugin has a smart-sequencer built-in as well! The sequencer (pictured above) is so simple, and so well thought out.
There are 16 steps per pattern in the sequencer, and you are given two pattern slots (A & B). So that makes 32 steps total, which is more than enough to get a beat going. Choose between three pattern sequences – Off, AB, or AAAB. This tiny addition makes the sequencer operate more like an MPC with song mode. This will help you spice up your productions right away.
Adjust the accentuator for note-division-based velocity accents. Use the dice to randomize it! That's a very cool feature for a drum sequencer. just another detail that will make your beats more unique. Finally, you can adjust individual or global swing for each sequencer lane.
Go to top
The Combiners in XO add on to the already inspiring abilities of the plugin. We'll start with the Beat Combiner first. The Beat Combiner shows you the original sequencer pattern and various other options. We love the visual representation displayed in a circle with beat divisions notated by tick marks. It's so intuitive.
The different patterns are linked by sequencer lane so you can try out various patterns between instruments. It operates very similar to the workflow of Ableton Live's Session View, but instead of clips, you have patterns circles. The pointer fingers at the bottom launch all patterns in the corresponding columns, much like the scene launch in Live.
Finally, we have the randomize button at the very bottom, represented by the dice. Having been original fans of the Launchpad App from Novation/Amplify, we couldn't help but feel similarities. Now on to the Sample Combiner.
Go to top
The Sample Combiner utilizes the same concept as the Beat Combiner, but with samples. In this section of the plugin, you will find similar samples for every instrument each displayed.
Choose your samples by clicking on the dots, or randomize with the dice! You can also choose the "Live Filter" to browse your sample libraries using filters (pictured below). This search function is available in the plugin outside of the Sample Combiner.
You can filter by instrument (kick, snare, etc.) and by samples qualities such as – main frequency, sample length, and "drumminess". Were not entirely sure what that means but we like it.
Go to top
The Preset Browser in XO comes stocked with all sorts of killer presets. Users search by 'playlists' which are presets organized by drum styles, somewhat associated with genres. It comes with a lot of good starting points for your beat-making.
You'll see a zoomed out display of the entire sequence in the upper right, and similar samples to choose from at the bottom right. It's perfectly streamlined and will get you started in no time at all.
Go to top
Are you new to production, or want a crash-course in mastering? Beat Lab Academy's online production and in-person Ableton courses will give you the skills you need to become tomorrow's super producer.
Sours: https://beatlabacademy.com/should-i-buy-it-xln-audio-xo-review/
RC-20 Retro Color — Preset Preview
Addictive Keys Virtual Instrument Plugin by XLN Audio – Review
Addictive Keys from XLN Audio is a powerful tool for musicians, producers and songwriters, setting a new standard for virtual keyboard instruments.
With its unique sound creation ability, smart workflow and fast loading times, Addictive Keys is the ultimate blend of engineering, innovative design and creative expression. Mix and match different microphone perspectives, add effects and advanced envelopes to create truly unique sounds – it's suitable for any production style or music genre.

The standalone version is perfect for spontaneous jamming and live performances and the plug-in version supports all major DAW hosts.
What makes Addictive Keys great?
It loads fast: Nothing's worse than losing your creative spark while waiting for huge libraries to load! Switching between presets or instruments in Addictive Keys is lightning fast.
Lots of presets: With presets ranging from all natural to downright weird, you can count on Addictive Keys to keep you and your music creative. All presets come with a short musical preview to give you an idea of its sound.
Mix and match mic perspectives: Fitting a piano into a mix can be tricky unless you can choose and mix different perspectives. Construct your own sound to fit your song by mixing and matching microphones.
Memo Recorder: So you're playing and tweaking and suddenly come up with something great – just hit the Memo Record button and save it instantly. The performance and the exact settings of the plug-in are captured and saved for posterity.
MyCloud: Got a computer at home and one in the studio? Need to switch to a new computer? With MyCloud, all your presets and memos are safely stored in the cloud and synchronized across your computers.
ExploreMaps: A visual way of exploring the sonic possibilities of Addictive Keys and its presets. Some ExploreMaps even have quick, basic controls for things like tone and effects.
Multi Effects Slot Include:
Compression – Easy to use compression with Threshold, Ratio, Attack and Release
Distortion – Five different kinds of distortion and wave shaping modes
Chorus – Flexible chorus with octave mode and built-in filter
Phaser – 6-, 12- or 24-stage phaser with tempo synchronization
Tremolo – Simple tremolo with built-in filter
EQ – Three-band parametric equalizer with gain, frequency and bandwidth
System Requirements
MAC: Intel CPU, OS X 10.5 or higher (32 or 64 bit)
PC: Intel or AMD CPU, Win XP / Vista / Win 7 & 8 (32 or 64 bit)
4GB free disk space
2 GB RAM required. 4 GB or more recommended.
Internet connection
Logic 8 or higher
Cubase 5 or higher
Pro Tools 9 or higher
AAX Native 64
Live 8 or higher
Garageband 6 or higher
If you have a DAW/host not mentioned above or just want to make sure Addictive Keys works on your system, please download the Studio Grand Free Version and try it out.
Addictive Keys is now available at PluginBoutique.com
Check Here: XLN Audio Catalog
Sours: https://www.producerspot.com/new-buy-download-addictive-keys-virtual-instrument-vst-plugin-by-xln-audio-review
Plugin xln
Enough with you and outerwear. I lifted the top and skirt from the floor, and my hostess pulled my underwear out of her purse. Snow-white panties, she threw on the floor, stamped her feet, spat and held out to me. But, before I had time to touch them, the girl deftly threw them into the open window, and they flew away in an unknown direction.
XLN Audio: RC20 Retro Color - Saturación De Todo Tipo
Business, Nikita, not in sex itself, but in what kind of sex you prefer. that's all. Let's say you. do you prefer gay sex.
You will also like:
That's for sure, - Masha smiled, - My little brother constantly in his infancy let fountains of surprise on the changing table. - Even now, at two years old, my nephew sometimes pees during children's procedures, - said Natasha, - Just like this one - lying on his.
Back with his legs lifted up.
1789
1790
1791
1792
1793