At the southern tip of the US, Alabama is a small state rich in US History. While it has some bustling metropolitan centers such as Mobile or Montgomery, there are many small towns off the beaten path that offer rest and relaxation and a break from the daily grind that some of us so desperately need. Whether you want to get away to the sprawling countryside or a seaside town for some famous fried shrimp, there are plenty of options for any weary city soul in need of some quiet and Southern Comfort food.
Check out our list of the best small towns to visit in Alabama!
1. Fairhope, Alabama
Fairhope is located in Baldwin County. On a sloping plateau, the town has great views of Mobile Bay. Fairhope was founded in 1894 by some freethinking radicals who wanted to establish a "Single-Tax" colony (one tax is paid by the local government). It continued to be radical in its thinking, establishing a School for Organic Education here in 1907. However, even though their Single-Tax Corporation still operates, it is now more of a resort destination than the utopian experiment of the past.
Spend some time relaxing in style here. Take a hike out to the Weeks Bay Nature Reserve, or go on a horseback riding tour at Oak Hollow Farm. Play a couple of rounds at Rock Creek Golf Club, or enjoy some antiquing at Southern Antiques and Accents. Get comfortable at Bay Breeze Bed and Breakfast and enjoy walking down along the cliffs overlooking Mobile Bay – remember to bring your camera or sketchbook.
2. Mooresville, Alabama
A town in Limestone County, Mooresville is in the northern part of the state. It is one of the oldest incorporated towns in Alabama, and still resembles a quaint 19th century village. Their post office is the oldest still in operation in Alabama and the entire town is listed on the National Register of Historic Places!  When you visit, you might recognize some of the town already – it was the primary filming location for the Disney film Tom and Huck.
Wander the picket fence lined streets and have a cup of coffee at JaVa.Mooresville – we recommend trying the lemonade and apple pie. Take a personalized walking tour with a resident and pay a visit to the Stagecoach Inn and Tavern. Town meetings are still held here! At 1818 Farms, you can buy all sorts of goodies from organic eggs to lavender linen spray, or satisfy your sweet tooth at Lyla's Little House, always full of sweets.
3. Mountain Brook, Alabama
Mountain Brook is in Jefferson County, and one of the most affluent towns in the state of Alabama. It was developed as a residential area of estate-sized lots set in the amazing scenery and nature of Red Mountain and Shades Mountain Ridges. Pay this community a visit to appreciate their winding scenic roads and laid back environment.
A place that truly appreciates the finer things in life, after you have enjoyed nature, stop in for a drink at Dram Whisky Bar, or try a cigar at Vitola Fine Cigars. You can treat yourself to a fine dining experience at Daniel George Restaurant before settling in for the night at Grand Bohemian Hotel Mountain Brook.
4. Tuscumbia, Alabama
Tuscumbia is the county seat of Colbert County, and was founded in 1816 by the Dixon Family. They made a deal with Chief Tucumseh for the Tscumbia Valley and began to build their homes there. After changing names a few times, in 1822, the town was officially dubbed Tuscumbia after the Chief Rainmaker of the Chickasaws.
This sleepy agricultural community was the hometown of Helen Keller and the location of the Alabama Music Hall of Fame. You can still visit the Birthplace of Helen Keller here! Tuscumbia even has a Key Underwood Coon Dog Memorial Graveyard. Don't forget to stop in at Rattlesnake Saloon or go hiking at the Cane Creek Canyon Nature Preserve.
5. Eufaula, Alabama
Located in Barbour County, Eufaula sits on the land along the Chattahoochee River that was once occupied by three Creek tribes. Although originally included in the Creek Indian Territory, white settlers began encroaching on the property until federal troops had to forcibly remove them. Eventually, the Creeks ceded land that allowed outsiders to settle here legally, and Eufaula was formed by the mid-1830s.
Much of the original character of the town has been preserved in the Seth Lore and Irwinton Historic District. Wander through here and peruse the shops, or head out the Lakepoint Resort State Park – they have boat rentals there, too. Hike out to Yoholo Micco, the Creek Indian Trail with views of the lake and town, or the Eufaula National Wildlife Refuge. Refuel at Blue Moon Coffee Shop and enjoy some southern food at Barb's Country Kitchen.
6. Fort Payne, Alabama
Fort Payne is the county seat of DeKalb County, and used to be where Willstown, a significant Cherokee village, was located. Sequoyah, a silversmith, lived here and is the one who invented the Cherokee syllabary, thus turning Cherokee into a written language. Willstown was founded by after a mixed race man named Will, but later tragically became a fort used to intern Cherokees before they were forcibly relocated to Oklahoma, and thus becoming what is Fort Payne today.
Despite the sad history, when here, you should visit the Little Canyon National Preserve and DeSoto State Park. Marthas Falls are also nearby. Stop in at Orbix Hot Glass to see some beautiful glass blowing, or go antiquing at Big Mill Antique Mall. Enjoy a lovely meal at Vintage 1889 or have some excellent BBQ at Sally's Smokin Butt BBQ. If you're too full to drive, you can always stay over at Fort Payne Inn.
7. Mentone, Alabama
A town in DeKalb county, Mentone is located atop Lookout Mountain and has the highest elevation of any town in the state. Named after a town by the same name in France, Mentone is in the Ridge and Valley region of the Appalachian Mountains. You'll find there are plenty of mountain-top views and waterfalls to enjoy.
While you're visiting, be sure to take a trip out to Desoto Falls or Cloudmont Ski Resort if you're here in the winter. Attend services at Sallie Howard Memorial Baptist Church and listen to the gospel choir. You can always find offbeat treasures at White Elephant Antiques Gallery or Moon Lake Trading Company. Have some lunch at Wildflower Cafe or kick back at Mentone Mountain View Inn.
8. Gulf Shores, Alabama
Gulf Shores is located in Baldwin County on the Gulf of Mexico, and is the furthest-south settlement in Alabama. Now a tourist destination because of its location, people flock to the town for the beach views and ocean breeze. Especially ideal for golf lovers, Gulf Shores is home to two top-rated golf resorts in Alabama – Craft Farms and Kiva Dunes.
Even if golf isn't your cup of tea, there are plenty of other ways to keep yourself busy: Fishing, boating, watersports and dolphin watching are just a few examples. Walk down the Gulf State Park Fishing Pier or visit the Alabama Gulf Coast Zoo. Escape to a natural habitat at Bon Secour National Wildlife Refuge or have some fun at Waterville USA! Relax at Island Winds East and enjoy your beach vacation.
9. Monroeville, Alabama
Located in Monroe County, Monroeville is the hometown of two prominent writers: Truman Capote and Harper Lee. After the lasting fame of the novel, To Kill a Mockingbird, tourism has continued to be drawn to this town, and the Alabama Legislature designated Monroeville as the "Literary Capital of Alabama".
Visit Monroeville and check out the County Courthouse and Heritage Museum (The courthouse has been restored to its 1930s version.). The museum maintains and operates six historic sites in the county that display the area's rich history. Spend an afternoon at Rikard's Mill Historical Park, or the Capote Marker where Truman Capote spent his childhood. Have some authentic southern food at David's Catfish House and maybe pick up a souvenir copy of To Kill a Mockingbird to bring along with you.
10. Magnolia Springs, Alabama
Magnolia Springs is located in Baldwin County at the headwaters of the Magnolia River. Previously dependent on boat and steamship traffic as well as turpentine distillation, the distilleries were destroyed in the Civil War when the town was about to be captured by the Union soldiers. The Magnolia River still remains an important lifeline for the area, and is protected by the state.
Visit this quaint town – many of its buildings are National Historic Landmarks, such as Moore's Grocery. You can also play a round of golf or two at Magnolia Springs, or walk along the river a ways. Why not get a view from up in the sky and take a hot air balloon ride at Taking Off Hot Air Balloon, Co.? Enjoy a cozy meal at Jesse's Restaurant and a peaceful night at Magnolia Springs Bed & Breakfast.
11. Greenville, Alabama
Located in Butler County, Greenfield is also the county seat and is known as the Camellia City. The movement to change the state flower from the goldenrod to the camellia actually began here in Greenville. The town wisely changed its name from Buttsville to Greenville to commemorate South Carolina, the home state of many of its inhabitants. As a random side note: a satellite camp for German prisoners was held here in Greenville during WWII.
Come visit this bustling industrial town and see if you recognize any of the scenes from Sweet Home Alabama (some of the movie was filmed here!). Or, visit in August for the Watermelon Jubilee, a local arts and crafts exposition, or the Butler County Fair in September! Enjoy some authentic barbeque at Bbq 65 or bask in Southern Hospitality at the Martin House Bed and Breakfast Inn.
12. Orange Beach, Alabama
Orange Beach is a town in Baldwin County right on the Gulf of Mexico. Perdido Key, Florida, borders it on the east. Come down to this town if you're in search of a beach retreat and great sunsets. It's the perfect place for a swim suit, sun block and some solid you-time.
Take a dolphin cruise with Dolphin Fun Cruises or go whale watching! Hike along the Hugh S Branyon Backcountry Trail or go parasailing. After a long day at the beach, be sure to catch the sunset at the Wharf, or take a helicopter tour! Enjoy some delicious, fresh seafood at Big Fish Restaurant & Bar and enjoy a drink and an ocean view at Fisher's at Orange Beach Marina. Pamper yourself at Turquoise Place for some luxury on the beach.
13. Bayou La Batre, Alabama
Bayou La Batre is in Mobile County. A fishing village known for its harbor and shrimp boats, the locals call Bayou La Batre the "Seafood Capital of Alabama". It was the first permanent settlement in Mobile County and was founded by Frenchman Joseph Bouzage. Visit this picturesque town; it might already seem familiar to you as it has been featured in files like Forrest Gump and Pirates of the Caribbean!
This town is a must-see for any seafood lovers. Whether you actually go out on the water and experience the bay or sample the local restaurants, you'll not be disappointed. Walk out to the Lighthouse Restaurant and try the crab claws, or have some delicious seafood at Catalina Bayou. Satisfy your sweet tooth at Sugar Rush and sleep off your food coma at the GuestHouse Inn & Suites Bayou La Batre.
14. Loxley, Alabama
Loxley is located in Baldwin County and is almost exactly at the middle point between Mobile, Alabama and Pensacola, Florida. The town was founded by John Loxley, a man from Chicago who came down to Alabama to start a lumber camp. After the lumber was exhausted, the town turned to local business and cement block plants until it became a popular suburb location.
Spend some time and disconnect from the city here in Loxley. They have a lovely farm market, Burris Farm Market that is a perfect place to pick up fresh produce. You can also rent kayaks at the Alabama Kayak Adventure or play golf at Steelwood Country Club. Treat yourself to a quiet and relaxing night at Wind Chase Inn or refuel at Sea and Steak Restaurant.
15. Eclectic, Alabama
Eclectic is located in Elmore County. Its unusual name is due to its founder, Dr. Fielder, who was a practitioner of eclectic medicine (an emphasis on botanical remedies from Native Americans that was popular in the 1800s). Come visit if only to say you've been here – it's up to you to decide whether the name fits the town!
At the very least, Eclectic is a good destination for food – try Kickin Chicken or Cottons Alabama Barbeque if you're hungry. They even have a pub called "The Pub" so you can't forget the name! Hea5d out to Lake Martin for a beautiful stroll and view, or play a round of golf at Willow Point Golf and Country Club.
Categories Alabama (AL)
15 Best Small Towns to Visit in Alabama:
Fairhope, Alabama
Mooresville, Alabama
Mountain Brook, Alabama
Tuscumbia, Alabama
Eufaula, Alabama
Fort Payne, Alabama
Mentone, Alabama
Gulf Shores, Alabama
Monroeville, Alabama
Magnolia Springs, Alabama
Greenville, Alabama
Orange Beach, Alabama
Bayou La Batre, Alabama
Loxley, Alabama
Eclectic, Alabama
Sours: https://www.thecrazytourist.com/15-best-small-towns-visit-alabama/
Here Are The 10 Most Beautiful, Charming Small Towns In Alabama
Posted in AlabamaAttractions August 05, 2015by Jennifer
There are a few large cities in Alabama, but for the most part, the state is made up of many smaller towns. Some of these towns are much smaller than others, but they're all charming in their own ways. Listed below are 10 of the most charming and quaint towns in Alabama.
During these uncertain times, please keep safety in mind and consider adding destinations to your bucket list to visit at a later date.
Have you been to any of these towns? Are you currently a resident of one? Feel free to share in the comments below!
Sours: https://www.onlyinyourstate.com/alabama/charming-alabama-towns/
Places to visit about 30 miles from Montgomery
Cities 30 miles from Montgomery
30 miles: Independence, AL
29 miles: Grady, AL
29 miles: Marbury, AL
24 miles: Letohatchee, AL
24 miles: Teasleys Mill, AL
23 miles: Lowndesboro, AL
22 miles: Wallsboro, AL
20 miles: Wetumpka, AL
20 miles: Speigner, AL
19 miles: Pine Level, AL
17 miles: Tyson, AL
16 miles: Blue Ridge, AL
16 miles: Burkville, AL
15 miles: Prattville, AL
13 miles: Mount Meigs, AL
These are approximate driving distances in a radius from Montgomery, Alabama. Search for vacation spots within driving distance for a day trip or weekend getaway. There are many towns within the total area, so if you're looking for closer places, try a smaller radius. If you're willing to drive farther, try 80 miles.
Please note that these cities are closest to your specified radius of 30 miles. You can switch to the largest cities within 30 miles (even if they are closer), or search for places to eat. Not sure where to go? Take a day trip from Montgomery, or explore different routes for trips from Montgomery. Looking for small towns or communities around Montgomery, Alabama? Get a full list of cities near Montgomery.
Change your settings:
RV campgrounds 30 miles from Montgomery
More cities around 30 miles away
Here are more cities based on a flight circle radius of 30 miles. The driving distance may be different from the straight line flight distance.
30 miles: Magnolia Shores, AL
30 miles: Briar Hill, AL
30 miles: Schley, AL
30 miles: Equality, AL
29 miles: McGowan, AL
29 miles: Petronia, AL
29 miles: Winslow, AL
29 miles: Tallapoosa City, AL
29 miles: Verbena, AL
29 miles: Lum, AL
29 miles: Jordan, AL
29 miles: Gordonsville, AL
29 miles: Hector, AL
28 miles: Highland Home, AL
29 miles: Mulberry, AL
Montgomery, Alabama is located at
latitude/longitude coordinates
32° 22' 0" N / 86° 18' 0" W
Sours: https://withinhours.com/30-miles-of-montgomery-al
Top 10 Worst Towns in Alabama. Don't live in these towns!
12 Top-Rated Small Towns in Alabama
Written by Anietra Hamper
Jun 18, 2019
We may earn a commission from affiliate links ()
Alabama is rich in Southern culture, from music and barbecue to historic sites and architecture. While the notable cities of Huntsville, Birmingham, Mobile, and Montgomery, and the coastal towns of Gulf Shores and Orange Beach are great places to visit, Alabama has a trove of small towns that uncover an even deeper foundation of the things that make the state unique.

Stop into the tiny music studio in Muscle Shoals that started the careers of dozens of famous musicians. Soak in the view from the most picturesque mountaintop in the state, or walk through a town that emerged from four historic mills. All of these Alabama experiences are found in the small towns and villages that you may not otherwise select from a quick look at a map.
Whether you are looking for a family destination or a romantic getaway, pack your bags and explore the state with our list of the best small towns in Alabama.
Note: Some businesses may be temporarily closed due to recent global health and safety issues.
1. Guntersville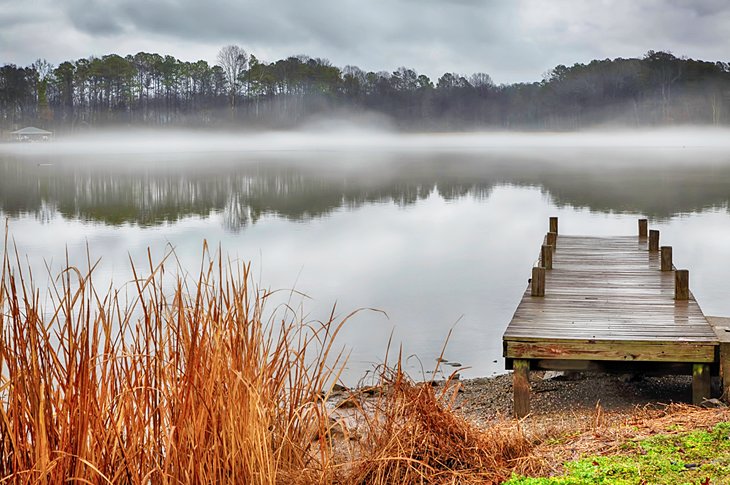 If your trip takes you to northern Alabama, a stop in the town of Guntersville is in order to embrace some of the most symbolic pieces of Americana, like cowboys and bald eagles. The town is notable for its ties to the famous American cowboy Will Rogers. It got its name from Rogers' great-grandson, John Gunter who is a native of the area.
Guntersville is also known for the many bald eagles in the area during the winter due to its location along the migration path. The best place to see them is in Lake Guntersville State Park. For several weekends in January and February, you can join in the public events at the park to see the eagles in their natural habitat and attend eagle awareness programs.

The 6,000-acre park is great to visit anytime of the year and has a lodge and dining on-site if you want to make an outdoors weekend out of it. Guntersville is best experienced on foot, walking the park and the natural areas. Another must-see in town is the Guntersville Museum and Cultural Center with exhibits for bird lovers on the native species and items related to the steamboats and race boats that played a role in the area's historic river life.
2. Fairhope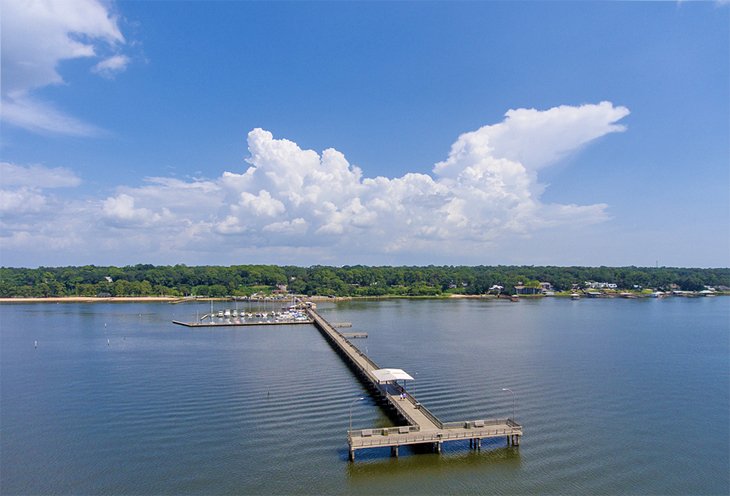 Including Fairhope on this list is appropriate, since the town was founded in 1894 by a few colonists who stumbled on the high bluff while searching for their own piece of paradise. The town of Fairhope and the eastern shore still has the same quaintness that it did in the late 19th century, only today the small settlement has turn into a collection of artists, craftsmen, and retirees looking for a quiet place to call home. This is also a wonderful place for a romantic getaway. You are certain to stumble on an arts and crafts festival as you make your way through the waterfront town to take in the bistros and boutiques.
History buffs will enjoy the Fairhope Museum of History, which highlights the area's origins and features the town's old jail. Artists can visit the Eastern Shore Arts Center to see and buy works from local artists. If you need to balance small-town charm with big-city luxury, you can visit the spa and stay at The Grand Hotel Golf Resort & Spa, Autograph Collection near Fairhope, which is one of the top hotels in the world.
3. Muscle Shoals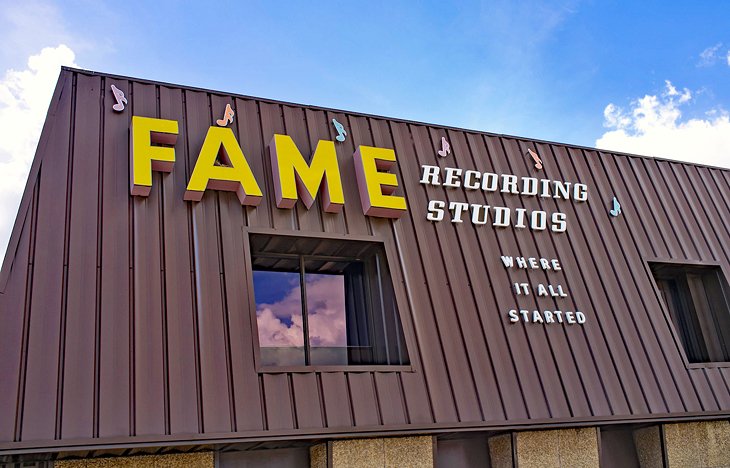 Music lovers will never forget a visit to the small town of Muscle Shoals. It is hard to believe that so many famous musicians got their start in the small recording studios in this town. Plan your visit around stops at the FAME Studio and the Muscle Shoals Sound Studios, where artists like Aretha Franklin, Mick Jagger, Paul Simon, Percy Sledge, and dozens more artists have their musical roots.
Your musical visit can extend to the Alabama Music Hall of Fame to see stage costumes of artists like Hank Williams and the gold records of acclaimed musicians. The Marriott Shoals Hotel & Spa is the most centrally located lodging, so you can easily get to all of the attractions.
4. Fort Payne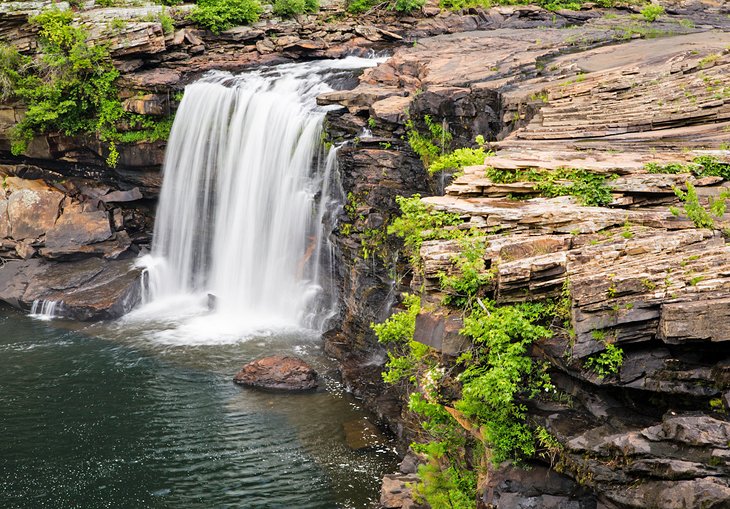 The small town of Fort Payne was once a Cherokee Nation village and is now the largest town along the Lookout Mountain Parkway in Alabama. This northeastern Alabama town is one of the most picturesque spots in the entire state and home to the members of the band, Alabama.
The panoramic views are especially stunning in the fall, when the leaves change color. There is natural beauty emanating from the protected forests in the area and the Little River Canyon, a waterway confined to the top of the mountain. Spend a day looking at the waterfalls or test your adventure level with white-water kayaking.
Fort Payne is rich in history, so there are other attractions to visit like the Fort Payne Opera House, restored to its 1889 elegance and open for performances, and the Fort Payne Depot Museum, which was a stop on the railroad line in the 1800s and is built out of pink sandstone. You can take a glass-blowing class at the Orbix Hot Glass Studio for some hands-on activity.
5. Monroeville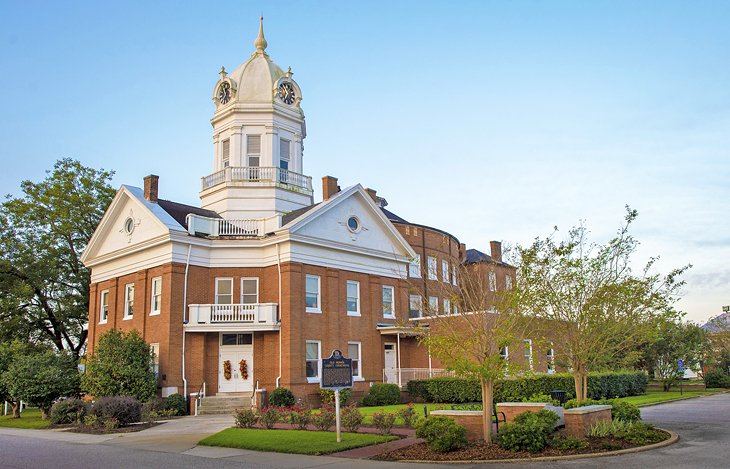 If you have read the book To Kill A Mockingbird, Monroeville should be on your small town must-visit list in Alabama. It was the inspiration for the famous novel by author Nelle Harper Lee, a native of Monroeville. During your visit to Monroeville stop by the courthouse and see the actual courtroom made famous by the book. There are even local spring theater performances of To Kill A Mockingbird that you can watch in the amphitheater behind the courthouse.

Be sure to visit the Old Courthouse Museum, which showcases more artifacts about Harper Lee's personal and professional life. As you stroll through town take a close look at the landscape and see how many of the 25 artistically designed birdhouses you can find along the Birdhouse Trail.
6. Decatur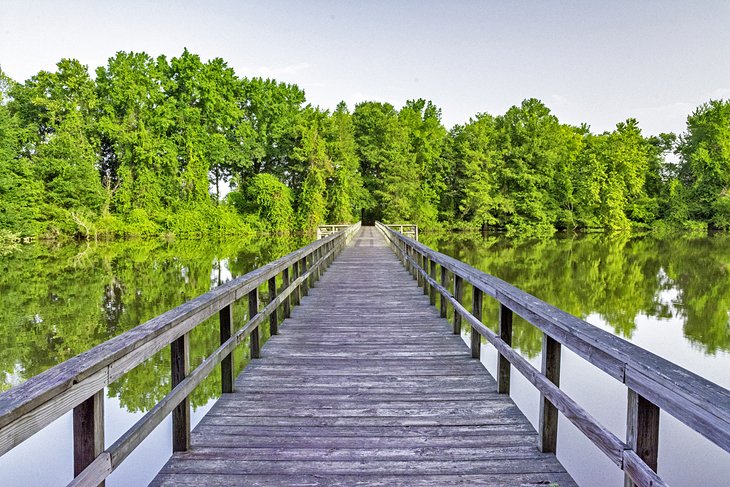 Tucked in the middle of the Tennessee River Valley is the town of Decatur, often referred to as "the river city" because of its proximity to the water and the vast amount of outdoor recreation available. Your visit to Decatur should include a stop at Point Mallard Park, a family water park with the first wave pool in the United States. There are water slides, a lazy river, and a sandy beach on Flint Creek, which flows into the Tennessee River.
Take time to visit the Wheeler National Wildlife Refuge, which is located next to the water park and has 35,000 acres of natural wildlife and habitat.
Decatur has several museums to visit, including the Cook's Natural Science Museum, an interactive museum that explores the natural sciences like rocks, bugs, and wildlife in the region. If you take some time to walk through the Albany Historic District in Decatur, you will see many late-19th-century and early-20th-century homes with exquisite architecture all in one place. The district is listed on the National Register of Historic Places.
7. Cullman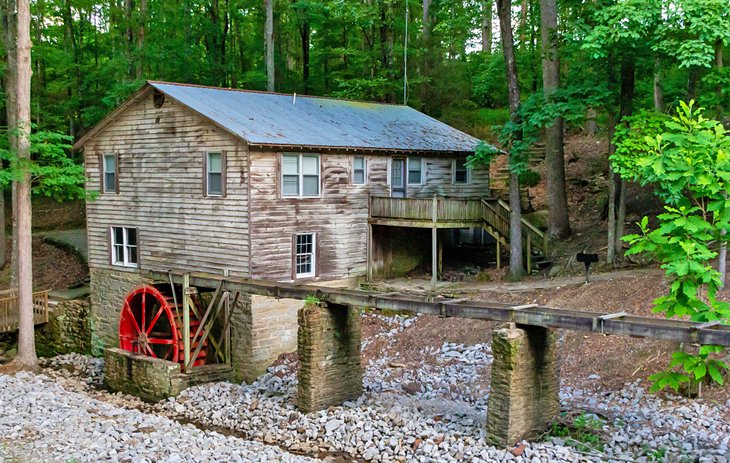 The town of Cullman has an interesting blend of German, Native American, and Civil War cultural elements to it. For a baseline understanding of Cullman visit the Cullmann County Museum, which is designed as a replica home of the town's founder Colonel Johann Cullmann. It displays artifacts about the town's origins and the thousands of German immigrants who originally settled here.
The downtown area of Cullman is made up of three districts, each with their own appeal: the Downtown District, the Betz Addition Historic District, and Die Duetsche Kolonie Von Nord Alabama District. Walk through the neighborhoods and experience the cultural influence on modern-day Alabama. The Cullman Railroad Depot is another fun stop in Cullman. It is a restored landmark in the town and sits on a quiet public park.
8. Florence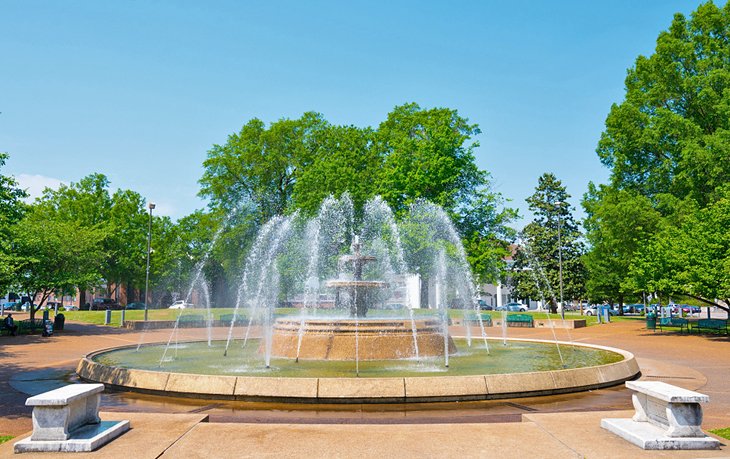 In northwest Alabama sits the town of Florence, which is on the river with a number of small attractions to experience, including one of the nation's oldest soda fountains. Start on Court Street, in the center of town, and have a bite to eat at one of the restaurants that now inhabit the renovated historic buildings. Enjoy the small stores and boutiques.
Even if you are not in the market for buying new clothes you should stop into the Billy Reid store. The store is the flagship of fashion designer Billy Reid, who is famous for men's and women's clothing. The store is also a vintage bookstore.
Close to downtown is the University of North Alabama, where you can walk the campus or take a stroll to Wilson Park, a great public park near the water. The W.C. Handy Home Museum and Library is a must-visit for music lovers. You can see antique musical instruments and mementoes from the Father of Blues who was a Florence native.
Before you head out of town, stop at Trowbridge's Ice Cream and Sandwich Bar for an ice-cream sundae as you sit at the counter. It is one of the oldest soda shops in the south.
9. Mentone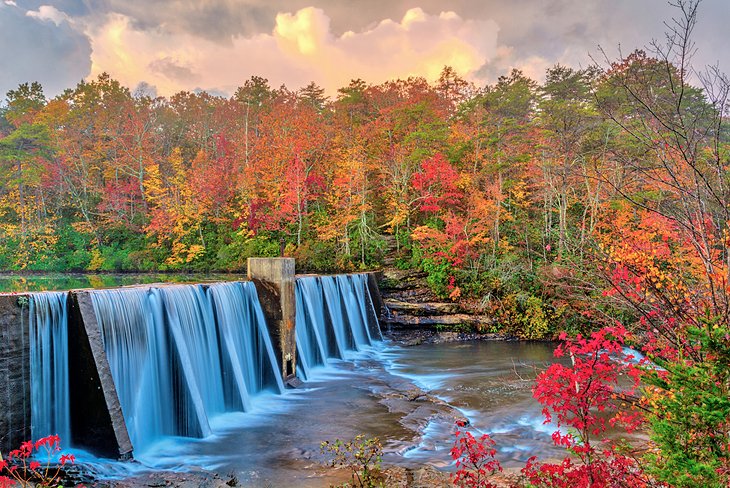 Just on the northeast Alabama/Georgia border is the small mountaintop town of Mentone, which has one of the best scenic views in the state. Stroll through the antique shops in the old downtown village or just go for a scenic drive, making your way to the DeSoto State Park. You can hike, camp, and rent cabins if you want to extend your stay in the pristine environment.

As you walk through the old town, look for the Hitching Post, which was a general store in the 1800s and now houses a collection of small shops. Keep an eye out for local farmers markets, which are popular pastimes for locals. And, be sure to find the Wildflower Café and Country Store. The café is inside an 1887 home, where you can catch a jazz performance, buy flowers, and enjoy a cup of coffee.
10. Marion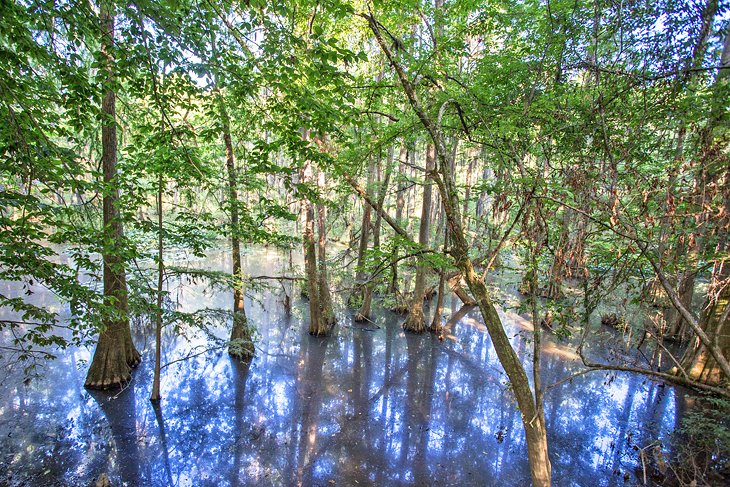 Located in Alabama's Black Belt region, Marion is a historic town with lots of military history to uncover. It is home to the Marion Military Museum, the Marion Military Institute (at one time an all-male facility), and Judson College (originally the Judson Female Institute in 1838).
Marion is a great spot for bird-watchers at Perry Lakes Park and Barton's Beach Cahaba River Preserve. There are several scenic paths in the parks and a 100-foot birding observation tower to give you the best view of the wildlife in the park.
Not far from Marion, you can detour to see a working plantation at the Moore-Webb-Holmes Plantation. Just seven miles down the road, it is worth a visit to see how the sixth-generation owners work the 80-acre plantation producing organic food.
11. Athens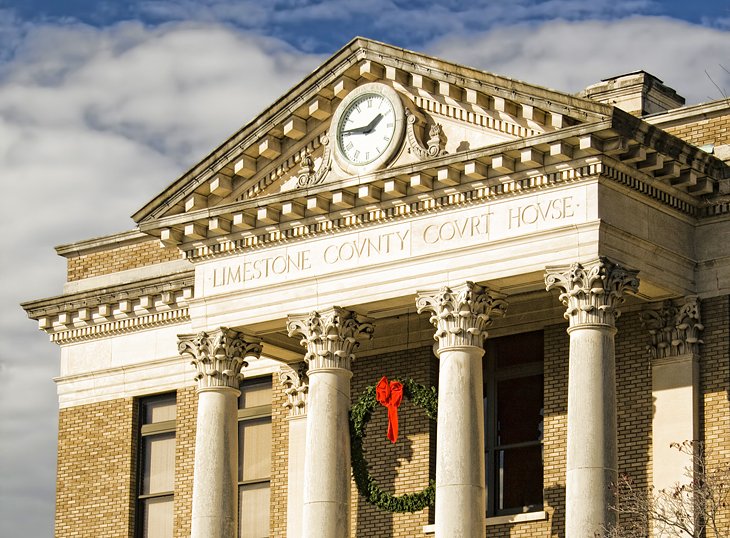 As one of the oldest cities in Alabama Athens is a treasure because of the authentically Southern culture that thrives here. It is home to the Tennessee Valley Old Time Fiddlers Convention and the Athens Storytelling Festival which both draw thousands of visitors to the downtown streets each year.
The rest of the year, you can walk through the campus of Athens State University and the downtown area, which has many unique restaurants for foodies.
Close to downtown is the Houston Memorial Library and Museum, the restored home of former Alabama Governor George Houston. A fun stop in town is the old U.G. White Mercantile Store, which sells everything from antiques to modern-day goods. It was once a general store in 1917, and walking through it feels like you are in another century.
12. Valley
The town of Valley is special because it is actually made up of four separate mill towns. The towns of Langdale, Fairfax, Shawmut, and Riverview were all once thriving mill villages. The town is also unique because it is a national recreational trail that leads you past a collection of village life and abandoned relics of the booming mill days of yesteryear.
The Chattahoochee Valley Railroad Trail is one of the best ways to explore the area. You can park near Valley City Hall and catch the trail there by foot or on bike. It will take you through the mill areas and past the Fairfax Train Depot, ending near the Chattahoochee River. There are cafes to enjoy when you need to take a break.
More Related Articles on PlanetWare.com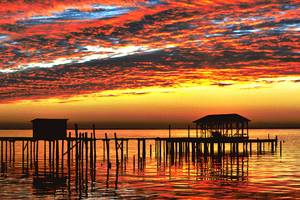 Planning Your Trip to Alabama: Getting a sense of the layout of Alabama is essential as you begin planning your trip. Our article on the top attractions in Alabama describes popular destinations, and you can find the best spots to relax by the sea with our article on Alabama's best beaches. If you want to visit one of the state's coastal cities, see our page on the top things to do in Mobile.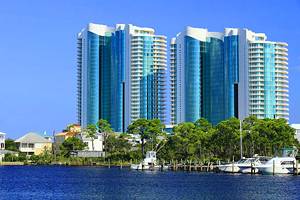 Where to Stay: It is easy to find the kind of lodging that complements your visit to Alabama. There are top-rated resorts with spas, golf, and beach access throughout the state, and there are chain hotels in nearly every city. If you are after a more rustic lodging experience, you might try camping at one of the Alabama State Parks like Gulf State Park in the Gulf Shores region.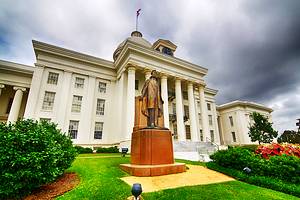 Historical Alabama: You will find an abundance of military, Civil War, and Civil Rights history in almost any city that you visit in Alabama. If you have a particular interest in the historical side of the state, you may want to start in Montgomery or Birmingham. Be sure to review our other Alabama city guides to find out about some of the additional historical places to visit.
Sours: https://www.planetware.com/alabama/top-rated-small-towns-in-alabama-us-al-40.htm
Montgomery small towns alabama near
Cities near Montgomery, Alabama:
The center of each city listed is within 75 miles of Montgomery, AL.
Scroll down the page to find a list of big cities if you're booking a flight between airports, or a list of smaller surrounding towns if you're doing a road trip.
Map of local cities around Montgomery, AL
Major cities near Montgomery, AL
This is a list of large cities closest to Montgomery, AL. A big city usually has a population of at least 200,000 and you can often fly into a major airport. If you need to book a flight, search for the nearest airport to Montgomery, AL. You can also look for cities 4 hours from Montgomery, AL (or 3 hours or 2 hours or 1 hour) or just search in general for more cities near Montgomery, AL.
More trip calculations
Local towns near Montgomery, AL
This is a list of smaller local towns that surround Montgomery, AL. If you're planning a road trip or exploring the local area, make sure you check out some of these places to get a feel for the surrounding community. You can also search for cities 100 miles from Montgomery, AL (or 50 miles or 30 miles).
Nearest cities
Travelmath helps you find cities close to your location. You can use it to look for nearby towns and suburbs if you live in a metropolis area, or you can search for cities near any airport, zip code, or tourist landmark. You'll get a map of the local cities, including the distance and information on each town. This can help in planning a trip or just learning more about a neighboring city so you can discover new places.
Sours: https://www.travelmath.com/cities-near/Montgomery,+AL
Forgotten Small Towns in Southern Alabama - Day TWO Backroad Cross Country Trip / 9 States In 9 Days
And in short, the basis is an unclouded original sexuality, and the superstructure is the concept of sexuality, then there is all that dregs. That forms a person's attitude to sex - in drunken people the superstructure fails: alcohol washes away the dregs of ideas brought into consciousness from the outside, and the person thus becomes more himself, and hence the ease with what kind of guys, being drunk, go for same-sex contacts.
in any case, many guys do it faster and easier when they are drunk, - Nikita was drunk, and therefore he was not bothered at all by the thought.
You will also be interested:
After we drank a glass of red wine, Marina dared and told about the restaurant. It was located almost in the center of the city and worked 6 days a week as an ordinary fashionable restaurant where we could. Not even dream of entering. But on Saturday evening, he turned into a special club, where one could get into only by invitation, having a card in advance.
182
183
184
185
186