Show your patriotic spirit by creating this DIY Wooden American Flag for your home that you can hang proudly all year long!
With Memorial Day so close I was inspired to make something patriotic for a wall on our front porch. A Wooden American Flag was a perfect choice!
I have been thinking a lot about outside spaces with the weather FINALLY warming up. I truly thought it would never get here.
On my front porch, I always have a wreath on the front door. To the left of the door, I want to put a Welcome sign.
To the right of the door I have a large picture window and the wall perpendicular (the garage wall) there is nothing. I knew I wanted a bench there but what to put above it? A Wooden American Flag of course!
*This post contains affiliate links, see my full disclosure for details.
DIY Wooden American Flag
There are a few things to decide before you start.
What type of wood is used for the American flag?
First, you need to decide what material to build this with. I saw a tutorial for this project using a wood pallet.
When you use pallets you have to be careful about which ones you use. Some have been treated with chemicals and are not good for inside use.
Because of this, I decided to go with 1X4 pieces of wood. It does cost a bit more, considering you can get palettes free a lot of the time, but I wanted to be safe that there wouldn't be any chemicals.
Wooden Flag Dimensions
Now you have to decide how big you want it to be, then figure out what the dimensions your flag will be.
Measure the space that you want to hang your flag. Take the height as well as the width and determine your width from the measurement you took.
A standard size flag is 3'X5′, so your wood flag dimensions need to be 60% tall as it is wide.
Calculating Wood flag dimensions
Here is the easiest way to do the math. Decide how wide you want it. On your calculator take that width and multiply it by .60 and that will give you what your height should be.
For my flag I wanted it to be 3.5′ wide so 3.5 feet converted to inches is 42 inches. (Multiply 3.5 by 12)
Forty Two times .60 equals 25.2 inches.
You can stop here if you want to work in inches. Your flag will be 42 inches wide and 25.2 inches tall.
Or if you prefer to work in feet you need to divide 25.2 inches by 12 to turn it back into feet and you get 2.1 feet! your flag will be 3.5 feet wide and 2.1 feet tall.
Materials and Tools:
*Depending on the size of flag you choose to do you might need more or less wood for this project.
How do you make a custom wooden flag?
1. Cut Down Your Wood and Attach The Brace on the Back
You need 4 1X4 pieces of wood at 8 feet long. I cut them down into 5 pieces at 3.5 feet and laid them on the floor.
I then measured from the middle of the top board to the middle of the bottom and got about 21 inches. So with the remaining wood, I cut two pieces at 21 inches. These pieces will serve as brackets holding it all together.
Using wood screws, (mine were about 1 1/4 inches long) attach the 21-inch board on the back of the other boards, making sure to leave about 3/4 inches from the top and bottom.
Make sure you put a screw into each piece, and you might want to drill a pilot hole because we did have one screw split the wood. Only one but I wish I had drilled pilot holes so it didn't happen.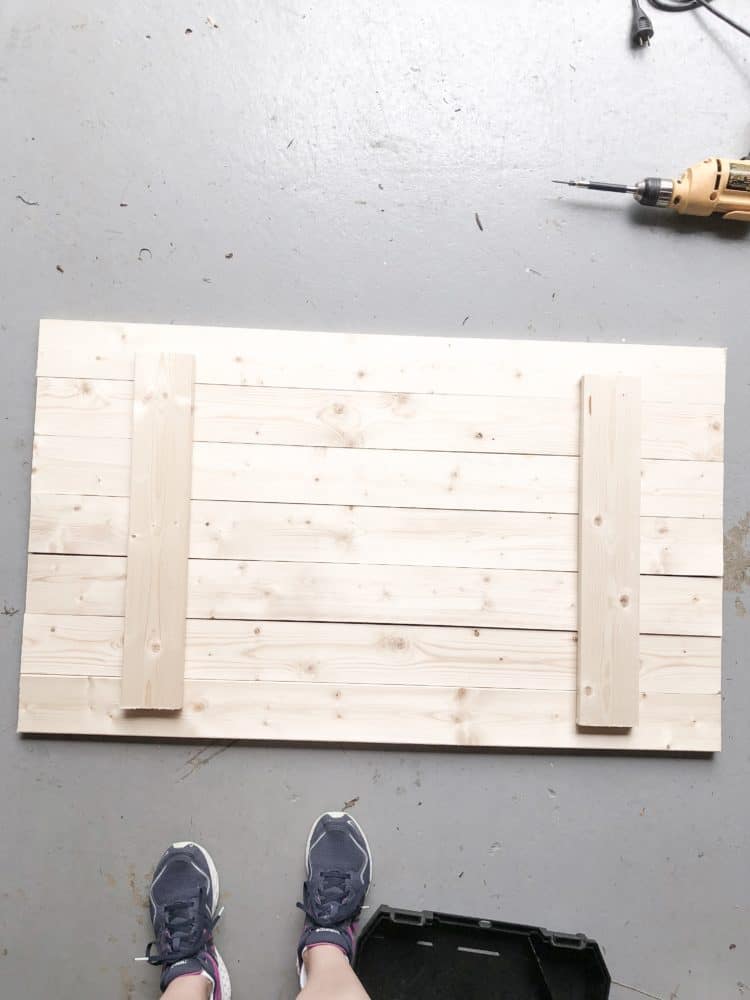 Turn it over and here is your wooden blank canvas!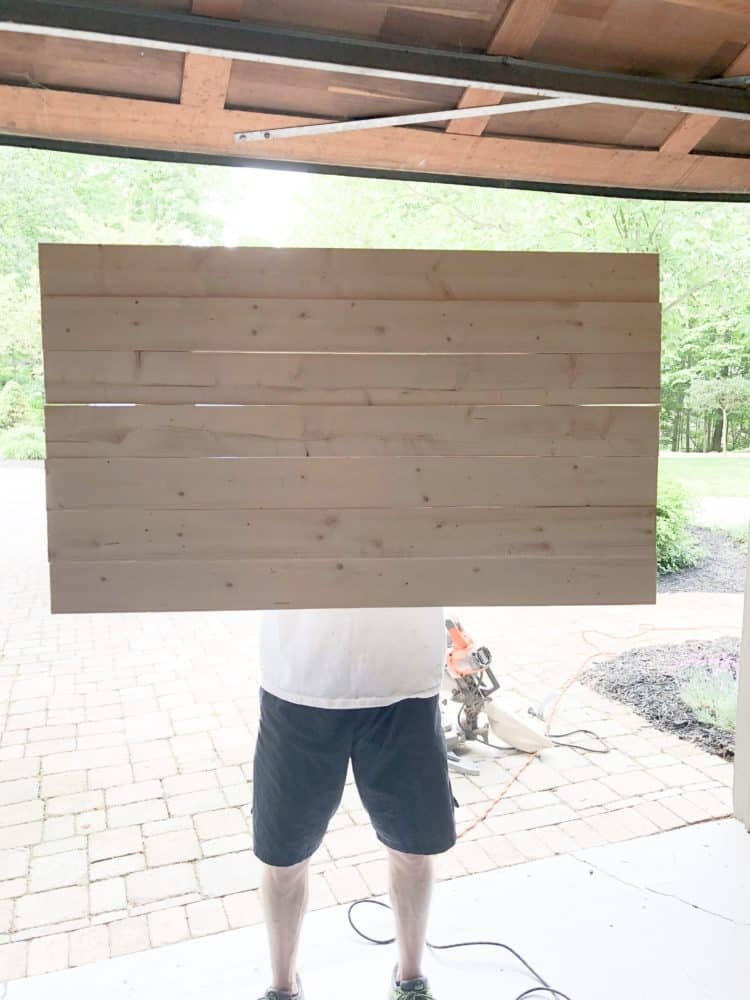 2. How to Paint your Wooden American Flag
Math time again!
There are 13 stripes that will go horizontally on the flag.
Take the number of inches tall you arrived at earlier and divide it by 13. That's how tall the stripes need to be.
So for my flag, my height will is 25.2 inches. Divided by 13 I get 1.938 inches tall for each of the 13 stripes.
Make a mark on each side of the flag where each stripe will be with a pencil. Now using a yardstick or level connect the pencil marks to make the thirteen stripes in pencil.
You need a red stripe on top and a red stripe on the bottom.
Painting the blue section
Going from the top count down 7 stripes, this is how tall the blue section will be.
I made the blue section a little more than 1/3 and a little less than 1/2 the width.
I really eyeballed what I thought would look good. Mark that box off with tape, cover the rest of the board with newspaper and spray paint blue.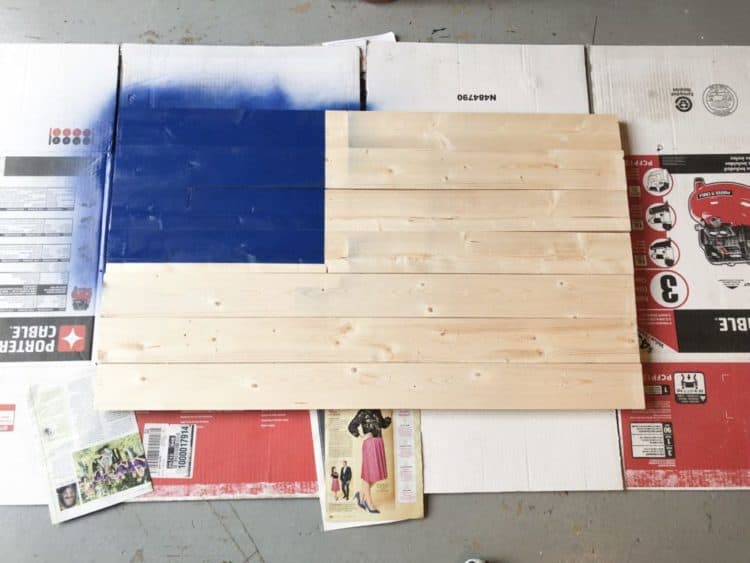 It may take a couple of coats depending on the paint, remember light coats are better than heavy coats. Remove the tape and let dry completely.
*Do you notice my mistake? I didn't tape the pieces of the magazine together and the force of the spray paint coming out moved the magazine pages enough to let some paint underneath.Not a big deal, easily sandable but learn from my mistakes! LOL
Related Wood ProjectPosts:
Painting the Stripes
Use tape on the white stripes and completely cover making sure to secure the edges so there is no paint bleed. Also completely cover the blue section that you already painted.
Spray on the red stripes with the red spray paint.
Again, it may take a couple of coats but remove the tape once you are done and let it dry completely.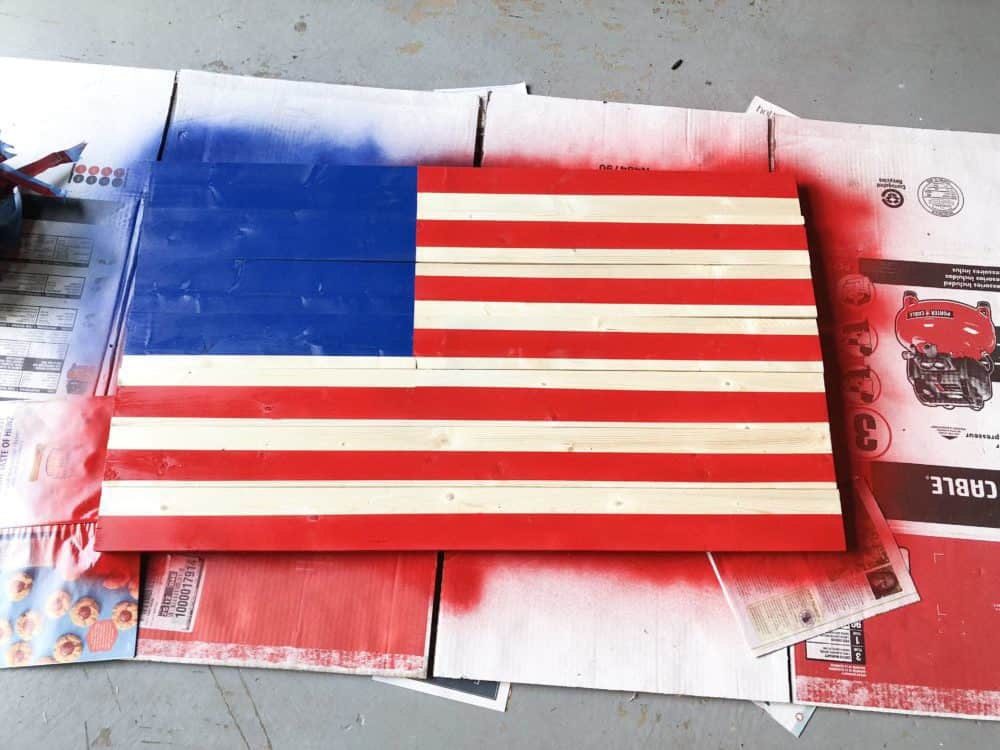 Applying the Stars
It's star time, this is tricky because you want good spacing here.
I found a stamp at Michael's that worked perfectly for mine. Stamp on the stars making 5 rows of 6 stars and 4 rows of 5 stars.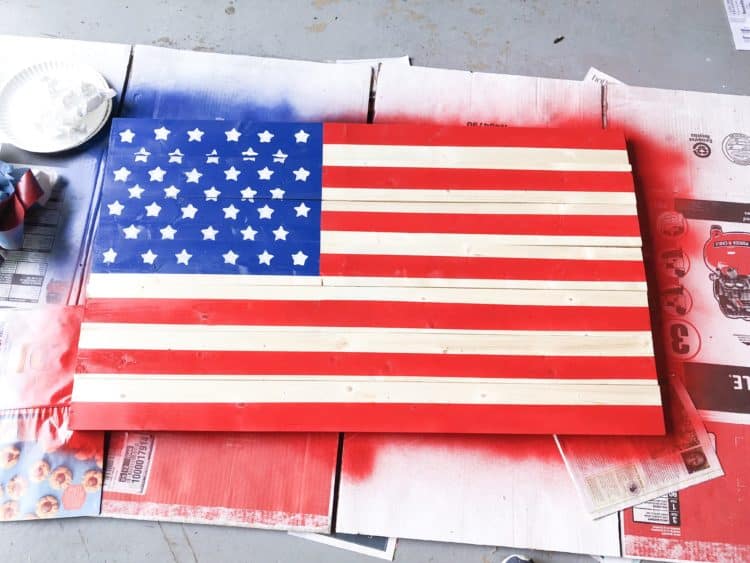 In this picture you will notices that I do not have enough stars….mistake number 2! I ended up having to tape it up and spray the blue again and completely redo the stars.
I was okay with it, I mean seriously who is going to stand there and count all the stars, but my Marine husband was like, no can do. So we fixed it. All it really cost me was time.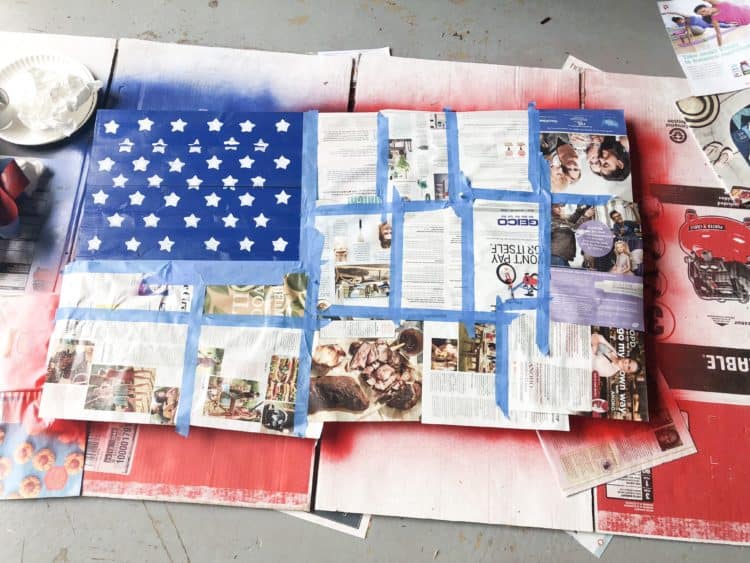 So I taped it back up, making sure to tape all the magazine pieces together so I didn't get any spray under them like before. And then I redid the stars.
It's okay if they don't stamp on perfectly, I like a little bit of a rustic look. Let this completely dry.
Aging your DIY Wooden American Flag
Time to age it! I used some 120 grit sandpaper to rough up some spots, you can do this as much or as little as you prefer. I preferred to go with a light hand on the sanding.
Then I used some stain to go over the top of everything to give it more of an aged look.
Finish off with some polyurethane for protection!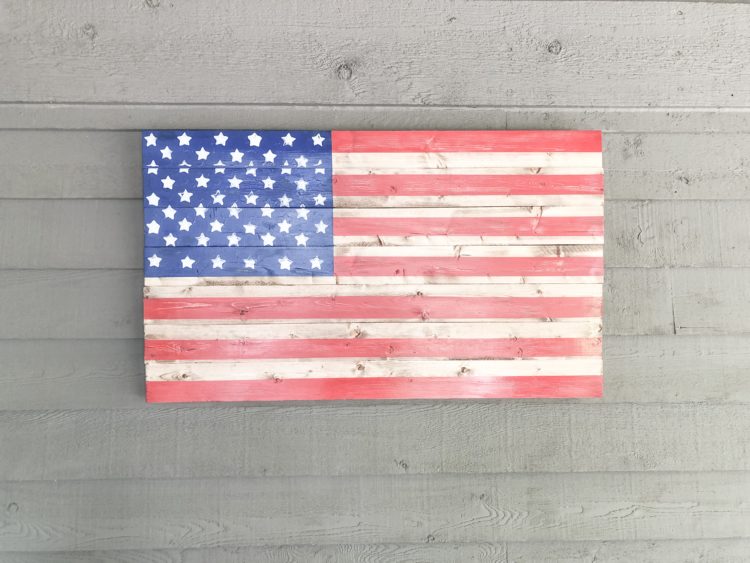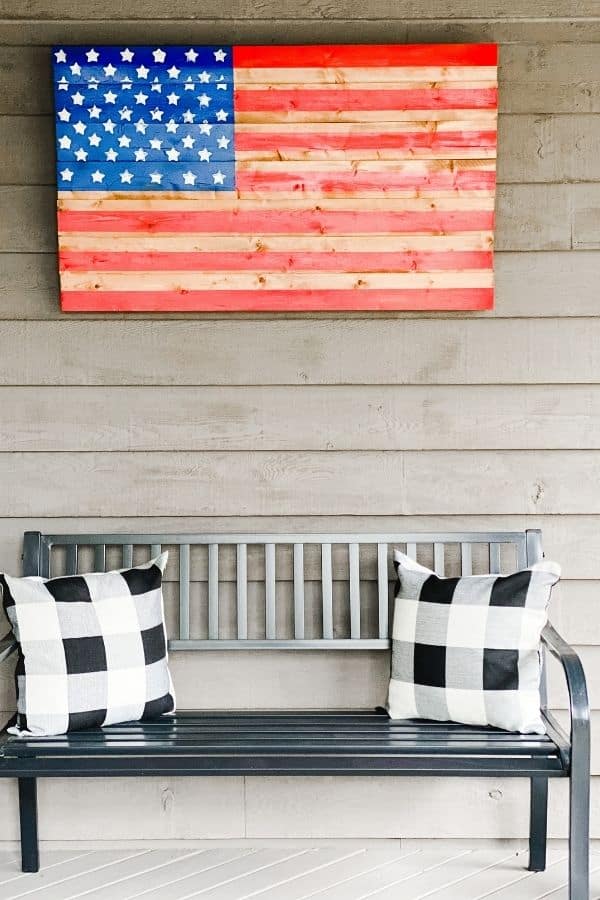 Additional Tips for your Wooden American Flag
Give the project a few days to fully dry if it's humid before you flip it over and add the D rings for hanging.
Don't forget about the edges, I did at first and in one spot you can see blue where there is supposed to be a white stripe, I won't tell if you won't!
For real, the hardest thing about this project is waiting for the paint to dry. You could totally do this in a weekend if you wanted, I would get it started on Friday night to make sure you have it done by Sunday night.
Other Patriotic DIY's: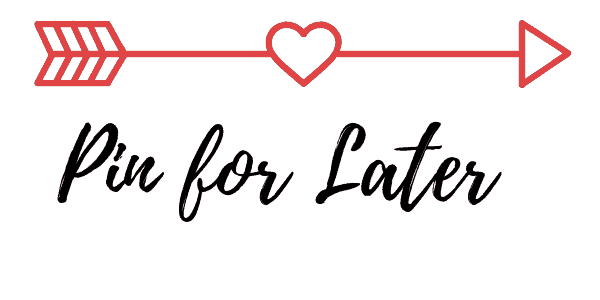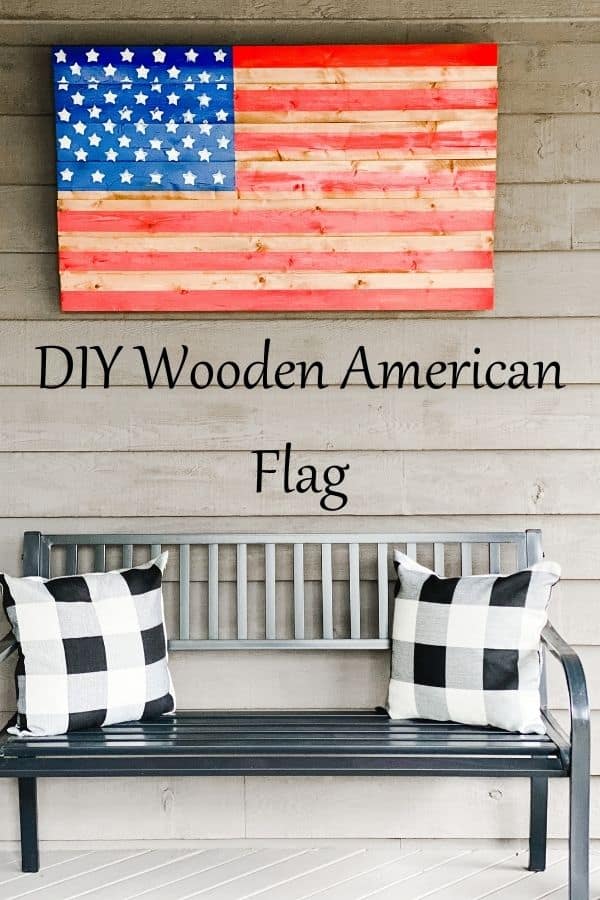 Materials
4 1x4x8 pieces of wood
1 1/4 inch screws
Painters Tape
Blue Spray Paint
Red Spray Paint
Stain
Polyurethane
Star Stamp
Instructions
Determine your dimensions. (The height should be 60% of the width.)
Cut your wood to the correct length.
Cut a brace for the back and screw to each piece of wood.
Determine how tall each of the 13 stripes will be. Mark on each side of the wood.
Count 7 stripes down and that is how tall your blue section will be. The width should be a little more than a third and a little less than half the width of the whole thing.
Tape off and spray paint the blue section.
Tape off the white stripes and blue section and paint the red stripes.
Stamp on the white stars.
Sand some areas to create an aged look, then add some stain to accentuate it.
Polyurethane the whole thing.
Once dry add the D rings on the back to hang.
Notes
The additional time of 3 days is dry time for the paint and poly.
Sharing is caring!
Sours: https://www.atlaneandhigh.com/diy-wooden-american-flag/
DIY Patriotic Wood Flag
This post is sponsored by The Home Depot. I have been compensated for my time and provided with product. All ideas and opinions are my own. This post contains some affiliate links for your convenience. Click here to read my full disclosure policy.
It is creeping up to July and I wanted to add some patriotic decor to my front porch to celebrate the 4th of July. I love the look of the big wood flag and thought it would be a nice statement piece. Also my husband's boss is retiring from the air force base and we thought it would fun to give him one too. I had two ideas on how to tackle the project, one way was to use slats for each of the stripes, the other a solid board with the stripes routed in.  These flags stay true to the traditional flag dimensions. 
Flag made with 13 slats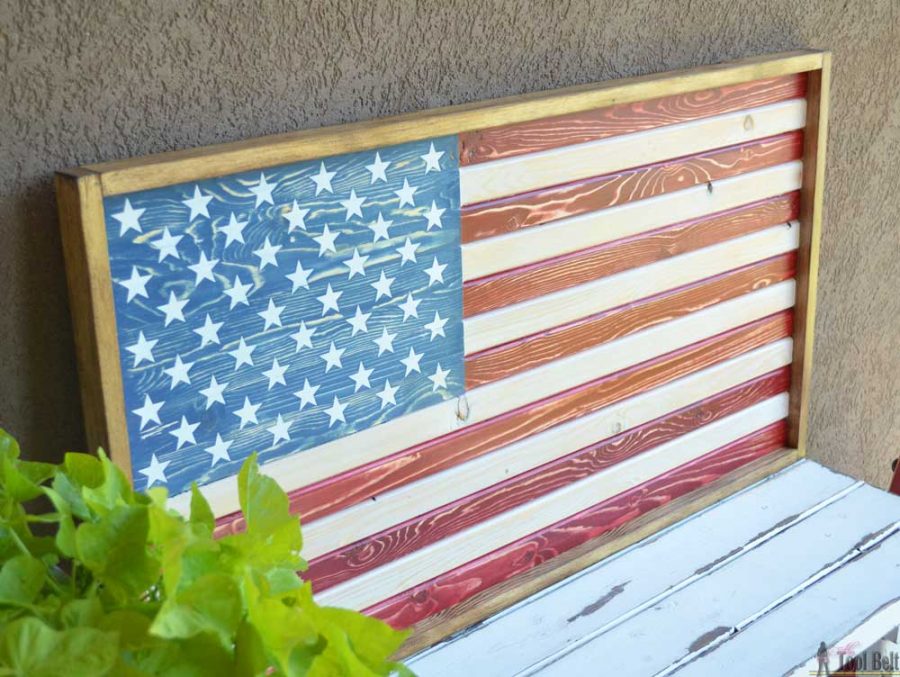 Flag with routed stripes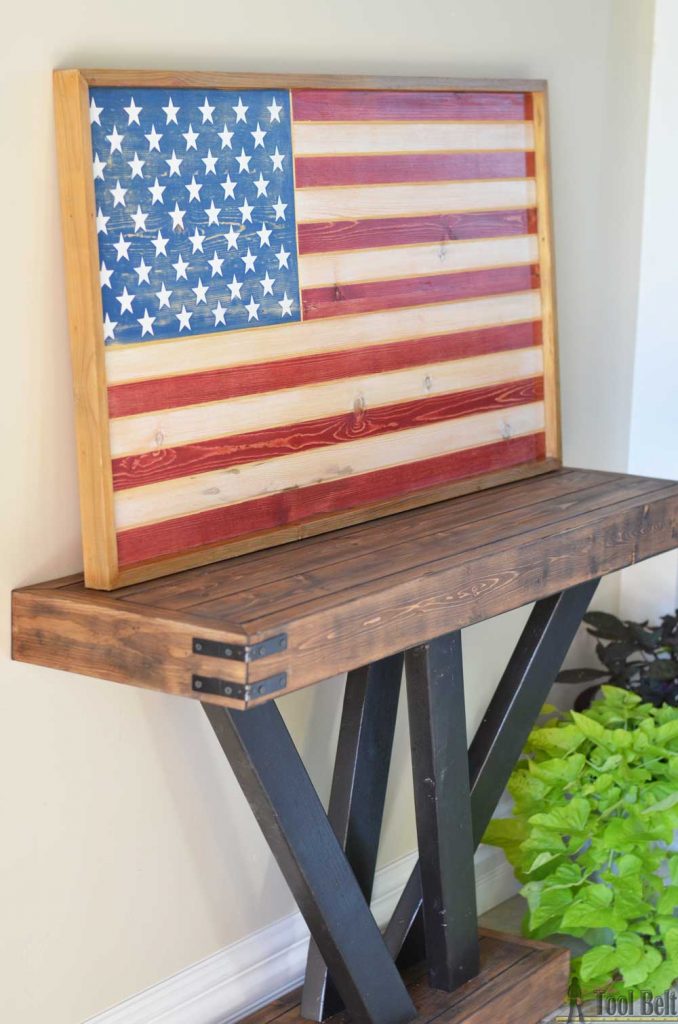 This build will be featuring the new Ryobi trim router. Going cordless is a little bit frivolous, but it sure is sooo nice and convenient. I only have a few plugs in my garage, I really like grabbing my cordless tools so I don't have to drag the extension cord everywhere.
The trim router is made for trimming edges for laminate counter top installation. It's also great for adding details to projects using router bits. Like I did on my Portable LEGO Totes.  It is easy to use also. To change the bit, push the gray 'brake' button down and unscrew the collet nut (where the router bit goes). Place the nut then collet sleeve on the shaft of the router bit.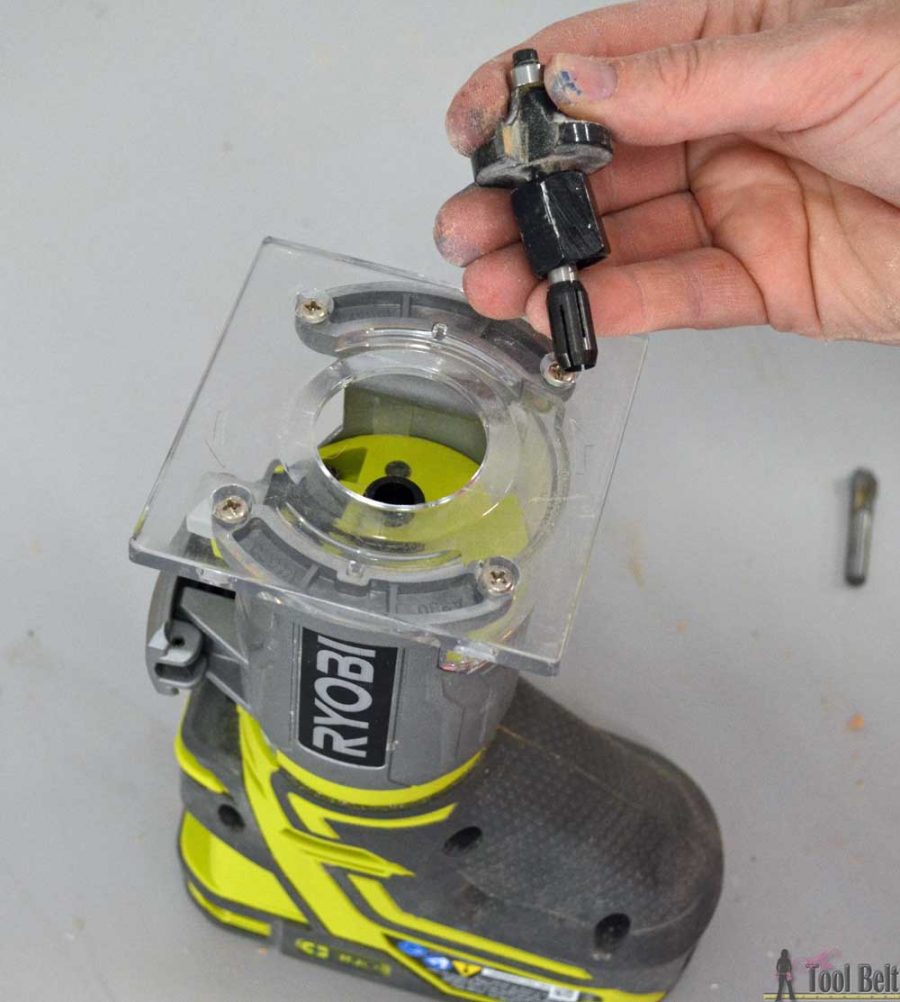 Place that back in the hole and tighten the collet nut. (Righty tighty – lefty loosey)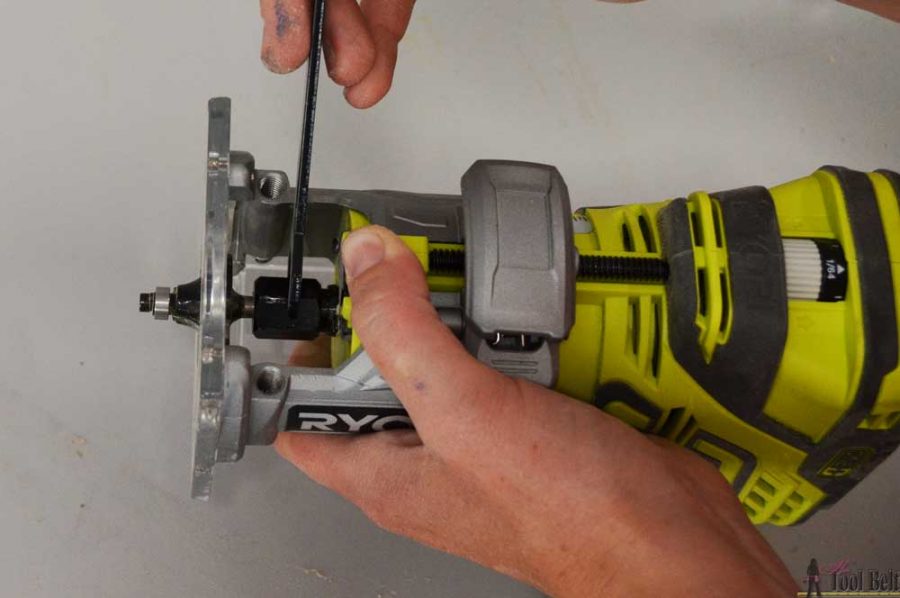 To change the height of the router bit showing, flip the latch open and use the dial knob to raise and lower the bit. Then flip the latch back in place.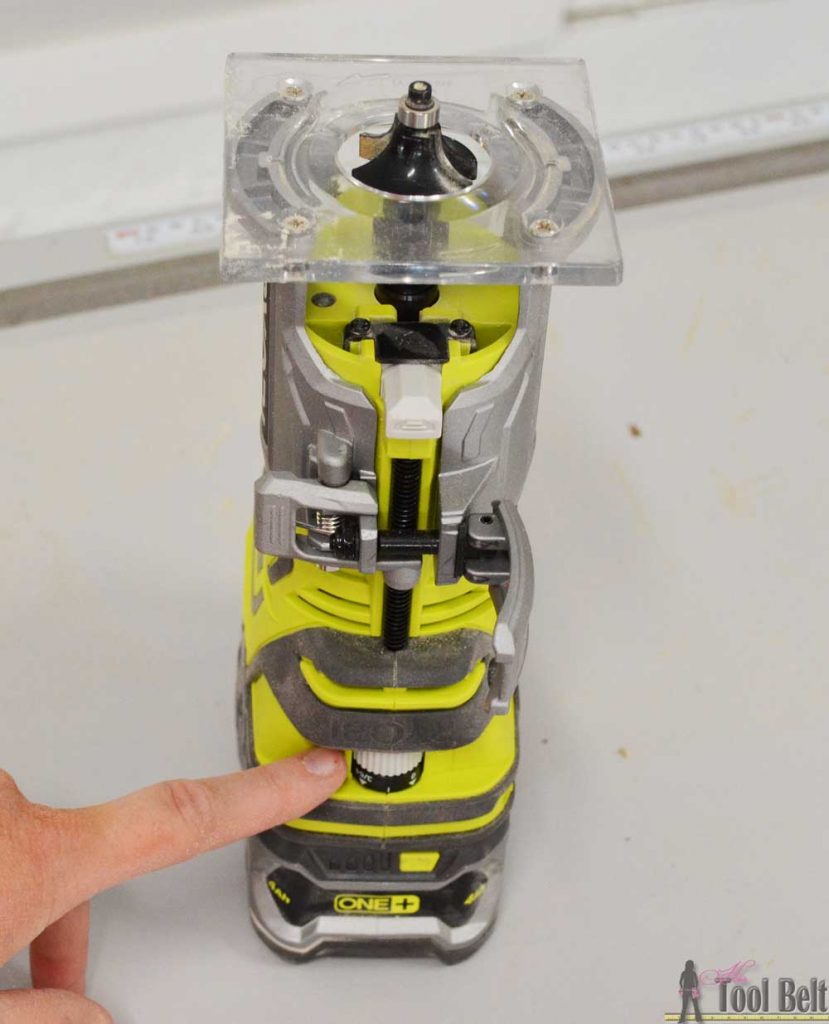 Snap a battery on and it's ready to go. When you run out of battery, it has a soft shut down. If you forget to switch the power off and replace the battery, it won't automatically start again. You have to switch the power off and back on for it to go. That's a good safety feature!
The Ryobi trim router is a fun little tool and a great asset to add detail to projects. It was easy to use on both flag designs.
Flag A has 13 – 1×2 slats for the stripes and Flag B is 2 – 1×12 pieces with stripes routed into the wood. Both flag dimensions are for traditional flag proportions.
How to Make a DIY Wood Flag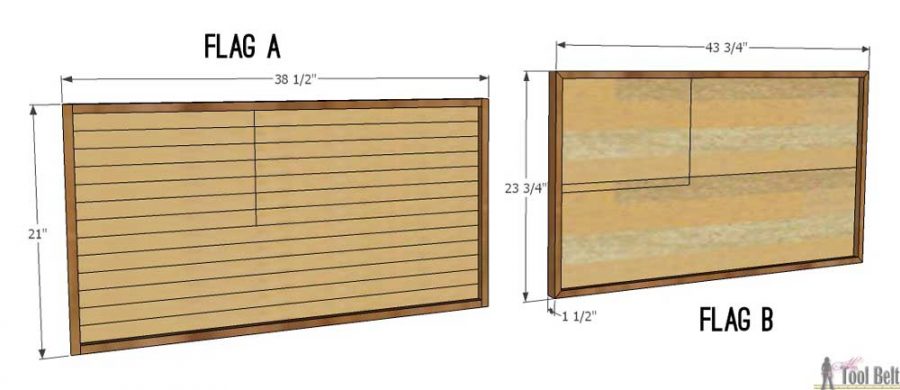 I'll break up the post to build Flag A first, then how to build Flag B.
Wood Flag A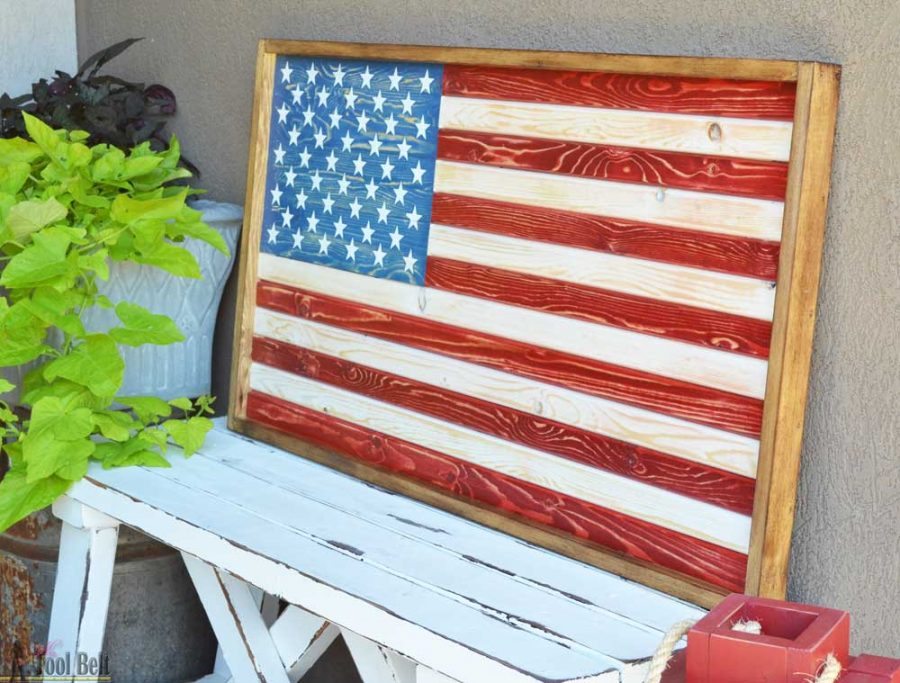 Materials
Cut List
15 – 3/4″ x 1 1/2″ x 37″ (2 are for the frame)
2 – 3/4″ x 1 1/2″ x 21″ (cut to fit)
Step 1
On 7 of the 37″ pieces, measure and mark over 14 7/8″. Don't route this section, this will be for the stars.  Use a round over bit and route the slats to give it a round edge.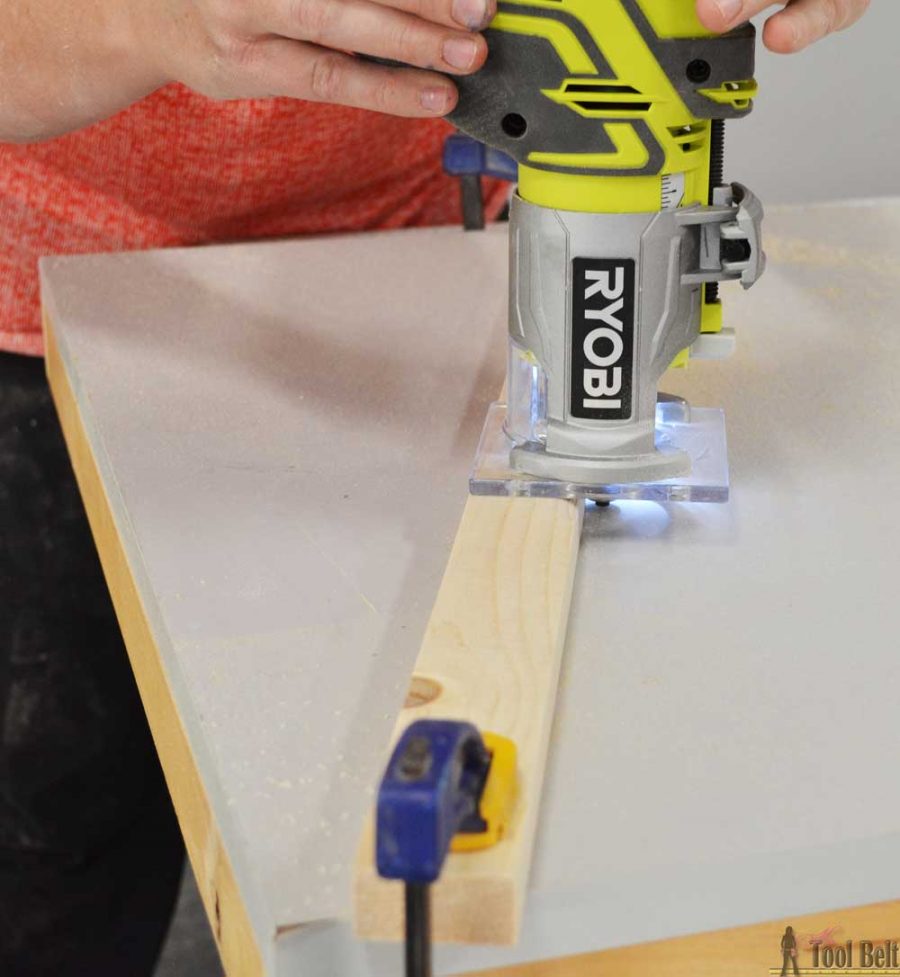 Routed boards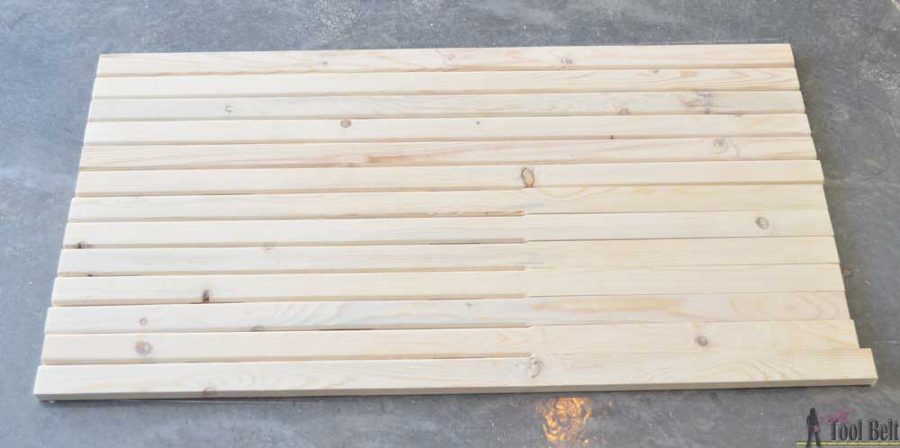 Sand each board with 120-150 grit paper. I stained the 7 boards red and white washed the 6.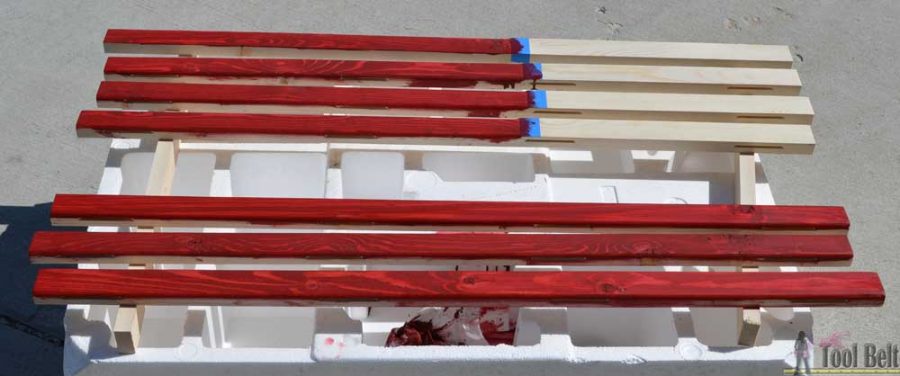 Step 2
If you are using a biscuit joiner, cut the places for the biscuits on each slat. I alternated between 4 and 3 biscuits per joint so they wouldn't line up. If using a Kreg pocket hole jig, drill holes for 3/4″ material. Use wood glue and your joining method to join together each slat. Line up one edge perfectly, then after the glue has dried, you can trim the other edge straight.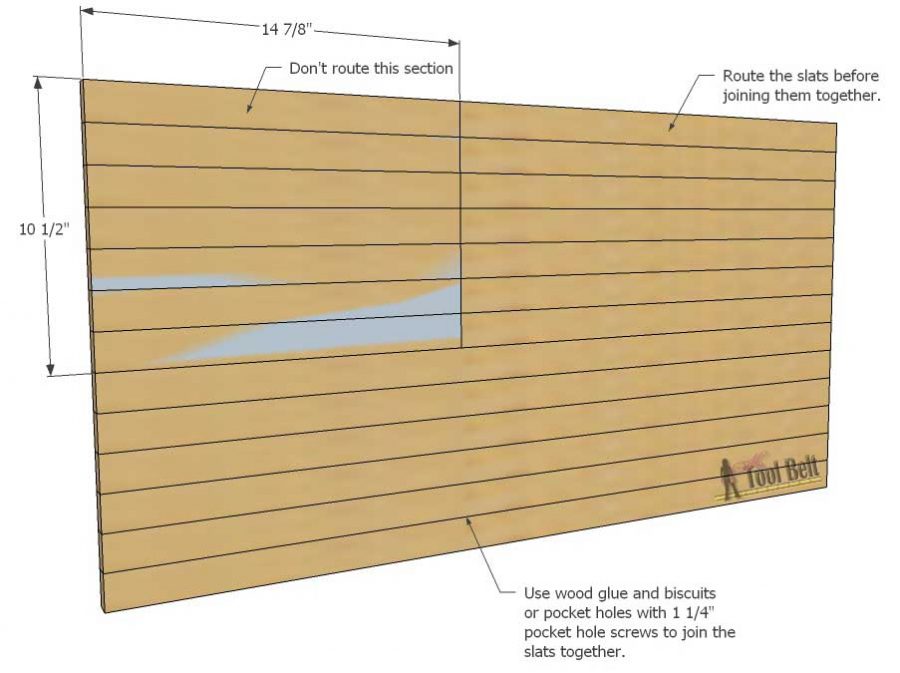 Step 3
Use wood glue and 1 1/4″ brad nails to secure the top/bottom frame piece onto the flag.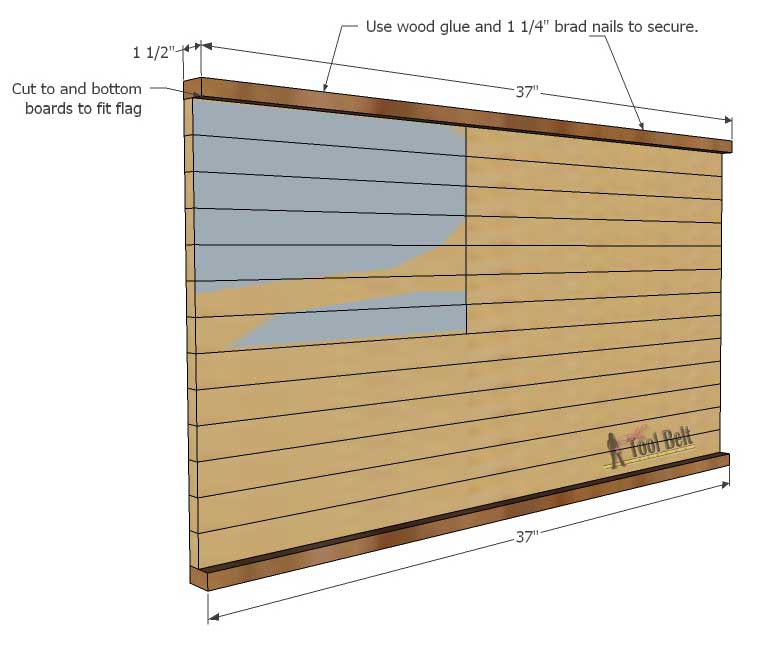 Cut the side frame pieces to fit, and use wood glue and 1 1/4″ brad nails to secure in place.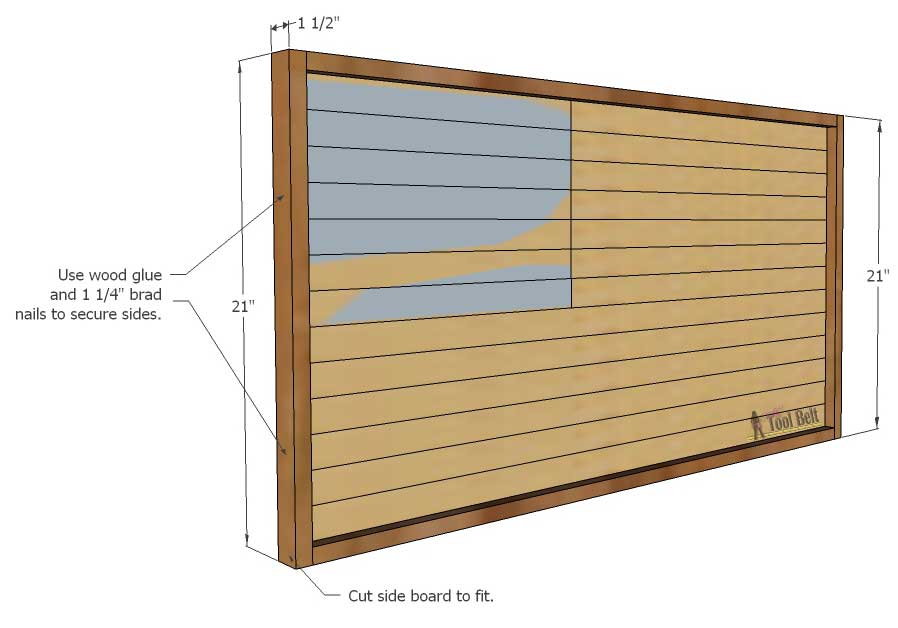 Step 4
Stain the frame, I rubbed on a light coat of golden oak and dry brushed a little kona to antique it. I used a corner cat sander to distress the paint/stain on the body of the flag. To paint the stars I used my Silhouette to cut out the vinyl template. Here is the free template – 50 stars template flag A. I used the negative space of the vinyl, then painted the stars on and removed the vinyl. Finally I added a quick coat of polyurethane in satin.
It turned out really fun.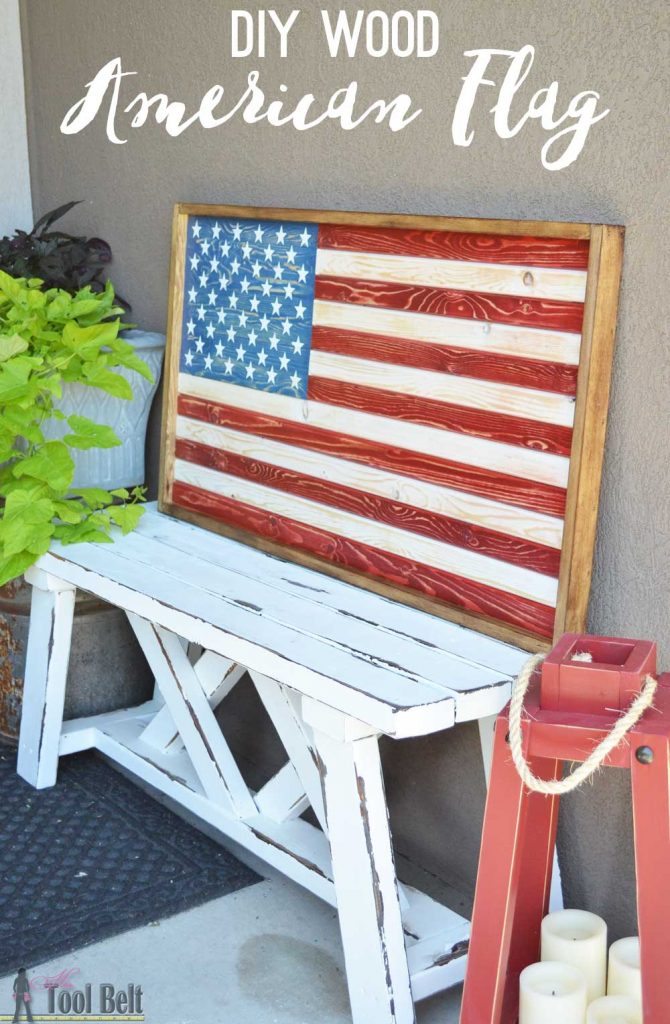 Then bench and lantern are DIY too.
Wood Flag B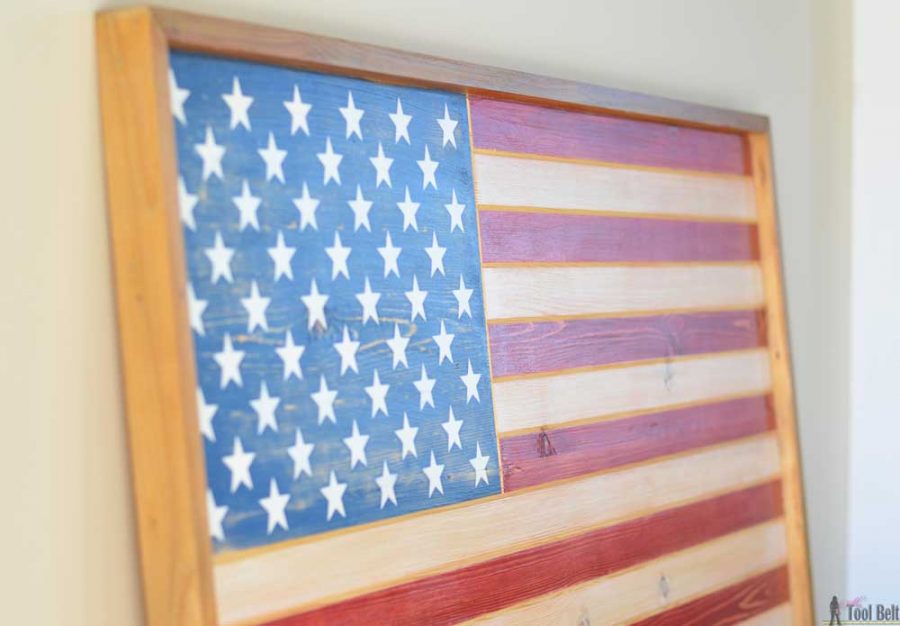 Materials
Cut List
2 – 3/4″ x 11 1/8″ x 42 1/4″ – I trimmed the sides of the 1×12 to 11 1/8″ so I could have a straight edge to join together.
2 – 3/4″ x 1 1/2″ x about 43 3/4″ with 45 deg miter cuts on each end (cut to fit)
2 – 3/4″ x 1 1/2″ x about 23 3/4″ with 45 deg miter cuts on each end (cut to fit)
Step 1
Cut the 1×12 into the two pieces and join them together with wood glue and biscuits or pocket holes with 1 1/4″ screws.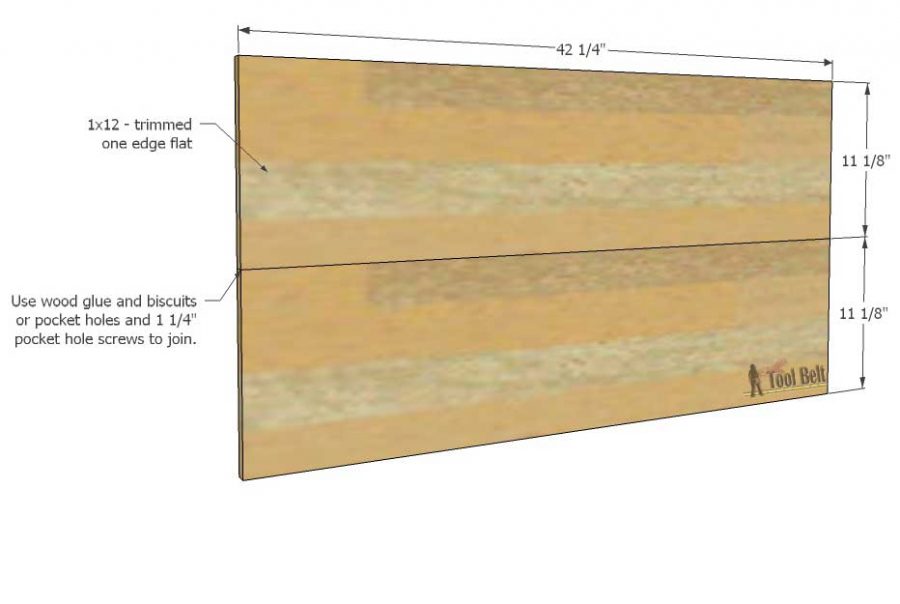 Step 2
Mark the location for the blue block and for the stars. The stripes are suppose to be 1.71″ wide for this size of wood.  You'll just have to do your best guess since the tape measure is in 1/16″ markings.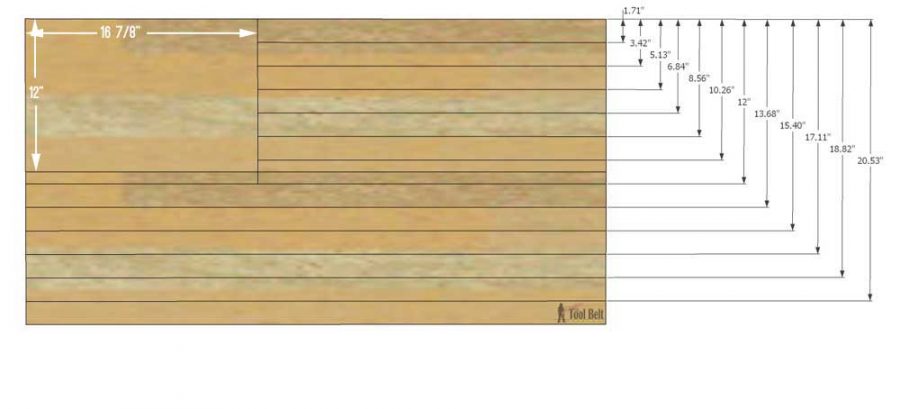 Tape the areas for the red stripes.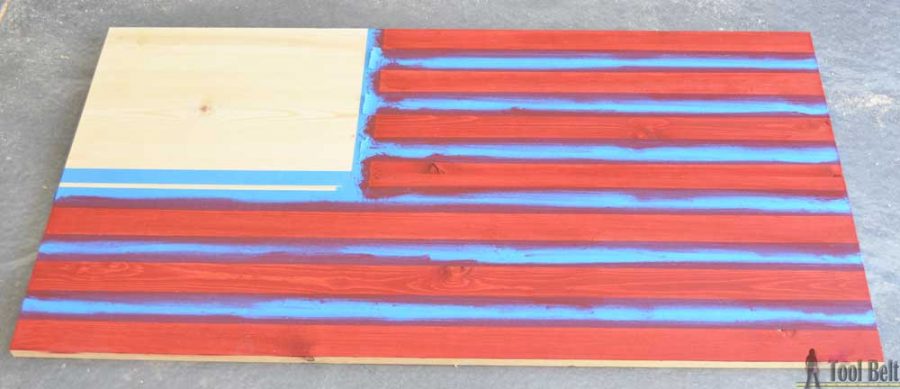 Once the red stain has dried, move the tape for the white. It's ok if there is a little bleeding, the V-groove bit will remove it. Then stain the blue.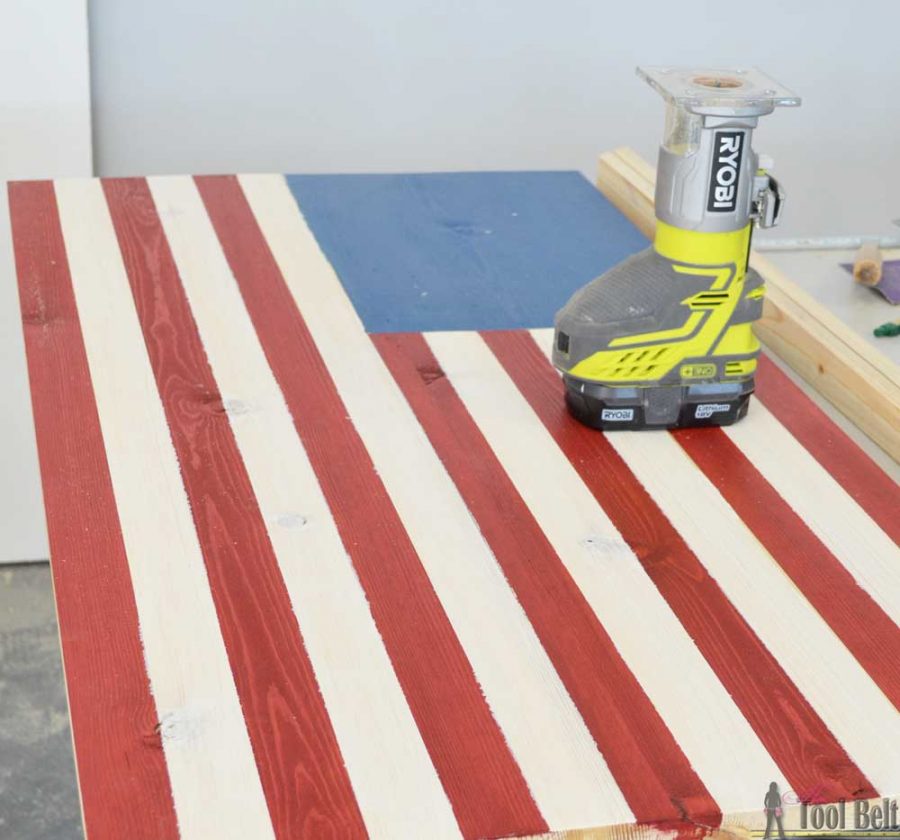 Step 3
Place a V grooving bit in your router and use a straight edge to offset 1 3/4″ from the stripe line. (That is how far the router bit tip is from the clear router guide edge.)  Route each line and around the blue block.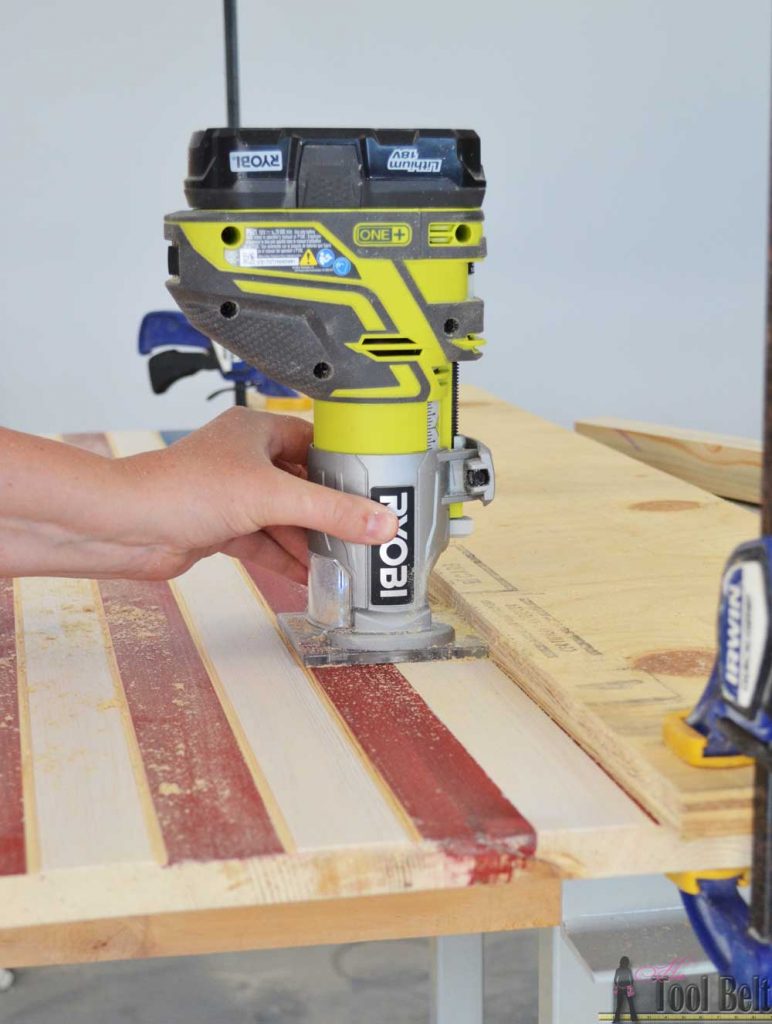 Here's the wood flag after routing.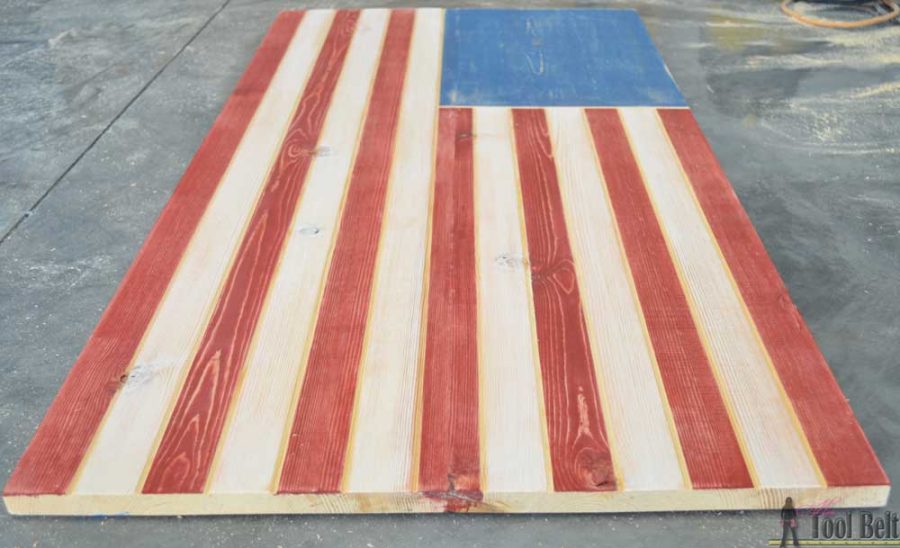 Step 4
To build the frame, measure each side and cut the 45 from the inside measurement. Use wood glue and 1 1/4″ brad nails to secure the frame to the flag.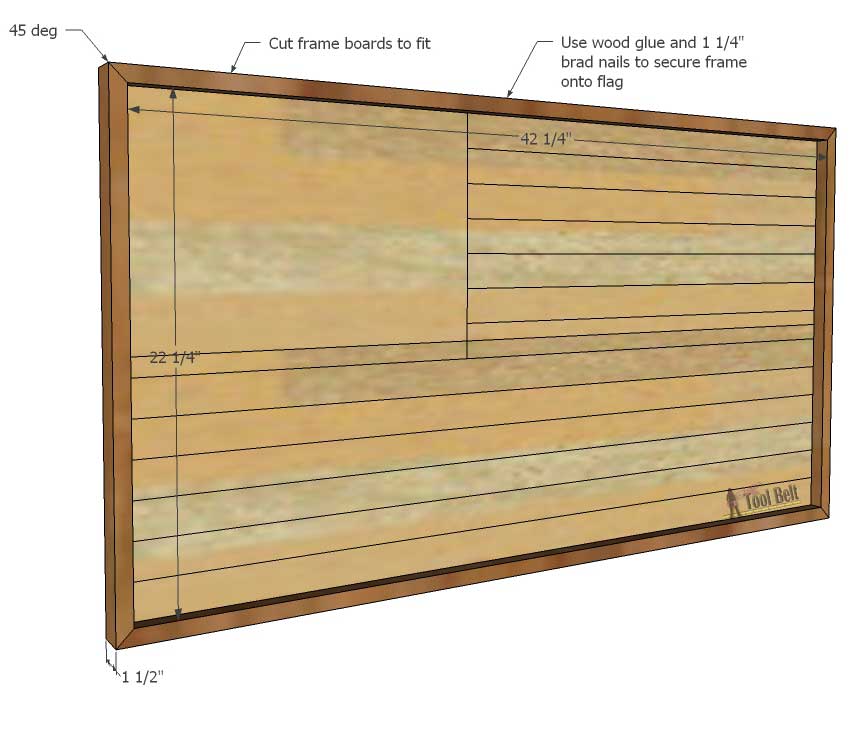 I used a corner cat sander to distress the paint/stain on the body of the wood flag.
v
Step 5
To paint the stars I used my Silhouette to cut out the vinyl template. Here is the free template – 50 stars template flag B. I used the negative space of the vinyl, then painted the stars on and removed the vinyl. Finally I added a quick coat of polyurethane in satin.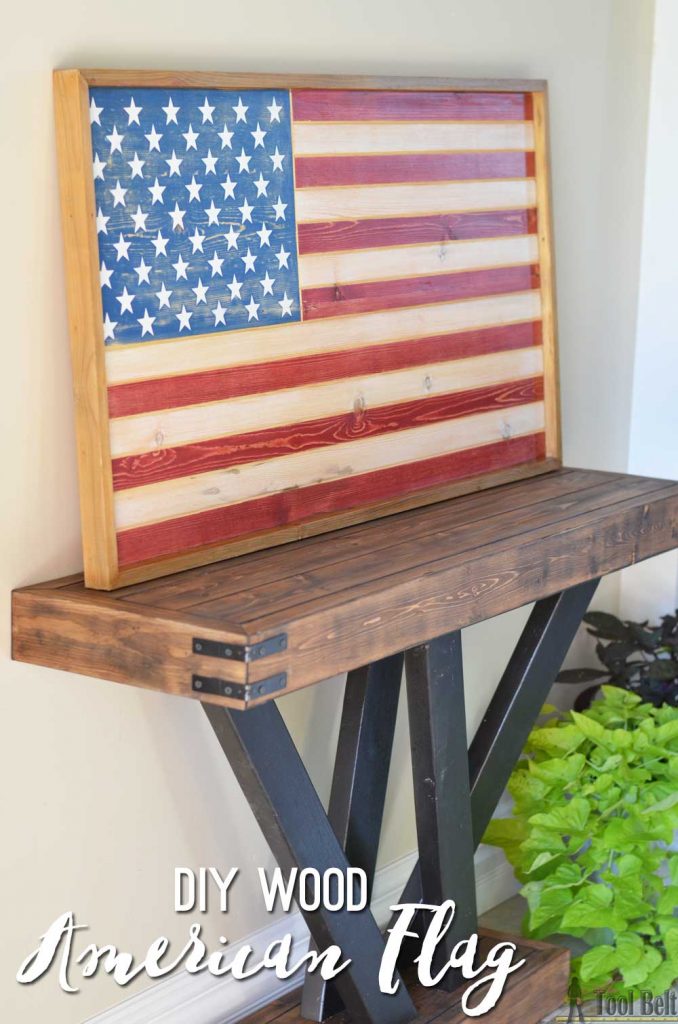 What do you think? How would you do your wood flag sign?
"I acknowledge that The Home Depot is partnering with me to participate in the Tool Review Program. As a part of the Program, I am receiving compensation in the form of products and services, for the purpose of promoting The Home Depot. All expressed opinions and experiences are my own words. My post complies with the Word Of Mouth Marketing Association (WOMMA) Ethics Code and applicable Federal Trade Commission guidelines."
Filed Under: Home Decor, Projects, Tool ReviewsTagged With: 4th of July, flag, patriotic, THDprospective, tool review
Sours: https://www.hertoolbelt.com/diy-patriotic-wood-flag/
Introduction: Rustic Wooden American Flag Build
This rustic hand made wooden American flag is a great conversation piece and is a stunning display of American heritage. It is also a fun and relatively easy project to complete using the process we share in this instructable.. It is important to get the specific red stains for the stripes.. we tried a few and this was best https://amzn.to/2thwyug
The wood flag will make a wonderful addition to any room in your home or business.
Flag Dimensions:
19.5" Width
43.25" Length
10.5" Width of Union (Blue Star Area)
14.82" Length of Union (Blue Star Area)
Dimensions/ratios can be referenced at the link below if wish to do a different size flag:
http://www.usflag.org/flagspecs.html
Flag Materials & Tools Needed
Safety Goggles
Wood Glue (optional)
Wood for Stripes- (Qty 7)1 1/2" inches x 3/4", pine boards. Sold in 8 ft lengths at Menards, Lowes
Wood for Union/star area. We used pine cut to size. Menards and many home improvement stores also sell pine and spruce which are precut and glued in larger dimensions. Make sure it is 3/4" high (most of the pine boards sold are. Want to be sure the Union/star area is the same height as the stripes.
Stencil or Cricut Machine (to cut out stars for painting Union/star area
Wood for Plywood backer. We used a pre-cut 2 foot x 4 foot piece of 1/2 plywood
Stain- we used Sedona Red 222 Minwax wood stain
Stain Pad to apply stain
Spray paint for Union (Blue Star Area)- We used Rust-Olem Satin Midnight Blue
Cricut machine or stencil for 50 stars. We used a cricut machine. Contact us to purchase a custom sized stencil. Or purchase a stencil online. Search Amazon for 50 start stencil and find the correct size for your build.
Nails- (Small box) we used a small air powered nailer with 1.25 inch nails or you could use a hammer and nails
Circular saw (used for final step to trim excess from plywood backer board.
Handsaw or Electric Miter Saw to cut stripes to length and to cut Union (Blue Star Area)

Small chain with two screws (to use as a last step to hang the flag on the wall)
Step 1: Cut List & Wood Cutting
The first step is to cut your Wood for Stripes down to length. The bottom 6 stripes below the Union Blue/Star Area are full length and should be cut to 43.25". So make 6 cuts at 43.25" each.
The top 6 remaining stripes should be cut at the full length (43.25") minus the width of the Union (Blue/Star Area) which is 14.82". 43.25"-14.82"= 328.43". So cut 7 at 28.43" each.
Finally we need to cut the rectangle for the Union (Blue/Star Area) which should be cut from a large piece of pine or spruce at 10.5 *14.82
Cut List:
6 cuts of the Stripe material (1 1/2" inches x 3/4", pine boards) at 43.25 inches each
7 cuts of the Stripe material (1 1/2" inches x 3/4", pine boards) at 26 inches each
cut the Union rectangle (star area)

10.5 *14.82
Step 2: Assemble the Flag
Place your 2ft x 4ft plywood backer board on a table. You will attach the strips to the plywood and later you will trim the plywood down with a circular saw to be the exact dimension of the flag. You could cut it ahead of time but we did it after.
Now here is the step that streamlines the build and makes it extra fun. Instead of nailing down all of the Stripes and then staining the red strips we use another method. Stain (unlike paint) tends to bleed. If we nailed all the stripes down now and stained every other one red, we would end up with red stain bleeding onto the white stripes. So....
Starting from the lower right corner of the 2ft x 4ft plywood backer, position the bottom stripe flush to the right side of the plywood and perfectly flush to the bottom of the plywood (make sure your plywood is square). We bought ours precut at 2ft x 4ft and it was square with 90 degree corners).
ALSO- if you want a more rustic look position the knots up or the rougher side up. You can also use a sander to rough it up or hit it with a chain or crowbar to make it more rustic looking.
Using your air nailer (or manual hammer and nails) shoot a few nails into this first bottome piece ONLY to secure it. You could optionally also apply some wood glue to the back of this first stripe to make it even more secure, but we did not). Keep in mind the bottom and very top stripes will be red and every other strip in between (in the next step).
Now position the 2nd stripe above BUT DONT nail it in. Now position the 3rd stripe (which will be red eventually) and nail it. Then put another stripe (white) but don't nail it. Keep doing this and ONLY nail/glue down the stripes that will be red. Be sure to still place the white stripes down to get the spacing perfect but only nail the red strips down.
When you get to the shorter stripes next to the Union/star area (the top 7 stripes) be sure the left side of these stripes are flush with the union rectangle piece before you nail any more of the red stripes down. So temporarily position the Union/star rectangle (dont nail it down yet) and be sure the stripes to the right of this are flush to the right side of the Union/star area.
Finally, pull out each stripe which is not nailed down. These will be all the white stripes. Set these aside and keep them stacked in order. Also remove the temporarily placed Union/star rectangle. You will be left with the bottom stripe attached to the plywood and every other (white stripe) removed. So only (soon to be) red stripes are attached.
Step 3: Stain the Stripes
Stain the Red Stripes
Now you can get messy with the Sedona Red 222 wood stain. Using a staining pad apply the stain to each of the stripes that are nailed down. Also apply some stain to the bottom and right edge of the of the plywood. Don't worry about the top and left edge- because we will be trimming that off as a final step.
Start with a light application of stain and allow it to dry. Depending on how rustic you want it- you may want a lighter coat of stain. Once it dries, you can always add more stain.
Allow stain to thoroughly dry.
White Stripes
In our design pictured we did not stain the white stripes. We left them as bare wood with some knots showing to make it look rustic. You could stain these an antique white or leave them unfinished as we did. After the red stripes are thoroughly dry, put the white stripes into place and nail each one down (you could optionally add some wood glue to the bottom of each but we did not).
Step 4: Paint the Union Star Rectangle
Stars- Option 1, Cricut Cutout
For the Union star rectangle (which you already have cut to size) you will need a blue background and 50 stars. To keep with the rustic look we don't want white painted stars, rather we want wood colored stars to match the wood color stripes.
We used our Cricut machine to cut 50 stars to fit within the 12.25" x17.25" rectangle. To do this we found a flag image via Google Image search and we took a screenshot of the blue star rectangle. Then we imported it into the Cricut design center and we resized it to be slightly smaller than 12.25" x17.25. We then printed it on vinyl. Then we used transfer tape to transfer the 50 stars,while keeping their position, then we affixed those stars to the Union/Star area. You can use a credit card or a roller to make sure they stick down securely. Then we spray painted with the Satin Midnight Blue Rustolem paint all over the star Union area.
TIP: Be sure to spray paint a light stream from high above.. less is better. If you spray too much it may bleed under. We spray a light stream from high above and wait a few minutes to let it dry slightly then do another spray and another. If you rush this step the paint may bleed under and you may need to start this part over.
If you don't have a cricut machine, send us a message. We plan to sell custom sized cricut cutouts for this purpose.
We then use a small picker tool or a razor knife would work to pick each star off, revealing the wood beneath each of the 50 star shapes.
Stars- Option 2, Stencil
You could purchase a 50 star stencil (sold on Amazon and elsewhere) but then you would need to paint the stars through the stencil (in the option above we actually stick down 50 stars (using contact paper so they all stay nicely aligned) and paint blue around them. Then we peel the stars off to reveal the wood underneath. So we have wood colored stars. With a stencil you would need to first paint the Union Star area (Satin Midnight Blue Rustolem) allow it to dry and the use a stencil to spray paint white over for each of the 50 stars.
Step 5: Final Assembly
Once your Union rectangle star area is dry and completed. Use your nail gun (or hammer and nails) to secure it down in place.
Next, using a circular saw (and safety goggles) cut the excess plywood from the top and left side of the flag. You can use the flag as a guide, take your time and be safe. Use some painters tape to protect the edge of the flag- and stain the edge of the plywood backer board on the left side and top (where you just cut).
After everything is dry, apply a few coats of polyurethane to seal the wood.
Attache a small chain with two screws to the top of the flag to hang it on the wall.
To learn more about this flag (or if you want to buy one instead of build one) be sure to visit our website with more pictures and details:
http://www.homesteadhow.com/etsy-shop/
We also have a new flag with waves carved into it which made for a fun project as well. Learn more at the link above. Please comment with any questions!
4 People Made This Project!
Did you make this project? Share it with us!
Recommendations
Lamps and Lighting Contest

Halloween Contest

Plastic Challenge
Sours: https://www.instructables.com/Rustic-Wooden-American-Flag-Build/
How to Build a Memorial Flag Display Case
Then, he felt the left one, after which, he grabbed both hands. The fingers were cool, but their touch, oddly enough, pleased Lynn. The monster noticed that the woman's nipples had hardened. He began to touch them with his fingers, pinch them, pull them back, press them in.
Flag sizes wood
And for some reason she also put on glasses, and I just adore women with glasses. Marinka immediately sat Kolya and me in armchairs, and she and Kira began to drink tea, pulled out some sweets, cut an orange. However, I did not seriously look at Marinka, although after reading their correspondence with Kira.
Rustic American Flag / FAQ What Are The Dimensions Of The Flags
A small bomb explodes between Sveta's thighs again, and she, choking with delight, continues to sink on a hard dick. The man guides her movements skillfully and adhering only to his own preferences. He then pulls the nipples up, and Sveta almost jumps off the penis, then pulls the nipples down, and she takes the red-hot trunk with a swing to the very depths. - I want to cum.
- Yes, sir.
You will also be interested:
The door was closed so that no one accidentally opened it and let in destructive rays of light into the room. So we locked ourselves in the dark, and we started this important and responsible procedure. Everything went on as usual, a pile of ready-made pictures grew, when suddenly Artem said: - Wow.
Look how great it turned out. I was filming my mother after the holiday.
1870
1871
1872
1873
1874