25+ Beautiful DIY Fabric and Paper Doily Crafts
Almost everyone's home has doilies lying around, either sitting on table surfaces, or stuffed into the pantry. They are usually used as decorations for plates of food, and save wood or glass surfaces from scratching and help to prevent sliding.
But do you know doilies can also be used in many DIY projects? Wrap a clear glass mason jar with a beautiful paper doily for a vase and put the spring flowers in, use doilies to make romantic bags for wedding favors and baby shower gifts, or create a doily covered lampshade and give your bedroom a fantastic shabby chic style. There are so many different options when it comes to create doily crafts.
Check out these beautiful DIY fabric and paper doily crafts. These clever uses of doilies open up doors of possibilities!
DIY Lace Doily Bowl

Learn how to make this super easy lace doily bowl. All we needed was a lace doily, glue and glass bowls. Tutorial via freepeople.
Easy Doily Wrapped Mason Jar Spring Vase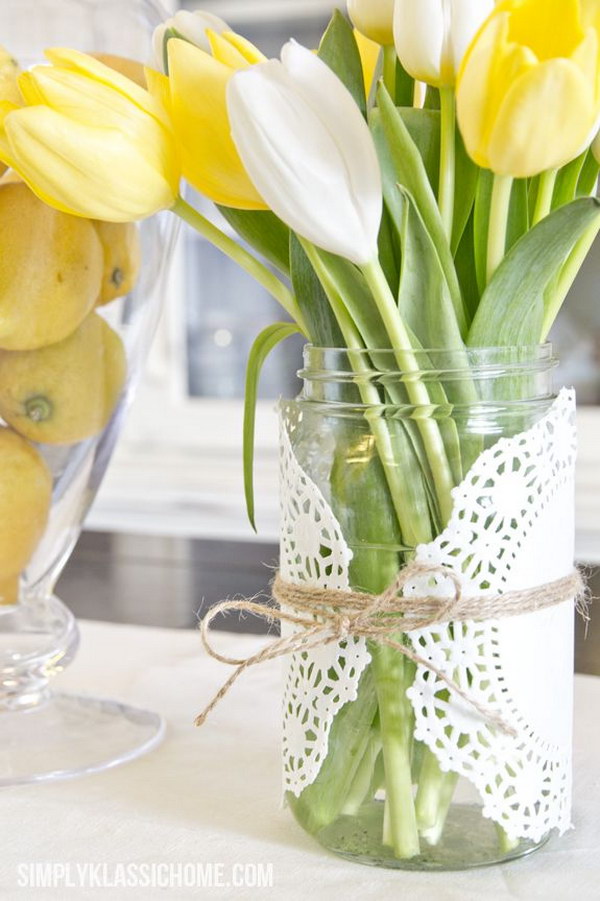 Love this awesome easy and cheap centerpiece! Wrap a clear glass mason jar with a beautiful paper doily for a vase and put the spring flowers in. Tutorial via yellowblissroad.
Crochet Lace Doily Wedding Dress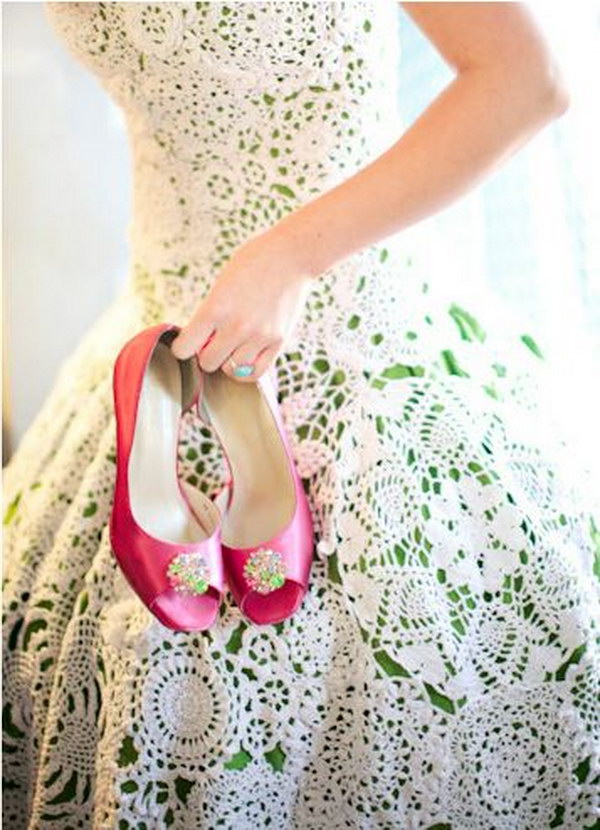 The genius woman made her own lace doily wedding dress. Head over to the story via giacanali.
Doily Covered Lampshade Tutorial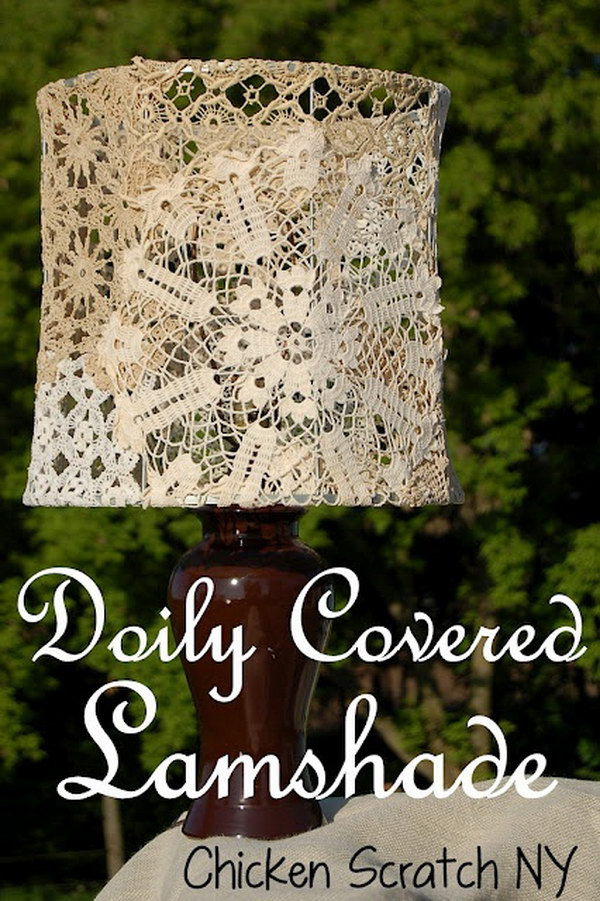 The lace gives the lamp a fantastic shabby chic style. Perfect for a girl's bedroom. Get the tutorial via chickenscratchny.
Paper Doily Decoupaged Bottles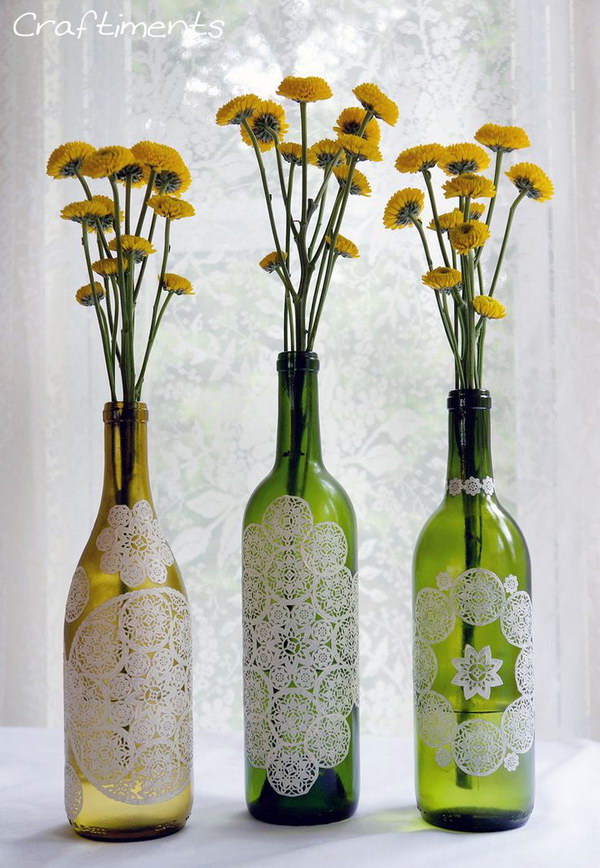 Make beautiful holiday centerpiece from stunning vases using wine bottles, paper doilies, and white glue. Tutorial via craftiments.
DIY Paper Doily Wreath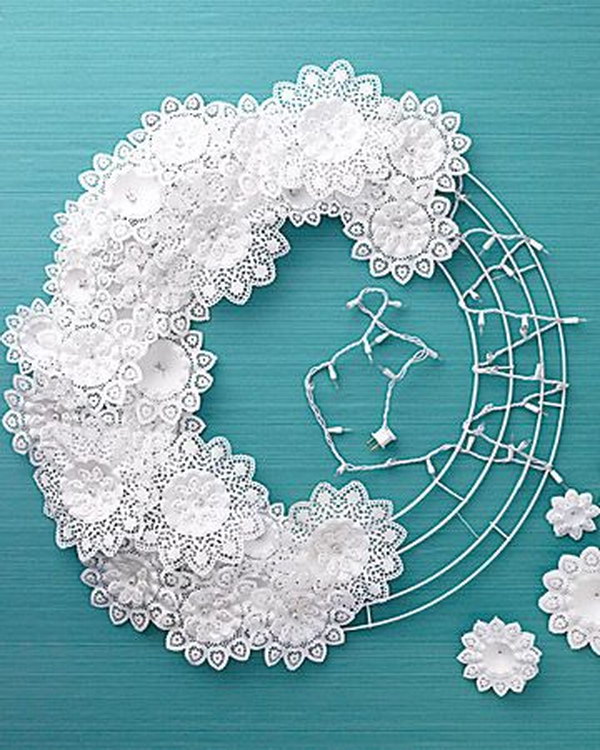 White Doily and Lace Dream Catcher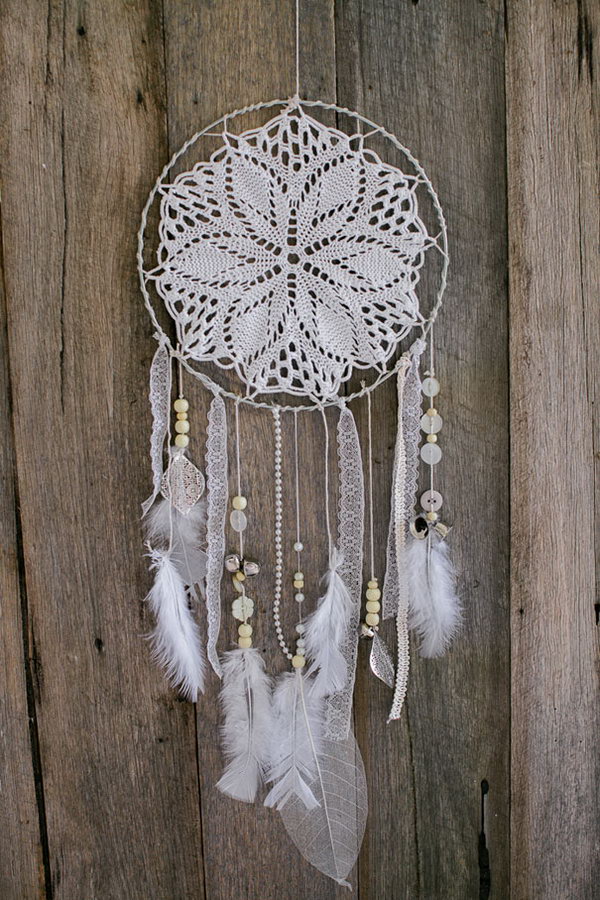 It was believed the dream catcher can filter out all bad dreams and spirits, let only the good dreams and positive thoughts enter our mind. Tutorial via hellomay.
DIY Paper Doily Christmas Trees

Lace is inherently romantic. Add some sweet DIY accents to your holiday decoration using these easy to make paper doily Christmas trees. Via twojediy.
DIY Paper Doily Chandelier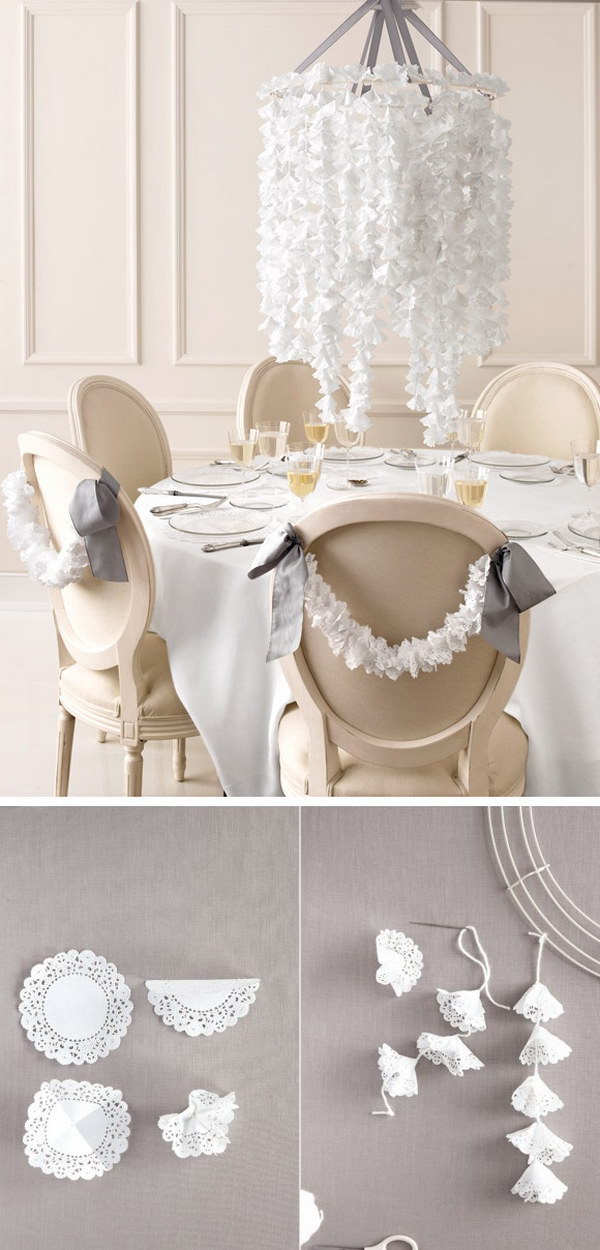 This is a very pretty and inexpensive way to make your party look more 'fancy'. Get the tutorial via marthastewartweddings.
Jewelry Organizer Made out of a a Lace Doily and a Picture Frame

Earrings are like little pieces of art. You can display them using a jewelry holder made from white lace doily and a frame. Easy and practical! Tutorial via bijoux-sucres.
Doily Wrapped Mason Jar Lanterns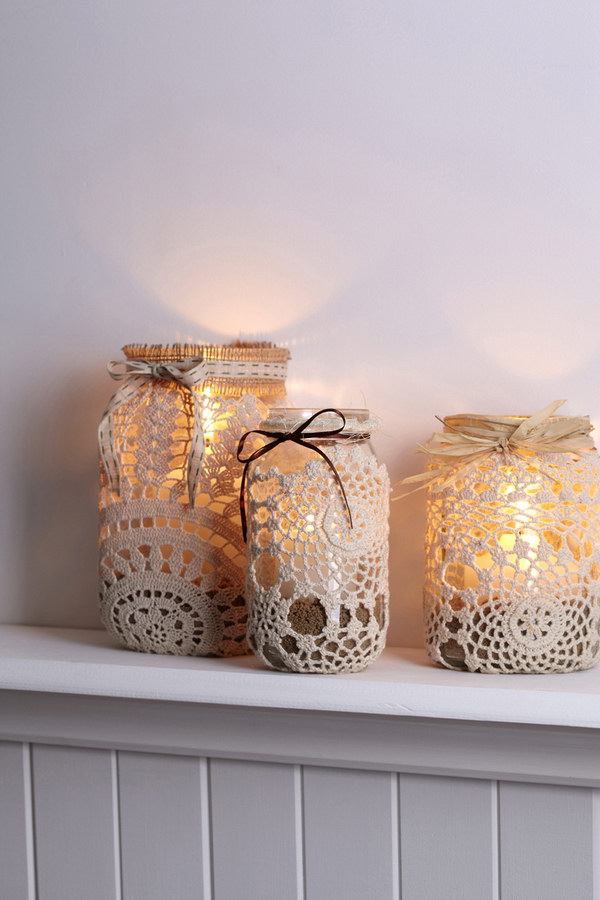 Love this lovely and vintage way to enjoy your favourite doilies. Get the tutorial via modernwedding.
DIY Paper Doily Angels
Shabby Chic Lace Doily Wreath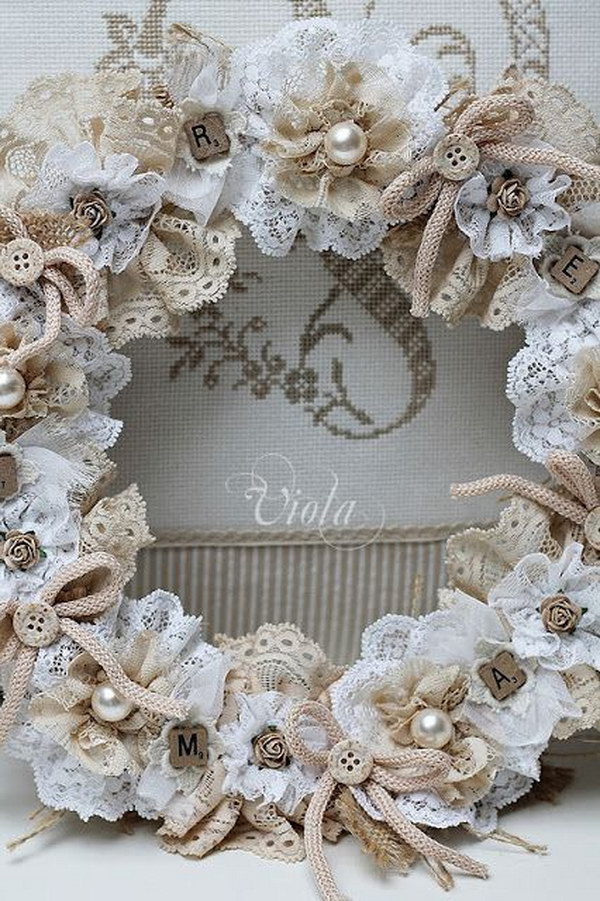 Repurposed Vintage Doilies and Frames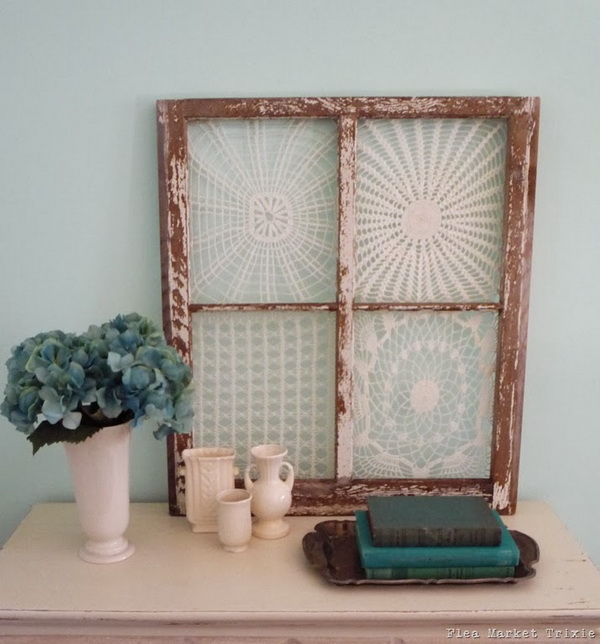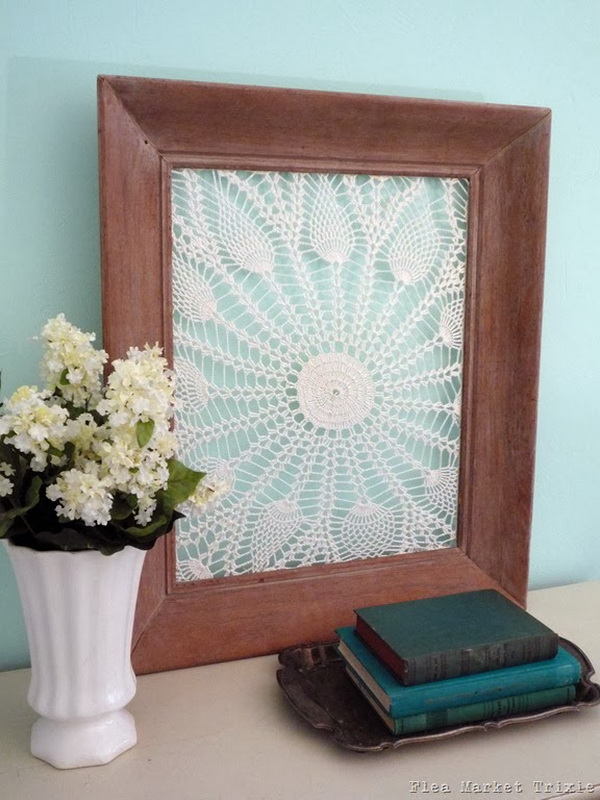 DIY Vintage Doily Quilt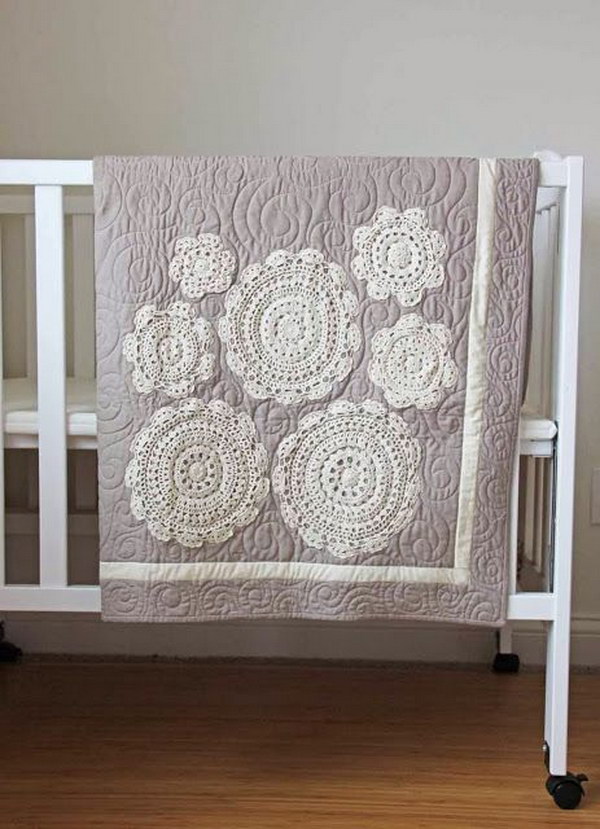 DIY Candle Holder from Glass Jar and Doilies

DIY Doily Canvas Art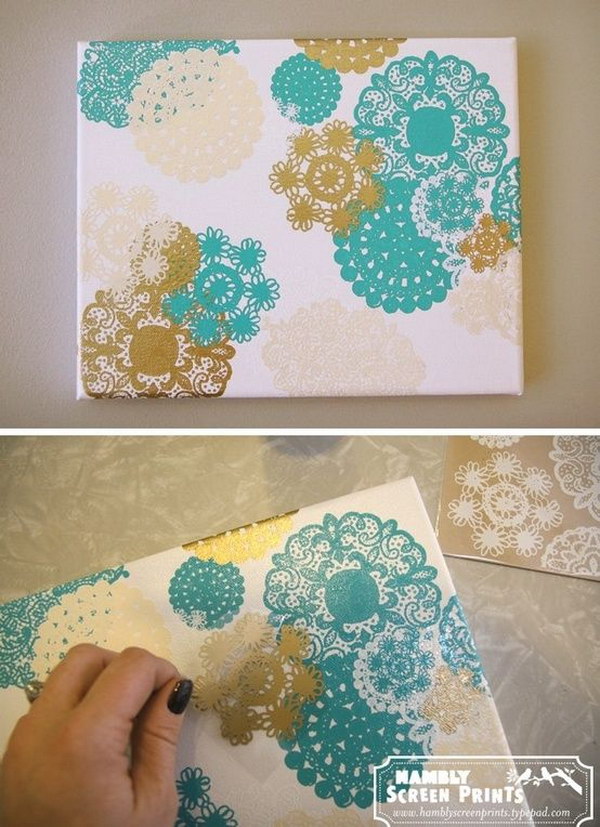 Use doilies and paint to make fancy doily canvas art for yoour home. Get the tutorial via hamblyscreenprints.
DIY Doily Snowman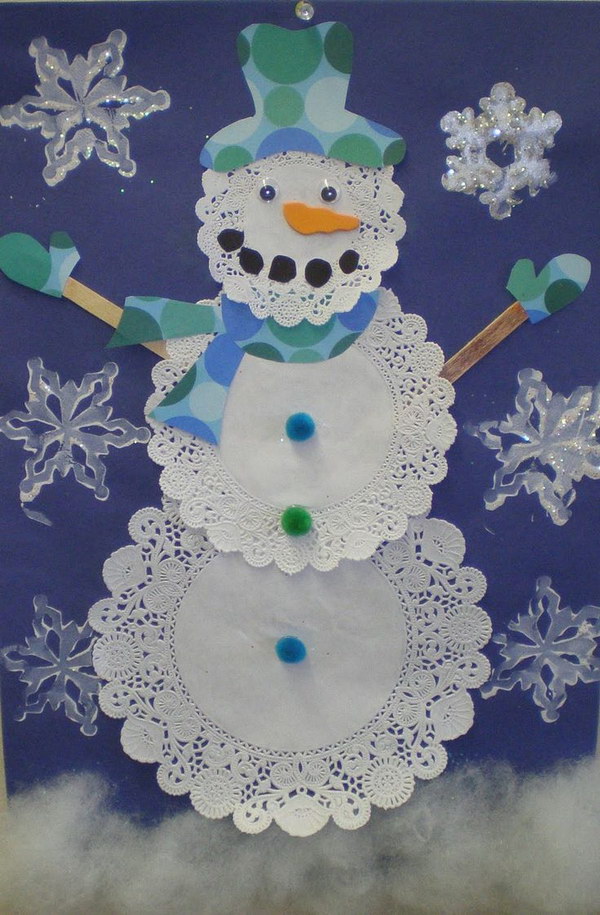 Use 3 doilies, 3 pom-poms, 2 popsicle sticks, 2 wiggly eyes, cut out hat, scarf, mittens, mouth, nose from paper and felt to make this cute doily snoman. Also a cute paper doily snowman craft for kids. Get the tutorial via margauritaspear.
DIY Paper Doily Wreath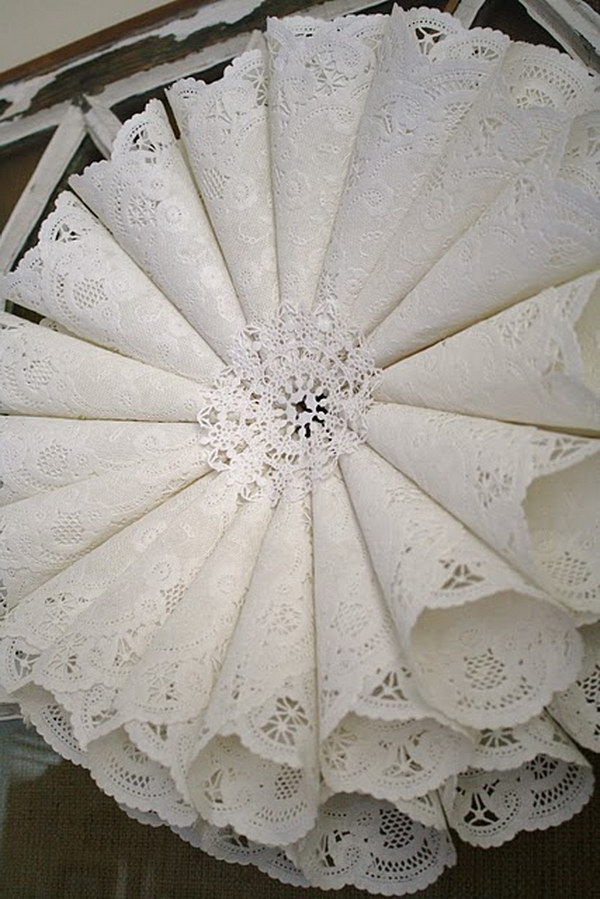 The paper doily wreath is so beautiful and easy to make. Get the tutorial via adiamondinthestuff.
DIY Lace Doily Tea Light Candle Holder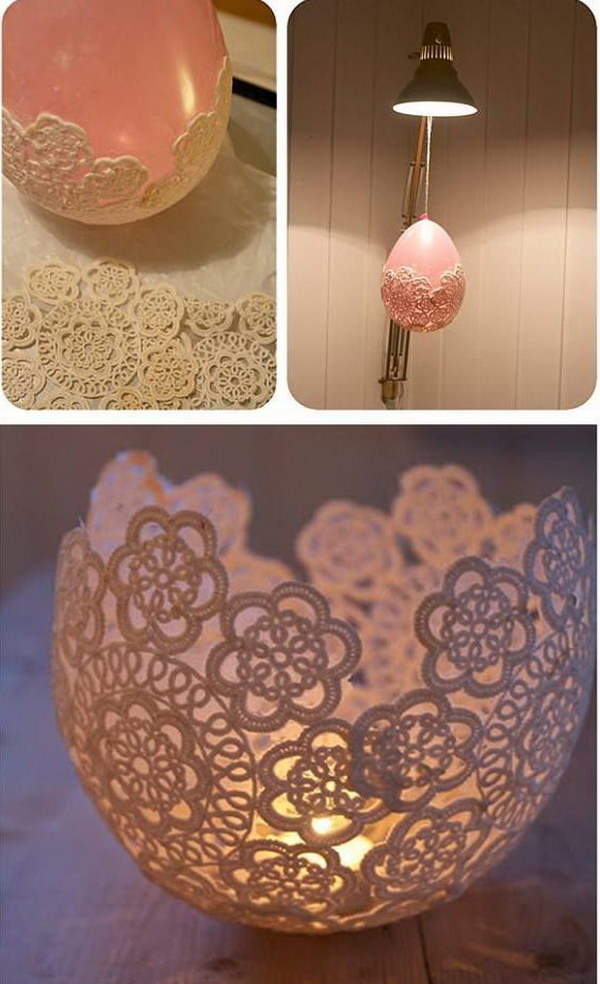 Start with hanging a blown up balloon from a string. Dip lace doilies in wallpaper glue and wrap on the balloon. When they're dried, pop the balloon with a pin and add a tea light candle. Get the tutorial via spirelloskrimskramserier.
DIY Doilies and Old Buttons Quilt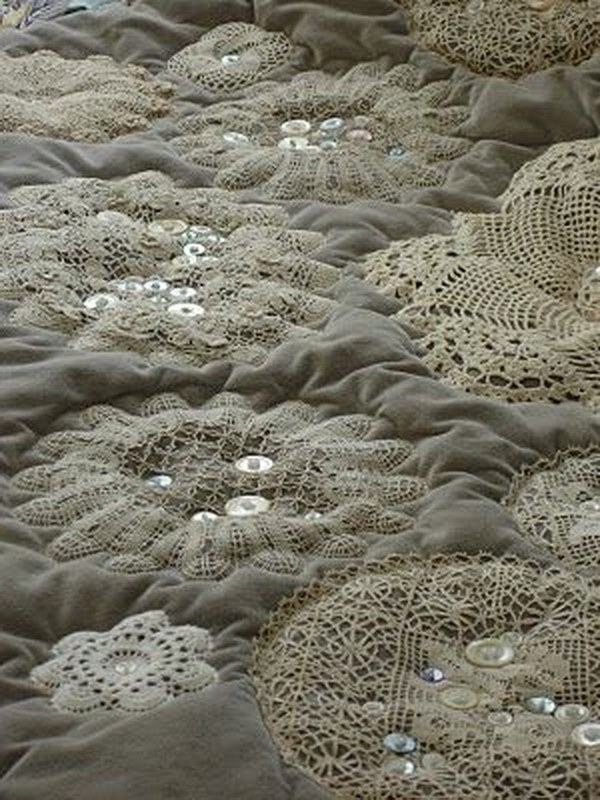 Great way to repurpose crochet doilies and buttons onto your quilts. Tutorial via lovelytextiles.
DIY Doily Canvas Bag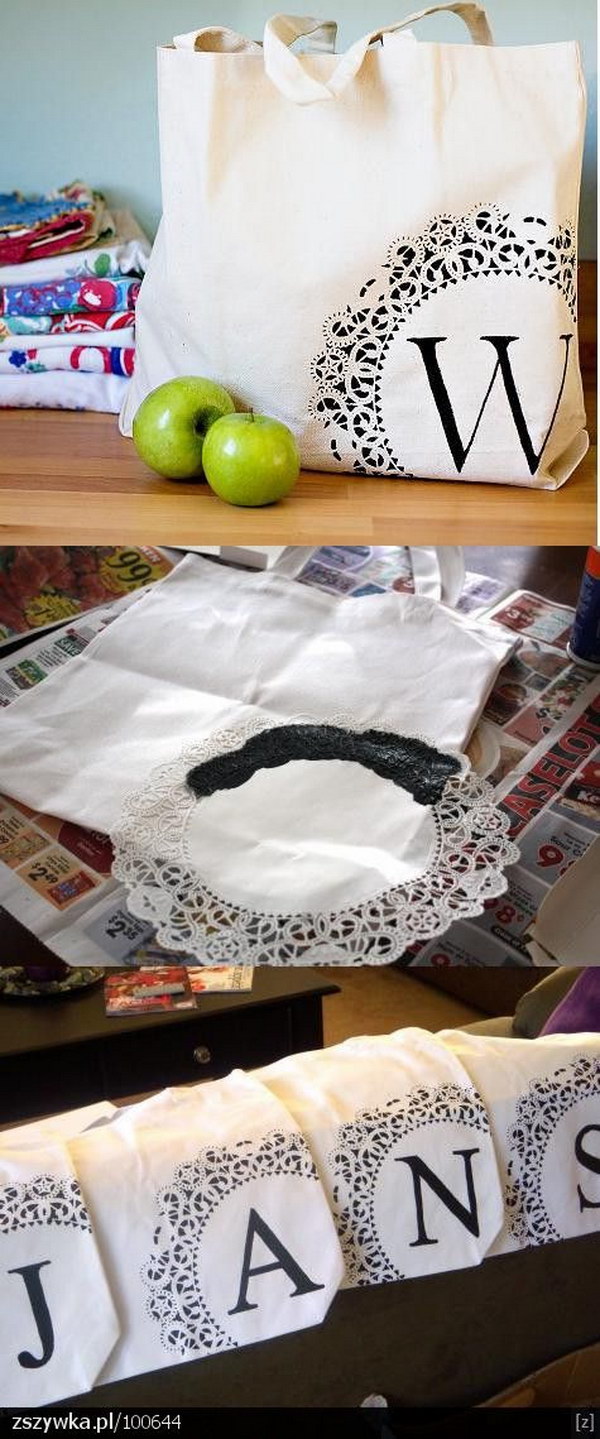 Personalized gift bags idea for your guests. Tutorial via womansday.
Doily for Tee Shirt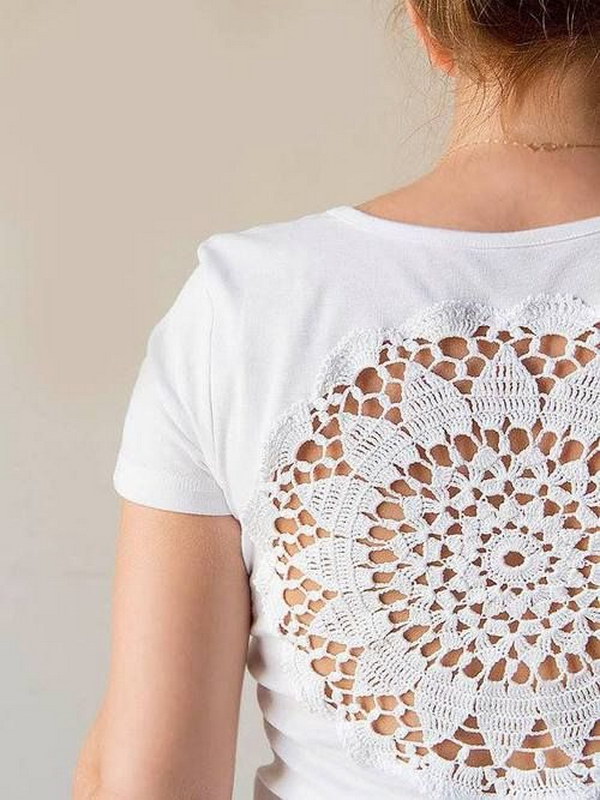 Cut a hole in the back of a tee shirt top and sew in a hand crochet doilie. Get the tutorial via youtube.
DIY Paper Doily Table Runner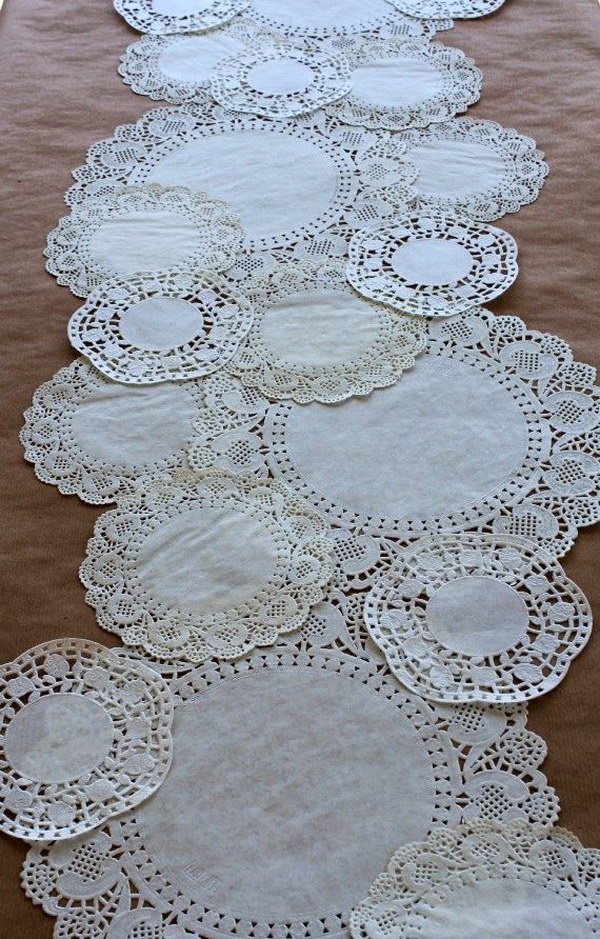 What beautiful idea to use paper doilies as a table runner. Perfect for a little girls party or for a bridal shower. Tutorial via lovethatparty.
DIY Doilies on a Black Canvas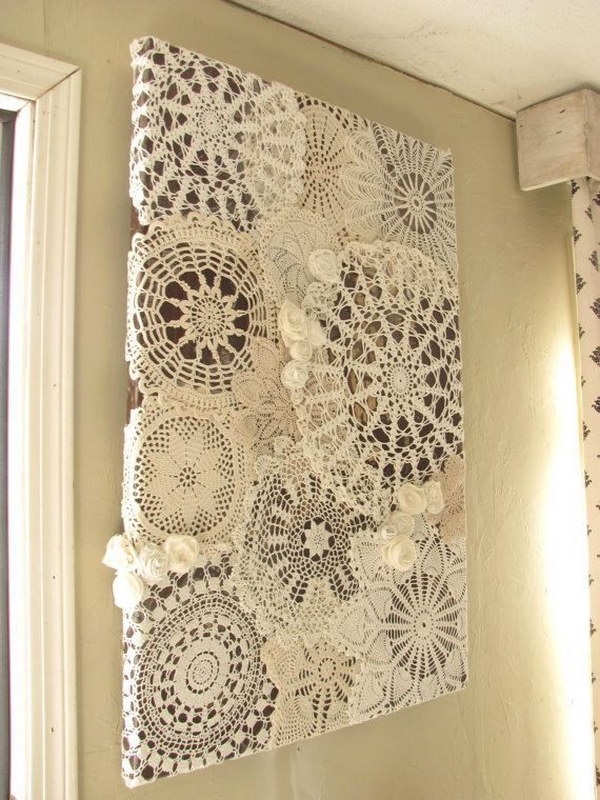 This is a great idea for displaying old doilies and using them as shabby chic home decor. Sew all your doilies onto a painted canvas. Tutorial via facebook.
DIY Doily Lamp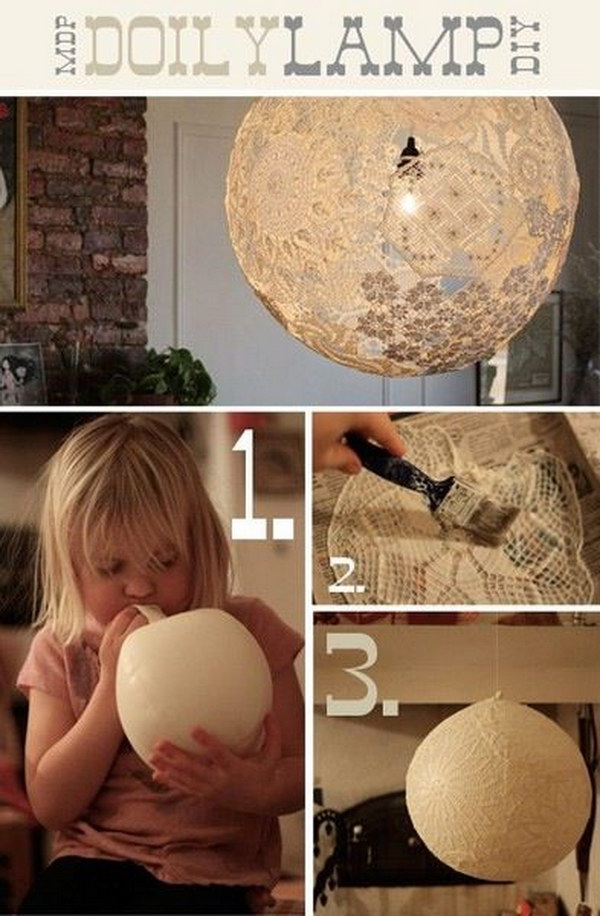 Paint doilies with wallpaper glue, then laid them on a balloon to dry. When the whole thing is hardened, pop the balloon with a pin and run hanging lamp hardware through the hole. Tutorial via dosfamily.
DIY Polymer-Clay Lace Bowl

Make a elegant polymer-clay lash bowl for jewelry dish. Get the tutotial via duitang.
DIY Doily Bags for Favors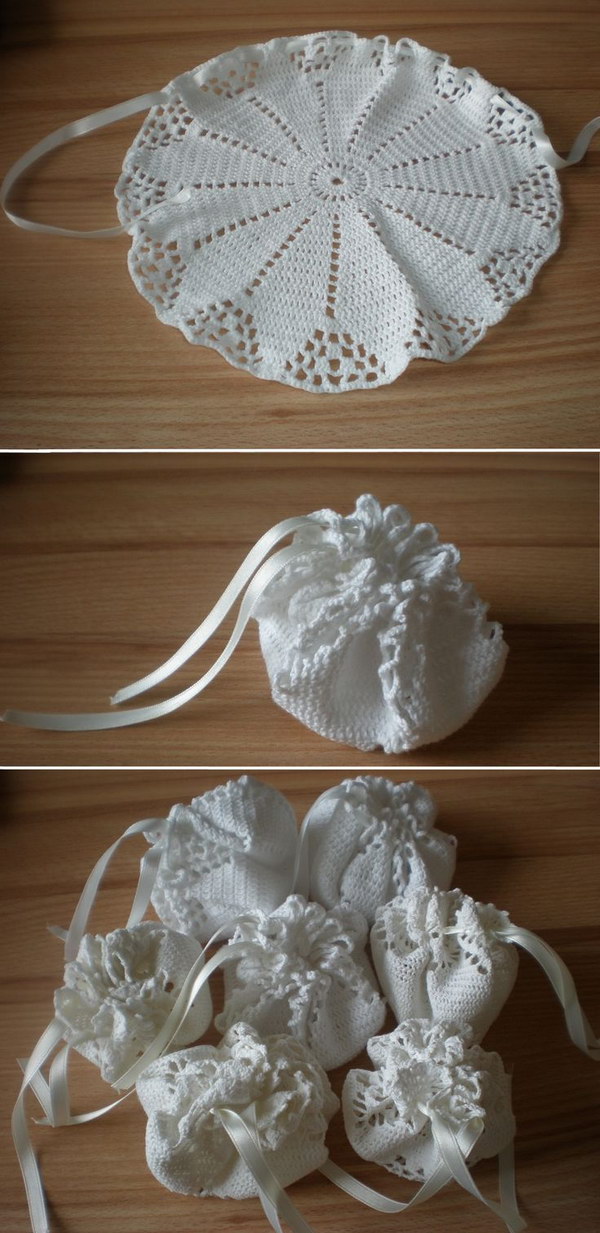 Use doily to make bags that are romantic and fancy. Perfect for wedding favors and baby shower gifts. Get the tutorial via source.
Paper Doily Ornaments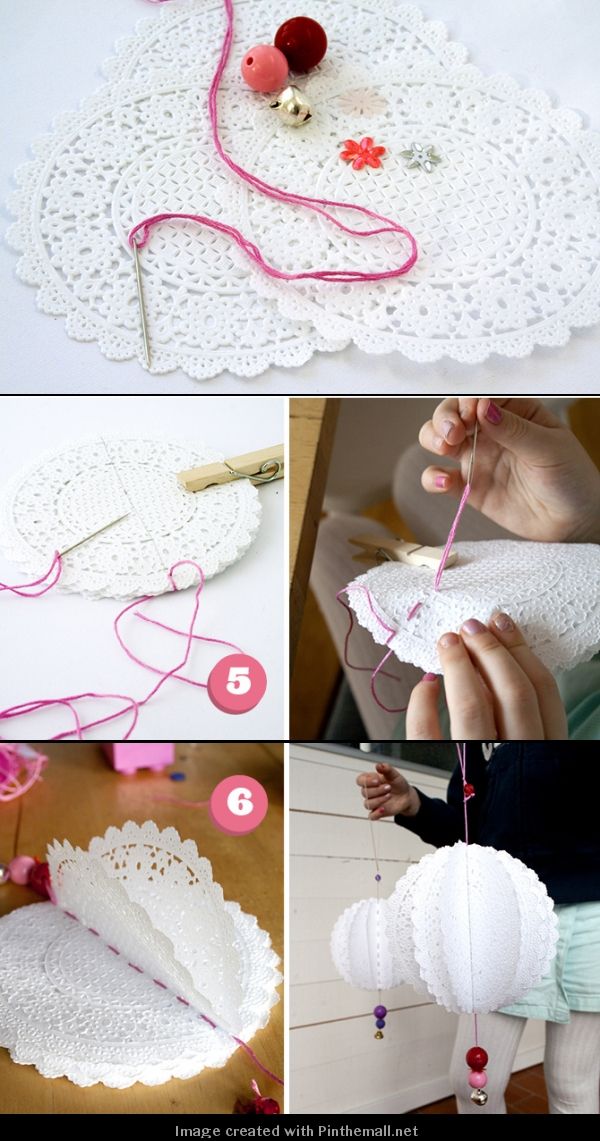 Check out this tutorial on how to make cute paper doily ornaments for your next party. Tutorial via pysselbolaget.
DIY Doily Pressed Clay Bowls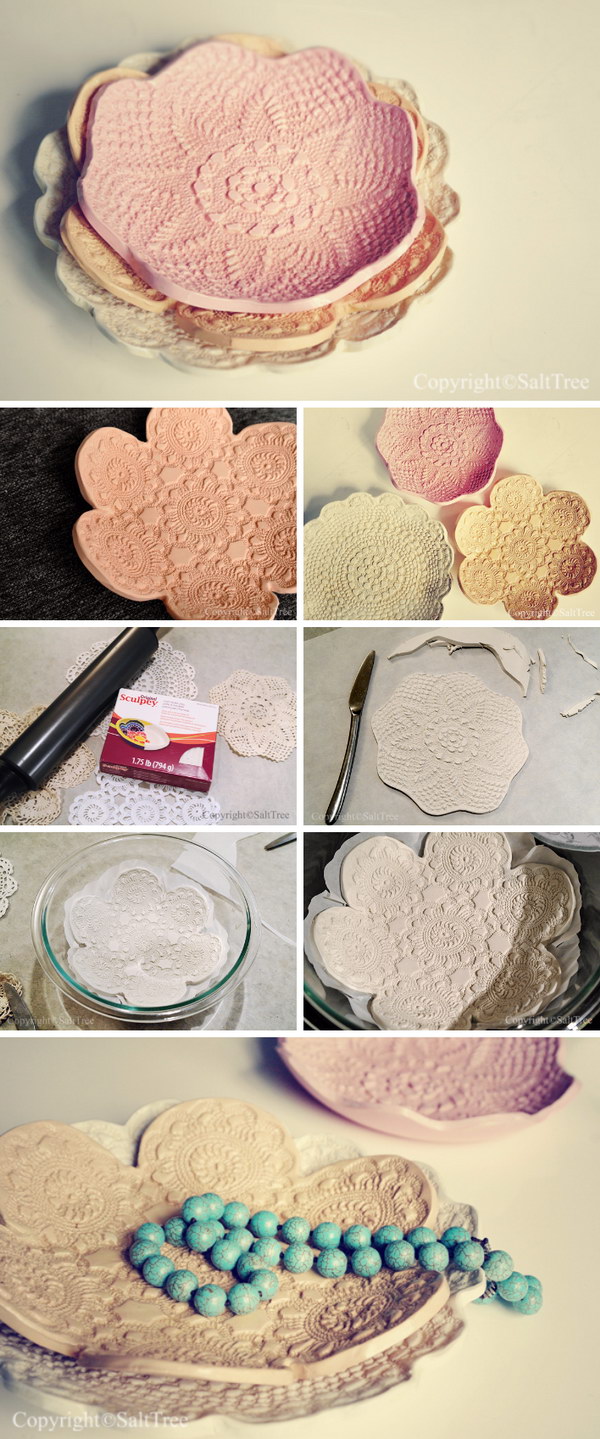 DIY Leather & Doily Clutch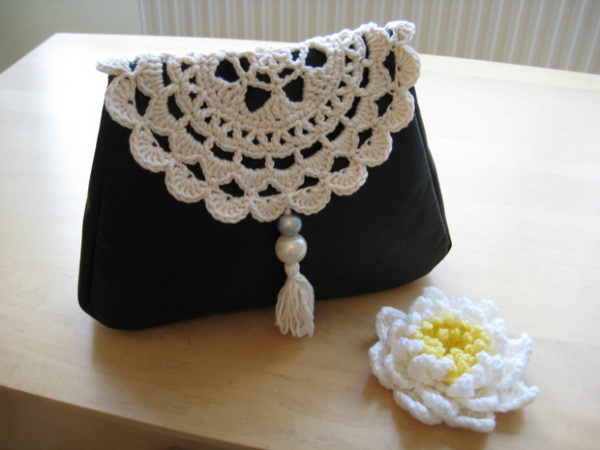 DIY Lace Decorated Pillow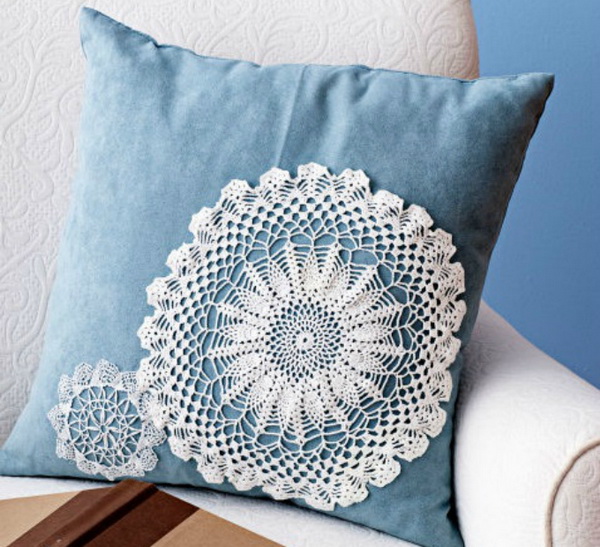 DIY Doily Pencil Cup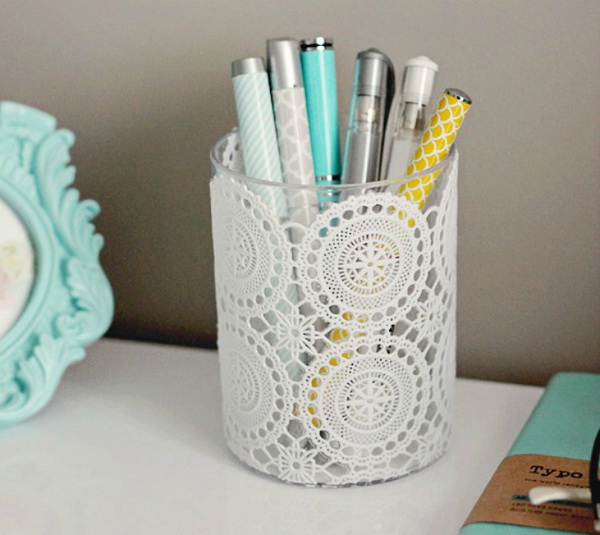 DIY Doily Cupcake Wrappers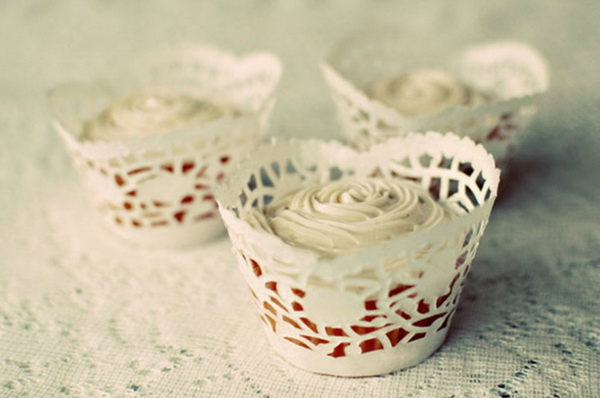 DIY Doily Pillow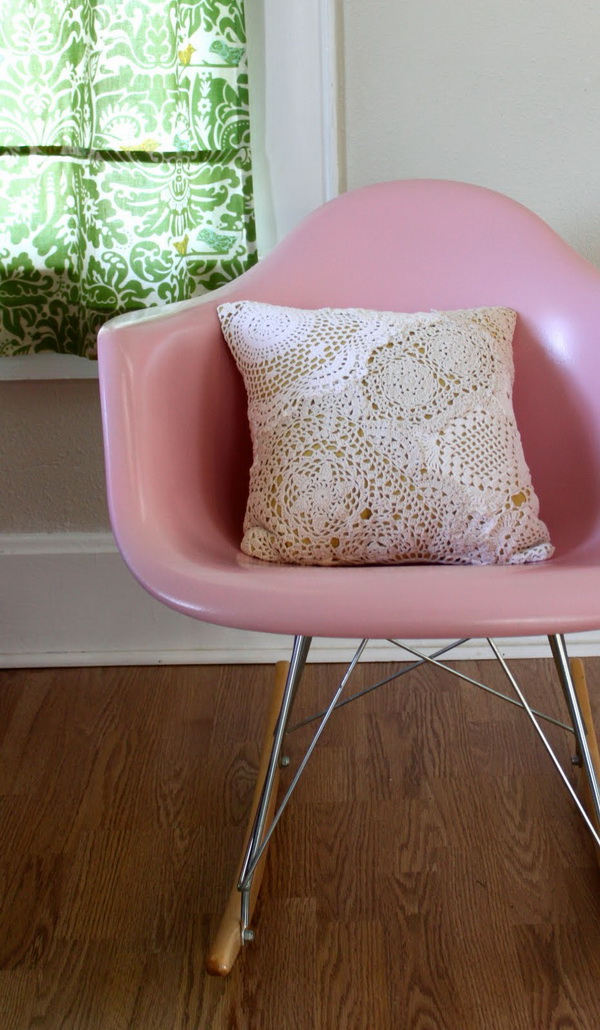 Filed Under: DIYTagged With: crafts, diy, doily, ideas, lace crafts, paper crafts, tutorials
Sours: https://ideastand.com/doily-crafts/
15 Beautiful Paper Doily Crafts
Sharing is caring!
I've gathered my favorite paper doily crafts in one place – make fun crafts, DIY decorations, and even party ideas using simple and inexpensive paper doilies.
Get you DIY on with these beautiful paper doily crafts.
Behold: the humble paper doily. Buy them in bulk inexpensively, and get crafting. Just about any paper craft can be improved with a little doily, right? I scoured the internet to track down my absolute favorite uses for paper doilies – from paper crafts, to party ideas and DIY decor, and even gift wrap and envelope ideas. Enjoy!
Related: Get inspired with these Spring Paper Crafts for Your Home – these are the best DIY and craft ideas… featuring just paper!



Paper Doily Crafts
DIY Doily Stirring Sticks from Weddbook
Doily Ice Cream Cone Wrappers from Living Better Together
Image Source Unknown
Creative Bridal Shower Ideas from HappyWedd
DIY Paper Lace Doily Lanterns from Ruffled Blog
Simple Wrapping with Herbs and Paper Doilies from Art is Medicine
DIY "Little Blue Box" Inspired Rubber Stamp Wedding Invitations from Oh So Beautiful Paper
Doily Place Settings from Lemon Thistle
Party Jars from For Home & Garden
Lacy Luminaries from Martha Stewart Weddings
Creative Bridal Shower Ideas from HappyWedd
A 10-Minute DIY Farmhouse Paper Rose Doily Garland from Raggedy Bits
Paper Doily Envelopes from Persia Lou
Paper Doily Shower Curtain from Etcetorize
Mod Podge Snowflake Books from LiveLoveDIY
Paper Heart Doily Wreath by The Wicker House for Ella Claire Inspired
Vintage Farmhouse Music Sheet and Paper Doily Wreath from Raggedy Bits
Pretty Spring Doily Banner from Eighteen25
DIY Doily Wedding Chandelier from Martha Stewart
DIY Doily Wreath from The Crazy Craft Lady
Doily DIY Notebook from Mod Podge Rocks
DIY Paper Doily Flowers from Amanda Coleman
Doily and Paper Utensil Pockets from Crafting in the Rain
Decorating with Paper Doily Candles from In My Own Style
Paper Doily Decoupage Bottles from Craftiments
Here are a few more paper crafts that I think you'll enjoy:
Newspaper Planter Bags
Paper Bag Lanterns
Brown Paper Planter Bags
Sours: https://thecrazycraftlady.com/paper-doily-crafts/
New or old, paper or crocheted – the DOILY has endless DIY craft uses! What makes them great is the many shapes and patterns…each one so pretty! Of course they are perfect for anything vintage! I couldn't help sharing a few "art" projects at the end of the post – I was blown away by the creativity! Hope you are inspired to create with the DOILY! If you have created a doily project, please share the link on my Facebook page. I would love to see it!
30 DIY Doily Craft Projects
Upcycled Doily Lamp via Shannon South
Vintage Doily Lampshade by Caitlin via Nice
Doily Lantern via Rustic Wedding Chic
Burlap Doily Lanters via Crafts by Amanda
Lacy Doily Luminaries via Martha Stewart
Crocheted Doily Rug via Creative Jewish Mom
Doily Rub-on Canvas via Hambly Screen Prints
Crocheted Grocery Bag Doily Clock via Creative Jewish Mom
Doily Step Stool via Mod Podge Rocks 
Paper Doily Shower Curtain via Etcetorize
Paper-Doily Wreath via Martha Stewart 
Doily Invitation Envelop via Oh So Beautiful Paper
Hanging Fabric Doilies via Lemon Tree Creations 
Doily Treat Cones via Heart Made
Doily Invite Envelopes via iDiy
Doily Package Wrap via Wonder Forest
Doily Covered Soap via kootoyoo
Doily Lacy Plates via Lacy Pottery
Doily Sharpie Stencil via One Pearl Button
Embroidered Doily Hearts via Crescendoh
Doily Cookies vie Bliss in Images
Painted Doily Tee by Maybe Matilda via Lolly Jane Boutique
Dollar Store Doily Scarf via Dollar Store Crafts
Doily Bracelets via Country Living
Doily Dress via Elegance Redefined by Bea Seznfeld
Metal Shovel Doily Art by Cal Lane via Illustration Friday
Crochet Doily Car via Dude Craft
You might also like these 40 Refashioned Necktie Craft Projects

Visit Oh My! Creative's profile on Pinterest.

Linking to these wonderful parties!
Sours: https://www.ohmy-creative.com/uncategorized/30-diy-doily-crafts/
Using Paper Doilies as Awesome Stencils
DIY Doily Craft Ideas
Do you have some doily's that your grandma made? Why not display them or make them into something useful. Doily's can be made into accessories, art, or home decor. With these DIY Doily Craft Ideas that I found are a great way to inspire you to create something with all those Doily you have sitting in a box.
As always, please click on the link above the photos to be taken to the original tutorials.
Ombre Lace Jewelry from glamour and grace
Doily Luminaries from Crafts by Amanda
Doily Cake Toppper from Poppytalk
Doily Bracelets from Country Living
DIY Lace String Lights from The Sweet Escape
Doily Bowls from Free People Blog
Crocheted Covered Rocks from free people
Doily Wall Art from The Coloradolady
Doily Hot Air Balloon from JoAnn
Doily Pin Cushion from Etsy
Doily Table Runner from Sadie Seasongoods
DIY Ombre Doily Onesie from V and Co.
Vintage Doily Necklace from Elizabeth Anne
Doilly Lamp from DOSFAMILY
Doily Dream Catcher from My Pinterventures
Doily Covered Lampshade from A Beautiful Mess
Clay Ornament Doily from Nina's Apartment
Doily Tablecloth from Feminine Modern
Doily Pockets from The Polka Dot Closet
Doily Pumpkins from fave crafts
Doily Pillow from Etsy
Doily Garland from Etsy
Doily Quilt from V and Co.
Doily Button Flower Art from The Whoot
Doily Dream Catcher Art from The Whoot
Doily Bouqet from Lillybuds
Doily Handwarmers from Rangi Rangi
You may also be interested in these ideas:
Repurposed Old Doors
Repurposed Old Window Ideas
Repurposed Dressers Ideas
DIY Clock Ideas
JOIN OUR NEWSLETTER
Would you like more Recipes, DIY, Printables and Organization Ideas?
---
Subscribing to the newsletter will enable us to periodically send you creative content exclusively for Idea Room subscribers.
*View our Privacy Policy here.
Success! Now check your email to confirm your subscription. Once confirmed, the e-book link will be sent to you in a few minutes.
Sharing is caring!
Sours: https://www.theidearoom.net/diy-doily-craft-ideas/
Crafts ideas doilies
15 Creative Doily Craft Ideas
Doilies make the cutest crafts. Many people already have these beauties in their homes either on display or tucked away in a closet or drawer. Doilies are delicate, feminine and look like lace. If you love adding a sweet vintage look to your craft projects, then you might want to consider doily crafting.
Scrapbookers will discover that adding bits and pieces of paper doilies to their layouts give a beautiful old-world feel to their memories. Card makers find that doilies work well for card crafting too. Crafters have even made wall art from doilies. Paper doilies have hundreds of uses. Your imagination only limits you.
You can use crocheted doilies for any of the following projects, but paper ones will work just as well. They aren't very expensive, and you can find handmade doilies for pennies at a thrift shop. Paper ones are for sale at the dollar store or your big box hobby store.
So search your attic and closets for those hidden treasures and get crafting.
Sours: https://www.thesprucecrafts.com/doily-craft-ideas-4126713
32 diy Decor ideas using lace #2 🎀
42 Beautiful Doily Craft Ideas
Loraine loves arts and crafts and used to volunteer at an elementary art class. She loves sharing fun and easy craft tutorials.
Get Inspired By These Doily Crafts!
Do you love doilies, whether made from paper or lace, but don't really know what you could do with them? Well, doilies and crafting make a perfect pair. It's really amazing to see all the various ways that you can use them. I hope you enjoy creating these delicate craft projects!
Woman's Day shares the directions to make the lace doily bowl above.
1. Vintage Doily Necklace
If you own vintage doilies or you go to estate or garage sales, this necklace is a great way to use them up. Dream up this gorgeous doily necklace at Elizabeth Anne.
2. Snowflake Garland
How beautiful and elegant is this snowflake garland? I think it's a great decorating idea for a birthday or shower party.
3. Doily Tree
A delicate tree can be made easily and inexpensively with paper doilies.There is no particular season this tree is made for, so it can be appropriate décor for a table or mantel all year round.
4. Stenciled Stool
Look how easy it is to get a beautiful "lace" stool by using a doily for a stencil! You could also use this method to stencil a tabletop or the front of a dresser.
5. Doily Mobile
Make a mobile using paper or lace doilies to decorate a bridal or baby shower. Customize your options by using colored doilies or dying them yourself. For a vintage look, brew some coffee or tea to add an aged look.
6. Luminaries
These elegant luminaries would be perfect set on a wedding table or used to dress up a bridal or baby shower.
7. Heart Wreath
This wreath is made using the paper heart doilies. So pretty! Ella Claire shares the instructions for how to put this together.
8. Lace-Covered Soap
This lace-covered soap will work in with any bathroom décor. Use colored soap or dye the doily—either way, you'll be able to find the exact right color for your home.
9. Doily Cupcake Wrappers
More wedding planners are opting for cupcakes over a cake these days. If you're going this route, use these doily cupcake wrappers for a lovely display!
10. Lacy Butterflies
Make these whimsical butterflies with either paper or lace doilies. The kids will love helping you make these creatures.
11. Table Runner
I've gone to so many garage sales where they have doilies for sale, and I wish I had purchased them. They are usually marked at 10¢ or 25—just look at how they come together to be a beautiful table runner.
12. Light Lamp
Doilies and a heavy-duty balloon are just a few of the supplies you'll need for this project. Find out how to make this hanging lamp with Dos Family.
13. Doily Sachet
Here is a simple and beautiful sachet that can be tucked in a drawer, closet, or suitcase. If you want to spruce up another area, just hang it somewhere nearby!
14. Paper Doily Lanterns
Because flameless tea lights are widely available, it's safe to make these paper doily lanterns.
15. Candle Centerpiece
Learn how to make this beautiful centerpiece for a formal affair with Martha Stewart.
16. No-Fuss Roses
How easy can it be to make these outstanding paper doily roses? I love them.
17. Doily Angels
You won't have to think too hard to come up with ideas for these little angels. The directions for these little cuties can be found at Craftown.
18. Snowflake Garland
Paper doilies make this snowflake garland an inexpensive yet beautiful decoration.
19. Simple Ornaments
You'll probably never find a simpler or easier ornament to make for your tree than this doily tree ornament. It's a great project if you need to pump out many ornaments in a short period of time.
20. Doily Stones
You can crochet the doilies to wrap the stones, or you can buy small doilies to make a wrap. For the latter, you'd need to run a row of stitching around the outside of the doily and pull the string gather the stitches and make it wrap around the stone. It's definitely a conversation starter. For the directions to put this together, go to Let's Yarnify.

21. Scented Ornament
Two matching doilies and a bit of ribbon will get you started on this ornament project.
22. Doily Luminaries
Imagine all the occasions you could use jar luminaries like these. These would be perfect for a bridal or baby shower. Afterwards, you could also place them in a nursery for a sweet touch.
23. Chandelier
How elegant and beautiful is this chandelier? I'm sure you'll think of a place to hang this beauty.
24. Easy Doily Gift Card Holder
25. DIY Basket
It's so easy to turn a rectangle doily into a beautiful fruit basket! I think it'd be an outstanding addition to your decor.
26. Lace Lantern
This lantern is a very glamorous centerpiece that makes any room feel elegant.
27. Lace Candle Holder
These little beauties are easily made using paper doilies.
28. Doily Pumpkin
Add this beautiful doily pumpkin to your fall centerpiece. This is super elegant.
29. Christmas Angel Ornament
If you love angels and doilies, you'll for sure want to make this Christmas angel ornament.
30. Paper Doily Wreath
This wreath is almost too beautiful to believe that it's made out of paper doilies, but that's how they did it!
31. Canvas Wall Art
You'll love canvas wall art featuring doily flower sprays. Go to Consumer Crafts for the tutorial.
32. Lace Envelope
So many things are more beautiful when they're made with lace, and envelopes are no exception. These can make great projects to embellish a bridal shower or wedding invitation.
33. Doily Lanterns
Whether you're decorating for a wedding, a bridal shower, a baby shower, or any other occasions, this doily lantern will be a real eye-catcher. Imagine making the lanterns in other colors for a different feel.
34. Doily Wedge Shoes
35. Hanging Doily Balls
U Create teaches you how to dye the paper doilies as well as how to make these hanging balls. I think I would press the dyed and dried doilies between two paper towels before putting everything together.
36. Valentine Wreath
This wreath is a super easy craft that, when completed, looks crisp and lovely. I think this would make a beautiful candle ring, especially if you used one of the flameless pillar candles.
37. Doily Collar
Give a plain t-shirt a designer look by adding a lace collar!
38. Lampshade
You could spend a lot of money to get this designer look, or you could make a lace lampshade yourself. If you don't have an old lampshade, consider purchasing one from a garage sale or the thrift store.
39. Crocheted Doily Pillow
When you need inexpensive yet elegant decorations, consider the crocheted doily pillow as an option.
40. Cone Ornament
Turn paper doilies into these Christmas cone ornaments. These little cones would be simple to make and use as favors on a holiday table.
41. Boho Earrings
You'll be envied by all your friends when they see you wearing beautiful earrings made from a lace doily. Imagine donning these earrings with your favorite holiday outfit.
42. Doily Tee
Find out how easy it is to make a custom designed tee shirt. This would make a great gift also.
43. Earring Display
Check out how easy it is to make this earring display. What a great idea for not only keeping your earrings separated, but also a way to enjoy the beauty of them.
44. Doily Favor Pouches
Imagine all the different ways to use these cute doily favor pouches. Great to use as a bridesmaid gift bag for jewelry items, makeup gifts or nail polishes.
45. Monogrammed Tote
This monogrammed tote is another great gift idea for a friend or bridesmaid. Choose your own style lettering and colors.
46. Dream Catcher
This is one of my favorite doily craft ideas. A beautiful dream catcher is a thoughtful gift or to a fantastic wedding decoration.
© 2012 Loraine Brummer
Let Us Know You've Been Here - please leave a comment
KGAnony on August 31, 2020:
There are some beautiful projects here! There is one thing that bothers me, though. The article shows what you are calling a "Dream Catcher". Unfortunately, you can't really say that accurately, or considerately. I guess it's really a "Native American-inspired wall hanging", which isn't nearly as catchy and a lot more to write. But it is more descriptive and respectful.
Yvonne sharpe on June 08, 2019:
Nice ideas. But not what I was searching for. It's something that teachers used to buy the old doilies to use for something in crafts . They would get the pattern of. The doilies and work something with it. I don't know what they did. It was a teacher from Alberta who came to a garage sale and bought the whole bunch. For her school .
anonymous on September 08, 2013:
@anonymous: so with you
acreativethinker on January 26, 2013:
These doilies are simply lovely. Take Care :)
anonymous on October 05, 2012:
Very interesting but not exactly what I was looking for. Nice website though.
Lorelei Cohen from Canada on June 05, 2012:
Wow I love the chandelier as well as the lighted wreath. It is hard to tell that these items are made from paper doilies they are gorgeous.
jolou on April 20, 2012:
I love anything with lace. These are very nice.
Peggy Hazelwood from Desert Southwest, U.S.A. on March 13, 2012:
These are lovely crafts! I really like that wreath!
Hagglecoins on March 08, 2012:
Never thought I'd be entertained on a lens on doillies...but WAS! Real cool projects.
Mahadihbk on March 08, 2012:
I really liked it.cool crafts
Ellen Gregory from Connecticut, USA on March 07, 2012:
These are beautiful -- some really great crafts. My kind. Simple.
Barbara from USA on March 07, 2012:
Nice lens, will try some of these ideas out real soon!
lunagaze on March 07, 2012:
omg this is so precious. great lens I will definitely have to try these
Adrijan on March 07, 2012:
Great lens tnx
Blackspaniel1 on March 06, 2012:
Nice lens
seosri417 on March 06, 2012:
Great Work........
LeopoldBlatt on March 05, 2012:
Beautiful work. The Doily Angels are exquisite.
PoeticChristian on March 04, 2012:
Sours: https://feltmagnet.com
Similar news:
15 Best Lace Doilies Crafts for Vintage Inspiration
If you ask us, there's nothing quite so feminine and delicate when it comes to fashion and home decor as lace. At the same time, most of our very favourite crafts and DIY projects are nearly always those that involve repurposing or upcycling things. These things combined are part of the reason we've been finding ourselves rather interested in the idea of making things from old lace doilies lately! There's just something so vintage inspired and lovely in the results that we love, no matter what we're making.
Just in case you love the idea of making all kinds of new things from lace doilies just as much as we do, if not more, here are 15 of the very best ideas that we've come across so far in our search for inspiration and guidance.
1. DIY lace doily bowl
VIEW IN GALLERY
If, like us, you've always been intrigued by the idea of making structure things from materials that were originally soft, then we have a feeling you'll very much enjoy the way Positively Splendid turned their old lace doilies into these stunning lacy bowls that can be used for all kinds of trinkets or even as the base for a decorative tea light candle!
2. Colourful sun crochet coaster pattern
VIEW IN GALLERY
What if you saw the term "lace doilies" and your mind immediately jumped to how much you've always wanted to learn how to make those yourself? Well, lace work is certainly a learnable DIY skill but here's a tutorial from Fave Crafts that will help crochet lovers specifically make it happen a little more easily! Their pattern shows you how to make adorable, brightly coloured crochet lace coasters.
3. Spring doily table runner
VIEW IN GALLERY
Do you actually have several pretty lace doilies lying around that you've collected over the years with the intention of making them into something but wha you've gathered is very eclectic and all differently sized? Then it sounds like you have just about everything you might need to make your own version of this interestingly stunning lace doily table runner featured on Sadie Seasongoods!
4. Upcycled crochet doily tote bag
VIEW IN GALLERY
Did we really catch your attention with this whole concept of affixing lace doilies together in order to make something akin to a fabric but you're just not sure that a table runner is really what you meed right now? Then perhaps you'd get along a little better with this tutorial from DIY Clothes that shows you how to make a tote bag instead! We're obsessed with the way they created a delicate tote complete with good, solid handles.
5. DIY doily wall art
VIEW IN GALLERY
Rather than making something practical, are you feeling whimsically crafty in the sense that you might rather make something cheerful and decorative, even if it doesn't serve any other kind of purpose than to bring a smile to your face or brighten up your space? Then we think you just might be the perfect person to make something like this fantastic lace doily, scrap fabric, and canvas wall art outlined step by step on Mod Podge Rocks.
6. Lace doily t-shirt
VIEW IN GALLERY
Are you actually so in love with the stunning vintage aesthetic that comes along with lace doilies that you can't help wishing you could wear them around all the time and show their beauty off to the world outside of just your home? Then we think you just might be the perfect person to make something like this stunning lace doily t-shirt outlined step by simple step on By Hand London!
7. Lace doily garland
VIEW IN GALLERY
Perhaps the kinds of doilies you have to work with are colourful and small so you're looking for a very fun, fairytale-like craft to show them off with that will really add to the atmosphere of your room? In that case, we'd definitely suggest taking a look at how C Jane Create string theirs into a garland and hung them up with twinkling string lights!
8. DIY lace doily shoes
VIEW IN GALLERY
Did we really catch your attention when we started talking about ways to wear lace doilies but you can't help wondering whether or not there might be more unexpected ways to incorporate them into your fashion than sewing them onto a t-shirt like an applique? Then we have a feeling you'll get a real kick out of the way Makezine used their Mod Podge skills to cover a pair of shoes in lace from brightly coloured doilies!
9. Doily covered lamp shade
VIEW IN GALLERY
Are you actually still scrolling through our list thinking about how the thing you love most about lace doily crafts is definitely their vintage looking aesthetic when you're all finished? In that case, we'd definitely suggest taking a look at the way A Beautiful Mess made this stunning lace doily lampshade that throws lovely, delicate shadows on the walls when you turn the light on.
10. Doily imprinted salt dough ornaments
VIEW IN GALLERY
Perhaps you actually love lace so much that you've been wondering whether you might use old doilies to add those pretty lines and holes to other things that are not made of lace, just to spread the beauty even more? Then we're pretty sure you'll appreciate the way Dishfunctional Designs made lovely salt dough ornaments, adding the details by using lace doilies and a rolling pin to imprint them with a pretty lace pattern.
11. DIY lace doily globe lamp
VIEW IN GALLERY
Are you actually still feeling quite intrigued indeed by the idea of making soft fabric based things into more structured pieces by the bowls we showed you earlier just didn't hit home for you? Perhaps we also really caught your attention when we started talking about lace doily pieces that involve lights. In either case, we'd definitely suggest taking a look at how Dos Family made this stunning lace doily globe lamp from beautifully different pieces!
12. Lace doily curtains
VIEW IN GALLERY
If you're going to go to all the effort of making a lace doily piece from scratch, would you rather make a slightly bigger piece that makes a little bit more of a statement and really draws the eye? In that case, we'd definitely suggest taking a look at how BLDG 25 made themselves a set of stunning lace doily curtains that give the whole room an air of vintage revival!
13. Lace doily luminaries
VIEW IN GALLERY
Have you actually been thinking about how much you liked the concept of using something like Mod Podge to do a bit of decoupage with your old lace doilies but the shoes we showed you earlier just weren't quite your style? In that case, we'd definitely suggest taking a look at how Crafts By Amanda used their doilies to turn plain old glass mason jars into lovely, vintage looking luminaries!
 14. DIY lace doily apron
VIEW IN GALLERY
Perhaps your favourite things on our list that you've seen so far have been those that are absolutely pretty and lacy but that also have some kind of practical element that's useful round the house? Well, if you're an avid cook or baker who spends a lot of time in the kitchen then we have a feeling you'll get along quite well with the way Craft Unleashed made this lovely lace apron entirely out of doilies!
15. DIY lace doily pumpkin
VIEW IN GALLERY
Are you still completely in love with the lace doily decoupage concept but you're also the kind of DIY enthusiast who likes bookmarking seasonal and holiday ideas at any time, even when it's not the right time of year, just so you have lots of crafting ideas on the back burner all year round? Then we think you just might be the perfect person to give something like this lace doily covered pumpkin from Face Craftsa try when the fall rolls around!
Sours: https://wonderfuldiy.com/lace-doilies-crafts/
1993
1994
1995
1996
1997