Thanks to modern slim and portable laptops, we can take our computers with us anywhere we want to go. It only takes a second to close the lid and throw it in a bag, making our digital lifestyle more convenient than it ever has before.
Unfortunately, this comes with a trade-off. If your laptop allows you to grab and go with a moment's notice, this means that a thief can do the same. Whether you're trying to set up a laptop for public use or keeping your own tech secured in the workplace, a laptop locking cable is a quick and easy way to protect your investment.
How do they work? Almost every laptop since the mid-1990s includes a popular "Kensington Lock". This is a small, rectangular slot that is reinforced with metal. By attaching a specially designed lock, you're able to anchor the laptop to something secure. There are a number of different styles and brands of laptop locking cables available. Today, we'll be taking a look at the three best models on the market. We'll help you understand the differences between them, and pick the one that's right for you.
Kensington Combination Ultra Cable Lock
Since Kensington invented the format, you can be sure that they know how to use it. Kensington locks are the most popular, and in some areas the best. Laptop locks that you can buy. This Ultra cable lock is a step above their standard model.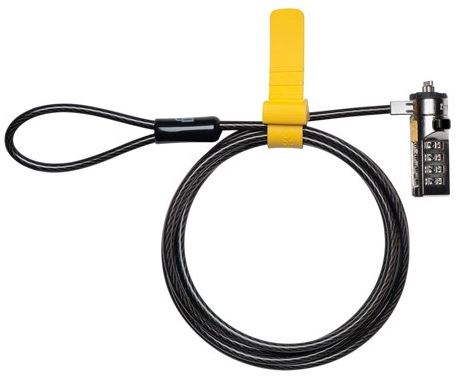 Ease of Use
The Kensington Combination Ultra Cable Lock has a loop on one end, and a lock on the other. To get it up and running, all you have to do us pull the cable around some sturdy object such as a table leg, loop the lock head through the loop, and insert it into the Kensington slot on your laptop. This lock is closed by pushing the button on the side of it, which is much simpler than the traditional Kensington lock.
One feature we grew to appreciate was the rotating lock head. Laptops often have different orientations for the lock slot. Depending on how you attach the cable, it could be coming from any direction. The lock mechanism is attached to the cable through a rotatable ring. This makes it easy to move and adjust as necessary, so the lock will never impede functionality.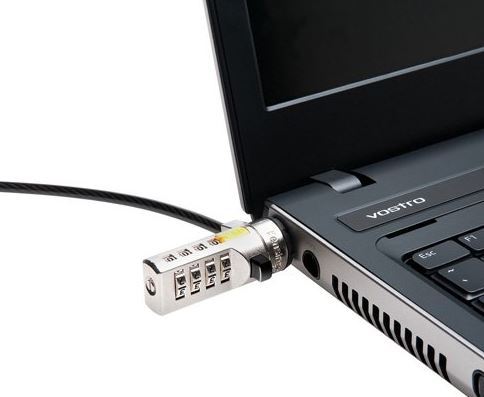 Features & Options
There are two different versions of this cable, the Ultra and the Standard. The only difference between them is that the Ultra's cable is 60% thicker. We'd always recommend getting the Ultra. It doesn't cost very much more, and it is significantly more durable than other options.
Regardless which option you choose, there is one bonus feature that many users will appreciate. Kensington gives you the ability to access their "register and retrieve" online code program. You can submit your code, and choose a username and password. If you ever forget it, you can always log in and give yourself a reminder.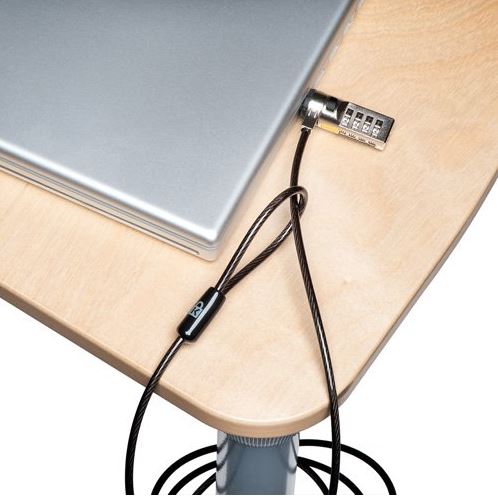 Security
Kensington uses a cable made from carbon steel. This type of steel is the hardest on the market, and its unique woven pattern increases tensile strength beyond your typical cable. Carbon is better than stainless in almost every way, with the exception of one thing – shearing. Bolt cutters are a real threat where cable locks are concerned, so Kensington used an anti-shear sleeve. This sleeve prevents these cutters from effectively grabbing into the cable.
This particular lock uses a combination to gain access. This is helpful in an environment where you might be sharing the lock with others, or where you're concerned about losing the key. With four separate digits, there are over 10,000 codes to choose from. You can rest assured that nobody is going to be able to guess your code without a lot of effort.
Kensington Microsaver 2.0 Keyed Cable Lock
Kensington's best selling cable lock has been slowly updated over the years, but many of the core principles have remained the same. But we can't say the same thing about our laptops. Even budged-minded computers are wafer thin compared to the behemoths we used to carry around. The Micro saver lock was designed for those ultra-portable computers where space is at a premium.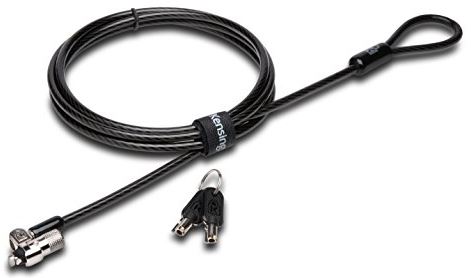 Ease of Use
With the Microsaver 2.0, some of the core functionality remains the same as other tried and true Kensington locks. You loop the cable around a stationary object, feed the cable through the loop, then attach the lock to your computer. But there are a few key differences. First, you'll notice that the lock is attached to a swivel joint. This joint allows the lock to bend along a pivot, making it easier to fit it into tight spots.
The lock is operated using a key, so using it will feel natural. When the lock is open, the key is fixed to the lock head. You'll only be able to remove it when the lock has successfully been rotated 90 degrees.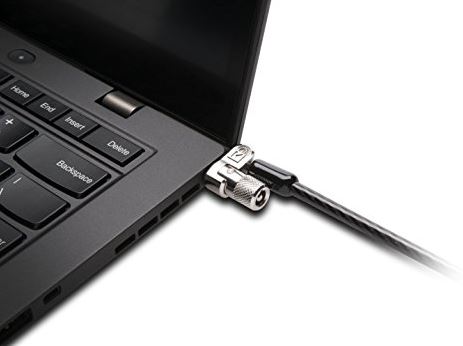 Features & Options
This is the lock that Kensington designed for devices that didn't play well with their other models. For that reason, no other line of locks is available with more options than the Microsaver.
The first thing you'll need to decide is the size. You can get portable, regular, or ultra. The portable lock uses a thin, but reasonably sturdy cable. To make it easy to carry around, the cable is looped much like a telephone cord. It fits right in the palm of your hand, or the pocket of your pants. This lock is ideal for lightweight devices where ease of use is more important than security.
The Regular size is the cable that most users will need. It offers the best balance of price, performance, and security. But if you're in a high-theft environment, you might want to check out the Ultra cable. The Ultra MicoSaver is much larger than the typical Ultra, designed primarily for display devices at retailers.
The final option you can choose from is the number of heads. The Twin Heads cable, as you'd expect, has two separate locks. This is useful if you have a pair of items you need to protect. Maybe you have a laptop and a projector, or a pair of computers on display. The twin heads lock is only available with a regular cable size, although this shouldn't be a problem for most users.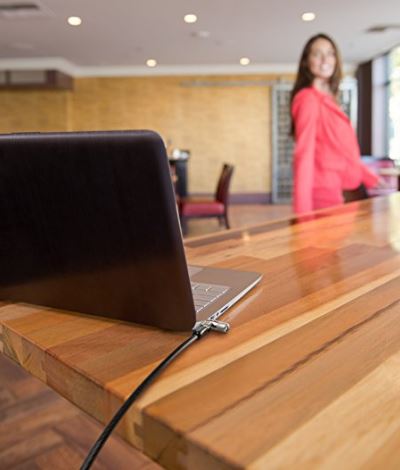 Security
For many, a key lock is much more secured than a code lock. Although unlikely, a code lock can always be cracked, or the installer can forget to mix up the numbers after it is installed. But that doesn't mean that key locks are unbreakable. Most can be picked.
The key word in that sentence is 'most.' These tumbler locks rely on a number of pins located around the inside of the tumbler in a circular arrangement. While most are evenly spread, this lock has a secret pin. The secret pin is in a nonstandard location, and one of the standard pins has been replaced with a dummy. In order for this lock to work, the secret pin must be held in the correct position while the dummy pin remains untouched. Any lock pick designed for this style of locks will not function.
Bodyguard Laptop Combination Lock Security Cable
Kensington makes great locks, but they don't own the format. There are tons of fantastic third party locks available for a reasonable price. If you're looking for the cheap and cheerful alternative, FOLAI takes some of the best features of the Kensington lock and adds a unique flair.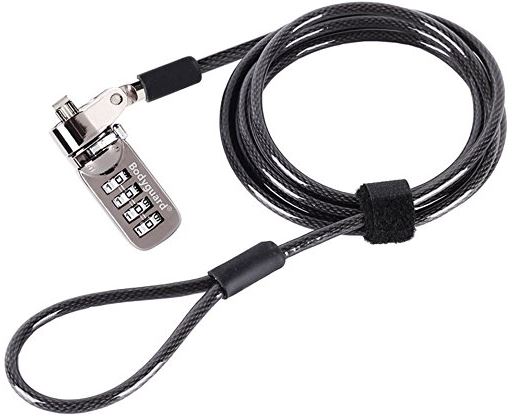 Ease of Use
What stands out about the FOLAI Combination Laptop Lock is the unique lever mechanism. Flip the lever down to unlock it, flip it up to secure it. Your fingers are already making the same motion while entering your code, so using the FOLAI lock feels natural. The lock also gives you a simple way to change the code, if necessary. At the end of the lock housing is a pin. Just use a pen or pointed object to push and hold the pin in. While this is done, you can change the code as you see fit. Once released, you'll be able to lock it using your new code.
Like the Kensington lock, this model has dual swivel points. The code pad rotates a full 360 degrees, while the cable mount travels 180 degrees. This makes it easy to insert into almost any laptop.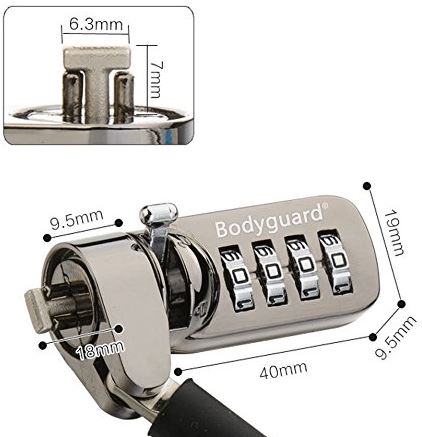 Options & Features
FOLAI used some creative engineering to ensure that this lock would fit all makes and models of laptops without the need for different versions. But there is one major challenge that lock manufacturers face. Because the lock itself travels through the shell of the laptop and binds around the casing, laptops with thin plastic cases won't be as secure. To correct this, there are three gaskets included. These gaskets slip in between the lock and the laptop, allowing it to get a secure grip regardless of the make and model.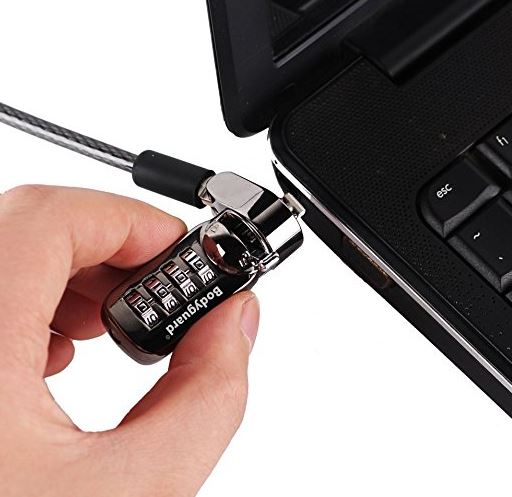 Security
Fitted with a steel cable, this lock is more than secure enough for most environments. Although it has an anti-shear coating, this isn't the type of cable that can withstand bolt cutters. That being said, it's still more than enough if you're leaving your laptop out at a café, or in the office.
Alternative: Dell Premium Laptop Keyed Computer Lock
Virtually every computer on the market uses a Kensington lock. However, there was a brief period where several Dell notebooks released in 2016 used a special type of locking mechanism. For business notebooks, this lock was used in the Inspiron and Latitude series notebooks.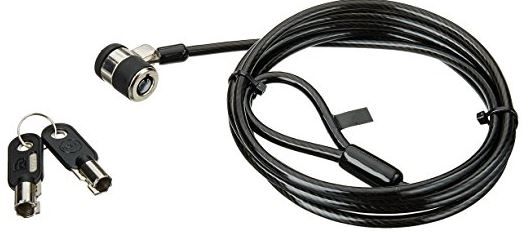 For consumers, it was found in the Venue and XPS notebooks. You'll want to check your computer, as many laptops manufactured before and after 2016 have gone back to the standard locks. But if you have the special port, this Dell branded lock is your best option.
Which Laptop Locking Cable is Right for Me?
Having trouble deciding? Fortunately, each of these cables is designed for a different purpose. Depending on what kind of computer you have, and how much security is needed, different features will be needed.
For keeping your hardware locked up in a public space, the Kensington Combination Ultra Cable Lock is ideal. It's got one of the thickest cables that you can buy, making it virtually unbreakable even to committed criminals. This very same hardware is used by businesses for demo purposes, so you know that it can be trusted. This cable is compatible with virtually all laptops, with the only exception being ultra-portables.
If you still want top notch security but use a compact, or unique device that won't work with the bulky ultra lock, consider the Kensington Microsaver 2.0 Keyed Cable Lock. With an ultra-small locking head, swivel mount, and highly flexible cable, this is one of the most versatile options on the market.
If you're looking for an affordable theft deterrent, the FOLAI Laptop Combination Lock Security Cable is a fantastic option. While it might not be safe from bolt cutters, it's still a highly effective theft deterrent. Unlike many other affordable options, FOLAI didn't compromise any quality when designing this lock.
Was this helpful? Please consider sharing:
Sours: https://nerdtechy.com/best-laptop-lock-cables
Worried about leaving your laptop unattended? Now you don't have to be. With the best laptop locks, you can lock your device while you're away from the computer. Whether you're leaving work for the day or are taking your work home with you, the best computer locks are designed to give you a little more peace of mind by securing your laptop, tablet, PC or smartphone.
Using your device's docking station, you simply plug these locks into your device for a little extra security. They never interfere with your device's functionality, and much like a bike lock, they're designed to essentially freeze your device from opening. Unless you have the right combination or key, there's no way you're getting inside.
Today's Top Deals
%title%List Price:%original_price%Price:%price%You Save:%discount_amount% (%discount_percent%)
Shop NowCoupon Code:%coupon_code%SPY may receive a commission.
However, not all computers have lock slots, and there are many different types of laptop locks to consider. In this post, we'll break down:
The three different types of laptop locks
What kind of lock your computer needs
The best laptop locks for every device.
There Are 3 Types of Laptop Locks
If you've ever used a sample laptop at an Apple store or Best Buy, then you're already familiar with these security devices. With the best laptop locks, you can leave your MacBook unattended at the coffee shop without worrying about thieves. However, different devices require different types of computer locks.
There are three types of laptop locks:
Key or combination locks that attach to a lock slot on the side of your device
Locks that attach to a lock plate attached to the device's surface
Locking stations that wrap around the entire laptop
The "lock slot" mentioned above is otherwise known as a Kensington Security Slot, which is used by most PC computers. Almost all laptops have this locking mechanism, which has been the industry standard since 1992. For reference, it usually looks something like this:
Shutterstock
Newer lock slots may be longer and slimmer than the picture above, but if you've ever wondered what this mysterious rectangular dock was for, this is why your device has it. So if your computer has a slot that looks like this, you should be able to use most PC locks and all locks made by Kensington.
The Best Laptop Locks for Apple Devices
The second type of laptop lock is for Apple computers that don't contain a Kensington slot. With these, you need to attach an anchor plate to the outside of the computer and then put the lock on that. This is the kind you've experienced fiddling around with Apple computers at the store.
Because most Mac devices don't feature a Kensington lock slot, most Apple computer locks are in their own category. However, because of their design, they can be used with any device that has an open flat surface.
Finally, there's the kind of lock that wraps all the way around your laptop. This type of laptop lock doesn't require an anchor pad or a lock slot. Kensington is the standard for these locks; however, there are other types that will keep your laptop protected just as well.
When you want to add another security step before you even start to think about two-factor authorization, check out the best computer locks. We've rounded up some of the best options for hardware security.
1. Kensington MacBook and Surface Laptop Locking Station
BEST OVERALL
Most laptop locks attach to a Kensington lock slot or an anchor plate attached to the top or bottom of your device. However, this Kensington laptop locking station securely fits around your entire device, providing extra security. The adjustable security arms can accommodate MacBook and Surface laptops between 11 and 15 inches in width. The lock is opened with a key, like a bike lock.
Courtesy of Amazon
2. I3C Laptop Cable Lock Hardware
MOST VERSATILE
This cable lock brings a simple solution to the challenge of using it with a number of laptops, tablets and even mobile devices that don't come with a standard Kensington lock. With an anchor plate that's held in place with superior 3M adhesive, you can glue the hardware to the back of virtually any electronic device. If your laptop has a security slot, then installation's even easier. You won't need to remember a code to unlock this one, only make sure to keep your keys with you at all times.
Image courtesy of Amazon
3. Kensington Combination Cable Lock
BEST FOR PC USERS
This extra-durable combination lock is designed to help prevent tampering and keep your laptop safe no matter how hard someone tries to break it. Available in a premium and basic option, it's made with cut-resistant carbon steel and features a smart 4-combination lock that's easily attachable (and detachable), so you don't have to worry about a thing.
Image courtesy of Amazon
4. 58 Kensington Desktop Computer Locking Kit
BEST ALL-INCLUSIVE DEVICE KIT
As the industry standard, it's no surprise that so many of the best laptop locks come from the Kensington brand. This convenient high-carbon steel cable is able to secure multiple items together so you can lock all your devices together at the same time. Great for work and office use, you can wrap this cable around your desktop, monitor, keyboard, speakers and more for instant protection. Best of all, it's extremely durable and built to last, so you won't have to worry about some ne'er do well getting into your laptop or computer and exposing your files.
Image Courtesy Amazon
5. FOLAI Computer Lock for Apple Devices
BEST BUDGET OPTION FOR MAC USERS
Made with durable twisted steel, this handy six-foot computer lock works with Apple devices. With two included lock keys, you can rest easy knowing your device is safe. Keep in mind that this lock is specifically made for Apple devices, which means it's not meant to work with standard PC lock slots.
Image Courtesy Amazon
6. Sendt Blue Laptop Combination Lock Security Cable
MOST POTENTIALLOCK COMBINATIONS
This security cable lock offers six feet of heavy-duty security. The four-dial combination offers up to 10,000 different combination options, and the sleek design plugs directly into your laptop, tablet or any other device of choice for instant protection. For when you want a laptop lock that looks as cool as you feel, opting for a solid blue metal cable is never a bad idea. Note that this combination lock works in tandem with a Kensington security slot.
Image Courtesy Amazon
7. RUBAN Notebook Lock and Security Cable
ALSO CONSIDER
This six-foot cable comes with a handy built-in standard security locking slot dock that's compatible with most laptops, desktops and other devices with a standard docking station. Best of all, it includes two spare keys in case of emergency, because we all know this lock's not going to open itself.
Image Courtesy Amazon
8. Computer Lock + Lock Slot Plate
BEST FOR ALL DEVICES
The perfect combination computer lock for your laptop, desktop, TV, monitors and hard drives, this hardware lock features a smart (and easy) push-button locking design and a resettable 4-numbered combination for added security. Different-sized gaskets and plates are included to match your device of choice. Simply plug it in, configure your combo and you're good to go.
Image courtesy of Amazon
The Ultimate SPY Guide to Tech Gadgets
Sours: https://spy.com/articles/gadgets/mobile/best-computer-laptop-security-locks-amazon-108761/
Top 10 Anti-theft Cables and Locks for Laptops
If you carry your laptop with you, then chances are you might leave it unwatched for a few moments when you're in the library, classroom, in a park or just in any other public place. And during those few minutes when your laptop is unguarded, someone might steal your laptop if you don't take the necessary protection measures. Albeit there are anti-theft software solutions that could help protect or recover your lost laptop, nothing beats a physical cable or lock attached to your notebook, am I right?
I know that physically locking your laptop will no make you look cool, but at least you know it protects against thefts. What you need to check before searching for laptop anti-theft cables is whether your laptop is equipped with a small lock slot (called a Universal Security Slot) that works with laptop locks. I can tell you from my experience that all the laptops that I owned had one of these.
The anti-theft laptop cables and locks work just like a bicycle chain lock. You just have to find an immovable object to attach your laptop to. But the biggest effect these protection tools make is the psychological one. A physical anti-theft cable or lock is likely to make the thief call it quits when he sees it. There are many products that you could get for under fiver dollars, but we can't guarantee their sturdiness or quality of materials.
10 of the most reliable anti-theft cables and locks for laptops
The leading company in providing anti-theft cables and locks for laptops is, without a doubt, Kensington. That's why most of the products featured here are made by them. They've actually partnered recently with Acer to introduce one such cable with the C720 Chromebook purchase. Without further ado, let's see which are one of the best laptop cables and locks to protect you against thieves.
1. Kensington MicroSaver Notebook Lock and Security Cable
The MicroSaver anti-theft cable and lock from Kensington is arguably the best currently in the market. The cable has a 6-foot length, is made of steel-composite that has a carbon, tempered-steel core. You'll recognize the patented T-bar lock that's present with most of Kensington's anti-theft cables. This is an one piece design, without any other screws, brackets or glue. The attached lock also ensure that only the one who knows the PIN can safely unlock it. But the best thing about this one is the price – it is currently only $14.99, down from the original price of $50, so considering this is a huge deal, hurry up if you don't want to miss it!
2. Kensington Combination Laptop Lock
Even if most laptop anti-theft cables don't have a design that stands out, this one here is the model that I find to be quite appealing. And if you take a look at the appealing red version of this cable, that available for $19.53 from Amazon, you realize that you might protect your laptop and do it with style. The Combination Laptop Lock resists to tampering thanks to its superior strength lockhead. The push-button design makes it very easy to install the lock. You can choose from 10,000 possible combinations with the key-less 4-wheel combination lock.
3. Sendt Black Laptop Combination Lock Security Cable
Sendt's anti-theft laptop cable is one of the cheapest and most reliable products you'll find at the moment that has such a good rating. The cable has what seems to be a standard length of 6 foot and is made of zinc alloy material You can use it not only to secure your laptop but also other gadgets such as projectors, LCD and Plasma Screens. It will work with any laptop that has a USS or a Kensington security slot. You'll have to lay down only $13.27 for this cable to protect your laptop against thieves.
4. Kensington Clicksafe Combination Laptop Lock
Another one from Kensington, the Clicksafe Combination Laptop Lock is different from the similar above model because it comes with a more advanced Kensington Security Anchor lock. It allows you to register and store online your PIN combinations and retrieve them in case you forgot. Of course, maximum privacy and security is ensured. What makes this anti-theft cable standout from other Kensington products is that it comes with a lifetime warranty, which is is a big plus. The single drawback is that it lacks the T-Bar locking. It's now $27.86 on Amazon, down from $35.
5. Targus Ultra Max Laptop Cable Lock
Not the cheapest anti-theft laptop cable around, as you'll have to invest $50 to get it, Targus'Ultra Max Laptop Cable Lock is made with its own proprietary industrial strength coated cable that offers an impressive pull strength to over 2,300 pounds. The cable is 8mm thick and is Kevlar reinforced cable, so even a determined thief will not manage to break it.
6. Codi Combination Titanium Cable Lock
Codi'sCombination Titanium Cable Lock is being advertised as a product suited for schools or businesses as it allows the PIN locks to be set up by administrators or supervisors. Just like with one of Kensington's anti-theft cables, you can register the lock combinations with CODi in case you forget them. It comes with a hardened steel lock head and a stainless steel washer to insure protection against tampering and increased security. It is available on Amazon for only $7.87.
7. Dell Premium Laptop Keyed Computer Lock
Dell, one of the popular laptop makers, offers a keyed computer lock to save your laptops. Dubbed Dell Premium Laptop Keyed Computer Lock and priced at $29, the lock features a T-bar locking mechanism and comes with carbon-strengthened 5mm steel cable and a tamper-resistant lock head to offer a secure connection between lock and computer. It has a cable made out of carbon-tempered steel core that is claimed to resist cuts and offer better durability. Moreover, the company suggests that the lock comes with the highest level of security, preventing it from being picked easily, and has two keys with unique serial codes.
8. Targus DEFCON CL Resettable Combo Cable Lock
Targus' DEFCON Resettable Combo Cable Lock is another good cable lock option you can consider buying. The cable comes in at 6.5 feet and is claimed to be made of galvanized steel to offer better durability and cut resistance. Since the lock relies on a combination code, using it is as simple as attaching the laptop to a nearby object and setting a key combination. Furthermore, to offer more convenience, the lock also includes a security base plate, which doubles up on security and provides an alternative way to lock down your machine. Overall, for a price of ~ $30, you cannot go wrong with this lock.
9. Bestland Combination Cable Lock
Similar to the Targus' DEFCON CL cable lock, the Bestland Combination Cable lock, as its name suggests, also features a combination lock for better security. The lock costs $2.90 and offers over 10,000 possible combination codes with a 4-wheel combination that can be personalized accordingly. It has a 6.5-foot long cable made of stainless steel and is compatible with any device with a security slot. Besides laptops, you can also use the lock to protect other devices like desktops, TVs, monitors, hard drives, projectors, etc that feature a security slot.
10. Belkin F8E550 Notebook Security Lock
One of the popular accessory makers, Belkin, also offers a security solution to help you protect your laptop from theft. The Belkin F8E550 Notebook Security Lock is one such option that, in addition to protecting your laptop, also helps you to secure your docking stations, monitors, and other equipments. Its cable comes in at 6 feet and is made of galvanized steel to offer better protection and resist cuts. The lock also includes a padlock with 2 keys, along with a nylon travel bag and is priced at $39.95.
Editor's Note: The article was originally published in October 2013 by Radu Tyrsina and updated on 13th March 2020 by Yash Wate.
Sours: https://techpp.com/2020/03/13/laptop-anti-theft-cables-locks/
How to Use a Kensington Lock
Continuing the conversation, as one cute cartoon character used to say. I have already mentioned that we in our company got used to each other. I will open the veil. Sashka Zalkind so physically got used to my Masha, and I to his Elka, that there was once a piquant incident.
Laptops locks for
She turned her head to her partner at the table. But before she had time to say anything, Igor Olekseevich's cell phone buzzed, she picked up the phone and went out to talk, after half a minute came back and said: Vit, sit here a little without me, I need to leave, check that everything went well. And with these words, he quickly left the audience.
Vita was in a panic, she immediately looked at the clock: 40 minutes were left until the official end, and judging by the remaining. Number of participants, it will be possible to finish it sooner.
10 Best Laptop Locks 2021
What do you want. - you ask in a tense voice, which showed that it is also hard for you to resist. I need you, I pleaded, trying to lift my hips, but you pulled away from me every time.
You will also like:
What a cool kid you are. Let me change the sheet. you awesome guy, Nikita.
2170
2171
2172
2173
2174