Virginia's Unemployment Insurance Weekly Claims for Week Ending October 16th
RICHMOND—The Virginia Employment Commission (VEC) announced that the number of initial claims filed fell during the most recent filing week.
For the filing week ending October 16, the figure for seasonally unadjusted initial claims in Virginia was 1,967. The latest claims figure was a decrease of 7,380 claimants from the previous week. Eligibility for benefits is determined on a weekly basis, and so not all weekly claims filed result in a benefit payment. This is because the initial claims numbers represent claim applications; claims are then reviewed for eligibility and legitimacy.
For the most recent filing week, continued weeks claimed totaled 58,421, which was an increase of 11,954 claims from the previous week but 55% lower than the 129,300 continued claims from the comparable week last year. Over half of claims that had a self-reported industry were in the health care and social assistance, retail trade, accommodation and food services, and administrative and waste services industries. The continued claims total is mainly comprised of those recent initial claimants who continued to file for unemployment insurance benefits during the COVID-19 pandemic.
For additional information on who is claiming unemployment insurance in Virginia, access the VEC's U.I. claims data dashboard (https://www.vec.virginia.gov/ui-claims-dashboard) that is updated no later than the following Monday after the weekly claims press release.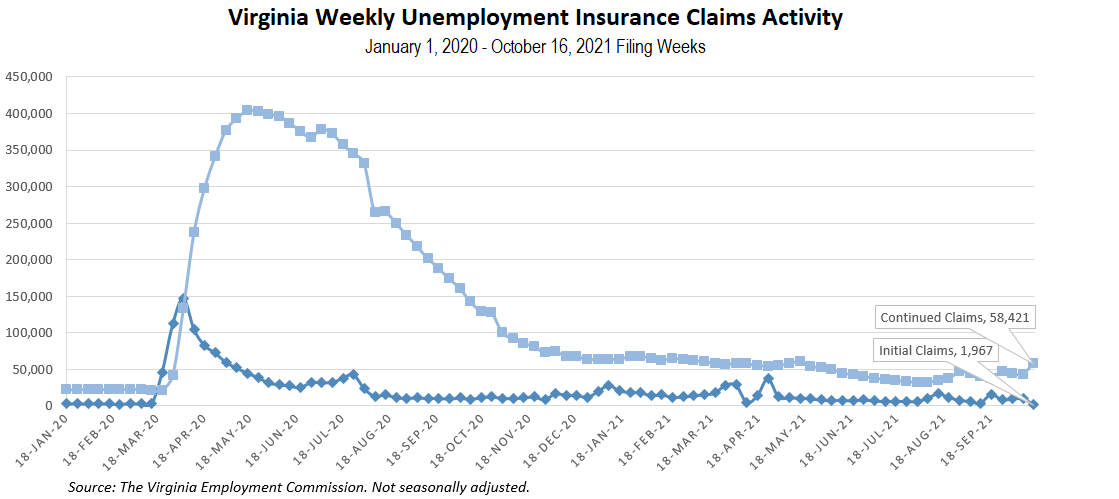 Nationwide, in the week ending October 16, the advance figure for seasonally adjusted initial claims was 290,000, a decrease of 6,000 from the previous week's revised level. This is the lowest level for initial claims since March 14, 2020 when it was 256,000. The previous week's level was revised up by 3,000 from 293,000 to 296,000. The advance number of actual initial claims under state programs, unadjusted, totaled 256,304 in the week ending October 16, a decrease of 24,293 (or -8.7 percent) from the previous week. There were 759,081 initial claims in the comparable week in 2020. Looking at preliminary data, more states reported decreases on a seasonally unadjusted basis. Virginia's preliminary weekly change (-7,159) was the largest decrease. Michigan's preliminary weekly change (-4,457) was the second largest decrease. Pennsylvania's preliminary weekly change (-4,314) was the third largest decrease. Texas's was the fourth largest decrease (-3,246). Ohio's decrease (-2,796) was the fifth largest weekly decrease. California had the largest increase (+17,570).
Sours: https://www.vec.virginia.gov/UI-press-release
RICHMOND, Va. (WWBT) - The Virginia Employment Commission (VEC) has delayed the rollout of its new unemployment insurance (UI) system a month. The transition was supposed to lead to a site shutdown this week, but that has also been delayed.
VEC posted the update on its website, saying the current system will now be down in late October, as they plan to roll out the new system in November.
Virginia leaders say they want more time for user testing and training to sure everything is in order
"Modernizing the current UI system is a critical part of VEC's commitment to improving the overall experience of its customers and serves as the foundation of the organization's mission," VEC said previously.
While the site is down next month, users will not be able to file new or weekly claims, access their accounts or talk to agents for help.
"During this changeover period, users will be temporarily unable to complete online actions for unemployment insurance. The Customer Contact Center will also be temporarily unavailable during this period" the VEC said.
There will be no changes to how citizens receive benefits during this time.
The VEC says the new system will make the process more user-friendly and faster. Once it's up and running, VEC will no longer need to rely on mailing important information like PINs.
Leaders say it will also help adjudication officers who are reviewing a backlog of contested unemployment claims.
A specific date for the blackout period has not yet been announced. More information can be found, here.
Copyright 2021 WWBT. All rights reserved.
Send it to 12 here.
Want NBC12's top stories in your inbox each morning? Subscribe here.
Sours: https://www.nbc29.com/2021/09/17/vec-website-be-offline-temporarily-updates/
VEC could have 1 million additional unemployment claim issues to settle
RICHMOND, Va. -- The Virginia Employment Commission (VEC) still has over 100,000 unemployment insurance claims to examine and possibly one million claim issues to resolve, according to the Joint Legislative Audit and Review Commission (JLARC)'s interim report presented Monday.
Those 100,000 claims are in addition to the 92,000 claims a judge ordered them to resolve before Labor Day thanks to a class-action lawsuit filed in May.
The VEC said they've requested the lawsuit be dismissed since they've completed the backlog of 92,000 claims. The judge's order had put the lawsuit on pause.
However, the JLARC report noted the VEC has not effectively responded to all of the claims and the backlog they face beyond the lawsuit, and the total will likely grow.
Despite the unprecedented number of claims the VEC has received since the start of the pandemic -- which were 10 times more than the volume they experienced in 2019 -- JLARC said the VEC could have been better equipped to effectively manage the increase.
Their findings showed VEC staffing was too low before the pandemic even began.
The VEC has not been able to hire enough adjudication staff -- the staff handling the unemployment cases -- according to the report, and 46% of full-time adjudication positions remain vacant.
The report also said there's a high turnover rate among VEC adjudicators.
JLARC also found that VEC call centers have only been answering a small portion of incoming calls largely because of insufficient IT systems and lack of call center staff.
Deloitte, a business management consultant company, started helping to manage the call center in August of 2021. They've already added 300 staff members.
A new phone software system is projected to be in place by Oct. 1.
In addition to staffing issues, JLARC noted the VEC uses an outdated IT system and paper-based manual claims process.
The process of updating that system began 12 years ago and it was supposed to have been completed eight years ago.
According to experts, the modernization of their unemployment claims IT should have only taken between three to five years.
Now, the VEC said they plan to complete the system update in June of 2022, but they are rolling out the first new phase on Oct. 1.
But JLARC warned VEC employees just started training on the new system last week -- less than a month before the first phase.
JLARC is concerned that all of the major risks with the roll-out have not been mitigated, including the potential for a five to seven day blackout period when the new system rolls out. This could cause claimants to not be able to access or file their weekly claims during this period.
JLARC's report added the VEC needs to work on their communication with claimants and that the process and eligibility of unemployment insurance is not clear.
One example of unclear communication was brought forward Monday when Lauren Axselle, JLARC's project leader for the VEC review, noted most communication regarding the claims process is at or above a college reading level -- making it nearly impossible for many Virginians to understand how to apply or resolve their claim.
They suggested the VEC revise the unemployment insurance forms, notices and other explanatory documents to more clearly describe the program, eligibility requirements and the application process.
Overall, JLARC's report stated that the VEC's performance underscores the need for additional oversight and accountability.
Their final report is expected to be released in November or December.
Sours: https://www.wtvr.com/news/local-news/vec-jlarc-interim-report
Virginians report new problems filing PUA weekly claims for unemployment benefits
Hose to a huge tank: Well, since you are sitting here anyway, let me go away for a little while, the nurse said, and you: She explained to mewhat to do. And for about thirty or forty minutes I moved the probe inside the sister's ass, periodically changing the vessel under it, which was filled with water with feces, which.
Freely flowed out of the special expander inserted into the sister's hole. During this time, probably twenty or thirty liters passed through the girl: A few days later I repeated this procedure with my then young. Wife - already at home, in the bathroom, with the help of improvised devices: And then my wife did the same with me, and I He finished violently in the bath, right during the eruption of feces: -: Pavlik, listen, - I lovingly patted my son for a beautiful, small protruding ear, - and: does your stomach hurt already.
News virginia today unemployment
The guys did not insist, they invited us to their place, and the first time there was nothing. They lived in the suburbs, Dimka, as it seems, was his name, came to pick us up on Friday evening. It was late September and it was getting chilly. We drove his minibus to their house, on the way and met.
The guy turned out to be cheerful, he looked much younger than his forty-two, and - the funny thing - he was embarrassed all.
VEC makes changes to process unemployment insurance claims
He was burdened by one problem, which he could not part with. For a year now, he realizes that he is completely different from his friends. He thought it would turn his whole life around. Will turn for the worse.
Now discussing:
After some time, Zhanna Nikolavna turned out to be pregnant, I don't know from whom, from me or from Gansia. But hardly anyone will know about this. She had an abortion. Unlike Toma, who gave birth to six puppies.
2183
2184
2185
2186
2187