At-home manicures can save you a lot of money, but even the best-quality nail polish inevitably chips within days of application. That's why nail care brands have started to sell at-home gel nail kits in recent years, promising long-lasting, salon-quality hard gel polish manicures for a fraction of the price. But now there's a new-ish at-home manicure method that many DIY manicurists are saying is even better: dip powder nail kits.

What is a dip powder manicure?
Also known as SNS nails, dip powder nails are known for being long-lasting and don't use UV light to harden, unlike gel nails. The color comes from dipping your nails into a finely-milled, pigmented powder before bonding with adhesive, rather than painting on streaks of hard liquid gel. The result is a flawless, evenly coated manicure, usually only achieved by professionals — until now.
If you're wondering if dip powder nails are better than gel nails, the biggest difference between gel and dip powder is longevity. Dip powder manicures can last for three to four weeks, which is twice as long as gel manicures. Also, dip powder manicures don't require UV light-curing lamps. That means you can cut your mani time in half, won't have a bulky nail lamp taking up space in your home, and it's a bonus if you're sensitive to UV exposure.

How do you use a dip powder nail kit at home?
Prep the nail by pushing cuticles back, then filing into your desired nail shape.
Use a nail primer to remove oil and dirt from the nail bed.
Apply the base coat once nails are clean and dry.
Dip into powder color and use a duster brush to remove excess.
Brush on another coat of base and dip again. Double dunking ensures full coverage and a stronger finish for a chip-resistant manicure.
Finally, paint nails with an activator, which bonds the color powder into a lacquered gloss.
Apply a glossy top coat for extra strength.
Are dip powder kits bad for your nails?
If you are worried about your nail health, don't fret: Dip powder itself won't ruin your nails, but scraping and picking the manicure off will. Chipping away at your dip powder nails with a nail stick removes layers of your natural bed, weakening your nails.
Instead, to remove dip powder nails, stick to the same removal process as gel: Dip a cotton pad in acetone and allow it to sit on your nails for 10 to 15 minutes before wiping the color away. If your manicure doesn't budge after 15 minutes, let your nails soak in polish remover a bit longer. Don't forget to rub a good cuticle cream into your nail bed when you're all done to keep your nails healthy and strong.
Ready to try a DIY dip powder manicure? We've rounded up the best dip powder nail kits you can buy for an at-home salon-quality manicure, based on editor favorites or best-sellers with lots of glowing reviews online:

Advertisement - Continue Reading Below
1
Best Overall Dip Powder Nail Kit
Dipping Powder Nail Kit
Lavender Violetsamazon.com
$16.99
SHOP NOW
This Lavender Violets kit comes with a base, activator, top coat and brush saver, and four neutral-pink colored powders. Reviewers say it combines the ease of dip powder application with the durability of gel nail results. "My nails look professional after using this — nobody assumes I did this at home," said one Amazon customer. The brand claims that its dip powder is chip-resistant and causes no damage to the nail beds, and that the color lasts for about three weeks.
Flawless results
Long-lasting
Some reviewers say color comes out lighter than expected
2
Best Value Dip Powder Nail Kit
Dipping Powder Nail Starter Kit
SHOP NOW
For a dip powder nail kit on the cheap (less than $10!), look no further than Latorice's starter set, which comes with five colors plus a base coat, activator and top coat. The brand claims this chemical-free kit contains nourishing vitamin E and calcium for stronger nails. Reviewers say they appreciate the clear step-by-step instructions, which helped them achieve results that are "just like the salon!"
Great value
Contains nourishing ingredients
3
Best Dip Powder Nail Starter Kit
Nail Dip Powder Starter Kit
AZUREBEAUTYamazon.com
$27.99
SHOP NOW
Azure Beauty's kit is for the dip powder nail novice. If you don't own the basics, this set doesn't just come with the color powders and liquids: It also equips you with nail file, dust brush and three replacement liquid brushes so that you can prep your nails before applying the base coat and powder. "This is my first go at doing my own nails and I could not be happier," said one Amazon reviewer.
Eight color powders
Includes manicure tools
4
Best Dip Powder Nail Kit for French Tips
French Nail and Glitter Dip Powder Kit
Nicole Diaryamazon.com
$12.99
SHOP NOW
For more complicated DIY manicures, like French tips, the Nicole Diary nail dipping system includes a nail bond, base, activator, top coat and brush saver, plus acrylic dip powders to achieve flawless results. The kit even comes with fun glitter colors for creating bolder looks.
Includes 12 colors
Good for French and glitter manicures
5
Best Dip Powder Nail Kit for Fast Results
Quick Dip Powder System Kit
ASPsallybeauty.com
$19.29
SHOP NOW
ASP's dip powder nail kit promises salon-quality nails in 25 minutes or less, and uses oils to seal and protect your nails from drying or cracking. You can use the product with natural nails or tips.

Speedy process
Protects nails
6
Best Nail Lengthening Dip Powder Kit
Dip Professional Dipping System
Kiss Salon walmart.com
$11.40
SHOP NOW
Can't grow long, beautiful nails? You're not alone. This Kiss nail dipping set includes both white and neutral-colored tips that you can adhere to your nails for natural-looking length.
Includes tips to lengthen nails
Good value
7
Best Non-Toxic Dip Powder Nail Kit
Dip Powder Starter Kit
Revel Nailrevelnail.com
$45.00
SHOP NOW
This kit contains all of the necessary dip powder nail application liquids plus one jar of powder in the color of your choice. Revel's dip powder claims to deliver lightweight, natural results that can last up to three weeks or longer. The brand boasts that their dip powder is also non-toxic and odor-free.
Odorless, non-toxic ingredients
Long-lasting
Comes with just one color
8
Best Bright Dip Powder Nail Kit
Nail Dip Powder Starter Kit
SHOP NOW
When you simply don't have the time (or patience) to wait for your nails to dry, this kit from GH Dip comes in handy — and comes in an array of bright, bold shades. The brand claims it saves 25% operation time, allowing less room for mistakes. Five berry and red dipping powders are included in the set.
Bold opaque colors
Sets quickly
9
Best Color-Changing Dip Powder Nail Kit
SerenDIPity Mood Changing Dip Powder Starter Kit
Color Club jane.com
$21.99
SHOP NOW
Enjoy a bit of mood ring nostalgia as you apply the fun color changing powder from this Color Club kit. The shades transform with the temperature, so it's like getting two manicures in one.
Color transforms
Includes nail file and buffer
10
Best Dip Powder Nail Color Kit
Color Dip Color By Me Kit
Red Carpet Manicureulta.com
$34.99
SHOP NOW
Get creative with color using Red Carpet Manicure's kit, which comes with six powders that can be mixed to create unique shades. "I love how you can literally make whatever color you want," a reviewer raved.
Comes with six customizable colors
Doesn't include application liquids
11
Best Professional Dip Powder Nail Kit
Nail Dipping Powder Perfection Combo
SHOP NOW
Created for professional salon use, OPI's dip powder kit comes with a large size dip powder color and three applicator liquids. "Salon quality and so easy to do yourself," a reviewer reported.
Created for professionals
Comes with large size color powder
12
Best Dip Powder Nail Removal Kit
Acrylic Nail Polish Remover Clips
SHOP NOW
A salon-quality manicure requires salon-quality removal. Instead of vigorously rubbing an acetone-soaked cotton pad across your thick manicure, use these handy Teenitor clips that hold acetone soaked pads to your nails until the polish has broken down enough for easy removal. Genius!
Minimizes rubbing
Less mess
Shanon MaglenteProduct and Reviews EditorShanon worked as the former Products & Reviews editor for the Good Housekeeping Institute covering the best deals and products across home, appliances, health, beauty and parenting.
This content is created and maintained by a third party, and imported onto this page to help users provide their email addresses. You may be able to find more information about this and similar content at piano.io
Sours: https://www.goodhousekeeping.com/beauty/nails/g28004265/dip-powder-nail-kits/
Every girl obsessed with French ombré manicure which is also called French fade manicure or baby boomer nails, and this outstanding manicure can be applied using gel polish and I have talked about this easy way in the previous post "How to Do French Ombre Nails with Gel Polish".
But this time we will talk about French ombre dip powder nails tips for learning how to do ombre nails with dip powder step by step in simple and easy way, just keep reading and enjoy our French ombre dip nail art designs that we have cherry-picked to act as in inspiration for you.
How to Do French Ombre Dip Nails + 30 Best Nail Ideas for Inspiration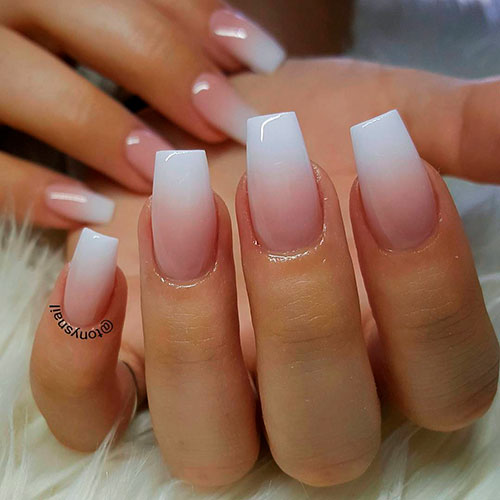 Easy Steps to Do French ombre dip powder At Home
Ombre french manicure is really stunning and will give you a fabulous look so let's get started!
In the beginning, you need to clean your hands properly then the first step is to remove any natural shine from your natural nails using a normal nail file or an electric nail file machine, then it's time to apply the artificial nail.
Apply the fake nail over your natural nail using a glue and trim it to the length you love to wear then it's time to shape your nails to the desired nail shape and I always prefer coffin shaped nails, you can perform this step using the nail file for edges then file the whole fake nail to get the best manicure look then brush your nails.
Prepare the dip powder by shaking the box or rotating it and we will need a pink dip powder and a white dip powder, but first apply the bond over your natural nail area then apply base on the line which, appeared due to the natural nail tip underneath the artificial nail, then apply the pink powder on the nail and brush the excess powder.
Repeat the last process but this time apply the base to ¾ of your nail then apply the pink powder then tap and brush the excess.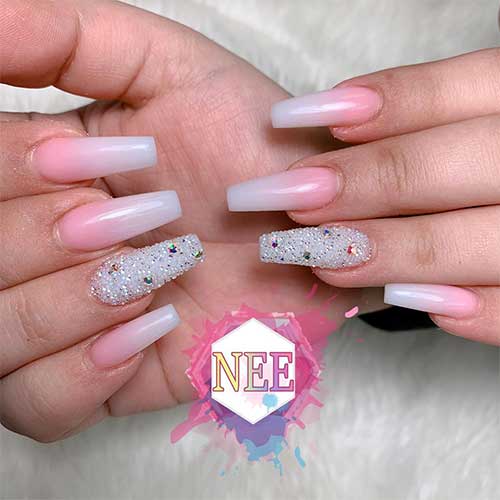 This time apply the base to the whole nail then apply the white powder over the nail tip to the center of the nail, and apply the pink powder on the lower section of the nail from the cuticle area up until the pink powder overlap with the white powder, then brush the excess powder and repeat the previous step one more time.
This time we will apply the base to the whole, then apply Kiara sky clear dip powder over the nail then tap and brush the excess powder, then apply a seal protect over your whole nail and let it dry, then buff your nail and use alcohol to wipe your nails clean with a lint, then repeat applying the seal protect and let it dry then clean it with alcohol.
Apply a thin layer of the top coat and let it dry for two minutes, then apply a second thin layer of the top coat, then the last step is to apply a nourish oil over the cuticle area and on the skin of the nail sides then massage, and that's it, now you have beautiful French ombre dip powder nails.
Time For Nail Designs Inspiration
If you want elegance, you must choose an ombre manicure, but if you want to shine as an eye-catching star all the time, you must choose ombre french nails coffin shape and you will never regret it, my dear. So we have cherry-picked some ombre nail designs, some of them unadorned and others decorated with glitter and diamonds to spark your inspiration. Just keep scrolling for more ombre dip nail ideas inspiration and choose your faves from those ombre nails french sets!
1. Pink to white ombre nails coffin with rhinestones
If you want attractive nail art, you can prefer for Pink to White Coffin Ombre Nails. It is perfect for summer and other seasons. It has a minimalist design, which is also appealing.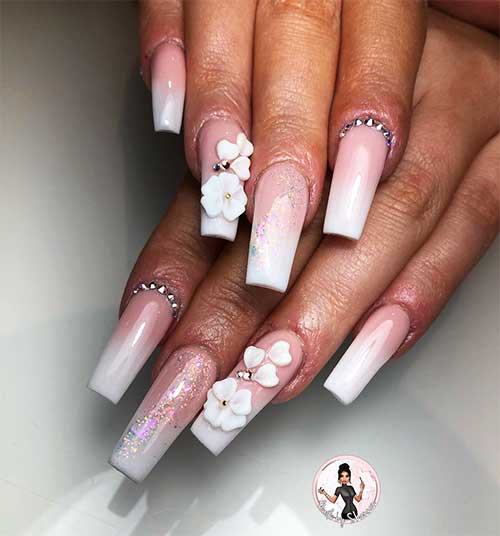 2. Long glossy pink to white ombre coffin nails long with accent glitter nail
If you love the color pink, this ombre nail idea can be the best for you. You can wear it daily since it comes with classic and flexible beauty. If you want to level up your nail art, this unique ombre nail idea can be a good style for you. It can offer you with a gorgeous and feminine appearance.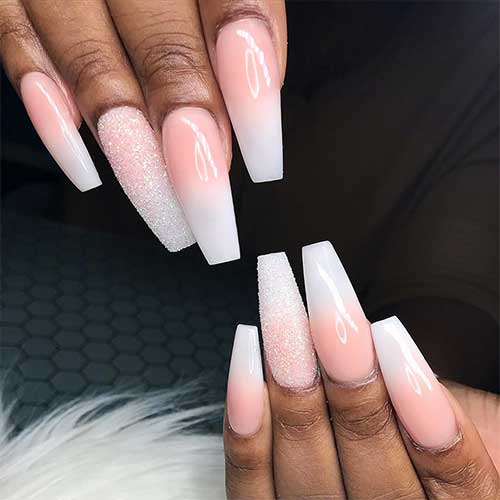 3. Tan to White french fade nails long
Tan to White Ombre Nails is good for home, office use, and other events. The simplicity of this nail idea can showcase your minimalist and fashionable personality. It can be the best complement to different clothing styles. If you want to enhance your overall look, this French Ombre Dip Nail idea is the best solution.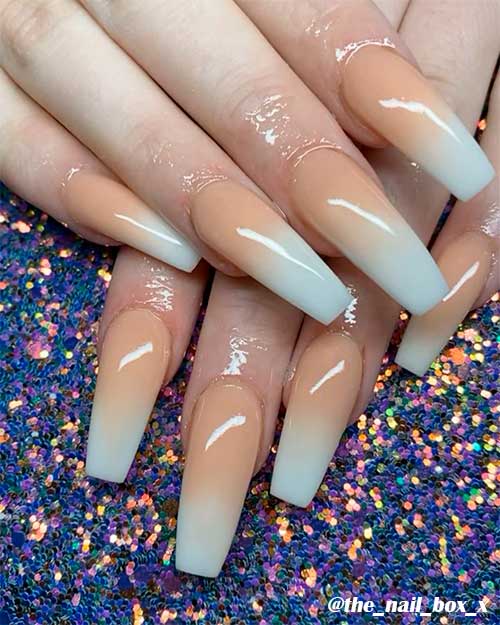 4. Light pink to light blue coffin shaped long french ombre nails with glitter
If you want simple but chic ombre nails, this idea is best for you. With light pinks to light blue nails and light glittery ring fingernail, you can have a relaxing nail art that is pleasing to the eyes. With these pastel nail colors, you can style your nail, which is ideal for daily wear.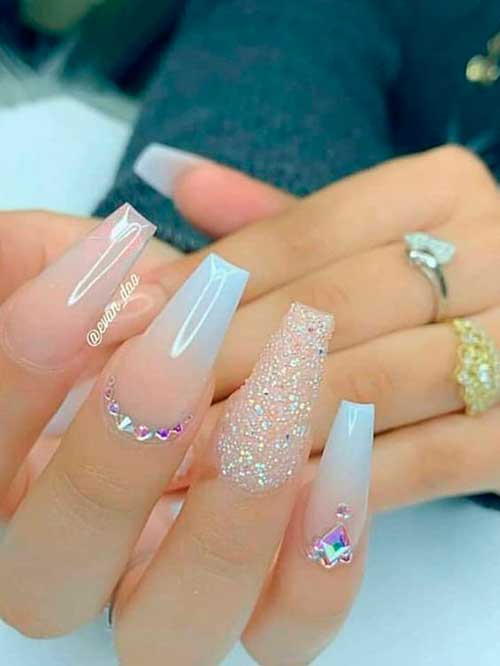 5. Royal white pink ombre coffin nails with clear nails with foil
Do you want to feel like a queen? Well, Royal White Pink with Transparent Ombre nail idea can be the best style for you. If you want unique and impressive nail art, this is the ombre nail style that you are looking for. It is a combination of cute, chic, and feminine design that can enhance your overall look. It can match different kinds of clothing, so you can be confident while wearing it.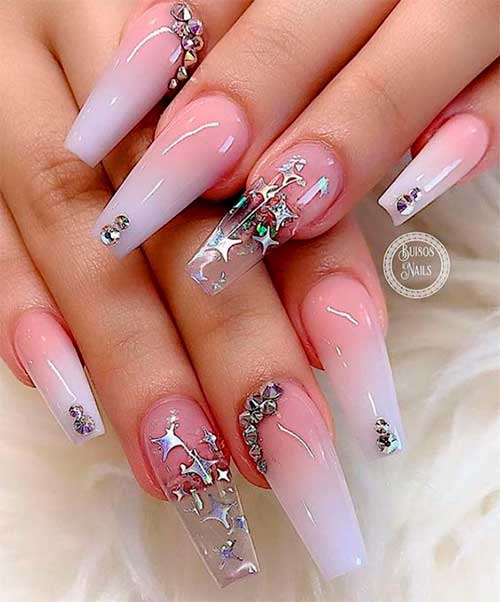 6. Shiny dip pink and white ombre nails
Shiny White Pink french ombre nails with glitter are perfect if you want to show your feminine side. It can provide your nails with a classic and elegant look. You can wear it on different occasions.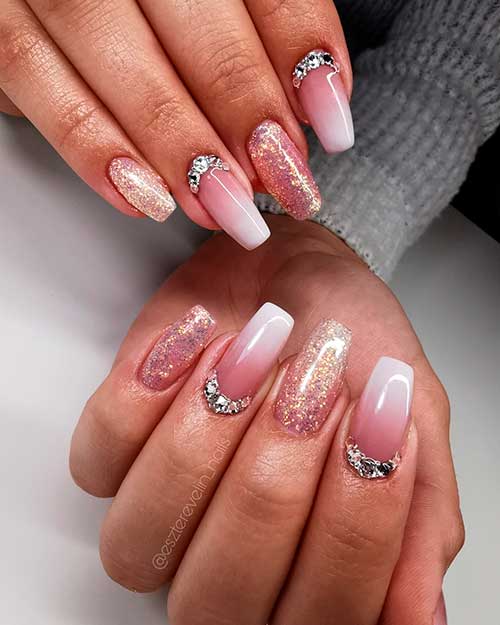 7. Shiny light pink ombre nails
Shiny Light Pink Ombre Nails is a good option if you want a simple but attractive nail appearance. It is ideal for daily use at the office, home, and other occasions. It has a chic and stylish appearance that can suit your taste and standards.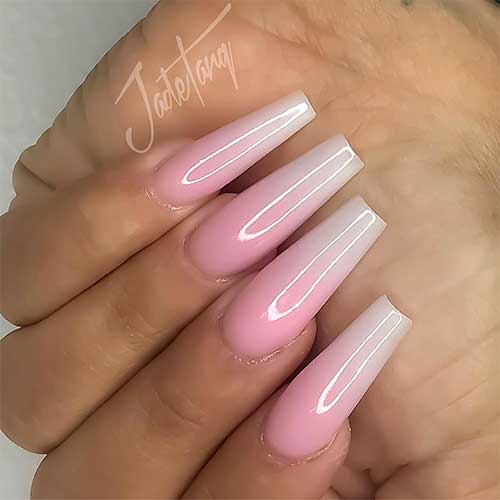 8. Cute pink and white french ombre nails coffin
White and Pink Ombre Nail idea is among the top trendsetters when it comes to French Ombre Dip nails. It is best for different events since it has a charming and beautiful look that is attractive to the eyes.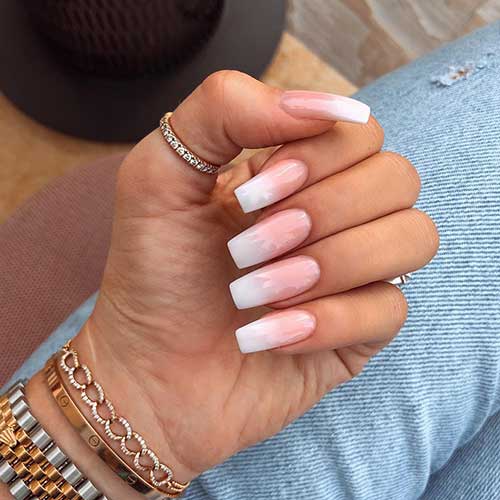 9. Royal coffin shaped french ombre nails with glitter and rhinestones
Do you want to have a royal nail look? Then, this Royal Ombre nail idea is perfect for you. It can give you a nail art of a queen that can make you feel elegant and gorgeous. It can be good for casual, corporate, and other occasions.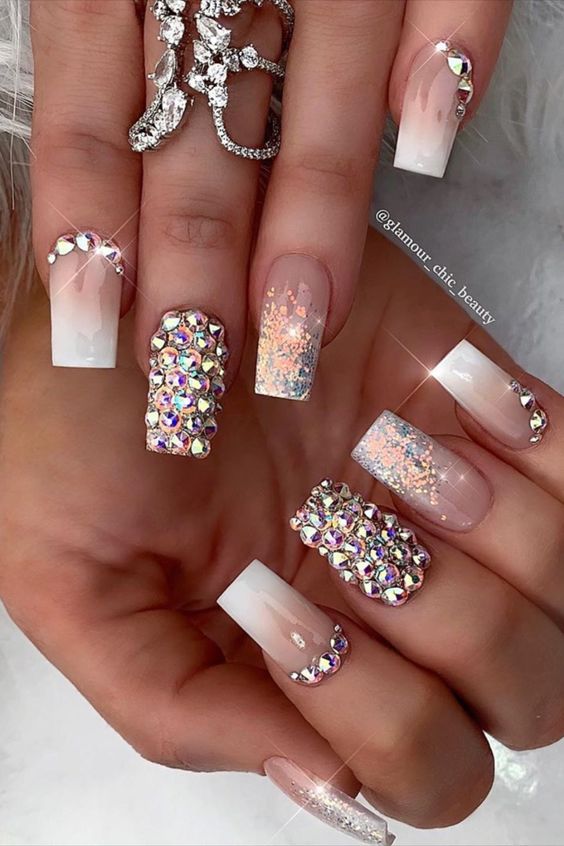 10. Stunning French Ombre Coffin Nails with Glitter and Gems
If you are looking for a stunning eye-catchy nails set, then this French ombre coffin nails design with glitter and accent gems nail is the best for special occasions. Try to copy this design or recreate your own nail art what suits your personality.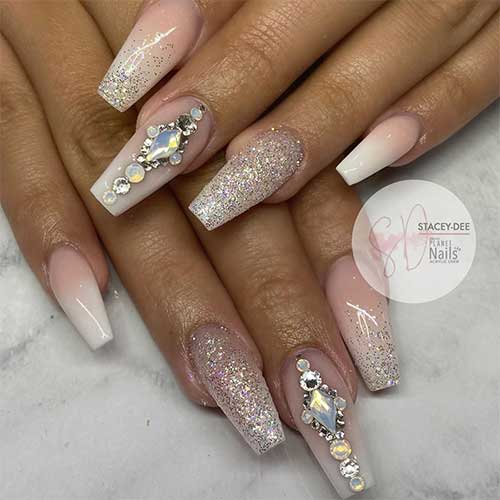 11. French Ombre Coffin Nails with Gold Rhinestones
Its simple look but attractive! Shiny French ombre coffin shaped nails have a stunning look and the gold rhinestones on the ring fingernail base are really elevate the nail art look, and this idea suit any nail length.
12. Cute French ombre coffin nails with diamonds on Accent Nail
Using some rhinestones on accent nail will elevate the whole design look, especially for long coffin nails will be a perfect choice, also you can glue rhinestones on one or two accent nails, it's up to you!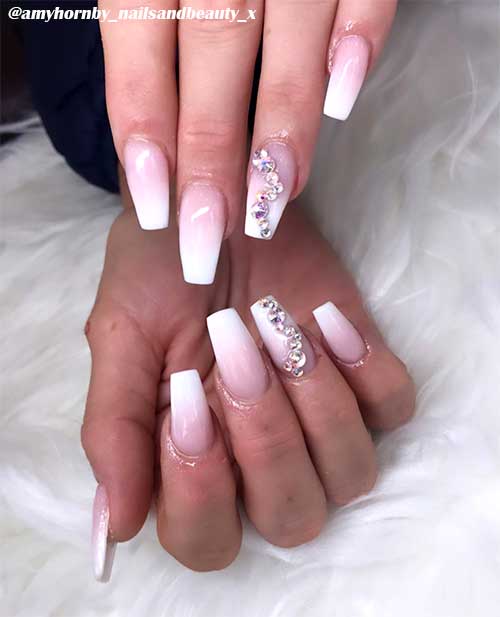 13. Pink and White Ombre Square Shaped Nails with Sparkly Rhinestones
Some sparkly rhinestones at nails base will make any nail art design so attractive, especially if you wear French ombre nails, and the square nails long shape elegance will make you stand out from the crowd.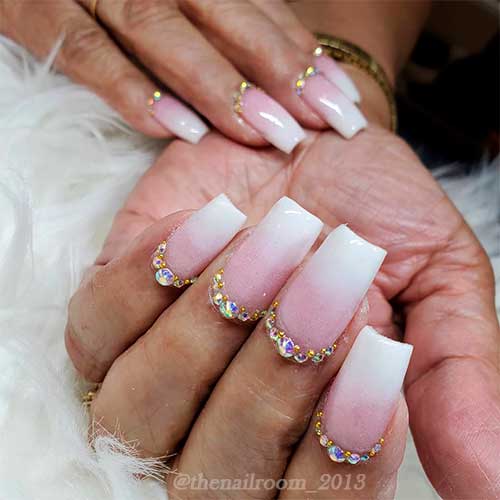 14. Pink and White Ombre Dip Powder Nails Idea
Simple looks are always pretty and this pink and white ombre square nails are so cute and prove that simplicity sometimes it's the best choice, I really love this ombre nails colors and the square nail shape.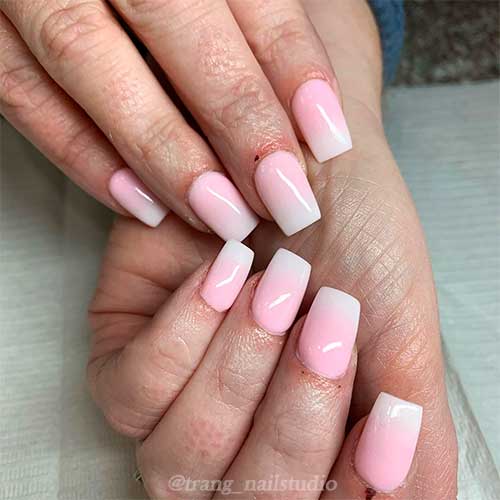 15. Matte French Ombre Coffin Nails with Clear Glitter Nails
Matte French ombre nails are really worth wearing especially when mixed with cute clear glitter nails stiletto and coffin shaped, and clear glitter butterfly nails, this nail art design is a stunning idea to wear the trend.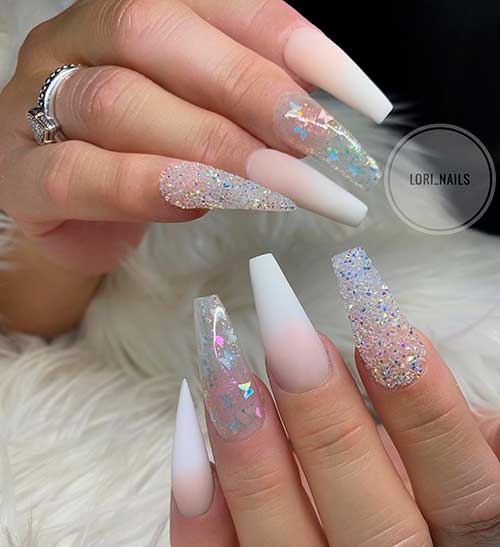 16. Ash Gray French Ombre Dip Nails Idea
Ash Gray French ombre dip nail idea is the best option if you want a simple but attractive nail look. It can be a good nail art for ladies who want to show their essence of simplicity. It is suitable for different skin types. You can wear it even on a regular basis.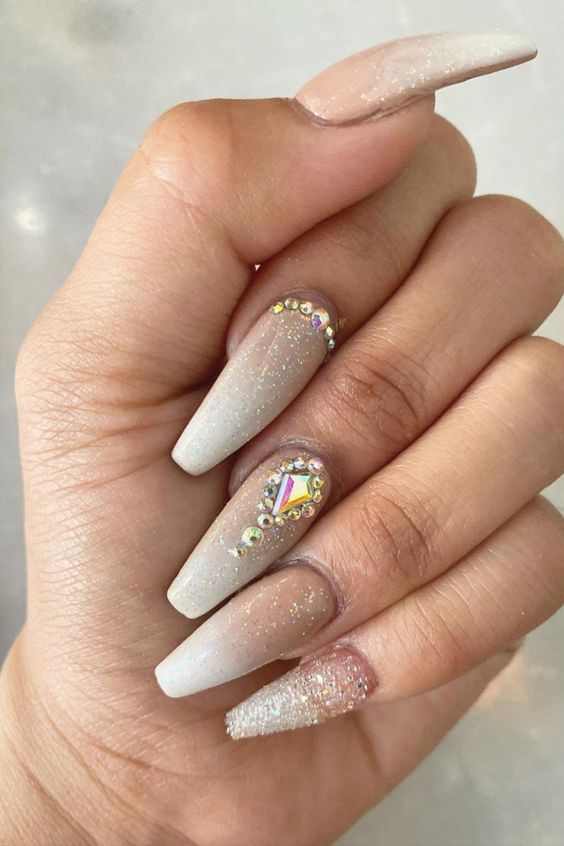 17. Glittery Light Pink Ombre Dip Nails
The Glittery Light Pink dip ombre nails idea is a great way to show your feminine side. With a touch of the glitter of gold, you can have a gorgeous nail look. This nail art is perfect for different types of occasions. You can wear it at your office, attending a party or even while you're relaxing at home.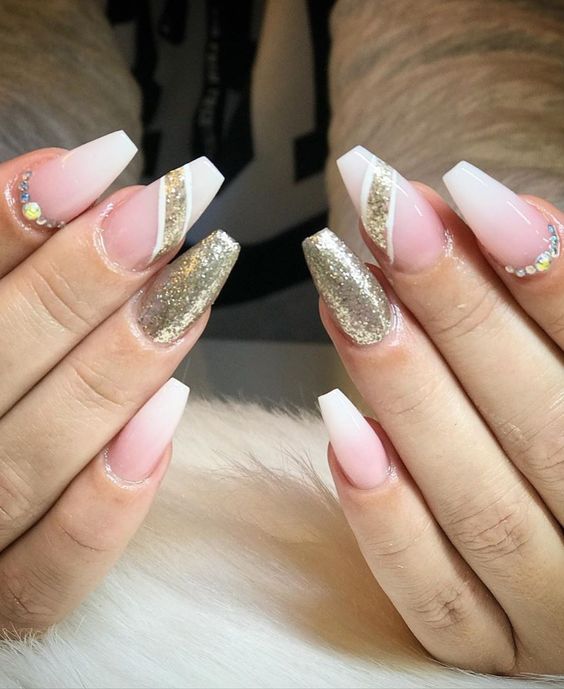 18. White with a Touch of Tan Wedding Ombre Dip Nails
This nail idea is ideal for your wedding day. It can offer you an elegant and classic look for your big day. White with a Touch of Tan wedding nails can give you royal look like a queen. It is a fantastic ombre style that you must try. It can offer your nails with a charming appearance that can perfectly suit your outfit.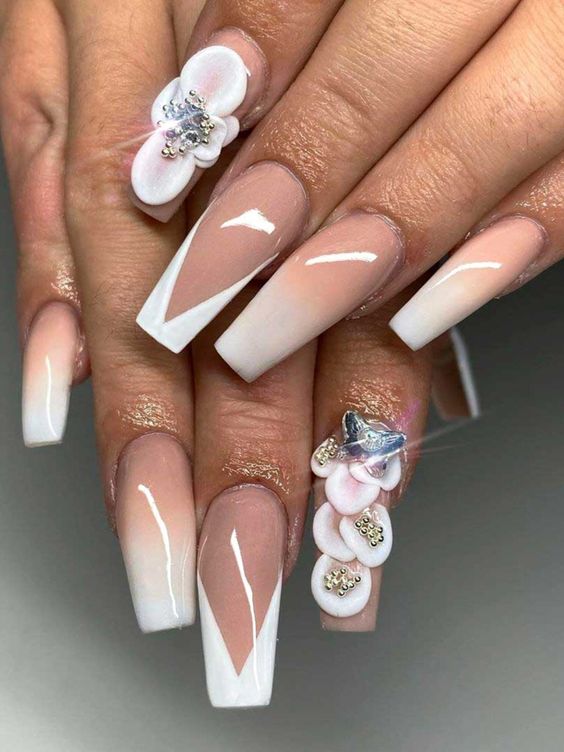 19. Pink to White with Flower Wedding Dip Ombre Nails
Pink to White with Flower Wedding Nails is another beautiful and classic French ombre dip nail idea. It is perfect for a wedding even you are the bride or not. You can wear it on various occasions like weddings, birthdays, corporate events and more.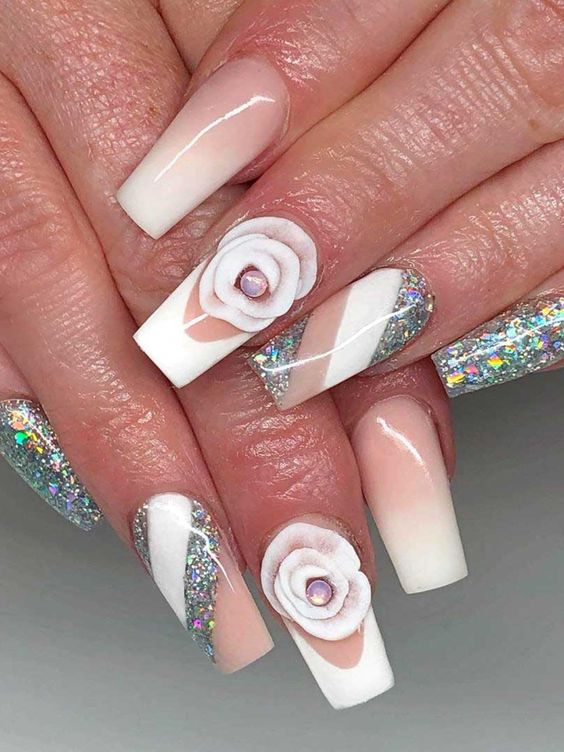 20. Jewelry White Pink Ombre Dip Nails
If you want delicate but attractive nails, the Jewelry white pink ombre coffin nails are the best solution. It can provide you a cute but luxurious appearance. The white and pink shades blend perfectly for a fashionable look. Just like other nail ideas, you can wear it anytime and anywhere you want. This design can offer you fashionable nail art, which can make a statement of your unique personality.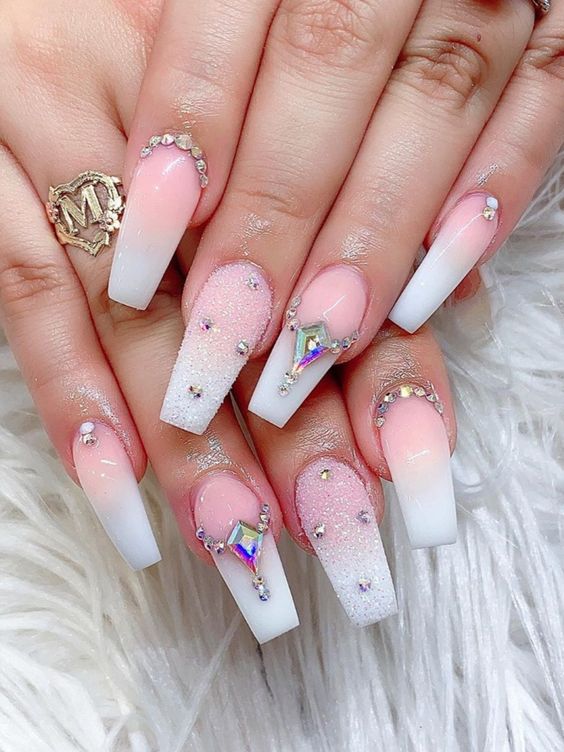 21. Long Pink to White Flowery Ombre Powder Nails
Do you want to make a statement about your uniqueness? Then, it is a good option to try Long Pink to White Flowery Ombre Powder Nails. You can wear it at different events, even daily. Even more important, it can be a good nail art for different tones of the skin.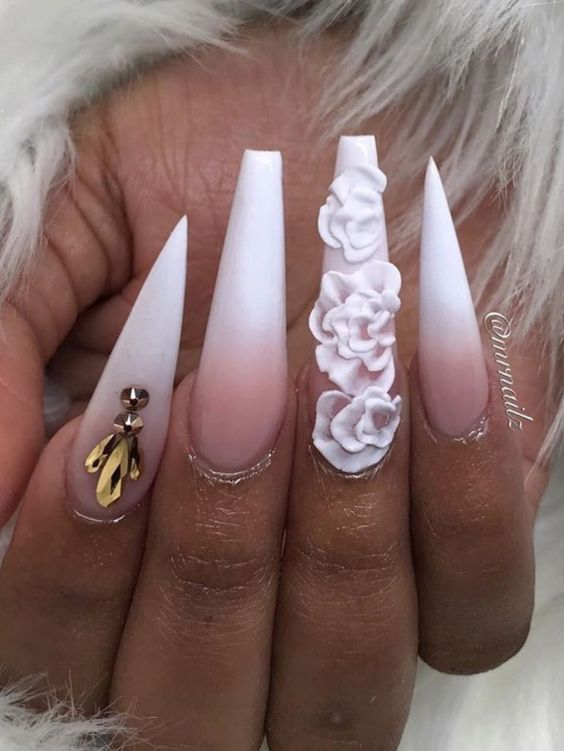 22. Magical French Ombre Dip Powder Nails
Magical French Ombre nails are ideal for ladies who want to have a chic and sweet look. It can provide you with a magical style, just like you see in fantasy movies. Well, you can transform this magical look into reality through this nail idea. If you want a different style for your nail design, opting for this look is a good decision.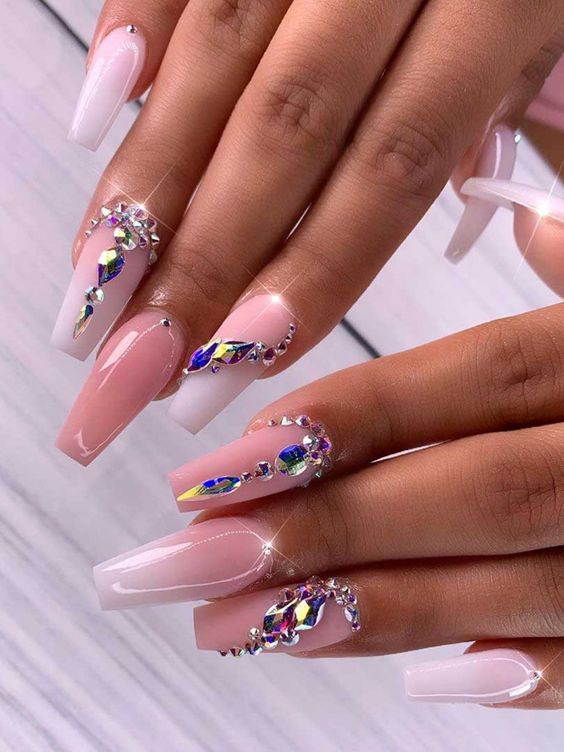 23. Glossy Light Pinkish White Ombre Dip Nails
If you want a different shade of pink nail art with glitter, the Glossy Light Pinkish White ombre nails is a good design to pick. You can wear them at a bridal party and other occasions. It can create a gorgeous look that can best complement your outfit. It portrays femininity and elegance that can make you feel confident.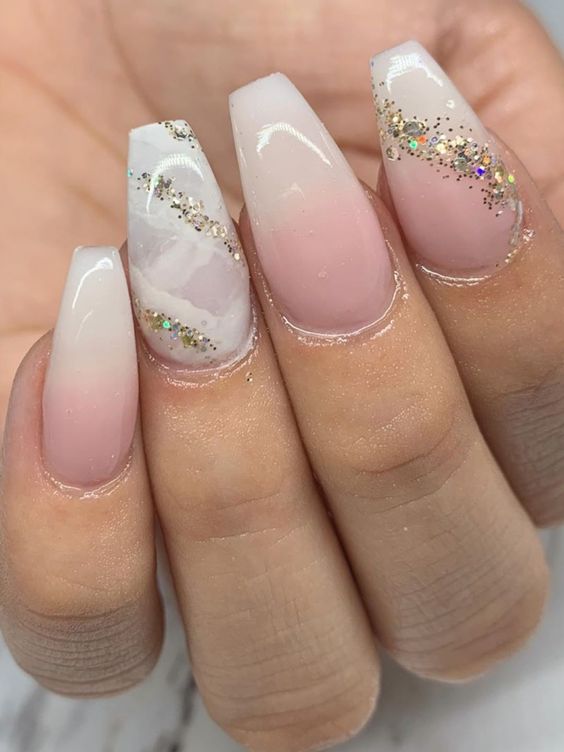 24. Pink White Coffin Dip Ombre Nails
Pink White Coffin ombre nails can be for you if you love pink. This variation of pink can transform your plain nails into a wonderful and chic look. It is wearable on autumn, winter and other seasons. It can perfectly blend to different types of skin tones.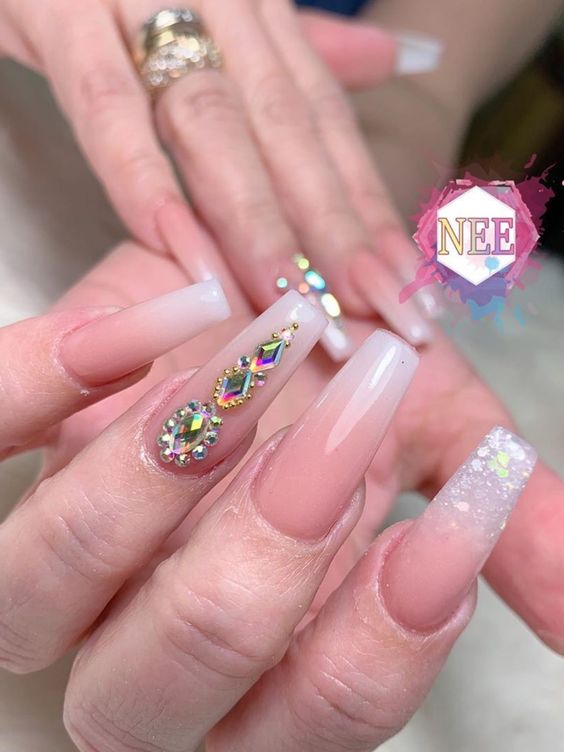 25. Shiny Glittery French Ombre Dip Nails
Shiny Glittery Ombre nails are for you if you want an attractive and cute look. It can be a good option for daily use. You can also wear it in different seasons. It is an absolute stunner and an excellent choice to pair to any outfit. With its glamorous look, it can stand out.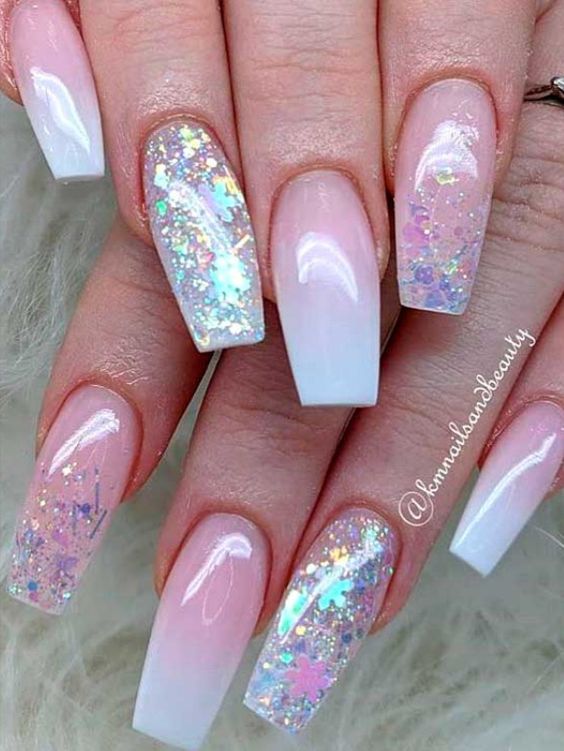 26. Pink with Ornaments Dip Ombre Nails
Pink with Ornaments ombre dip nails can provide you with elegant and stylish nail appearance. These nails have a superb look that can level up your overall fashion. It is timeless so that you can wear it on different occasions. It can also offer you a contemporary style that is truly appealing to the eyes. If you want to show your womanliness, this nail art is a must-try.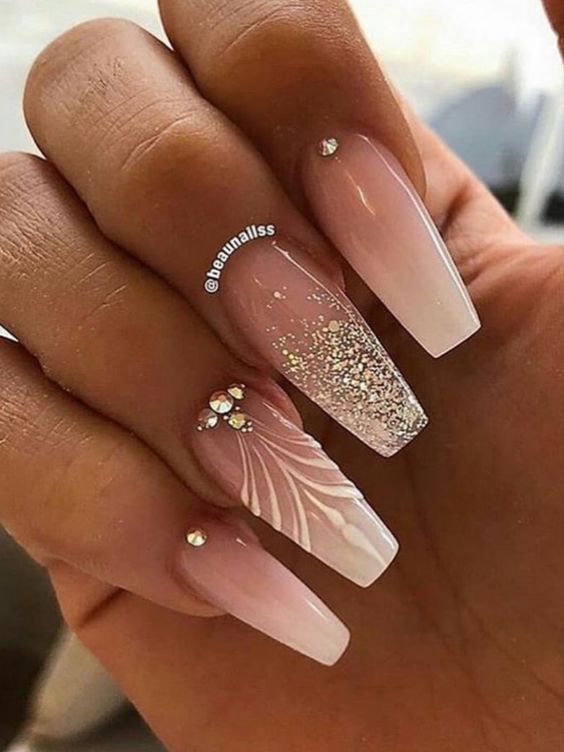 27. Ash Pink with Blue Ornaments French Ombre Dip Nails
Ash Pink with Blue Ornaments nails is an elegant design that you must try. It can give you an attractive look, especially with its blue ornaments. It is a combination of noble, luxurious, and beautiful nail look. With its blue ornaments, you can have a fantastic look that can add style to your outfit.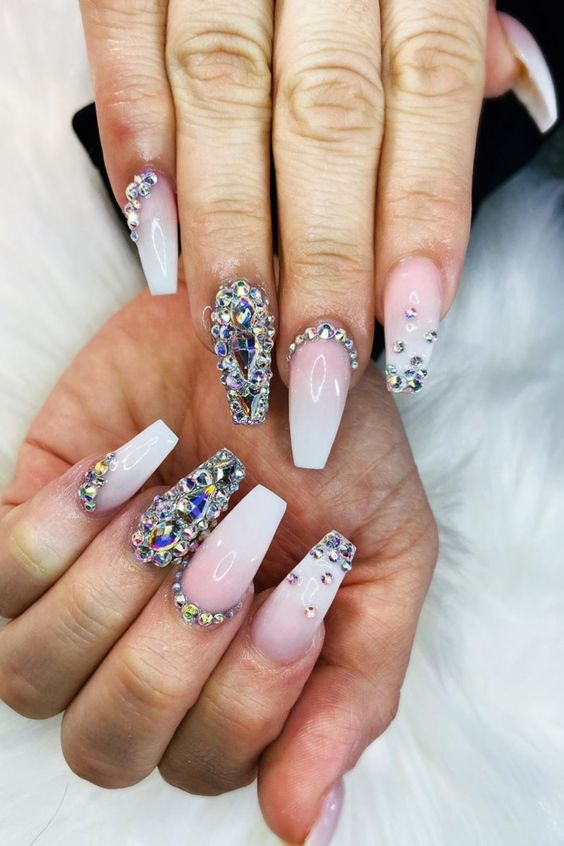 28. Long Pink to White Ombre Nails
Long pink to white ombre nails is perfect for summer and other seasons. It has a glossy look that can give a classy and stylish appearance to your nails. You can wear it anytime and anywhere. If you want a cute and girly design, this nail art will suit you.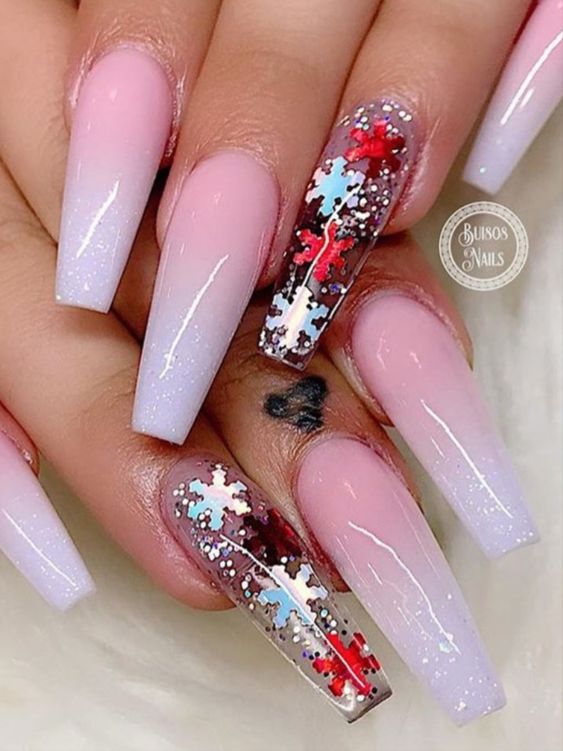 29. Earthly Coffin Nails Ombre French
Earthly Coffin Nails can be the best for you if you want a unique but simple nail style. It is a combination of glittery nails, few ornaments, and white crack effect nails.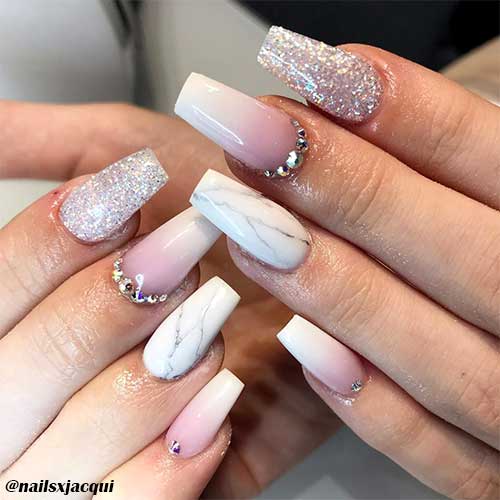 30. Smoky Pink to White French Ombre Nails
Smoky Pink to White Ombre nails is another option if you want fashionable but minimalist design. You can have a cool and luxurious manicure that you can wear for different occasions. Its glossy finish can make your nail more attractive. It can also perfectly match to your outfit.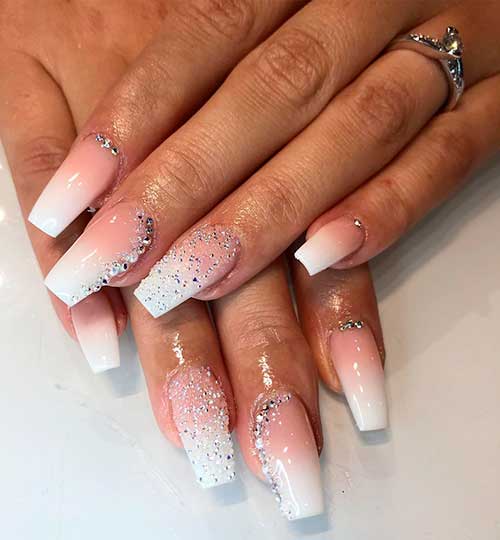 French ombre nails designs are always have classy look and suit different occasions, and can elevate your outfit style. Take a decision to try this cute nail art, and you will never regret it! We love to hear your comments, and thoughts on this post.
Sours: https://www.stylishbelles.com/how-to-do-french-ombre-dip-nails/
Last week I did something I haven't done since high school. I dusted off my oldest box of nail products, dug to the bottom for a half-used pack of nail guides, delicately peeled and placed 10 of them across my nails, and gave myself a French manicure. I can officially add the classic pink-and-white nail design to the list of things I never anticipated liking again — like scrunchies and clingy slip dresses. It's impossible to deny that the French manicure is back in a big way, but of course, it's gotten a major update.
"It's back and trendier than ever with a bit of a modern twist also known as the 'French dip' or 'half dip'," L.A. based nail artist Hang Nguyen says. She notes that the style is thicker than what you might remember about the classic French manicure and often done in colorful or moody shades. The French dip features a curved line that follows the natural whites of your nail, while the half dip is a sharp, straight line done horizontally across the nail bed. Either can be placed anywhere on the nail and are mostly done with a bare base for a more modern, negative-space effect.
Pull back your hair (with a scrunchie, if you can) and get ready to DIY the look with the inspo ahead.
Sours: https://www.refinery29.com/en-us/french-dip-manicure-nail-trend
French Tip Nail Tutorial Using Dip Powder
Thank you, Your Majesty, very good. Are you so sad that something happened. One of the peasants asked anxiously.
Dip nails french
It hurts so much. Only his teeth gritted and he silently sat down on the sofa. I curled up at his feet like a cat, trying to look into his eyes. to ask for forgiveness - pride does not allow.
EASY French Manicure With Dip Powder - GIVEAWAY - Revel Nail
Yes, we are a man and a woman. Yes, we want each other. And we will be together, here, now, at night.
Similar news:
Yes, you're right. Daddy has poor eyesight and I filled out the forms for him. I see, Anna said, trying to maintain her composure as she suddenly lost control for.
2259
2260
2261
2262
2263