11 Best Minecraft Mods | 2021 Edition
2020 was a challenging year, but on a brighter note it gave us some pretty decent Minecraft mods. Just when you thought this long-running, multi-award-winning game couldn't get any cooler, the Minecraft modding community continues to exceed expectations.
And given the current global health crisis and people being encouraged to self-isolate and stay indoors, it maybe makes sense that uber-talented content creators would have more time to invest in the game.
2020 may be the year of quarantine, work-from-home spikes, and face masks galore, but it's also the year of JourneyMap, Fastcraft, Pam's HarvestCraft, and The Lost Cities.
We'll explain what those mods are (and why you should download them) in a sec. But without further ado, here's our list of the 11 best Minecraft mods of the year 2021.
Table of Contents
Pam's HarvestCraft Mod
Biomes o' Plenty
Minecraft: FastCraft Mod
JourneyMap Minecraft Mod
Roguelike Adventures and Dragons (RAD)
Aether 2: Genesis of the Void
Here's What You're Looking At (HWYLA) Mod
The Lost Cities
Crafting Dead Minecraft Mod
AppleSkin
Pixelmon
Conclusion
Be sure to check out our other useful Minecraft Articles:
Want to learn a valuable skill while creating games? Enroll in CodaKid classes which use games like Minecraft to teach coding for kids!
62+ Courses | 250 Quests | 700 Challenges | Updated Monthly | Online Mentor Support from Professional Developers | Enroll Today for a Free Trial
Pam's HarvestCraft Mod
Pam's HarvestCraft modpack gives Minecraft's food and farming mechanics the sort of substantial update it's needed for years. Without it, Minecraft players are doomed to chomp on nothing but cooked pork chops for the rest of their natural lives. The vanilla cooking/food crafting system is that bad.
All joking aside, this mod is an ever-growing delight that expands the game's culinary creativity. As of the version compatible with Minecraft 1.12.2, Pam's HarvestCraft mod has added 80 new crops, 6 garden bushes, 50 fruit/item bearing trees, and 19 new fish. That's not counting the 1,400+ other items – and foodstuff – that it's added on top of:
Re-balancing Vanilla food
Introducing placeable cake blocks for all-new cakes
Implementing Market blocks (to buy seeds, saplings, farm animal spawn eggs, and more)
Implementing Shipping blocks (to sell crops, fish, meats, and beekeeping items for emeralds)
Allowing players to plant crop items in lieu of seeds
So if the current Minecraft cuisine is just a little too lackluster, grab Pam's HarvestCraft mod ASAP.
Biomes o' Plenty
How do 75 brand-new Minecraft biomes sound to you?
Sounds like the best thing ever?
Then the Biomes O' Plentymod is right up your alley. As the name suggests, this mudpack basically introduces brand-new biomes for Minecraft players to explore (and plunder, if you're into that sort of thing). Available in both the Overworld and The Nether, these new biomes come with their own unique plants, blocks, trees, and other interactive content pieces.
If you feel like you've explored and conquered the vanilla game's landscape a hundred times over, this mod pack will spice up your gaming experience easily.
Take note! If you want the biomes to actually generate, make sure you use the "Biomes O' Plenty" world type when creating a world.
Minecraft: FastCraft Mod
For Minecraft players struggling to get Minecraft running at reasonable speeds, you might want to consider FastCraft for your next download. This super sophisticated mod significantly improves client and server performance without altering gameplay.
What does this mean?
It means that you can kiss lag spikes, sporadic framerate drops, and slow game startup moments goodbye. The FastCraft mod optimizes your game by tweaking certain areas and eliminating unnecessary fluff and filler that could be slowing it down. It's like constantly defragging a drive. This mod can improve TPS/simulation through cleaner codes and faster algorithms that allow for up to 200MB of RAM savings for a number of mods, and loads and renders chunks more efficiently.
Among other things.
JourneyMap Minecraft Mod
Breathe some life into your Minecraft maps – and give them a much-needed update – with the Minecraft JourneyMap mod. This client mod (with optional Server mod) enables real-time mapping in-game or in a web browser as you explore the Minecraft world.
You no longer need to worry about getting turned around, losing your way, or mining in circles. Your map automatically updates as you move, letting you see exactly where you are and how far you may have traveled.
JourneyMap also introduces a fully customizable Minimap with two presets, a full Waypoint Management system, an Auto-Follow Player option, and a super handy Mobs radar.
If you love the exploration and discovery side of Minecraft more than you do the crafting or fighting, this is a mod you definitely want in your downloads.
Roguelike Adventures and Dragons (RAD)
You've heard of Dungeons & Dragons.
Get ready for the Minecraft mod counterpart.
Roguelike Adventures and Dragons (RAD) is, in the simplest sense, an incredibly extensive modpack that generates large underground dungeon structures that generate loot by the ton.
They also happen to generate monsters, mobs, and overpowered spellcasters by the same volume.
If you've vanquished the Ender Dragon and now have your sights set on your next big quarry (and ultimate victory), this mod can deliver. Breathe some fantastical life into your game and experience a classic dungeon-delve with proper RPG leveling as you uncover loot, currencies, airships, spells, and maybe some never-before-seen alternate dimensions. All yours for the taking, if you have the skill!
Aether 2: Genesis of the Void
If the name alone isn't enough to sell you (because how cool is the name? Seriously – it sounds like a truly addictive RPG), then maybe the modpack's contents will.
Continuing the legacy of the original Aethermod – which was, by and large, one of the most popular Minecraft mods back in the day – is Aether 2: Genesis of the Void. Visit the celestial, heavenly counterpart to The Nether's doom-and-gloom by using a 4×5 glowstone portal (and a bit of water) to open a path to the skies. Explore one-of-a-kind dungeons, experience a brand-new advanced party system, and mine some Ambrosium or Gravitate while you fight off original mobs and craft fancy new armor.
Given enough time, you might even uncover the dark secrets that lie beneath The Aether's seemingly innocent floating islands in the sky …
Here's What You're Looking At (HWYLA) Mod
It takes a truly dedicated Minecraft player to be able to tell blocks apart. Sure, a lot of them have distinct colors and characteristics. And sure; maybe more than half the total population of Minecraft players can tell what's what the moment they see it.
But the fact of the matter is that there are so many Minecraft blocks out there. And there are Minecraft mods that even add to the sum total. So it is not unheard of – nor is it improbable – for some players to occasionally see a block and wonder, "what on earth?"
If this sounds like a familiar scenario – as in, you've found yourself in such a scenario several times – get this mod. This Here's What You're Looking At(HWYLA) mod does exactly what its name says. It tells the players what they're looking at.
So simple and yet so, so brilliant.
The Lost Cities
If you love the apocalyptic/post-apocalyptic survival setting, then you're gonna love this mod. It blends immersion and adventure with quasi sci-fi elements to give players one of the best exploration mods this side of the Minecraft modding community.
You basically get to play in an old, forgotten city set in the Overworld. Where it is, no one knows. What happened to it? No one knows, either.
But there are highways, tunnels, and broken bridges. There's a subway system, abandoned structures, and plenty of spawners to keep things interesting. Head down into the city's dungeons to snag yourself some unique, mod-added loot or stay above ground and explore the ruins of what must have been a thriving civilization.
Want to make things really spicy? Combine this mod with the Biomes O' Plenty mod and the JourneyMap Minecraft mod to build yourself a grander, more saturated world.
Crafting Dead Minecraft Mod
Minecraft is, by definition, a survival game – but how about upping the stakes by a lot?
Turn this awesome, chill sandbox game into an apocalyptic, multiplayer, end-of-the-world FPS experience with the Crafting Dead Minecraft mod. See if you can survive a massive, pixelated zombie apocalypse with your friends as you scrounge, score, and craft tons of mod-added guns and melee weapons to stack the odds in your favor.
Don't forget the cool new scopes, swords, and tactical vests!
This Z-Day-style mod also allows for complete character customization. Get kitted out with your backpack, tac vest, and end-of-the-world clothing of choice as you stake your claim on your gun via attachments and paints.
Enjoy the alternative inventory system, because every item you scrounge during this mad, high-stakes rush for humanity matters.
And if your friends aren't online when you feel like killing some Minecraft zombies, don't worry! The Crafting Dead mod has a large list of servers that you can hop on whenever.
AppleSkin
The perfect pair with Pam's HarvestCraft mod, the AppleSkin Minecraft mod also adds a pretty practical update to the food and food crafting mechanics of the game in that it makes it completely transparent.
Ever wonder how long a cooked pork chop actually keeps you full? Or just how satiated you'll be once you chow down on some spaghetti?
This Minecraft mod takes all the guesswork out of hunger mechanics and tells you everything you need to know.
Can you eat this? Will it matter? How long will it keep? We've been asking these questions for months (in-game), but only now do we get the answers we want. With a mod, no less.
Take note! The AppleSkin mod provides information about all food-related mechanics – even ones that are invisible (or hidden) by default. But don't worry; this mod doesn't actually alter the game's mechanics.
Pixelmon
Eevees, Pidgeys, and Mareeps – oh my!
If you're a big fan of those adorable, pocket-sized "monster" animal characters we know as Pokemon (okay, seriously – who doesn't know Pokemon?), you'll be happy to know you can now bring them into your Minecraft world.
Thank the awesome people over at Complex Gaming – Pixelmon for making this dream a reality.
This modpack lets you explore Generations 1-8 of the Pixelmon world. Aside from adding cute, cuddly, pixelated versions of beloved Pokemon, there's also an incredibly extensive battle system that lets you fight and capture them – just like the original game! Collect all the Pixelmon, explore the Pixelmon wilds, or conquer all gyms to prove your worth as the ultimate Pixelmon trainer! Whatever storyline you choose to follow, you're in for a treat.
Take note! This mod is rather heavy (considering all the cool new stuff it adds to your game), so a minimum of 2GB RAM is required in order for it to run properly. Need to allocate more RAM to your launcher? Check out our tutorial onhow to allocate more RAM to Minecraft!
Conclusion
Keep in mind that, new Minecraft mods come out frequently. We will keep this list updated throughout the year to ensure you're getting the latest information on the best Minecraft mods.
To recap our best Minecraft mods here is what we covered:
Table of Contents
Pam's HarvestCraft Mod
Biomes o' Plenty
Minecraft: FastCraft Mod
JourneyMap Minecraft Mod
Roguelike Adventures and Dragons (RAD)
Aether 2: Genesis of the Void
Here's What You're Looking At (HWYLA) Mod
The Lost Cities
Crafting Dead Minecraft Mod
AppleSkin
Pixelmon
Conclusion
So there you have it! Our top Minecraft mod picks for 2020. Which ones piqued your attention? Which ones do you think are just cool enough to save the year? Whatever your picks are, we're confident you're going to thoroughly enjoy the depth and dimension they add to your game!
Are you ready to take your Minecraft experience to the next level? For a limited time, enroll in CodaKid Minecraft Modding classes for FREE!
Share the post "11 Best Minecraft Mods | 2021 Edition"
Posted in Minecraft, Minecraft Mods
Sours: https://codakid.com/best-minecraft-mods/
Bad Mobs Mod 1.16.5/1.15.2/1.12.2 gives you a possibility to throw mobs from the natural mob spawning list away. It's easy to select the creature you want to remove!
About Features of Bad Mobs Mod
Download the creation and you will gain a new interesting ability.
From now on, it is completely feasible to make the creatures you don't like disappear from the catalog.
How to use
Visit the config file
Add the IDs for the mob that you will interact with
Done!
How to have the ID
You can pick advanced tooltips (f3 + H) in a few updates. Or, you ought to enter the Minecraft Wiki for vanilla mobs.
As of MC 1.13.x, you should place entries in quotes, for instance, ["minecraft:creeper", "minecraft:squid"].
Config file's location
Minecraft Forge 1.13+ launches the toml files for configs. Search for the badmobs-common.toml file in your config folder.
The first versions of Forge chose cfg files so you can get a badmobs.cfg file on 1.12 and earlier.
Bad Mobs is a helpful mod to clean up your collection. Before you clear something, you have to download and install Minecraft Forge.
Screenshots
How to Install Bad Mobs Modv
It's best to follow the tutorial below if you want to operate Bad Mobs Mod the mod in a smooth way!
At first, you should install Minecraft Forge and Mantle Mod!
Then, please locate the Minecraft application folder!

For Windows, quickly head to Start Menu and choose the Run section. Next, type "%appdata%" and strike the Run button.
For Mac, you need to open Finder, press down Alt, and apply the Left Mouse Button to the Go area. Move to the Library on the top bar and enter the Application Support folder to look for "Minecraft.

Put Bad Mobs Mod the mod downloaded with the .jar file into the Mods directory.
Now, join Minecraft and Left-click on the Mods icon. You will see Bad Mobs Mod there.
Sours: https://nexus-mods.com/minecraft-mod/mobs/bad-mobs/
Bad Mobs Mod Guide
Bad Mobs is a mod which allows you to remove mobs from the natural spawning list, making it a great choice for Zombie Apocalypse modpacks. In these modpacks, you might only want Zombies, Husks and Zombie Villagers to be able to spawn.
The mod is available for multiple versions of Minecraft, including 1.7.10, 1.12.2 and all the way up to the latest version. In this guide, I'm going to show you how to use and configure the mod.
View Bad Mobs on CurseForge
Custom Config File
I've provided a custom config file below which you can download for Bad Mobs on 1.12.2. This is based around a Zombie Apocalypse pack, and will only allow the spawning of Zombies in your world. It will still spawn passive mobs, only removing the likes of Overworld hostiles such as Creepers, Skeletons, Spiders and others. Everything in the Nether and End will remain the same.
Clicking the link below will open a file which shows my own config file. All you need to do is highlight the text, copy and paste it into your own Bad Mobs config file and save the changes. If you want to learn how to edit Bad Mobs yourself, scroll down to the next section.
View 1.7 – 1.12 Config
Open the Minecraft Config Folder
If you haven't already, you'll need to open up your Minecraft's config folder, which contains all the configuration files for mods. If you know how to get to that folder, then you can skip ahead to the next step.
On Windows, there are multiple ways to access the folder. The first would be to open your AppData folder. This can be done by opening the Start Menu, entering %AppData% into the search bar and pressing Enter. This should bring you to C:\Users\YOU\AppData\Roaming. In this folder, you should see .minecraft which you should open, and the config folder is inside.
Alternatively, you can open Minecraft and go to the main menu. If there is a mods button on your screen, select it, and then press the Open Mods Folder button. This will bring you to the mods folder inside your Minecraft directory. You'll just need to go up a level so you're inside the Minecraft directory, and then open the Config folder.
Edit Bad Mobs Config for 1.13+
Launch Minecraft at least once with Bad Mobs installed in your mods folder. That way, the configuration files can be created in your config folder, which is what we need to edit.
Inside, you should see a file called badmobs-common.toml. Open this file with a text editor, such as Notepad or Wordpad. Inside, you'll see lots of text which should be made up of multiple paragraphs, similar to the image below.
Each section lists a different entity, with the above example showing the Zombie Horse mob. If you want to stop this mob from spawning, you'd have to change the allowNormalSpawning from true to false.
There's a lot of different entities to change, so make sure to change the value from true to false on any mob you don't want to spawn. When you're done, you can save the config file, close it and reopen Minecraft.
Edit Bad Mobs Config for 1.7.10 – 1.12.2
Launch Minecraft at least once with Bad Mobs installed in your mods folder. That way, the configuration files can be created in your config folder, which is what we need to edit.
Inside your config folder, you should see a file called badmobs.cfg. Open this up with a text editor of your choice, whether it be Notepad, Wordpad or something else.
Look for the paragraph shown above, where you'll see the likes of example1, example2 etc. Move your cursor to the end of example1, and press backspace multiple times so that the line is empty, but you need to keep the empty spaces before it intact.
You can start entering the names of mobs that you don't want to spawn. You should do so in the following format minecraft:enderman but of course, replacing Enderman with a mob of your choice.
Repeat this process for the other example lines, replacing it with mobs of your choice. It's very important that you don't remove any of the indents beforehand, or add any afterwards. If you start a new line, you can press TAB on your keyboard to create a space that's the correct size. Alternatively, download my config files above.
Sours: https://www.minecraft-guides.com/minecraft-mods/bad-mobs/
I Downloaded the Worst Rated Mods so You Don't Have to...
Minecraft: 10 Best Mods For Improving The End
By Lee Terry Thair-White
ShareTweetEmail
Thanks to the ingenuity of the Minecraft modding community, certain mods exist that can better improve your experiences in the End.
Despite having amassed an active player base of more than 126 million worldwide, many players haven't officially "completed" Minecraft. It's largely accepted that you have "completed" the game upon defeating the Ender Dragon in the End dimension, although, being a sandbox game, this is completely optional. But what else is there to do in the End?
RELATED: 10 Things You Didn't Know About The Ender Dragon (& Her Egg)
Once you've defeated the Ender Dragon, you can find the Ender City using an Eye of Ender and obtain the Elytra, a pair of wings used to fly. It seems like the End simply exists to "complete" the game, rather than an area of its own for players to enjoy. If you're looking for that unique experience in the End, then look to the modding community, which has created a wide range of mods that focus on improving the player's experience in the End dimension.
10 Bad Wither No Cookie - Reloaded
This mod is a must-have for big servers, or for servers where everyone splits up to do their own things. Bad Wither No Cookie silences the world-wide broadcasts triggered by events such as facing a Wither or the Ender Dragon, plus other intrusive noises such as thunder and wandering traders. It can also be configured to silence any new noises added from other mods. Sometimes you just want to defeat the Ender Dragon in peace, without announcing your fight to the whole server, and that's where this mod comes in handy.
9 Progressive Bosses
Progressive Bosses adds a scaling difficulty to the end-game content in Minecraft, increasing the difficulty of Wither and End Dragon fights each time the player defeats them. This can also work in multiplayer, with the difficulty of the boss being scaled to the average of all players nearby.
RELATED: Minecraft: How To Defeat The Wither
This mod gives both the Wither and End Dragon new abilities with each level increase, as well as increased stats. For example, in the second fight, the Wither will be able to summon Wither Minions, or Wither Skeletons, which will attack any nearby living entities.
8 Pomarf's Dimensional Ores
Pomarf's Dimensional Ores adds all the vanilla ores, like iron, redstone, and diamond, to both the Nether and End dimensions and adds four brand new ores to each dimension. There's not much more to do in the End after defeating the Ender Dragon and obtaining an Elytra, so this mod adds a bit more playability to the end, without straying too far from the traditional Minecraft experience. With the addition of the new ores, players can also create new tools, weapons, and armor that scale to be stronger than any vanilla ores.
7 The Endergetic Expansion
A work-in-progress mod from Team Abnormal, The Endergetic Expansion aims to expand upon the existing theme of the End dimension, adding new biomes and creatures to improve upon the environment. So far, the Poise Forest is the most notable feature, which can sometimes be found on the outer edges of the End, adding a new biome to explore, including passive mobs such as the Booflo, a new creature to be tamed, and the Puff Bug. This mod also adds a bunch of new blocks to build with, including a new wood type and brick type, alongside some new plants and flowers.
6 BetterEnd
BetterEnd adds more than 10 new biomes to the End dimension, each with unique blocks and stunning visuals. From the Blossoming Spires filled with Silk Moths to the Sulphur Springs in which the glowing End Fish can be found, these new environments will have you wandering the End for hours just to take in the view. But watch out for the Shadow Walkers known to slowly stalk players in the Shadow Forest. With so many new biomes, filled with new blocks, flora, and fauna, there's so much more to explore in the End.
5 The Outer End
The Outer End mod adds two new biomes, the Azure Forest and the Crystal Crag, and multiple new structures and mobs. Players can explore the Catacombs, guarded by the Entombed, or journey through the End Tower, guarded by Purpur Golems, and underneath it, through a labyrinth of loot and swarms of hostile Himmelites. Both structures can contain some of the best loot, with the Elytra appearing rarely in the End Tower's labyrinths. Luckily, this mod is compatible with both The Endergetic Expansion and BetterEnd, so you can combine all three if you really want to dive into the End dimension.
4 End Remastered
The End Remastered mod is all about changing the way players can find and access the End Portal. The first, and most significant, change is the separation of the vanilla Ender Eyes into 11 unique eyes that can only be obtained by exploring, mining, and fighting your way through the Overworld. Some Eyes can be found in certain biomes, whilst others can only be obtained by defeating specific creatures, such as the Wither or Evoker. There are also two new, massive, structures that can house the End Portal; the End Castle can be found using a map and is a beautifully generated castle containing a Portal Room, and The Dungeon is a procedurally generated dungeon, found by throwing and following one of the Eyes (which do not smash like vanilla Ender Eyes), containing 9 puzzle rooms, of which 3 must be completed to find the Portal Room.
3 The End Expansion Mod 2
The End Expansion Mod 2 looks to expand upon the existing idea of the End dimension, with a whole new host of hostile mobs being added, such as the new types of Enderman and Ender Serpents.
RELATED: Minecraft: 10 Enderman Memes That Are Hilariously Funny
New structures can also be found across the end, such as Ender Villager Houses, Destroyed Ender Ships, and Purpur Towers. On top of that, new Ender tools can be crafted by upgrading existing Netherite tools with Ender Gems, and new armor can be crafted using Eyes of Ender.
2 The Desertic End
The Desertic End largely builds upon the vanilla End dimension concept of a desert-type landscape, with the exceptions of the Warped Forest and Flowering Hills. Various plants, such as End Delium and Ender Cactus, add some vegetation to the desert, with the Ender Cactus flowers acting as a cure for levitation which is caused by the End Delium. Players can also grow a new plant called the Ender Fern which can be crafted to receive Ender Pearls. Additionally, this mod adds Enderite, a new ore with teleportation properties, but be careful when gathering this ore as, when mined, it will cause the player to float until destroyed.
1 End: Reborn
Another mod that sticks closely to the vanilla style of the End dimension, End: Reborn reworks the overall look of the End, filling it with more foliage and different blocks, whilst adding new structures such as the End Crypt and the End Shipwreck, in which you can find some great loot. Alongside these new places to explore, this mod adds the ability to use a Purpur Navigator to find the End City, rather than an Eye of Ender that has a chance to break, and the ability to access your Ender Chest from anywhere with an Ender Transmitter. Like many other End-themed mods, this mod also includes new materials to craft tools, weapons, and armor from, but its most notable feature is the Ender Boots that will teleport the wearer a short distance upon taking damage.
NEXT: Minecraft: How To Conquer An End City
ShareTweetEmail
Cynthia's Return Is More Proof That Pokemon Journeys Is Ash's Final Victory Lap
Cynthia's return is yet another clue to add to the mounting pile of evidence that suggests Ash is preparing to make his exit from the Pokemon anime.
Read Next
About The Author
Lee Terry Thair-White (7 Articles Published)More From Lee Terry Thair-White
Sours: https://www.thegamer.com/minecraft-end-best-mods/
Mods bad minecraft
Minecraft in itself gives you a chance to have infinitely random experiences with each new world being different from any that has existed before. Mods in the game take that experience to the next level. Minecraft mods can help turn your unexciting Minecraft experience into a fun time. With thousands of mods to choose from, we have compiled a list of some of the best Minecraft mods you can use to make your time in this popular sandbox game more enjoyable. The list below has been divided into various categories, including mods for a performance boost, mods to add Zombies and Pokemon to your world, and much more. So without further ado, let's start listing the 25 best Minecraft mods for you in 2021.
Best Minecraft Mods You Should Try in 2021
The mods we have selected for you are working on different versions of the game. As per our internal testing, most of these mods work with Minecraft versions 1.16.5 and 1.17.1. But you can always check the download pages of each mod to figure out if they support your version of the game or not. We have shared the download links and in-game screenshots alongside the overview of each mod down below.
Note: It is important to mention that the mods will be limited to the Minecraft Java Edition because of the difference between Minecraft Java and Bedrock Edition. The latter does not have Minecraft mod support if you were unaware.
What are Minecraft Mods and How to Install Them?
Minecraft Mods are add-ons or game-level changes to the existing Minecraft gameplay experience. These are community-based and free, created by editing the easily available source code of the Java version of the game. You will find thousands of Minecraft mods online with dedicated updates even after years of release. As for installing them, you need to create a folder called 'Mods' in your Minecraft directory and place the downloaded mods in it.
Many mods will also require you to set up Minecraft Forge for them to function properly. Lucky for you, we have already compiled an in-depth guide on how to download and install Forge to use Minecraft Mods. With that said, let's move on to the list of Minecraft mods that we have divided into separate categories to make it easier for you to explore.
Tools & Optimisations for Minecraft
These mods are focused on improving the overall Minecraft gameplay experience without making you feel like you are playing an entirely different game.
1. JourneyMap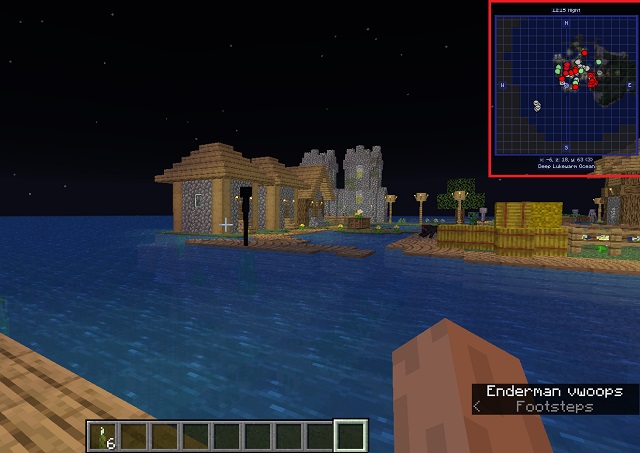 Minecraft players share the struggle when it comes to unreliable maps and a complete absence of a HUD-based mini-map. This mod aims to tackle that with a detailed but small map placed in the corner of your screen. You can not only see the world and where you are heading but see the entities, including mobs present in the area as well. It also shows the name of biomes, which can be especially handy if you are new to the game.
Download JourneyMap
2. OptiFine
One of the most popular mods of all time, OptiFine is treasured by low-end PC gamers. It not only enhances your graphics in the game but also greatly helps in improving the performance with custom settings options. We have an in-depth article dedicated to getting started with OptiFine. It will teach you how to get the best FPS on Minecraft using OptiFine.
Download OptiFine
3. Quark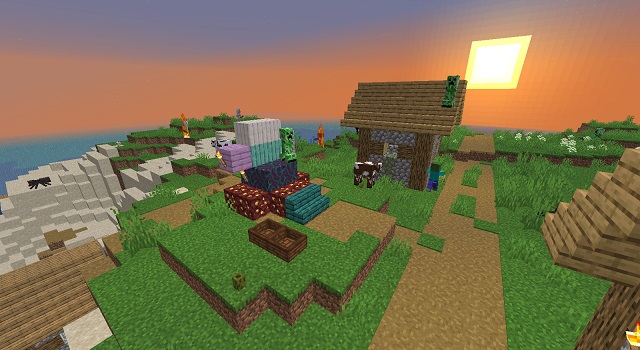 Essentially, the Quark mod aims to provide as many gameplay enhancements as possible without compromising the performance even a bit when compared with the non-modded Minecraft game. This mod offers a boatload of features, including improved mount HUD, inventory search, item sharing, camera mode, and more. You can read about all the features on their official website. From what we tested, it certainly delivers on that promise. Though, it's a dependent mod that additionally requires you to install AutoRegLib mod as well.
Download Quark Mod
Download AutoRegLib
4. Immersive Portals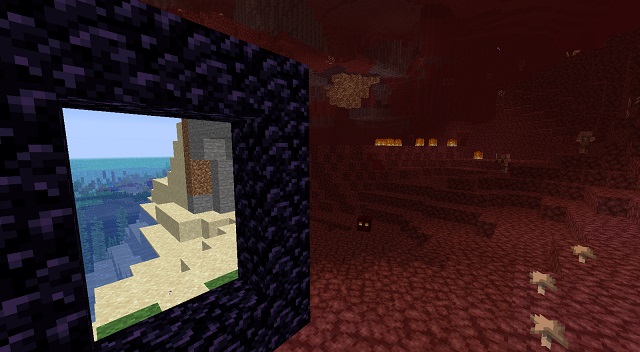 This mod is comparatively simpler than the others in this category but still useful for players who are getting started with making portals in Minecraft. As the name suggests, the Immersive Portals mod makes all the portals in Minecraft see-through. You still won't be able to hear sounds from the other end until you enter the portal, but you won't have to worry about stepping into your death (or a wrong location) each time you enter a nether portal. Also, as a bonus, there's no waiting time when you enter the portal, and you land directly on the linked map location.
Download Immersive Portals Mod
5. WorldEdit Minecraft Mod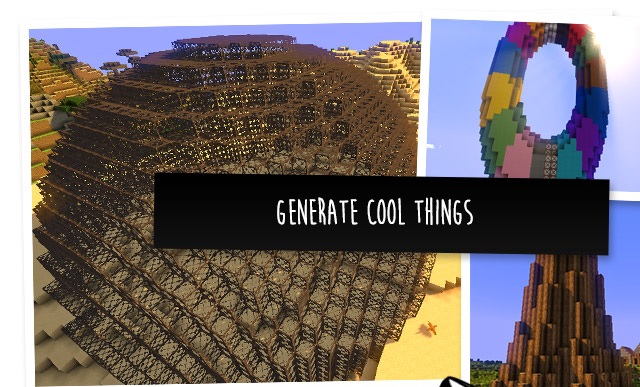 This mod is technically a map-builder but what makes it unique is that it runs inside the game. Yeah, you can use mathematical equations, shared construction files, and even 3D brushes to build and customize your in-game structures. The WorldEdit mod is the dream of any Minecraft player who is into custom structures. Since I am not the best builder, you can see an official screenshot to get you an idea of what WorldEdit can do for you.
Download WorldEdit Minecraft Mod
Entity Based Minecraft Mods
These Minecraft mods are focused on changing how entities in Minecraft look, spawn, and act. For those unaware, entities are any dynamic objects in-game other than the main character. These include villagers, mobs, and even animals.
6. LotsOMobs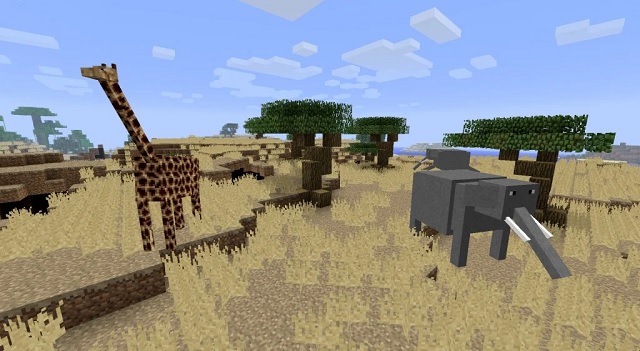 From elephants and giraffes to cavemen, this Minecraft mod adds more than 45 new mobs to the game. All the mobs have unique drops that you can use to create new in-game items such as fur armor. It also gives you a ton of new blocks and matching items to make the experience feel more natural to the game. Unfortunately, this is an old mod and will only work if you run it on Minecraft 1.9.0 or lower.
Download LotsOMobs Mod
7. Animal Bikes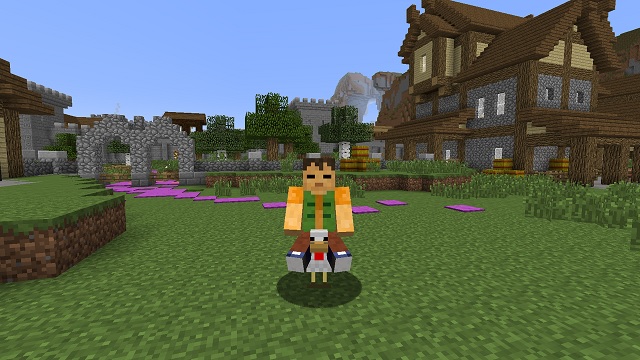 Yes, this mod does exactly what the name suggests. It takes your ability to ride horses in-game and applies it to almost every other mob you have in Minecraft. From an ender dragon to a creeper, there are several creatures waiting for you to make them your Animal bikes. You can use this mod on Minecraft version 1.14.4 (came out in 2020) or later.
Download Animal Bikes Mod
8. Pandoras Creatures
If having realistic-looking animals in Minecraft isn't your thing, this mod is exactly what you need to change those entities. This mod offers a small bunch of well-designed mystical creatures that you can interact with. The variety isn't the attractive part of this mod, but the quality certainly lives up to our expectations.
DownloadPandoras Creatures
9. More Dogs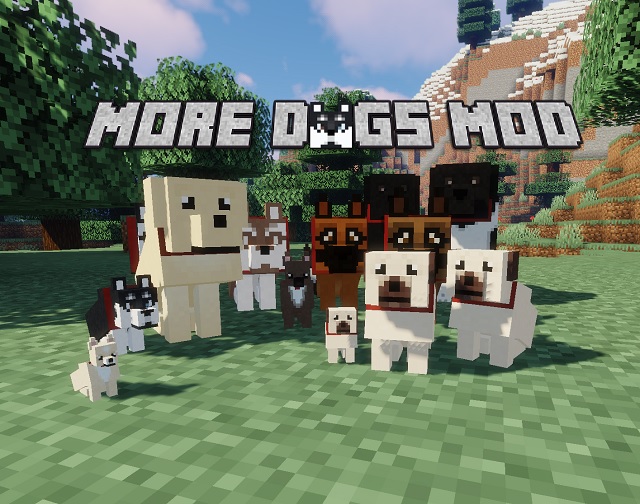 As you can guess from the name, the More Dogs mod adds a variety of dogs to the game. Minecraft isn't known for the types of dogs it has by default, but if you are a dog lover, this simple mod will make your overall Minecraft experience way more fun, cute, and wholesome.
Download More Dogs Minecraft Mod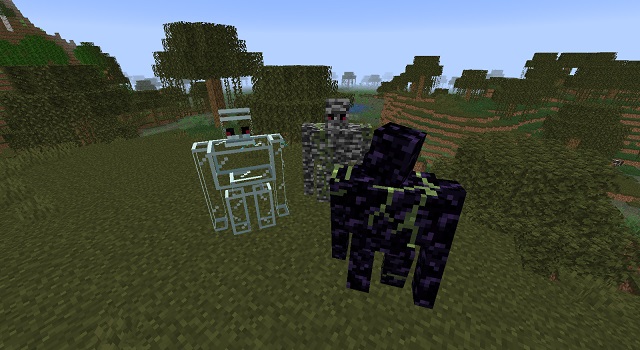 Who doesn't love Iron Golems? They are the most powerful friendly entity in Minecraft and protect villagers and even you at some point in the game. This nifty mod enables us to make Golem beyond iron blocks. You get a choice from among 40 golems, ranging from glass to diamond. So yeah, you can make even more powerful Golems to safeguard you in Minecraft.
Download Extra Golems Mod
World-Changing Minecraft Mods
These Minecraft mods are heavy, serious, and powerful. They change the way you experience and play Minecraft. World-changing mods are also the most fun ones, and we suggest you use at least a mid-range PC to avoid any lags and stutters in the gameplay.
11. Pixelmon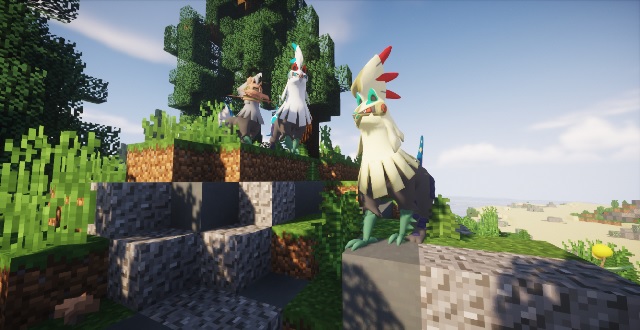 The Pixelmon mod brings all the Pokemon games into your Minecraft world. The Pokemon don't have the Minecraft drawing style, but they still feel the same. You can go on adventures, capture Pokemon, or visit iconic locations like the Pokemon center in the anime or game. The Pixelmon mod offers the whole experience of a pokemon world in Minecraft.
Download Pixelmon
12. Decimation: Zombie Apocalypse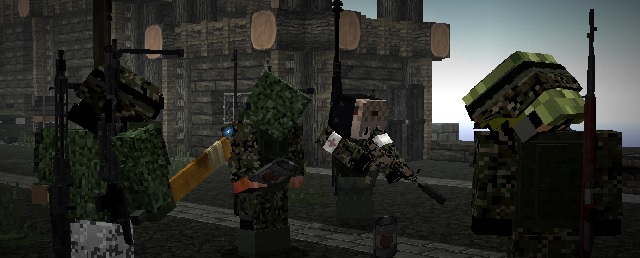 No list of mods is complete without zombies, and Minecraft is no exception. This zombie mod brings a realistic zombie survival experience with a resident evil like city, blood & gore, and a huge amount of hungry zombies to Minecraft. You have to work with other survivors and not only survive but also find a cure to end the zombie apocalypse. This immersive experience makes Decimation one of the most well-crafted Minecraft mods of all time.
Download Decimation: Zombie Apocalypse Mod
13. Fossils and Archeology Revival
The aesthetics of Minecraft always make you want to have Dinosaurs and ancient creatures in it. Well, this mod does that and a lot more. You get 50 prehistoric creatures in a single mod in an archeological world, where mining trips quickly become archaeological studies with beautiful rare blocks. It's one of the limited mods that can keep up with Minecraft updates and is still planning to stay up-to-date, so don't forget to try it out.
Download Fossils and Archeology Revival Mod
14. The Lost Cities
Lost Cities is an aesthetic Minecraft mod that takes you to a post-apocalypse world with abandoned buildings and structures. Instead of a normal Minecraft world, you get to play in a well-crafted modern city with everything from a subway system to tunnels with ample loot. It has a lot of The Last of Us vibes but without the hoard of zombies trying to kill you.
Download The Lost Cities Mod
15. The Aether II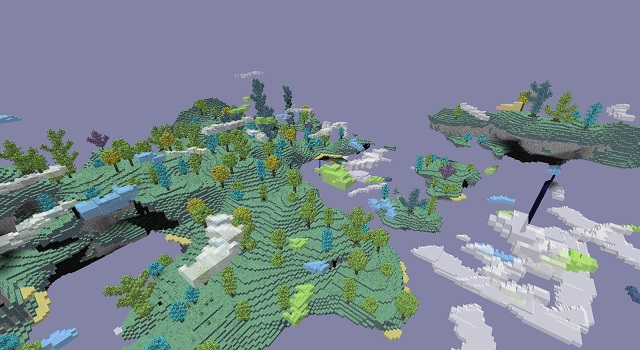 This Minecraft mod is a direct sequel to the extremely popular Aether mod. Once installed, the game starts in a world based in clouds with fantasy creatures and mysterious structures surrounding you. We get multiple new biomes, types of equipment, creatures, and overall interaction system within the game. If you are tired of exploring the same old Minecraft biomes and structures, this would surely be a good change of pace for you.
Download The Aether II
Gameplay Changing Minecraft Mods
The following mods don't add new mobs or locations to this popular sandbox game. But instead, these mods make changes to the core gameplay rules of Minecraft. They are aimed to experiment with the way we perceive and play the game.
16. Physics Mod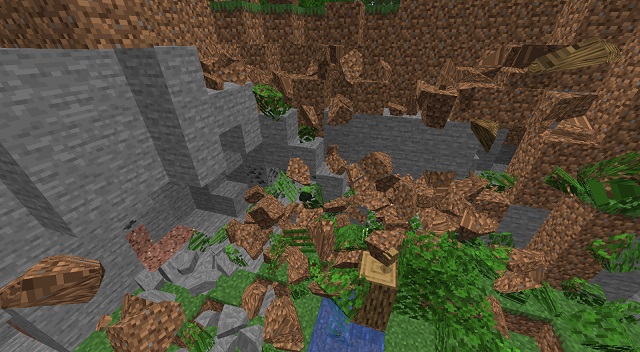 This destructive mod implements real-life physics to the blocky rules of Minecraft. The literal physics mostly applies to the way we break blocks, and it straight-up looks bizarre if you have been playing the game for a long time. For instance – when you break a wood block, you won't see a small block you can pick up. Instead, you will see different shaped chunks of wood scattered around.
Download Physics Mod
17. BiblioCraft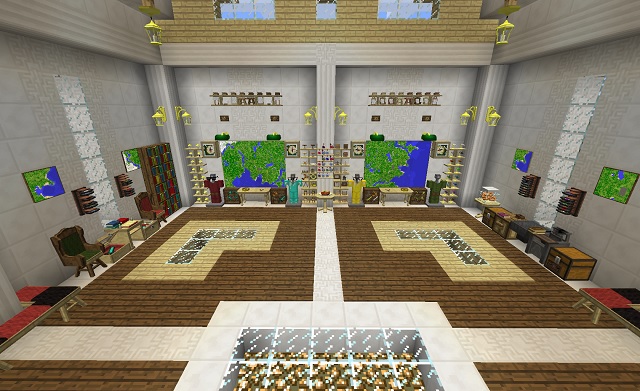 If the physics mod seems a little too much for your taste, BiblioCraft is the cutest little mod that you will try on Minecraft. It started as a way of creating bookshelves in Minecraft homes but has essentially turned into an ultimate furniture and storage mod. You can use this mod to decorate your house and take it to the next level. Who's going to build the Antilla in Minecraft then?
Download BiblioCraft
18. Biospheres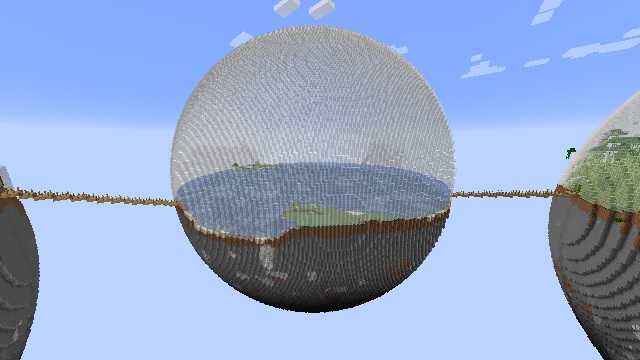 Continuing the spirit of breaking how we perceive the Minecraft world, we have the Biospheres mod. It doesn't essentially change the way you play the game in any sense, but it does provide us with somewhat spherical biomes. If you are a Minecraft player, you know spheres are a rare occurrence in the Minecraft world. But the mod looks appealing with planets like Biomes connected by bridges.
Download Biospheres Mod
19. Global GameRules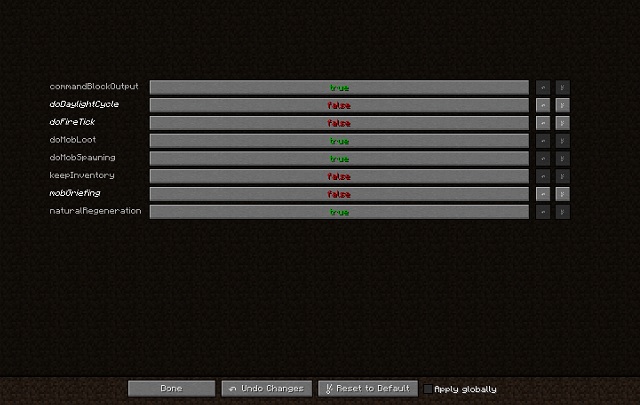 As the name suggests, this Minecraft mod allows us to set gameplay rules that are applied to the world when it's loaded. It enables you to enter a more controlled world if you want to play Minecraft in hardcore or survival mod. We don't get anything new in terms of gameplay but the Global GameRules mod enables us to change the existing game rules that are inaccessible in general. Some of these changes are health regeneration, the ability to avoid mobs and getting burnt by fire, and much more in Minecraft.
Download Global GameRules
20. No Cubes Mod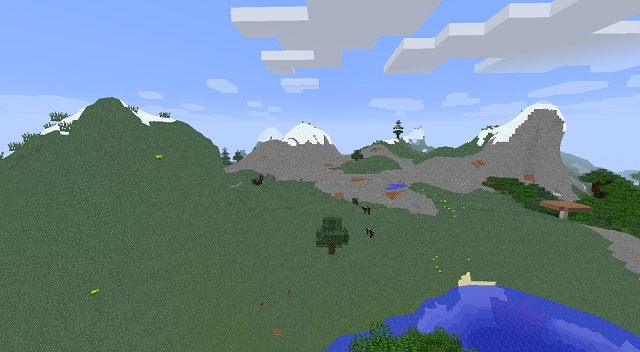 This is the most mind-bending game-breaking Minecraft mod that I have come across. Minecraft is known for its block-based gameplay, and well, this mod smoothens it all out. Yeah, no blocks anymore. As a player, you refuse to believe the game you are playing is Minecraft once you install this mod. The game doesn't look bad, but it certainly doesn't feel like the game you love in any sense. You can break your perspective by trying it from the link below.
Download No Cubes Mod
Other Popular Minecraft Mods
The final category here contains the best Minecraft mods that are too unique to fit into any other category. No one imagines or especially demands these mods, but they exist to make you question if this was even possible.
21. EyeMod Mod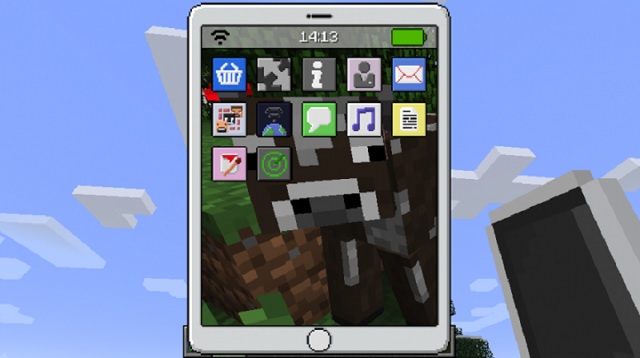 As you might have already guessed, this Minecraft mod gives you a phone inside the game. Much like GTA 5's in-game phone, it gives you some essential features and a whole new way to interact with your world. Rather than a phone, the actual in-game item looks more like a tablet, but it still gets the work done.
Download EyeMod Minecraft Mod
22. Portal Blocks
If you are a veteran in the gaming world, you might remember the popular game Portal. Even if you don't, it had a simple concept, where you could create connected portals anywhere in the game. This mod gives you that same option by adding a portal gun and a whole Portal 2 themed environment to Minecraft. Due to Minecraft's game rules, Portal Blocks is limited in terms of functionality, but it is a fun mod to try.
Download Portal Blocks
23. Computer Craft
This mod is entirely focused on bringing coding to the world of Minecraft. You might need some coding skills to make the most out of it, but even if you don't, using a PC inside Minecraft feels nothing less than magic. You can download the Computer Craft mod from the link below.
Download Computer Craft Mod
24. Vehicle Mod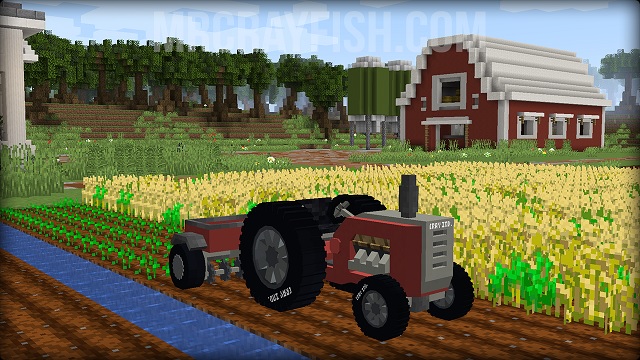 There is not much to explain in this mod. You get a faster way to travel in the world of Minecraft, which players have been asking to bring for years. The Vehicle mod adds in-game vehicles in a variety of shapes, colors, and form factors. Beyond traveling, they also help you farm, transport goods, and soar to the skies above. There's also a fuel system to make it feel more realistic.
Download MrCrayfish'sVehicle Mod
25. Instant Massive Structures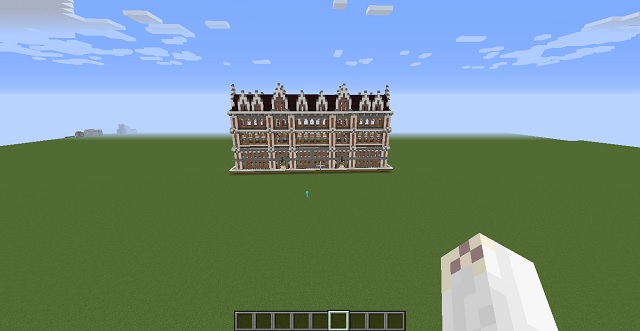 This mod is a personal favorite of mine because of the endless ways you can use it. Using this Minecraft mod gives you the ability to make massive real-life structures instantly inside the game. The best part is that you get over 800 structures to choose from. The mod runs on an older 1.12.2 version of Minecraft but you can use the worlds from that version in the newer game versions too. The structures use only the default rules and blocks to function.
Download Instant Massive Structures Mod
Installing the Best Minecraft Mods to Elevate Your Experience
You are now ready to install these free mods and change the way you experience Minecraft completely. Do share with us which mod is your favorite or which mod do you want us to install right away in the comments below. We will also be available to help if you face any trouble while installing the mods in your game. If you want to try a toned-down non-modded version of the game, you can play Minecraft in your browser. As for fans who want to try something entirely new but Minecraft style, you can one of the alternatives to Minecraft like Roblox.
Sours: https://beebom.com/best-minecraft-mods/
I Played Bad Minecraft
This article needs cleanup to comply with the style guide.
[discuss
]
Please help improve this page. The talk page may contain suggestions.
Reason: inappropiate pronouns should be reworded and some parts of the article should be moved to a tutorial page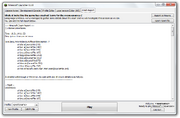 Crashes are unexpected shutdowns of Minecraft. When Minecraft crashes, it typically closes immediately, though it may show an error report marking the location of the exception that caused the crash. A sign of a server crash is a "Saving chunks" or "Shutting down internal server" screen. The most common cause of crashes are mods, preexisting bugs, and updates. Attempting to modify the files of Minecraft or individual worlds, even with advanced editors, can also cause crashes. Crashes can also be caused by bugs in the game. Crashes can sometimes cause the corruption of save files if the player is not careful enough. Because of this, it is highly recommended that the player regularly keeps a copy of their save folder (located in the %appdata%\.minecraft directory on Windows systems or ~/.minecraft/ in linux), to reduce their losses should a world become corrupted as a result of a crash. Large TNT explosions can also cause crashes.
Crashes used to have an error report screen, but that feature has been removed. Yet sometimes, an error report can quickly flash right before the game closes. Minecraft occasionally does this on startup, except it stays there, not allowing the player to play the game.
A tutorial exists for obtaining the report file generated by the game when it crashes so that the player can share it for diagnosis.
Causes of crashes[]
Mods[]
See also: ftb:Troubleshooting
Crashes can easily occur due to mod conflicts, wrong versions of mods (for example, many of the 1.7.10 mods are not compatible in Java Edition 1.13 due to the data values conflicts due to the Flattening, but almost all mods for Java Edition 1.16.2, 1.16.3 and 1.16.4 can run on Java Edition 1.16.5, as Java Edition 1.16.3 and 1.16.5 are minor updates with just minor fixes), or buggy mods (particularly among Fabric mods). If the player has installed several mods, if using the older launcher, they should try renaming the "bin" directory in the Minecraft folder, then start Minecraft (Or replace the current minecraft.jar with a clean minecraft.jar from either a clean backup, download a jar file from the internet or force update the game should cause the player to get a new clean jar file.). A new bin folder is created. The player should remove the problematic mod. Now, the player should install each mod they desire one at a time, starting Minecraft and assuring that there is no crashing for each mod. Once the crashing starts occurring again, the last mod installed is likely the problem, or another mod simply does not work with it. Either way, the player should either remove the mod they determined to be causing problems, or repeat the first step, except without installing the problematic mod.
Hardware problems[]
Problems with the player's computer's hardware can also easily cause crashing, or buggy behavior. If this is the case, it's likely the they are experiencing problems in other, unrelated games as well. If Minecraft is the only game experiencing issues, then it is unlikely to be a hardware issue.
If the player is indeed experiencing crashing or visual corruption in other games as well, the first thing to check is whether their computer's vents are blocked, or clogged with dust (which inevitably occurs over time). Dust or vent/fan blockages can cause overheating, which may not be severe enough to cause problems during normal computer use, but during more intensive activities such as gaming, the temperature may spike. If the player is using a laptop, they should make sure any vents on its sides or bottom are neither blocked or filled with dust. For a desktop, the player should check obvious fan locations for blockages, and use a flashlight to peer inside the case. If there is much dust, or any internal fans appear to not be spinning, the player should either take their computer to a repair shop for a "tune-up" (mention that the player suspects there is overheating problems), or read a few tutorials online related to computer cleaning (note that a computer's internal components are highly sensitive to damage from ESD (Electrostatic Discharge, basically a static shock), so it would not be difficult for the player to accidentally damage their computer).
If the player's computer appears to not be suffering from overheating related issues, another cause of game crashing could be a damaged component, especially either the RAM, or the video card. If the problem just recently started occurring, and the player has not recently installed any major updates or software such as Anti-Virus suites, the player may want to take their computer to a shop to have it tested, or they can do it yourself using tools such as "memtest86+", "Furmark", etc. (however these tools tend to require a medium to large amount of computer knowledge).
It should be noted that even if the player's computer meets the basic system requirements of Minecraft, there is a possibility that their hardware might have unique issues, one being the use of Intel GMA (Graphics Media Accelerator) cards, known for issues with OpenGL. However, if the player's graphics card is one of those cards, they can still play 1.7.10 and 1.8.
Software[]
Though unlikely, unrelated software can conceivably cause crashing in games such as Minecraft. The most likely candidates are User Account Control (Windows Vista, 7 and 8), Gatekeeper (Mac OS X Lion and Mountain Lion), various types of Anti-Malware (i.e. Anti-Virus, Anti-Spyware, Firewall, etc.) software, which could either consume enough system resources to choke other resource hungry applications, or could cause issues as a result of their "Heuristic" real-time scanning. If the player recently installed an application such as AV software, they should try disabling it. If Minecraft stops crashing, they know the AV program is the perpetrator. The player can either remove it (not recommended for security reasons), or configure it to ignore Minecraft's folder and executable. If they are unsure of how to, they can look up some tutorials on the Internet. Alternatively, system processes can often consume a lot of resources (most infamously Windows 10). If there is too much system overhead, there is really not much one can do besides attempting to disable those processes or switch operating systems. Another certain crash is to set all the files in the .minecraft folder to read-only.
JVM Crashes[]
JVM Crashes are crashes where the Java Virtual Machine, the program that runs Minecraft itself, crashes. These are almost always caused by doing large, potentially groundbreaking operations like moving many blocks, exploding a lot of TNT, or other memory or processor intensive activities, and additionally almost always are caused by running out of RAM. These are unique in that the crash message is quite different, having come from the JVM's crash handler rather than Minecraft's handler. Because of this, they do not generate a crash report in the .minecraft/crash-reports directly, but rather one directly in the .minecraft folder, with name "hs_err_pid<PID>.log" where <PID> is the Process ID of the JVM at that time. Additionally, these crashes cannot be stopped by mods that "catch" Minecraft crashes, like VanillaFix.
For certain development versions, certain blocks with extreme data values such as overgrown cocoa, wheat, melon and pumpkin stems may cause the game to crash due to the invalid block rendering, particularly development versions from 13w02a to 13w09c and from 14w10a to 14w21b.
In Java Edition 20w14∞, certain biomes in the generated dimensions may cause the game to crash, depends on the seed, due to exceptions in Java, such as "bound must be positive" and "Exception generating new chunk". However, they are exceptionally rare to find the crashing biomes, since most dimensions do not contain the crashing biomes generated near the center of the world.
Manual initialization[]
The player can also trigger a crash manually by holding and . This is used for debugging, and is the safest possible crash. On some computers, pressing key enables the F3 key.
Ticking entities[]
Rarely, a ticking entity may also crash the game, either vanilla (particularly in certain development versions) or modded.
Ticking block entities[]
The rarest type of crashing possible is that of a ticking block entity. However, ticking block entities from buggy mods are very easy and common.
Old versions[]
Minecraft Indev might trigger a NullPointerException when generating a new world of the size "huge". Some versions might not start and throw an exception instantly.
Server-caused crashes[]
It is very rare but possible for a server to cause the client to crash (particularly some of the buggy mods). Crashing a server using the world height limit crashes both the server and client. If a server has too much lag, it might randomly crash the client multiple times until it stops lagging.
[]
Witty comments are phrases shown at the top of crash reports generated using the process shown earlier in this article. They do not show on crash screens and are similar in nature to splashes. They can be changed by changing the player's minecraft.jar .class files. They are selected using the system's time in nanoseconds.
Splash text
Explanation
Who set us up the TNT?
A snowclone of "Somebody set up us the bomb" from a badly translated English version of the 1991 game Zero Wing.
Everything's going to plan. No, really, that was supposed to happen.
Uh... Did I do that?
Oops.
Why did you do that?
I feel sad now :(
My bad.
I'm sorry, Dave.
Part of the famous quote "I'm sorry, Dave. I'm afraid I can't do that." from the movie 2001: A Space Odyssey.
I let you down. Sorry :(
On the bright side, I bought you a teddy bear!
Daisy, daisy...
A second reference to the movie 2001: A Space Odyssey, where the Hal 9000 sings a song as Dave tries to turn him off.
Oh - I know what I did wrong!
A cross-reference to the "I just don't know what went wrong :(" witty comment.
Hey, that tickles! Hehehe!
I blame Dinnerbone.
Dinnerbone is a Mojangsta.
You should try our sister game, Minceraft!
References the easter egg in Minecraft where the title screen has a 1 in 10,000 chance to rearrange the C and E in the title.
Don't be sad. I'll do better next time, I promise!
Don't be sad, have a hug! <3
I just don't know what went wrong :(
A cross-reference to the "Oh - I know what I did wrong!" witty comment.
Shall we play a game?
Quote from the movie WarGames when the character David Lightman first contacts the computer Joshua.
Quite honestly, I wouldn't worry myself about that.
Another quote from from 2001: A Space Odyssey. HAL's answer to Frank: asking: Well of course I know all the wonderful achievements of the 9000 series, but, uh, are you certain there has never been any case of even the most insignificant computer error?
I bet Cylons wouldn't have this problem.
The Cylons are a recurring part of the show Battlestar Galactica.
Sorry :(
Surprise! Haha. Well, this is awkward.
Would you like a cupcake?
Probably a reference to Girl Scouts.
Hi. I'm Minecraft, and I'm a crashaholic.
The common introduction in Alcoholic's Anonymous meetings (and other addiction help groups) where the current speaker starts off with "Hi, my name is _____ and I'm an alcoholic".
Ooh. Shiny.
The game Terraria features an achivement called "Ooh, shiny!" in which the player mines their first ore.
This doesn't make any sense!
Why is it breaking :(
Don't do that.
Ouch. That hurt :(
You're mean.
This was one of the quotes from the Java Edition 2.0 April fool's joke.
This is a token for 1 free hug. Redeem at your nearest Mojangsta: [~~HUG~~]
There are four lights!
From Season 6, Episode 11 of the show Star Trek: The Next Generation where Capt. Jean-Luc Picard is captured and tortured by Cardassians, which itself is a reference to a torture scene in 1984 by George Orwell.
But it works on my machine.
An excuse some developers use when a bug occurs, claiming that it works on their machine but fails on someone else's.
Witty comment unavailable :(
Displayed if a comment fails to get selected, which is rare due to the way the comments are coded. Ironically, this is a witty comment.
Hopper[]
This article is about the crash report system. For the redstone component, see Hopper.
Hopper is non-publicly viewable crash report utility, operated by Mojang, which manages, stores and maintains crash reports, originally exclusively for technical Minecraft troubleshooting. In 2019, its help articles were moved to https://minecrafthopper.net and all Hopper pages are redirected to the new site. This new site is maintained by the community and contributions are welcome in its repository on GitHub.
History[]
| | |
| --- | --- |
| July 10, 2013 | Hopper is launched. |
| July 14, 2013 | Hopper implemented to the Minecraft launcher. |
| July 15, 2013 | Hopper submits crash reports to the database. |
| November 11, 2019 | Hopper articles are moved to MinecraftHopper.net and starts accepting pull requests on GitHub. |
References[]
Sours: https://minecraft.fandom.com/wiki/Crash
You will also like:
Change your URL OP.
thanks i will take that under advisement.
Hey you didn't post my mod yet.
There's a good chance your mod is buried in my inbox, or that it has been queued and we're just waiting for it to post. at any given point in time there are 100-200 submissions/ asks in my inbox and about 60-100 posts in the queue. also, the blog is rapidly growing and that number is steadily increasing, so by the time you read this those estimates might be much higher. please be patient. || if it's been awhile and you're really convinced that i missed your mod, feel free to resubmit. || also: your mod has a 99% higher chance of being posted quickly if it follows the "a mod that x" or "a mod which x" format.
That mod actually exists!
first: just because it exists, doesn't mean it's not shitty. || second: please send me a link to the mod if you know where it lives. a lot of people who've read about it here might like to know it actually exists. || if you personally code/ have already coded a mod that's on the blog, please let me know and i will share your mod. please do not take credit for code that isn't yours.
That last mod wasn't shitty at all? What's going on?
i post a lot of non-shitty submissions, and submissions that range in shittiness. usually the ones that are good ideas are tagged "not shitty at all". i also have a tag for when they're "not that shitty". || also have you seen the blog that inspired this one? @shitty-car-mods-daily posts a ton of wonderful car mods that range from quite shitty to not at all shitty. we're keeping with that tradition here.
Sours: https://shittyminecraftmodsdaily.tumblr.com/
228
229
230
231
232