Benefits of a GrowSpan Greenhouse
GrowSpan constructs greenhouses using only the most-durable and dependable materials. Experienced installation crews properly install any greenhouse, ensuring that each structure has a long life.
GrowSpan has GROWING EXPERTS on staff
WORK WITH A GREENHOUSE SPECIALIST
TO GET YOUR IDEAL GREENHOUSE STRUCTURE 
LEARN MORE
A GrowSpan Greenhouse Specialist will work with you every step of the way, so you get the exact greenhouse solution you're looking for on time and on budget.
GrowSpan has GROWING EXPERTS on staff
WORK WITH A GREENHOUSE SPECIALIST
TO GET YOUR IDEAL GREENHOUSE STRUCTURE 
LEARN MORE
GrowSpan can get your greenhouse up and running quickly. GrowSpan manufactures in house, so each project is under GrowSpan's complete control. With in-house installation services, customers never have to worry about their project.
GrowSpan has GROWING EXPERTS on staff
WORK WITH A GREENHOUSE SPECIALIST
TO GET YOUR IDEAL GREENHOUSE STRUCTURE 
LEARN MORE
A GrowSpan greenhouse is environmentally friendly and can reduce any operation's energy consumption.
GrowSpan has GROWING EXPERTS on staff
WORK WITH A GREENHOUSE SPECIALIST
TO GET YOUR IDEAL GREENHOUSE STRUCTURE 
LEARN MORE
GrowSpan manufactures right here in America. Centrally located in Dyersville, Iowa, upon completion, greenhouses are able to be quickly shipped.
GrowSpan has GROWING EXPERTS on staff
WORK WITH A GREENHOUSE SPECIALIST
TO GET YOUR IDEAL GREENHOUSE STRUCTURE 
LEARN MORE
call now / request more information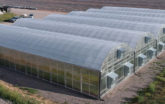 ---
There are a number of different ways to approach setting up a greenhouse. Many growers attempt to build without help, utilizing their own materials and manual labor, and end up with a grow space that is susceptible to weather and riddled with inefficiencies. That can lead to disaster, like a collapsed greenhouse that destroys crops […]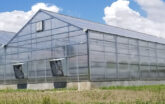 ---
Setember 9, 2021 Cannabis operations are difficult to get right, and the decision making involved in designing and installing a greenhouse can overwhelm even experienced growers. As the market gets more competitive, growers must find ways to gain an edge over competition and increase their bottom line. While there isn't one right answer to greenhouse […]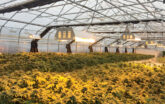 ---
February 10, 2021    Grow operations utilize many different tools and processes to ensure their crops thrive. With high end automation, expensive equipment and endless options available, it may be hard for growers to choose the right tools for their greenhouse. A good place to start is a basic system that will enhance their grow […]
Platinum Leaf Cultivation was looking to take advantage of the sun's natural light, but still maintain complete environmental control. They opted for a S2000 greenhouse, and have found that they can produce a superior product in the greenhouse compared to their indoor grow. To find out more, visit https://www.growspan.com/ad-cannabis-greenhouses-2/
The S1000 Commercial Greenhouse provides an exceptional year-round growing environment for operations looking to produce fruits and veggies 365 days a year. To find out more, visit https://www.growspan.com/ad-commercial-greenhouses-1/
Pagosa Therapeutics recently purchased on of GrowSpan's brand new Series 750 Commercial Greenhouses, and with new simplified, automated light deprivation system that comes with the structure, they were able to reduce their labor requirements. Find out more about the Series 750 here: https://www.growspan.com/ad-s750/
Liftreat has been taking advantage of GrowSpan's automated light deprivation system in their new Series 2000 Commercial Greenhouse. To find out more about GrowSpan's light deprivation growing structures, visit https://www.growspan.com/ad-cannabis-greenhouses-2/
GrowSpan is the go-to structure manufacturer for growers looking to produce a premium hemp product. To find out more, visit https://www.growspan.com/ad-cannabis-greenhouses-2/
Purple Mountain Farm needed a greenhouse that would stand up to harsh Colorado weather, which can throw winds of up to 90 mph. They chose a Series 2000 Commercial Greenhouse, which includes ultra-durable polycarbonate cladding, and they have been growing 365 days a year for nearly four years now. To find out more, visit https://www.growspan.com/ad-cannabis-greenhouses-2/
Sours: https://www.growspan.com/
Hobby
Hobby Greenhouses – GrowSpan has the Ideal Backyard Greenhouse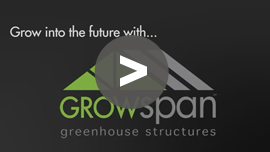 GrowSpan Greenhouse Structures
While Growers Supply has extensive experience with commercial and professional growers, the company hasn't forgotten about the hobby grower. Growers Supply loves the passion and enthusiasm that the hobbyist brings, and there are a number of backyard greenhouse options that can get anybody growing like a pro. Growers Supply has a functional GrowSpan greenhouse solution that also looks great, no matter where it is constructed, and with the highest-quality greenhouses, many professionals have a GrowSpan hobby greenhouse in their backyard.
The GrowSpan Backyard Greenhouse Advantage includes:
Low cost per sq. ft.
Structures of any size
Solutions for any budget
Beautiful designs

Fast delivery
Professional quality
Complete environmental control
The Perfect Hobby Greenhouse
A greenhouse specialist can help any hobby grower get a greenhouse that is ideal for the growing they're looking to pursue and also for the space that they have. Growers Supply specialists are growing enthusiasts themselves and understand exactly what the hobbyist or backyard grower is looking for, while also keeping budget in mind.
Greenhouse specialists can also help customers navigate Growers Supply's extensive product offerings. As a one-stop greenhouse shop, Growers Supply can help the hobbyist create a growing structure that best suits their needs. When working with Growers Supply, customers will find all the growing products and accessories they need, including benches, growing systems, media, heaters, coolers, fans and much more.
There's no need to wait on that backyard greenhouse any longer. GrowSpan has a hobby greenhouse solution for every grower. Call or visit GrowSpan's Hobby Greenhouse Page to buy now.
Sours: https://www.growspan.com/growspan-industries/hobby/
GrowSpan Greenhouse Structures
Simple.
You told us what you wanted. We listened. Emerald Harvest was the fruit of thousands of conversations with growers just like you. You told us that, although there were many nutrient brands on the market, none seemed to really get at the basics of what growers wanted. You love your gardens. And because you are passionate about growing as a business, you wanted the most from your gardens—both for profit and for personal satisfaction.
Growers like you wanted high-quality premium nutrients that didn't overload their plants or their feeding systems with needless salts that run off and make a sticky mess. You wanted nutrients that were best for the high-value crops you grew. You wanted something that brought out the maximum genetic potential of your plants.
So we made products using premium, plant-based ingredients that help growers reduce effort, improve harvest quality and lower costs.
Easy.
Time is money, Money is time. Growers like you wanted nutrients that were easy to use. You also wanted to spend less time mixing nutrients, to put in less effort reading complex feed charts, and to expend less energy carting around all those bottles. You wanted to mix and measure without spilling valuable nutrients everywhere. And you also wanted to safeguard your plants.
At Emerald Harvest, we recognized that your garden is your most precious asset. So we created an easy-to-use, state-of-the-art, streamlined nutrient system where you spend less time mixing nutrients or trying to figure out the best way to feed your plants. And we made it easy for you to have peace of mind. We bottled our premium nutrients with a safety cap and a tamper-evident ring that guaranteed the integrity of our premium base nutrients and supplements. We designed a simple feeding system that helps your gardens become the best they can be.
Success.
It comes with a 100% satisfaction guarantee. At the end of the day, you want to spend less effort, less money and less time while still getting the best out of your garden.
Emerald Harvest is a seven-time winner of "Best Nutrient Company" awarded by a leading industry publication. We're the fastest-growing brand at Sunlight Supply Inc.—the largest and most experienced supplier of indoor gardening products. We're sold at more than 1,200 resellers with brochures, catalogs and product guides translated into five languages. We can't manufacture our premium nutrients and supplements fast enough to keep up with the demand.
Emerald Harvest Commercial Agronomic Services provides cultivation expertise to some of the largest commercial facilities in North America, including advisory on strategy, technology, design, construction and project management. Our crop-consulting experts take a balanced approach to indoor and outdoor growing by developing customized solutions that increase productivity and profitability. Growers from coast to coast are raving about the results we've helped them achieve.
We've created a superlative, streamlined range of premium base nutrients and supplements designed specifically for your high-value plants so you can achieve simple, easy success.
For more, visit emeraldharvest.co.
Sours: https://www.cannabisbusinesstimes.com/growspan-greenhouse-structures.aspx
GrowSpan Blackout System
Growers Supply
GrowSpan Series 2000 Commercial Greenhouses are the solution to the demand for modernized vegetable, bedding plant and hydroponic production. Designed to provide the optimal growing environment, these structures feature an energy-efficient 6/12 roof design. Options include evaporative cooling systems, swinging, sliding or roll-up doors, portable or rolling benches, hydroponic growing systems, lighting, irrigation systems, ventilation equipment, continuous roof vents and more!
30' width. Base plate and ground post mounting options are available, depending on your needs.
Extra-tall 10' side walls provide maximum usable space.
Peak roof design allows ventilation during almost all weather conditions. Custom end vent kits are also available for added ventilation. Ask your greenhouse specialist for details.
6/12 roof design minimizes snow, ice and water buildup and increases air flow for a more comfortable production environment.
Energy-saving 8 mm polycarbonate roof, sides and end walls are impact and UV-resistant.
End Frame Kits are sold separately below, along with End Cladding Kits, available in 8 mm Twin-Wall Polycarbonate or Corrugated Polycarbonate.
Sours: https://www.growerssupply.com/farm/supplies/prod1;gs_commercial_greenhouses-gs_engineered_greenhouses_1-gs_2000_greenhouses;pggs230.html
Cost growspan greenhouse
GrowSpan - Model 2000 Series - Commercial Greenhouses
From Structures - Greenhouses
0
ShareShare with FacebookShare with LinkedIn
Any commercial operation can create their ideal polycarbonate greenhouse with the GrowSpan Series 2000 Commercial Greenhouse. The Series 2000 Commercial Greenhouses from GrowSpan provides operations with the highest-quality polycarbonate greenhouse that is designed to ensure the utmost durability. Each Series 2000 features a triple-galvanized steel frame that is covered with ultra-strong polycarbonate. These structures have been affectionately referred to as "bomb proof," and are a great option in regions that frequently experience heavy snow or wind.
Products Details
Series 2000 structures were created with the most competitive growers in mind, and no detail has been spared. The Series 2000, along with every structure in GrowSpan's Commercial Series, can be completely customized and tailored to any operation's needs. A GrowSpan structure can come with all the accessories and growing equipment that is required, including growing systems, blackout systems, lighting, venting, heating, cooling and more.
Advantages
The GrowSpan Series 2000 Commercial Greenhouse Advantage includes:
Series 2000 Commercial Greenhouses are covered with 8 mm polycarbonate that is impact resistant and promotes a controlled environment.
Peak-roof design provides ventilation, helping to limit plant stress, and reduces the buildup of water, ice and snow. The energy-efficient 6/12 design also helps to limit monthly costs.
Extra-tall, 10' sidewalls ensure the maximum amount of usable space and can house even the tallest plants.
Both sides of the greenhouse feature gutters, and they can be gutter connected, enabling growers to build a greenhouse of any size.
End Frame Kits and End Cladding Kits are available. End Cladding Kits come in Corrugated Polycarbonate or 8 mm Twin-Wall Polycarbonate.
GrowSpan Series 2000 Commercial Greenhouses can be outfitted to provide complete environmental control. Greenhouse Specialists can help customers design a greenhouse system that best compliments their operation, while also potentially boosting profitability by implementing energy- and labor-saving options.
Sours: https://www.agriculture-xprt.com/products/growspan-model-2000-series-commercial-greenhouses-625273
Platinum Leaf Cultivation - Ignacio, Co - GrowSpan Series 2000 Commercial Greenhouse
SOUTH WINDSOR, Ct. – GrowSpan Greenhouse Structures released their innovative Series 750 Commercial Greenhouse. The greenhouse features an internal light deprivation system that is fully automated and is sold at a price point that will shock operations.
GrowSpan has kept all the benefits of traditional light deprivation systems, but simplified the design. This not only leads to a system that is easier to install and maintain, but also a system that is ultra cost-effective. The cable-driven system sits on an internal substructure, so it is protected from the elements, and the blackout material ascends to the structure's peak, creating blacked out conditions in moments.
While the light dep system will have growers drooling, the greenhouse is also impressive. Built with a galvanized steel frame, the gable-style greenhouse is clad with inflatable film for superior insulation. The end walls are covered with white-black-white polycarbonate that gives the structure a clean and professional look. S750s come in 32 foot widths and can be built in 48 foot, 72 foot, 96 foot and 120 foot lengths. The sidewalls are five feet high, while the peak is 14 feet high and the roof pitch is 6.3:12.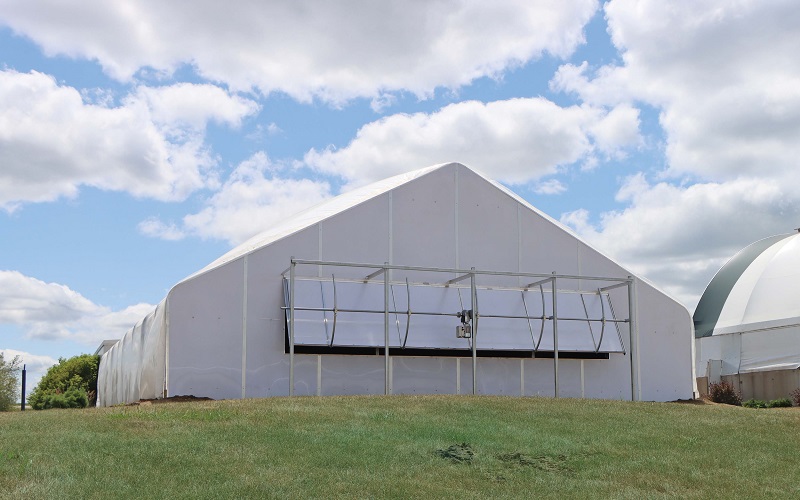 The S750 Greenhouse can also be engineered. Upon request, these structures can be designed to withstand 105 mph wind speeds, 25 psf snow loads, and 12 psf live loads, making this structure a great option even in harsh climates.
GrowSpan is also offering optional equipment packages for the Series 750 Commercial Greenhouses. The packages have been designed and properly sized for each structure by GrowSpan's Greenhouse Specialists, so structures don't come over or under equipped. Equipment packages include two exhaust fans with centrifugally activated shutters and low-profile light traps, an evaporative cooling system and endwall vent with white-black-white cladding, and horizontal airflow fans with hanging equipment.
GrowSpan Greenhouse Structures is dedicated to providing premium greenhouses and growing solutions for the agricultural industry. With a wide range of growing structures, including greenhouses, venlo structures, high tunnels, cold frames and shade houses, every grower is certain to find a structure that best suits their hobby and business growing needs. GrowSpan Greenhouse Specialists are only a click or call away to guide you through the process of obtaining the upgrade your growing operation needs.
For more information, visit www.GrowSpan.com or call 877.835.9996.
Sours: https://mgretailer.com/press-releases/growspan-releases-new-series-750-commercial-greenhouse/
You will also be interested:
You were born with this. - WITH WHAT??. - Two essences in one body.
2426
2427
2428
2429
2430