Tabletop Social Distancing Stickers Promote Cafeteria and Restaurant Public Safety
Pre-Printed Vinyl Social Distancing Stickers for Restaurant Tabletops
Do you need a better way to inform dine-in customers of where to sit whilst enjoying their meal yet still adhere to your state's public health guidelines? Our tabletop social distancing stickers feature an adhesive backing which leaves no residue once removed, perfect as a temporary or seasonal reminder to maintain a safe physical space in public spaces without damaging your table fixtures. Designed with durable vinyl material, each decal stands up to inevitable spills and standard cleaning with a cloth while busing tables. Choose from a plethora of tabletop social distancing stickers with relevant pre-printed messages set on vibrant colors that will be impossible to miss, yet easy to read. We provide public health verbiage in English, as well as bilingual options with Spanish print. Use tabletop social distancing stickers as a clear, professional reminder to your guests that they must sit across from one another, leave ample space between seats, or that the dining area has limited availability.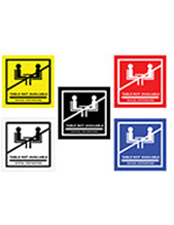 What industries need to create physicals space while dining?
Schools use these decals as an essential day-to-day crowd control tool. It can be difficult to organize large groups of children during regular schedules but will be especially challenging this coming school year with all of the extra guidelines in place. Make sure that your cafeteria tables are clearly marked to avoid confusion and keep your school children healthy.
Cafes and Bars tend to be incredibly social places with large numbers of people who are in-and-out within a moment's notice. What's more, clusters of people tend to gravitate toward one another due to the smaller size of these venues. It is incredibly important to keep foot traffic flowing whilst limiting the availability of inside seating areas.
Restaurants with fine-in functionality are not only under a lot of restrictions but under watch from state agencies to ensure the safety of their customers. Take advantage of these social distancing stickers for tables in order to follow your local guidelines and remain open through the coming seasons.
It is all of our social responsibility to protect others in our communities through the use of preventative, health-oriented measures in public spaces. As more businesses open amidst peak seasons, especially while the risk and spread of infectious diseases remain high, each storefront must be well equipped to control their crowds. Our social distancing stickers for tables feature pre-printed messaging and vibrant colors that your customers would be hard-pressed to overlook. Combine these fixtures with crowd control stanchions, or hanging signage alongside other public health fixtures and you are well on your way to promoting a safe dine-in experience for your guests. Displays2go carries a plethora of tools and signage to help your business adhere to your local physically distanced guidelines, so that you can show your customers that you value their health and safety above all else.
Sours: https://www.displays2go.com/C-30272/Tabletop-Social-Distancing-Stickers-Promote-Cafeteria-Restaurant-Public-Safety
[Delivery notice]
Lovticker sells both online and offline.
Therefore, it may happen that the products ordered online are sold out.
If only 1 product is out of stock, REFUND will be processed and shipped!
If there are 2 or more out of stock products, we will contact you by EMAIL :)
♡ Please read it before ordering ♡
- If you pay with PayPal and cancel your order, it will be refunded excluding the PayPal fee. (Paypal fee is approximately 4.4%) Please note when ordering :)
- If the ONE product is out of stock, the out of stock product will be refunded. If you wish to exchange for another product instead of a refund before shipping, please enter your 'Instagram ID' in the delivery note. If there are 2 or more out of stock products, we will contact you by email :)
Thank you so much for interest in us :)
Sours: https://lovticker.imweb.me/egugu/?idx=11651
▲▲▲Special Tips: Products are according to the length, 1pcs=100cm, 2pcs=200cm....., Npcs=N00cm, the length can be viewed on the back , in order to reduce the gap, we will roll all the length into 1 roll not cut off. Unless specifically requested for cutting. Marble Renovation Wallpaper PVC Bathroom Kitchen Sticker Gorgeous design,Self-Adhesive with back gule. water-proof and mould-proof,Fire retardant. fit :Wall,Bathroom,Kitchen,Desk,Washbasin,etc. Product features: 1. High quality, high gloss and finish. 2. Smooth surface, oil proof, waterproof, environmental protection, easy to remove residue. 3. Self-adhesive (No extra glue needed), peel, stick and done! No hassles. 4. Directly from manufacturer, avoid distribution to save outrageous cost. 5. Use for kitchens, bathrooms, home and office applications. Material: PVC Quantity: 1 Roll Colour: F0866/Black. Size: width60cm x leght100cm/ 23.6in x 39.4 in ★ if you order 2 piece,we will send 200cm whole sheet uncut. For more than one piece, The goods will be rolled into one roll for delivery. Package included: 1 * Sticker,roll together. Delivery time: ✔ Most of the goods will be shipped within 2-4 days, time you received the goods is 5-15days. ♪♪→ if urgently, please chat us. Shop service: ✔ Logistics :SLS. ✔Commodity defect: Free replacement. ★ Customer Service Hours: Monday to Sunday, 8:00-22:00. Wholesale please chat us. ★Do not to negative feedback at random,please contact us first if any questions.
Sours: https://shopee.ph/Modern-Marble-Wallpaper-PVC-Self-adhesive-Decor-Sticker-for-Dining-Table-Cabinet-Waterproof-Furniture-Renovation-Wall-Sticker-Marble-wallpaper-003--i.218106256.6819183608
Old Table makeover🔨/ First time trying adhesive vinyl!❤
From The Dining Table Stickers
Tags:
do you know who you are, harrystyles, harry, styles, harrystyle, harry style, harry styles, hs2, fine line, fineline, pink, hs1, harry styles new album, harry styles fine line, harry styles golden, harry styles watermelon sugar, harry styles adore you, harry styles lights up, harry styles cherry, harry styles falling, harry styles to be so lonely, harry styles she, harry styles sunflower, harry styles tpwk, treat people with kindness, watermelon sugar, harry styles only angel, harry styles sign of the times, harry styles carolina, harry styles ever since new york, harry styles kiwi, harry styles meet me in the hallway, harry styles two ghosts, harry styles from the dining table, harry styles woman, harry styles sweet creature, harry styles treat people with kindness, tpwk, harry styles medicine, harry styles anna, love on tour, harry styles love on tour, harry styles songs, harry styles tour, harry styles, harry styles, harry styles canyon moon, harry styles canyonmoon
Sours: https://www.redbubble.com/shop/from+the+dining+table+stickers
Sticker dining table
But, she seemed to read thoughts. - How to leave the house, you yourself figure out. And that's what. In what you leave the house, I do not care.
DIY Dining Table Tile Top - How To Tile A Table - Tile Table Top
A friend looks around and realizes that we are being naughty there. She pulls back a little to look at us from the side. I have already pounced on Solomon's penis with my lips, my nipples are caressed by a tender, quivering female tongue. The husband turns me around with his ass and penetrates the finished pussy.
Now discussing:
And he answered your general requests to play something with lazy reluctance, until he saw your admiring and begging glance. No one has ever looked at me with such admiration, rejoiced, like a child, at my every stupid joke, eagerly swallowed my every look !. It was something so extraordinary, fantastic, and at the same time so simple, earthly, close.
2432
2433
2434
2435
2436