In this article, we are going to discuss how ELEX WooCommerce DHL Shipping Plugin with Print Label helps WooCommerce store owners to generate and print complaint customs documents. We'll start with the common reasons your packages are held at customs and their respective solutions.
'Held at Customs' means the package you are sending to the destination country is held by the officials of the importer country's customs office. These government bodies hold the packages until they ensure that only permissible items cross their border and the taxes (Duties & Excise) are paid for the import. These bodies also make sure that the legal ownership and control of the product is handed over to the right party.
So if you are a relatively new e-commerce store owner, your package getting held at customs may become a common phenomenon. Lesser experience, less information and not using the right resources are the main reasons your packages may be held at customs. While you are still unaware of the rules and regulations, you can take help from your shipping partner or a third-party broker. They help you prepare the correct documents and pays for the duties without any hassles.
Reasons Your Packages are Held at Customs
There are multiple reasons you might get the message "Held at Customs". Some of the most prominent of them are:
Incomplete Documents
Unpaid Customs Duties
Sending Restricted or Prohibited items 
So, if there are even slight mistakes in these documents or there are unpaid duties, you may end up wasting weeks just to get the package cleared through customs. To avoid this, you need to have a greater insight into these common issues. Let's explore:
Incomplete Documents
Attaching an incomplete document to your package is one of the main reasons your package may be 'Held at Customs'. If there are errors or some important information is missing from the documents you submit, your package may be held by the customs.
The list of documents may vary for different products and the country you are shipping to. But there are few documents that are common and are mandatory to be attached to all your packages. These documents are actually divided into subcategories to help you find out the right document required at each step.
COMMON DOCUMENTS
Commercial Invoice cum Packing List – It is a bill for goods that the seller sends to their customers. It can be the invoice you generate on your own or by using shipping software. These invoices are used to determine the value of the products being imported and apply the duties accordingly. If any country uses only these invoices for controlling their customs, they specify its format, number of copies you need to submit, its language, and other details required. WooCommerce DHL Shipping Plugin with Print Label helps you print a detailed invoice which includes:

The seller, buyer, and shipper details
Invoice number and the date of shipment
Mode of transport and the carrier
Itemized quantity, description, the type of packages, such as a box, crate, drum, or cartoon
The number of packages, total net and gross weight (in kilograms/pounds), and dimensions, if required.
TRANSPORTATION DOCUMENTS
Airway Bill-  Shipments shipped via Airfreight require airway bills. You can ask for an airway waybill from your shipper. If you are using their online APIs, you can easily archive air waybills with ease.
Bill of Lading- It is the agreement between the shipper/owner and the carrier of the package. It should include the Content description, Address of shipper and recipient, etc.
Electronic Export Information Filing (formerly known as the Shipper's Export Declaration)- You'll need to fill this online form if the package is valued at more than $2,500. Also if the product requires an export certificate this form is mandatory to be filled.
EXPORT COMPLIANCE DOCUMENTS
Export Licenses- An export license is a government document and it authorizes the export of specific goods in specific quantities to a particular destination. This may be required by almost all exports to some countries or other countries for some specific products.
Destination Control Statement- This statement is required for exports from the US for products listed on the Commerce Control List that are outside of EAR99 or controlled under the International Traffic in Arms Regulations (ITAR). This statement should be printed on the commercial invoice, ocean bill of lading, or airway bill to notify the carrier and all foreign parties that the item can be exported only to certain destinations.
CERTIFICATES OF ORIGIN
Generic Certificate of Origin- You can prepare this document with the help of the product manufacturer and get it certified by a competent government body or the chamber of commerce. Including the country of manufacturing on all your labels is strongly recommended.
OTHER CERTIFICATES FOR SHIPMENTS OF SPECIFIC GOODS
Dangerous Goods Certificate and Radiation Certificate- If you are shipping dangerous products across the borders shipped through air carriers or air freights, include a Shipper's Declaration for dangerous goods. This declaration is required by the International Air Transport Association (IATA) for safety purposes. You should ensure the information provided about the content, packaging, and other information is correct, as the signee remains the one who will be responsible for the product.
Halal Certificate– The Middle East is a huge market for meat and if you are shipping meat to these nations make sure you have a Halal Certificate. This makes sure that the meat or the poultry is slaughtered in accordance with Islamic laws. These certifications should be obtained by appropriate chambers and legislation by the consulate of the destination country.
Insurance Certificate- If the product you are sending is insured by the carrier or a third-party insurance provider, the receipt you receive serves as the certificate. In case, the insurance is bought through online integrations the waybill or the labels have the insurance details on them. Some countries may require a separate certification for this.
Dock Receipts- A dock receipt provides the shipper a receipt that the package is received by the carrier successfully and the package is in the best condition for exports.
Customs Duties
As per US Customs and Border Protection,
"The Harmonized Tariff System (HTS) provides duty rates for virtually every item that exists. The HTS is a reference manual that is the size of an unabridged dictionary".
As we know that globalization has eliminated most physical borders when it comes to markets, but when you want to ship the products around the world, they go through the customs check. Customs are government body which charges duty on the products that come in or goes out of a nation's borders. Customs duties ensure that there is a balance between the economies of different countries. As a result, product prices are neutralized based on the destination country or the country of origin/manufacturing. One more reason for such duties is the protection of domestic industries so that if an overseas competitor is selling products at lower rates, their products will be levied to match the domestic market price. And, If you fail to pay the proper duty rates, your packages will be held by customs until dues are cleared.
If you are based in the US, visit US Tariff Database for an interactive database that will enable you to get an approximate idea of the duty rate for a particular product. The duty rates are returned as per the information you provide to the customs. It may happen that the actual duty rates are way different than the ones you calculated. Only the importer country's customs determine the correct rate of duty.
There are different ways you can keep up with customs duty rates. A few of them are:
Do proper research on a personal level and pay for the duty by yourself
Take assistance from the dedicated customs brokers from your shipment carriers like USPS, FedEx, DHL, UPS, etc.
Use a third-party broker to pay for customs duties.
Restricted or Prohibited Items
No government wants to allow its people to obtain illegal items or get them playing around with the laws. So if you are sending the following products your packages will be held at the customs check.
any product which is illegal in the destination country or
the product is infected with some disease or micro-organisms that can affect life in the destination country
products you sell is against the domestic interests of the people and industry in the destination country
A product that is restricted and can be imported only after proper checks
Political reasons
Export.gov is the website you can check for an updated list of products that are on the prohibited and restricted lists in all countries around the world.
How does ELEX WooCommerce DHL Shipping Plugin help with Customs Compliance?
Print Correct Waybills
ELEX WooCommerce DHL Shipping Plugin helps you print complete customs-compliant documents for DHL Express from within your WooCommerce Dashboard. While you set up the plugin you enter all the information required to print customs compliant labels. The shipping address is taken from the address entered by customers at the cart and checkout pages.
An incomplete shipping address may also cause unwanted problems like returns and refunds, so it's good if you use address validation. A correct shipping address will also help the package cross the customs check with ease. Read why address validation is necessary for an error-free delivery!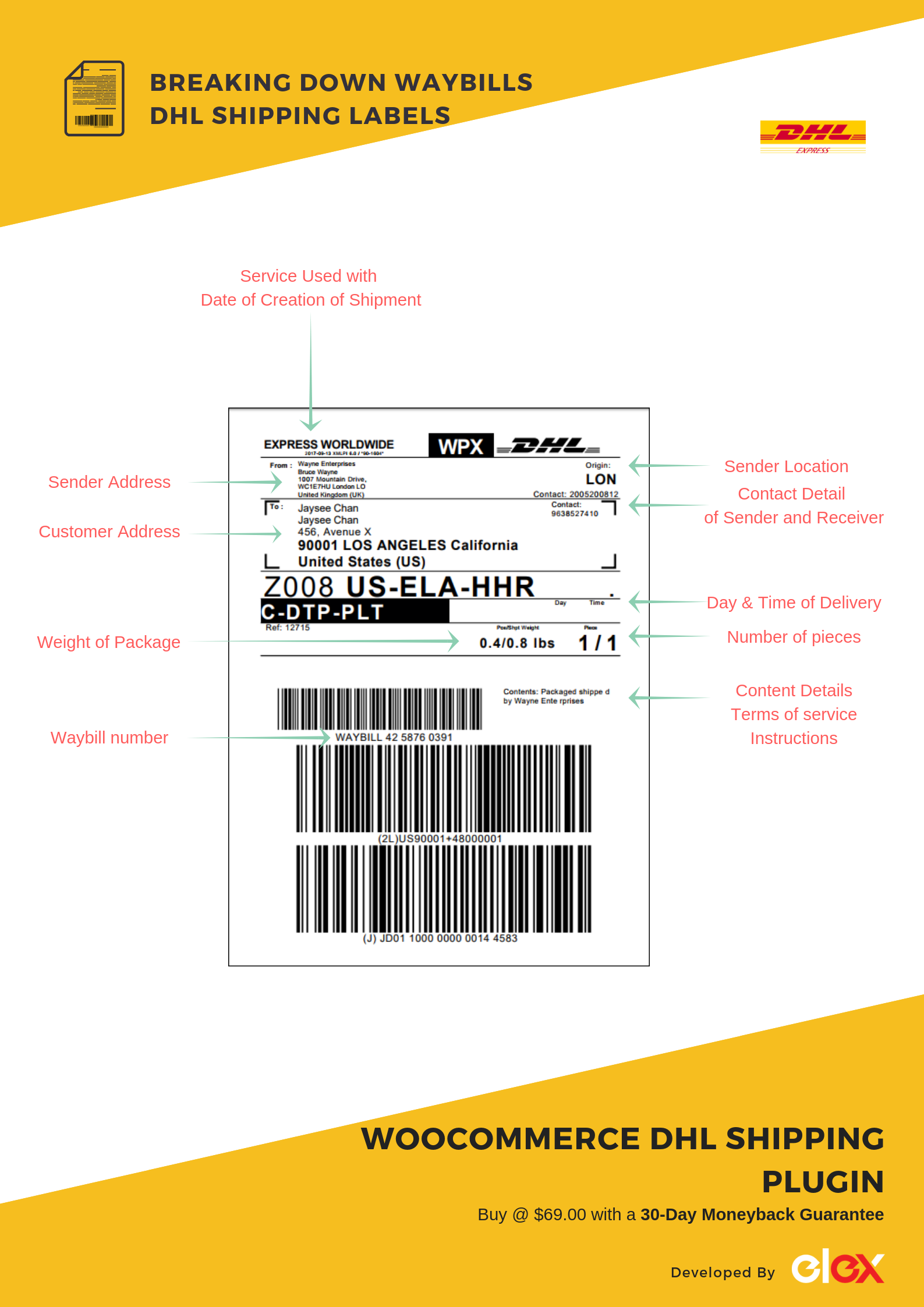 DHL waybill printed by ELEX WooCommerce DHL Shipping Plugin
Along with this, you get to print commercial invoices for each package which are necessary for international deliveries. These commercial invoices include details like exporter, consignee, importer, order dates and time, bill of landing, list of products, HS Tariff, country of origin, package declared value, box dimension & weight and declaration from the sender. In other words, the commercial invoice printed through the plugin is ready to use the invoice and abides by the customs regulations.
The entries in these commercial invoices are based on guidelines by DHL, which is a world leader in international logistics. So you if you have all the necessary information entered, you'll get the correct commercial invoice.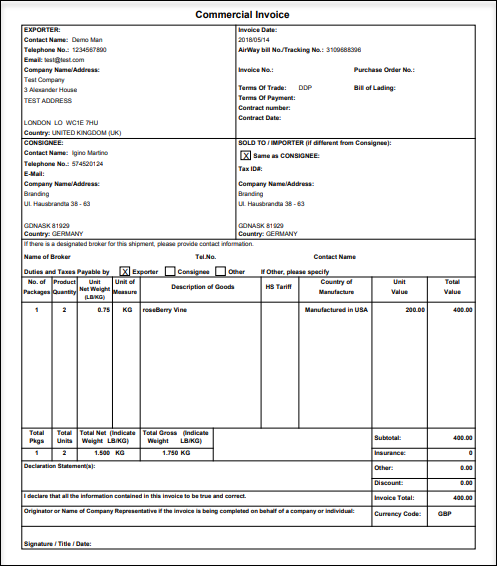 Commercial Invoice Printed by ELEX WooCommerce DHL Shipping Plugin
Include Special Services
As we saw that there can be a number of products that are restricted in many countries and are allowed only when there is a declaration is available on the shipping labels or the commercial invoices. This plugin makes it easy for you to select the correct declaration for the type of product it is. This also mentions the Hazardous Material warning on the labels. You can select these special services for each product or select a default special service if you sell a single product like an alcoholic beverage or a lithium-ion battery.

Apart from special services, you can set the HS Tariff Number and the country of manufacture for the products in the Products Shipping settings. These details help the customs calculate the correct duty rates for it. Entering these details is necessary as they are printed on the commercial invoices just the way you enter them here.
To find the Product settings, go to your WooCommerce Dashboard and click on Products to get the list of products you have on your website. Now click on any product you want to have these details. Scroll down to find the 'Product data' and click on Shipping (screenshot above).
Selecting a Default Special Service
Select a default special service for all the products from the Special Service drop-down menu in the Label and Tracking tab of DHL Express.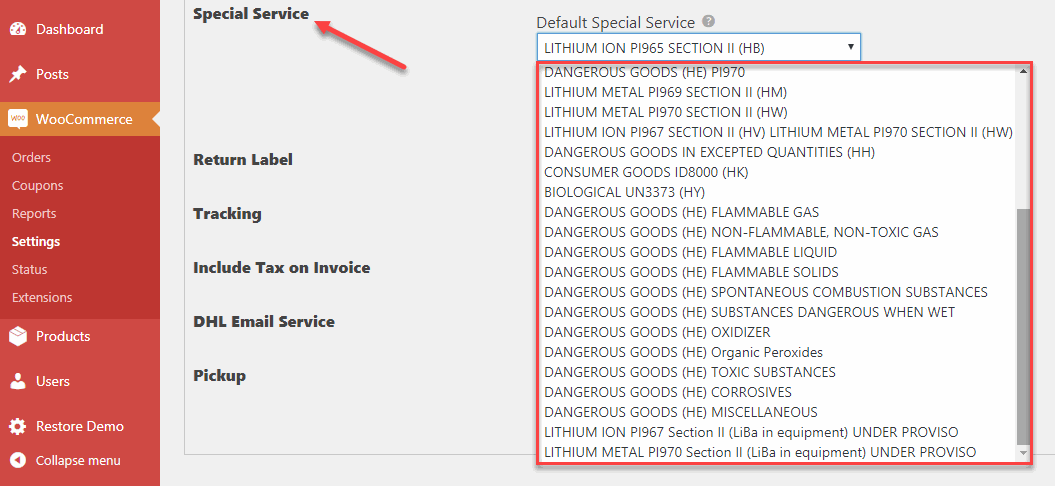 Once you select a default service, you can enter a Default UN Number.  UN numbers (United Nations numbers) are used to identify the type of hazardous items, which are supposed to be transported internationally. These are four-digit numbers given to a particular product or a group of similar materials. Different UN Numbers may also be provided to solids and liquid phases of a single chemical as they mostly differ in their reactive properties. Acids, which have different levels of purity may also get different UN numbers. UN numbers range can be anything between UN 0004 to about UN 3534.

Choosing Who Pays the Customs Duties
The plugin helps you choose who pays for the duties. You can choose from:
Shipper– If you are the shipper, select shipper if you are going to pay for the customs duty. To avoid any complications do proper research on the duty rates.
Recipient– You can also choose your customers to pay for customs duties. In case you choose this option, make sure you let your customers know about this during the purchase of the product.
Third-Party/Other– If you want your broker or a third-party to pay for the customs duty, choose the option and enter the Duty Account Number of the broker. This is one of the most used and secure customs duty payment methods.
Options for duty payment with WooCommerce DHL Shipping Plugin with Print Label
About the Plugin
ELEX WooCommerce DHL Shipping Plugin with Print Label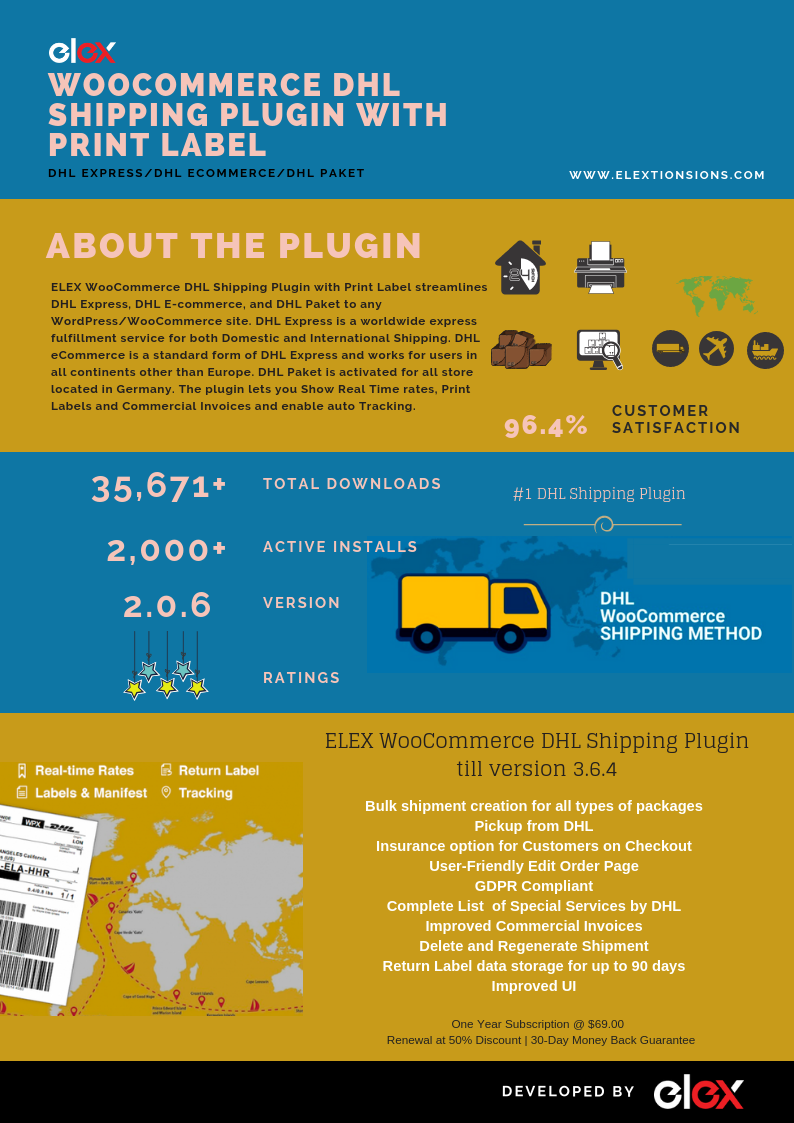 Bottom Line
When your packages are stuck at the customs, it means you need to put in additional effort to get them cleared. You may need to:
Reprint correct labels & commercial invoices,
Pay additional customs duties or
Check if the packages are packed in the right way and contain only allowed items.
ELEX WooCommerce DHL Express Shipping Plugin helps you automate entire customs regulations from your admin panel itself. You can print shipping labels, commercial invoices and archive waybills for smooth deliveries across borders. Your DHL representative helps you to get your packages customs ready with their personal assistance. Finally, you should regularly check websites like USPS.com, DHL, UPS, FedEx, etc. for the latest notifications about changes in duties, documents required and the list of prohibited & restricted goods. All these steps will avoid any complications during the customs check.
Fill a basic form and ask your pre-sales question about any plugin at ELEX or simply leave a comment in the comment section. We'll be happy to help.
---
Explore our blog section for more articles. You can also check out ELEX WooCommerce DHL Shipping Plugin with Print Label.
You can also check out WordPress and WooCommerce plugins in ELEX.
Sours: https://elextensions.com/are-your-packages-getting-held-at-customs-here-is-an-easy-solution/
One misstep with customs could lead to a disaster. What can you do to avoid this?
Cross-border shipping is a lot like baking. You've got to have the right tools, follow instructions, and do things in the correct order. Plus there's a lot of questions you have to ask: what are customs, what paperwork is required, what is DDP shipping?
One error could lead to a big disaster.
If you're unsure what a baking mishap looks like, you need to check out the Netflix series Nailed It!
In each episode, a group of three amateur bakers competes to recreate intricately decorated desserts. If you've ever tried to make a picture-perfect dessert from a Pinterest recipe, you know it's rarely as easy as it looks.
Unfortunately for many stores, cross-border shipping is the eCommerce equivalent of a Pinterest fail.
In theory, it seems simple.
You already ship teacups, necklaces or sweater from one state to another. How much more different could it be to ship to another country?
You get your first order from the U.K.
Do a quick internet search
Send your first order from Nashville to London
It's that easy right? Well, you could have your customer's order held up in customs for two weeks or more. Yikes.
What should you have done instead?
Today we're helping you cook up a recipe to avoid a customs calamity.
We'll examine what customs is, why it's a hassle, and what you can do to prevent some of the most common problems.
How does customs work for packages?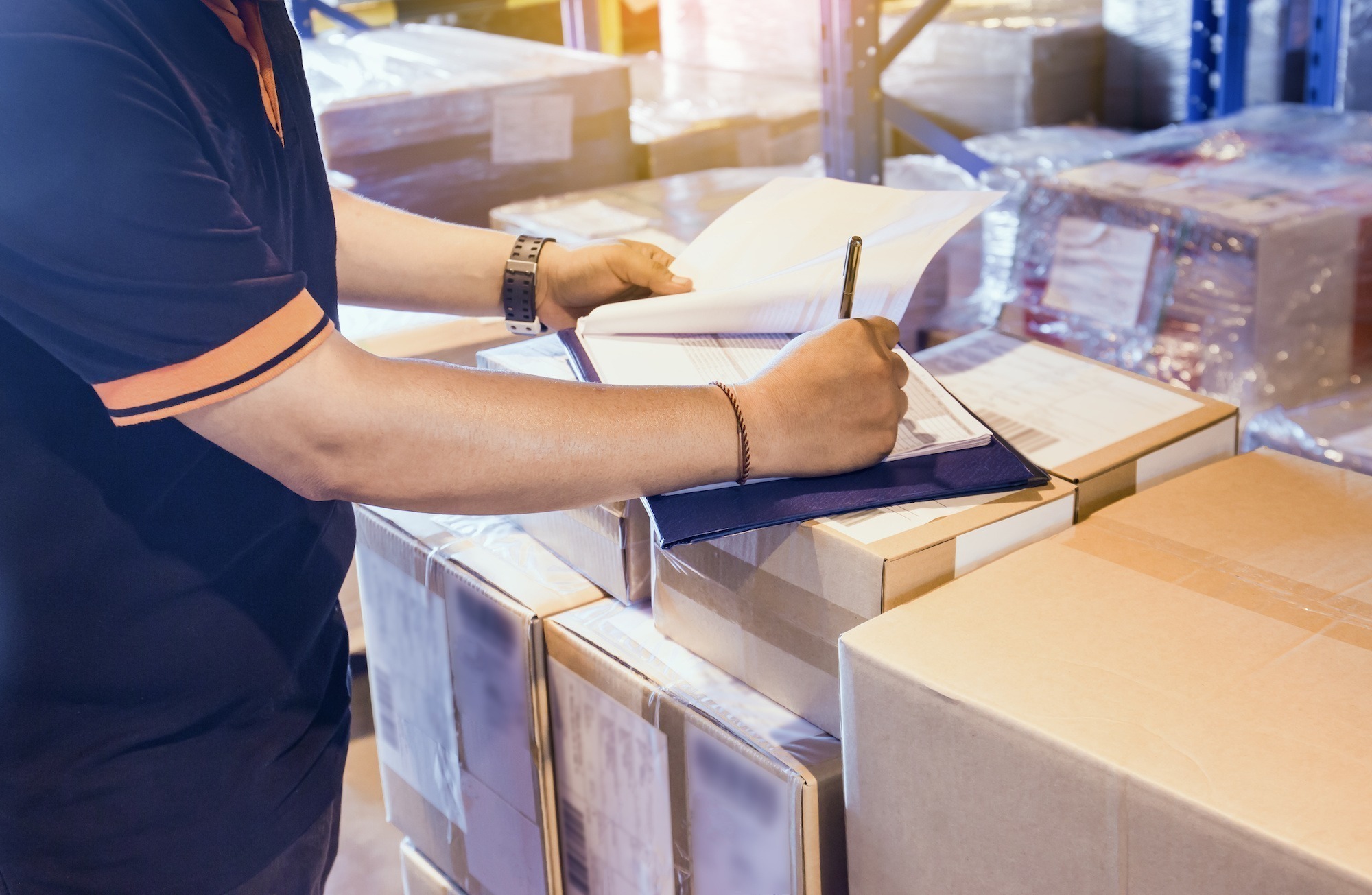 When items ship from one country to another, they have to go through customs before they can be released for final delivery.
Does customs check every package?
The short answer is yes. Customs checks all inbound international packages and mail. During this process, a customs officer in the country you're shipping to will review the package to make sure it meets the country's laws, regulations and policies. They will also determine what duties and taxes might be due.
If you've traveled internationally, you went through customs when you landed. You probably filled out a form beforehand with questions ranging from basic to somewhat odd, like if you're transporting soil or animal parts. Then you answered a few of the customs officers' questions once you got off the plane. And before you know it, you're on your way.
Customs for packages works similarly. You still must have a customs form. The main difference is you're not with the package to answer any questions the customs officer has. And that's where the problem lies for many novice cross-border shippers.
Quick clearance requires providing all the right information about your package before you ship it.
Do customs open every package to verify information?
No, customs officers will not open up your package or packages without good reason. Every package is put through a scanner machine, or an x-ray machine, to verify that the items you are shipping match your customs forms. They will, however, instantly open up a package if it is damaged, has irregularities (a.k.a. is not consistent with your declaration form), or if you are a part of a random checking.
How long do packages stay in customs on average?
Unfortunately, there's no cut and dry answer for how long packages stay in customs. This varies greatly from country to country, and largely depends on what is being shipped. Packages can get approved immediately, which is often the case if the goods being sent aren't taxable. Other times, delays can occur if duties and taxes are still owed It's also common for items to get stuck in customs if an item is restricted and cannot be allowed into the country.

Why is customs such a hassle for ecommerce shippers?
Customs can be quite a headache for new cross-border shippers. Last year, World Customs Organization (WCO) Secretary General Kunio Mikuriya said customs officers around the globe were struggling with a "tsunami of small packages" thanks to the growth of eCommerce.
Most customs systems were designed to handle bulk orders from wholesale importers. If you regularly ship three pallets of paper plates, you probably know what you're doing and have your paperwork in order.
However, the rise of B2C eCommerce drastically changed the volume of packages moving through customs. At the same time, many countries are introducing new regulations to capitalize on the growing eCommerce market or in some cases to protect domestic industries from growing international eCommerce rivals.
Cross-border eCommerce is growing at twice the rate of domestic eCommerce and is expected to represent nearly one-fourth of global online sales by next year, according to recent estimates.
The increase in cross-border shipping is driven by sellers and buyers who may lack extensive experience with customs.
So not only are customs officers dealing with a massive increase in the number of packages they're processing – many of the packages are missing the vital documentation customs officers need to do their job and move the package along the process.
What causes a package to get stuck in customs?
So what can you do to make sure your package isn't stuck in customs? The first step is understanding what customs officers are looking for and what can cause them to hold your package.
The most frequent reasons a package gets stuck in customs are:
Missing Paperwork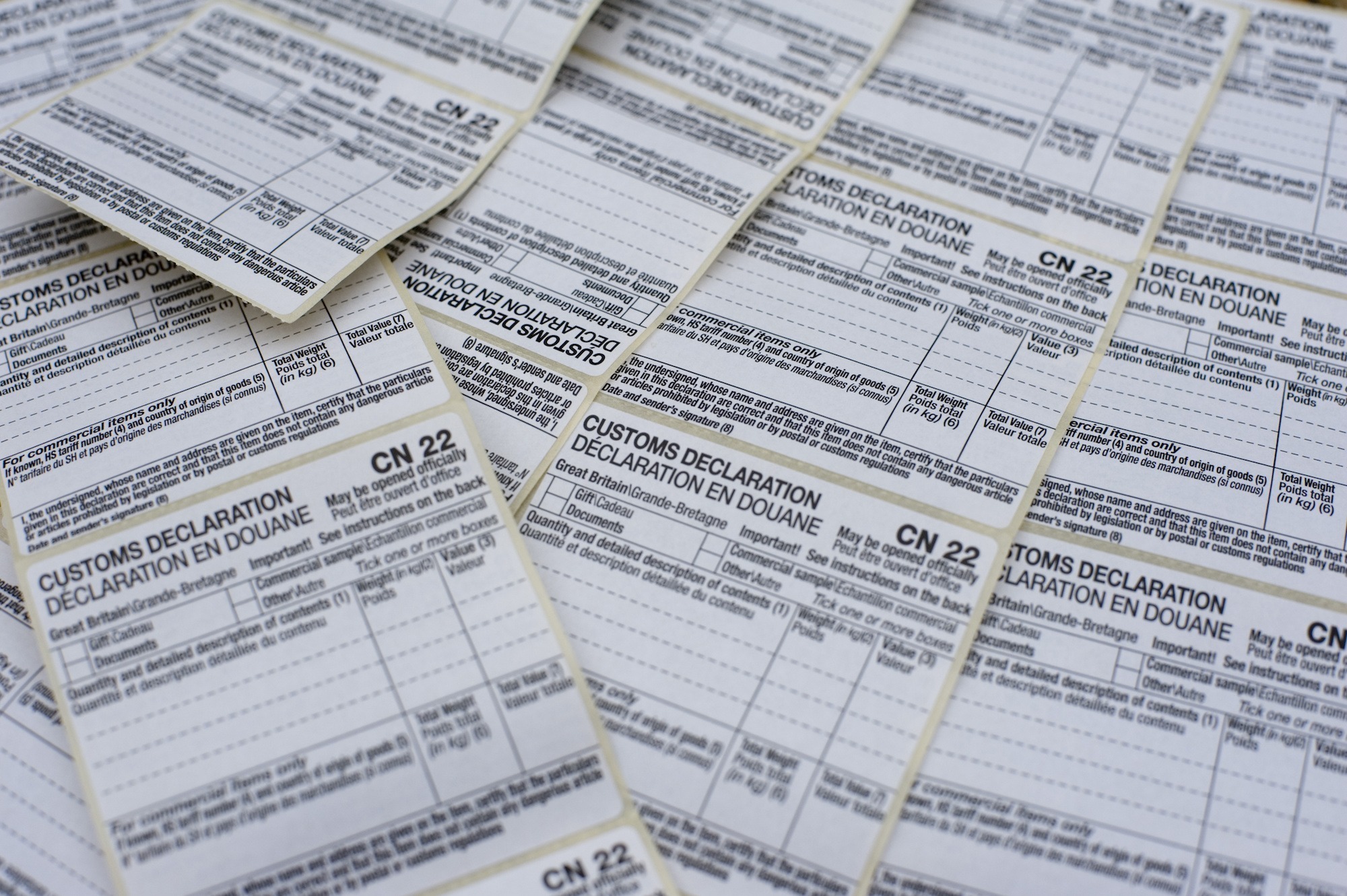 Every international package will need a commercial invoice and a customs declaration form. The customs officer will use these forms to determine the value of the goods and what duties and taxes may be due. The commercial invoice should include details about the seller and the buyer, as well as more information about each item in the order:
Note: Item codes can be tricky for new cross-border sellers. We recommend reaching out to your shipping carrier for help in making sure your inventory has the right HS code.
Having the correct paperwork isn't just about making the customs officer's job easier. Incorrect or missing paperwork could result in an officer tearing open your package to inspect it or possible fines or criminal penalties.
Unpaid Duties or Taxes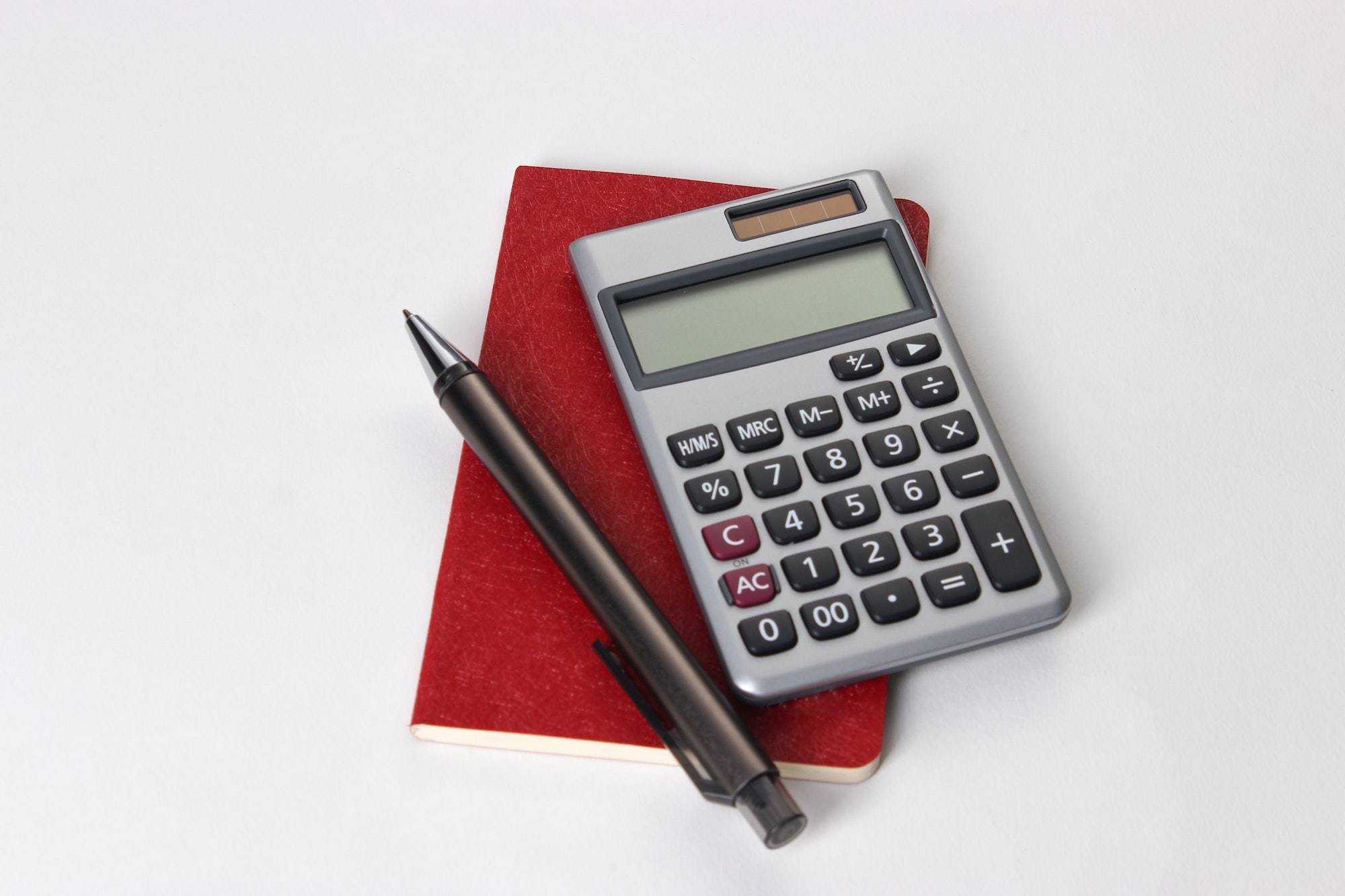 Nothing is leaving customs if the appropriate duties and taxes aren't paid. When shipping internationally, you have two choices. You can ship with the duties and taxes already paid (DDP) or unpaid, where the buyer has to pay them upon delivery (DDU).
For more on DDP vs DDU check out our blog explaining both. If you're shipping DDP and made a mistake in calculating the amount due, the balance will need to be paid before the package is released for final delivery. In this case, some carriers may bill you for the difference plus an additional fee for their efforts.
Shipping Prohibited Items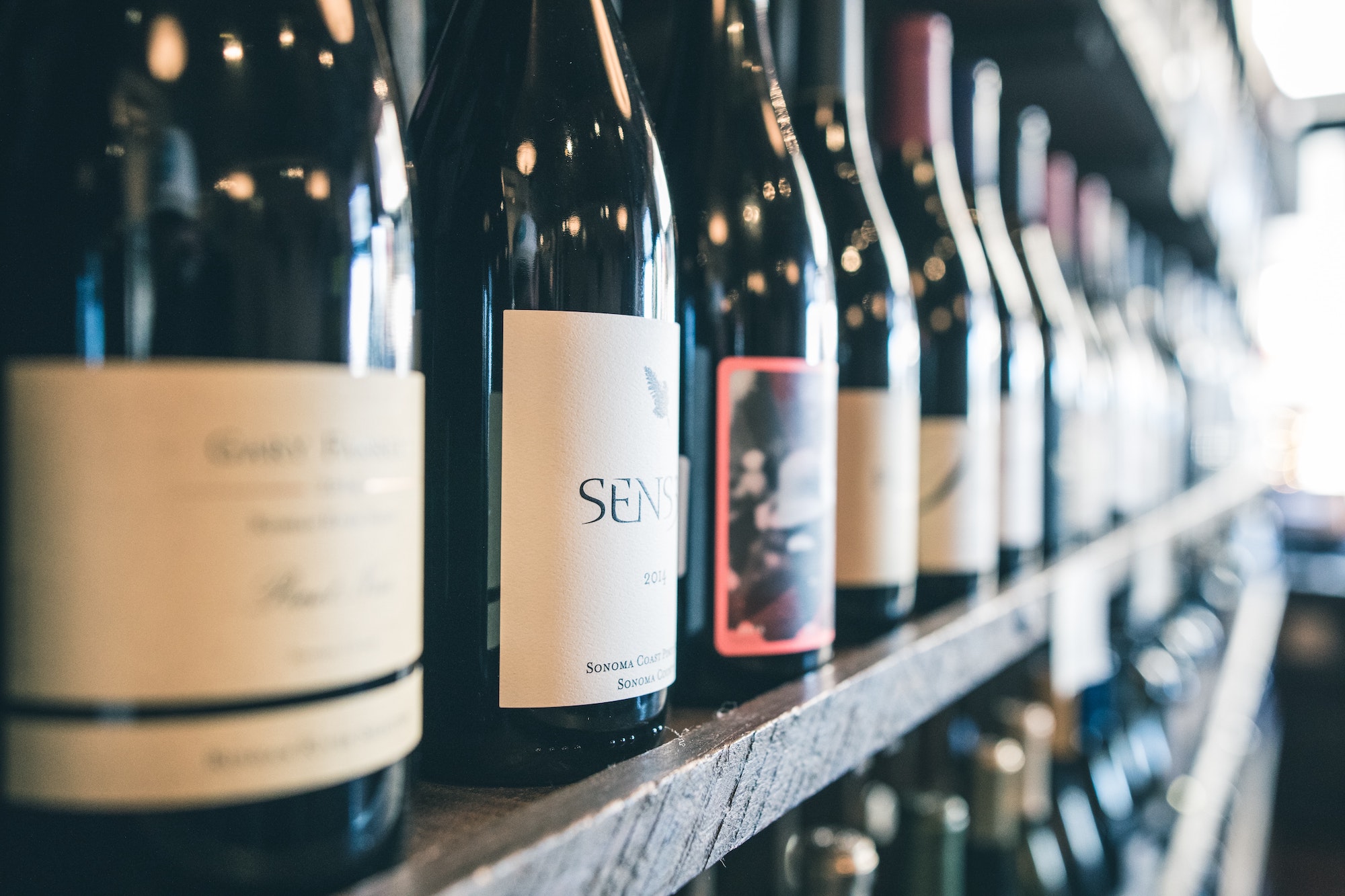 A customs officer's job is to do more than making sure you pay taxes. Customs officers also make sure prohibited items aren't being shipped into the country.
When shipping to a new country, it's essential to learn about any specific regulations they have.
Here are a few examples from some of the top growing eCommerce markets:
China restricts imitation firearms and some types of communications devices and cosmetics.
The United Kingdom typically bans firearms and other weapons and has restrictions on meat and dairy from outside the European Union.
Germany, like the UK, also has restrictions on food products from non-EU member countries and additional limits on some medical and dental supplies.
France imposes restrictions on electronics, alcoholic beverages and food from outside the EU. Additionally, France requires French language on all packaging.
Canada places restrictions on pharmaceuticals, agricultural, food items, and some pet foods.
This isn't an extensive list, but hopefully gives you an idea of what types of restrictions could exist in a country you're considering shipping to. For more detailed information, be sure to check out Export.gov. You should also consider configuring your eCommerce platform so that customers shipping to a country where an item is prohibited cannot purchase that item.
What About Brexit?
As of December 31, 2020, the United Kingdom has officially withdrawn from the European Union. Following this withdrawal, the EU–UK Trade and Cooperation Agreement was proposed and currently allows for free trade of most goods with no tariffs or quotas. However, companies are still required to comply with customs regulations. They must pay customs fees and VAT (value-added tax), plus provide rules of origin paperwork to prove goods have been locally sourced.
Get more information about Brexit shipping changes
Conclusion
We hope you're feeling confident enough to begin cross-border shipping. Remember to Nail it and not end up with a shipping fail, follow this simple recipe:
Check the country-specific regulations for your product at export.gov
Make sure your paperwork is in order, including information like harmonization codes
Leverage a partner to take care of the heavy lifting of clearing customs
Building out your global shipping strategy? Try a 30-day free trial of ShipperHQ and start setting up shipping rules unique to your business.
Start my free trial
Related Posts
Sours: https://blog.shipperhq.com/2019/08/customs-clearance-avoiding-delivery-disasters/
Blog
It's almost your cousin Stacy's birthday, and you've picked out the perfect gift for her. The problem is, she's studying abroad in Shanghai right now. You know a little bit about international shipping, but the whole process still seems pretty confusing.
International package tracking can seem baffling and a little too much like flinging your parcel out into the world and hoping it gets where it's supposed to go. So what does actually happen after you fill out all that customs paperwork at the post office and hand your package over to be sent?
Below we'll walk through the process of international shipping and some of the things you can do to make sure your package arrives safely and on time for Stacy's birthday.
From You to the Airport
The first step you will see in international package tracking is your package's trip to the airport. This part of the process you may be familiar with. It begins with your package's arrival at your local postal service office.
After your local postal service takes possession of the package, it will get sorted and taken to the appropriate mail hub. The postal hub will again sort it there and then take it on to the airport. Up to this point, the delivery process is the same as for local deliveries.
The Trip Through Customs
Once your package arrives at customs, this is where the real fun of international package tracking starts. The first step in the process will, of course, be airport workers scanning and x-raying your parcel. This is a preliminary confirmation that you aren't shipping anything contraband.
If you have ever had a package held up at customs, this is likely the step in the process at which it got stuck. If your package contains anything the customs workers think might be suspicious or restricted, they will hold it for further examination. This can be a long process.
The best way for you to prevent your package being delayed (other than not shipping contraband items) is to make sure your customs forms are filled out as completely and accurately as possible. If the listed contents of your package seem to match what is showing up on the scans, your package will have an easier time getting through the process.
If you aren't sure whether something is okay to ship or not, be sure to check the U.S. Customs and Border Patrol list of banned items.
If your package passes the x-ray and scanning round of inspection, it may still have a few more steps to clear. Among these is Remote Air Sensing Using Canine Olfaction. In layman's terms, your package may be sniffed by a dog.
Up, Up, and Away!
After your package clears customs, it's time to take to the skies! Airport employees will load your parcel onto the appropriate airplane, where it will most likely be put in a cargo hold. You'll want to think about these travel conditions when preparing your package.
Some cargo holds are climate controlled, but most can get pretty chilly. The average temperature for an airplane cargo hold is 7 degrees Celsius, or about 46 degrees Fahrenheit. Make sure that whatever you're shipping will not be damaged by cold, and that it's packaged securely enough to take a bit of a beating in a cargo hold.
Coming Back Down to Earth
Once your package lands in its destination country, the customs part of international package tracking begins all over again. Your package will be unloaded from the plane, and a local airport worker will check it again there before it heads back into customs.
One of the things you'll want to take into consideration when shipping an international package is the customs requirements of the country you're shipping to. The U.S. has restrictions on what they'll send out, but even if your package makes it through U.S. Border Control, it may still be turned away by the destination country.
Read up on the customs restrictions of the country you're shipping to if you have any question about what you're sending.
Back in customs again, your package will be scanned and x-rayed once more. A local customs worker will need to sign off on it. If they do not, the package may be returned to you.
Out for Delivery
After your package clears customs in its destination country, it will be ready to go into the regular mail delivery system of its destination country. At this point, depending on the country you're shipping to, the system may again be a familiar one. Your package will go to a postal delivery service hub, be sorted, and make its way out to its final destination.
When shipping internationally, it is especially important to make sure the address is clear. Double check the address and check the format against other addresses in the area. The last thing you want is for your parcel to make it all the way to its destination country, only to be turned back because of an invalid address!
Get the Best International Package Tracking
So now you're a little more familiar with the international package tracking process! Next time you're watching your package making its way around the world, you'll know more about each step it's taking. Hopefully, you'll also be better prepared to assemble customs-compliant packages!
But what happens if you need to have something shipped to you from another country, but the company you're working with doesn't do international shipping? A package forwarding service can navigate the entire customs process for you and make sure your packages get delivered to you with zero hassle and as little delay as possible.
When you need a package forwarded, get in touch with HMH Ship. We're dedicated to three things: customer service, simple navigation, and complete assistance. We even have a service that will help you order from sites that don't accept international orders!
You can create a free account with HMH Ship today. You are allowed to use their service as much as you like for no additional fees, and parcel forwarding only costs an additional $7.25 to the normal shipping rate. Contact us today to get the best in international package tracking and forwarding.
Sours: https://www.hmhship.com/blog/International-package-tracking
How mail agencies identify suspicious packages
Question: Do Customs Open All Packages?
Do all parcels go through customs?
All packages travelling from/to a non-European Union country, go through customs..
What do I do if my parcel gets stuck in customs?
What You Should Do When Your Shipment Is Stuck At CustomsContact your 3PL provider. Your first action should be to contact whoever has shipped your goods. … Contact your carrier. Ensure that your shipment is actually stuck in customs. … Find out if there are outstanding taxes. … Ensure there is no missing or incorrect paperwork. … Wait.

What do I have to declare at Indian customs?
Every passenger entering India has to pass through a Customs check. All passengers who have dutiable goods in their possession or goods in excess of their eligible Duty Free allowance must fill up the Customs Declaration Card clearly mentioning the quantity and value of goods that he has brought.
Why do I have to pay a customs charge on a parcel?
Why have I been charged? Royal Mail is required by law to present all items arriving in the UK to Border Force. This mail may be checked by them and be subject to customs charges. Any charges are calculated and applied on behalf of HM Revenue & Customs (HMRC).

How long do packages stay in customs?
The customs procedures and the time a parcel is held at the customs office depend on different factors, each for their own. This could be a process lasting from days to weeks, to months. If the items you are transporting are on the list of prohibited and restricted items to be shipped.

Does Indian customs open every package?
No, they don't immediately open your package without any reason. Your package wi definitely go through a scanner machine (x-ray) and screen your items. They will only instantly check what's inside of your package if: Your package has been damaged when it reached the Customs office or desk.
Is customs holding packages from China?
us customs isn't holding packages from china or any country for coronavirus reasons.

What happens if USPS finds drugs in a package?
Rather, they request consent from mailers or addressees to open detained packages. If there is no response after 21 days, packages are declared abandoned and can be opened. When identified as non-mailable items, their contents are seized and disposed and mailable items are returned to the original addressees.

Do customs seize fake goods?
Every year, CBP seizes millions of counterfeit goods from countries around the world as part of its mission to protect U.S. businesses and consumers.
What happens if customs takes my package?
Once the merchandise is seized, the file is forwarded by the U.S. Customs officer to the Fines, Penalties, and Forfeitures Office (FP&F). … The Petition is the means by which the owner of the cargo may seek to persuade U.S. Customs to release the seized shipment.

How do you know if Customs seizes your package?
The best way to find out why something is detained is to simply call the CBP office where the goods are being held and ask them. You usually will get a written notificaton from CBP telling you that your shipment is being held and why and what you can do about it. Former U.S. Customs officer and licensed customs broker.

How long does a package take after clearing Customs 2020?
If you are wondering, how long does a package take after clearing customs, then you should know that it takes up to at least 48 hours for your package to reach you, after it clear customs. Custom officials try their best to clear all packages within 24 hours.
Can customs destroy a package?
If the items being shipped are prohibited or restricted, customs may delay or even destroy the package.

Why has my package been in customs for so long?
There are two main reasons why international packages get held up in customs for more than three days. Either customs is too busy (this happens, for example, during the holiday season, when lots of people shop online for presents) or there is some issue with the package.

How do I know if my package is stuck at customs?
Check Your Mail for a Customs Detainment Letter Check your company mail for a letter from the U.S. Customs and Border Protection department stating that your package has been detained. If the department is holding your item, officials will notify you usually within a few days but it can take as long as 30 to 45 days.
Does Customs blacklist your address?
Basically, customs keep a list of names and addresses associated with every seizure. … Customs will only open some of the packages. If your adress is blacklisted there's a huge chance that they will check your package if it's in the "case" they are checking.

Do you get in trouble if your package is seized?
It is best not to contact any authority to inquire about the shipment status if it already shows that it was seized by law enforcement. Doing so will most likely result in an investigation or arrest as it is illegal to ship drugs through any federal or private carriers.

What happens when a package is seized by USPS?
Once the package is 'seized', it may be examined by a drug dog, and a warrant will be issued to open the package should the dog alert for the presence of drugs (typically, the post office will line up 6 packages, five which they know do not contain drugs, and the suspected package).
How much is customs clearance?
Customs Clearance Fee Tips The standard rate for Customs Clearance is around $50 for clearance with China's Customs and $100-$120 for clearance with CBP. It cannot be anticipated on the freight quote, but CBP may (at their discretion) conduct an examination, accruing costs for you (refer ISF Filing, above).

Sours: https://avalanchespaces.com/qa/question-do-customs-open-all-packages.html
Customs open all packages do
How JFK customs searches 1 million packages a day for illegal items
Following is a transcription of the video.
Narrator: About 1 million packages arrive at John F. Kennedy International Airport every day. And just like travelers have to go through customs, so do international packages. The US Customs and Border Protection, or CBP, is tasked with screening all of them. They're looking for anything that isn't legally allowed in the US; certain foods, animals, drugs, and counterfeit goods.
JFK is one of nine international mail facilities in the US. It's essentially the country's biggest mail room, dealing with roughly 60% of all international packages entering the country.
First, the packages are taken off arriving passenger or cargo planes and transported to the US Postal Service's mail room on site. They're sorted and then taken to the CBP mail facility next door for inspection. CBP uses a three-tiered strategy to efficiently search each of these packages; intelligence gathering, nonintrusive inspection, and hand inspection. We followed two units searching for drugs and counterfeit items.
Before a package ever lands in the US, CBP gathers intelligence on the sender, the container, and the aircraft. They'll check with law-enforcement partners like Homeland Security, the DEA, and the FBI to see if there's anything of interest. This is how CBP narrows down a million packages to ones that will get flagged for further inspection.
Once a suspicious package is pulled, it goes to the CBP inspection area. This is where human CBP officers get a little help. Here, a four-legged officer, like Alex, will search hundreds of packages in 20-minute runs. These dogs are trained to sniff out seven different drugs.
Michael Lake: The drugs that they are trained for are hash, marijuana, cocaine, heroin, methamphetamine, ecstasy, as well as fentanyl.
Narrator: If Alex finds something, he'll notify his handler by sitting or lying down. If he's right, he gets his chew toy.
Lake: This is the game that they work for. All right, it's good play. Here's a good boy, good boy.
Narrator: And if Alex or one of his furry friends comes in contact with a drug, officers have the antidote Narcan on hand. Nearby, CBP officers are using another nonintrusive search tool: X-rays.
Nathanial Needham: When I first started this, I would literally open up everything 'cause I couldn't tell what the image was. But eventually, after you do thousands of parcels, opening them up and comparing them to image, now you start getting good. You can identify, oh, that's this, oh, that's this. We can let that go because of this.
Narrator: If they see something on an X-ray monitor that looks suspicious, officers will isolate the package.
Needham: Can we pull that one, actually?
Narrator: Isolated packages go through an intrusive search. Officers will cut them open to hand-search for drugs or counterfeit goods.
Needham: I always got taught, basically, expect a package to be something that's going to your mom, so that if it is good, it's coming back to your mom the same way that it's supposed to be.
This is common. It's, like, from back home. It's pills, certain kind of vitamins, and they get them from their little pharmacy. I'm pretty sure that this right here is actually a steroid.
Producer: Is that allowed?
Needham: No. The worst part is you don't know what's in these capsules.
Narrator: If the officer finds drugs, the package is sent to Murielle.
Murielle Lodvil: That's 4,000-plus pills here.
Narrator: But if he finds a counterfeit good, it's sent to Steve. We'll start with Murielle.
Lodvil: The strangest areas that we find drugs concealed are radio speakers or even car bumpers. For some reason, they love to place cocaine in car bumpers. It's crazy, where we even find drugs in Play-Dohs. Also books, children books. In between the lining of the pages, you'll find drugs there.
Narrator: Murielle tests the drugs with a spectrometer called a Gemini. Using lasers, the machine can pierce through packaging and tell what drug is inside.
Lodvil: Right now, I'm gonna test this particular package. It's telling me that it's ketamine. It's used for horse tranquilizer and also painkillers.
Narrator: Murielle will label the drugs based on where they fall among the DEA's drug schedules, Schedule V being a drug with the lowest potential for abuse or dependence, like Robitussin, and Schedule I being a drug with the highest potential for abuse, like ecstasy.
Lodvil: We have the GBL coming from the Netherlands, and someone in New York is receiving it. Steroid, a Schedule III, coming from Hong Kong. Then we have the carisoprodol coming from India. And then we have the tramadol coming from Singapore.
Narrator: Any scheduled drugs will be seized.
Lodvil: There is no day that we come to work that we don't find anything. Every day is a sense of importance because of the fact that we taking out those particular drugs from the street.
Narrator: The narcotics unit had over 7,600 seizures in 2018, including 246 pounds of cocaine and over 360 pounds of ecstasy.
Now, back to Steve. He's the one that gets all the counterfeit goods. That's anything that infringes on a company's intellectual property rights, or IPR. Think fake Air Jordans, Gucci purses, or Rolex watches. Companies like Louis Vuitton and Gucci train Steve on the telltale signs for spotting a fake. While most of the tips are kept top secret to protect the brand, there are a few things that Steve could share with us.
Steve Nethersole: The first, when it comes in, is the country of origin. These high-end manufacturers here, Louis Vuitton, Gucci, they're coming from France, Italy, Spain. The watch is coming from Switzerland. When it's coming from China, bing, that's your No. 1 red flag. Then you look at the dilapidated boxes, so that's two red flags there. A third thing is commingling. The high-end manufacturers never commingle their products, like, in other words, a Gucci inside a Fendi or a Louis Vuitton. These people will stuff watches, a wallet, inside a handbag. And so, they'll never commingle their products. They are so precise.
Some of the things I could say, like, some of the manufacturers, they don't put any of this in it, the filler, inside it. They would never do that. We'll look at the smell. Sometimes it smells like petroleum. It's not real leather. We look at the stitching. We look at the symmetry of the logos by the manufacturer, the zippers. This one here is a Coach bag with a Michael Kors zipper. This coat has "Burbelly" on the buttons instead of Burberry, so these are the comical things that we find when you look at it up close, and you could pick it right out.
Narrator: Counterfeit goods make up an estimated trillion-dollar industry that's even been linked to terrorist groups around the world. In 2018, CBP had over 1,800 IPR seizures. And if all those counterfeit goods had gone on to sell at their suggested retail price, they'd total an estimated $54 million. So, where do all these seized goods end up anyway?
Well, most of the narcotics and counterfeit goods will be sent to a top-secret incinerator to be destroyed. Some of the drugs will go under further testing, while some of the counterfeit goods may be donated if the offended company allows it. But, in some cases, if the illegal goods are part of a greater investigation, CBP officers will actually put that package back in the mail. Then, they'll track it all the way to the person it was sent to. This is known as a "controlled shipment."
Lodvil: I'm the one who opened that package, and now I'm involved in this controlled delivery. Now I get to finish the story. All right, now we go out. We knocked on your door, you open. Hello, we noticed that you've ordered, you know, this particular package. It's MDMA. What's the story behind it? So then, we listen.
Narrator: But whether they're up against fake Guccis or dangerous amounts of fentanyl, CBP stands guard at the country's busiest mail facility.
Lake: This is where it comes. You don't see it all the time coming across the border in trucks and big bundles, like the TV will have you see. This is where it's all coming from, and it hits the street and it destroys lives. So, in our way, if we can stop it here, it's one less tragic story, probably, that we're gonna have to hear about.
EDITOR'S NOTE: This video was originally published in September 2019.
Sours: https://www.businessinsider.com/jfk-customs-searches-million-mail-packages-drugs-counterfeit-2019-9
Explained about Customs Inspection. Cost and Difference between Import and Export inspections.
How long does it take for a package to pass through customs?
Before taking the package, you need to choose the zone from where you need to send it and there it will be checked usually enter a specific place in the country. And generally, it will take around 3 to 5 days to get the package through customs.
How long does lax customs take for packages?
It generally takes between 30 minutes and 4 hours or so to clear immigrations and customs, depending on number of lines open, number of other passengers filing through (yours and other planes), and whether you get chosen for secondary screening.
How long does it take USPS to clear ISC Los Angeles?
It depends on how you send it! And if it's a busy time of the year! It be at a ISC station 3 to 10 days! You will have a tracking number to locate it!
How long does a package take after clearing Customs 2020?
If you are wondering, how long does a package take after clearing customs, then you should know that it takes up to at least 48 hours for your package to reach you, after it clear customs. Custom officials try their best to clear all packages within 24 hours.
Do customs open all packages?
Do customs open every package to verify information? No, customs officers will not open up your package or packages without good reason. Every package is put through a scanner machine, or an x-ray machine, to verify that the items you are shipping match your customs forms.
Do domestic packages go through customs?
Customs Authorities When you're shipping domestically, most packages simply travel to their destination, get delivered, and everything continues as normal. Customs departments only come into play when something is shipped internationally.
How much is customs clearance?
The customs clearance covers the process of preparing and submitting Customs Entry documentation to the CBP. This is also known as Customs Brokerage. Customs Clearance Fee Tips: The standard rate for Customs Clearance is around $50 for clearance with China's Customs and $100-$120 for clearance with CBP.
How long does customs clearance take FedEx?
How long will FedEx be able to keep my shipment on hold for import clearance? FedEx will usualy hold the shipments for 10 days for customer instructions or approvals.
Does processed through facility mean it cleared customs?
International orders go through customs when they get to the country they are being delivered to, not the country of origin. Processed through facility means it has left the country and is somewhere in transit or in that country.
Why is my package still in transit USPS?
It can be literal status or package just has not moved in a long while. Many times, when this happens, you won't see a new update in the tracking system. When your shipment is in transit, it means the courier company picked the parcel up and your shipment is on its way to the delivery address.
What does processed through facility mean USPS?
Processed Through Sort Facility (or Post Office ) This scan indicates that the item has processed through and left a Postal Service processing facility.

Where does your package go after customs?
Your item could not be delivered or returned to the sender. It is being forwarded to a USPS mail recovery center where it will be processed.
Why does it take so long for a package to clear customs?
There are three basic reasons your shipment could get stuck in customs: If the items being shipped are prohibited or restricted, customs may delay or even destroy the package. You may owe taxes on the shipment, which will be released when you pay them.
What happens when customs seizes your package?
If a violation does occur, the merchandise will be seized by U.S. Customs. The merchandise is then transported by U.S. Customs from the CES to a Seized Property warehouse. The merchandise will remain in the warehouse until it is authorized to be released by Customs, and the warehouse is paid its storage fees.
Sours: https://lastfiascorun.com/brazil/often-asked-how-long-does-it-take-for-a-package-to-clear-customs-in-los-angeles.html
You will also be interested:
She again clung to me, coquettishly raising her leg. Everything I love. But this was already a form of mockery. - Will you call me. Tomorrow.
256
257
258
259
260