A look at the gear from every winner and runner-up of the TV show Alone
Warning: Contains spoilers for seasons 1-7
A lot of survival TV shows are fake. But one of my favorites is History's Alone, in which 10 contestants (14 in Season 4) are dropped off in the wilderness and compete to see who can survive the longest while isolated. The show is now in its eighth season, which you can watch on Netflix or Hulu.
In the mold of Survivorman's Les Stroud, contestants operate their own camera equipment. And they are allowed only 10 items to help them survive as long as possible. They are also provided with a GPS phone they can use to call for help or throw in the towel. The last person standing wins $500,000 ($1 million in Season 7).
Alone might be the most grueling game show of all time. The winners are proven survival experts and even the runners-up are no slouches.
So I wanted to analyze the gear top contestants chose for their 10 items. Maybe it would inspire something different in my personal bug out bag list?
And this was a cool way to play with The Prepared's kit builder tool, a prototype we've been building as a side project to help organize personal inventory and kits. You can even clone any of the below kits, then modify them to make them your own!
Summary:
Every contestant brought a sleeping bag instead of a wool blanket or other form of sleep gear
Every winner or runner-up brought a sleeping bag, ferro rod, saw, and axe
Most winners carried a field knife
Other popular items among finalists were cook pots, fishing kits, wire, multitools, gill nets, and rations
A few Alone champs brought along a Samick Sage takedown bow. We'll have to give it another look for the survival bow guide.
What are the most popular items among Alone contestants?
Every contestant brought a sleeping bag.
Also interesting is the fact that not every contestant brought a ferro rod, though the vast majority did.
Almost all contestants brought a fishing kit (which seems like a good "value," since such a kit would include several items, like fishing line that could be used for cordage).
Rounding out the list of most-popular items is a two-quart pot, essential for cooking food and boiling water.
Review:The Stanley Cook Kit is a great fit for a go-bag
Some other surprises:
Only 79% brought a knife. Knives are often considered one of the most important survival items.
Cordage is another item emphasized in survival kits, since it's hard to fashion in the field, but only 53% brought paracord and only 1% brought rope. Many contestants used line from their fishing kit or snare wire as cordage instead.
Water bottles, another popular item in survival kits, were only used by 11% of contestants.
Additional tarps weren't usually included, but note that the producers give each contestant one or two tarps as "freebies." Only 25% of contestants brought an additional tarp and only 1% brought two additional tarps.
Only 4% brought a sharpener. You can use stones to sharpen blades in the field. Many brought a multi-tool with a file that could act as a sharpener.
Learn how to sharpen your blades in the field with TP's online video course.
The challenge: figuring out the exact gear used by Alone's winners
The show never details the contestant's items, but the show says you can see what 10 items each participant took with them at History.com. Unfortunately, they don't list the exact items, brands, and models — they just list the general items, like "saw."
After consulting many different resources and spending over 20 hours on research, I've compiled the most accurate and comprehensive list of the 10 items that the winners and runners-up used. Sometimes, I was able to find the exact item that the contestant used, and other times I had to make educated guesses using video clips from the show. Each item is accompanied with any information I found on the item, prices, and weights.
What gear the champions brought
If we limit the data just to the 1st and 2nd place winners, here's what they brought:
Every finalist had (compared to all contestants):
Sleeping bag (vs 100% of all contestants)
Ferro rod (vs 98%)
Saw (vs 86%)
Axe (vs 83%)
To date, no one has won Alone without those four items. And the vast majority also brought:
Cook pot (85% vs 92% of all contestants)
Fishing kit (71% vs. 95%)
Wire (71% vs. 38%)
Multi-Tool (71% vs. 37%)
Gill net (57% vs. 38%)
Rations (57% vs. 64%)
This data isn't as iron-clad, and a contestant's choices could be directed by preference. But there are some clear patterns — many more winners brought multitools compared to the broad contestant pool, for example. The winners are probably better at using versatile tools like multitools and wire for a wider range of needs, compared to something specific like a fishing kit.
And you might notice that the items I pulled out above add up to 10. So based on the statistical preferences of Alone's winners, here is the "perfect" kit:
Sleeping bag
Ferro rod
Saw
Axe
2-quart cook pot
Fishing kit
Wire
Multi-Tool
Gill net
Rations
But remember, there are three types of lies: lies, damn lies, and statistics. Don't take this as strict survival advice — the mix of gear that makes the most sense for an Alone situation is not the same as the best mix for a general go-bag — but as far as minimalist kits go, you could do a lot worse.
Season 1: Alan Kay and Sam Larson
Alan Kay and Sam Larson came out on top on Vancouver Island.
Here's first-place winner Alan Kay's kit:
Alan had some interesting items in his kit, including a bow saw, water bottle, gill net, wire, and a kukri. Between the saw, a Fiskars Axe, and the kukri, Alan loaded up on cutting tools.
Sam's kit was a bit more conventional. He also loaded up on cutting tools, with an axe and knife, along with a tarp, bow and arrows, and pemmican. Sam made the axe handle and arrows himself.
Season 2: David McIntyre and Larry Roberts
David McIntyre was the second contestant to conquer Vancouver Island, and this is what he brought:
Like Alan Kay, he brought a gill net. He also doubled up on sleep with an Army bivy bag and a mummy bag. He also tripled down on cutting tools with a knife, axe, and saw.
Runner-up Larry Roberts also emphasized cutting tools, with a knife, axe, and saw. In addition, he brought a gill net and extra rations.
Season 3: Zachary Fowler and Carleigh Fairchild
Alone moved to Patagonia, Argentina for its third outing. Here's winner Zachary Fowler's kit:
Fowler had some unique items in his kit, including a Spetzsnaz shovel, slingshot, and multi-tool. Fowler made the slingshot himself and painted the ammo pink so he could easily recover it. Smart! (A season one contestant bailed after losing a black ferro rod.) Like many winners, Fowler loaded up on cutting tools and he brought along some multi-function Titan paracord.
Carleigh Fairchild was Alone's first woman runner-up. Let's look at her kit:
Largely standard stuff: multiple cutting cools, a water bottle, etc. But Fairchild doubled up on emergency rations with a bag each of rice and beans. Those are two of the best foods you can stock up on for preparedness.
Season 4: Jim and Ted Baird and Pete and Sam Brockdorff
In Season 4, Alone returned to Vancouver Island, but mixed things up with pairs of family members. Brothers Jim and Ted Baird had a most excellent adventure with this kit:
At this point, there are some clear patterns, such as a full stock of cutting tools and fishing gear. An interesting item in the Brothers Baird kit is the Samick Sage takedown bow. We think there are better-suited survival bows on the market (the Sage is more for competition), but who are we to argue with success?
Father and son Pete and Sam Brockdorff took a fairly standard kit, but doubled up on tarps and brought some rations.

Season 5: Sam Larson and Britt Ahart
Sam Larson returned from Season 1 to conquer the wilds of Northern Mongolia. His Season 5 kit was considerably different than his first:
The only commonality was the ferro rod. He exchanged the canvas sleeping bag for the heaviest sleeping back he could find, traded the DIY axe for a Hults Bruk, and swapped pemmican for two pounds of flour and two pounds of trail mix. The most interesting change was the addition of a relatively heavy 2-quart enamel pot. He also brought along a Leatherman multi-tool.
Season 5's runner-up was Britt Ahart, a contender from Season 3. He brought along a Leatherman Wave and a Samick Sage bow.
Season 6: Jordan Jonas and Woniya Thibeault
Jordan Jonas is one of Alone's most impressive champions, managing to slay a 408-pound moose with a takedown bow, dress it with a Leatherman multi-tool, and kill a wolverine with his trusty axe in the wilds of Northern Canada.
Jonas later told Joe Rogan that if he had it to do over, he would have traded the saw for a gill net because he almost never used the saw. He managed to fashion a net out of paracord.
Runner-up Woniya Thibeault had an interesting and brightly colored kit that helped her hold out for 73 days.
Season 7: Roland Welker and Callie Russell
Roland Welker survived 100 days in Northern Canada with a mostly standard kit, but with an interesting addition: a giant crosscut saw that he intended to build a log cabin with.
Alone's third woman runner-up, Callie Russell, survived 89 days with another fairly standard kit with her own twist: a homemade Osage bow with a wool quiver.
Gideon Parker |
I am the Community Moderator for ThePrepared.com, an Eagle scout, was paralyzed in a motorcycle accident and am now in a wheelchair. I love all aspects of emergency preparedness, digital security, and privacy.
Sours: https://theprepared.com/blog/alone-winner-gear-analysis/
This Season, the 10 contestants were selected from previous 4 show participants, so they have
Alone
experience and should make better choices in what gear to carry. In addition to some common necessities (like clothes and tarps), they get to pick 10 personal items to carry with them.
All ten participants chose a sleeping bag and ferrous rod. Nine selected the fishing kit with 25 hooks and fishing string and a cooking pot, although the tenth participant chose a frying pan. Nine also chose a saw. .
If we compare this to the list of things the past winners packed, we see a few differences.
Para cord was used by about 80% in the past, but only 40% this time.
In the past, the bow and arrow was selected by only about 10% - 20% of the participants, but this time 70% are taking a Bow and Arrows as this area has more large animals than the previous season locations. The ability to get a large animal through bow hunting or trapping will be a game changer and determine whom the winner is.
Only 2 chose a gill net, which has been one of the most productive food sources in past shows/locations.
Who do you think will win this Season 5 event? Is the participants past performance an indicator of how they might do this time?
86 days - Carleigh lasted the longest on the Season 4 show of any participants this Season 5 at 86 days, which would have likely won the previous seasons, making her the odds on favorite to win this one, but she may be suffering from PTSD from her first episode on Alone, as she is breaking down crying a lot. Note she did not quite but was forced out due to health risk/concerns; so she is tough.
73 days - Dave was forced out of Season 3 at 73 days due to health risk/concerns, despite having 33 dried fish halves preserved for food. This could have carried him for another 33 days or more, making him the clear winner. Dave can win this season because he has the skills and mental attitude to be successful.
64 days - Larry Roberts quit after 64 days on the season 2 show due to hunger.
57 days - Nichole quit after 57 days on Season 2, despite catching more fish than anyone else, but didn't dry and preserve them for future needs. But how much of her abundant fish supply was luck of the draw, getting a hot location? She also had an excellent knowledge of edible plants.
55 days - Sam Larson lasted 55 days, until his food supply of mice ran out. He went with a minimal shelter and conserving calories strategy. This approach can work for short competitions, but not long ones.
49 days - Brook Whipple and her husband lasted 49 days, but she will be "Alone" this time and survival will be much tougher.
Anyone who couldn't last longer than these has little if any chance of winning.
Brad Richardson was out after 1 day on Season 4 when his brother hurt his ankle, and Jesse Bosdell was out after 5 days when his brother injured his back. Either of these two are the unknown wild cards that could be the surprise winner.
Or click on a label below for similar topics.
Sours: http://prepperhandbook.blogspot.com/2018/06/alone-season-5-pack-list.html
These are the most popular gear choices from the alone gear list for all the seasons. Below, I put the detailed gear choices of the winners and runners-up of each season. There is also a list of the gear I would choose, the gear I would leave, and the rationale behind it.
Attention: There are spoilers of seasons 1-6.
Season
1
2
3
4 (Pairs)
5
6
7
8
Alone Gear list
V. Isl.
V. Isl.
Patagonia
V. Isl.
Mongolia
Subarctic
Subarctic
Chilco Lk.
Chosen
Sleeping Bag
10
10
10
7*
10
10
10
10
77
Ferro Rod
10
10
10
7*
10
9
10
8
74
Fishing Kit
10
9
10
7
9
10
9
10
74
2 Qt Pot
10
8
9
7
9
9
10
10
72
Knife
9
9
9
7*
8
7
4
2
55
Axe
10
10
9
6
6
8
10
8
67
Saw
6
10
8
7
9
9
7
10
66
Food Rations
3
10
9
5
9
5
1
4
46
Gill Net
4
9
1
5
2
1
4
26
Paracord
5
1
8
2
4
8
8
9
45
12×12 Tarp
6
1
2
7
1
1
17
Bow & Arrows
4
1
2
2
7
8
9
10
43
Multi-Tool
2
2
1
3
4
5
8
8
33
Wire
1
1
2
8
6
8
9
35
Bivy Bag
2
2
1
3
8
Water bottle
3
1
1
2
1
1
7
Frying pan
2
1
1
1
1
6
Sling Shot
2
1
3
Sharpener
2
1
3
Hammock
1
1
2
Extra Tarp
1
1
Rope
1
1
Shovel
1
1
2
Soap
1
1
Alone Gear List: Season 1 Winner and Runner-Up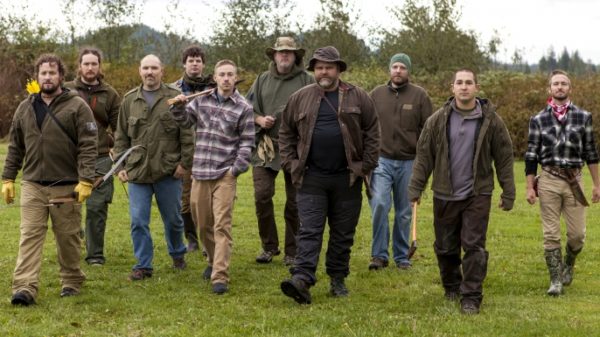 Alan Kay (Winner)
Saw

Fiskars/Gerber Axe

Sleeping bag

Large 2-quart pot

Ferro rod

Water bottle/canteen

Fishing line and hooks

Gill net

3.5lb wire

Condor Kukri Knife

Sam Larson (Runner-up)

12×12 ground sheet tarp

Axe

Sleeping bag

Large 2-quart pot

Ferro rod

Fishing line and hooks

Bow and 6 arrows

Slingshot

Emergency rations

Knife
Alone Gear List: Season 2 Winner and Runner-Up Gear Choices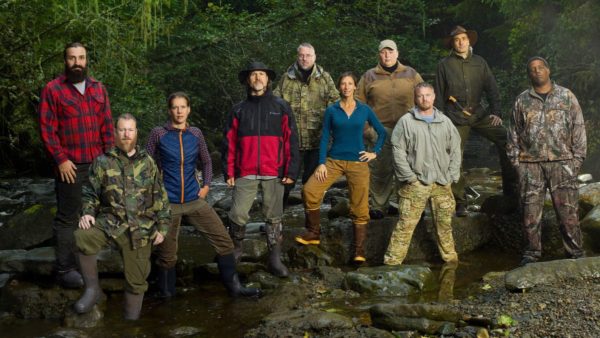 Alone Gear List: Season 3 Winner and Runner-Up Gear Choices

Alone Gear List: Season 4 Winner and Runner-Up Gear Choices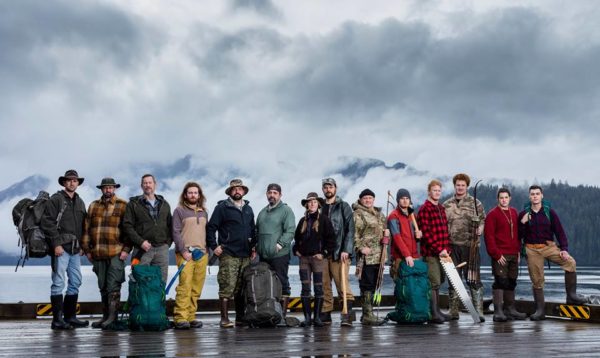 Alone Gear List: Season 5 Winner and Runner-Up Gear Choices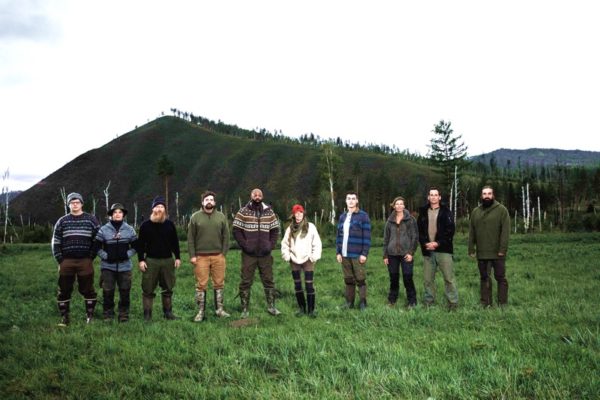 Alone Gear List: Season 6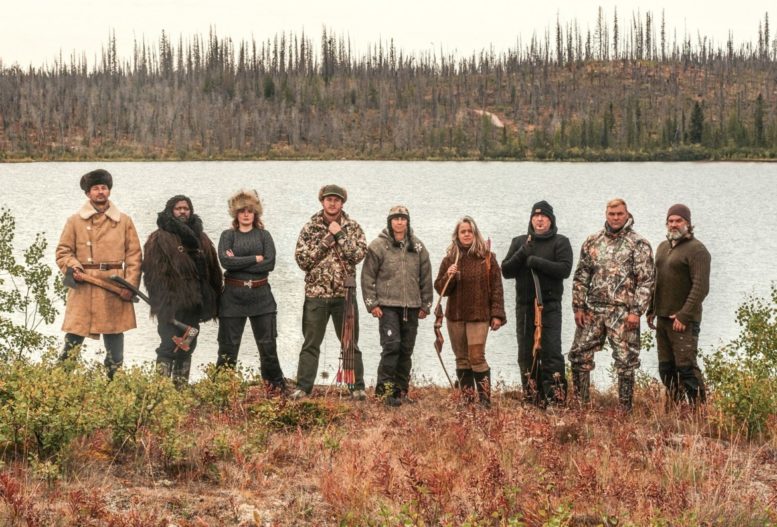 Jordan Jonas (Winner)
Jordan (season 6)

Paracord
Folding Saw Silky Katanaboy
Siberian forest hatchet medium length
Sleeping bag -40 degrees down sleeping bag
Frying pan
Ferro rod
Fishing line and hooks
Bow and arrows takedown recurve
Trapping wire (brass and steel
Multitool Leatherman Surge

Woniya Thibeault (Runner-Up)
Ferro Rod

Leatherman Surge Multi-tool (modified)

Saw Silky Katanaboy

Sleeping Bag

Morakniv Companion Knife

Paracord

Fishing Kit

Pot

Pemmican

Bow and arrows
Alone Gear List: Season 7
Based on the first 2 episodes of Alone season 7, the contestant's bios, and their gear choices, I think that the top contenders will be Kielyn and Joel. So I've put their gear loadouts below:
Kielyn Marrone
1. Snare wire
2. Fishing line and hooks
3. Gill net
4. Axe
5. GSI Aluminum Dutch Oven
6. Sleeping bag -40C
7. Paracord
8. Ferro rod
9. Super Grizzly Bow
10. Multitool
Joel Van Der Loon
1. Bow Saw
2. Samick Sage 50# Bow & Arrows
3. Fishing line and hooks
4. Snare wire
5. Ax
6. Leatherman Surge
7. Ferro rod
8. Pot
9. Sleeping bag -40F
10. Gill net
Alone Gear List: Season 8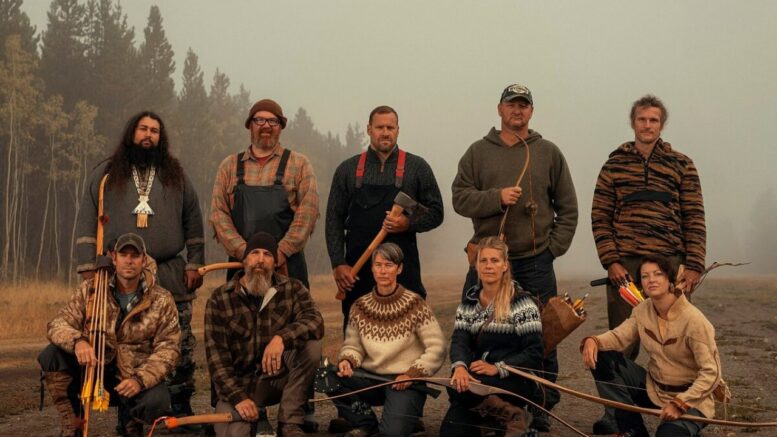 Based on the first episode of Alone season 8, the contestant's bios, the previews, and their gear choices, I think that the top contenders will be Biko, Clay, and Jordon. So I've put their gear loadouts below:
The gear chosen by the Winners of seasons 1 to 7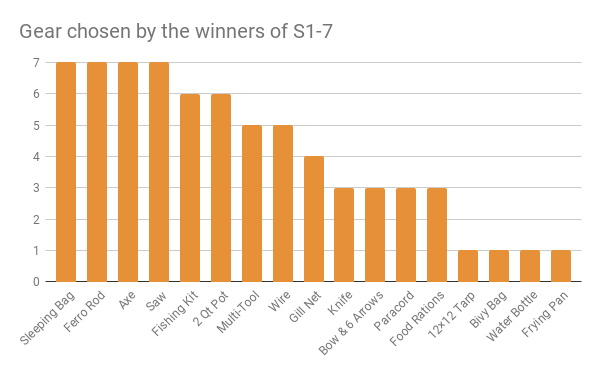 What I would choose for my Alone Gear List
There are a few items that are location dependent but the core of my list would be:
Gear
Model
Rationale
Sleeping Bag
Wiggy's Antarctic Bag -60F
Rated for extreme cold because starvation makes the body run colder. Synthetic so moisture build up and rain becomes less of an issue. 
Multi-tool
Leatherman Super Tool 300
It's the most most heavy duty Leatherman. Pliers, file, and knife in one.
Ferro Rod
½" by 5" Ferro rod
I'd rather have a simple, reliable firestarter, instead of wasting calories using a bow drill. This is an item that someone highly skilled in friction fire might decide to forego, but I think survival common sense and murphy's law applies.
Fishing Line and Hooks
circle hooks
It's the most effective food procurement tool, and for trotlines. Not very useful in winter.
Pot
Stowaway MSR Pot
Or a GSI aluminum dutch oven
Axe
Schrade SCAXE2L 15.75"
Not too long, not too short. It should be compact, but effective. I used to think a full tang steel axe was better, but they are too heavy for winter use with mitts.
Bow and Arrows
Samick Sage #50
Would prefer a survival bow, but only wooden bows are allowed 🙁 For hunting small & big game if lucky
Gill Net
Custom
Passive fishing, and it's how fishing for sustenance is done. There's a reason why commercial fishing is done using nets.
Wire
snare wire
For fishing leaders, hooks, and snares.
Saw or rations
Depending on overall strategy I would choose a Big Boy silky saw or rations.
I would not take:
| | | |
| --- | --- | --- |
| Gear | Item | Rationale |
| Saw | Silky Big Boy | Unless most of the trees are very very wide an axe should be enough. In a place like Vancouver Island I would trade the axe for a saw. |
| Knife | Morakniv Companion Heavy Duty | I can carve, skin, and fillet with a multitool. |
| Food Rations | Pemmican | I would rather put on more meat in my bones and have extra hooks. |
| Paracord | Assorted colors for lures. Orange and pink are harder to lose. Also camo color for traps. | A hammock can be a bigger supply of paracord. And wire is more useful. |
Viewers seem to focus too much on the tools, but I'd say that outdoor clothing is equal if not more important than tools. Also a few contestants have made poor choices of gear, but have won or stayed out there for a really long time. Sam didn't bring hooks in season 5, but won, for example. Brooke and Dave brought soap. Clearly, attitude trumps gear in survival.
Alone Gear List References
priorproperplanningpppp.blogspot.com , bladesandbushlore.com , morethanjustsurviving.com , outdoorrealityshows.com , prepperhandbook.blogspot.com , thetruthaboutknives.com , davemcintyrewilderness.org , prepperhandbook.blogspot.com
Alone Gear List: Analysis of All the Seasons
2.9(57.14%) 7votes
Sours: https://survivalskills.guide/alone-gear-list/
Alone: Bonus - Britt's 10 Items (Season 5) - History
List Of ALONE SEASON 5 GEAR LIST. From Top Value Brands
FAQs
How do I read more articles from the author who wrote Alone Season 5 Gear List?
If you want to see more articles from the writer of Alone Season 5 Gear List, just scroll to the end of our site then click on "More from author" section. We will show you all the articles from the same author in the result.
Besides Alone Season 5 Gear List, how do I know which is the hottest topic at the moment?
If you want to know which topic is the hottest right now besides Alone Season 5 Gear List, go to our homepage and scroll down a little bit. You will see the "Hot right now" section. We will show you a list of the hottest topics at the moment.
What product criteria are often mentioned in Alone Season 5 Gear List?
As a vendor, we understand that besides quality, price is of utmost concern to consumers. Therefore, in Alone Season 5 Gear List, we normally give detailed comments on product quality while suggesting to customers the products that are most suitable for them in price.
Sours: https://bestproductlists.com/review/alone-season-5-gear-list
List alone season 5 gear
Here is the list of items each Alone contestant is given, the master list from which they can choose their 10 individual items and the list of prohibited gear items. [Last updated for Season 4]
Standard gear includes clothing, protective gear, safety equipment, camera gear, and some survival gear. Individual gear includes shelter, bedding, cooking, hygiene, hunting, food, and tools.
Clothing, Apparel, and Personal Effects
*These items do not count towards the 10 special items, but may not exceed the approved quota for each.
1x Pair of high leg Hunting boots
2x Pairs of Outdoor Pants (can unzip into shorts)
1x T-shirt
2x Fleece or wool shirts (hooded or unhooded)
3x Pairs of wool socks
1x Hat (brimmed, wool or baseball)
1x Bandana or shemagh
1x Pair gloves
1x Light outdoor jacket
2x Pairs of underwear
1x Rain jacket and rain trousers
1x Thermal underwear (long)
1x Pair of gaiters
1x Pair of Crocs, Teva sandals or Keen sandals
1x Toothbrush
1x Pair of prescription eyeglasses
1x Personal photograph
Winter Packs
*These items were provided to each participant and did not count towards the 10 special items.
1x Wool sweater (heavy)
1x Pair of gloves (wool/Dachstein)
1x Trapper's hat or toboggan
Tracking and Safety
*We will provide the following items to each participant. These items do not count towards the 10 special items.
Camera equipment
2x Safety tools (may consist of a canister of wild animal repellant, an air horn and/or 1 flare)
1x Rules and regulations guide
1x Backpack
1x Camera pack
1x Emergency flare
1x Satellite phone
1x Emergency personal flotation device
1x First aid kit (military type – tourniquet, wadding, ace bandage, alcohol, plastic bag, etc)
1x Small mirror
1x 20×20 canvas tarp
1x 10×10 tarp for protecting camera and equipment
1x GPS tracking device
1x Headlamp
1x Emergency rations pack to include water and food
Individual Items
*Each participant must choose TEN total items from the following list. Selections are final. Once chosen, no items may be swapped out or replaced. These will be each participant's unique tools used to survive in the wilderness on camera.
Shelter
12×12 ground tarp (grommets approved)
8mm climbing rope (10m)
550 Paracord (20m)
Hatchet
Saw
Axe
Bedding
A multi-seasonal sleeping bag that fits within provided backpack
Bivy bag (Gore-Tex sleeping bag cover)
Sleeping pad
Hammock
Cooking
Pot including the lid (2 qt max)
Steel frying pan
Flint or ferro rod set
Enamel bowl for eating
Spoon
Canteen or water bottle
Bear canister
Hygiene
1x bar soap
8oz tube of toothpaste
1x face flannel
40 m roll of dental floss
Small bottle bio shower soap
Shaving razor (and 1 blade)
Towel (30" x 60")
Comb
Hunting
300-yard roll of nylon single filament fishing line and 25 assorted hooks (No lures)
Primitive bow with 6 Arrows (must be predominately made of wood)
Small gauge gill net (8 m x 2 m OR 1.5 m deep x 3.6 m long and 2" [50 mm] mesh)
Slingshot/Catapult
Net foraging bag
3.5 lb roll of trapping wire
Food
5lbs of beef jerky (protein)
5lbs of dried pulses/legumes/lentils mix (starch and carbs)
5lbs of biltong (protein)
5lbs of hard tack military biscuits (carbs/sugars)
5lbs of chocolate (Simple/complex sugars)
5lbs of pemmican (traditional trail food made from fat and proteins)
5lbs of gorp (raisins, m&m's and peanuts)
5lbs of flour (starch/carbs)
2lbs of rice or sugar and 1 lb of salt
Tools
Pocket knife
Hunting knife
Multi-tool
Sharpening stone
Roll of duct (or electrical) tape
Small shovel
Small sewing kit
Carabineer
LED flashlight
Pair of ice spikes
PROHIBITED ITEMS
*The following items are PROHIBITED. This list is not exhaustive but if an item is not listed above, it is also prohibited.
Compass
Fuel or matches
Bug spray/mosquito repellant.
Sunscreen/chapstick
Sunglasses
Beauty products
Map (detailed topographical)
Compass
Unapproved technology (anything with a battery or an engine, eg. cell phones, computers, watches, etc.)
Professional snares
Firearms of any kind
Ammunition
Explosives or gunpowder
Animal poison
Professional fishing rods
Fishing lures, flies, bait kits
Fishing traps
Food or beverage (except the options from the selection list)
Decoys
Animal calls
Tree stands
Professional bows or crossbows
Scopes of any kind
Tents or shelters
Stoves, pressure cookers or other cooking appliances
Hydration packs
Fire pits
Electric or propane lanterns
Inflatable boats
Filtration, purification devices, iodine tablets
Coolers or food storage boxes (except optional bear canister)
What would you choose?
Check out The Best 10 Item Kit here >
Related Posts
Sours: https://elementbushcraft.com/alone-survival-gear-list-and-prohibited-items/
Alone: Bonus - Sam's 10 Items (Season 5) - History
This picture both frightened me and excited me. Stunned, I took the glass and drank it in one gulp. The air in the room was heavy, there was a smell of sweat mixed with the smell of sex.
Similar news:
Think about it anymore. I looked at my wifes eyes, they were very rounded. her face writhed in pain.
295
296
297
298
299