There's quite a bit of fun stuff to find in the jungles of Minecraft, so we're taking a look at some great seeds you can play with in this list of Minecraft Jungle Seeds! These are for both Bedrock and Java, so you should be able to find something you like on any platform.
Using the Key Locations
If you want to teleport yourself to one of the locations I mention, just copy the numbers listed by the one you want to visit. Go into your game and into that seed, then in the command window just type in "/teleport @s " or "/tp @s" and paste the numbers! Once you hit enter, you should teleport to the location.
Version Numbers
I've included the version of Minecraft that I used when I tested out the seed. It's still possible that the seed will work on a past or more recent version of the game! You just need to give it a try on whatever version you want to be playing on.
If you want to find some awesome general seeds, then check out our Best Minecraft Seeds list!
Here's our list of Minecraft Jungle Seeds:
More Great Minecraft Content
Jungle Temple And Igloo Only 1 Block Apart Close to Spawn
Credit:mooing_cowmilk - Seed: 4896327588626842641 - Version: Java 1.16.4
Now this seed is a one in a 664 Billion shot according to mooing_cowmilk, and we can say it's probably accurate, as having a Jungle Temple and an Igloo one block apart is madness but alas it's happened! Not only do you have the two different biomes clashing, not far away is the Desert and Badland biomes!
Key Locations
Jungle Temple & Igloo: 8 71 40
2nd Jungle Temple: -344 74 680
Ruined Portal: 137 72 136
Pillager Outpost: -716 69 -140
Igloo: 856 69 136
Desert Temple: -728 73 -408
Jungle Temple & Taiga Zombie Village Close to Spawn
Credit:manngamania - Seed: -7868914814809768374 - Version: Java 1.16.4
Ever wanted to go to a zombie village, but then get side tracked by the Jungle Temple they have a few steps away from it? Well, now you can! Not only that but surrounding spawn there's a fair number of temples that you can head to straight away for some awesome loot!
Key Locations
Jungle Temple & Village: -360 73 -312
2nd Jungle Temple: -792 73 8
Ruined Portal: -264 68 -344
Pillager Outpost: -1292 74 132
Igloo: -1416 71 -952
Jungle & Ice Spikes at Spawn (Bedrock - 1.14.6)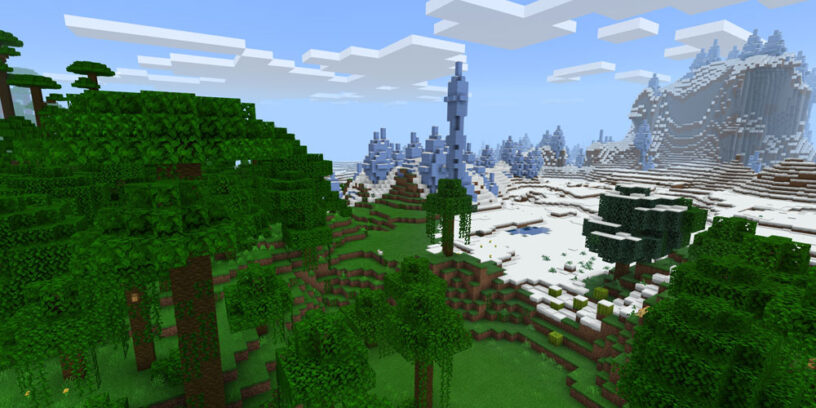 Credit:TelepathicGrunt - Seed: 1659596317
What a crazy mix of biomes at your spawn where you find yourself in a large jungle but right next to it you see huge ice spikes! You'll find a snow village, mine in a ravine, a few more villages, and a pillager outpost! This is just after my research of the seed, I'm sure there's quite a bit more to find if you delve deeper. This would be a great seed for a variety of things to play with.
Key Locations
Jungle Temple: -138 82 134
Snow Village: 173 69 -373
Mine in Ravine: -838 36 561
Village: -1146 71 584
Large Village: -1214 70 959
Pillager Outpost: 474 81 134
Large Haunted Village: 659 69 252
Snow Village #2: 1041 66 51
Village w/Ravine & Jungle Biome (Bedrock - 1.14.6)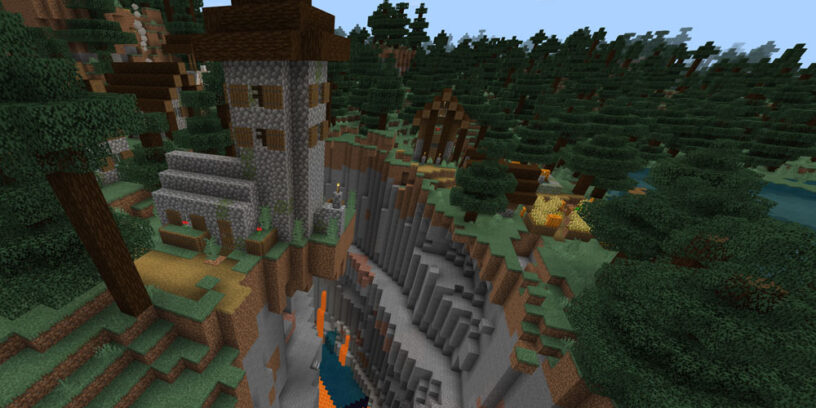 Credit:SilkySharp - Seed: 598080973
This seed has got a jungle biome, but it also has a lot of other stuff going on with it. You've got the village with a ravine running right through it. This ravine also has a diamond spawn inside of it. The jungle biome is not far from here and has a couple of temples and another village. Near the spawn you can go to a snow village with some igloos and an ice spike biome. Not too far from there is another ravine with more diamond! There's a lot to explore with this one if you're looking for additional things along with some jungle.
Key Locations
Village w/Ravine: -284 69 75
Diamond in Ravine: -322 11 43
Jungle Biome: -580 72 23
Village Near Jungle: -708 64 171
Jungle Temple: -794 67 112
Bamboo Jungle: -975 70 -151
Jungle Temple #2: -955 65 -463
Snow Village w/Igloos: 125 63 -342
Ice Spikes Biome: -44 72 -423
Ravine #2 w/Diamond: -149 12 -664
Igloo: -290 72 -803
Huge Jungle & Bamboo Jungle (Java - 1.15.2)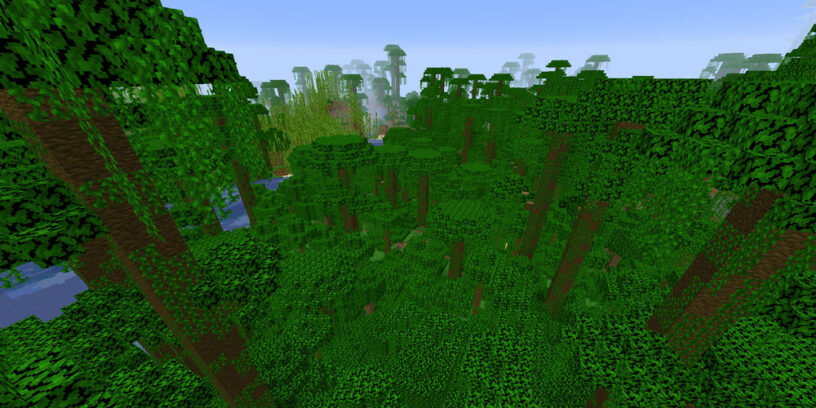 Credit:lebiain - Seed: -1322934988
Well, if you're looking for a large jungle to explore and build upon then this is a good seed for you! There's a shipwreck not to ofar from the spawn, and a few different biomes to explore if you want to venture out of the jungle. You can find a pretty large ravine with a mine that is worth checking out as well!
Key Locations
Bamboo Jungle: -137 66 290
Shipwreck: 42 64 383
Savannah Biome: 264 88 -367
Desert Biome: 0 71 -625
Ravine w/Mine: -44 23 -652
Village: -680 72 149
Shipwreck #2: -970 62 -144
Taiga/Giant Tree Biome: -1076 70 0
Village #2: -1469 67 64
Taiga Village: -1839 79 613
Mansion, Pillager Outpost, & Jungle! (Java - 1.15.2)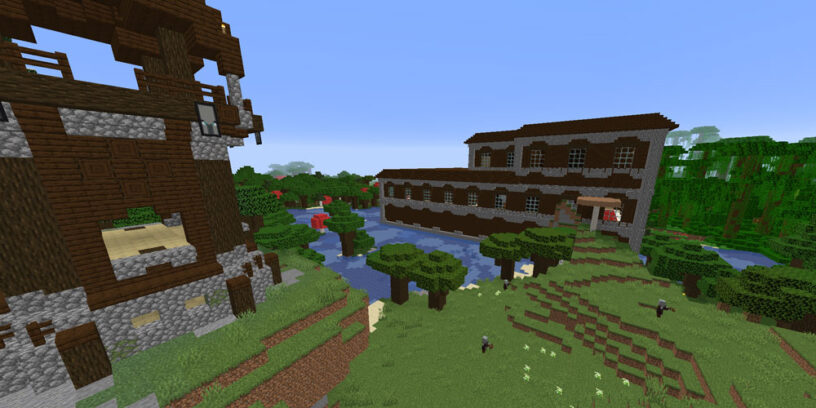 Credit:Killstepz - Seed: 7210414366237083040
This seed is jam packed with stuff right next to spawn! You've got a pillager outpost, mansion, and jungle biome all very close to you. Not only that, there's a ravine right next to the mansion that has a Mine inside of it! There's also a pretty good sized village not too far from this initial area.
Key Locations
Pillager Outpost: -5 88 41
Mansion Entrance: 79 63 -1
Jungle Biome: 86 64 127
Ravine w/Mine: 80 40 97
Village: 80 68 -484
Swamp Biome: 314 63 -1248
Jungle Island & Large Coral Reef (Java - 1.15.2)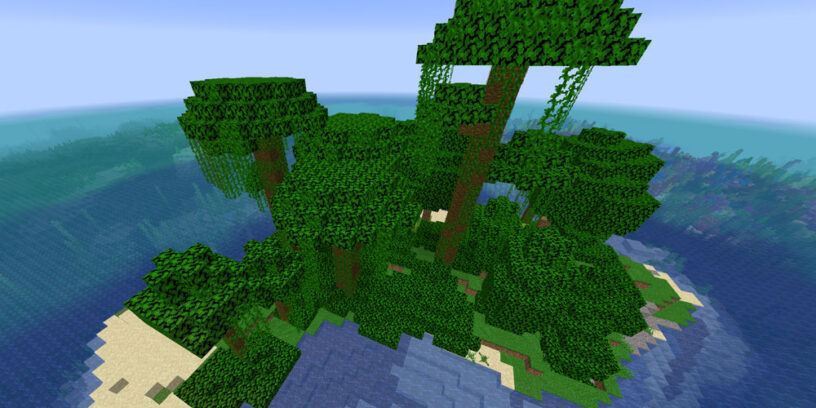 Credit:SpaceBoiArt - Seed: -8635154133396881953
You spawn on a very secluded jungle biome island. You are surrounded by a huge coral reef that you have access to. There's also an Ocean Ruin right nearby with some Drowned spawns. There's quite a few shipwrecks in the surrounding area, you can also access a couple of large landmasses if you want to take a boat to explore some more of the seed. One of these landmasses has a village on it with a nearby cave that leads to a skeleton spawner!
Key Locations
Ocean Ruins: 20 63 -222
Shipwreck: 20 62 -134
Large Landmass: -19 64 220
Witch's Hut: -172 69 340
Pillager Outpost: 1189 82 -360
Shipwreck #2: 1594 63 -432
Flower Forest Biome: 1553 69 -356
Shipwreck #3: -179 55 -385
Large Jungle Biome: -354 64 -571
Shipwreck #4: -763 59 -423
Village: -1277 66 -10
Skeleton Spawner: -1282 46 -72
See Minecraft Toys & Collectibles on Amazon
Follow us on Twitter and Facebook to get updates on your favorite games!
Recently Updated Minecraft Posts
Sours: https://progameguides.com/minecraft/minecraft-jungle-seeds/
Minecraft Jungle Temple Seeds for Bedrock Edition
Use one of these Minecraft Jungle Temple seeds to create a world where you spawn near a Jungle Temple in Bedrock Edition 1.17.10, 1.17.0, 1.16.221, 1.16.201, 1.16.100, 1.16.40, 1.16.20, 1.16.0, 1.14.60 or 1.14.30 (PE, Win10, Xbox One, PS4, Nintendo Switch).
Here are some Jungle Temple seeds for Minecraft Bedrock Edition (PE, Win10, Xbox One, PS4, Nintendo Switch):
---
Change the Bedrock Version (above) to show seeds that work with a specific version such as: 1.17.10, 1.17.0, 1.16.221, 1.16.201, 1.16.100, 1.16.40, 1.16.20, 1.16.0, 1.14.60 or 1.14.30.
Jungle Temple Seeds for Minecraft Bedrock Edition 1.17.10
Bedrock Edition 1.17.10
Jungle Temple Seed #1
This Minecraft seed spawns you in a large Jungle biome with lots of jungle trees. If you look carefully, you can see an ocelot. If you travel to coordinates (56, 74, 328), there is also a Jungle Temple to explore.
Nearby, you can find a Mountains biome and just past that the Wooded Mountains.
Related Topics:Jungle, Jungle Temple, Mountains, Ocelot, Wooded Mountains
Other Jungle Temple Seeds
Other Bedrock Edition Seeds
Check out these other interesting seeds for Minecraft Bedrock Edition (PE, Win10, Xbox One, PS4, Nintendo Switch):
Sours: https://www.digminecraft.com/seeds/pocket_edition/jungle_temple.php
Minecraft PE Jungle Seeds. Sometimes you want to be spawn in the jungle biome. However, it is increasingly difficult to find a Jungle biome in Minecraft. Most recent updates have focused on villages.
In this article, we will introduce you to the five best jungle seeds for Minecraft PE we have compiled. Each Minecraft Pocket Edition seed will have instructions and coordinates for you to use easily. Discover it now.
Top 5 Minecraft PE Jungle Seeds
Stronghold, Villages, Outposts, Bamboo Jungle, and much more!
This Jungle seed for Minecraft PE has loads of structures and many biomes within a thousand blocks of spawn! There is so much to explore and see in this world!
When you spawn in this sweet seed, you will see a Giant Tree Taiga to your left, a Jungle biome to your right, and a Shattered Savanna forward of you! If you go straight forward from spawn, you can find a Ravine with an exposed Fossil in it and a Desert Village and Pillager Outpost nearby. Keep going straight and you'll come across a Plain Village with a Stronghold under its well. Past this village is a Mushroom biome as well!
If you go left from spawn into the Jungle, you should come across a very pretty Bamboo Jungle. And if you go behind spawn instead, you can find a Taiga Village squeezed between a Jungle, Flower Forest, and Giant Tree Taiga biomes!
Lastly, if you're feeling adventurous and willing to walk a bit, travel forward and to the left from spawn in that diagonal direction. You will find a very interesting spot where there is a Jungle Temple, Village, and Pillager Outpost around a Swamp/Jungle Edge biome!
Enjoy this seed and if you get lost, check out the overview map of the world at bottom of this post!
Coordinates for v.1.11.x
Giant Tree Taiga/Jungle Spawn:508, 71, 12
Jungle/Shattered Savanna: 600, 80, 200
Pillager Outpost near Ravine with Fossil: 500, 69, 400
Desert Village: 550, 63, 550
Shipwreck in Coral Reef: 217, 60, 983
Plains Village with Stronghold under well: 580, 65, 930
Bamboo Jungle Biome: 900, 70, 0
Taiga Village near Flower Forest: 730, 75, -340
Read more and see the seed id here.
Mineshaft, Jungle, and Desert Village Close to Spawn Seed
With this Minecraft PE jungle seed, you'll be spawn right next to a forest with a desert village, four temples, mines, ravines, and four-diamond ores exposed nearby.
It is an interesting seed if you want to start a new survival world.
The forest will be located just to the right of your spawning spot, in the forest, there are four temples. Also, the desert village lies straight to your left about a mine near it at 304, (y?), -80.
Spawn Point
First Jungle Temple Coordinates: -443, 74, 39
Second Jungle Temple Coordinates: -730, 84, 56
Third Jungle Temple Coordinates: -922, 92, -137
Fourth Jungle Temple Coordinates: -1178, 91, -217
Desert Village Coordinates: 190, 69, 25
Read more and see the seed id here.
Two Seeds for Minecraft PE Jungle Temples At Spawn
This jungle seed for Minecraft Bedrock Edition spawns you right close to a jungle temple. After which right close to this temple, there is still another. It is a useful seed if you would like to locate a refuge for the night rapidly and at the same time obtain several fantastic items such as golden ingots and emeralds. The nearby jungles are spacious and have a wonderful terrain with many hills.
Found by: Madision_Love2020
You'll spawn at the jungle temple as seen on the left side of the image.
In that temple, you'll discover a whole lot of golden ingots, tons of bones and two iron horse armours.
Walkthrough the mountain beside the temple and then you'll find the next temple. It too comprises some good loot like being a diamond horse armours and a couple of emeralds.
Read more and see the seed id here.
Great Minecraft PE Jungle Seed – Bedrock Edition
Here's a wonderful MCPE jungle seed for you guys! Right now there are very few of them, so we're extremely excited when we found this one!
Check out this screenshot of the jungle:

Here you can see an interesting lava-pool, surrounded, quite ironically, by watermelons!

Remember that jungles are a fantastic supply of Cocoa Beans used to make very healthy cookies!

Read more and see the seed id here.
Zombie Village/Jungle Temple Near Ice Spike/Jungle Combo and More!
With this 1.13 Minecraft Bedrock jungle seed, you spawn on the edge of a Jungle.
Go straight forward a little while, and you're able to locate the Village close into an Ice Spike/Jungle combo! Turn left at the time and then go straight to discover the Jungle Temple fused to a Zombie Village!
Furthermore, in the event you research round the Ice Spike biome, you'll discover an Igloo with a Basement underneath it. Additional this is additionally a Ravine nearby the Ice Spike biome with an exposed Zombie Dungeon which is likely to be soon simple to become a grinder.
Last, I included coordinates to two Zombie Dungeons fused if you wished to produce a faster XP grinder (or convert it directly to some Drowned farm).
Overview of Bedrock world
☆————————☆
Coordinates
Spawn:184, 77, 4Zombie Village/Jungle Temple: 555, 68, 60
Ice Spike/Jungle combo: 350, 72, 175
Village on riverbank near above combo: 150, 70, 200
Zombie Dungeon in exposed Ravine:
155, 37, 412
Igloo with Basement:
355, 70, 357
Double Zombie Dungeon with lots of great loot:
10, 47, 84
Read more and see the seed id here.
More Jungle Seeds for Minecraft Bedrock Edition
Or you should try the 5 Best Minecraft PE Diamond Seeds here.
Sours: https://mcpebox.com/best-minecraft-pe-jungle-seeds/
Minecraft PE Best Seeds - Mushroom Village, Jungle Temple IN Village \u0026 MORE - Bedrock Edition 1.13
The 30 best Minecraft seeds for 1.17.1
What are the best Minecraft seeds? In my view, the best seeds are the ones that create fantastic worlds which capture your imagination from the first moment you set foot in them. And if you're looking for a good seed to help kickstart your latest Minecraft adventure, you've come to the right place.
Below you'll find no fewer than 30 of the best Minecraft seeds for 1.17.1. Whether you're after Villages, Bamboo Jungles, Island starts or whatever else, we've got the perfect seed for you!
The best Minecraft Seeds
---
Two Villages
Seed: 8638613833825887773
This seed starts you on the border between rolling desert dunes and idyllic seaside grassland, with a village on either side where you can take refuge from the elements. Look a little further and you'll see that danger is on the horizon in the form of a Pillager Outpost. Perhaps this is why the two villages are so close together, to unite in defence against the pillager onslaught. If you want to connect these two villages into a small kingdom, you could make a wall between them. Line the wall with some towers so that you can pick off any invading Pillagers before they get close.
---
Coastal Village
Seed: 3227028068011494221
You can see why villagers decided to settle here, right on the coast of the endless blue ocean in this marvellous Minecraft seed. Anyone starting here will gain immediate access to trees, food, and all the myriad tools and riches of the village, before either venturing out inland through the desert, or embarking on a voyage into the sea, perhaps on a search for rare Axolotls or other seafaring mobs.
---
Forest Village
Seed: 1777181425785
A squirreled away Forest Village next to spawn lends even more character to this already characterful Minecraft world. Imagine what can be built using this impressive mountainside as a foundation. From here you can overlook the entire forest, easily map out the land, and spot any dangers long before they arrive.
---
Savanna and Village
Seed: 12542
This friendly seed spawns you mere blocks away from a village, on the outskirts of a sprawling savanna biome. The hills of the savanna cut up the horizon line, giving you a fascinating and characterful landscape to explore, build, fight, and - let's be honest - almost certainly die at some point. It's a wonderful, idyllic starting point - particularly if you go in with shaders enabled.
---
Nether Rush
Seed: -1654510255
A fantastic seed for a Nether rush, this seed plants you on the border between plains and desert, with two villages in sight from spawn, trees aplenty, and surface lava to boot. Think how quickly you could be delving into the Nether and all the dangers and fascinations awaiting you there - not least of which are the ability to gather Netherite and brew Potions to dramatically increase your power.
---
Pillager Outpost
Seed: 2327370183894455166
By far the most dangerous seed in this list, you'll have to run like the wind to escape this Pillager Outpost mere blocks from spawn. Depending on the direction you run, you'll find either towering mountains (home of the goats) or lush greenery and forest (home of the bees), either of which make for an excellent base from which you can fight back against the Pillagers.
---
Beautiful Forest Hills
Seed: 3427891657823464
A stark, dramatic, majestic world of snow-capped hills and rivers ploughing through mountains, this truly is a beautiful Minecraft spawn location. It's locations like these that bring back that initial wonder of exploring your very first Minecraft worlds. I'd highly suggest listening to Minecraft's astonishingly nostalgic soundtrack while you play your first few days and nights in this seed. A wonderful place to plant down your Banner and create your new home.
---
Riverside Sunflower Plains
Seed: 9816485297234
A stunning riverside sunflower plains biome makes for a fantastic place to start building a new home. Why not also check out our Minecraft house ideas page to help plan out the perfect home in this idyllic land?
---
Extreme Hills Lavafall
Seed: 321708923
At first this desert biome seems like nothing out of the ordinary. But venture just a little further from spawn, and you might catch sight of a spectacular Extreme Hills biome in the distance, complete with seaside lavafall that petrifies into stone as it hits the water. What a location for a grand Minecraft build, eh?
---
Ice Spikes
Seed: -4186746847636013829
A great locale for a good fireworks display, this one. If you're after a truly majestic Minecraft spawn location, check out this extraordinary conglomeration of biomes. Frozen rivers and ice spikes are surrounded by acres of forest and grassland. Either stay in the forests and create your own woodland home there, or use the ice spikes as the foundation for a more unusual build overlooking the whole landmass.
---
Mesa and Cave Spiders
Seed: -8427444967367737379
My love of Mesa biomes is matched only by my horror at seeing a Cave Spider spawner peeking out onto the surface right next to spawn. You'll have to steer well clear of that malicious cave mouth until you're prepared to clear out those pesky poisonous arachnids and win the Mesa biome all for yourself. I'd recommend enchanting your sword with Bane of Arthropods first! If you'd rather use your trusty axe, that can get the Bane of Arthropods enchantment too! It's a bit more tricky though, as you'll need an enchanted book first.
---
Extreme Hills Splendour
Seed: 189354817
This phenomenal Extreme Hills biome right next to spawn is the perfect setting for a sky-scraping castle or palace. Unleash your inner architect as you cast your eye over this marvellous mountain, and imagine what colossal build could be housed atop or within it. Just be sure to give yourself an easy way down into the grasslands and savannas below for a spot of mining or Amethyst-hunting.
---
Bamboo Jungle and Snowy Hills
Seed: 5672120378
A fascinating conjunction of very different biomes awaits the player who spawns in this Minecraft world. Jungle, plains, and snow-capped hills all converge around a beautiful Bamboo Jungle within spitting distance of spawn, giving you easy access to wood, stone, bamboo, and pretty much anything else you'd ever need to start a new Minecraft journey. A great place to build a new home using 1.17's Copper blocks; they'd look great next to all that green and white.
---
Bamboo Jungle Temple
Seed: 9176963463659858407
Players who head south from spawn in this Minecraft seed will have to wade their way through a dense Jungle biome, before reaching a terrific Bamboo Jungle. See if you can find the nearby Jungle Temple to the west as well, as that will give players a great early game gift package to help get them started in this new world.
---
More Bamboo Jungle
Seed: 8047404964767578727
Lovers of the colour green, this seed is for you! Bamboo Jungle weaves about regular Jungle to the north-east, while nearby grassland provides a break from the thick undergrowth when needed. I'd be tempted to pick one of the tallest jungle trees on the border of the grassland, and build a fantastic treehouse there to overlook everything below as far as the eye can see.
---
Bamboo and Lava
Seed: -1013382714437321718
A dangerous twist marks this world apart from others in this list. Spawn here and you'll find another excellent Bamboo Jungle reaching high into the sky next to the coast - but there's also a lava lake amidst all the bamboo and undergrowth, threatening to ignite the whole jungle unless you act quickly! Not a great place for open flames, really.
---
Bamboo Jungle Temple 2
Seed: 3376637928641427494
A seed fit for fans of Indiana Jones, you'll have to fight through the undergrowth of this exotic mix of Jungle and Bamboo Jungle in order to get to the gooey centre of this spawn experience: a Jungle Temple nestled snugly in between several trees, housing treasures galore - perhaps even diamonds if you're lucky.
---
Yet Another Bamboo Jungle
Seed: -6772802442113209320
For true lovers of the newest biome added to Minecraft's overworld, this seed spawns you right on top of a Bamboo Jungle. The above is more or less exactly the view you're given upon spawning into the world. But that's not all! Head the opposite direction from spawn and you'll almost immediately see a heart-shaped pool filled with dolphins, right next to the endless blue ocean.
---
Ocean Monument Island
Seed: -3821186818805133221
This challenging island seed holds more than a few surprises. Step just off the precipice of this rock rising from the sea, and you'll spot an extremely close by Ocean Monument below the water, and an ultra-rare Mooshroom Biome on the horizon not far from spawn. It was also storming not long after I started on this seed, so you might want to consider putting up a few Lightning Rods to protect your builds if you plan to lay down foundations here!
---
Archipelago
Seed: 124014738
While hardly the most challenging island seed out there, this cluster of tiny Minecraft islands makes for an interesting start and a great building location. In fact, why don't I offer out a challenge to all builders, to construct one build on each island in the archipelago. Let loose your imagination when it comes to utilising the space given to you!
---
Island and Mesa
Seed: 3585869031427545926
This Minecraft seed spawns you right on top of a lovely, large, idyllic starting island, with plenty of trees to help you get started on your journey. Once you've got basic tools set up, you can choose either to make this island your home, or craft a boat and sail over to the staggeringly huge and beautiful series of Mesa biomes on the horizon.
---
Smallest Island Ever
Seed: -3115927715480771327
Ladies and gentlemen, I give you the smallest island I've ever spawned on, composed of a grand total of three blocks. Right next to another island composed of a grand total of three blocks. Yes, this is natural, no commands or mods involved. But don't despair: to the west lies a large, bleak-but-beautiful Snowy Tundra that you can delve into to gather everything you need for the perfect Minecraft adventure.
---
No Tree Island
Seed: -4199716164182889661
Dare you challenge this herd of cows for dominance of this remote and tree-less island? If not, then just follow the trail of tiny islands southeast and you'll see on the horizon just about the only island in this entire archipelago that houses at least a few trees. Venture just a little farther and you might also find the Ocean Monument nestled between three islands.
---
Forest Island
Seed: -4671266132020710557
A heavily tree-covered island on the edge of a warm ocean, with coral reefs, shipwrecks, and ocean monuments aplenty nearby. The largest of a six island archipelago, you may find everything you need here for a great start - but set sail to the northeast and you'll find a collection of treasures: a large village, a spectacular mountain range, and a Ruined Nether Portal. This seed strikes me as a great starting point for a tight-knit server of family or friends.
---
Endless Beach (Large Biomes)
Seed: -1389577003656398696
A true beach, this one. Travel inland for your first few trees, then head back to the coast for a great building spot. The nearby lava pool is either an eyesore you can quickly cover over, or your chance to beeline straight to the Nether for potions and other underworldly delights. You could even grab some Soul Sand and Wither Skulls to challenge the Wither boss. If you manage to defeat it, you will get a Nether Star, which you can use to make a Beacon.
---
Frozen Wasteland (Large Biomes)
Seed: -7255571058704538969
A stark and colossal frozen wasteland provides a suitable challenge for the veteran Minecraft player. A challenge, but not an insurmountable one thanks to the presence of a tiny ravine right at your feet as you spawn, giving you safe and easy access to iron; and also the presence of a village not far at all from where you start.
---
Colossal Jungle (Large Biomes)
Seed: 1405601600464054847
Oh, you thought we were done with Bamboo Jungles? This is the largest of the lot, and it's right at the centre of what might be the largest area of Jungle I've ever seen. Rivers and lakes carve a path through all the greenery - follow those paths and they may lead you to several Jungle Temples.
---
Snowy Mountains (Large Biomes)
Seed: -1832801519948573808
A wonderful and characterful mix of mountains and frost-bitten forests, this Minecraft seed is begging for someone to populate it with builds, tunnels, and creeper craters in the ground. A great start for animal lovers too, this spawn will set you down beside a pair of foxes and a cow looking after her two little cowlings (yes, I know they're calves - but cowlings is way cuter).
---
Endless Desert (Large Biomes)
Seed: 1297970985505311939
This challenging seed slaps you in the middle of a gigantic desert. Can you save yourself from starving? Here's a hint: follow the north river, and you'll quickly come across not only a Desert Temple but also a village. Whether the food there will be enough to keep you from starving... Well, that's up to you. You might want to procure some horses to make your way across the dunes quickly.
---
Sunny Savanna (Large Biomes)
Seed: -1613247987266390429
Savanna lovers, this seed is for you. Reaching far to the north-east past Deserts and Forests alike, this Minecraft world is filled with beautiful vistas. It's not perfect though; you'll have to gear up if you want to defeat that Pillager Outpost not far from spawn, and remove its blemish from the otherwise glorious landscape.
---
Well, those are all the best Minecraft seeds we've got for now; hopefully you've found one or two worlds that match up with what you were after. To give your new world more of a visual pop, there are various texture packs available. And why stop with just the world? A new Minecraft journey deserves a new you, so take a look at our list of the best Minecraft skins while you're here!
Sours: https://www.rockpapershotgun.com/best-minecraft-seeds-java-survival-seeds
Temple mcpe jungle seed





(
8
votes, average:
3.00
out of 5)

Loading...
Seed ID:-1501881007
Fancy some Indiana Jones style action? Then you're in luck, because this seed will spawn you fairly close to one of the new Jungle Temples found in Minecraft 1.3. It was found by TheSilentJawa.
Jungle Temple Coordinates:
X: 71
Y: 77
Z: 230
This seed works for minecraft version: 1.3, 1.4, 1.5
Sours: http://www.minecraftseeds.co/jungle-temple/
JUNGLE TEMPLE SEED!! Minecraft Pocket Edition 0.15.0 Seed - 6 Enchanted books, Temples + Villages
How do you find a jungle temple in Minecraft PE?
How do you find a jungle temple in Minecraft PE?
In Minecraft, a Jungle Temple is a structure that spawns naturally in the game. It looks like a stone temple and is only found in the Jungle biome. The Jungle Temple is mostly made out of mossy cobblestone and cobblestone. TIP: Try using the /locate command to quickly find a Jungle Temple!
What is the fastest way to find a jungle temple in Minecraft?
As it is made of stone, and will not burn, and easy way to find a Jungle Temple is to light the jungle on fire, burning away all of the leaves and trees and vines. The main contents of chests inside jungle temples include rotten flesh, gold, and bones.
Are jungle temples still in Minecraft PE?
So for now, there are no Jungle Temples in MCPE, but it will arrive in a future update.
Can you locate biomes in Minecraft Pocket Edition?
When you have a proper MCPE seed number, you can then proceed to http://chunkbase.com/apps/biome-finder, enter your seed and play around locating the various biomes. Using the "Filter biomes" dropdown allows you to narrow down which biomes you are looking for.
How do you find temples in Minecraft?
Use the Desert Temple Finder online app from chunkbase.com to get the coordinates for all desert temples in a given map. Simply input your world seed (or select "random" to get a random one), click "Find Desert Temples", and zoom in and out on the map to see where the temples in your map are located.
Where is the jungle temple located?
The Jungle Temple, also known as the Lihzahrd Temple, is a big structure that is located in the Underground Jungle, with no surface entrance. It can only be accessed after defeating Plantera in the hardmode Underground Jungle, and exploring it is mandatory to progress to the Lunar Events.
Where is the jungle biome in Minecraft?
Jungle. Jungle Biomes are common, and spawn, tall Jungle trees, Jungle Temples, Ocelots, mini lakes and Cocoa Beans. This biome is very commonly found near Desert Biomes, making this time saving if you want to build your house in a Desert.
What is the Minecraft Jungle Temple seed?
Here are some Jungle Temple seeds for Minecraft Java Edition (PC/Mac): Jungle Temple Seeds for Minecraft 1.12.2. Seed: 400055. This seed spawns you in a large Jungle with large bodies of water and sandy beaches. This is one of the few seeds where you also spawn near a rare Jungle temple. You can find the Jungle temple at coordinates (112,64,272).
Sours: https://boardgamestips.com/miscellaneous/how-do-you-find-a-jungle-temple-in-minecraft-pe/
You will also like:
Requirements
Seed
For technical reasons, you need to know the seed of your world to use Jungle Temple Finder, unless, of course, you want to find a seed for a new world. If you're playing SSP, the app is able to fetch the seed from your savegame. Alternatively, you can use the /seed command ingame. In SMP, you can use the same command if you have sufficient rights. Otherwise, however, you're dependent on the server owner, who started the world and has access to the savegame and config files.
Technical
This app uses some relatively new web technologies. As a result, some features may be disabled for older browsers. I recommend using the latest version of a major browser such as Chrome, Firefox, Edge or Safari.
Usage
Seed Selection
The first thing you should do is select a seed and version. You can either type it in manually, or you can load it from your savegame. The latter can be done by clicking on "Load from Save..." and selecting your level.dat, or by drag&dropping the level.dat file into your browser window. Level.dat is a small file located in the folder of every Minecraft savegame. You can find the savegames in the saves folder of your Minecraft installation. On Windows you can use %appdata%\.minecraft\saves to get to that folder.
Levels allow you to store and reuse seeds on this website, without having to load your savegame every time. When loading a seed from a level, the seed will automatically be stored as a level.
You should also know that a seed is always a number (up to around 20 digits). If you type in anything else (like letters), it will be converted to a number. The app does this the same way Minecraft does, so it's safe to use letters (and other characters) as well.
Navigation
Once you entered your seed and version you can start using the map. To scroll, use your arrow keys while your mouse cursor points at the map, or move your mouse while holding down the left mouse button. You can use the slider below the map or your mousewheel for zooming. The lower inputs allow you to go to a specific point (e.g., your base) of the map and set a marker there. You can always remove and add the marker by double clicking on the map. The "Save Map" button allows you to save the currently shown map as png image file.
Touchscreen
When using a touch-enabled device, an extra option for enabling/disabling touchscreen control will appear below the map. With that option enabled, you can drag the map with your finger to navigate, you can pinch to zoom in and out, and you can tap and hold to set a marker on the map. By double tapping on the map, you can quickly enable/disable the functionality as well.
Credits
Thanks to Earthcomputer for his work on bedrockified, which made it possible to support Bedrock Edition.
Sours: https://www.chunkbase.com/apps/jungle-temple-finder
1
2
3
4
5