This is a collection of my favorite Cricut fonts from all put into a simple cheat sheet.
Cricut fonts chart
After you've been Cricut crafting for a while, the number of fonts you use can get a little overwhelming. Between the Cricut Access and free fonts that come with the software and all the ones I've downloaded from other external sites, I have hundreds of fonts by now.
The reality is I actually only end up using just a handful of those fonts. So I made a little cheat sheet of my favorites.
Now, I have my own reasons for picking these which may be different than yours so I'll try to explain myself a bit.
Best cursive fonts on Cricut design space
I love doing Cricut calligraphy (or faux hand lettering as I like to call it). Here is my full tutorial on how to hack your way to making everything think you have great handwriting. I use cursive writing fonts as a base for my Cricut calligraphy. While the actual text here doesn't look that impressive, it looks super cute once you've finished the text with some proper highlighting.
My go to is always Babette font but Haley is a close second. Don't be put off by the weird connecting lines of Loop Di Loop and Merlot. Someone messed up the written version of the font vectors in the version of the software when I was taking this screenshot so I had to make do with what I had.
Cricut font pairings
Faux calligraphy with the Cricut doesn't have to be limited to cursive written fonts. It always looks great to pair a cursive bouncy font with a non-cursive one.
Here are a few of my favorites. There are plenty of san serif fonts that work as written fonts but I prefer the ones that already look hand written. I find it just a little strange the combination of hand written and Arial font.

Best cricut fonts for vinyl
I do make my fair share of iron on projects and vinyl decals but I actually use vinyl quit a bit in wall art and lettering for cards. For these scenarios, I like text that is relatively easy to weed.
I know you can filter for "cutting" fonts on Cricut Design Space but not all "cutting" fonts are all that cutting friendly. I don't like super thin lines and too many loops, it makes the weeding process nearly impossible some times.
Here are a few Cricut fonts that I like that aren't too much of a headache to cut in vinyl.

Farmhouse fonts on Cricut design space
I also like the look of Rae Dunn and do some projects that are Farmhouse inspired. My go-to fonts for those projects include Kyden, Straight and Simple and Rumors.
Cricut fonts with tails
I have yet to find fonts within Cricut Design Space that have nice flourish and glyphs. I usually go external for that.
You can find most popular fonts on dafonts.com but here is my full list of places where I find my fonts.
Here are a few of my favorite hand lettered fonts with flourishes: I love Glitter, Amanise, Shorelines, Serenity and Raustila
For a printer-friendly version of these font cheat sheets along with access to 300+ free craft templates, sign up for my free templates and tutorials newsletter:
Related Articles:
All Paper Flower Tutorials
All Cardmaking Tutorials
All DIY Decor Project Tutorials
Sours: https://domesticheights.com/cricut-font-cheat-sheet/
Hello Daydreamers!
Fonts give life to your projects, and today you will find the best fonts to use for your Cricut (or other cutting machines) projects.
This article is not just a list of fonts; that would be…
Mmm, I don't know…
BOR-ING!
More than a list of fonts, you will be learning a little bit about them, how to use choose the right ones, so you feel empowered to make beautiful projects that will last forever.
The information you're about to read is precious gold. Check out the points I am going to be covering in this article:
A quick overview of font types
What to look for when using a font for cutting purposes
Free Fonts, where to find them, considerations, tips & tricks
Premium Fonts, where to find them, tips & tricks
Cricut Fonts notes about writing and multilayer fonts.
Caution when using fonts with trademark characters
Are you ready?
Let's get started!
Quick Overview of Font Types
I know, what you're thinking, give me the list of fonts now!
Learning about font types may sound boring to you, but knowing the terminology will help you to make you faster at combining, finding, and choosing the perfect font for your project.
Getting the right font for your project will determine whether it looks good or sucks. I want to teach you beyond listing a bunch of fonts, trust me!
It seems there are so many types of fonts out there, with different names and combinations. I am not a font expert. However, I read multiple articles to bring this information to you in the most straightforward way.
Keep in mind, every article I read had the fonts in different categories. Not one article was the same.
But…
Let me explain to you what you need to focus on for this article.
In the realm of fonts, there are four different main types of fonts. Serif (Serif, Sans Serif, Slab Serif), Script, Decorative, Dingbat (doodles) fonts.
Serif, Sans Serif, Slab Serif Fonts
These types of fonts are everywhere, and they are the fonts people usually use to write papers, books, and essential documents. They are also crucial during the design process because they add a certain level of order.
You don't want your Cricut Projects to look with all curvy fonts. You want to add balance.
Although they all share the "Serif" in their name, they are quite different when you pay attention.
Here's a common font for each "Serif" font.
Serif – Times New Roman
Sans Serif – Arial
Slab Serif – Courier New
Most likely, these fonts are pre-installed in your PC or phone.
Script Fonts
Scrip Fonts are what I call "fun fonts" they add life and sparkle to your designs.
Be strategic about their use, though!
The extended use of these fonts can ruin your design, or just make it impossible to read. Again, it's a balance.
Most common Script fonts are those gorgeous handwritten letters with curves and beautiful swirls. They usually resemble cursive or calligraphy writing.
Decorative Fonts
Decorative fonts are fonts that their letters are more than a "letter." They have flowers or pronounce swirls around them. They look nice for monograms or invitations.
Dingbat Fonts
These are what I call "doodle fonts," and they are one of my favorite typefaces because instead of typing regular words, you are typing cute little images or icons.
Doodle fonts add SO MUCH VALUE to any design, and I recommend them for making SVG files.
Every dingbat font is different, and you can find them for every occasion you need!
What to look for when using a font for cutting purposes
Now that you know all about the types of fonts let's look at the things you need to look for and avoid in a font.
When using a Cricut or a cutting machine, your best allies for the final result of your projects will be smoothness and thickness.
The smoothness of your fonts and images, in general, is essential because your machine will have an easier time to cut them.
The same thing happens with the thickness of your font when your fonts are thick, you can remove them very easily from your mat, and you also have more room to make small and intricate projects.
As you start making projects, you'll get the feel of how thick your font needs to be, considering the materials you are using.
For instance, if you are cutting a font for a cake topper (read my tutorial), you want a thick font because they will make your project stronger. On the other hand, if you are using vinyl, thin fonts are very easy to work with.
Tip: If, for some reason, the font you want to use is skinny, try to thicken it in Cricut Design Space by changing the font style to "Bold." You can learn how to do this in my how-to edit text tutorial.
Now check out the fonts you should avoid. Some of them look quite beautiful, but, in some cases, they are a recipe for disaster.
Let's start with Rough Fonts.
At all costs, you want to avoid fonts that don't have a smooth stroke around them. Some of the fonts you see in the infographic down below are nearly impossible to cut with your Cricut.
You see, rough fonts have multiple spots that can be very tiny and hard for your machine to cut around.
Thin fonts, as I mentioned, are lovely, and they can be used, just make sure they are big enough, and you are using materials that don't tear easily.
Although these are good practices, rules can be amended, so play with fonts, make mistakes, learn, enjoy your machine, and don't be afraid to experiment.
---
Now that you know about the best and the different types of fonts that exist and also the ones you should use/avoid with when using your Cricut machine, let's dive about the best free fonts out there.
Best Free Fonts and where to find them
We all like FREE!
There are thousands of free and beautiful fonts you can use for your Cricut projects.
Although the fonts I am about to list are FREE for you to download and install on your computer. You need to make sure that you read their license. Sometimes, artists are very generous and allow users to use their fonts for personal use.
Personal use, as you don't make from the designs you make with them!
If you are planning on making money from the designs you make from their font; there's usually a link for you to buy them.
Please, respect that agreement for personal or commercial use, not only you want to avoid trouble, but you also want to be honorable.
Since I don't own a commercial license for these fonts, and I don't want to get in trouble, I don't have a little preview for them. They are all super beautiful though, so click away!
Free Sans – Sans Serif – Sans Slab fonts for Cricut
Free Script and Handwritten Fonts for Cricut
Free Decorative and Ding Bat (Doodle) fonts for Cricut
The fonts I just linked to are from dafont.com. Most of them are free for personal use only. For similar websites also visit 1001 fonts.
There are other websites where you can find fonts that are free for commercial use, like fontsquirrel.com and google. Mind you, those fonts, although there are some jewels, they aren't as beautiful as premium fonts.
Don't lose hope, though!
In the next section, I have the places where you can find FREE fonts for commercial fonts!
Best Premium Fonts (Also Free, some of them)
Premium fonts are my favorite fonts, I used to love free for commercial use fonts, but I found out that my projects needed more spice and unique touches.
There are many places where you can buy fonts for commercial use. My favorite ones in order are:
Creative Fabrica
Hungry Jpeg
Font Bundles
I used to love CreativeMarket as well, but their licensing became so overbearing that I decided not to buy there anymore. In fact, if there's a font I love, and it's only there, I just don't buy it.
That's why I love the other three websites I just mentioned!
They are all amazing, with fabulous designers. Many of them are on all platforms.
Do you know what's the best of those websites?
HEADS UP! – CreativeFabrica.com (I love this company) is having a super bundlethat includes 500 fonts and 1300+ Mandala, Monogram, & SVG Quotes and is priced at only $19 (down from $10,063) and all of this comes with a lifetime commercial license.
They reached out to me with this great deal, and I just have to put it on this article because they don't come out very often.
I get a small commission if you buy through my link.
They all have FREE FONTS FOR COMMERCIAL USE!
But what are the best fonts?
I've found over the years that less is more. It's very easy to be overwhelmed by the number of fonts out there. These are the font's I use with my Cricut, and that I love.
Most of these fonts come with pairing fonts. Meaning, that when you buy the font, you have different types (script, sans serif, dingbat). So for the price of one font you get 2, 3 or more!
Isn't that amazing?
Special Note about Cricut Fonts
In the Cricut world, you'll find another two types of fonts. Writing and Multilayer fonts.
Writing Fonts: Allow you to write on a single line. They are ideal for making invitations, gift tags, greeting cards, etc.
Writing fonts are so different from regular fonts. Regular fonts are similar to "shapes" they have width and height. So when you write with your Cricut Pens, you will be drawing a double line.
Writing fonts, on the other hand, aren't shapes. They are single strokes (vector lines). Therefore, you can draw without double lines.
Multilayer Fonts: Consist of two layers or more layers. They are usually outlines of the fonts, but you can also find decorative options for different types of occasions.
There's really no FREE multilayer fonts for Cricut. So if you want to use them, you'll need to purchase them before you cut them, or use them unlimited with Cricut Access.
Where Can I find Free Writing Fonts for Cricut?
All fonts where you look online will have a hollow effect when writing with your Cricut Pens.
I tried searching for "free single lines vector fonts," and nothing (worth your time) came up.
Don't lose hope, though!
Many FREE fonts can be used to write with a single stroke effect (no pesky double lines) when you choose the right font and size it appropriately.
When it's time to write, your Cricut will still do two passes, but if you use the tips I am about to teach you, the passes will be very close to each other; therefore, you'll create a "single stroke" effect.
It's not 100% accurate, and you'll have to resize and test the fonts to see if they fit your needs.
Here's the list of the free fonts you can find for this purpose (they are all script).
Note: Remember that these Free fonts are for personal use only.
There are way more, but these are the ones I tried and got a license for so I could bring this tutorial to you.
The perfect fonts to trick your Cricut into writing with a single stroke effect must be very thin, and small in size.
For me, the best way to identify the perfect size it's by:
Typing your text in design space with the font you want to use
Organize text to fix script font. Here's how to do it.
Change linetype from "Cut" to Draw."
Zoom in to 200% and size down until you can't see any hollow spaces on the font. A tiny space it's ok.
Check to see if the size you are using fits your project.
Send it to write and test the results. (Check out my how-to-use Cricut Pens tutorial)
Note: If you use Pens with a 1mm tip (markers), you can get away with seeing a small hollow line in Design Space. The good thing about using markers is that you can write larger text.
The problem you'll frequently encounter with this method, it's that when you are sizing down, you will also lose details of letters that have hollow spaces like the letters "e, o, r, etc."
Check out the following images so you can see how these fonts look when you use them with Cricut pens and markers.
Using a 0.4 Pen
Check out the details of the fonts as they increased in size. Some of the fonts (England, Meillyne) worked great on the first three sizes.
On the other hand, when the font was increased to a larger size, the fonts were drawn with hollow spaces.
Using a 1.0 Marker
Look at all of the details that were lost in the first image. You can't even read some of them.
However, notice how amazing some of the fonts look when you increase the size. "England, Mirrafella, Merillyine, and Heart" look perfect!
It's really up to you to experiment with size and different pen sizes to see what looks best for you.
Cricut Fonts you should probably get
Cricut has a fantastic library of fonts. The good thing about their fonts is that they are designed to work with Design Space!
However, the GIANT negative of their fonts is that you can only use them with their software.
I think that with all the free fonts out there, you can get away with not using theirs. But, they do have some pretty cool fonts you won't be able to use anywhere else.
These are Multi-Layer and Writing Fonts.
If you don't have Cricut Access (read my guide), I recommend you buy at least five fonts from Design Space so you can take advantage of your Cricut.
A Frightful Affair (Writing)
Awesome (Writing)
Cricut Sans (Writing)
Bicycle for two (Writing)
Babette (Writing)
DonJuan (Multi-Layer)
Zoo Day (Multi-Layer)
Varsity (Multi-Layer)
To buy Cricut Fonts, you need to login to Design Space, choose the font you want to work with pay before you cut, print, or write. Unfortunately, there are no links for fonts :/
Your Cricut does come with a set of free fonts, so make sure to check them out to see if they suit your expectations. They are usually at the top of the search font box.
Are you planning on using a font to make a project of a trademarked character?
Now, let's talk about these beautiful fonts that resemble popular movies or characters.
Fonts to support the creation of designs of characters of movies that are Trademarked or that are Copyrighted it's a widespread practice.
I see multiple blogs, Etsy stores, and other online websites that are making digital files to reach people, and let me tell you that this practice is illegal, and you can get in trouble.
Although the fonts on their own are just fonts when you pair them with characters or phrases from Disney, Hello Kitty, etc., you can get in trouble.
If you want your T-Shirts from this special characters for personal use, get legal images from Cricut's images.
What Do You Think?
Did you find your dream font in this article?
Which one was it?
Can you guess which fonts are my favorites? Let me know in the comments!
Do you know that it takes me over 25 hours of work to complete a single Cricut article? I know, it's crazy! But I like to make sure that you understand EVERYTHING!

I would appreciate your support on Instagram / Pinterest / YouTube / as I am trying to grow my audience to keep producing great content!
Oh!
And just so you know, I also have a library full of free SVG files and Printables for all of my subscribers, a.k.a Daydreamers. You can see a preview right here or get access by filling this form.
Sours: https://www.daydreamintoreality.com/best-fonts-cricut-free-premium/
How To Connect Cursive Fonts in Cricut Design Space
Disclosure: Some of the links below are affiliate links provided for your convenience.This means, at no additional cost to you, we will earn a commission if you click through and make a purchase.
Are you having difficulty figuring out how to easily connect cursive fonts in Cricut Design Space? It can be tricky especially if you're a die cutting beginner. Don't worry though! This tutorial is going to show you how to kern those fonts and connect them seamlessly.
Rachel is going to show you how easy it can be to connect your fonts and create some beautiful cursive writing in Cricut Design Space. This is going to come in so handy when it comes to customizing your die cutting craft projects or creating your own text for your designs. Once you see this tutorial, you'll be all set to dive right in and start crafting with your Cricut machine!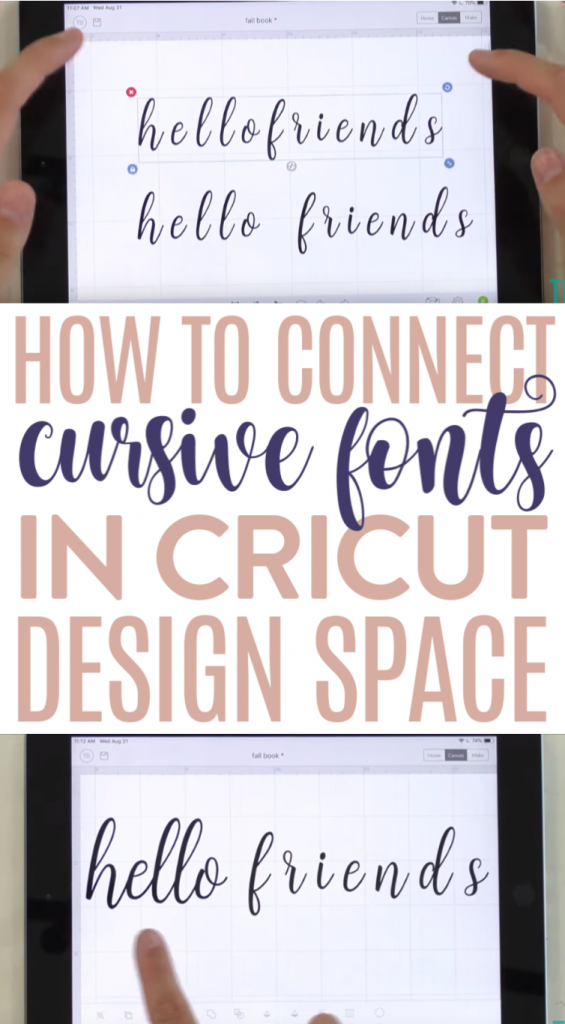 How To Connect Cursive Fonts in Cricut Design Space
Getting started
To get started, we're going to find a font that we want to work with today. Head on over to Makers Gonna Learn and find the font you'd like to use. Our fonts are available for yearly members. We have hundreds of them and are adding more all the time.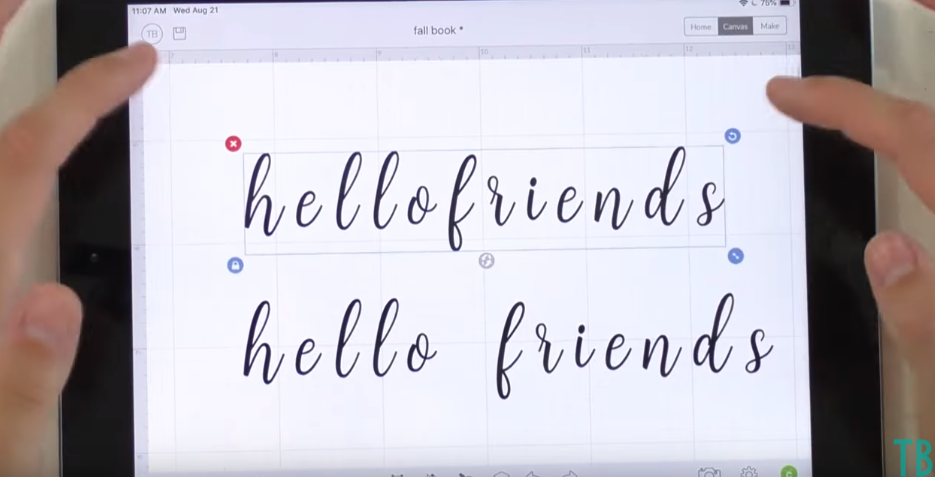 We're working on our iOS device today but you can certainly use your laptop or desktop. We will point out a couple of things in this tutorial that can only be done on your iOS device so you'll want to keep reading for those.
Put each word in its own text box to make it easier to kern
Today, we're using the Community font. Now, we want to show you a little tip. We like to put each word into its own text box. You don't have to do this but we find that working with each word separately, there are fewer steps and kerning is an easier process.
Not sure how to get your chosen font into your design? This post explains how to download a font into Cricut Design Space.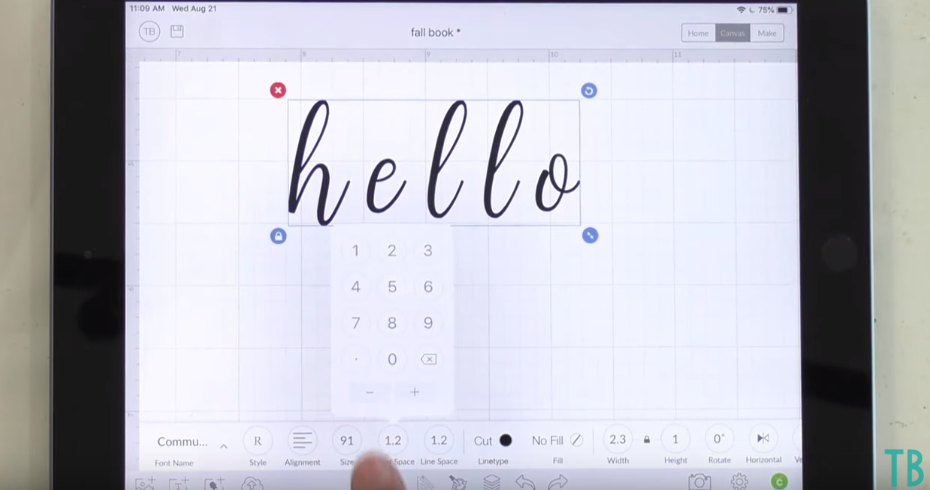 Begin by adjusting the letter spacing
The first thing we're going to do is to go to "Edit" and then "Letter Spacing".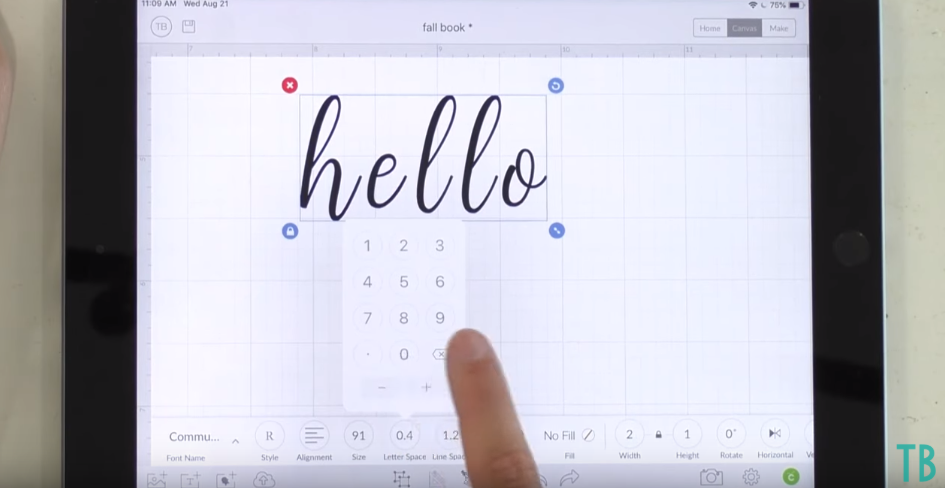 As we hit the minus sign, you'll see that the letters in our word start moving closer and closer together.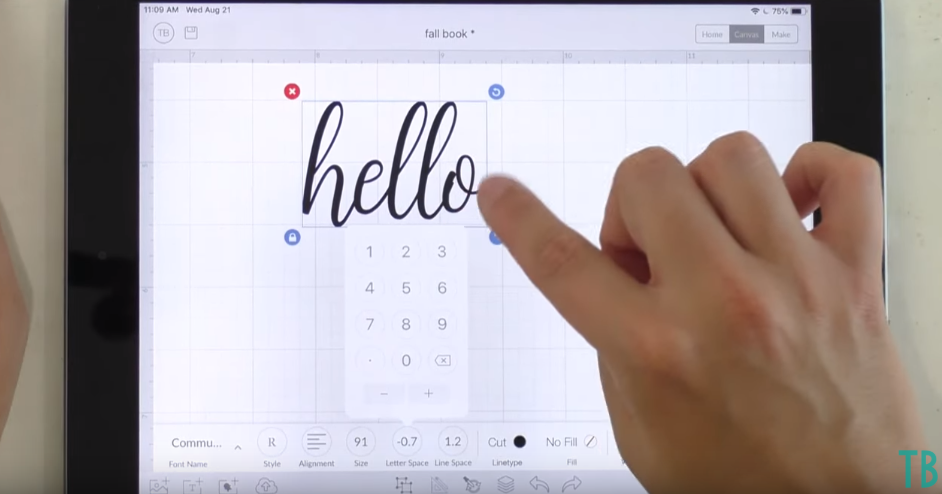 As you'll see as you bring the letters together, sometimes they will join up perfectly but you can see here that there's some overlap between the "l" and the "o" that we don't want. So, get it as good as you can without any of that overlapping and then click "Actions" and "Ungroup".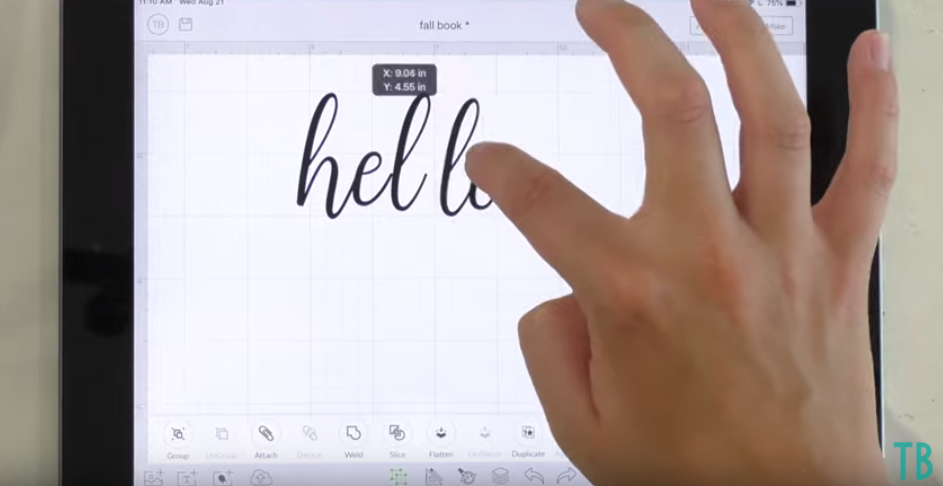 Selecting and moving some of the letters together as one unit will help you line them up perfectly
Some of the letters – like the L and the O – are already exactly as we want them. So, we're going to select those 2 letters by dragging our finger over them. Now, we can move those two around as one unit.
In this way, we can fine tune our spacing without messing up the parts that are already set up just as we want them. We can take the L and the O as one unit and move it over to meet the other L until they're connected perfectly!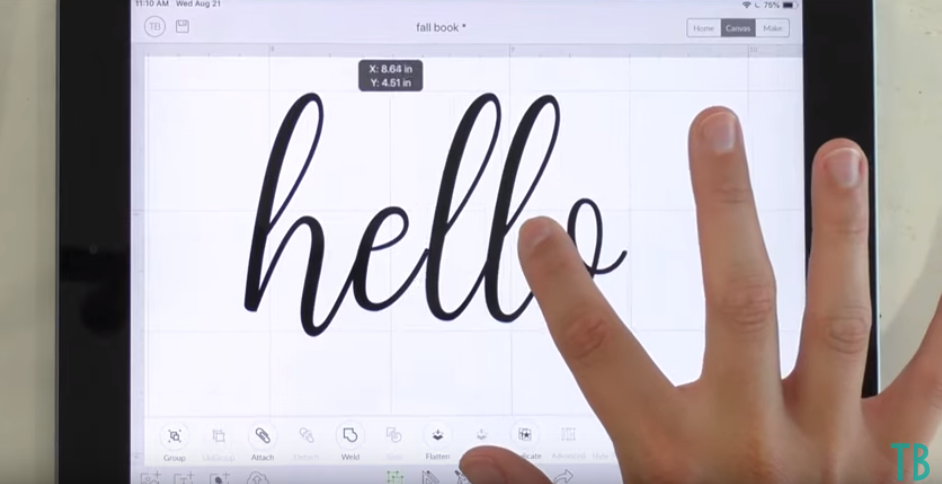 Now that the two "L's" and the O are connected the way we want them, we are going to select all 3 of those letters. This way, we can move them as one unit over to connect to the letter E better.
Use weld to permanently join your letters together
Once we're happy with that, we're going to select the whole word. Many people think at this point we'd want to select Attach, but remember, this is like using a paper clip or glue to temporarily hold the letters together. For this, we want to use Weld.
By using Weld, the letters of this word are joined together and cut together seamlessly. If you use Attach, Cricut Design Space still sees them as individual letters – not one whole word. When it cuts, you'll end up with extra cuts in your word where those letters overlap.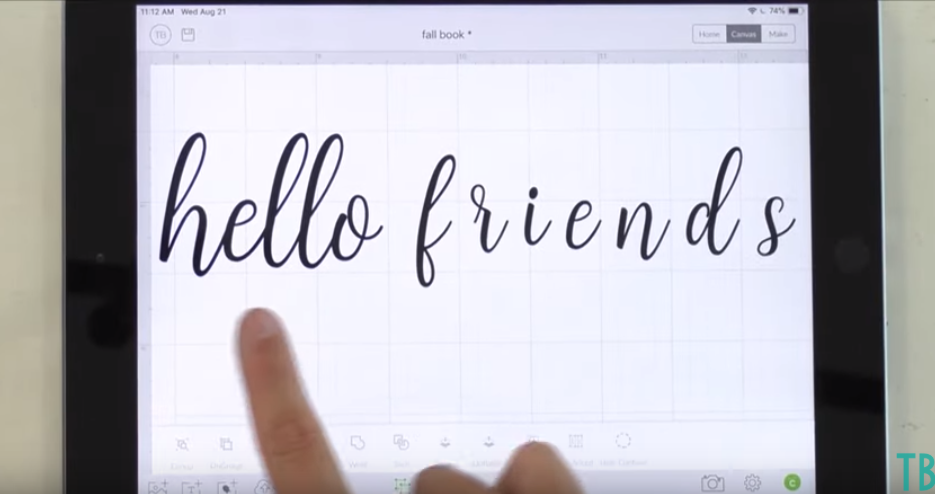 Look at the difference between the word that we have kerned and the word that hasn't been done yet! Using the technique outlined above, get your next word joined together so that the cursive font flows nicely. Keep repeating until all words in your design have been kerned.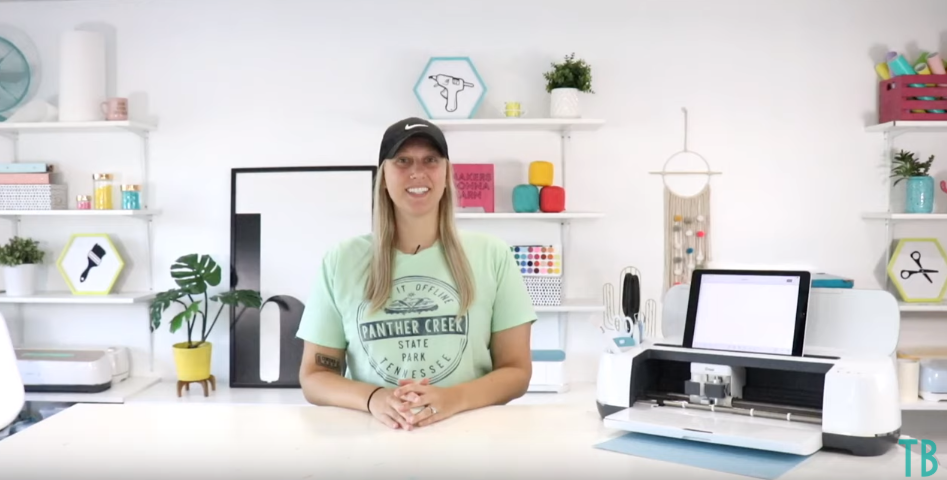 See how easy that was? It takes a bit of time and work to get your font all joined up exactly as you'd like it to be, but it's quite simple to do. What cursive font do you want to work with first?

Sours: https://makersgonnalearn.com/how-to-connect-cursive-fonts-in-cricut-design-space/
How To Connect Cursive Font in Cricut Design Space
20 Best Cricut Cursive Fonts
What are best cursive fonts on cricut design space? We're presenting some of the best Cricut fonts you can download for your craft projects and designs. Cricut Design Space is a free tool that is used to prepare and design your work for use with Cricut machine. A Cricut machine is a cutting tool that can make beautifully detailed cuts, but the fonts can also be used for any design like wedding invitations, thank you cards, quotes, greeting cards, logos, business cards and every other design which needs a handwritten touch.
You may want to look for inspiration to a variety of sources for your own font. Perhaps you want to incorporate handwritten elements into your type, or maybe you just want a different aesthetic. Whatever the reason may be, it's always nice to have a variety of options at your disposal.
Hey Magnolia
Hey Magnolia is an incredibly unique handwritten font. Masterfully designed to become a true favorite, this font has the potential to bring each of your creative ideas to the highest level!
This font is PUA encoded which means you can access all of the glyphs and swashes with ease!
Download Hey Magnolia Font
Homework Font
Homework is a delicate and flowing handwritten font. It looks stunning on wedding invitations, thank you cards, quotes, greeting cards, logos, business cards and every other design which needs a handwritten touch.
Download Homework Font
Farmhouse
Farmhouse is a sweet and delicate handwritten font. Dainty and joyful, this font will be ideal for writing wedding invitations, cards or any other design that may need a romantic, personalized touch!
Download Farmhouse Font
Spicy Chicken
Spicy Chicken feels equally charming and elegant. This stunning script font is a stylish homage to classic calligraphy. It will elevate a wide range of design projects to the highest level, be it branding, headings, wedding designs, invitations, signatures, logos, labels, and much more! Great font for Cricut or Silhouette Cut Machine.
Download Spicy Chicken Font
Buttermilk
Buttermilk is a smooth and elegant handwritten font. This font has a lovely touch of character, perfect for a wide variety of designs. Add to your most creative ideas and create stunning designs!
Download Buttermilk Font
Sunflower
Sunflower is a cute handwritten font, carefully handcrafted to become a true favorite. It maintains its classy calligraphic influences while feeling contemporary and fresh. This versatility will appeal to a wide range of crafty ideas, from letterheads and titles, to stationery.
Download Sunflower Font
Shelly
Shelly is an elegant script font with a contemporary atmosphere and impeccable form, inspired by timeless classic calligraphy. Not too thin and not too thick, balanced and varied, Shelly was designed to enhance the beauty of your projects. Perfect font for Cricut and Silhouette.
Download Shelly Font
Nadine
Nadine is an elegant and flowing handwritten font. It has beautiful and well balanced characters and as a result, it matches a wide pool of designs. Add it to your most creative ideas and notice how it makes them come alive!
Download Nadine Font
Believer
Believer is a bold and fun handwritten font. It is suitable for headline, logo, cover title, wedding invitation, greeting cards, merchandise, watercolor-based design, or anything that needs natural feeling to put on to.
Download Believer Font
Galistan
Galistan is a bold and classic handwritten font. This font fits into a wide set of designs. Besides that, this font is more beautiful for those of you who like sticker / vinyl designs. Add to your most creative ideas and watch how they bring them to life!
Download Galistan Font
Katrin Gliffe
Katrin Gliffe is a playful script font with a contemporary atmosphere and impeccable form, inspired by timeless classic calligraphy. Not too thin and not too thick, balanced and varied, this font was designed to enhance the beauty of your projects.
Download Katrin Gliffe Font
Renitha
Renitha is an incredibly distinct, delicate and timeless handwritten font. It looks stunning on wedding invitations, thank you cards, quotes, greeting cards, logos, business cards and every other design which needs a handwritten touch.
Download Renitha Font
Winter is Coming
Winter is Coming is a fun handwritten font with a unique style. Add it to your most creative ideas and notice how it makes them come alive!
Winter is Coming Font
Sweet Brownie
Sweet Brownie is a sweet and cursive handwritten font. This gentle font will look gorgeous on a variety of design ideas. It will add a joyful and romantic touch to each of your projects!
Download Sweet Brownie Font
Grandista
Grandista simplifies elegance into one truly outstanding handwritten font. Whether you're looking for fonts for Instagram or calligraphy scripts for DIY projects, this font will turn any creative idea into a true piece of art!
Download Grandista Font
Hamburg
Hamburg is a delicate, elegant, and flowing handwritten font. It has beautiful and well-balanced characters and as a result, it matches a wide pool of designs. Lovely font for Cricut or Silhouette cutting machines.
Download Hamburg Font
Bride
Bride is a modern, delicate and incredibly beautiful handwritten font. Fall in love with its authentic feel and use it to create gorgeous wedding invitations, beautiful stationary art, eye-catching social media posts, and cute greeting cards.
Download Bride Font
Fairy Party
Fairy Party feels equally charming and elegant. It looks stunning on wedding invitations, thank you cards, quotes, greeting cards, logos, business cards and every other design which needs a handwritten touch.
Download Fairy Party Font
Goldest
Goldest is a bold and elegant handwritten font. Fall in love with its completely different and timeless style and use it to create spectacular designs!
Download Goldest Font
Bohema Spirit
Bohema Spirit is a beautiful and bold font with a unique feel and amazing elements. It is charming and elegant, and will inspire any design ideas that need that special touch.
Download Bohema Spirit Font
We hope you liked our top cursive fonts for cricut design space collection. You may also like our Split Monogram Fonts for Cricut list.
No tags for this post.
Sours: https://www.designinspiration.info/cricut-cursive-fonts/
Fonts cricut design space cursive
Cricut Fonts – Everything You Need to Know
Everything you need to know about Cricut fonts, including the best Cricut fonts in Design Space by category: script fonts, bold fonts, fonts to use for monograms, etc! Make sure to bookmark this page so that you can reference it while you're making your projects!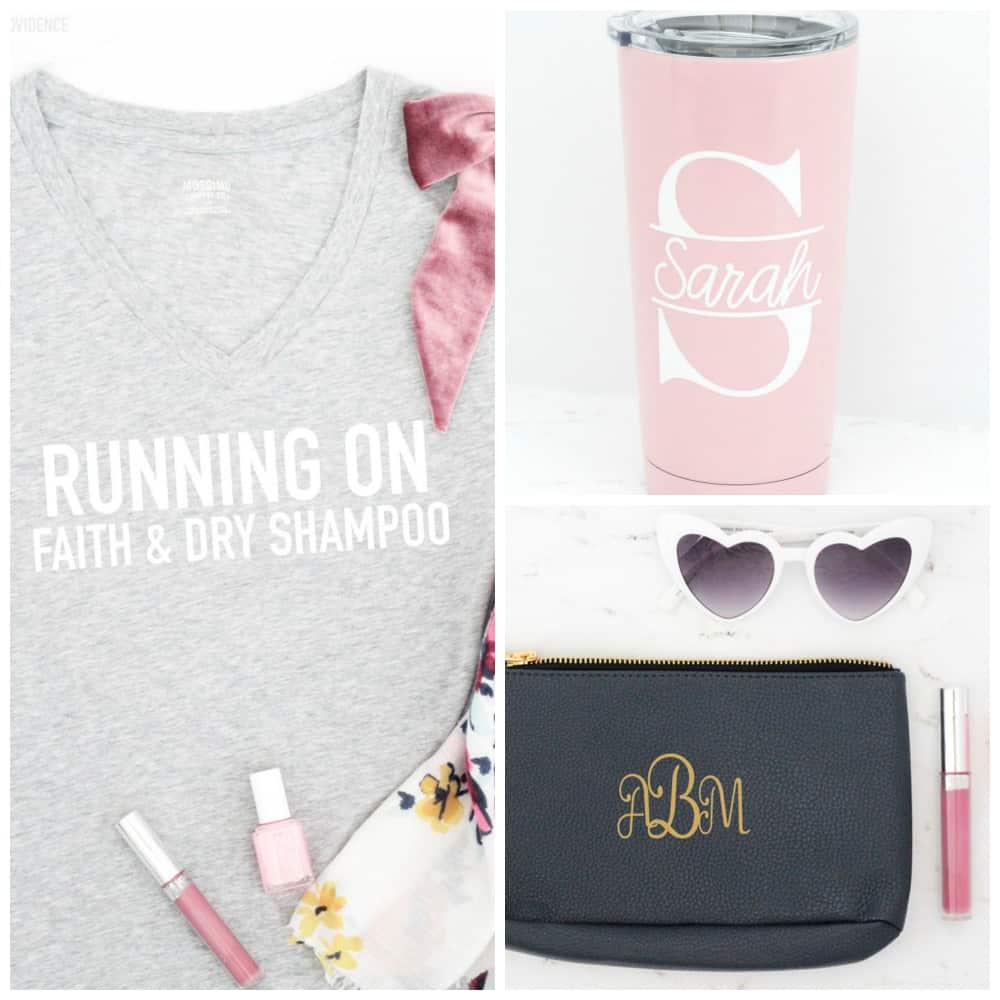 *This post contains affiliate links.
I have been making projects with my Cricut Machines and using Cricut Design Space for a couple years now. Since then, I feel like I have really become an authority on something – Cricut fonts. I've been asked a lot about what my favorite fonts are. When I made a quick guide including my favorite fonts for the Cricut Mountain Make-a-Thon last year, it was a hit. Lucky for all of us, Cricut has added a lot of new fonts since last summer!
I combed through all of them to share with YOU my very favorite fonts in Cricut Design Space, and organized them into categories; script fonts, bold fonts, font pairings, and some of the best fonts for monograms! While you're here, don't forget to check out our Cricut project gallery for some craft inspiration!
Video
I even decided to make a video for you explaining all about Cricut Fonts. If you prefer to watch rather than read – watch this. I even demo how to fix one of the most common issues people have in design space when working with fonts!
What are Cricut Fonts?
Cricut fonts are fonts that are built into the Cricut Design Space software. They are designed specifically for Cricut machines. Therefore, when you use one of Cricut's fonts, you will get a clean and beautiful cut every time. A lot of amazing fonts are included with a Cricut Access subscription. Read our post all about Cricut Access!
Can I use my own fonts with Cricut?
Yes. System fonts are the fonts that you have downloaded on your computer or device. When you open Design Space, you will have the option to choose from a list of either Cricut fonts or system fonts. Whatever fonts are installed on your computer or device, will be available in 'system fonts' automatically. No need for uploading or installing into Design Space!
Many system fonts will work great with a Cricut machine, but not all of them. Some of them are coded to have rough edges or extra details that are not ideal for use with a Cricut project. Choose system fonts that have simple, clean lines for best results!
How do you add fonts to Cricut Design Space?
Download a font and install it on your computer, and it will automatically show up under 'System Fonts' in Design Space. It's as easy as that! If you download a new font while you are working in Design Space, and the font doesn't appear in the System Fonts tab, you might need to re-start Design Space. Don't forget to save your project before you exit! Then, open it again. Your font should appear in the list.
Okay, now for the fun stuff!
The Best Cricut fonts – Bold, Serif & Sans Serif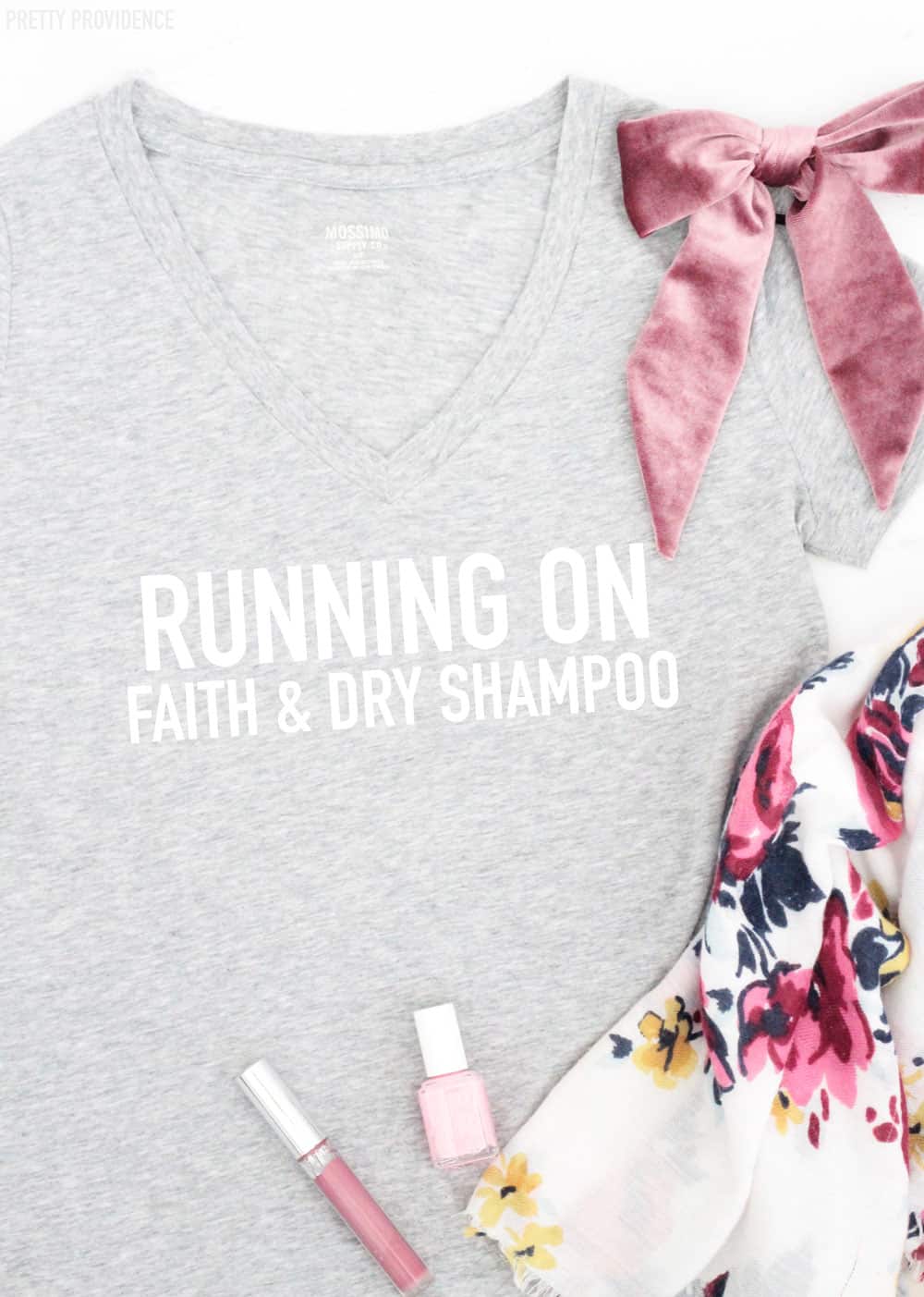 Out of all the fonts, I love a good bold font the most. I have used DIN 1451 more often than any other -that's the one on the t-shirt shown above. I just discovered Poker Night, though, and I can't wait to take that font for a spin. You can't go wrong with any of the fonts listed here!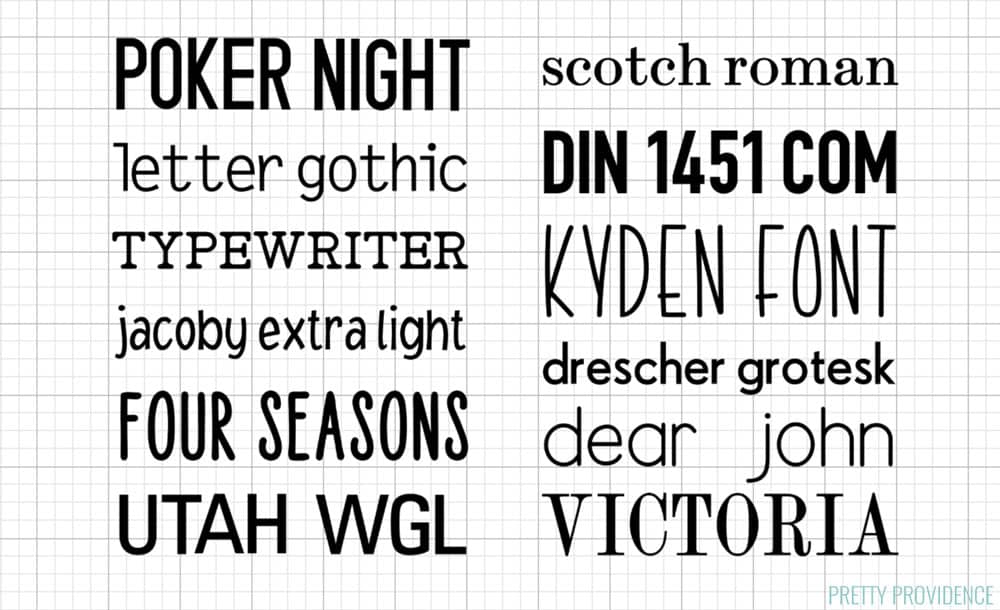 My favorite Cricut script fonts (aka cursive fonts)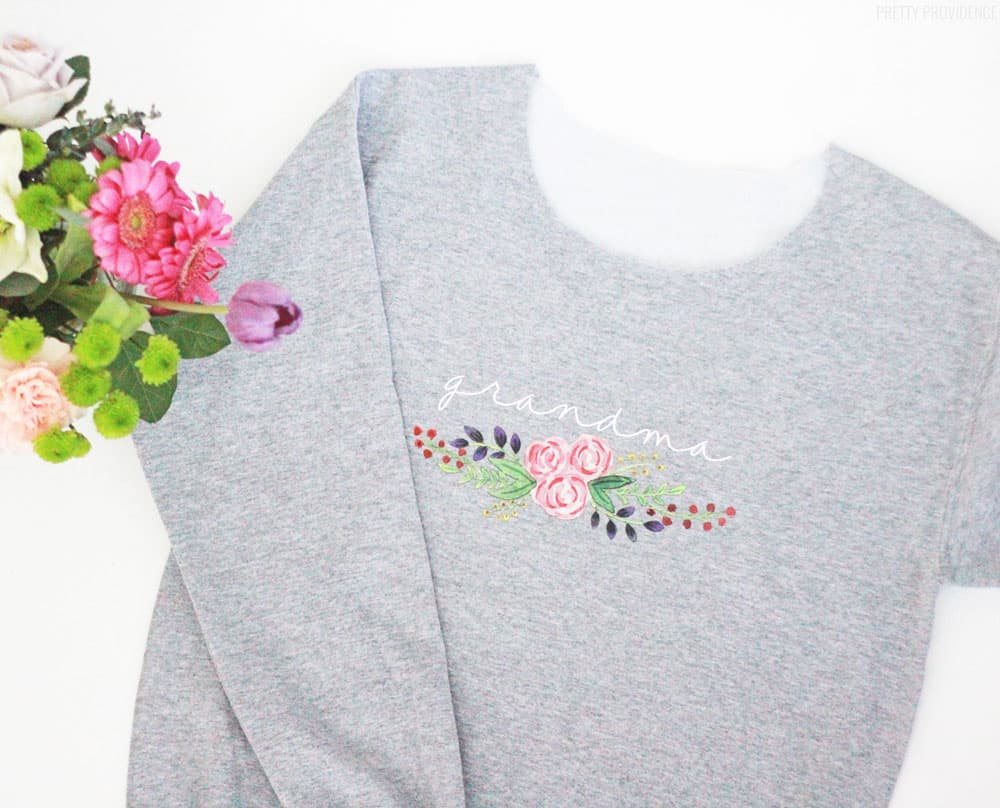 I love a good script font. I used 'Yours Truly' on this Mother's day gift for Grandma. There are so many good ones, but my absolute favorites are listed below. I have used Babette a lot, it's beautiful, fun and playful!
How to fix the spacing with Cricut fonts
Cricut fonts are set to be spaced at 1.2 as a default. That just doesn't work for cursive fonts! There are two easy ways to fix it. (I demonstrate both ways in the video above, so watch that if you would rather learn that way!)
Change the spacing in the navigation bar at the top – labeled 'Letter Spacing'
Ungroup the letters, and drag and drop them together one by one. This takes longer, but it often works better for cursive fonts because they don't always fit together perfectly when you use the letter spacing tool.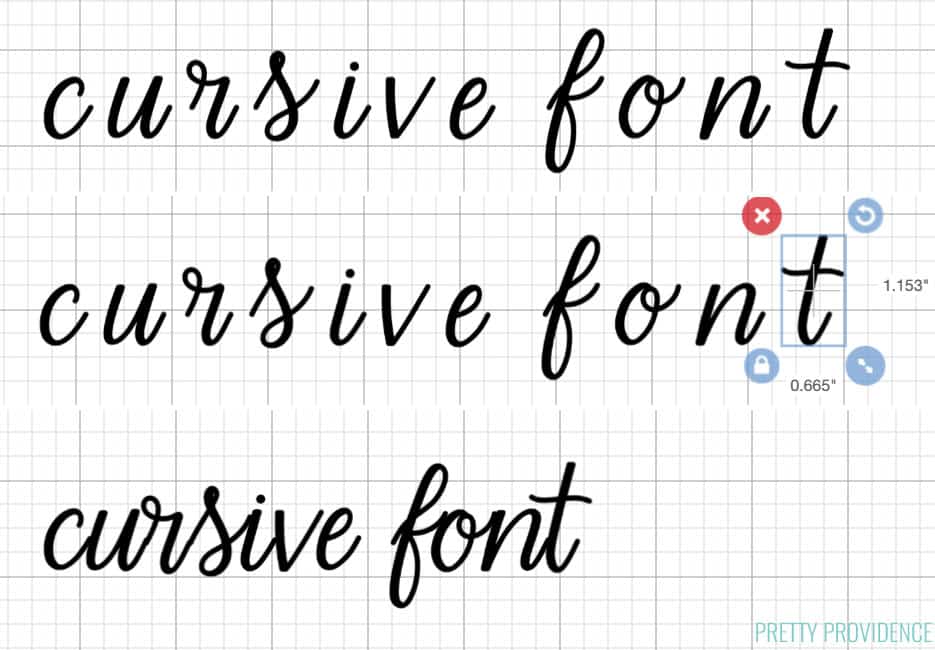 Cricut Fonts for Monograms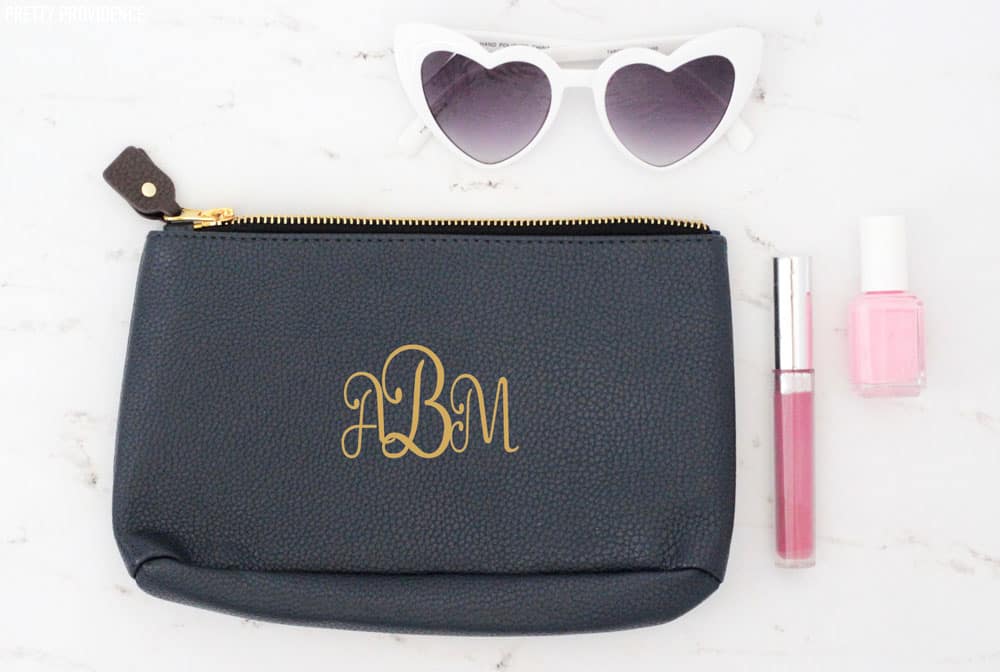 When I moved to Texas, I had no idea what Monograms were. I mean, I knew that people put their initials on things sometimes, but I didn't know that monograms were a THING. I've been educated now, my southern friends, I see you. Here are my favorite fonts to use to monogram all the things – pocket tees, makeup bags,stainless tumblers.You know they all need monograms.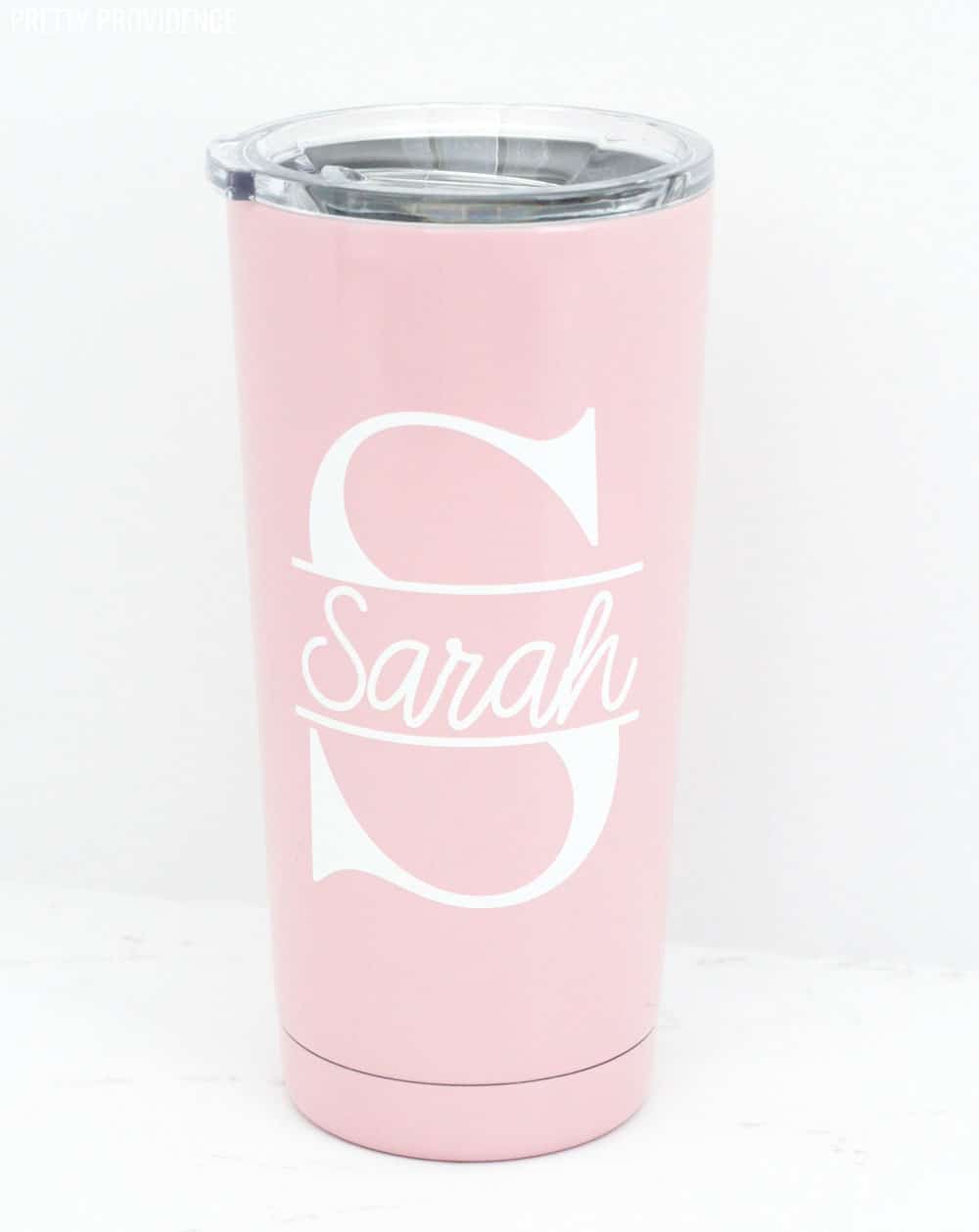 To illustrate both font pairing AND monogramming, I decided to make a fun split monogram for my stainless steel tumbler using permanent vinyl! The fonts I used are Emiline and Scotch Roman.
My very favorite Monogram Fonts in Design Space

If you like a cursive monogram, these are my favorite of the Cricut fonts. 'Fling' is my very favorite. I tried a lot of them. This is an art! It can't be *too* swirly, or *too* slanty or there will be too much overlap. (I know, these terms are so technical.)

Font Pairing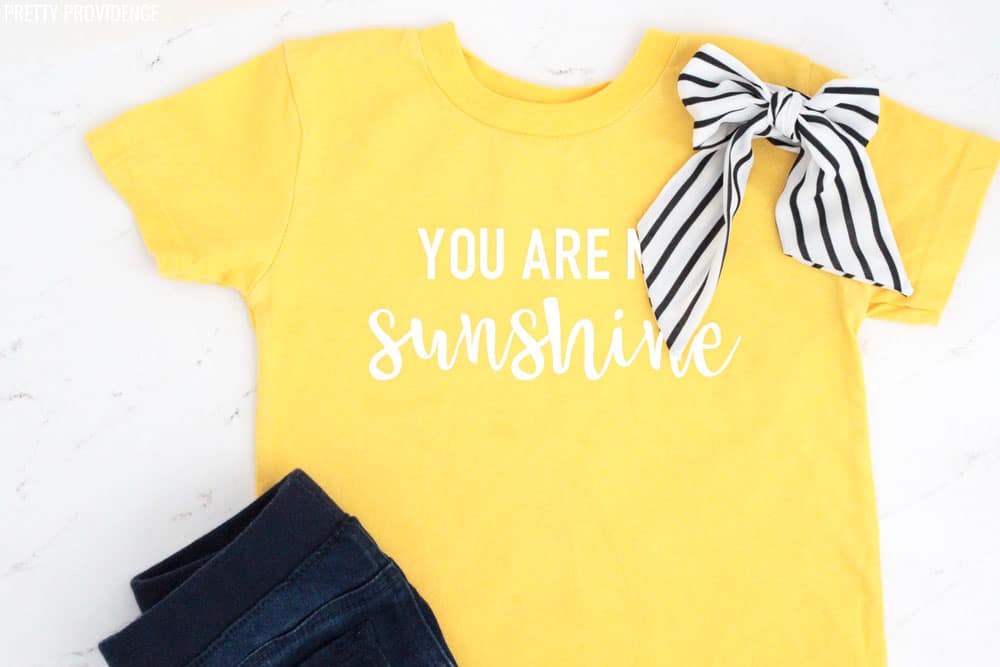 Putting two fonts together can go right, or very wrong! I like to pick fonts that are different weights – like one that is thick, and one that is thin, or one that is a serif, and one a sans serif. There are so many options for font pairings, so play around with it, but you can definitely use one of these combinations if you want ideas!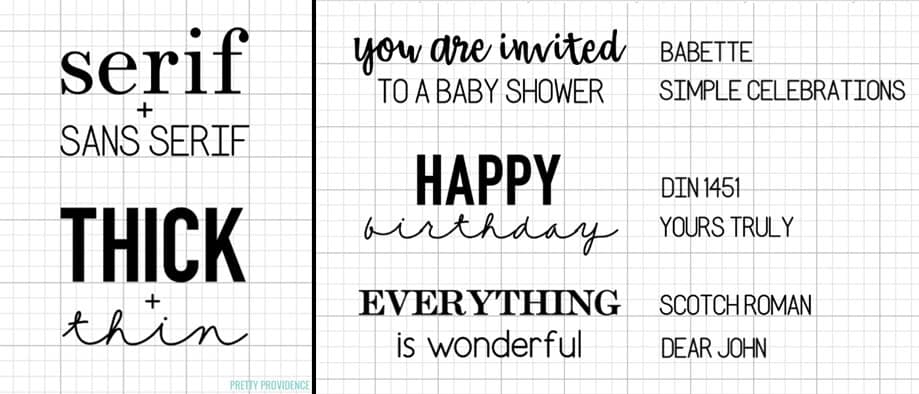 FAQ ABOUT CRICUT FONTS AND CRICUT ACCESS
What is Cricut Access?
Cricut Access is a subscription that gives you access to over 75,000 images, over 400 fonts, and ready-to-make projects! You get a discount on any and all Cricut products you buy, as well. Read all the details here.
Do I need Cricut Access?
Cricut Access isn't always necessary, but I'd say if you plan to craft as often as once a month, you would benefit from it. The subscription is a lot cheaper than buying images individually from Etsy or other digital art websites.
How much does a font cost in Cricut Design Space?
If you don't have a Cricut Access subscription, most fonts cost $4.99. Once you buy one, you can use it again and again for Cricut projects!
So, I hope this post leaves you inspired. Ready to make some projects?
Check out these Cricut tutorials:
How to Make a Custom Shirt with Cricut
Everything You Need to Know about the EasyPress 2
How to Use Cricut Transfer Tape
Cricut Knife Blade FAQ
How to Cut Fabric with Cricut Maker
How to Make Paper Flowers
Some of our favorite Cricut projects:
DIY Funny Socks
Modern Quilt Wall Art
Easy DIY Wall Decals
Custom Tote Bags to Organize All the Things
Laundry Organization Bags
Personalized Tote and Tumbler Teacher Gift
Paper Flowers Cake Topper
Do you have more questions about Cricut or a desire for more in depth tutorials like this? Check out this amazing course!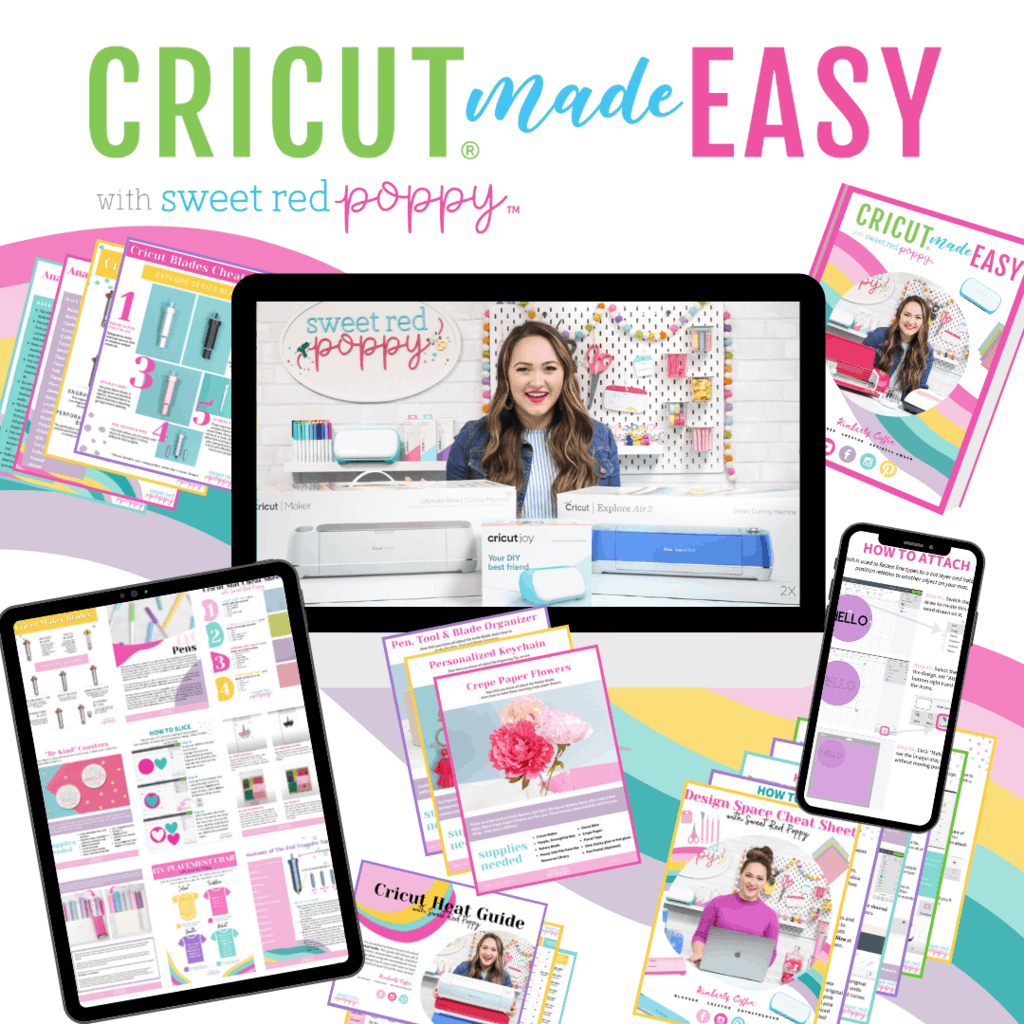 Our friend Kim from Sweet Red Poppy made this Cricut Made Easy Course and it is beyond amazing you guys! So worth it if you really want to invest in growing your Cricut knowledge. Here is a sampling of what it includes:
19 Video Modules(Chapters)
50+ Step-by-Step Video Tutorials
30+ Cricut Cheat Sheet Printables
160+ Page E-Book "Maker's Guide to Cricut"
All 3 Cricut Machines Covered (Maker/Joy/Explore family)
16 Different Projects with Printable Guides
80+ High-Quality SVG Files
Print then Cut Sticker Files
Design Space Glossary
Exclusive Facebook Support Group
Tips and Tricks from an Expert!
Click here to check it out! Or just go to our Cricut project galleryto see ALL of our Cricut projects and tutorials!

Share this!
Sours: https://prettyprovidence.com/cricut-fonts/
HOW TO JOIN CURSIVE FONTS IN CRICUT DESIGN SPACE - Super Easy Tutorial! Cricut Hacks ❤️❤️❤️
Where can you find the best free fontsfor Cricut? From script fonts, cursive fonts, fonts for monograms, the options are endless! If you're looking for the best fonts for your Cricut Maker, Cricut Explore Air 2 or the best free fonts to download from sites like dafont, I've got you covered.
Fonts can be finicky when it comes to using them on your Cricut. Some fonts could be too intricate and when you go to cut it, it completely tears apart. With so many different font choices, how do you know which one is best to use?
I've included my favourite fonts below along with some very popular fonts that you might have seen on your favourite Cricut projects in design space or on social media. These are perfect for the budget-strapped crafter!
First things first.
What is the difference between Cricut fonts and System fonts?
If you've browsed in Cricut Design Space, you may have noticed there are three tabs under fonts. "All", "System" and "Cricut".
All: Shows you all of the fonts you have between "System" and "Cricut".
System: Fonts you have installed on your computer, tablet, or phone.
Cricut: Fonts you can use with a Cricut Access subscription.
Do I need Cricut Access?
It depends.
If you are new to Cricut, Cricut access gives you access to a whole database of projects and resources. Note that when you stop paying for Cricut Access, you lose access to any projects you made using Cricut access resources.
If you already have a growing list of resource files on your computer (SVGs, fonts, etc), I would skip Cricut Access.
Do you want free SVG files to get you started? Join our Facebook community where I post my free SVG files and resources! You'll find resources like a list of all the best places to buy vinyl.
This post contains some affiliate links for your convenience (which means if you make a purchase after clicking a link I will earn a small commission but it won't cost you a penny more)! Read my full disclosure policy.
CRICUT FONTS CHEAT SHEETS
Head over to the free resource library (Get the password by filling out the form on the sidebar or below) to get the Cricut Fonts Cheat Sheets.
This cheat sheet has a list of all of my favourite fonts listed here and can be used as a quick reference guide for your next project.
BEST FREE SCRIPT FONTS FOR CRICUT
There are SO many different fonts to pick from. I've put together a collection of my personal favourite script fonts that are available on Dafont.com for you to download.
Note that most of these fonts (if not all) are free for personal use only. If are using these fonts for any product you plan on selling, remember you will need to purchase a commercial license. I've included links to the commercial licenses for your convenience.
PHOTOSHOOT
Dafont download (free for personal use)
Commercial license
HELLO VALENTICA
Dafont download (free for personal use)
Commercial license
SALTY OCEAN
This font is great for many small-scale projects because of it's bold nature. That means that you'll have less "super thin" parts that easily tear when you go to weed your designs. Check out my Glitter ornaments tutorial to see this font in action.
Dafont download (free for personal use)
Commercial license
MANGO SALSA
Dafont download (free for personal use)
Commercial license
SHORELINES
Dafont download (free for personal use)
Commercial license
I LOVE GLITTER
Wow is this ever a popular font. So many people love it because you can add little hearts that connect words to this script font so you have one full piece. It's great for projects that have many names you want to interconnect like on this super popular Mom Tile project.
Dafont download (free for personal use)
Commercial license
BROMELLO
Dafont download (free for personal use)
Commercial license
MANGOSTEEN
Dafont download (free for personal use)
Commercial license
RAUSTILA
Dafont download (free for personal use)
Commercial license
AMERTHA
Dafont download (free for personal use)
Commercial license
FLASHBACK
Dafont download (free for personal use)
Commercial license
BIG SNOW
Dafont download (free for personal AND commercial use)
ANGELINA
Dafont download (free for personal use)
Commercial license
SUGAR & SPICE
Dafont download (free for personal use)
Commercial license
ELOWEN
Dafont download (free for demo purposes)
Commercial license (personal and commercial use – looks free with certain uses)
NAISHILA DANCING SCRIPT
Dafont download (free for personal use)
Commercial license
DEAR JANE
Dafont download (free for personal use)
Commercial license
SOPHIA
Dafont download (free for personal use)
Commercial license
FATHER FARMHOUSE SCRIPT
Dafont download (free for personal use)
Commercial license
ANANTHA SIGNATURE
Dafont download (free for personal use)
Commercial license
Did you like this list? You can download a cheat sheet over in the free resource library so you can keep it handy near your Cricut and easily reference at your pleasure! If you haven't signed up yet, you can grab it by signing up below.
Sours: https://pocketwonders.ca/best-free-script-fonts-for-cricut/
Similar news:
Cricut Cursive Fonts: Tricks To Connect Free Cursive Fonts
We may earn a small commission for purchases made through affiliate links in this post. For more information go to our Privacy Policy.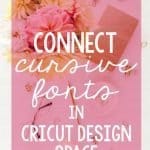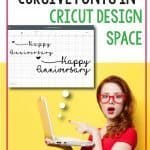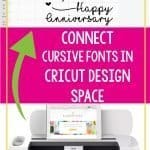 Using Cricut cursive fonts allows you to expand your project capabilities so that you can create beautiful pieces. Unfortunately, unless you know how to connect your cursive letters font, you'll end up with a mess rather than a beautiful finished product when you cut. This tutorial shows you two different ways you can connect Cricut script fonts easily.
There are so many ways to use Cricut script fonts. You can use them with vinyl, heat transfer vinyl, paper for scrapbook titles, cards, and more.
But there's a catch to using them.
The problem is that there are beautiful script fonts that just don't look right when you type them out. The letters have too much spacing. The cursive doesn't flow the way it's supposed to. And we only have so much time to search for Cricut cursive fonts that connect. What's a Cricut crafter to do?
Luckily, I've figured out a few tips and tricks for how to connect Cricut script fonts using Cricut Design Space as well as another font app.
Psst. This app is also AMAZING for making Word SVGs. It's a double bonus!
Not sure how to upload fonts to use in Cricut Design Space? Or how to get cursive fonts on Cricut Design Space? Check out this post on uploading fonts.
Why connect fonts in Cricut?
You want connected fonts on Cricut because the letters need to stay attached when you cut them out of your material. Otherwise, you'll end up with a MESS when you go to cut your design (don't ask me how I know!)
How To Connect Cricut Cursive Fonts Using Cricut Design Space
Now it's time to dive in and learn how to make cursive fonts connect on Cricut.
The first way to connect a script font in Cricut is to use the letter-spacing tool in Cricut Design Space. Make sure you have uploaded your font into Design Space.
Type your word on the workspace. Then while it is still highlighted, you can click on the top toolbar to adjust the space between letters.

Simply adjusting with the letter-spacing tool does most of the work. However, you will notice there is still too much of a gap between the beginning capital letter in each word.

The trick to finishing it up is to UNGROUP the words and then scootch the lowercase letters closer to the uppercase letters. You can group just the lowercase if it makes it easier to move while keeping them together.
The last step in this process is to remember to WELD the letters together. This will do two things:
It will keep the placement of your letters when you're ready to cut.
It will also keep the little bits where letters overlap from being cut out.
Your cursive letters font is now a seamless outline instead of overlapping cut paths! This is the QUICKEST way to connect Cricut script fonts without having to use other programs.
NOTE: If you want to keep the entire phrase in the arrangement you designed, you'll want to select all the words and click on ATTACH. This tells the Cricut Design software not to "save material" by moving all the pieces to the top left corner.
Three Different Methods To Move Letters Around On The Workspace
As you're arranging your Cricut cursive font letters in Cricut Design Space, I want to let you know that there are three different ways you can do it. These methods are useful in varying circumstances, so it's super helpful to know all three!
Use your arrow tools on the keyboard to move the letters from left to right. This keeps them at the correct height and only moves them along a horizontal line.
Grab them by clicking and holding and then move them left or right. This might move them a little higher or lower, but you can adjust them by using the guidelines on the workspace. Moving them manually is sometimes superior to the arrow method, which can move a letter too far at times. Moving them manually gives you total control over how far the letter moves.
Use the X, Y coordinates on the top toolbar to adjust the placement of the letter. You can get as precise as you want with this one because the coordinates go out to 1/1,000th of a unit of measurement.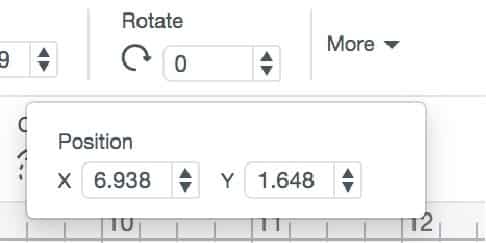 How To Connect Cursive Letters Fonts In An SVG File
Cricut Design Space isn't the only way to connect script fonts! This next method uses a useful app that you can download on your MAC or Windows computer called FontLab-Pad.
NOTE: If you just go to font lab (dot) com, you will see a SUPER expensive software. That is NOT what you want.
Download The Software
Grab the free download version of FontLab-Pad.
Enter an email address. Then check your email and click the link they send you to begin a download.
Double click on the download to begin the installation.
Navigate to your Applications folder and open up the program.
Add The Font To The Software
This is where the process gets slightly complicated (and maybe a little irritating). If you're like me, you install a font on your system and then delete all the excess files. The problem here is that this program doesn't access your system's font files. It wants you to drop the actual font file (TTF or OTF) into the software.
You have to have the files on hand in a folder! Pro Tip: Keep a separate fonts folder that's labeled as such and easy to find so you can access your fonts quickly.
This may not be an issue if you have just downloaded the font. But if you have deleted the files from your folders and they're now just on your system, then you'll have to redownload them.
It might be worth the extra time and effort in exchange for the last feature, though!
Drag your font into the window of Font Lab.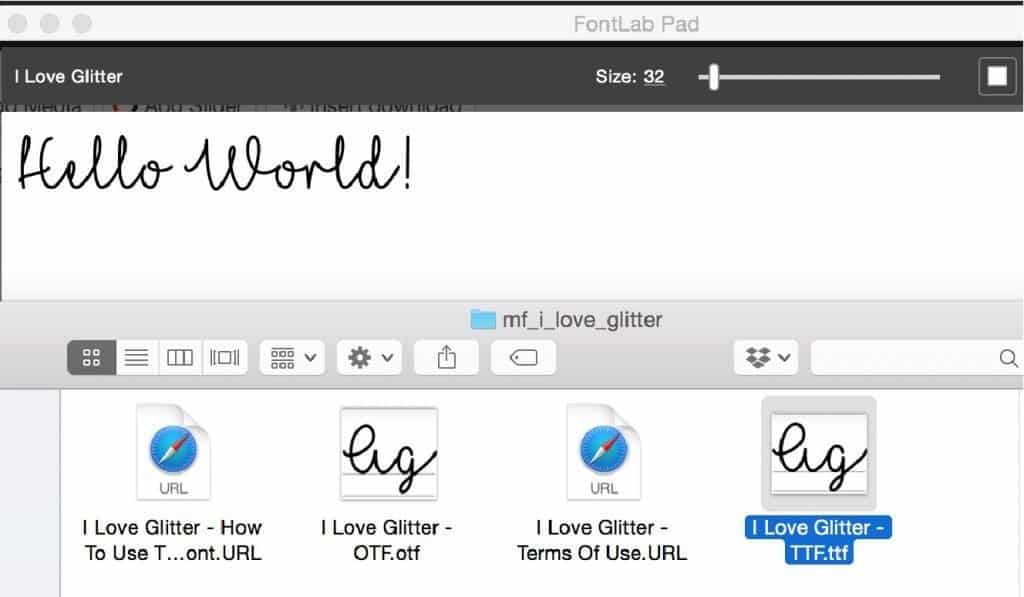 Add Your Text
Type in your phrase. Then click on the A| on the top right corner of the toolbar. This will give you the justification (left, center, right) and the line-height options as well as letter spacing.



Adjust The Font Size
To adjust the font size, grab the cursor on the slider and move it left or right.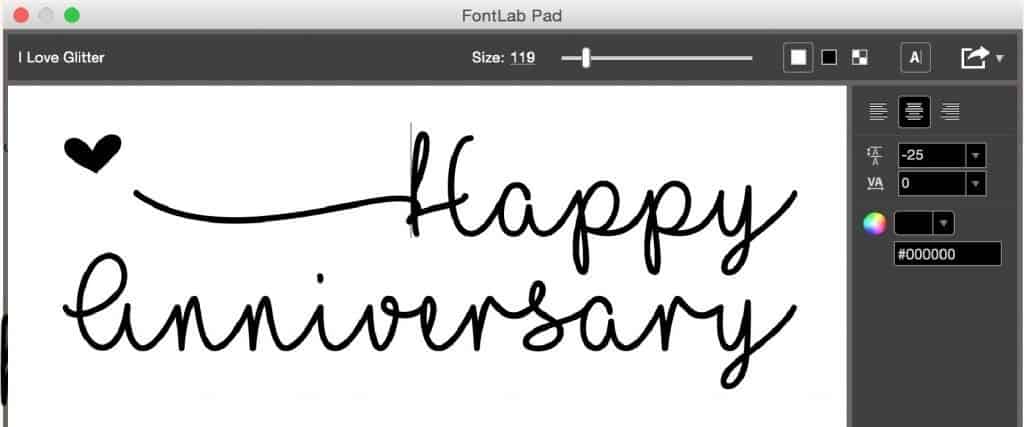 Save It As An SVG
Once you have the word art set to your liking, let the fun begin! You can click on the rectangle with the arrow pointing to the right and save your work as an SVG.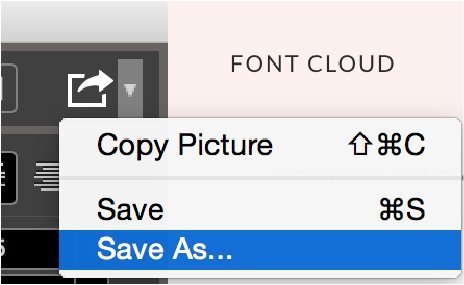 Use The SVG File Anytime You Want
Now you can take that file and upload it into Cricut Design Space to use as often as you wish.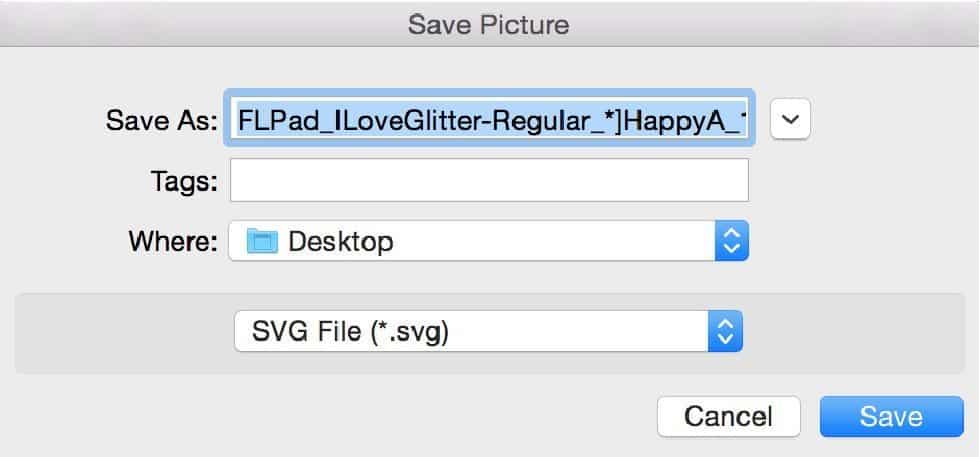 If you're designing a shirt with cuttable graphics, add this to your design in Illustrator. No need to rasterize your text and then trace and expand it!
Putting These Tricks For Connecting Cricut Cursive Fonts To Use
No matter which way you choose to connect your Cricut script fonts, you now have the ability to make gorgeous word art without a great deal of effort. I recommend spending just a little bit of time practicing the techniques. This way, you feel comfortable using these different methods when you're working on a project.
The script font hacks will allow you to design quotes and sayings that you can use over and over on all your Cricut craft projects. It's a great way to take popular Cricut fonts and use them to make your favorite Cricut crafts.
If you would like to learn how to design SVG files from scratch, check out my course below!
More Helpful Cricut Posts
Filed Under: Cricut Design Space
Sours: https://lemonyfizz.com/cricut-script-fonts/
437
438
439
440
441