What You Should Know About Headstone Prices
Headstone prices can often vary widely depending on a number of factors such as material, design, and type. If you're interested in purchasing a headstone, it's important to know the answers to some of the most frequently asked questions.
What is the average cost of a headstone?
The average cost of a headstone depends on the material, size, and type of the headstone. In general, the average price for a headstone is about $2,000. When split by type, a flat headstone (also known as a grave marker) is around $1,000. It's important to consider the materials when purchasing a headstone, as the material can drastically change the price.
The most popular material for a headstone is granite. Granite is sturdy and requires little upkeep to maintain the stone. Granite headstones can come in a variety of colors, but an upright granite headstone will start at around $500. Keep in mind that while granite is the more affordable option, prices can go up depending on the type of granite you purchase and where you purchase it from.
Browse granite headstones
The second most popular material for a headstone is marble. People are often drawn to marble headstones due to the look and gloss of the material. Marble is less durable than granite and might require professional upkeep to maintain its appearance over time. Marble headstones generally start at around $1,500.
What is the cheapest headstone?
The cheapest headstones are grave markers. Grave markers, or flat headstones, lie flat on the surface of the grave. They're usually placed at the top of the grave and are smaller in size than an upright headstone. Flat headstones will usually feature simple engraving on a granite stone and will usually start around a few hundred dollars, although we offer flat grave markers starting at $109.
How much are headstones with pictures?
Pictures on headstones can come in a few different forms. Some vendors will sell photos that are engraved into the stone themselves, some will place a photo on top of the stone, and others will frame a photo and attach it to the stone separately. Headstones with pictures are generally a bit more expensive than headstones without, due to the extra work involved. Upright headstones with added detail (such as a picture) are usually between $1000 and $3000. Flat grave markers with engraved photos can also be used in place of an upright headstone and usually start around $100.
Browse headstones
Where can you buy headstones?
Headstones can be purchased either online, from your funeral home of choice, cemetery, or directly from the headstone vendor themselves. Purchasing directly from a retailer can also usually be done online, for a generally cheaper price. If you're interested in purchasing a headstone online, you'll want to check out our available headstones and grave markers here on Ever Loved. If you're purchasing a headstone online always check with your cemetery of choice before purchasing. Many cemeteries have restrictions or requirements regarding the type of headstones they'll install on a gravesite. The last thing you want to do is purchase a beautiful and customized headstone, only to find out your cemetery can't or won't install it.
Why are headstones so expensive?
While it's possible to find a headstone for a few hundred dollars, many headstones boast a large price tag due to their size, appearance, material, and design. Many headstones include custom designs, engravings, and even statues. Headstones are also meant to last and are made of a type of stone - a material that's not cheap. Headstones are also meant to withstand environmental wear and tear for many years to come, it's necessary that they're made out of a durable and long-lasting material, which isn't cheap.
Browse affordable headstones
Do I need to buy a headstone?
Headstones are not necessary purchases, but it's nice to have a spot where a loved one is buried be easily recognized. If you're worried about the huge prices that go along with purchasing a large, heavier headstone - consider a grave marker. Grave markers are sleek, inexpensive, and fulfill the same purpose of a headstone at a much cheaper price.
Purchasing a headstone for a loved one is a difficult decision as it's often a way families honor the life of a loved one. It's not necessary for you to spend exorbitant amounts of money to purchase a quality product. If you're interested in purchasing a headstone, be sure to check out the options available on our marketplace.
Want to see more articles like this?
Like us on Facebook:
Sours: https://everloved.com/articles/memorial-products/what-you-should-know-about-headstone-prices/
How Much Do Memorials, Headstones and Monuments Cost? And Why?
A memorial serves as a lasting physical mark of a lost loved one, making the selection process difficult. You want every detail to be perfect, and understandably so. Your loved one's memorial should be a representation of their life—something that needs to stand the test of time for future generations.
Factors like the type of memorial, placement and unique designs impact final price—sometimes greatly. And as end-of-life planning costs continue to rise, families must keep a budget in mind when personalizing a memorial.
1. Type of Granite
Although it may not seem obvious to the naked eye, all granite is not created equal. Granite is available in different varieties, colors and grades. The unique processes that form granite in around the country and world result in unique granite characteristics. Common principals of supply and demand apply when considering granite prices.
In terms of color and variety, those that are more readily available to a region, often gray, are less costly. Blue pearl or aurora red are examples of exquisite colors that are unique and, thus, reflected in the price.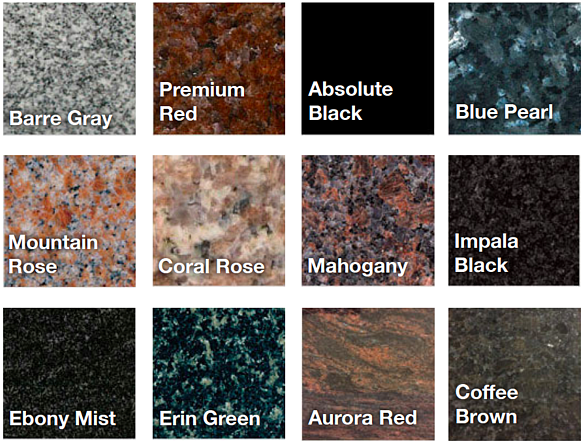 For those who want a lasting stone that will resist wear above anything else, you're concerned with the grade of the granite.
Grade reflects the material's general durability, density and structural integrity. Not only will higher grades withstand the elements, their suitability for cutting, crafting and finishing will be higher. Great consistency in high-grade granite also translates to a better look—both today and for decades to come.
Lower grade granite is prone to chipping, degrading and discoloration over time. For engraved or etched granite, keep in mind that lower grades also have density inconsistencies or flaws. This diminishes sharpness and appearance when cut or polished.
Unlike color, granite grade may not be as obvious, so be sure to ask your memorial provider about it.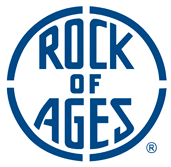 Reputable memorial providers will stand behind the products they deliver. For example, if there is a defect in the granite, Milano Monuments will replace the memorial. Not only does an offer like this give you piece of mind, but it also expresses the confidence a provider has in its granite and craft.
One brand worth noting is Rock of Ages, which is a type of granite only available through a select number of Rock of Ages Authorized Cemetery Monument Retailers. All Rock of Ages granite comes with a Perpetual Warranty. In the event of a granite defect, this warranty passes on through generations.
2. Memorial Type and Size
As expected, the memorial type and size can dramatically change its cost. Ranges can span from a few hundred dollars to thousands, based on the size and intricacy of the overall stone.
The basic order for different memorials from least expensive to most is shown below. Each type is typically available for a single person or as a companion or family memorial, which unsurprisingly increases the cost.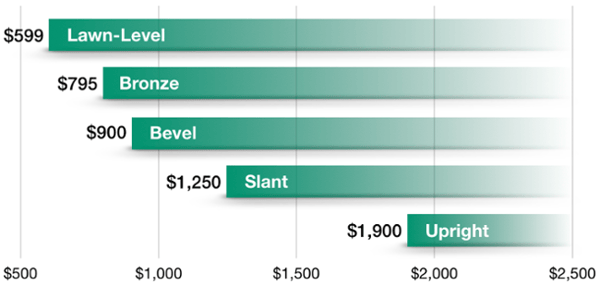 Note: Prices are estimates based on Milano Monuments, which vary based on the other memorial factors mentioned in this post.
Lawn-level: Often referred to as the "basic stone," lawn-level memorials sit flush with the ground.
Individual: $599 and Up
Companion: $1,199 and Up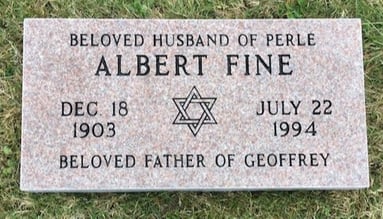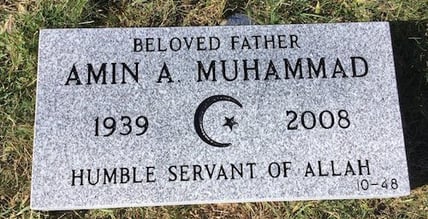 Bevel: Eloquently called a "pillow," bevel memorials rise a few inches off the ground with a sloping shape.
Individual: $900 and Up
Companion: $1,700 and Up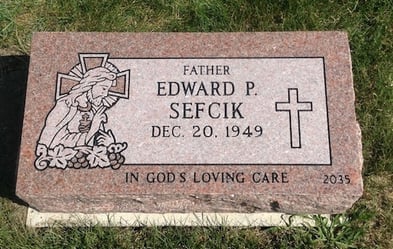 Slant: A step up from the previous types, slant memorials are cut at a steep angle to allow inscriptions to be seen from a distance.
Individual: $1,250 and Up
Companion: $1,800 and Up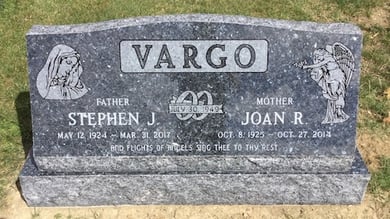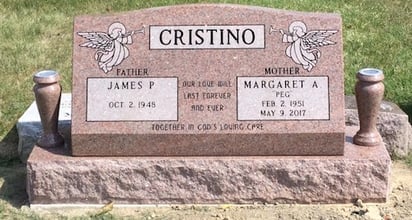 Bronze: Often mounted on a granite base, bronze memorials sit flush with or are slightly raised off the ground.
Individual: $875 and up
Companion: $2,490 and up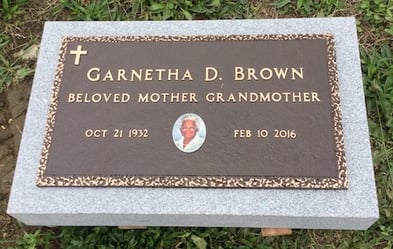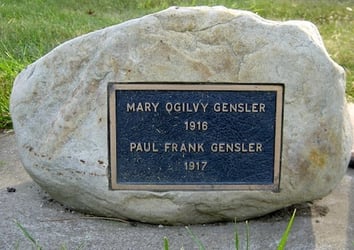 Upright Monument: The largest of these options, upright monuments are an impressive site in any cemetery and can be shaped and molded to the customer's desire.
Single Monuments: $1,900 and Up
Companion Monuments: $2,500 and Up
Family Monuments: $3,995 and Up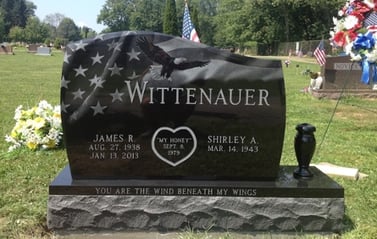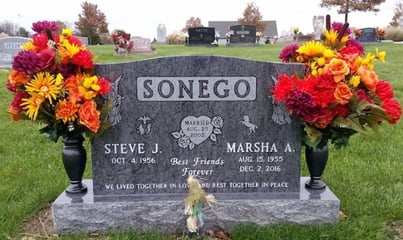 3. Design Details and Personalization
The quality of the granite, as well as the type and size of the memorial chosen are important in memorial selection. However, what makes a stone truly unique are the size and details of the words, designs, craftsmanship and other unique details that cover the stone. These customized markers often depict important aspects of the life celebrated.
>>>Want to design a memorial as unique as your loved one's life?

Designs can be very basic and understated, with just a few words and without art or design elements. Some families may feel simple represents respect and dignity. Others may choose elaborate and intricate details to honor the unique individual or family it memorializes.
Fortunately, the range of design options available for the grave marker of a loved one's final resting place is as vast as your imagination. Subject to the chosen cemetery's limitations and rules, almost any artistic design can be carved or crafted into granite or bronze.
A few options for personalizing are below, with greater amounts and intricacy translating to higher costs.
Ornamental Lettering: The words on a monument can feature any inscription you desire—including long or short epitaphs, quotes and scriptural verses—and are stylized using your choice of different fonts and carving techniques.
Ornamental Carving and Etching: Hundreds of images and themes are available to choose from—including religious symbols, flowers, birds, sports iconography, frames and more. These, and any drawing or image you provide, can be carved or etched into your memorial by hand, with a laser machine or with sand-blasters. These various methods each offer a distinct appearance.
Higher priced monuments usually include more words and artwork, as well as more complex designs. Additionally, the quality of craftsmanship, whether by world-class craftsman, designers and technicians, impacts the price.
4. Funeral Service Charge (If Purchased Through a Funeral Home)
As with any product, the more businesses or people involved in the processes from manufacturing to purchase, the more cost the customer incurs. But this is one cost you can avoid.
Many funeral homes can help coordinate the purchase of the cemetery space and the headstone. Out of convenience, many families may choose to take this offer.
However, going directly to a memorial provider removes an additional step in the process. It also opens up the available monument options to all of the offerings of the monument provider, not just what the funeral home can offer. Direct communication with a memorial provider and its designers also helps ensure all of your design and inscription wishes come to fruition.
While prices may be comparable when working with a funeral home or a memorial provider, professional memorialists can offer their expertise and broader capabilities as you consider memorial options.
Learn More About How Much a Memorial Costs
Editor's note: This blog post was originally published in 2019. We updated it in 2020 to be more comprehensive and current.
Sours: https://www.milanomonuments.com/blog/how-much-do-memorials-headstones-and-monuments-cost-and-why
Headstone Pricing
In times of loss or sorrow, we often face an onslaught of questions and decisions to make. Choosing a headstone is a very important decision and one that should not be taken lightly. With a century of experience in the industry, Legacy Headstones is an excellent resource for funeral planning. In this guide, we explore headstone pricing to provide you with a better idea of how much the funeral preparations for yourself or a loved one will cost overall.
Introduction to Headstone Pricing
There are many variables that can affect the price of a headstone, but size and material are two of the most common considerations. Depending on the material you choose, you can customize the headstone to include lettering, a finish, artwork, or some other elaboration. Customizations such as these will add to the cost of your loved one's memorial. If you're torn between bronze and granite, base your decision on affordability and versatility. Granite is a popular choice for carving, etching, engraving, laser-etching, and sandblasting, plus, it can also be airbrushed with artwork. Bronze is easy to personalize, so consumers have the option of adding removable plates or scrolls at a later time. When you're shopping on a strict budget, granite is usually the more affordable choice between the two.
Single Granite Headstones: $1,000 – $3,000
As we mentioned before, granite headstones are usually less expensive than monuments made of bronze. You can find a beautifully designed granite gravestone between $1,000 and $3,000. Prices include granite bases for stability.
Single Bronze Headstones: $1,300 – $2,500
Though slightly more expensive, depending on customization, bronze serves as a strong alternative to granite. Bronze can't be built to stay upright and must be mounted on a large piece of granite so that it sits flush against the ground above a gravesite.
Companion Granite Headstones: $1,700 – $3,000
If a loved one wishes to be buried alongside his or her companion, granite headstones are an affordable option and can be customized with lettering or artwork at a later date if one passes away before the other.
Companion Bronze Headstones: up to $3,000
With 3D imaging, bronze headstones offer a convenient way to memorialize two loved ones. Images must usually be at least 300 dots per inch (DPI). Bronze monuments are usually mounted to granite bases for ground-level stability.
Single Slanted Markers: $500 – $1,400
If a cemetery places a restriction on the headstone size you can use, grave markers offer a smaller option at a fraction of the price you might pay for a headstone. Slant markers are usually 20 inches long by 16 inches high.
Companion Slanted Markers: $1,300 – $1,500
Memorializing two or three people at one plot can get expensive, but slanted markers provide affordable alternatives to traditional headstones. Three-person markers are usually 10 inches longer to accommodate extra lettering.
Single Pillow Markers: $500 – $700
Pillow markers are the perfect cross between flat grave markers and slanted headstones. Most single pillow markers are 20 inches long by six inches high to rise just above grass level.
Companion Pillow Markers: up to $900
If a companion headstone is too expensive, a companion pillow marker may be just the solution you need to honor two loved ones who wished to be buried together. Most pillow markers provide enough space to add an epitaph.
Special Shape Headstones: $2,000 – $6,000
Monuments can be as simple or as elaborate as you desire. Some granite headstones are carved into special shapes such as an angel, heart, and teardrop to help individualize your loved one's final resting place in a large cemetery.
Pet Headstones: $100 – $800
The loss of a pet can be just as devastating as losing a human family member, and pet headstones are much more affordable than standard headstones. There are a variety of options to choose from, including bevel, flush, and slant.
Memorial Plaque: $50 – $100
Plaques have grown in popularity due to their affordability. Though smaller than standard headstones, plaques can be relocated for cleaning and maintenance at any time without disrupting the grave.
If you have any questions about headstone pricing or would like to learn more about the product selection we offer, please contact us today for additional information or further assistance.
Sours: https://legacyheadstones.com/headstone-pricing
Granite Tombstone Design and Prices in Johannesburg - Tombstone Company
Prices for Gravestones, Headstones, Monuments and Grave Markers
Helpful Videos
Video 1: Watch a short video explaining the factors to consider and questions to ask when purchasing a gravestone, headstone, grave marker, monument or memorial >>
Video 2: Watch a short video explaining the steps you will go through when buying a gravestone, grave marker, monument or headstone >>
Price Guide
Read below to get information on prices, rates, costs and fees for buying or purchasing gravestones, headstones, single markers or lawn level grave markers, memorials and upright gravestones and family monuments for Chicago cemeteries. Example epitaphs and sayings are available for inscriptions, etchings and engravings. Click here for information on ordering a gravestone, headstone, grave marker, memorial or monument for a Chicago area or Illinois cemetery.
Below is a price guide for your reference. The majority of products we sell will fall within these ranges.  We make our gravestones, grave markers, monuments and headstones right here in Chicago. Because there is no middleman we pass the savings right along to you. The granite you choose is primarily what determines the price. When you visit one of our stores we will be happy to tell you specific gravestone or grave marker prices so you will know exactly how much the memorial you created will cost. The prices shown below include the memorial, standard design, three lines of lettering and delivery. Cemetery installation fees and sales tax are additional.
Flat markers and flat gravestones:
Individual : $675 - $1245 Companion: $1100 - $2250
Bevel Markers:
Individual: $860 - $1865 Companion: $1375 - $3260
Slant Markers:
Individual: $1050 - $2400 Companion: $1675 - $4150
Bronze Markers on a Granite Base:
Single: $1310 - $2830 Companion: $2050 - $6595
Upright Monuments and Upright Gravestones:
Single: $1910 - $5950 Companion: $2600 - $7200 Family: $4900 - $12,000
There are many customization options available to you. We have designed and carved individual flat markers for over $3000 and many family upright monuments have been sold for over $45,000. The prices above are meant to show you the range within most purchases usually fall.
Chicago area cemeteries charge you a fee to install the memorial or gravestone. Sometimes a cement foundation underneath the gravestone or headstone is required and there is a fee for that as well. Most installation charges for individual grave markers range from $325 - $700. Installation charges for companion markers range from $600 - $1000. Cemetery installation fees for bronze markers are often higher.
Foundation fees for upright monuments or raised family monuments generally range from $500 - $2500. If you would like to know the fee charged by your cemetery, just call our office at 708-544-0916 and we will look it up for you.
If you have a question about buying a gravestone, monument, grave marker or headstone that is not answered by the above or on the FAQ section of our website, please call our office at 708-544-0916. We are open seven days a week from 9AM – 5PM. We are pleased to assist you in any way we can.
Payment Options and Payment Types Accepted
When you order a product over the phone or in person at one of our store locations, you have a variety of payment options. For information about the options available to you, please call 708- 544-0916. We accept the following:
MasterCard
Visa
Discover
Personal Checks
Money Orders
Cashier's Checks
Cash
Sours: https://www.troost.com/prices
Pricing tombstone headstone
Recently Viewed Images
Granite headstones and memorials typically include Upright Memorials, Flush Markers, Bevel Markers, Slant Memorials, Full Grave Ledgers and Benches.  Any of these can all be used as a single (for one person) or as a companion memorial (for two people). Other choices include the Asian style Ti-Chi Memorials and. Lastly, there are Mausoleums  and Columbarium's. These memorials whether in the form of flat grave headstone or other shapes, can be made for one person or up to eight people or more. For over 25 years, our goal has been to serve the needs of our client families by honoring their loved ones. With our client's guidance, we work together to design their memorials to be reflective of their loved ones. Our granite memorials are available in various colors, sizes and shapes. We also offer baby headstones, pet headstones and memorials, etc. Our team specializes in making custom memorials and can print funeral poems, quotes or anything of your choice through headstone engraving. How Much Do Headstones for Graves Cost? Eastern Memorial offers the most affordable headstone prices. Check and compare our headstones cost with other companies and buy flat headstones, tombstones for sale at the most amazing rates. Top Quality Granite Eastern Memorials uses only top grades of granite for its cemetery markers. We buy directly from our domestic manufacturers and are also direct importers of granite from around the world.  Production of our granite headstones, tombstones and memorials is done in our monument shop using state-of-the art equipment. This sometimes increases the flat headstone prices, but we make sure our grave headstone prices are reasonable compared to the tombstone prices of other companies. Locations We Serve Eastern Memorials proudly serves the residents of Washington D.C, Maryland and North Virginia through its grave memorials, granite tombstones and cemetery marker installation services. Please scroll through our Galleries of Granite Memorials below. For additional information and pricing, call us at (703) 393-0999 or email us at [email protected]
Sours: https://easternmemorials.com/galleries/granite-memorials/
Granite Tombstone Design and Prices in Johannesburg - Tombstone Company
Price Sheet
The act of placing headstones to mark the burial site of a deceased person has been tradition since time immemorial. We understand that you are having a difficult time dealing with the loss of a loved one. At this time, your thoughts are occupied of your loved one, not searching affordable yet durable headstone. The Headstone Guy's online portal serves as an ultimate destination where you can get a gravestone exactly as you want without having to pay retail price. You can preserve the memories of the deceased by customizing their headstone with our online design suite.
Read more...
We are well known in the industry for offering affordable headstones without compromising on the quality of stone or the design. You can decide upon the memorial you want in accordance with the price sheet mentioned on the web page. The grave headstones prices mentioned here include the charges of the stone, engraving and shipping in most cases. Certain factors including color and size influence the cost of headstones. If you choose a gray colored headstone, it will typically be less expensive than red or black headstones. The black laser modern is also very popular for adding photos of the deceased. Whether you choose an affordable upright headstone, or affordable slant gravestones, the same care is given to all the stones we create. The price directly depends on the size of headstone you order. The larger the size of the memorial, the more expensive it will be. You can decide whether you want a single marker or a companion marker and the selection entirely depends on your requirements as well as the requirements of the cemetery.

At Headstone Guys, we offer custom headstones at unbeatable prices. We provide one of a kind headstones for sale that are created by the best craftsmen in the business. Design your loved one's grave markers, give us the detailed information like Name, Date of Birth, Date of Death etc that you want to get engraved on the stone and will give you a memorial that will last forever. The best part is that we give you the freedom to make changes until we begin the final process.
Read less...
We'll Beat Any Competitor's Price *
Call Now - (877) 291-8307
** Shipping to the Continental US is FREE
** Hawaii, Alaska, and Canada have additional Shipping charges.
* Conditions Apply
Sours: https://theheadstoneguys.com/pricelist.aspx
Now discussing:
Headstone Prices
Price of a monument is based on the type, granite material, size and model. Common industry practice is that the price varies based on the number of letters or artwork needed on the tombstone. We do not price based on the number of letters that you use. In fact we encourage you do add as many details to the memorial as you chose to, so that you can customize and make it as unique as the people themselves.

Our price is all the same, no matter what you want engraved on the surface.

We have many kind of headstones like Flat grave markers, Slant grave markers, Bevelled grave markers and Upright headstones. Please go through the following headstones price list for more details.

When you compare our price with the market price, Definitely it will satisfy yourselves. While comparing, Please check the MODEL, SIZE & COLOR of the stone.

If you need a more personalized grave marker or headstone, Please contact us through [email protected] | (800) 250-6778.
Sours: https://www.headstonedeals.com/price-list/
442
443
444
445
446