This post contains affiliate links. If you click and buy we may make a commission, at no additional charge to you. Please see our disclosure policy for more details.
An aesthetically pleasing workstation deems to be inspiring and leads to an increase in one's productivity and efficiency. Such an environment should be inculcated in both, one's office and homes, and hence a proper table for each is a must.
Space optimization is key to any creative project, and L-shaped tables are a great way for just that. However, buying such tables from the market can cause a hit to your pocket. As a result, you might resort to cheap ones that are not very durable and often have defects.
In order to avoid this, we have curated a list of 19 DIY L-shaped plans for desks that you can undertake with minimal experience and prerequisites. These provide you with a durable and cheap alternative while maintaining the integrity of a classic L-shaped design.
DIY L-Shaped Desk Plans & Ideas
1. DIY L-shaped Double X Desk
This table will immediately add an elegant feel to your workspace, with ample leg space, and it's easy to move structure. Create your own stylish leg frames with an X trim and then assemble the desk support structure. Finally, position your tabletop on this base and finish this DIY project to instantly upgrade your working experience.
The step-by-step guide also provides you with instructions to fill pocket holes for a clean look to the table.
2. DIY L-shaped Office Desk
Create this stylish L-shaped desk for your study and give it the professional feel you always wanted. Choosing crown molded legs with a thick base will bring exceptional sturdiness. Depending on how sleek you want the end product to be, perform calculated wood staining.
Your office study naturally gets a rustic vibe and you feel more productive while working on this new office desk.
3. DIY L-shaped Room Desk
This L shaped desk design is perfect for your room and will add a chic vibe to it. The process also includes instructions on installing drawers into the design which work towards enhancing its utility.
The details for this project are divided into subparts which make it easier to comprehend the manual. This table is big enough to occupy two vacant corners of your room. You could literally set up a mini workstation with enough space for 4 computers.
4. DIY L-shaped Modular Office Base
A thin-table desk made using a few tools and lumber, when joint together with a modular office themed narrow shelf base, produces this innovative L shaped design that fits perfectly into the corner of your room.
Supplies:
Clamps
Drill
Hand Saw
Lumber
Screws
Wood glue
There are a couple of more basic materials that you can access from the guide.
5. DIY L-shaped Desk (Using 1 Plywood Sheet)
This video will guide you through the entire process of making the entire desk using just one sheet of plywood. The final product will be sturdy and can be used for both office and home purposes. Even better, you get an extremely compact storage area packed closely to the tabletop.
Worried about cutting wood in such precise patterns? These 10 best cordless reciprocating saws could be a great addition to your woodworking arsenal.
6. DIY L-shaped Computer Desk
Make this DIY table without using any advanced tools for under $100, just by following this video instruction to the pinch of perfection. The final product is bulky and construction assures it is even resistant to vibrations. This makes it the perfect corner piece for your room. Small and compact!
Supplies:
Lumber (2×4's, 2×6)
Wood glue
Clamps
Drill
Circular saw
There are a couple of more basic materials that you can access from the guide.
7. DIY Butcher Block Desk
A desk that can serve its purpose positioned in the corner, or center of the room, this DIY project completely dominates your room. The pipe-structured table gives you a proper place for devices like printers and scanners.
Build a desk with a rugged design (complemented by the black spray-painted industrial pipes) and a striking contrast of the bright wood color.
8. DIY L-shaped Workflow Desk
If you need a large desk for a computer lab, to be used by multiple people simultaneously, you should try this DIY plan.
This plan makes use of slide over pipe fittings secured by set screws (instead of the conventional method), which makes it easier to use and more flexible as compared to threading pipe fittings.
9. DIY L-shaped Desk with Pipe Base
This classy table makes use of live edge slabs and can easily fit into a bay window. The heavy tabletop is supported by the pipe frame.
You can use flanges to connect the slabs into the pipe structure. Tee fittings can also be used to tie the supports for both desks together. This will help save on the number of fittings needed.
10. DIY L-shaped Dresser Desk
If you want a dresser-cum-table to liven up that dull corner of your room, this DIY project is what you need. With the framed-out drawer fronts, the molding, and beautiful legs, this dresser sure becomes the central attraction for your room.
Why not hit two birds with one stone? Solve the problem of storing the clutter in your room, while also getting a table work on.
11. DIY L-shaped Student Desk
Perfect for all the teens, this study desk with its minimal built and maximal utility will definitely enhance your productivity.
There are 3 main steps as a part of the plan, building the base, the top, and then attaching them together.
12. DIY L-shaped Drawer Desk
This plan provides you an easy schematic procedure to make your own L-shaped drawer desk that comes with storage units and drawers. To get strong joints and to hide the head of the screws, you should use a pocket hole system.
The middle piece merging the 2 drawer ends of the L-shaped table is what needs utmost attention too. Acquiring the perfect cut is a key element in attaining this exact design.
13. DIY L-shaped System Desk
Refer to this PDF instruction booklet to make yourself a desk for your entire computer system, which provides you ample room for leg space and technical accessories.
This design features a large lap drawer with a matching drawer cabinet, and a bulging section in the middle of the table. If required, more drawer cabinets can be attached to either of the sides.
14. DIY L-shaped Corner Desk
Despite being more of a makeover plan, a few existing drawers and wooden pallets could help build what you are seeing. The compactness and exemplary space-conscious design make it a must-try DIY project.
Use this cheap alternative to enhance your room décor and make working more enjoyable.
15. DIY Simple L-shaped Desk
Boasting a generous width, the ends of this table give it a breathable look. Installing some casters could prove handy.
This lightweight table can also be easily transported which makes it perfect for the parties you host, outdoors or indoors.
16. DIY L-shaped Farmhouse Desk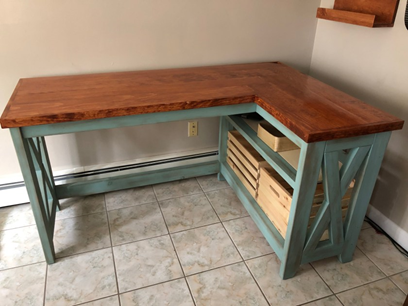 When you couple the ruggedness and dull color of the lower end of the table, along with the presence of 2 long shelves, this plan doesn't seem like a bad idea.
You will need a pocket hole jig for the proper execution of the plan.
17. DIY Modern L-shaped Desk
This table, though a little challenging, can be completed by using hand tools and giving the project its due effort. The end product will be a durable table that can be placed in your garage as a tools platform or even as a kitchen island. However, the instructions in the video do not include the finishing procedure, which has been left to your creativity.
If you're overwhelmed by the wood cutting specifics mentioned in the guide then check out these top-notch sliding compound miter saws.
18. DIY L-shaped Rustic Table
This rustic table serves as the perfect spot for all your mementos and paperweights. Place it in your study for personal use, or in the hall as a display for your guests.
Drilling the pocket holes will be the most difficult part of the project. However intimidating the legs may seem, carefully following the instructions will help you succeed in conquering the complex built.
19. DIY L-shaped Craft Desk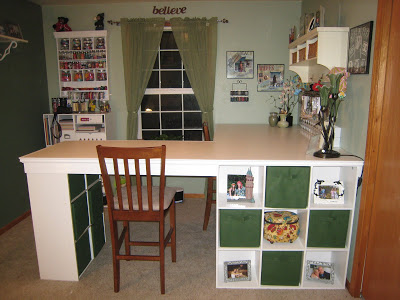 A craft desk is a must for a DIYer, and what better way to do that than to DIY? Nothing beats the squared boxes on the front end. Literally anything you place there will add to the visuals of the entire L-shaped desk.
The guide provides you with separate instructions for the cubicles, main desk, and side desk, and then later arranging it all together.
Verdict
L-shaped tables are the perfect means to fill up vacant corners in homes. A little creativity, open-mindedness to trying new designs, and wood assembling skills could go a long way in building a visually pleasing DIY L-shaped desk.
by Emily FloateCategories DIY ProjectsSours: https://www.protoolguide.com/amazing-diy-l-shaped-desk-plans/
DIY Plywood Desk with Pipe Frame: Plans to Build Your Own
Are you interested in building your own plywood desk?
This article will show you how you can easily build your own desk, even if you don't have any building experience, or don't own any power tools.
All you need is a sheet of plywood, a few Kee Klamp fittings, some pipe, and an Allen Wrench to assemble the frame, in order to build this desk.
Follow along, as we cover this fantastic desk built by Paul, the fittings you'll need for the desk frame, and the steps to assemble it:
Project Details
Building with hardwood plywood can be a great alternative to working with standard hardwood. All you really need to do is cut the plywood to your specific length and you're own your way. It also looks great and comes in a variety of finishes like Oak and Birch.
The desk you see here was built by Paul of Industrial Design in New Zealand. Paul crafts beautiful tables, and other pieces of furniture, from industrial, vintage, and upcycled parts. Be sure to check out more of his work here.
This particular desk is 60" long, 35" wide, and 29" high. But, you can make the desk any dimensions you like.
Here are a few more desks, that Paul created, that use the same design:
Now, let's take a look at the fittings you will need to assemble the desk frame:
Fittings & Pipe Needed to Assemble the Desk Frame
Now that you know what fittings and pipe you will need, let's move onto how to assemble the desk.
How to Assemble the Desk
To assemble the desk, follow the diagram below and the proceeding steps. As with any project that uses Kee Klamp fittings, the exact order depends on how you would like to approach the assembly process. However, we have provided the recommended order of steps.
We recommend building the desk frame in sections. You'll start by building both ends of the frame and then joining them together. Using two Side Outlet Elbow fittings (top) and two 90 Degree Elbow fittings (bottom), assemble each end of the frame as pictured in Step 1. The pipe will slide into the open socket on each fitting. You will then tighten down the set screw, on each fitting, to secure it to the pipe.
Once, that is complete, you should now have a section as pictured in Step 2. Repeat the same process for the other side.
Now, you should have the two ends completely assembled. These will be joined together by two lengths of pipe. Slide the pipe into the open sockets on the Side Outlet Elbow fittings, and tighten down the set screw, to secure it in place.
You should now have a frame that looks like the example in Step 4.
Now, you can attach your plywood top. Cut this down to your desired dimensions before attaching it to the frame. If you don't have the tools to cut the plywood board down to size, Home Depot or Lowes should be able to do this for you when you buy the sheet of plywood.
The plywood should be placed over the table frame as shown in Step 6.
You can leave the desk as is if you like. But, the top may slide around. To lock it down into place, you can use the Sheeting Clip. The Sheeting Clip will slide over the pipe, and allow you to screw into the bottom of the plywood, to keep it in place.
Place a Sheeting Clip at each end and screw the clip into place.
Once, you have all four Sheeting Clips attached, then you are finally finished! You have a complete plywood desk with a pipe frame.
If you have any trouble assembling the desk frame, don't hesitate to reach out to our projects team for help ([email protected]). Our team is experienced in working with Kee Klamp projects and can help you out with yours. We also offer free design assistance. Finally, we do offer a few desk & table frame kits for a simpler approach, try browsing our selection to see if there is a fit for you.
Specs:
Width: Configurable (Standard 60")
Depth: Configurable (Standard 29")
Height: Configurable (Standard 35")
Assembly:
One Lunch Time
Allen Key, Hardware to Attach Plywood to Frame
What's included:
All of the pipe and fittings needed to assemble the table frame.
What's not:
Tabletop, Hardware to Attach Plywood to Frame, Tools
Now It's Your Turn
Let us know in the comments below what you thought of this project. Did you like it, hate it, want to see more of it? Let us know.
Better yet, if you build one yourself, let us know and send in your pics. We'll add it to this blog post so that everyone can see your awesome creation.
This project is awesome!
Love this project? Share it with your friends on your preferred social network
Sours: https://www.simplifiedbuilding.com/projects/plywood-desk
Introduction: Simple Plywood Desk (Desk 1.0)
This is my first instructable, a plan for a simple plywood and 2 x 4 desk that I designed and made several years ago.

The idea was to use a single sheet of hardwood plywood, and some basic hardware to build this desk for between $75 and $100. It could probably be built for less if you changed some of the materials.

Unfortunately I didn't document the build process at all, so I only have pictures from several years after it was built, and some pictures of a much larger version that I built later. I've included pictures of the other desk (a similar design), and the completed desk as it is today.

Step 1: Planning
Planning for this desk is pretty simple. Since the goal is to build it from a single 4' x 8' sheet of plywood, the length is dictated by the available length of the plywood, and the height of the desk.

I laid my desk out on a sheet of graph paper using a 4 squares per inch rule.
Step 2: Planning: Legs
The first step is to decide how high you want the desktop. Standard desktop height seems to be around 28", but I decided to build mine at the same height as a keyboard drawer for ergonomic reasons (~25").

So the height of the legs is measured off of the side of the plywood, and then split in half to form two legs.


Step 3: Planning: Top
The next design consideration is how deep you want the desk to be (I chose 30" for mine).

The wood left over from this cut is used to provide a backing panel for the desk to strengthen the design.

Finally, how long should it be.

The simple answer is "whatever is left once the leg portion is removed", but you can always shorten it to fit your needs or space. At most this will be around 72"

Once you have the basic measurements, you can calculate how much support wood you'll need as well.
Step 4: Materials
Since it's a "Single Sheet of Plywood" desk, you'll need a single sheet of hardwood plywood (sometimes called "Cabinet Grade").

I used 3/4" white hardwood (possibly Maple or Poplar) from "the Big Orange Box", but there are other species available. ($30 - $50 depending upon where you get it, and the species).


You'll need some material for providing support to the desk, and attaching the legs and back to the top.

In my case I used 2 8 foot 2x4s and about 3 foot of 2x2, but you can substitute other dimensions of lumber, or even use hardware for joining the corners.

You will want at least one board for the center support since the plywood will warp at that length without some support (I added mine after building when I realized that it was needed). ($5 - $10)


You'll also need some "wood veneer edge banding" to hide the edge of the plywood once complete. (I think I paid about $30 for a roll, again at the Big Orange Box place).

Screws / glue / finish. I used wood screws, but didn't glue this one. I'd glue it if I did it again. I used a "one step" stain and finish. ($10 -$40 depending upon finish choice).


Step 5: Cutting
I had the "Big Orange Box" store do all of the cuts on the plywood for me.

They will do one or two for free, and then there is a fee per cut after that ($1?). Unless you change the length of the desk, it should only be 4 cuts so it won't add much to the price, and their panel saw does a great job on these long straight cuts.


Step 6: Assembly: Back
I'm using some pictures here from another version of this desk, so the sizes and lumber are a bit different. The concepts are still the same.

Since this is the back of the desk, and mine will always be against a wall, I just screwed straight through the back plate, and into the corner support. You could screw through from the other side, but you'll have to be careful not to punch through the plywood.

I first attached the backing plate to the corner supports, then attached a full length 2x4 turned on edge to support the desktop.
Step 7: Assembly: Legs
Next the legs were attached:

I started by attaching the top supports to the back. These supports will attach the legs to the top.

Next the legs were attached to the side supports with wood screws. I screwed through the outside, very close to the top. These screws can only be seen if you are on the floor looking up, but they could have been filled with wood filler or even run through from the inside.

Step 8: Assembly: Top
The top is laid on, and screws are run from the supports up into the top. You have to be very careful here not to run the screws too far into the top, or you'll have a screw sticking out!

Once I had assembled my desk, I realized that the top needed additional support, and added the 2x4 shown in the pictures. If it's planned ahead, it could be done a bit better, but this is functional, and can't be seen unless you crawl under the desk.

Step 9: Finishing
The next step is edge banding. This covers the raw edge of the plywood with a wood veneer, and makes it appear to be a solid slab of wood. Most big box lumber places will have this banding near the plywood (make sure it's the same type of wood, or looks like your plywood).

It applies with an iron (the iron heats the glue on the back and attaches it to the wood), and then can be trimmed, sanded, and stained to match the rest of the desk.

The last step is to sand and finish the desk, just like any other wood project.
Step 10: Enjoy!
Overall I've been very happy with this design. I used if for a couple of years before giving it to my son, and building a larger version with a hutch. 

I hope it helps someone design and build an economical desk.
1 Person Made This Project!
Did you make this project? Share it with us!
Recommendations
Halloween Contest

Made with Math Contest

Robots Contest
Sours: https://www.instructables.com/Simple-Plywood-Desk-Desk-10/
Making a Desk from Plywood - Built in Wireless Charger
Plywood Gets Sexy.
Legen- …wait for it…
-DARY.
BOOM.
Or should I say, bow-chicka-bow-wow!
Well, guys, what do you think?  Isn't she a beaut?  If you've been following me on Facebook, you know that this desk started as this:
I had a pile of leftover plywood in my basement, a set of hairpin legs from a broken table, and a big idea in my head.  Chris wanted a desk for the music room, so I thought, why not?
Update: I finally built a room worthy of such sexiness.  To see the desk in all its Boom Boom Room glory, click here.
Here are the supplies I ended up using:
Plywood scraps — free
Hairpin legs — free
1 gallon of wood glue — $15
1 pint of Minwax white wash stain — $10
1 pint of Minwax polycrylic — $13
1 pair of 17-inch LANSA handles from IKEA — $9
Rustoleum glossy black spray paint — $6
But I must give credit where credit is due.  The concept for this fabulous piece of furniture was all mine, but I wouldn't have managed to build it without some expert help and time-saving tools.  I'm talking, of course, about American Workshop.  Here's how we went about turning a big idea into an actual desk.
Step 1: Plan.  This all started a couple of weeks ago, when I took my design into the workshop to ask, "Is this possible?"  I drew this plan:
which later turned into this:
The desk I used in my Photoshop drawing is this TV console, which inspired my idea in the first place.
I had my doubts.  Would glued-up plywood strips be strong enough to make into furniture?  If so, was it possible to get the "infinity" look I wanted on the corners?  Jim assured me it was, and helped me solidify my plan.  I came back a few days later with my final measurements, and got down to business.
Step 2:  Cut.  I started by cutting all my scraps into 1-inch-wide strips.  I figured that once everything was glued together and sanded smooth, I'd still have 3/4-inch of material left.
Technically, I probably could have done this part at home.  I do have a table saw, but I don't have an actual table around it, which makes it awkward to cut bigger panels.  At the workshop, it only took me about an hour to cut all those strips.  At home, it probably would have taken more like seventeen.
Step 3:  Lay it out.  This was putzy.  Being the obsessive-compulsive perfectionist that I am, I wanted each row to be made up of the same type of plywood, so that the stripes would match all the way across.  Then I cut each joint at a 45-degree angle, to make the joints tight and minimize interruptions in the pattern.
I kept going until I had just over 6 feet x 3 feet of material, when all compressed together.
Step 4:  Glue and clamp.  This went super fast.  It was a 2-person job.  Actually 3, because there was one good Samaritan standing by with clamps at the ready.  (I'm sorry, good Samaritan, I don't know who you are, but thanks for your help!)  It probably looked quite chaotic.  Our antics even drew spectators.
Jim used a 3-inch paint roller and a tray full of glue to roll the glue on, while I brought all the pieces over to the gluing table and kept them in order, and helped slap the pieces into place after they were rolled with glue.  Once every single piece was in place, we clamped.
The whole process took about 15 minutes.  I could not have done this at home.  I don't have a big enough work bench, I don't have 4-6 hands, and I don't have 15 (yes, 15!) 5-foot-long bar clamps (which probably cost upwards of $50 a piece).  Plus, I never get spectators at home.
Step 5:  Sand.  After 24 hours, I took the clamps off and went about making a desk-worthy surface out of my plywood slab.  The surface was totally uneven, since the strips were not all level with each other, and the glue had stuck to the waxed paper that we had used to protect the table underneath.
Picture me in my basement with an orbital sander in each hand, a 50-pound carton of sandpaper discs, a handful of speed, and 48 hours to kill.  That's probably what it would have taken, if I had done this as home.  And the surface would still be kind of wavy.
Luckily, the workshop has the Timesaver — a 36-inch belt sander, which I first met during my wainscoting escapade.  It took a lot of passes, but within 30 minutes we had a smooth surface — without the aid of illegal substances.
Before the final sanding, I used wood filler to fill in all the little holes that you'll find inside plywood.
Step 6:  Cut all your pieces.  Remember, I was going for an infinity look on the desk — I wanted the lines to be as uninterrupted as possible.  I figured the best way to do that was to make one single slab, and cut the individual pieces out of it.
Most of the joints in this desk are mitered, to preserve the pattern.  When I was cutting the pieces, Steve helped me figure out where the miters needed to happen so that everything would line up correctly.  I don't know anything about joinery, so working backwards from the final product (in my head) to the actual cutting and sizing of pieces…let's just say, I'm glad I had help.
Step 7:  Assemble.
This was pretty straightforward, because in the process of cutting the pieces, I had finally started to understand the plan.  But it was another 2-person job — a fact that I discovered after I managed to drop one of the side pieces.  Twice.  And it broke.  Twice.  Both times elicited inappropriate language from me.  And both times, if they had occurred at home, would probably have resulted in me quitting.  But at the workshop, I had Steve to shrug his shoulders and hand me the glue.
Work of art destroyed?  No big deal.  Put some more glue on it.
Step 8:  Drawers.  I learned how to build drawer boxes with rabbets instead of butt-joints! Now there's a sentence that only makes sense in context.
The drawers just sit on wooden slides.  Super simple design.  Underneath the desk, there are a couple of blocks of plywood that add stability, but also provide a place to attach the drawer slides.
Step 9:  Drawer fronts.  This was the hardest part of the entire desk-building process.  The drawer fronts were cut directly out of the front piece, so that the pattern would line up.  Getting them placed perfectly on the drawer boxes so that the lines looked continuous, and so that the gaps around the drawers were as small as possible, took some trial and error…and a little double-stick tape.  But in the end, it turned out just about perfect.
Step 10:  Take the desk home for finishing, and start screwing up.  Oh, did you think this was going too smoothly?  It wouldn't be a Big Idea without at least one monkey.  I started with a good sanding and a coat of clear satin polyurethane.
And the poly did exactly what I expected it to: it brought out all the gorgeous details. Unfortunately, it also added waaaay more of a yellow tint than I wanted.
It wasn't ugly, but it wasn't what I had imagined.  And I had a very specific picture in my head of what this desk was going to look like.  Perfectionist, remember?
So I sanded the whole thing down and started over.
Take Two: Minwax White Wash, and its recommended top coat, Polycrylic (instead of the regular oil-based poly I used for my first attempt).
I brushed the stain on and wiped it off almost immediately; I didn't want to end up with a white desk.  And I didn't want to take the chance of obscuring the wood grain.
Ahh, much better.  I followed up the stain with Polycrylic.  And in between coats, I spray painted a pair of cheap IKEA handles.
When it all finally came together, the end result was EXACTLY what I had imagined.
I hope Polycrylic protects against drool.
And…I can't wait to make the matching shelves.
Update: If you'd like to see more gratuitous pictures of this sexy plywood desk, click here.  And if that's still not enough to satisfy your craving, get a load of these sexy plywood shelves I made to match. 
Update #2: I went back and put an extra special finish on this desk to make it satiny-smooth.  Read about that here. 
P.S.  If you like stories of something made from nothing, I'm sharing this one with Mandi over on Vintage Revivals.  Hop over there to check out her first Rock What Ya Got party!
P.P.S.  I would probably make a terrible and hilarious contestant in Creating with the Stars.  But I entered anyway, and used this desk as my submission.  Hop on over to East Coast Creative to see what all the other entrants submitted.
Disclosure: This post was written in partnership with American Workshop.  They have generously allowed me to use their space for this project, but have not told me what to write.  All projects and opinions are my own.
Filed Under: Chapter 1: Beginnings (September 2012 - May 2014), Favorites, The Big Reveals!, Tutorials (such as they are)Tagged With: design, DIY, furniture, music room, plywood desk, woodworking
Sours: https://sarahsbigidea.com/2014/02/plywood-gets-sexy/
Desk ideas plywood
Last updated on September 19, 2021
How to build a desk quickly, easily, and cheaply? We will show you 60 (well organized) easy ways to do it. Read on!
► In a hurry? Check out this project:DIY Corner Desk
If I think about it, I've never lived in a home that didn't have a desk. And it was always used for many purposes. Indeed, everyone always used our desks whenever they needed to do homework, craft something, or play with something. It was always the most multi-functional piece of furniture at home.
What's Inside?
How to Build a Desk?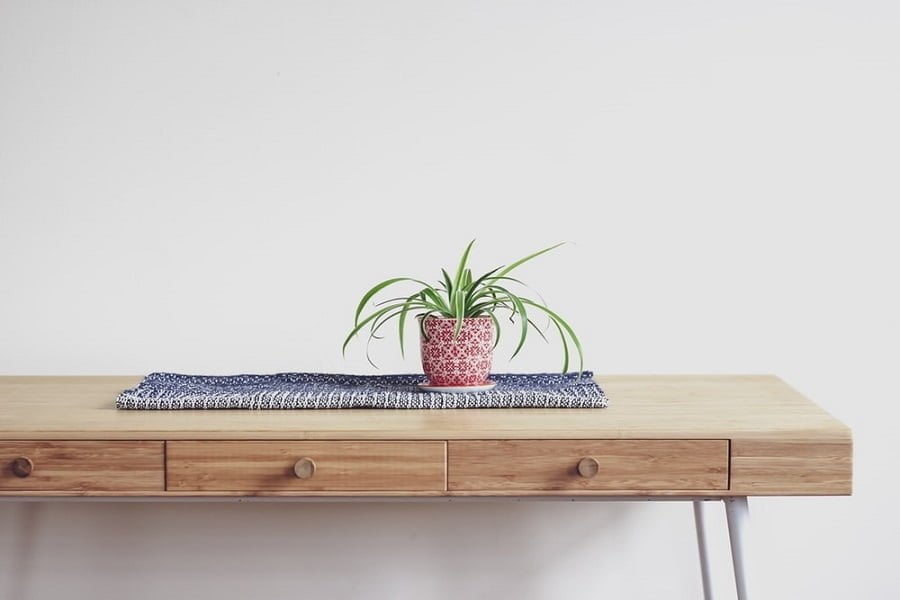 Here's a quick rundown of making a homemade desk:
Choose the material. The best material for a DIY desk is beech or birch. These woods are light and durable enough to make furniture. You can also try oak, maple, and pine. And most often than not, you will use anything you have available if you're trying to stay within the budget.
Measure the wood boards. 2x6s are very easy to work with for this project. Cut them with a circular saw.
Drill the pocket hole at an angle for each screw.
Attach the boards with glue and wood screws to make a tabletop.
Use wood filler to cover the drill holes.
Stain and paint the tabletop.
Measure and cut boards for the legs and the desk frame. 2x4s or 2x2s are ideal for this. Note that you will need a miter saw to cut the boards at an angle.
Stain and paint the legs. Consider using a wood conditioner first to prevent streaks when you stain and paint it later.
Attach the desk legs to the tabletop using screws and glue. You may use metal brackets for support.
These steps are enough to get you going, and you can follow any plans to build a desk.
And because there are so many types and designs of desks, you may choose any of the following ideas with plans.
DIY Corner Desk
This is our choice for the best DIY desk idea overall. It's relatively easy to build (by following great plans and guide), it's very functional and exceptionally attractive.
The basic steps are these:
Choose the material. The best wood for a desk is beech or birch. They are light woods and durable too – ideal for furniture. However, you might consider oak (more durable) or pine board (light and inexpensive).
Measure your corner space.
Cut the wood boards. A corner desk is made of two tabletops attached at a perpendicular angle.
Use wood glue and screws (drill a pocket hole for each) to attach the table surface together.
Stain and paint the finished tabletop.
Measure and cut the legs. The height of a desk you should aim for is 28 to 30 inches. That's the ideal sitting height. It does, however, depend on how tall the person using it is.
Stain and paint the legs.
Attach the legs to the surface using glue and screws.
These basic guidelines are enough to follow any simple plans for a corner desk.
How much does it cost to build this desk? $100 or less if you stay within the budget (sometimes even less than $50).
Computer Desk
If you're not crazy about much of anything we can buy in today's furniture market, at least in your price range, build this metal and wood DIY computer desk idea on a budget. It even includes a keyboard tray. See the article to see the DIY desk plan and instructions.
Standing Desk
Build this fantastic DIY standing desk from wood and pipe as an easy DIY desk project. See this website to learn how it's done. You also have an option to use a standing desk converter.
DIY Pipe Desk
This is a unique DIY project that entails using stained support pipes and wood panels finished with polyurethane. The table consists of four 2 x 8 are joined using wood glue and a pocket hole for every screw (where needed). You can use 2.5″ screws to join the pieces. You can use a spray gun to stain your table.
DIY Office Desk
With this X-leg Office table plan, you can build with straightforward construction to create a sturdy, inexpensive work space. For about $30, it's hard to beat. Follow the link to learn how it's done.
Adjustable Standing Desk
Build this rustic DIY standing desk with an adjustable metal frame. Check out this website for the tutorial and plans.
DIY Built-In Desk
This is one of those projects that was born out of necessity. But we're so glad because it's an excellent and very useful project that we're sure many of you will make. A desk like this will find a home in any room, be it the living room or the bedroom. Read the tutorial to see the complete details.
DIY Floating Desk
We love floating shelves. Why? Well because they seem to float and take up almost no room (ideal in a small space). What if we told you that you could easily transform an IKEA countertop into a neat little computer workstation table that looks like a floating shelf. Read the tutorial to get the full details.
DIY Wood Desk
DIY plans that will make your home office pop. Need a table to spice up your home office? Check out this website to see how it's done.
DIY Sit Stand Desk
This table allows two people to work in separate areas, giving you plenty of desk space. Even though the height is designed for standing as you work, you can also get a couple of stool height chairs so that you can sit down whenever you feel tired. You are going to love how your wrap-around finally turns out.
DIY Wall-Mounted Desk
This table is attached to the wall via colorful sprayed brackets. The open shelving above gives the whole setup a built-in feel, and the desktop is stained to perfection and connected to the wall via L brackets.
DIY IKEA Desk
This table was made unique by blow-torching a wood piece to add that look of depth and layering, then staining/sealing it. Adding some IKEA legs and a custom-glass top completes the look, making it look like a far more expensive piece of furniture that it cost to create.
DIY Industrial Desk
This table features multiple shelves, a deep desktop, and metal details for an industrial look. See this website to learn how it's done.
DIY Industrial Pipe Desk
This desk is one of a kind as the crossover support and legs are made from plumbers, cast-iron pipes, and fittings. A simple wood top attached grommet style, and you have a chic industrial piece just ready to inspire.
DIY Home Office Desk
Inspired by Pottery Barn, ths piece is an easy build as it comes with a simple design. Other than looking amazing, this is a very functional desk. Even when you have to alter some of the measurements to meet your particular needs, the plan and instructions are easy to follow and very detailed. The instructions can be found here.
DIY Kids Desk
Learn to make a family computer station on a budget. Recycled drawer pedestals and doors make these desks unique and easy on the wallet. Follow the article to see how to do it.
DIY Vanity Desk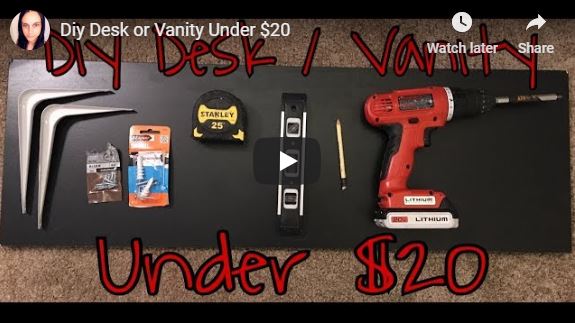 This is an excellent vanity for under $20 craft project. Watch the video tutorial to see the full guidance and instructions with the materials from Lowe's.
DIY Farmhouse Desk
The L-Shaped farmhouse wood desk is stunning. It not only looks rustic and chic but it also gives your office a complete look. The furniture speaks of excellent craftsmanship and is a real stunner. With a good stain, you have a piece with a lovely finish. If you want the DIY instructions, follow this link.
DIY Pallet Desk
When sitting on your sofa doesn't work for you anymore, you need DIY inspiration. The pallet project may be the solution. First, decide how large you want your desktop to be as disassembling pallets can be tough. You can even use one of the pallets to make an extra shelf. Once done, try sanding it for that smooth finish.
DIY Pipe Computer Desk
Here are the steps to making your computer desk. Even if you're not in need of a computer desktop, this same concept will work for an accent table, kitchen table, or coffee table. Check out the article to get the full plans.
DIY L-Shaped Desk
If you love making your home one step at a time, you will love this DIY corner desk. Again, if you want something spacious that will snugly fit into a corner, this is the desk to opt to. With three sturdy legs, this desk will hold items of sizeable weight. You can find the clear plans here.
DIY Craft Desk
What an awesomely comfortable and sturdy DIY craft desk as a straightforward craft project. See the tutorial to learn how to do it.
DIY File Cabinet Desk
When all the kids have gone to school, you need some space where you can spend time, improving your craft skills. What about using file cabinets for the base of your DIY desk? First, you will need to get rid of most of the cabinet hardware, and then follow the instructions in this link to create a unique DIY project.
DIY Long Desk
With a vast giant workspace that measures 7-feet long and nearly 2-feet deep, you will have plenty of work surface area. You can opt to design shelves below to hold a printer or storage baskets. You will love the feel and industrial look of the hardware. This is ideal for your basement or garage work area. Follow the link for step-by-step instructions.
DIY Plywood Desk

If you're ready to spend some time covered in sawdust and paint, this is a great way to make your furniture — so much cheaper! You need to measure the available space and plan how big you want your desk. It can be made to sit up to 6 people.
DIY Desk with Drawers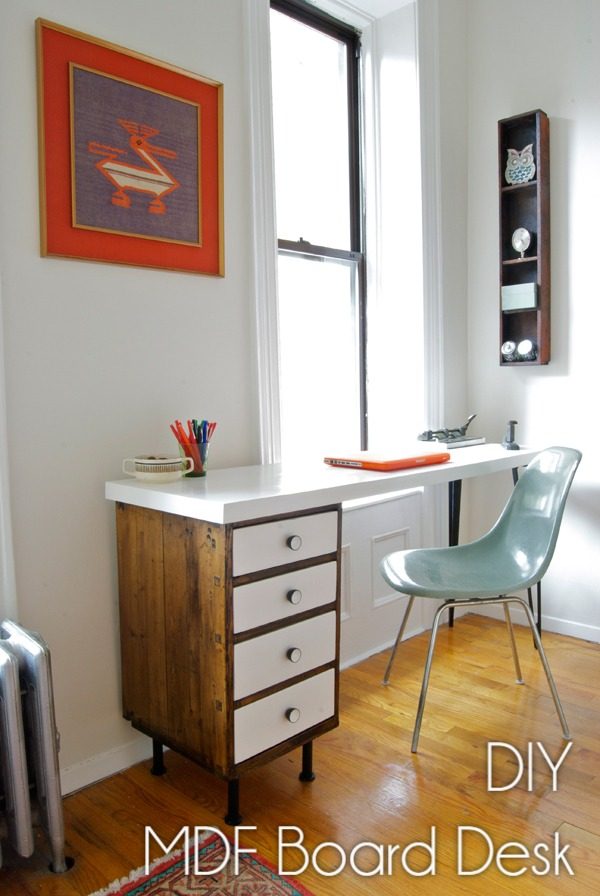 Credit: manhattan-nest.com
For this unique DIY desk, a nightstand becomes one of the sides supports for the desktop with the drawers adding storage. Two pieces of MDF glued and clamped together make the perfect top. A little bit of white paint and sealant on the table top, some IKEA legs to add for the other side support, and voila, a custom-made masterpiece!
DIY Rustic Desk
A pallet with that plank-board look attached to a side table unit is practical as well as aesthetically pleasing. The slatted insides provide the perfect dividers for items inside the desk. The painted knobby legs cool white contrast perfectly with the rustic wood pallet top, nails and all. This desk is the ultimate in repurposing rustic charm.
DIY Butcher Desk
The piping material is used for the legs, with casters added to the bottom for the ultimate convenient mobility. The butcher block desktop paired with the industrial legs makes this desk both warm and modern.
DIY Bookshelf Desk
Two white cube bookcases make the perfect support for this desk as it adds massive storage and decor styling potential for displaying items. An attached sheet of painted plywood makes up the desktop and can be painted any color to suit any decor.
DIY Reclaimed Wood
You need some reclaimed wood planks and hairpin legs (that you can pick up in a hardware store) to create this beautiful desk that looks rustic as much as it does mid-century. This combination of styles adds tons of home decor interest. Check out the tutorial on how to make it.
DYI Sawhorse Desk
This desk packs a big 'wow' factor for its functionality, as well as its chic industrial vibe. Saw horses make the ideal desk side supports, with wood planks added as lower shelving. Some complementary metal attached to a wood desktop marries the top and legs.
DIY Treadmill Desk
Make this treadmill desk for under $20 as a straightforward project. See the article to find out how it's done.
DIY Desk Under $20
What a fantastic way to build a custom spacious and stylish desk. See the tutorial to learn how it's done.
DIY 2×4 Desk
Use plywood and 2×4 wood to build a simple desk like this. Check out the tutorial to get all the details.
DIY Plank Desk
Build this amazing and inexpensive DIY shiplap desk for a straightforward project idea. It's a great way to fit shiplap into your home decor too. Follow the tutorial to find out how to do it.
DIY Large Desk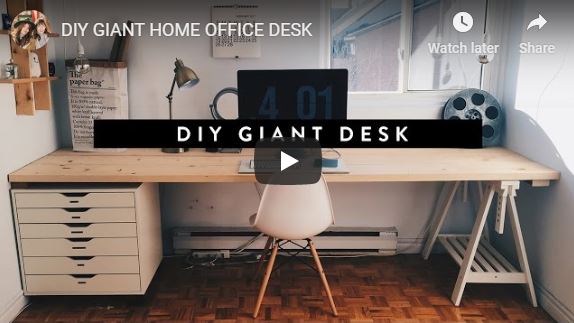 What an amazing DIY giant home office desk the easy way. Check out this video to see the complete plans.
DIY Pipe Desk with Shelves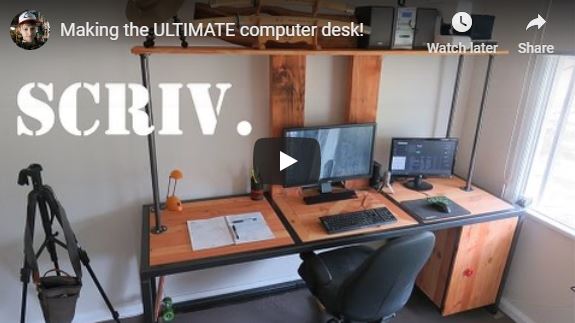 This video shows how to build a fancy industrial style desk. Check out this tutorial for the entire details and instructions.
DIY Desk with Storage
This IKEA hack using Kallax shelves is perfect if you need a large computer desk or craft table but don't want to spend hundreds of dollars. Follow the article to find out how to do it.
DIY Mid-century Desk
A corner desk can be a great way to maximize the space in your office, keep your office tidy with a desk organizer, and give yourself a larger worktop area. A modern L-shaped desk can bring loads of style and function to any office. Check out this website to see how to do it.
DIY U-Shaped Desk
Buying a desk isn't always expensive, depending on where you shop and what you're looking for, but if you want a desk that's tailored to the way you work, is large enough for all of your gear and suits your tastes, you might consider building one. Follow this website for the full details and instructions.
DIY PVC Desk
What a fantastic DIY standing desk for $20 for a simple project. You'll turn a regular desk into a standing desk entirely from PVC pipe. Follow the tutorial to get the complete guidance.
DIY Concrete Desk
This minimalist, cool desk comes with a DIY concrete desktop plus a simplified wooden frame that supports the legs. Being a pretty simple desk, you can opt to add shelves for some more storage space. The wood brings a bit of warmth to your area and keeps things looking natural. For more DIY tips on this desk, visit the tutorial.
DIY Wood and Pipe Desk
When everything at the shops is either in the wrong piece or wrong price, the best option is to build something on your own. Once you have assembled all the Custom Industrial Wooden Desk pieces, a single coat of poly is sufficient to give your project that perfect finish. This will give your space grace and class.
DIY Trestle Desk
Even from the standpoint of needed materials, this is an inexpensive desk, mainly if you got some scrap wood pieces lying around. The beauty of this vintage build is that even when it gets a scratch or ding, it only goes to give it a little more character. Follow this link for step-by-step pictures and instructions on how to build a Trestle Desk from lumber.
DIY Door Desk
Ever thought of putting that good door lying in your attic to good use? Why not transform it from a door to desk? Apart from the door, all you will need is a frame to hold it, and you are on your way to having your first from Door to Desk project.
DIY White Desk
This is a tutorial, more of a guideline on how to create a DIY Parsons Desk. This desk, when designed without the drawers might be a more straightforward project, so if you want a simpler version, you may want to consider it. If you're going to design your own, the diagrams and photos in this tutorial will help a little.
DIY Hairpin Desk
Often in life, simplicity is best, and this desk is no exception. Some black hairpin legs added that sleek, minimalist look, while a cut piece of pine from the hardware store forms the desktop. Stained and sealed to perfection, this small desk makes the ideal surface for crafting, and it can be placed in a small space.
DIY Makeup Desk
The idea was conceived from a Home Depot Gift Challenge, and the creator is super happy with the outcome. You will be amazed at what you can do using that unused file cabinet in your office or home. Follow the detailed tips on how to put together your DIY File Cabinet desk on this link.
DIY Desk Top
If you want a large desktop space, this is precisely what the DIY Butcher Block Desk offers. This desk is a beast as it measures a substantial 72″ x 36″ x 1.5″ (length/width/depth). Assembling this desk is quite easy because you can do it in just five steps that are found by following the link.
DIY Computer Gaming Desk
This is an awesomely built gaming desk in a nice industrial pipe style. Every gamer's dream. See the tutorial to learn how it's done.
DIY Lap Desk
Such a lap desk is easy to make and it costs virtually nothing. Follow this website to learn how to do it.
DIY Studio Desk
Here's how to build a studio desk for under $350. Read the article to see the full plans.
DIY Murphy Desk
THe murphy design is ideal for small spaces. This lovely contraption takes minimal space when used and serves decorative purpose when not used. Check out this website to learn how to do it.
DIY Fold Down Desk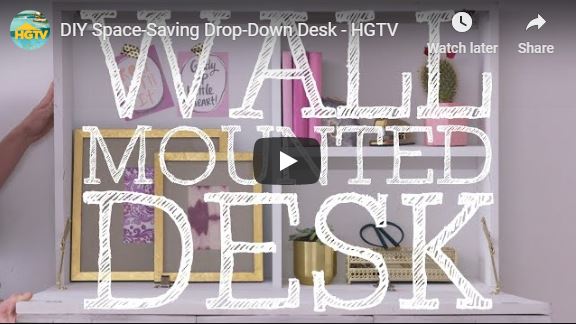 This DIY wall-mounted desk drops down when you need it and folds away when you don't, so it's perfect for a small home or apartment. Check out the article to see the complete plans.
DIY Laptop Desk
Build a laptop desk using wood scraps for just under $2. Read the link to find out how it's done.
DIY Student Desk
This lovely rustic stlye floating desk is perfect to inspire any student. Read the article to see how it's done.
DIY Motorized Standing Desk
It might as well be a sitting desk as it is equipped with a motorized height adjustment device. See the article to see how it's done.
DIY Art Desk
This art desk has an adjustable angle for comfort, and it folds down when not used to occupy as little space as possible. This project makes a wall-mounted table, so you may need to use a stud finder to attach it to the wall. Read this website to get the complete details.
DIY Closet Desk
Why not hide your workspace in a closet? It can be nicely hidden away from the view. And it's easily accessible when needed.
Liked this article? Here's what you can read next:
260 Easy DIY Home Decorating Ideas (Craft Project Tutorials)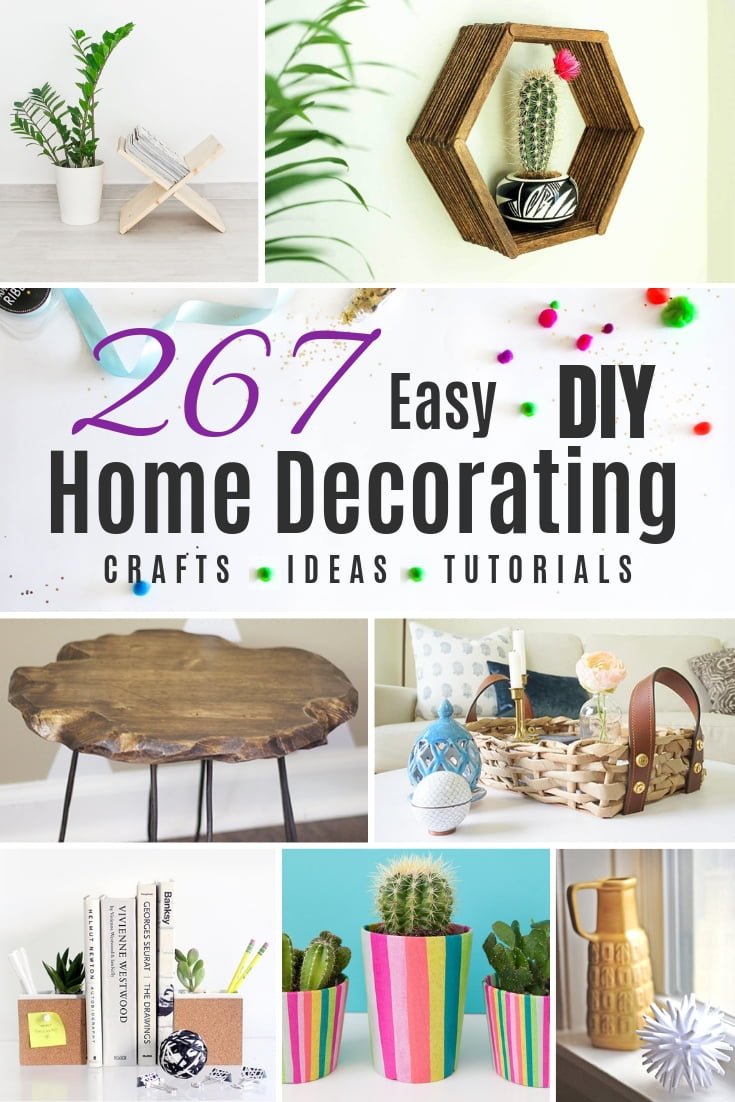 Read more
66 Easy DIY Table Ideas That You Can Build on a Budget
Read more
22 Easy DIY Computer Desk Ideas for the Ultimate Home Office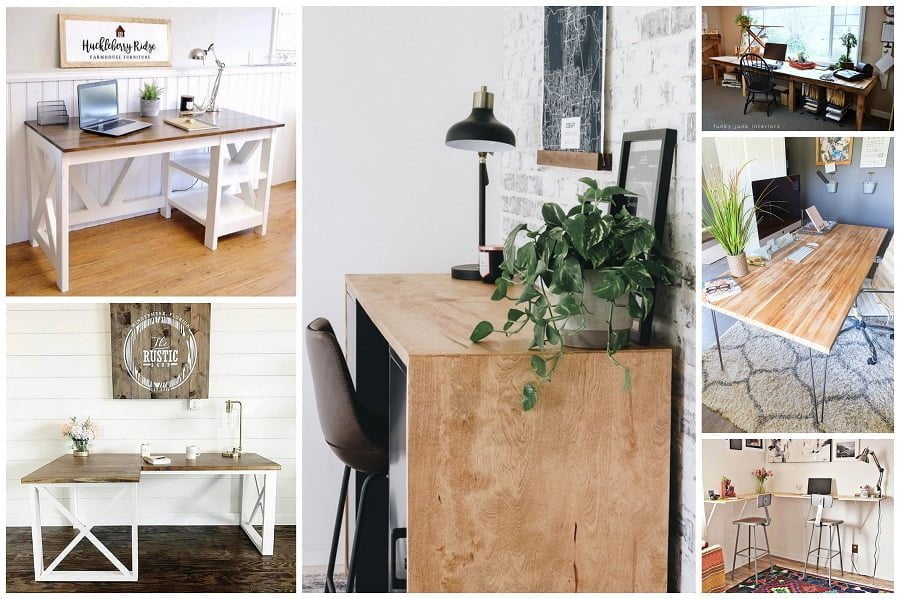 Read more
59 Nifty DIY Scrap Wood Projects for Thrifty Home Decor
Read more
Sours: https://homeisd.com/diy-desk/
How to make a Plywood Desk with Minimal Tools - Easy Woodworking Project
DIY Plywood Desk
Hey friends! It's time to share another DIY tutorial from Ryan's office reveal. This week we're sharing how to build a plywood desk with a waterfall feature.
When we were planning the office space, we knew we wanted a desk that made a huge impact yet was simple in design. And let's not forget about staying within budget. Our solution was building this waterfall desk out of plywood which cost a total of $75. And it created such a huge impact in this space! Here's how to build your own.
Materials
1 – 4 x 8 standard sheet of plywood (ours was 3/4″ thick)
1 – 4 x 8 sheet of birch plywood (ours was 1/4″ thick)
Wood glue – Enough to cover the 4 x 8 pieces of plywood
Wood screws – long enough to go through the plywood and successfully connect the two together.
Birch laminate edging
Paint roller
Clamps
90 degree clamp
Extra wood – to create small strips
aria-label="Square triangle ruler (opens in a new tab)">Square triangle ruler
2 – corner brackets
Stain color of choice or Danish Oil
Satin polycrylic
Tools
Router
Circular saw
Screw driver
Orbital Sander+ Sandpaper
Iron
Scissors
Before you even start, you'll want to determine the size you want your plywood desk. If you're using cabinets underneath yours as well, you'll want to leave at least half an inch on the side and above the cabinets.
First you'll glue the thin sheet of birch plywood on top of a standard sheet of plywood using wood glue. Apply the wood glue liberally and roll it out with a paint roller to ensure the it covers the entire surface area.
Attach clamps around the edges of the glued plywood pieces. Optional: Use 2×4 as a method to increase pressure evenly as seen in the picture.
Once the glue is fully dry, you'll use a hand saw to cut the two side pieces and the top piece for your desk. Make sure that your two side pieces are the same size and they line up successfully with the top. Also, don't forget about think about the direction of the wood grain when you're cutting your pieces. For example, for the waterfall piece, I wanted the gran going down.
Next you'll need to cut both ends of the top and the top end of each side at a 45 degree angle. Make sure you're cutting each angle in the right direction so the ends come together to create a 90 degree angle.
To connect the top to the side pieces, you'll want to create a wood joint. Using a router, route a groove along the length of each joint where you cut the 45 degree angle.
You'll then want to cut a narrow piece of wood that is the same length of the joints. You also want it the same width as the router bit and when inserted in the groove, it sticks out just enough to match the depth of the groove in the top piece.
To successfully piece the top and side together, apply wood glue in the grooves. You'll then insert the wood strip and piece the top and side piece together like a puzzle.
Using a triangle ruler square, make sure your top and side create a 90 degree angle. Then, using a 90 degree clamp, clamp the ends together until the wood dries. Repeat this process for the other side.
For extra support and a desk base that won't shift, apply a metal brace on the underside where the side meets the top. Do this for both sides! You can also reinforce it even more by installing a piece of wood in each back corner that's a 90 degree triangle.
You'll notice, since we used plywood for this project, you can see the layers of the plywood on the front edges. To give the desk a clean look and like it truly is a large piece of birch wood, you'll apply birch laminate edging to the front of the desk.
You'll do this by cutting a strip the same length of the edge your're applying it to. Line it up on the edge and use an iron to activate the glue on the strip to adhere it into place. If you have any overhang from the birch laminate edging, simply sand it down.
We're almost done! Before you stain the desk, you'll want to sand the entire desk with a 160 grit sandpaper followed by a 220 grit sandpaper for a smooth finish.
Your last step will be staining and sealing your desk. This is where you can truly customize your plywood desk. Instead of stain, we went with Danish Oil in Medium Walnut applied in three layers. You can also choose to seal your desk. We usually seal our furniture pieces with polycrylic in satin.
And there you have it! Those are the steps to build your very own plywood desk with a waterfall feature. Now, it's up yo you to style it and decide what you're going to place in your cabinets. You can see the full reveal of this space here. Happy building, my friends!
You can check out the full reveal of this space here and the tutorial for the poster frame here.
Let's keep in touch!
We have a brand new community over on Facebook, House & Home, where we'll be chatting, sharing, and helping one another when it comes to home decor and projects. Come join us! Check it out here.
Like on Facebook || Follow on Instagram || Follow on Pinterest
Filed Under: DIY, Home Project
Sours: https://withinthegrove.com/diy-plywood-desk/
Now discussing:
30 DIY Desk Ideas for Beginners
These easy DIY desk ideas are beginner-friendly, stylish and can be made at a fraction of the cost of higher-end versions. Create your perfect home office!
PIN THIS TO PINTEREST
Working from home, computer work, writing letters, working on assignments, playing games, making arts and crafts…no matter what you need it for, you need a desk in your home.
Building your own desk can not just help you achieve a stylish high-end look for a fraction of the price, but it can make sure you get the configuration or setup that works perfectly for YOU!
What's inside
***This post contains referral or affiliate links. It is a way for this site to earn advertising fees by advertising or linking to certain products and/or services. Please read my full disclosure here ***

How to build a simple desk
The standard desk height is about 30″ and you want it to be at least 16″ deep to be able to work comfortably.
While the styles of desks can vary and the design can range from very basic to extremely complicated, they all have 2 things in common – 4 legs and a top.
You could also use pre-made hairpin legs and simply attach to a board to make a desk! If you are looking for a little more character, read on below!
The basic steps to build any desk are simple –
Build the leg frame by joining 4 legs with aprons. Add any shelves if needed. You can also add some character by adding angles and more to the legs.
Build the top – this could be a simple sheet of plywood or a top built of multiple boards. You can also add in drawers.
Attach the top to the leg frame. Depending on the design, this could happen either at the end or during the process of building.
Finish – paint or stain in the color of your choice and be sure to let it dry and outgas before bringing it inside for use.
What is the best wood for building a desk
For the legs, 2×2, 2×4 or larger boards work very well
They are strong and sturdy and provide much-needed stability to the desks.
They look great on any desk with their chunkiness.
For the top, you can build it using wider thinner boards or use plywood.
If using plywood, you want to decide if you will be painting or staining. If you are staining, pick plywood with a good quality veneer like oak or birch.
If you will be painting it, you can pick the sanded plywood which is a lot more budget-friendly. It will need a little love to get the top smooth but the price difference is well worth it.
What tools do you need to build a desk
Building a desk like any other woodworking projects needs the basic cutting and joinery tools. Here is the list of basic tools you could use and build almost all of the desks below –
Miter Saw – to cut boards to length
Circular Saw – to cut wider boards or to rip plywood.
Power Drill – to drill holes and add screws.
Kreg Jig – to make pocket holes. This is my favorite beginner-friendly way to make strong joints. Learn how to use a Kreg Jig here.
Kreg Rip cut – If using a circular saw to rip plywood, this makes it really easy to get straight repeated accurate cuts
While a table saw or a router isn't necessarily needed, they are good to have.
RELATED: 19 Stylish And Affordable Office Chairs
DIY desk Ideas
I started out woodworking by building kids' desks and it helped me figure out the important design and structural details that make desks strong. You can see DIY kid's desk ideas here.
I have collected DIY desks ideas for you to match every style and experience.
Almost all of them come with build plans so you can start building right away!
Below are a couple of larger desks I have built. You can click over to get the building plans.
1. DIY A-Frame Desk from Anika's DIY Life
This A-frame desk is my most recent desk build. The slight added angle to the leg completely elevates this design. It needs only 4 basic power tools to build.
I used sanded plywood for the top and the full tutorial shows you how to achieve the smooth finish.
2. DIY Farmhouse Desk from Anika's DIY Life
I am writing this sitting at this desk. With 3 drawers and 2 shelves, this DIY Farmhouse desk has the perfect amount of storage for everything I need! It is very similar to the A-frame desk but this desk is simpler and uses straight cuts!
PIN THIS TO PINTEREST
Simple DIY desks
Building a desk doesn't need to be intimidating at all! Like I mentioned above, they can be just 4 legs and a top.
Below are some of the simplest yet cute DIY desks ideas around –
3. Epoxy Resin Desk from Our Crafty Mom
This is a fairly simple desk to build – a top made of 2 boards and pre-made legs screwed into it. The top goes up a notch with the epoxy resin work.
4. DIY Writing Desk from Sawdust Sisters
Hairpin legs are very fashionable and super simple to use to build a desk – just attach it to the top.
I love the addition of a pre-made pencil drawer!
5. Transformable Hairpin Leg Desk from A Beautiful Mess
Simple, yet stylish – but also versatile! Love how you can set this desk up in multiple configurations to suit your needs.
6. DIY Wood and Metal Desk from Handyman's Daughter
This one is a super simple desk build. The addition of the metallic accents add a great industrial touch.
PIN THIS TO PINTEREST
DIY desks for small spaces
Don't have space in your home to dedicate to a desk?
There are many ways to achieve a working space – like turning a closet into a desk space, building a murphy desk, or putting those awkward nooks to work!
7. Desk in a Closet from Houseful of Handmade
This is perfect for when you don't have space for a desk in a room. Turn a simple closet into a functional workspace by adding a floating desk and shelves on top. I think a pegboard will also look good in there!
8. DIY Fold Down Desk from Not Just a Housewife
No space for a desk? Put it on the wall! This simple fold down desk makes a great spot to get some work done. The built-in organizer and bulletin board holds all the important things you need.
9. DIY Murphy Desk from A Turtles Life
Another great option for small spaces! This fold-down Murphy desk is larger and works well in any space.
10. World Map Desk from Pillar Box Blue
Let's talk about those awkward nooks. Just add a little table to fit in there!
Adding character to a simple table is easy with this world map desk!
11. Floating Desk with Hidden Storage from DIY Huntress
This floating desk can be built into any nook! And I love that hidden storage!
PIN THIS TO PINTEREST
Simple Stylish DIY desks
Here are some examples of desks of every style – modern, industrial, farmhouse, etc. These look great and are easy to build!
12. DIY Waterfall Desk from Dans Le Lakehouse
This waterfall desk is simple and a great addition to a modern home office.
13. DIY Chippendale Desk from Rain on a Hot Tin Roof
This is one of my favorites – so chic and pretty! And surprisingly easy to build!
14. DIY Industrial Computer Desk from Handyman's Daughter
This desk features a deep desktop and shelves for storage with easy access. This desk is easy to build with the metal accents as a great way to hold the desk together.
15. Minimal Modern Desk from Papers N Stitch
A little more than simple but a true minimalist desk – this plywood desk has a good amount of storage as well!
16. DIY Farmhouse Desk from The Creative Mom
This farmhouse desk will fit in with the decor in any room with its simple lines, perfect amount of storage and neutral paint scheme.
17. DIY Workbench Inspired Desk from Jaime Costiglio
This industrial-inspired desk has plenty of workspace and it's solid as a rock!
18. DIY Desk From 2X4s from A Turtles Life
This is a great desk idea made using 2x4s. The addition of the inverted V on the sides and back add a farmhouse touch!
PIN THIS TO PINTEREST
DIY desks with drawers
Organizing a desk is so much easier if you have drawers on the desk.
Are you intimidated by building drawers? I used to be too. But just a little patience and focus can help you make drawers in no time! I have a full guide to building drawers for beginners!
Now here are desks with drawers that are simple and easy to build!
19. Small Computer Desk from Sawdust Sisters
This desk is perfect for small spaces and has a hidden drawer for storing away desktop clutter.
20. DIY Modern Desk from Average But Inspired
This easy to make modern desk has hidden compartments, can you guess where?
21. 3 Compartment Desk from Shades of Blue Interiors
This desk is not just stylish, it has the perfect hidden vanity inside!
22. DIY Desk Under $100 from Handmade Haven
Can you say farmhouse glam? The finish and hardware on this desk look great in this space.
23. Industrial Wall Mounted Desk from Houseful of Handmade
This one might be small in size, but it's big on rustic industrial style.
24. DIY Vanity Desk from Handmade Haven
This is a simple desk with drawers and straight legs made from 2x2s. The stenciled top and gold paint make is chic!
25. "Floating" Broken Leg Epoxy Resin Desk from Woodshop Diaries
This desk is a simple design but with a twist! The epoxy legs make it look like its floating! There is also a hidden drawer!
26. Modern Desk with Monitor Stand from ToolBox Divas
Having your monitor at eye level is key in helping keep your neck and back from hurting, this desk has the solution built right in. Plus I love the angled pre-made legs!
27. Vanity Desk with Deep Drawers from Jaime Costiglio
Deep drawers for better function and cute colorful drawer pulls make this vanity desk and tween or teen dream.
PIN THIS TO PINTEREST
28. Built-in U Shaped Desk from Charleston Crafted
When you need to fill an awkward nook, this u-shaped design is the perfect solution. It gives you tons of workspace and storage!
29. DIY Storage Desk from Woodshop Diaries
A more classic design. This can look a little intimidating to build but it really isn't! The tutorial and plans are very detailed!
30. House Frame Kids Desk from Handmade Haven
I had to include this! I think its the cutest desk and every kid's dream come true! What could you create at this desk made to look like a house?
SO, what do you think of all these desk ideas?
Which one will you pick to build?
PIN THIS TO PINTEREST
Don't want to build? Check out these 20 stylish and affordable desks to buy!
More projects to make your desk space better –
Filed Under: Featured, Furniture, Woodworking
Sours: https://www.anikasdiylife.com/diy-desk-ideas/
48
49
50
51
52