50 Current Ideas of Most Flattering Short Hairstyles for Round Faces
There are some ways to be sure you've picked the best cut for you. If you are searching short hairstyles for round faces, keep in mind that your hair needs choppy or razored layers and tousled styling. Prim and proper looks are almost never flattering.
Below you will find 50 excellent examples to choose from and show to your stylist before getting a haircut.
1. Fun Feathered Pixie Bob. A tapered shape with longer uneven layers throughout provides a carefree look for a fun girl.
2. Blonde Pixie Hairstyle with Lowlights. If you want to create an illusion of a longer face, not a round one, get a pixie haircut with long bangs and add some chunky long lowlights on a blonde base.
3. Choppy Angled White Bob. It looks like this bob haircut for round face makes your features softer and gives a glamorous appearance.
4. Short Choppy Hairstyle. It's all about framing! Your light choppy bangs that start up at the crown are another way to elongate your round face.
5. Chin Length Haircut. Women with round faces struggle to hide their face shape, but there's no need for that! Throw in an asymmetrical twist by combing your hair over, and you'll look very cute.
6. Short Wavy Hairstyle. Tight curls usually don't go well with round faces. If you want stylish hair, choose a tousled wavy look.
7. Messy Bob with Subtle Highlights. This trendy hairstyle is one of the most popular short haircuts for women with round faces these days. It adds a cool-girl touch to your look, while highlights freshen your natural hair color.
8. Chin-Length Bob with Highlights. Black is always a good hair color for those who have a round face. It makes you look thinner and frames your face nicely, especially if you opt for a peek-a-boo hairstyle.
9. Pixie with Super Short Bangs. Who says a short haircut isn't sexy? Look at this fabulous Audrey Hepburn pixie hairstyle! It gives such an elegant touch!
10. Messy Uneven Bob. Get some nice warm tones for your long hair strands. A brightening balayage will add very romantic allure.
11. Short Mauve Bob. There's no need to pick a regular hair color if you don't feel like doing so. A warm mauve shade will make you feel young and fresh.
12. Pixie Bob for Round Chubby Faces. Contrary to popular belief, short hair for a round face looks gorgeous, diverting attention from double chins or other insecurities you may have. The right short pixie bob visually elongates your face.
13. Messy Bob with Curtain Bangs. Definitely consider trying this short curly hairstyle to create a grunge look. Messy cuts are perfect for fine hair and round faces, and they look edgy and sexy. Absolutely phenomenal!
14. Bright Orange A-Line Haircut. A bright color with dark roots has a breath-taking effect, and it flatters a round face. It will radically change your appearance.
15. Layered Textured Bob with Parted Bangs. If you're looking for a longer hairstyle for a round face to look slim, go for this sweet, romantic beach look. Add layers and highlights to create texture and volume and cover your chubby cheeks.
16. Black Choppy Haircut. Asian girls with round faces can always pick a razored bob with swept over bangs.
17. Comb-Over Pixie. Among all the short hairstyles for round faces, edgy pixie cuts are probably the most flattering ones. Diagonal bangs and a slightly tousled top section can visually change your face shape, narrowing and elongating it.
18. Dark Purple Bob. Inverted bobs are in high demand right now and here's the reason why. They can make you look feminine and elegant and help to balance out your face shape.
19. Inverted Ombre Bob. Get a fabulous look with a cool bob that's longer in the front. If you want to make it look more stylish, add some highlights to the ends.
20. Long Top Short Sides Hair. Partially shaved haircuts can suit both skinny girls and ladies with a fuller figure. Don't be afraid to experiment with hair colors, or go for the elegant black.
21. Long Pixie with Bangs. Struggling to find a haircut for round chubby face? This pixie haircut should easily do the trick.
22. Feathered Platinum Pixie. Add texture to your very short pixie by choppy layers. These will give the necessary angles even with a short length.
23. Pixie with Extra Long Bangs. Grow out your bangs long, flowing down one side and try a gray ombre. Keep your edges razored for a more dramatic appearance.
24. Highlighted Feathered Crop. This is a pixie haircut done right! Embrace a soft creamy blonde balayage and style long strands in different directions. You'll get a pretty stylish look.
25. Round Face Pixie Cut. Boyish cuts work great as short hairstyles for a chubby face, too. Add a piece-y fringe, tousle the top, and you're ready to rock your hot summer hair!
26. Dark Turquoise Highlights. Don't be afraid to play with your favorite colors if you have nice thick hair.
27. Wavy Long Bangs. This hairstyle is perfect for round faces and thin hair! Create some easy waves to give your hair texture and volume.
28. Platinum Blonde Choppy Bob. A haircut that's near your chin can work for your round face if you opt for choppy layers and a combover style.
29. Wavy Chin-Length Hairstyle. If you want to look slim, a haircut with deep bangs and choppy edges should be a perfect fit.
30. Golden Ginger Wavy Pixie. Enhance texture in the upper part of your cut to make your face look longer; wearing angular glasses is also a bonus that makes your face look thinner.
31. Super Short Sides. This rockstar look is unforgettable, isn't it? The pale pink color contributes to the effect.
32. Extremely Short Blonde Hairstyle. A pearl blonde goes pretty well with blue eyes, as you can see in the image below. To get a fascinating look like this, all you have to do is adopt a sexy pixie cut.
33. Shaggy Bob Hairstyle. A shaggy haircut with choppy ends is ideal for an everyday look. Tousle your hair a little bit, and you'll get a ravishing appearance.
34. Layered Pixie Cut. A very short hairstyle for round faces can make miracles if it includes an undercut with height-adding top layers. Glasses may also help you get a slimmer look, depending on their shape and size. Cateye frames lift round faces flatteringly and give them that sought-after edge.
35. Mauve and Blonde Highlights. OMG! What a spectacular transformation! This image is proof that short hair can make you look even more stylish.
36. Blonde Straight Choppy Cut. If you want to obtain an angelic look, a wavy blonde haircut with bangs is exactly what you need.
37. Blunt Mauve Bob. This mix of mauve color and a short haircut is breath-taking. Don't be afraid to cut your long locks if you have a round face; the final effect will surprise you.
38. Jagged Short Cut. Want a Hollywood diva look? Short pixie hair with layers and choppy bangs is the best decision you can make.
39. Messy Wavy Bob Hairstyle. This is how to contour round face in the right way! Try a choppy neck-length haircut and style some easy waves for a romantic everyday look.
40. Asymmetrical Blue Bob. A dark color is a right choice for round faces with double chin. It doesn't necessarily need to be black; a dark midnight blue shade can become your practical choice.
41. Soft Blonde Pixie. One of the most flattering ideas of short hair for chubby face is a faux Mohawk. This haircut will make your face look slimmer and longer.
42. Ruby Red Pixie. Make your pixie haircut look astonishing! It takes a tapered shape, sleek styling and a vivid color.
43. Very Short Haircut. Very short can also mean edgy, quick to style, and effortless.
44. Sleek Turquoise Bob. Keep your roots dark with an unnatural hair color to get a more natural effect.
45. Razored Bob with Chocolate Balayage. As we said before, tight curls are not your thing if you have a round face shape. Try some loose, negligent waves, and your final look will be incredibly beautiful.
46. Extra Short Style for Round Face. If you have a round face, with a choppy crop you make your cheekbones more pronounced.
47. Gray Tousled Bob. Give your face a beautiful frame with an imperfect gray bob. Mess your hair a little bit to get an effortless look.
48. Wavy Choppy Haircut. If you want to make your face appear thinner, go for a razored bob with loose, barely there waves.
49. Inverted Short Bob with Layers. Layers are a pretty good trick to make the upper half of your hair gain more volume.
50. Blonde Layered Pixie Cut. Whether your hair is shorter or longer, if your face is round, layers should be your best friend.
Based on the gallery above, choppy pixie cuts and angled bobs are the best short hairstyles for round faces. Remember also that hair colors play an essential role in your appearance, so be sure you pick a color that suits your skin tone, eyes, but also your personality.
Sours: https://www.hadviser.com/short-hairstyles-for-round-faces/
Easy short hairstyles, like these cute pixie haircuts for round faces, make you look younger and save hours of hair-fiddling to achieve cute daily hairstyles! I'm convinced that easy short hairstyles reduce our 'grooming anxiety' and keep our faces wrinkle-free for longer! Since I cut my hair short a couple of years ago, I've definitely gained a couple of leisure hours a day!
Women with round faces can wear a wide range of pixie cuts and short bob hairstyles, so here are the best short hairstyles for round faces right now:
Pretty auburn pixie with blonde highlights for round face
Diagonal lines draped over a round face shape create a longer appearance to the face. And this cute pixie hairstyle for round faces is full of diagonal lines in the blonde highlights and swept-over section on top! Ask for a fringe that shows some forehead in the centre and is graduated down on one or both sides, for a cute face-framing look. And this short pixie cut is perfect for fine hair.
Layered pixie with sharp side points and deep side parting
Starting the side-swept fringe from a deep parting creates a pair of strongly angled lines to break up the round outline. The layers on top help to add height and volume to fine hair. The lovely texture in this 'natural look' short hairstyle and the trendy side-points, make it one of the most popular daily hairstyles for women of all ages!
Smooth short hairstyle with bangs for round faces
Highlight the upper part of your face with a smoothly styled asymmetric fringe that draws attention up, up and away from any extra thickness around your chin! This easy daily hairstyles option is cut to finish at exactly the same level as the model's delicate, silver nose ring for subtle emphasis. Suitable for fine or medium hair, the diagonal fringe line breaks up the round outline of the face and focusses on the model's eyes and cute, little nose!
Ultra-short pixie for lengthening a round face shape
This style focusses all our attention on the top part of the face and the pretty 'widow's peak' hairline of the model. This is a good way of distracting attention from the model's slightly square jawline below. The short, front quiff adds height over the curved hairline, which balances out the angle of her jaw. Short, blunt side-burns frame the eyes and this attractive daily hairstyle really suits sporty or busy women with fine or medium hair!
Glam platinum blonde pixie with cute short quiff
There's nothing like a short pixie cut to draw attention to a face with a good complexion. If your face is round, adding height above the forehead, like this short quiff, is an easy short hairstyles option that lengthens your face instantly. Platinum blonde gives any young woman's pixie haircut a fabulous glam finish, especially teamed with black eye-liner and lovely red lipstick!
Best face-slimming long pixie haircuts for round faces
We've all laughed over similar, accidental, windswept hairstyles when the wind is gusting! But when you look at this fresh, daily hairstyles option more closely, you see that it's the best face-slimming shape you can get! It's one of our favourite new daily hairstyles, because it's one of those easy, short hairstyles that looks like an incredibly expensive cut and blow-dry! The forward movement creates amazing natural volume and texture with a range of hair-tones and reflections, and the shape is perfect to flatter a round face shape!
Easy blonde pixie cut with long fringe & brushed back long sides
There is something very youthful about fine blonde hair cut in a soft pixie style on a round face. And I've finally put my finger on why that is – it's the first hairstyle babies and toddlers wear when their hair is just starting to grow! It's a cute look for a round face shape, because the long fringe breaks the circle, there's tousled height on top and the sides are kept close to the head. With short layers around the crown gradually lengthened into a trendy long fringe and long sides, you can wear it casually brushed back or tucked behind the ears.
Cute copper short hairstyle with cropped back and sides
Hair color ideas for short pixie cut: This red pixie cut is perfect for showing off beautifully coloured hair and a stunning sense of fashion. The strong lines of geometric cuts make great pixie haircuts for round faces. In this easy short hairstyle, the back is closely cropped and graduated upwards to just below the crown. The length is tousled to create that beautiful colour texture and volume and the sides have short, blunt side-burns that keep the focus on the eyes and upper face. Do you love this color? Find more hair color ideas here.
Stylish forward-combed pixie cut on straight black hair
At home, you can do easy, short hairstyles for round faces, such as this one, in a few minutes. And that gives you a super-hot look, that's also a convenient daily hairstyle! This pixie cut works on medium and thick hair, as the strong shape and precision cutting rely on dense hair texture to create shaggy volume on top. The sides are closely clipped and shaped around the ear, with forward movement in the sharp side-burns. The shaggy outline in the top, sides and fringe breaks up the circular form of a round face in a flattering short hairstyle that's a stylish, high-fashion look.
Great forehead-framing pixie hairstyles for round faces
And here's another of the best ways to lengthen a round face shape, making it appear more oval. The deep side parting breaks the symmetry of a circular face and the lifted forehead-framing wave is an excellent way to lengthen a low forehead or balance a round face. The layers in the swept-over section are good for creating volume in pixie cuts for fine hair, and the neutral blonde on dark-blonde colour-scheme is also a great way to complement a warm complexion. This cut is great for women over 40. The ombre hair is hot these years, find out the popular ombre hair color ideas here.
Daily hairstyles & layered pixie cut hairstyles for round faces
Short haircuts: Here's another of the long, pixie haircuts that's shows why easy, short hairstyles for round faces are so popular this season! It has lots of volume-boosting layering over the top, to avoid the plastered-to-the-head look that fine hair can fall into. This also creates lovely, natural texture as the sun-lightened (or salon-lightened) strands make a cute pattern of pointed strands over the slightly darker hair underneath!
All-over platinum blonde pixie with long front & sides
The best hairstyles for round faces avoid curls and fussiness, which emphasise the curves and symmetry. In particular, never wear curly sides which add width to your cheeks. This clever little pixie haircut looks like an angled short bob hairstyle from the front, but has a layered and textured back with a ragged outline above the nape. The inverted triangle outline of the fringe, showing the forehead, is a great geometric touch to break a circular face. Long, smooth sides ending in sharp, shaggy tips add length, to balance out width at the jaw-bone beautifully. It's an easy daily hairstyles option to do in the mornings, but a very eye-catching and contemporary cut and colour!
Bowl-cut easy short hairstyles for trendy pixies
Isn't this a fab side-view of a great, daily hairstyle that relies on the cut for its lovely curved outline! It's Suitable for fine and medium-thick hair, it's a simple bowl-cut with long layers emerging from the crown to become curved, tousled strands with lots of movement around the head. If your hair is fine, add Schwarzkopf Got2Be volumising powder for long-lasting volume or give yourself a colour and body-boost with bleached highlights. Easy, short hairstyles for round faces almost always have an asymmetrical deep side-parting, and this swept-across neutral-blonde fringe looks very soft and smooth.
Sleek straight black pixie cut with tousled finish and long fringe
Having a round face is a 'good thing', by the way, and does not mean a fat face. It means you have a fairly symmetrical face and only need to tweak it a tiny bit to achieve the perfect 'oval' face shape! A heavy fringe – either straight-across or in a diagonal side-swept style – is the perfect way to re-proportion a round face. The easy short hairstyles, based on this idea, demonstrate a pixie cut for thick hair, with sliced layers creating a strong face-flattering line across a round face.
Cut-off your curls for sleek, smooth pixie cuts for round faces
If you have naturally curly hair and a round face, you may look better with one of the straight, easy short hairstyles. Curls draw attention to the curves and symmetry of a round face, so straight lines and geometrical shapes are helpful. This no-nonsense, pixie hairstyle on medium-thick hair is layered over the top to create volume and shape. You just need to use a little styling product, before blow-drying in a straight, textured comb-over. The back has a lovely curve down to the shaped-in nape and short, blunt side-points avoid unwanted width at cheek-level (and bring the focus up and away from a prominent nose)!
Cute 'long to short' hairstyles makeover for round face
What we've got here is a very successful makeover that lifts the focus up to a point just above the head – making the lower face, chin and neck appear slimmer. As this shaggy pixie haircut is inches shorter than the long bob she was wearing before, the model is left with one of the latest, easy short hairstyles with a strong, diagonal fringe that flatters a round face. Cutting the hair to a length that 'tails off' just below the cheekbones reduces 'width' and the cute, wispy tips accentuate a pair of well-shaped lips. Overall, the 'after' pixie cut frames the eyes and forehead, instead of focussing on the model's slightly double chin and making her neck look broader than it actually is!
Blonde fringed front focus on mousey-brown pixie cut
Another great way to lift up the focal point of the best short hairstyles for round faces is to have a bright blonde tint on a thick, side-swept fringe! It really changes your whole look and with the density of the blonde streaks graduated to just a few around the crown, you have a lovely colour contrast in the lower lengths! Plus – it's an easy short hairstyles idea to which you can add a temporary, pink, purple, blue or red tint for a party look, too!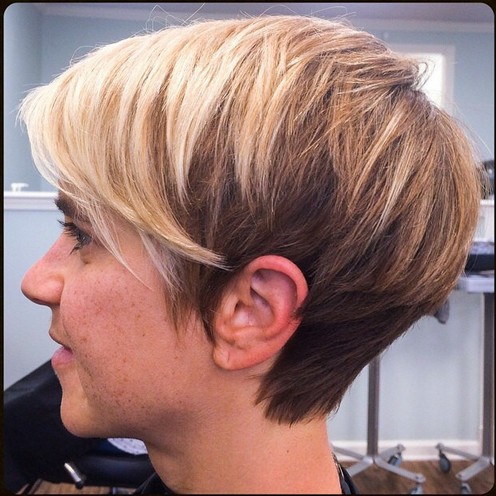 Party-pixie haircut with jewelled headband and extra-long fringe
This glamorous party hairstyle is another of the many short hairstyles for round faces you can achieve on a long pixie cut. In this version, the round face shape is broken by the diagonal line of a long, asymmetrical pale-blonde fringe. See how it tapers into a curve at the side to draw the eye inwards towards the mouth, minimising the sense of width in the lower face. In 'special event' or daily hairstyles for round faces, you should aim for extra volume or a trendy hair decoration on the top of the head. This is a great way to recycle your old diamond bracelets – ha ha – but if you don't have any, this diamantée headband is the perfect party hair accessory!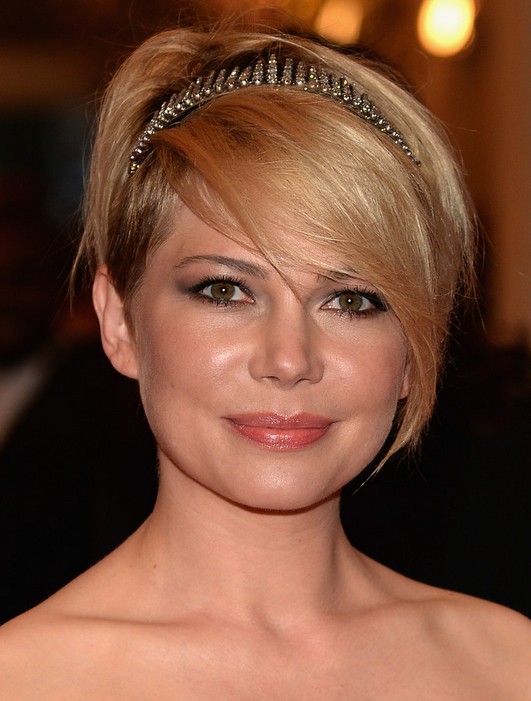 Messy pixie hairstyle for round faces and red carpet events
Round faces are very symmetrical, so that's one of the reasons why the latest asymmetrical pixie cuts are so popular as party and daily hairstyles. Messy hair (without curls) is a great way to add strong, straight lines that balance out a curvy face. This easy short hairstyle's got sharply textured layers breaking up the curve of the front hairline, plenty of face-lengthening forehead on show and straight, messy strands at the sides to minimise the curve of a rounded cheek! A good short cut for thin hair.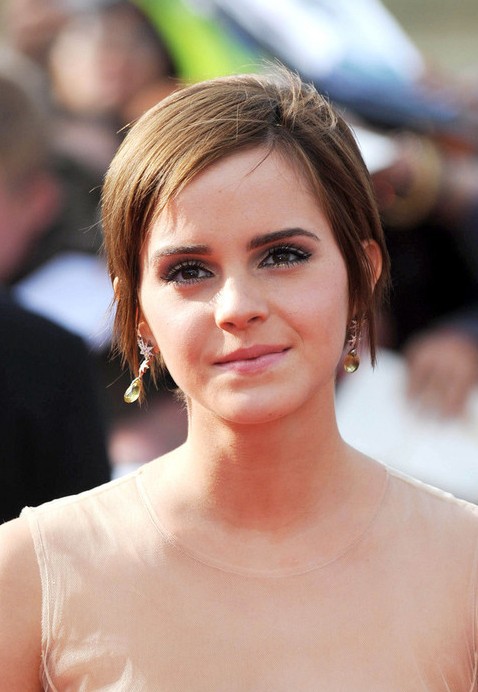 Colour-flash top focus on pixie for round face
To increase focus on the upper part of a round face, add an unexpected flash of colour in a swept across fringe. This model has dark-blonde hair, which is a cool shade, so it can be livened up with a cool pastel colour such as aqua-blue. If you choose a highlight colour that matches or contrasts with your eyes, you can accentuate them even more in the latest cute pixie haircuts!
Although women with a perfectly oval face are in the minority, many short, daily hairstyles photos show oval-faced models. This can make it hard to know which are the best short hairstyles to suit round faces! So my advice on the best way to balance short hairstyles for round faces is this:- Volume on top, strong fringe and flat, sleek sides. Keep checking back for my frequent updates on cute daily hairstyles to suit your round face – here!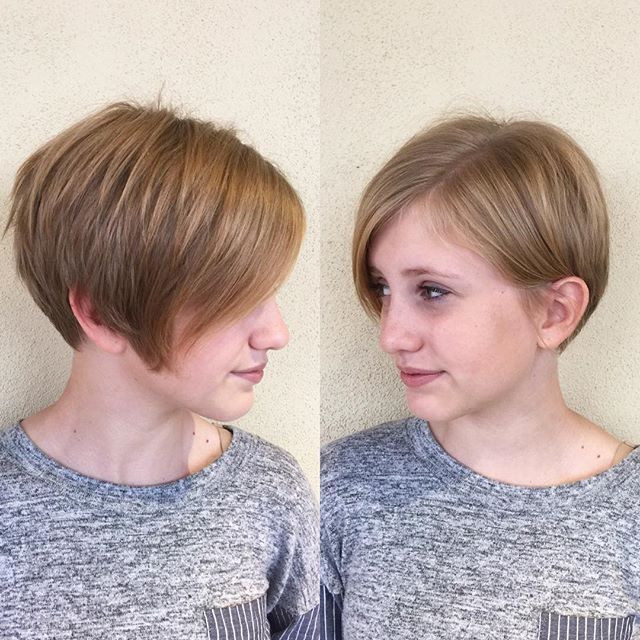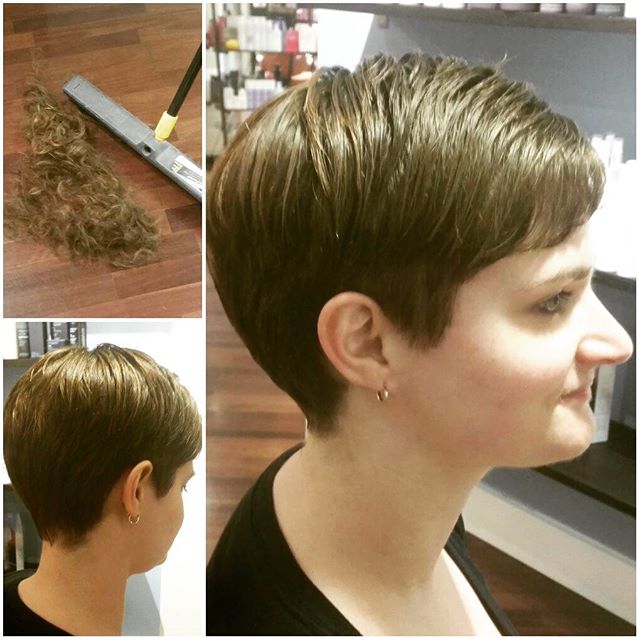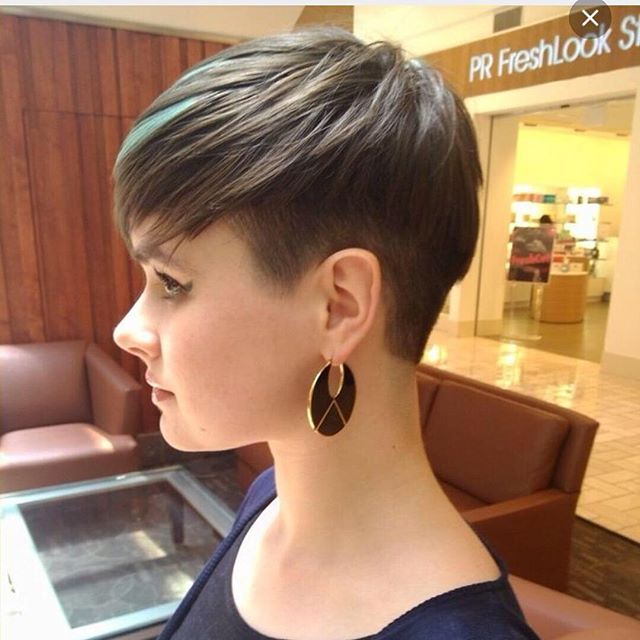 Sours: https://hairstylesweekly.com/21-easy-pixie-haircuts-round-faces/
Do you know that some short hairstyles for round faces can really enhance your facial features? Actually, when picking a bunch of your favorite hairstyles, why not opt for the most flattering only, so to say, to always win?
We would emphasize that going for hairstyles for round faces that are true to you is essential. Every lady is unique, pretty in her own way, and if you wish to rock a hairstyle that will make your face even rounder than it is – that's your choice.
However, you should know that there are tricks that can make your round face shape appear more oval, slimmer. So, why not use this knowledge to your advantage?
A flattering hairstyle can boost self-confidence, so let's pick one for you.
Top Tips For Choosing Right Short Hairstyles For Round Faces
Credit photo: instagram.com/elisa222314
There are some general tips that can help choose the best hairstyles for chubby round faces.
Never opt for heavy bangs that are also straight. These bangs end like a line placed horizontally, thus widening a round face visually.
Hairstyles for fat faces and overweight women are never sleek and compact. In fact, such hairstyles can only worsen the situation. Mind that, in case you are a plus-size woman.
No matter which hairstyle you pick, once you leave some elongated strands by both sides of the face, it will easily make a face appear slimmer.
Also, you can always go for side bangs that are elongated. Any line placed diagonally will cross the face and hence make it appear longer.
Another way to visually elongate the face is to get some volume boost on the top.
If you opt for curls, make sure that they are not placed any near your cheeks so as not to widen their silhouette.
Pixie Short Hairstyles For Round Faces
Despite the common myth about super short haircuts, pixies have game-changing approaches to round faces. When you know what texture, silhouette, and length work best for your face shape, you can pull off any cut, and a pixie is no exception! See how you can let some styling freedom into your life and flatter your face at the same time with the hottest haircut of today.
Asymmetry Is The Best Choice!
Credit photo: instagram.com/cutyourhairCredit photo: instagram.com/mila_kryshchykhinaCredit photo: instagram.com/mila_kryshchykhina
Here you can observe short hairstyles for round faces that will not only work for your face but also amp up your image. Basically, asymmetric haircuts are considered to be among the most complimenting haircuts for babes who have a round face shape. Their layered variations are especially flattering because layers create tons of visual volume and movement. Also, you can opt for waved hairstyles or sleek hairstyles that have a bit rounded ends. Another great advantage of the asymmetry is that it distracts attention from the roundness of your face. It is a simple rule: you can always hide something by accentuating something else.
Layered Short Hairstyles For Round Faces
Credit photo: instagram.com/mila_kryshchykhinaCredit photo: instagram.com/mila_kryshchykhinaCredit photo: instagram.com/mila_kryshchykhina
Here you can see pretty layered short hairstyles for chubby faces. Such hairstyles are popular because they look stylish and flatter the round face shape perfectly. Pick one of these hairstyles if you do not only wish to stay on-trend but also look like a million bucks.
Pixie Hairstyles
Credit photo: instagram.com/wessharptonCredit photo: instagram.com/cutyourhair
Pixies are among the most popular and sassy short hairstyles for round faces. Of course, there are good reasons for that. First of all, a pixie haircut is ultimately versatile, and it is a fact. Also, pixie haircuts for round faces often feature long and asymmetrical bangs that assist in cutting that unnecessary broadness that your face has. So, next time you hear that pixies are not good for round faces, tell them that it is nonsense because you can definitely rock it and appear super charming.
Bob Short Hairstyles For Round Faces
The ever-popular bob haircut is the number one choice of women not only for its edgy and classy look but also for its face-flattering magic. Since this haircut is one of the most flexible and customizable options, there's a bob for every hair type, lifestyle, and face shape. In case you've always wanted to go short but something has been stopping you, these ideas will draw away your hesitation!
Hairstyles With Bangs
Credit photo: instagram.com/miareneehairCredit photo: instagram.com/cutyourhairCredit photo: instagram.com/kaitlfixhair
When opting for short haircuts for women with round faces, remember that bangs can either make or break the look. The best idea is to go for choppy textured bangs. It's because the texture can help diffuse that extra roundness. Also, opt for the length near the area of the eyes for the bangs to elongate rather than widen the face shape. Long curtain bangs will work great for the round face, as well. Style them so that they get soft volume, and this will visually slim your face.
Bob Cuts
Credit photo: instagram.com/brysonblondeCredit photo: instagram.com/mila_kryshchykhinaCredit photo: instagram.com/mila_kryshchykhina
These bob hairstyles for round faces appear super cool, feminine, and very complimenting at once. As a matter of fact, a bob can offer you all you need, from enough length for styling experiments to the slimming effect you desire. Additionally, you get a very beautiful silhouette. And any professional hairstylist would suggest that you pick a bob that is at least chin-length or longer, but not shorter! Side and off-center parting will not make a face chubbier. Your best bets are stacked bobs that have a bit shorter nape, graduated bobs, lobs, and angled bobs.
Short To Medium Hairstyles For Round Face Shape
Credit photo: instagram.com/mila_kryshchykhinaCredit photo: instagram.com/brysonblonde
Here you can observe top short to medium length hairstyles for round face. As you can see, pastel bobs are indeed huge today. It's i a great hairstyle if you want to enhance your features and also spice things up with the color.
Flattering Short Hairstyles For Round Faces
Credit photo: instagram.com/mila_kryshchykhinaCredit photo: instagram.com/mila_kryshchykhinaCredit photo: instagram.com/g_deodato
There's no need for you to be afraid that your round face will spoil your look, as know you see how you can make the best out of it. Just remember: your face shape is something you should be proud of, so don't get angry if it looks bigger when you look in the mirror. The truth is that your face shape needs a personal approach. Short haircuts with long front locks can be the best decision ever: the locks will straighten your face visually, bringing the focus to your eyes. Short pixie or a medium bob, as well as angled haircuts that frame your face can create an amazing silhouette for you. Look at these photos: it's almost impossible to define their face shapes, it just looks gorgeous and that's all we need.
From Pixie To Bob Hairstyles
Credit photo: instagram.com/brysonblondeCredit photo: instagram.com/wessharptonCredit photo: instagram.com/ro.hsiqueira
Only these cuties know how to properly beautify the style of those with round faces: the pixie and bob. Pixie haircuts are popular with women because it perfectly frames their faces, no matter what face shape they have. So girls with round faces are in luck because they have finally found what they need to look flawless. Get yourself a pixie and leave everything up to the front locks, they know how to deal with round faces. Some messy hairstyles will be a nice decision, too. Their structure gives a great volume to your hair, so your silhouette draws attention and places the focus on the best features of your face. One of these ideas can be something you will see in the mirror, just don't hesitate to try something new.
A-Line Bob
Credit photo: instagram.com/ro.hsiqueiraCredit photo: instagram.com/ro.hsiqueiraCredit photo: instagram.com/ro.hsiqueira
A-line bobs are amazing and beneficial by default. But when it comes to working with round faces, they reveal their real beautifying potential. Since they have an angular shape, the front strands are significantly longer than the back ones. And that means your beautiful face will always have a lot of room for framing. All in all, A-line cuts are known for their face-slimming magic.
Short Hairstyles For Round Faces
Credit photo: instagram.com/balayage_moscowCredit photo: instagram.com/elisa222314Credit photo: instagram.com/cutyourhairCredit photo: instagram.com/g_deodato
By sweeping the hair to one side you not only give a fresh take at the popular silhouette but you also buy yourself the framing magic! On top of that, this style is super simple to get while being the best weapon to fight fine and thin hair looks.
FAQ
Do Round faces look good with short hair?
There is no such thing as the best length for a certain face shape. Instead, it takes the style, length, and type of the cut to compliment a certain shape. Thus, if the cut is well-chosen and professionally done, the round face will look fantastic with short hair.
What short haircut is best for a round face?
The main factor that round faces lack are the missing angles. So, any short cut that comes spiced with angles and layers will deal with the task effectively. These days, angled bobs and chopped pixies are on the edge of popularity since they tend to enhance round faces best. However, aside from the type of haircut, you should be careful with the hues you pursue. You need to ensure that the chosen tones correspond with your facial features well.
What hairstyles should round faces avoid?
There is barely such a thing as unfitting short hairstyles for round faces. However, a jaw-long bob with no bangs or layers would be the sole exception. A classy bob of the mentioned length will add up to the width of the face, and that is the notion that people with round faces try to avoid.
Now you know that complimenting short hair styles for round faces exist, and actually, the pool of options is quite big. Our blog has more useful info, check it out!
REFERENCES:
Searching for the best short haircut for a round face shape. Try one of these inspiring options. Source
Sours: https://lovehairstyles.com/short-hairstyles-for-round-faces/
Pixie Cut on Round Face
28 Flattering Short Hairstyles for Round Face Shapes in 2021
Cute Short Cut for Curly Hair
Instagram @lucyjacobi
These messy waves painted with warm brown hues are perfection on short haircuts for round faces! The soft and effortless styling and cut past the chin balance the whole image, leaving an elongated yet voluminous curly hair.
Lovely Short Stacked Bob for a Round Face Shape
Instagram @loxbybrynn
Complement your round face shape with this short stacked bob cut that's long enough in the front to balance and give your look an edge, yet short at the back for less bulk. You can also spice up your straight hair with subtle red ends to complete the round face + short hair style you're looking for.
Beautifully Braided Bob for Natural Hair
Instagram @braids_vienna
Chin-length short hair for round face shapes is a great way to make your face appear narrow. This accessorized pretty short braided hairdo can easily be done by anyone as long as you have enough natural hair and a little bit of creativity.
Short Shaggy Cut for Rounder Faces
Instagram @nickhustonhair
This short shaggy cut with short bangs is a perfect example of short hairstyles ideal for a round face. Considered a slimming haircut, it frames the face well. Styling it with a lot of texture and adding baby bangs helps to lessen the illusion of a chubbier face shape. Don't want baby bangs? Ask your stylist for longer choppy bangs instead!
Short Pixie Bob with Long Layers
Instagram @choppedndrewed
Go for a short pixie bob with long layers because it's cute, stylish, and very trendy! This short pixie bob with long layers is designed for a woman growing out a pixie cut. Such a short haircut with textured ends and choppy layers is also great for round face shapes. The cut's edginess complements the fullness of the face shape.
Short Choppy Layers for Women with Round Faces
Instagram @made_bymads
Short choppy layers on a haircut draw attention away from the symmetry of a round face. So yes—it's ideal for women blessed with a round face shape. This short cut is also great for fine hair as it offers a more natural movement. Layering on the crown creates an illusion of more hair while enhancing its shape and body.
Flattering Short Haircut for Women Over 50
Instagram @sheilap65
Here's a flattering short haircut for women over 50. This short pixie cut offers volume at the crown area, making it perfect for round faces. Shorter cuts for women in their fifties like this are easy to style. Lovelies who don't always have time to style up are sure to love this pixie.
The Classic Bob with Bangs for Round Faced Women
This classic bob with bangs for round faced women was created by senior stylist Sol Wade of Temecula, CA. "This short length cut is classic and timeless. Black color can be a commitment. You have to know to go into it that it's staying for a long time! This cut is a one-length bob," explains Wade.
Depending on the shape of your face, the texture of your hair, and your realistic desire, you can determine the bob style. "In the photo above, she has a round face. I didn't want to enhance that, so I made sure it was past her chin," she adds.
Product will be your best friend. To keep this cut for a round face shaped perfectly, you have to keep getting it reshaped every 5-6 weeks.
Trendy Angled Bob on Short Hair for Round Faces
This is a blunt, short and slightly angled bob styled with a beach wave. It was created by stylist and co-owner Caroline DeLauder of Towson, MD. It's very easy to achieve and is very flattering on round face shapes.
A short, angled bob haircut is great for most women with a round face shape who want a low maintenance hairstyle. It can easily be worn curly or straight without much effort. If your hair is naturally wavy try a curl cream to enhance the wave and keep the frizz away for your round face.
"If you have a straight hair type, you can blow dry it with a round brush to create volume or a paddle brush to make it sleeker," states DeLauder.
Stylish Asymmetrical Bob for a Chubby Face
Hairstylist Chrisy Panagopoulos of Toronto, ON created this short bob hairstyle that's chic, stylish, and dramatic. "It accentuates the round cheekbones, chin and the neck which are all very sexy features for a woman or younger girl. It's a classic cut with a playful edge and can be worn styled or let your natural texture create its own shape," describes Panagopoulos.
Short cuts for round faces take maintenance, so you'd need frequent cuts to maintain the shape. That's not to say it won't grow out well.
Blonde Long Pixie with Side Swept Bangs
Instagram @randa.rivera
A long pixie with side-swept bangs is one of those cuts that are suitable for women with rounder faces. The haircut's short edgy shape is sure to complement the curve of the face. If wanting a fringe, choose side swept bangs. They give a much flattering angle to the face.
Short Wavy Bob for Women with a Round Face
Instagram @switch_hair_design
The softness of a short wavy bob with a middle part is sure to match the curve of a face. This hairstyle flatters women with a round face because it has an added height to draw the eyes upwards. The stack and angle in the back also give the illusion of a tighter jawline from the profile. Own such a short haircut if you're looking for a new style to go with your round face.
Choppy Pixie Cut with Long Bangs
Instagram @freche.frisuren
A choppy pixie cut with long bangs can flatter round faces. The length was left on top for added movement and softness. This short haircut works well on women with a rounder face who want to put little effort into styling. It may be easy to style, but it demands regular trims to maintain its shape and volume.
👉 See more trendy pixies for round faces
Modern Textured Bob for Round Face Shapes
Instagram @lindsayshair
Don't be afraid to go extra short this time. Rock this modern textured bob for round faces, and it'll give you that soft, undone edge that's eye-catching. Pair it with a dimensional bronde shade to enhance the texture even more. With all the layers in this chop, it makes an ideal short hair for round faces.
Choppy Bob for Fine Hair
Instagram @coolikovastudio
A neck-length choppy bob for fine hair is one of those flattering hairstyles, with a softer, textured style! It even looks lovelier with subtle babylights to add shimmer. This short hairstyle on a round face does the framing effect better on straight and wavy locks.
Side-Parted Long Bob (Lob) for Round Faces
This side-parted long bob is a choppy bob, styled with lots of undone texture and airiness. "Style it with a 1.25 inch curling iron and finish it with texture hairspray," says balayage stylist Hannah Kramer of Easton, PA.
"The right amount of movement would compliment/soften round face shapes. If you're wanting a more natural version of this bob, go for a softer shade of copper or opt for a rich brown," she adds.
This length is great for get up and go lifestyles but definitely plays up well when you spend time styling it. Looks great both wavy and straight.
Textured Inverted Bob
This textured inverted bob on short hair is sure to flatter your round chubby face shape. It's a perfect variety of the best short hair styles for round faces. The movement within short hairstyles for women like this will bring out extra spice to your dark locks.
This short hair for chubby face shapes is a short inverted stacked bob with layers. It was created by hair stylist Madison Taylor of Powell, TN. The stacking in the back adds beautiful shaping. It's perfect for women with thick hair in need of texture.
"Women interested in textured short cuts must be willing to blow dry it for styling purposes," says Taylor. "Doing so will optimize the shape of the bob haircut! Make sure you're comfortable with your chin and neck because they will be more emphasized. However, if you want to leave it longer in the front, that will help offset women with rounder faces," she adds.
Layered Bob for Thick Hair and Round Face Shapes
This layered bob for thick hair is a shaggy boho bob that was created by master colorist and stylist Dana Wexler of Chicago, IL.
"A cutting that measures the head shape to fit the desired outcome was used to create this layered bob.  The hair was prepped with a thermally activated smoothing lotion. Then it was followed by a texture spray that keeps memory in the hair.  This way when you touch those curls they hold their definition and shape," explains Wexler.
Messy, Beach Waves
This is a slightly stacked lob haircut with beach waves and a little bit of an angle in the front. It has no layers except a messy interior layer. It was created by stylist Julie Holbrook of Ogden, UT.
"This short hairstyle for round faces is great for women who have thick or thin hair with a fine texture," says Holbrook. "It works great straight or curled. There are no layers on top so it's still easy to pull up, but has interior layers so you can still get texture and movement."
For short hair with a round face, you simply adjust where the front pieces hit. This short hair for round face shapes is perfect for women who only wash a few times a week and for women who wash every day!
Cropped Pixie on a Rounded Face
Instagram @cabelenka
Get a cropped pixie if you're blessed with a round face shape. It's one of the beautiful short haircuts that's beneficial for women with round faces. This is a neat chop, jazzed up with texture at the top area. It's the textured style that complements and adds a balance to a round face.
Short Neck-Length Bob with Side Part
Instagram @mila_kryshchykhina
Such a lovely short hair for chubby faces! This simple neck-length bob for straight hair will make you want so many styles to try. You can flaunt it with waves, braids, or explore a blonde color melt, too! Switch your part then blow your hair dry to achieve instant volume when styling.
Short Shaggy Bob with Volume for Rounder Faces
Instagram @shearpulp
When pulling off the short shaggy bob, it always works better on wavy hair texture. It looks much more natural and fun. This shaggy bob cut on short hair has a tousled texture that flatters a rounded face. The curls are what can break up the fullness of the face.
Flattering Cropped Hair for Women Over 60
Instagram @grayshairstudio
A pixie makes a flattering cropped hairstyle for women over 60 with a round face. This cropped hair for over 60 gals is low-maintenance, and it's sassy looking. It's one of the most popular short and textured hairstyles for round faces and thin hair. If searching for a short haircut for ladies over 60  that's easy to maintain and style, check this one out. It fits the bill!
The Short A-Line Bob
The short A-line bob is a dramatic angled cut with low graduation. It's a haircut for a chubby face shape made by Texas-based stylist Emily Hamilton.
Keeping the cut below the chin elongates the face and neck. Hamilton notes that it's a "great length to have versatility with."
One thing to consider about this haircut is the maintenance. Hamilton reminds us, "you'll most likely need to see the hairdresser every 6-8 weeks."
Modern Graduated Bob with Glasses
Instagram @emiliebhd
Perfect for a round face, this short haircut that's short at the back and longer at the front has a natural slimming effect and gives dimension to the graduated bob hairstyle. Styling it straight and simple offers that amazing shine that you can easily recreate at home.
Chic Chin-Length Bob for Round Faced Women
Instagram @_rhiannonlee_
This textured short cut has a stunning dimension with those choppy ends and rough layers stacked at the back. Opting for a trendy balayage on soft waves makes it easier to maintain and grow out.
A Short Bob with Long Bangs
Instagram @salsalhair
A short bob with long bangs and a round face shape is like a match made in heaven. This short bob can make round faces with a double chin appear more oval because of the straight long bangs. Having a jaw-length haircut and fringe can frame the face, balancing out its structure.
This charming pink short bob can make round faces with a double chin appear more oval because of the straight long bangs, while also accentuating the eyes and complementing fair skin.
Textured Pixie with Side-Swept Bangs
Master stylist and Davines Ambassador Sarah Krook created this textured pixie with side-swept bangs. With the right amount of texture, the color will pop.
Krook believes good hair products to use are "Bedroom Hair" by Kevin Murphy and "This is a strong dry wax" by Davines.
"This is a great look for women who have a petite face and by adding texture it helps create volume to elongate the face and add height," she adds.
Shorter cuts like this generally need to be done every 5 to 6 weeks. The color is super versatile as the combination of colors works great from spring to winter!
Sours: https://www.latest-hairstyles.com/short/round-face.html
2021 round face pixie cut
50 Ideal Pixie Cuts for Women with Round Face [2021]
Pixie cuts for round face are a trending hairstyle within the beauty community. Not only is it edgy but it's cute. It highlights all the beautiful features of your round face such as your eyes, lips, nose and even cheekbone.
Is Pixie a Good Option for Round Faces?
Many girls with round face shape mistakenly think that a pixie haircut is not an option, that it's too short and exposes their cheeks. But if you'll search online for the best short haircut for a round face, you will see several types of pixie cuts on the list.
Pixie cut doesn't make a face look wider because it's short on the sides. And the shorter length makes it easier to create the extra volume at the crown. That already makes pixie a good option for girls with a round face shape. But there are some details to work with to make it better.
An oval is considered the ideal face shape. Therefore, girls with a round face should always try to make it look thinner and longer. It's possible to achieve this by keeping the volume at the top and avoiding the horizontal lines.
Perfect pixie for a round face should have sharp vertical lines. It's so easy to disguise round cheeks with choppy strands that will frame the face. That is good that a pixie always assumes bangs. So we can choose fringe of any kind, depending on the shape of their face. Girls with a round face should try one-side bangs for a more asymmetric effect. It creates the appearance of having a longer oval-shaped face. Just playing with different kinds of fringe can make a difference.
It is the flexibility that makes pixie one of the most popular among short haircuts. It works for any hair type and looks great with waves and curls too.
How to Determine A Round Face
First, you would need to place your hair in a high ponytail. Then, decipher accordingly based on the shape of your face. If your face is similar to the shape of a ball or baby's face then you have a round face.
Suitable Pixie Haircuts for Round Face
Here are some ideas to style pixie haircut for women with round face shapes. Have a look and get inspired!
1. Blonde Pixie Cut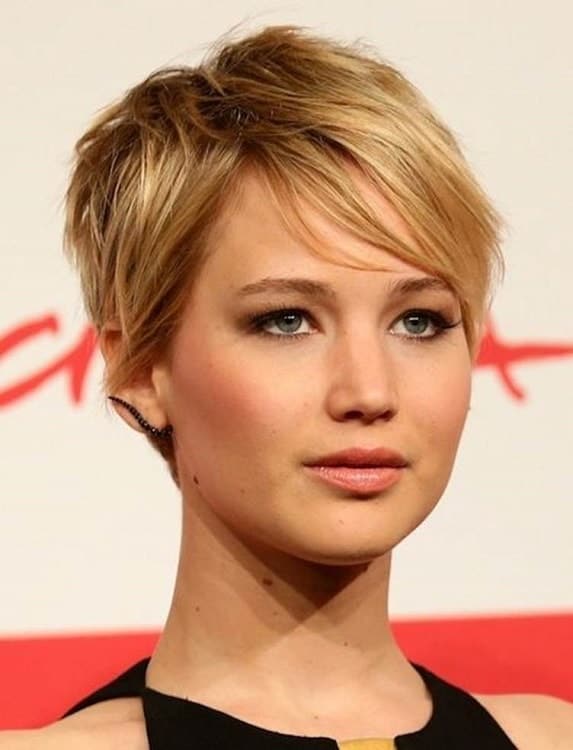 When has Jennifer Lawrence ever failed you for a hairstyle? We love her blonde pixie cut which is more heavily towards the front. She has a faint yet side swept bangs and fringes. The messiness adds to the chicness of this beautiful style. A classic example of a pixie cut for thick hair and round face.
2. Fiery Red Pixie Cut
This fiery red could be your next hairstyle. Not only does it look fun, but the model looks happy wearing the hair color and cut as well. You can allow the stylist to do the side swept towards your bests ide.
Daily maintenance will be required with shampoo to maintain your hair color. As well as to moisturize your tresses even though it's colored.
10 Upbeat Red and Pink Pixie Haircut Ideas for Women
3. Blonde Short Pixie Cut
Blonde hair is such a beautiful color especially if it is short. The beauty of this hairstyle is not that it highlights the model's feature but the little maintenance that would be required. You will definitely rock this pixie hairstyle with round face.
4. Silver Fox Long Pixie Cut
Silver/Grey haircuts are still trending within the beauty community. Not only does it make you look younger but it does make your face slimmer. You have to risk it all for this especially the health and length of your hair.
However, ensure to find the perfect hairstylist who will do all the necessary measures to preserve the length of your hair. The long pixie cut for round face is quite a spectacular option.
5. Spikey Pixie Cut
Miley has ended up on our list again because her pixie cuts are really beautiful. Her sides are kept really low while the party is at the top. She brushed up the hair to give it a spiky yet chic look.
The hairstyle will definitely elongate your face while still highlighting your chubby cheeks. If you add some color at the top then, rock on! This perfect pixie cut for round chubby face shaped women.
6. Blunt Pixie Cut
This blunt pixie cut is beautiful! The bluntness will keep it short therefore minimal hair maintenance is required daily. As well as minimal styling time is needed in the mornings before work. Lastly, it hugs the round features of her face very well.
Blunt and Choppy Haircut Ideas for Women
7. Messy Pixie Cut
A very chic pixie hairstyle for round face that is great for any occasion. In order to achieve this style, you would have to consider bleaching and cutting your mane. It may scare you in the beginning however the style will turn out beautifully.
The model wears her pixie cut messy with the assistance of hair mousse. However, if you have naturally wavy hair then you can achieve this look as well. This look is perfect for any event whether casual or formal.
8. Short Pixie Cut with Waves
The roundness of her face elongates the length and volume of the pixie cut. This is great because the bigger the hair the better. This is a simple pixie cut for round face shape that isn't over the top yet classy. You can add waves or curls to your hair by using a hot tool. Ensure to use heat protectant prior to styling in order to preserve the length of your tresses.
9. Curly Pixie Top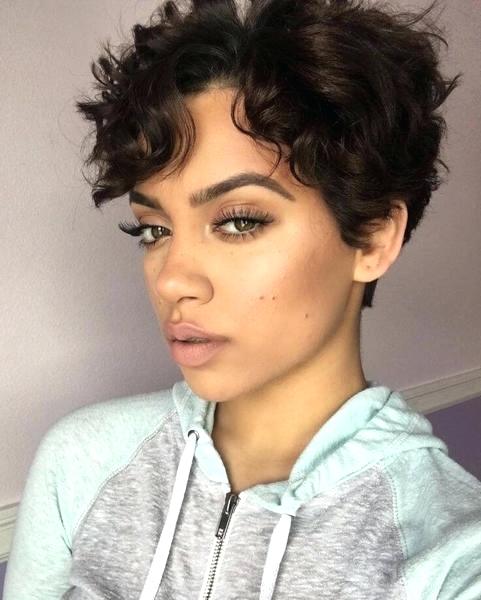 Next is the curly pixie top for my curly gals. This should be an inspiration style for you to get a pixie cut with your round face and curly hair. The short curls along with the pixie cut will allow you to look more youthful.
Hence, if you're older and want to take some years off, cut it. The maintenance is required is more than if you had straight hair. Light moisturizers are recommended so as to not weight down your beautiful curls.
10. Layered Bangs with Pixie Cut
Anne Hathaway can wear any hairstyle beautifully, especially this one. Her hair is in a layered pixie cut with bangs. Her bangs frame her forehead without covering her beautiful eyes or freaky eyebrows.
In addition, the pixie cut does make Anne look more youthful. This pixie for women with round face will require maintenance through the use of your flat iron to keep your cut looking smooth. In addition, frequent trips to the salon to keep your bangs aligned.
11. Choppy Pixie Cut
As you can see the model has a pixie cut with short bangs that frame her round face. They are short or mini fringes which give the same effect as the longer version.
They accentuate her overall look by enhancing her other beautiful features. It's an easy style to achieve because you would be cutting most of your hair length off. You can do more to the style such as add hair color.
Short Hairstyles with Bangs for Women
12. Boyish Pixie Cut
This pixie cut is similar to a boy's hairstyle that he will usually wear to school. It gives us a punk rock vibe if that's what you're looking for. In addition, because of the way it's styled, maintenance should easy. You would comb or brush your hair to keep it stretched. Then, run the flat iron through to keep the hair flat.
13. Ashy Side Swept Pixie Cut
For this hairstyle, the model's hair is ash. You don't have to achieve this style with the same color, you can enhance it. Also, the hair at the back is kept low however there is a party at the front.
You can do side swept bangs which will enhance your cheekbones. Or, you can do deeps ide parts because you like when your hair lays to a particular side.
Maintenance will be required more frequently through the use of moisturizer to keep your mane moisturized at all time since it has color in it. Also, it adds a beautiful contrast between dark and light when your hair starts to grow out.
14. Brushed Up Pixie Cut
The brushed-up pixie cut for round face is another beautiful hairstyle that can be worn to any event, If you notice your ends are thinning but the roots are thick, then this hairstyle is perfect for you. The hair closest to your scalp will be thick enough for the pixie cut.
Then, you can use mousse or styler to brush or comb the hair upwards. This will aid in getting the voluminous yet pointy look. Lastly, if your hair is colored then it will be a beautiful transition from one color to another.
15. Long Fringed Pixie Cut
This is perfect for you if you want the pixie cut, but you like when your hair is your face. In addition, the long fringe will hug the round faces very well. Fringe adds dimension to a regular pixie cut.
The style will not need much maintenance when it starts to grow it because it may be able to blend into the fringe. However, the ends will need to be clipped in order to maintain a blunt look.
16. Blonde Side Swept Pixie Cut
This pixie hairstyle for Asian ladies with round face who love blonde hair as well as pixie cuts. It incorporates the best of both worlds. If you are dying your hair prior to styling ensure to use a hair mask to keep your hair strengthened throughout the process.
17. Brunette Wavy Pixie Cut
Another hairstyle if you want the low pixie cut to make you look youthful and player. But didn't want to lose the lovely hair at the front. In order to achieve this look, you should request a pixie cut but let the stylist know that you want to keep your fringe/bang.
They will cut as much hair off as possible but giving you length and volume at the front.
18. Jagged Pixie Cut
A hairstyle for a simple girl. You may want the pixie cut without the necessary fluff. No fringes, bang, side swept curls, shaved sides and so much more. You would simply get a pixie cut with uneven layers.
This allows you to wear it like that or style into different ways for any special occasion. You can brush it up, wear it in a pompadour or do a bang if necessary, especially when the hair grows out.
Best Pixie Haircuts for Women with Fat Face
19. Layered Pixie Cut

This pixie cut has short layers throughout each side of it. It's another pixie cut for round face that will make you look and feel younger. If your hair is the same color as the model, then this will be the end result. Daily maintenance is minimal. You would just need to brush, comb and go.
On special occasions, you can add small waves or flat iron your hair. A very simplistic yet versatile haircut. Ensure that your stylist cuts the ends into layers or blunt. This will give your cut dimension or volume, depending on what you're looking for.
20. Full Pixie Cut
As you can see the pixie cut on round face has allowed the model to look more youthful. It accentuates her eyes as well as her very high rosy cheekbones. Maintenance will be required for this style to keep it within this shape every day.
21. Pixie Cut with Baby Bangs
We are loving this cut and color on Miley. Not only is chic but it is classical. Her hair is cut really low while maintaining a short bang. The ends are cut into layers that complement her face shape.
22. Pixie with Fringe Bangs
This hairstyle is perfect if you like bangs and fringes, but you still want your short hair. Your bangs will naturally be short and chic. It will gracefully lay across your forehead with the different layers.
While the fringe will be short yet bold. It won't look award so stop worrying about it. The short bangs and fringes compliment the overall look and style with the pixie cut on round face.
23. Brunette Pixie and Sideburns
Very similar to the previous style however the sideburns are different. You can see that the "Faux" sideburns elongate the shape of her round face. Also, her hair is in the color brunette for all the ladies with brunette hair.
Lastly, her has waves looks messy yet still chic. The roundness of the model's face is perfect for the pixie cut because she can still emphasize her round face without while maintaining volume and the short length.
24. Side Swept Pixie Cut
Very similar style to the previous hairstyles yet the bang is shorter. She has less hair which emphasized her round faces. From this you can see her bold eyes., chubby cheeks, and a beautiful nose.
Another pixie hairstyle for women with round faces to consider especially if you think your features won't stand out if you decide to wear the overall look.
25. Long Bang Pixie Cut
Another similar style, however, the difference is the length. Her hair is longer at the front than it is at the back. Then, she combs her bangs in her face which doesn't take away from her petitie eyes and chubby cheeks. This pixie cut will elongate your face, especially if you don't like your round face.
26. Side Parted Pixie Cut
We are loving this hairstyle by the model. Not only does it hug her round cheeks but it looks stunning on her. And, so it will on you. Her hair has a pixie cut while keeping more length as well as volume towards the front of her hair.
And, the deep side parts adds a beautiful transition from low hair to voluminous hair. Lastly, her bangs accentuate her eyes.
27. Messy Auburn Pixie Cut
Another pixie haircut for round face where the front is longer than the back. Then the front is combed into a bang and chin length fringes. This will add texture and volume to the hairstyle that you want to achieve. It is a simple yet chic style. Maintenance will only be required when your hair starts to grow out unevenly.
28. Messy Honey Blonde Pixie Cut
Another pixie cut for round chubby face that is gorgeous. The side swept is different from all the because it is cut into layers. Then combed out to give the illusion of volume. All of the hairs are separated as opposed to close-knit together. We appreciate diversity.
Dark and Honey Blonde Hair Color Ideas for Women
29. Tousled Hairstyle
This hairstyle elongates your round face. In addition, no hair falls on along the face which allows us to see all her natural beautiful features. The top is combed or brushed or tousled to give the illusion of a messy look. Simple yet chic hairstyle for your next event.
30. Auburn Full Pixie Cut
Not your typical pixie cut for women with round face as her hair has volume. But you can achieve it too. Ask your hairstyle to cut off more hair at the bottom but leave the top with volume. This will allow your hair to look fuller, and healthy. Also, the volume will complement your round face.
Daily Maintenance is required to keep your tresses flat and elongated. You can add highlights to it in order to add dimension to the cut.
31. Honey Blonde Hues
Very similar to the previous hairstyle however the pixie cut has a bang instead. Also, the bangs are sparse towards the middle which adds texture to the style. The cut elongates her face while highlighting her rosy cheekbones.
Blonde hair is always trending and will look amazing on you for your next pixie cut. Maintenance will be required to maintain the health of your while it is bleached.
32. Pompadour Pixie Cut
One beautiful feature of pixie cuts is their ability to show your confidence to the world. Even if you have fine hair and round face with a pixie cut, styled this way will hide the lack of volume.
33. Loose And Wavy Pixie Cut
Looking like a sweet and innocent girl from time to time even when you're in your twenties can be fun. This pixie cut for round face and thick hair reminds us of sweet hairstyles we once had as children. Letting the hair grow a bit longer adds to the whole vibe of this look.
34. Short Fringe Cut
Since Emma Watson came out with her extremely short fringe, the world of short hairstyles for fine hair changed forever. Women are now a lot more confident with their shorter bangs, and they can rock them unapologetically. Short fringe is a perfect way to hide the fact that you have thin hair.
35. Short Faded Pixie Cut
A half-blonde half-black hairstyle looks amazing on women who wear glasses. It makes them look even smarter and more put together. A combination of these two colors is unexpected and these women will enjoy a smart hipster style.
36. Rose Pixie
A pixie cut is a great choice for any woman over 50 with a round face. If you have fair skin, use a platinum gold color with rose tints and opt for a short pixie with bangs that can be styled slightly on one side and upwards.
37. Curly Pixie
This thin pixie haircut is perfect for round faces, thanks to those curly bangs arranged on the forehead and on one side. If you adore giving your hair a lot of texture, create thin blonde highlights to make your new hairstyle look eye-popping.
38. Retro Pixie
This pixie cut is the ideal hairstyle for girls with round and chubby faces. Keep your back and sides short and layered while you let your bangs reach the jawline. Toss them on one side to create that slimming effect.
39. Pixie for Women over 60
When you are a woman over 60 with a double chin and a round face, a pixie haircut is the one thing that will save you and make you look so damn elegant and beautiful. Make sure you create layers and maintain that stunning salt and pepper hair.
40. Short Pixie With Gasses
This pixie cut is highly requested by women and girls who struggle with a round face and wear glasses. Keep those bangs short, covering only half of the forehead, and you will create a unique modern look.
41. Brown Pixie
Thick hair looks amazing if cut in a pixie cut, especially if you have a round face, and you want to elongate it. Layer your tresses and wear those bangs on one side. The back hair should have more volume, and you can get that with stacked layers.
42. Bob Pixie Cut
This hairstyle is a real blessing for women with round faces. Bobs and pixies are well-known haircuts that make faces look slimmer, and if you combine them, you'll obtain this fantastic hairdo that suits any woman.
43. Short Afro Hair
Did you ever consider getting a very short hairstyle? If not, believe us, it's a great choice, especially if you have Afro hair. It is low maintenance; therefore, it will save you a lot of time, and you will still be able to look feminine and gorgeous.
44. Braided Pixie
Pixies can look messy but also glamorous, depending on the occasion. If you have a fancy event coming up, this braided pixie hairstyle is one of your options. Use your bangs to knit a Frech braid and secure it with a large hair clip.
45. Grey Long Pixie
This silver mauve color will make you look glamorous and modern. Opt for a haircut with a short back and long top and bangs that you can straighten with an iron and tousle to obtain that messy careless look.
46. Platinum Pixie with Bangs
This short blonde pixie with baby wispy bangs will highlight not only your eyes but also your brown feathered eyebrows. Keep it short and messy, and style it with hair gel or wax.
47. Rose Gold Pixie
Layer your hair and opt for rose gold hair color for your pixie. The hairstyle will definitely suit your round face, and those long sideburns will stunningly frame your features. Wear your short bangs on one side if you want to elongate your face.
48. Tom Boy Pixie
This boyish look will suit you like a glove and will make your cheekbones look less prominent. Cut your bangs straight, just above your eyebrows, and make stacked layers in the back to obtain more volume.
49. Galaxy Hairstyle
Galaxy hair is very popular at the moment, and it features purple and pink shades. Mixing those nuances, you will get a marvelous blend that will suit any haircut, especially pixies. If you have a dark skin tone, even better, you will look so impressive.
50. Silver Wavy Pixie
If you have wavy hair, make sure you take advantage of this and style a medium pixie haircut. Choose a silver hair color and wash your hair with purple shampoo to obtain those marvelous pale mauve tints.
Frequently Asked Questions
Q. Can Plus Size Women Try A Pixie Cut?
Ans: Yes! Pixie cuts do not discriminate against body shape or sizes.
Q. Does The Pixie Cut Make The Chubby Round face Slimmer?
Ans: Yes and no. It all depends on your angles. Depending on what side you take the picture or someone looks at you then your face will look slimmer. However, If you have a round face with double chins it may enhance it rather than hiding it.
Q. Pixie Or Bob Which One Suits Round Face Better?
Ans: Both. It depends again on the angles as well as your level of roundness for your face. If your face is round with double chins, then the bob is better. The bob especially if it falls along your which will mask the double chin.
Thus, allowing your face to look slimmer. If you have no double chin, then either is perfect for you. The bob can hide any insecurity you may have on your face however the pixie will add flair to your overall look. As well as enhance your natural features.
Out of all these 50 pixie cuts for round face which style will you be wearing?
Sours: https://hairstylecamp.com/round-face-pixie-cuts/
pixie haircut for round face
20 Stunning Looks with Pixie Cut for Round Face
Pixie is the most popular short haircut for women. Its poetical name is reminiscent of forest elves, fairies and sprites. The sweet lively look of pixie haircut is achieved thanks to a special technique that suggests cutting your hair shorter at the temples and nape and leaving longer locks on the crown.
Pixie is among the most low-maintenance haircuts. You can create very different pixie styles, depending on occasion and your preferences from neat sleek 'dos to rebellious funky hairstyles. The easiest way to style pixie is smoothing your tresses with a dab of wax or ruffling them slightly with gel for a chic tousled touch. After make sure you'll define occasional feathers.
If your face is round, your pixie must feature volume on top that visually elongates your face and brings it closer to the ideal oval. Stylists recommend backcombing on the crown to achieve the desirable effect. Pixie is a very good choice for thin hair. Whether you opt to cover your ears or reveal them, give your preference to the asymmetry that always miraculously "saves" round faces.
Pixie Cuts for Round Faces
Pixie offers fantastic opportunities for variety. For round face try pixie with long asymmetrical bangs. They visually cut the broadness of your face, making it narrower. You may also try to introduce a few colorful tresses or a couple of local highlights to refresh your style.
It's generally believed that pixie haircut flatters only women who have lean, long and somewhat angular faces with large distinct features. Think Audrey Hepburn, Keira Knightley, Linda Evangelista and Agyness Deyn. All of them wore pixie in the past and were actively copied by many girls worldwide.
But the good news is round faces with soft facial features can also benefit from pixie haircut. It often enhances the natural charm of such faces. Let's see some successful images of pixie haircuts, which are super trendy in 2021.
#1: Mahogany Brown Pixie Cut
This cute cut has a super cool vibe. The deep maroon hair color is beautiful with her skin tone and eyes. The interesting, asymmetrical fringe with black lowlights is very unique. Plus, there's a good mix of sleek and messy styling.
#2: Urban Chic Cut for Round Face
Pixie cuts for round faces can go as urban and modern as you dare. The silver blonde hair and red lip trends aren't going anywhere soon. For an unexpected take, show off short contrasting sides with a deep side sweep.
#3: Messy Pixie Cut
This is so adorable! Part pixie, part bowl cut, the imperfect styling reveals a spunky personality. Ask your stylist for blunt cut bangs, cute short sideburns and longer hair tousled on top. When hair is short, your face becomes the star, so experiment with fun, colorful makeup.
#4: Sleek Blue Pixie
Pixie hairstyles can work on a variety of hair types, including straight. You can simply blow dry or brush your hair over to one side and you're good to go! The bright color gives visual interest to what would otherwise be a pretty simple haircut.
#5: Forward Styled Pixie Cut
This pixie haircut for round face is styled as well as humanly possible. No seriously. Everything—from the piece-y bangs to the spiky upper section—is so on point. While this look incorporates closely clipped sides, that isn't totally necessary (if you're afraid). You can keep hair about half an inch long in the back.
#6: Spiky Pixie for Round Face
This short pixie has clearly made her day! For a fun style, sculpt hair up and out in the back. To do it, work a medium hold mousse into damp hair and blow dry with a small brush, holding each section away from the head as you are blow-drying. It will take some practice to master on yourself!
#7: Swept Back Pixie Cut
Typically, pixies are styled forward. But they can also be swept back—whether for a formal evening or just as your everyday look. A long pixie is especially chic when blown or brushed back. You'll want to employ a light hold spray to keep hair in place without added stiffness.
#8: Bold Fireball Pixie
Lots of women love side bangs, but not all women can pull them off. Pixie cuts for round faces are the perfect opportunity to try. This face shape is naturally suited to the style, and where short hair is involved, extra visual interest is a must.
#9: Purple Streaked Pixie
For a cute look that will turn heads, opt for a messy, short pixie with a flattering color woven through. While it's tempting to pick your favorite color, you're better off consulting your closet. In front of a mirror, hold up different pieces of material to your face to see what makes your eyes and smile stand out.
#10: Punky Bleached Pixie Cut
For pixie hairstyles that are young and modern, platinum is a great go-to. Especially when dark hair is peaking through! This is a grungy cool look that will definitely improve your everyday style. Notice how the longest piece of hair meets the hair at the temple? That creates a pretty shape.
#11: Pixie with Curls and Finger Waves
This pixie cut for round face will most likely require a professional to style. You can go to the salon once a week to keep up the perfect curls and waves. The golden blonde is very flattering on her skin, but could be jarring on any one who looks best in cool tones. Success in going blonde is all about the hue you choose!
#12: Vibrant and Creative Pixie Cut
We get from the lip color that this girl is tons of fun. If you have a bright, shining personality, why not reveal it with your hair? Sunset colored hues melt into a vibrant, shocking pink in this creative long pixie. No matter the season, you'll be a dose of a brightness and happiness for anyone you meet.
#13: Extra Short Pixie for Round Face
This super short pixie combines a men's haircut with the girliest color ever. Pink! To style it, you'll need a fine tooth comb, a quality gel that won't later turn flaky, and just a few minutes. Sigh. Any girl who has spent hours in front of a mirror is getting jealous right about now.
#14: Spiky Lavender Pixie
Girls and women with all hair lengths are trying out lavender hair color. But the hue is particularly adorable on short hair. This pixie cut for round face is everything you need to feel like a fairy (in the most modern possible way, of course).
#15: Voluminous Pixie Cut
For a long pixie that has plenty of Old Holywood glamour, style hair up, back and to the side. You will definitely need a blow dryer to achieve volume this high. Make sure to purchase a large barrel round brush and practice to perfect your technique.
#16: Asymmetrical Pixie Cut with Side Bangs
Not sure if you want a short fringe with your pixie cut or long bangs? Do both. The fun part about choosing asymmetry when you go short is there's still room to go shorter, so you can continue to experiment. Not to mention that it's totally cute.
#17: Flowy Lavender Pixie Cut
When you go for a pixie cut for round face, you should definitely think out of the box. If sweet, short bangs aren't you, then keep them long. With the long choppy pieces on top, you can pull off a variety of looks—everything from punky faux hawks to tiny top knots.
#18: Colorful Rockabilly Pixie
The swirls of color in this long pixie are divine. The deep violet on the shortest part of the hair provides a pretty base for softer colors. Thick hair with natural waves can more easily achieve this amazing amount of volume, but the right products never hurt.
#19: Short and Tousled Pixie
This sweet, feminine cut has a very short tapered back that curves with the head and long messy pieces on top. This is the classic pixie, a staple for women who love going short. Women with naturally straight hair will have the benefit of low daily maintenance with this cut.
#20: Pixie Cut with Beautiful Waves
Pixie haircuts for round faces look great with waves and curls too. The texture just has to be purposeful—not lazy. Super curly hair can be smoothed out just enough to create sleekness. Or with naturally wavy hair, you can air dry and then fix a few pieces with a curling iron.
As we see, pixie works excellent even for round faces. You just need to take into account the nuances of your looks, such as your face shape and expressivity of facial features, and choose the right cut accordingly. Pixie is the most popular short haircut that is always fresh and on-trend. It flatters the most the ladies with relatively small faces, who although have large facial features.
With pixie haircut you look younger and instantly draw attention to your face. Note that a short pixie cut has to be renewed regularly or it will lose its shape and won't look as stylish as before. Not sure what kind of bangs to pair your pixie with? Want to check on more versions of short hairstyles for your face shape? View the galleries with bangs for round face and short hairstyles for round faces.
Sours: https://therighthairstyles.com/18-stunning-looks-with-pixie-cut-for-round-face/
You will also be interested:
The next morning, on Sunday, I carefully examined the body of the victim, felt: something was wrong. I turned Anka from side to side, examined millimeter by millimeter. Naked Anka rant: - I find three sources and three components of this extraordinary orgasm. Firstly, she rubbed her nipples on my back, secondly, she quickly felt the G zone with her finger, and not every man.
51
52
53
54
55