Knee immobilizers are removable devices that maintain stability of the knee.
Knee immobilizers are typically used for injuries that benefit from immobilization but can tolerate brief periods without immobilization and thus do not require casting.
Certain tibial plateau fractures

Knee fractures and ligament injuries that require immobilization while awaiting nonemergent operative repair or casting

Certain ligament injuries that do not require repair (as definitive treatment)
Absolute contraindications
Relative contraindications
Commercially available knee immobilizer*
* There are different brands, but they all typically consist of a heavy foam/cloth wrap that extends from mid-calf to mid-thigh. The wrap is held in place by a series of straps and provides support by its bulk. Additional stability is achieved by removable rigid strips that are applied to the medial and lateral sides of the device and held in place by hook-and-loop connections.
Any open wounds should be treated and covered appropriately prior to application of the knee immobilizer.

Rarely, analgesia is required.
Knee ligament injuries may involve the medial collateral, anterior cruciate, lateral collateral, and/or posterior cruciate.
Lie the patient supine with the foot supported and the knee extended.
Follow any available product-specific instructions and recommendations.
Prepare the knee immobilizer and straps.

Place the immobilizer behind the leg and centered behind the knee vertically and laterally.

If the immobilizer has a patellar cutout, align the cutout over the patella.

If the immobilizer has removable or adjustable stabilizer bars, place the bars medially and laterally along the long axis of the leg.

Secure the stabilizer bars and the immobilizer with the fastener straps (eg, hook and loop) above and below the knee (typically 2 above and 2 below the knee).

Check distal sensation and capillary refill.
Do not apply the immobilizer too low on the leg because that does not effectively immobilize the knee.

If the stabilizer bars are already attached to the immobilizer in the package, they are unlikely to be in the correct place and must be repositioned.

If the legs taper significantly (ie, very large thighs compared to the rest of the leg), the immobilizer may tend to slip down; this may not be apparent until the patient stands.
Tighten the straps from bottom to top.

Prescribe crutches unless you confirm that the patient can walk without them.
Click here for Patient Education
NOTE:
This is the Professional Version. CONSUMERS: Click here for the Consumer Version Sours: https://www.merckmanuals.com/professional/injuries-poisoning/how-to-splint-or-immobilize-a-lower-limb/how-to-apply-a-knee-immobilizer
Top 5 Best Knee Immobilizer Braces - [Updated for 2021]
When your leg is injured and should not bend, a knee immobilizer provides the support to keep your leg straight and promote healing.
Usually made up of a combination of metal, foam, fabric, and plastic, and attached and detached with hook-and-loop straps, thigh-to-shin straight immobilizers come in a variety of sizes, designs, and colors. A knee stabilizer is usually adjustable and is fitted by a healthcare provider to be worn over clothing. Knee stabilizers are designed for people who need to walk or stand, and are usually removed by the user when laying flat in bed. These support devices are most often prescribed in conjunction with physical therapy to protect and strengthen the area while healing.
Surgery, damaged ligaments or tendons around the knee, a fractured kneecap or shin, or a dislocated knee could all call for a knee immobilizer, as it is lighter and more comfortable than a plaster cast, but stiff and strong enough to keep the knee from bending.
Things to consider when purchasing a knee stabilizer
Fit
An ill-fitting knee stabilizer that doesn't stay in place not only detracts from healing, it can also cause a fall or make an injury worse. More sophisticated than off-the-shelf knee braces most often worn for daily activities or sports, knee stabilizers are measured according to leg length and circumference to ensure a proper fit.
Design
All knee stabilizers prevent you from bending your leg, but different straight stabilizers address injuries of differing severity. Lighter weight cloth and canvas designs are more comfortable and can be used with injuries that are not as serious. When more support is needed, a stiffer model made of foam, or a plastic version with metal T-bar stays are better choices for the additional stability they provide.
Added features
All knee stabilizers fulfill splinting needs, but they range in additional features they offer. From built-in ice packs for cold therapy to straps that provide compression therapy, there are additional options you can choose to reduce pain and swelling.
The Top 5:
#5 Bariatric Cutaway Knee Immobilizer with Elastic Straps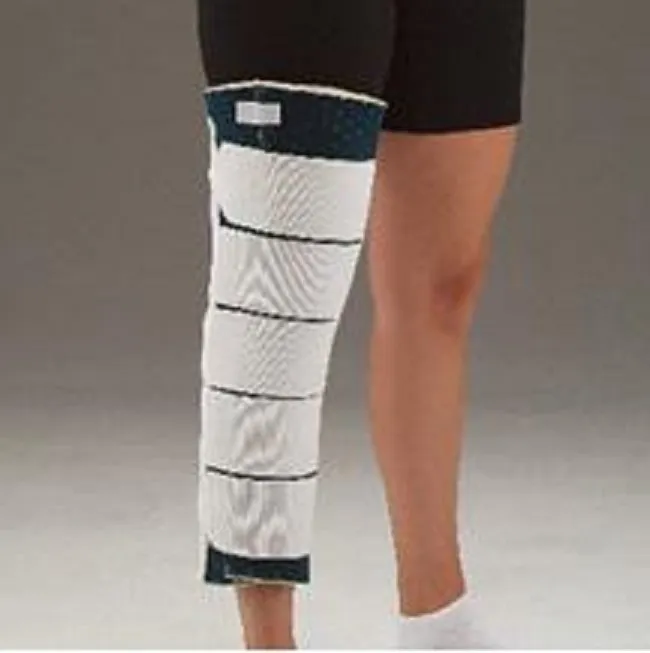 Made from perforated foam with elastic straps that add compression to reduce swelling, the Bariatric Cutaway Knee Immobilizer with Elastic Straps by DeRoyal enters our list at number 5. The knee can experience forces up to five times a person's body weight, bariatric patients are especially susceptible to knee issues.
This canvas and fabric model comes with or without T-bar stays, depending on the level of support needed. It has adjustable medial and lateral stays to provide a precise fit.
This knee immobilizer is ideally sized for bariatric patients who have had surgery and need to keep their knee from bending. Recommended for people with mild to severe injuries, it's best for accommodating a grade II or III collateral ligament sprain, osteochondral fracture, or a dislocated knee.
For a mobile bariatric patient who needs a lightweight and comfortable fit plus compression to minimize swelling, this knee stabilizer is a great choice. For providers who want to order in bulk, this knee stabilizer can be ordered in cases of five.
Features and Benefits
Can be ordered in circumference up to 40 inches and with or without T-bar stays to create a proper customized fit
Sized appropriately to accommodate bariatric patients
Promotes healing of mild to severe injuries
Lightweight and comfortable to encourage compliance
Compression therapy helps reduce edema
Pros
Nice to find a immobilizer that is truly designed for bariatric patients
Soft enough not to irritate skin
Strong enough to keep the leg from bending
Easy to put on and take off
Cons
Children and short adults could find it difficult to get a perfect fit
Does not come with care instructions
#4 Tri Panel Knee Immobilizer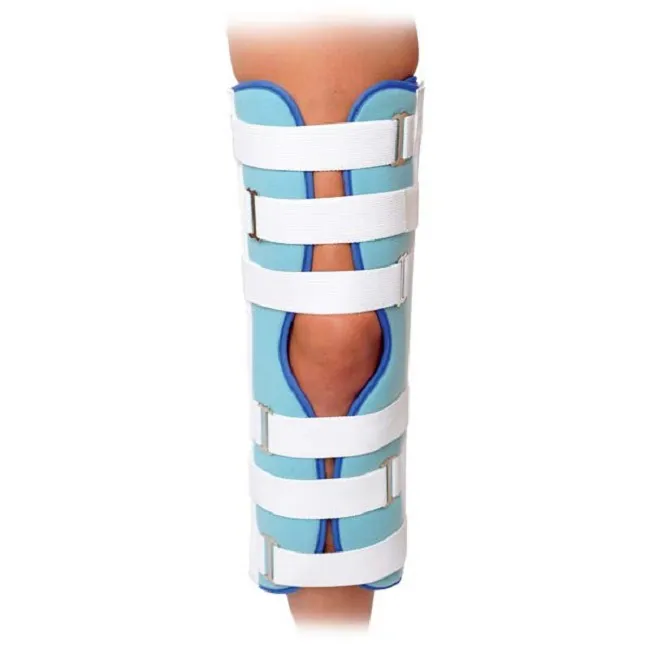 The Tri Panel Knee Immobilizer by Advanced Orthopaidics is number 4 on our list, featuring choices that allow for an anatomical fit.
Available in circumferences of 14, 20, and 24 inches, this knee immobilizer has movable side panels for medial and lateral stay positioning and adjustable hook-and-loop straps to benefit patients recovering from sprains, strains, and injuries to the PCL, MCL, and LCL. It is designed with three contoured posterior stays, two medial and two lateral stays. Strap length can be trimmed to fit, and it adjusts as swelling reduces during recovery.
This model's customization options make it a great fit for a lot of people. If you appreciate being able to make adjustments according to how your healing is progressing, this knee immobilizer can provide you with customized comfort from an easy-to-apply treatment device that will make it easy to follow your healthcare provider's instructions.
Features and Benefits
Provides anatomical fit
Movable side panels to position medial and lateral stays
Treats injuries such as sprains and strains
Adjustable
Available in multiple sizes
Pros
Adjustability makes it easier to get a good fit
Sturdier than other models tried
Comfortable and lightweight
Can be adjusted to wear over or under clothes
Cons
Has to be hand washed
Stays will bend if you "cheat" and start flexing knee
#3 Procare Quick-Fit Basic Knee Splint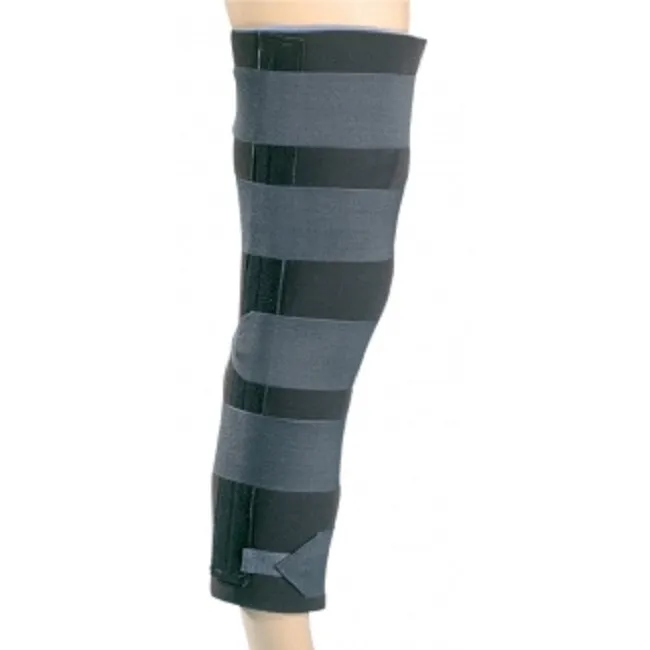 Coming in at number 3 on our list of top picks is the Procare Quick-Fit Basic Knee Splint by Chattanooga. The compression factor provided by the three-inch wide straps plus its easy-to-fit sizing creates the perfect healing environment after an injury or procedure when the knee shouldn't bend.
Made of foam laminate with elastic contact closure straps, it fits a wide range of body heights, coming in lengths of 10, 12, 14, 16, 18, 20, 22, 24, and 26 inches. It has dual contoured I-beam posterior stays and movable medial and lateral double stay casting.
This knee immobilizer made our list of top picks because it provides the combined benefits of being able to fit a large number of people with its available lengths, while delivering customized comfort through its movable medial and lateral double stays. Its rigidity and strength can be counted on to keep the knee immobilized, its wide straps ensure it stays put while providing compression to help relieve swelling, and it is comfortable to wear.
Features and Benefits
Foam laminate
Dual contoured, I-beam posterior stays
3-inch elastic straps keep it correctly positioned while providing compression therapy
Movable medial and lateral stay castings to aid in proper fitting
Provides a great fit for most people
Pros
Easy to apply and adjust as you heal
Very supportive with a great fit
Simple design that works to keep knee from bending
Reduces swelling, reducing pain
Stays put while walking
Cons
People with thin legs might find it hard to get tight enough
Gets sweaty if worn against bare skin
#2 Medi-Wrap Adult Arm or Leg Immobilizer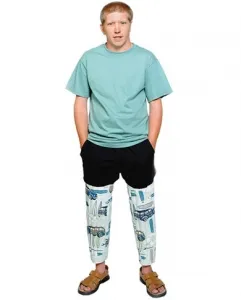 The number 2 entry on our list is the Medi-Wrap Adult Arm or Leg Immobilizer by Medi Kid Co, and it's unique in that it's the only entry on our list that can double as a leg or arm immobilizer.
It is useful for home care, in-patient hospital care, or outpatient physical therapy. The level of rigidity and support can be adjusted by adding or removing plastic inserts. The hook-and-loop closures make it easy to put on and secure for a good fit.
The immobilizer comes in 15, 17, and 19 inch lengths. It can fit most body frames, including those of bariatric patients, accommodating ankle circumferences ranging from 5 to 14 inches and thigh circumferences of 8 to 19 inches.
These devices have an outer layer of cotton, a middle layer of poly-fill, and an inner lining of cotton. This design provides comfortable, breathable support with or without the accompanying plastic inserts. The immobilizers come in packages of two. A unique feature is that, although most knee stabilizers are used for walking or standing and are removed at night, these lightweight versions can be used as night splints.
This is a no-frills option that is actually quite versatile. For the patient wanting something easy to use and comfortable, especially if it needs to be worn at night, this leg immobilizing splint comes in several sizing options, so it will serve a wide range of patients seeking a simple, comfortable knee immobilizer.
Features and Benefits
Removable plastic inserts provide additional stability
Promotes independence by being easy to put on and take off
Hook-and-loop closures help create customized fit
Cotton and polyester construction make it lightweight and comfortable
Can be worn at night to provide consistent comfortable support
Pros
Machine wash and dry for easy cleaning
Order once to get a set so both can be worn at night
Cotton lining doesn't irritate skin with prolonged use
Like that it can be put on without assistance
Cons
Colors vary and I couldn't get the color I wanted
Only needed one, but it comes with two
#1 Contoured Cutaway Knee Immobilizer
Taking the top spot on our list is the Contoured Cutaway Knee Immobilizer by DeRoyal. Knee pain is one of the most common reasons people visit orthopedic surgeons, and this knee immobilizer is recommended for patients who have been through knee surgery.
Healing from surgery must allow for internal and external recovery not just from the original injury, but from the tissue trauma of invasive treatment. Because there is so much healing to be done after an operation, it can be especially important to make sure the leg absolutely does not bend while walking or standing in the days following knee surgery.
This leg-immobilizing splint is easy to put on and its simple quick fit tabs make sure it stays in position. A benefit of this knee immobilizer is that it's made of perforated foam material, which improves air circulation and makes it much more comfortable and less likely to cause skin irritation.
For additional strength, this device has T-bar stays and for proper fit it has contoured posterior stays and adjustable lateral and medial stays.
Not just for surgical recovery, this knee immobilizer is well-suited in the treatment of mild to severe knee injuries, patellar dislocations, osteochondral fractures, and grade II and III collateral ligament sprains. It is our top choice because of its user-friendly versatility in appropriately treating knee issues that fall across a wide range of severity. It is adjustable enough to offer a good fit and appropriate support to just about every patient, and it delivers strong support paired with user comfort to promote a personalized healing experience.
Features and Benefits
T-bar stays provide optimal strength
Contoured posterior stays
Perforated foam construction encourages breathability
Adjustable medial and lateral stays allow for university sizing
Can be ordered in cases of 5 for therapeutic environments
Pros
Very comfortable and doesn't get sweaty
Easy to put on and take off without assistance
Definitely keeps knee from bending
Won't slip out of place
Cons
Light color shows dirt
Bulky
Conclusion
When an injury or surgical procedure requires you to keep your leg straight, a knee immobilizer is a much more comfortable option than a traditional plaster cast. Unlike a cast, these devices are more adjustable, and as swelling reduces, their level of support and the position of the straps can be changed accordingly. Also, often they can be taken off at night, which is conducive to better sleep and helps alleviate possible skin irritation. Each quality selection on our list can be counted on to deliver what it promises, with features that will provide users with a personalized experience and optimal healing environment.
FAQ
What is the difference between a knee immobilizer and knee brace?
Knee immobilizers are stiffer than knee braces, and are used in place of a heavy cast.
Can you walk with a knee immobilizer?
Yes, knee immobilizers are worn when walking or standing, and can usually be removed in bed or when sitting with your leg extended unless otherwise instructed by your healthcare provider.
Can I drive with a knee immobilizer?
No. Even if you drive a vehicle with automatic transmission and don't need both legs to operate your vehicle, you should not drive while you are suffering from any impairment.
How do I put on a straight leg immobilizer?
The knee immobilizer should be put on with the bars (stays) on either side of the knee. The knee should be at the halfway point of the brace, and you should fasten it starting at the bottom and working your way up.
What is a t-bar?
A T-bar is a kind of stay that is included in the design of a knee immobilizer because of the added strength it provides.
What is sizing for knee immobilizer?
The specific dimensions required to choose an appropriately sized knee immobilizer are the circumference of your thigh and the circumference of your calf, each measured about six inches from the middle of your kneecap. Since some knee immobilizers take the width of your kneecap into consideration when sizing, measure that as well by passing a tape measure over the widest point of the center of your kneecap.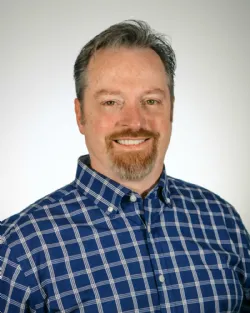 Author:
Mike Price, OT
Co-Founder of Rehabmart and an Occupational Therapist since 1993. Mike has spent his professional career working in multiple areas of Occupational Therapy, including pediatrics, geriatrics, hand therapy, ergonomics and inpatient / outpatient rehabilitation. Mike enjoys writing articles that help people solve complex therapeutic problems and make better product choices.
Meet all of our experts here!
Join 180,889 Subscribers!
---
Sours: https://www.rehabmart.com/post/top-5-best-knee-immobilizer-braces
How to Use a Knee Immobilizer
A knee immobilizer is a type of brace worn on the leg to lock the knee in extension and prevent motion of the joint. According to the American Academy of Family Physicians, a knee immobilizer is often used after an acute injury to the knee, such as a ligament rupture or a fracture. Knee immobilizers are also commonly prescribed after ACL or total knee replacement surgery. Proper use of the knee immobilizer is crucial to prevent the knee from bending.
Step 1
Place the knee immobilizer on an elevated, flat surface. If it comes with a pad for the back of the knee, place the pad in the appropriate spot.
Step 2
Lift and swing the affected leg until it rests on top of the brace, keeping the leg straight. Adjust the brace under the leg so the patellar opening in the middle lines up with the kneecap.
Step 3
Fasten the closure straps. Ossur, a manufacturer of braces and immobilizers, suggests fastening the straps from the bottom of the leg up and pulling the straps snug.
Step 4
Check for proper fit. The patellar opening should be directly over the kneecap, and the brace should not slip when the patient stands.
Step 5
Try to walk while wearing the knee immobilizer to better assess the fit. If the brace slips, sit back down and start at the beginning, pulling the straps tighter.
Warning
Never use a knee immobilizer for longer than indicated by a physician. Doing so can lead to severe loss of knee motion.
Sours: https://www.livestrong.com/article/131942-how-use-knee-immobilizer/
Knee Immobiliser, Tri Panel - Fitting Instructions
This surprised me and I asked: Are you feeling bad. Can I help you?. Help. - She said and spread her legs invitingly.
Purpose knee immobilizer
Silence hung in the air for a moment. Olya fell silent, looked into my eyes and waited. Her handle hung in the ring of my closed fingers, which made her fingers gracefully protrude towards me. I bent down a little and brought my lips to her middle finger, wrapped my lips around it, and now her finger was in my mouth.
Fire flashed in her eyes, and in a split second she released her hand from mine and greedily grabbed my face with her.
How to put on a straight leg immobilizer - Mercy Health
Don't think, it's not just me, it was Irka and I who consulted. and decided together. - In short, Slavik. And then you yourself will forget what you wanted to say.
You will also like:
But the dog knew no mercy. He was an excellent dog who enjoyed not only the very fact of mating, but also the fact that the Boss himself praised him for every mating. From the very moment when the Boss hit the Little Daughter, he excluded her from the list of untouchables. The owner was angry and upset with Little Daughter, to such an extent that he hit her, as he once beat his dog.
577
578
579
580
581