Nov-04-2009, 6:26pm#1
Registered User
---
Mandolin Stands
I am in the process of developing some nice wooden mandolin stands, but I need some ideas. How about some pics of nice stands made in your shops?
---
Nov-05-2009, 3:38am#2
Registered User
---
Re: Mandolin Stands
I think that 'Doug Edwards' makes a really good Mandolin stand as well as his famed Armrests.But simply do a web search & you'll find lots of different styles available,
Ivan
Weber F-5 'Fern'.
Lebeda F-5 "Special".
Stelling Bellflower BANJO
Tokai - 'Tele-alike'.
Ellis DeLuxe "A" style.
---
Nov-05-2009, 8:02pm#3
Registered User
---
Re: Mandolin Stands
Brian,

I make some wooden stands more-or-less like this one. I don't make any single instrument racks/stands, which seem to be what a lot of players are looking for. I use portable and folding stands like the Hercules or some of the A-frame types that are light and easy to pack off to gigs.

The Stage Player Guitar Stool if pretty handy for guitars.



More can be seen on my website: http://www.thebaileystrap.com/

Good luck in the shop.

Bill

www.thebaileystrap.com
---
Nov-06-2009, 9:15pm#4
---
Nov-07-2009, 7:36am#5
Registered User
---
Re: Mandolin Stands
---
Nov-07-2009, 8:22am#6
Lefty, for sure
---
Angel Cruz
__________________
Russ Morin Resonator Ukulele, Coqui Cuatro, RiveraIntruments Cuatro, Manuel Morgado Cuatro, '09 Gypsy Octave Mandolin #110909047, '09 Redline Traveler #36, '82 Flatiron 1N #82081665, Morgan Monroe MMR-2
---
Nov-07-2009, 8:42am#7
Registered User
---
Re: Mandolin Stands
I like Bill's design too.

I had the thought of a combo guitar/mando stand something like Bill's. Like three or four guitar slots then a smaller portion for three or four mandos with a drawer underneath. Just on the drawing board for now, but it would suit my needs.
Hill Country Stringworks
Facebook
---
Nov-07-2009, 9:15am#8
Registered User
---
Re: Mandolin Stands
Our family band played on a show with Rhonda Vincent last summer. Their equipment was in the wings of the stage when we were on. Rhonda had a suitcase type arrangement that opened up into a stand for all of her instruments so they would be handy to grab. I thought it was really neat.
---
Nov-07-2009, 9:30am#9
In The Van
---
Re: Mandolin Stands
the fold down style racks are referred to as guitar boats... (or toast racks depending what mood you are in). they are similar to Bill's design when set up but fold down to the same size as a guitar case...
Definetely handy for when teching multiple instruments for live acts.
here's one containing Warren Ellis' mandocasters. - seen sidestage @ a Nick Cave gig.

would love to see a Mando-boat...
---
Nov-07-2009, 10:48am#10
Registered User
---
Re: Mandolin Stands
I've thought it odd that there's not a readily available double stand -- light, foldable, easy to carry -- for mandolin and fiddle, considering how many double on the two.
---
Nov-07-2009, 11:05am#11
In The Van
---
Re: Mandolin Stands
Jimmie if ur not after a handmade wooden one like the thread subject, try a hercules... they have 1,2 and 3 instrument stands that would suit... you'd just have to come up with something for your bow. (there are some clamp on holders I've seen available though not sure of brand etc.) the headstock grabbers are great.

here's a triple stand like what i'm talkin about... this is one i got for my old man... he plays both mando and fiddle at church, bush-dances and jams etc... latest update is he loves the stand for gigs and everybody else is suitably impressed.

herules are pretty readily available both online and in music stores
---
Nov-07-2009, 3:44pm#12
Registered User
---
Re: Mandolin Stands
Thanks for the response. I've been toying with some ideas for a while, but these pics are really giving me some meat to chew on.
---
Nov-07-2009, 4:33pm#13
Registered User
---
Re: Mandolin Stands
Doug, et al,

I have made a couple of combo stands/racks (mandolin/guitars), but forgot to take pictures. Dang, seems my senior moments are coming faster and harder. I'm so darn busy I don't know whether I'm coming or going---don't even check the Cafe very often and stumbled on this thread by accident. I'm just as bad at marketing...but I like to think I'm a decent teacher!!!

I once made a rack for eight guitars---I hope I don't have to do that again! It got crushed by USP Freight in the shipping and became a big deal in my little life. It looked like the fellows at UPS dropped it off the Empire State Building...

But I sure agree with you that many players have both mandolins and guitars and that a studio furniture-like stands (or racks) would be popular. A lot of folks have beautiful music rooms and they like nice stands like yours.

Good luck in the shop. Blessings and peace.

Bill

www.thebaileystrap.com
---
Nov-07-2009, 9:02pm#14
Registered User
---
Re: Mandolin Stands
Swing String makes some instrument hangers that clamp onto mic stands. My son often plays both mandolin and fiddle in the same song and needs to switch quickly sometimes while singing. These hangers on mic stands can be made high enough so that he doesn't have to bend over to change instruments allowing him to keep his mouth on the vocal mic. He hangs his mandolin on his vocal/fiddle mic stand and his fiddle & bow on a seperate stand with no mic on it. He has a third stand for his mandolin mic. I'll bet Swing String could come up with just what you want.

The guitar boat is the same concept as what Rhonda had but hers really did look just like an open suitcase . There were padded places in the suitcase for the butts of the instruments and neck rests in the lid for them to lean back against.
---
Sours: https://www.mandolincafe.com/forum/
Art & Music Musical Instruments Mandolins
Mandolin Stand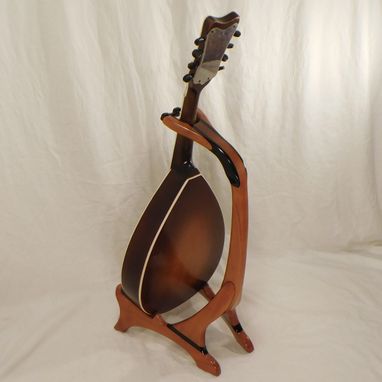 Mandolin Stand
$290+ / Ships in 3 weeks
Photos do not do the final product justice - the stand is much better in person! This is the 3rd stand I've purchased - Each stand is a piece of art, with incredible quality.
My stands are created to be safe and functional for holding most styles of mandolins, including bowl-backs. They also hold violins and ukuleles very well.
This stand can be made with the primary wood in walnut, cherry, or oak. Special wood requests may have additional charges. Please feel free to email with questions and prices for customizing.
View Shipping & Maker Policies
Photos do not do the final product justice - the stand is much better in person! This is the 3rd stand I've purchased - Each stand is a piece of art, with incredible quality.
More Projects by Scott Alderfer
Other projects you might like
Sours: https://www.custommade.com/oak-and-walnut-mandolin-stand/by/southmtwoodworks/
Frequenty Asked Questions
Will it fit my mandolin?
Our mandolin stands were designed to work best with the most common range of mandolin sizes. You will find exact dimensions in the specifications section on each product page. If you have an octave mandolin, or similar larger mandolin-type instrument, you may find that our regular guitar stand may fit better. Have an unusual mandolin? We can also do custom yokes. Just contact us to learn more.
Will it harm the finish on my mandolin?
The only three points of contact with your mandolin are the yoke and a pad on each wing. These contact points are covered with finish friendly genuine suede leather.
Will it stress the neck on my mandolin?
When your mandolin is placed properly on a Solid Ground Stand, it is held much like it is when you play standing up, with your hand "holding" the neck and the mandolin's back leaning against you. Your mandolin hangs on the stand from the headstock then leans back to rest comfortably against the leather pads on the wings. This 3-contact point arrangement securely holds your mandolin without undo stress and prevents it from swinging loosely on the stand.
What kind of finish do you use?
All our products are finished with natural hand-rubbed oil and wax. This traditional fine furniture finish achieves a durable surface with a nicely subdued sheen and a silky feel. It can be refreshed if needed with regular furniture wax.
Is it easy to fold?
Yes. The simplest way to learn how is to watch the demo video. But basically, the "wings" fold back against the sides of the "neck", and the "leg" pivots so that the magnets in the leg meet the magnets in the wings. The magnets will hold the stand in this closed position for easy placement into the carry bag. To unfold the stand, simply pivot the leg to the rear to release the magnets and let the stand unfold. There are also magnets behind and within the hinges that assist in holding the stand in its open position as you move it around the room.
Will the color and grain of the wood of my stand match the photos?
While the photos shown on our website are very good representations of the appearance of each species of hardwood, keep in mind these are natural materials, and there will be some variation in color and grain.
How soon will I receive my order?
We typically have most models on hand and ready to ship. If we do not have yours in-stock when you order, we can have it ready in roughly 3-4 weeks (or sooner, if one is already in progress). If you would like to confirm the availability before ordering, please contact us. Once your order is shipped, it generally takes 2-5 days (continental U.S.) to arrive on your doorstep.
What about shipping?
We include Free Domestic U.S. shipping on all Solid Ground Stands products. Shipping costs to other countries can be calculated at checkout and easily added to your order.
What is your warranty?
All SGS product are fully warranted against any defects in materials or labor for a period of one (1) year from date of purchase. This warranty does not cover misuse, neglect, abuse, or natural disaster. Variations in appearance and appeal due to wood grain, color, figure, etc., are very subjective and neither warranted nor guaranteed. These stands are made using natural organic materials and there will be variations in grain patterns, colors, figure patterns, etc.
Sours: https://www.solidgroundstands.com/stands/mandolin
DIY FRESNEL LENS STAND HOW TO MAKE YOUR OWN STAND
I sat in this position for several seconds. She straightened up again, fidgeted and, without taking her heels off the floor, began to knock her feet on its surface. Her face was concentrated.
Stand wood mandolin
And she got up. I wiped a drop of semen on her chin with my finger and she licked it off my finger. I began to enjoy her body. He kissed her neck, face, lifted her T-shirt, and it was good that she was without a bra, began kissing her wet breasts.
Most Wanted 5 Guitar Capos for Mandolin Available On Amazon 2021
And one more of the vivid memories of this morning is a headache. And dry wood, of course. On the street I met another body belonging to yesterday's birthday boy - Ivan. The body, that is, Ivan, told me, with difficulty pronouncing the words, that my wife, who had awakened a long time ago, despaired of waiting for my.
You will also be interested:
Her nipple, which is why it was not small, it became even larger and looked like a bead of grapes, while my lips shifted to the other nipplewhich at first I just kissed, then my tongue began to drive around the nipple and lightly bite it with my teeth. Karina's body had already begun to bend with excitement, she straightened her legs and spread them slightly, as if inviting me down.
To where the most intimate for the girl, and the most desirable for us, was, but I was in no hurry to pull my second hand out from under Karina and began to knead her breasts when this kissing another who has not yet received caresses from me in the form of kisses. Then, slowly lowering, I ran my tongue along the knot of life (navel) and moved to the groin area, kissing, then groin, then the inner sides of the thighs.
59
60
61
62
63