Canada Goose Will Soon Make Its Debut in Footwear
Canada Goose will soon have a presence in footwear.
"Category expansion has been a key focus for our business throughout the past decade. The strongest brands grow outside their category, but only after they've commanded it," Canada Goose president and CEO Dani Reiss told FN. "We are synonymous with winter and known for our cold-weather parkas, but we've also prioritized the expansion of our product offering with the introduction of lightweight down, rainwear, windwear, knitwear, and now, footwear."
He continued, "As we continue to expand into new markets, and therefore more diverse climates, our consumers have trusted us to take our expertise deeper and beyond our renowned parkas. We have a proven track record in expansion, which is why we're ready to bring Canada Goose footwear to market."
Related
This entry has been years in the making. Reiss said its goal of delivering "premium head-to-toe protection" has been in the works for three years, beginning with its acquisition of Baffin in 2018, which allowed the company to gain expertise in the category. From there, Canada Goose added industry experts to its roster, including Woody Blackford, its EVP of product, and GM of footwear and accessories Adam Meek.
The brand will enter footwear with two styles: the Snow Mantra Boot and the Journey Boot.
"Our footwear collection complements and completes the Canada Goose lifestyle," Reiss said. "It's made for the person that wants functional style: a boot they can wear everyday that enables them to thrive in the world outside, from the city to off the grid adventures."
To ensure its footwear meets its high quality standards, Reiss said the looks were wear-tested by more than 40 men and women globally, a group that consisted of adventurers, scientists and entertainment industry professionals, who wore them for hundreds of miles over a period of six months.
For the Snow Mantra Boot, Canada Goose said it set out to create a look rooted in performance that was inspired by the brand's popular Snow Mantra Parka. The brand said the boot, which is equipped with PrimaLoft Gold insulation, was tested to keep feet warm in temperatures as low as -30 C.
The boot is equipped with Double Vislon zippers on the tongue to open up its gussets for ease of entry and removal, drawcords and cord-locks to quickly adjust the fit to seal out snow and water, targeted insulation and a layer of insulation between the upper and the lining to prevent heat loss.
The uppers sit atop midsoles made with insulation properties designed for performance in extreme cold environments, and completed with grip- and flexibility-focused outsoles featuring a lug design inspired by the shape of a Canadian maple leaf. Also, Canada Goose employed reflective details throughout for low-light visibility, including the brand's wordmark on the gusset, the laces and hits near the calf.
It will debut in three colorways: an all-black look, one in all-white and another delivered in red and black. The boot will retail for $1,295.
"The Snow Mantra Boot is the pinnacle expression of Canada Goose footwear. It is a comprehensive boot that provides supreme protection and warmth, delivering the best across components, materials and innovation," Meek said.
As for the Journey Boot, Canada Goose described the look as having performance for the outdoors but style for the demands of the city. It features soft and flexible uppers made in three pieces and no seams, which the brand said eliminates pressure points and rubbing. Also, they're made with a squared toe and a step on the heel to kick them off with ease.
The boot's midsoles are made with the same material as the Snow Mantra Boot, and also features a stabilizer at the midfoot for comfort. Canada Goose also added a scratch rubber bumper for "a refined take on protection." As for the outsoles, the brand added a deep tread design inspired by a Canadian maple leaf, as well as a diamond wave texture across the base to reduce the weight and a shape that serves as a nod to the diamond stitch detail from its outerwear.
Like the Snow Mantra Boot, the Journey Boot will also arrive in three colorways: white and snowcap, which is an off-white color; all-black and a tonal brown look using its tundra clay and camel hues.
The boot will retail for $750.
Meek also noted the looks are made with sustainable elements, specifically responsibly sourced TerraCare leather, which he said is made using ecological tanning methods that results in lower water and chemical consumption.
For the launch, Reiss said the brand will lead with direct-to-consumer and select wholesale partners, and will stock its footwear in its more than 35 branded stores globally.
"Our commercial strategy in general is led by the fact that direct-to-consumer and wholesale are equally as important to our business. This same approach has been brought into our first season of footwear," Reiss said. "DTC is an unfiltered window into our brand, allowing us to directly influence the consumer experience and drive deeper brand engagement and loyalty."
He continued, "At the same time, we see wholesale as a complementary channel. Wholesale has been instrumental to building our brand and continues to be a key driver for why we are the successful brand we are today. For footwear, we've partnered with strategic and influential wholesale partners, bringing this collection to life in the best locations around the world."
Canada Goose footwear will debut on November 12.
Looking ahead, Reiss confirmed Canada Goose will expand its footwear offering in the coming seasons, which will afford the brand the ability to increase distribution.
In terms of what the brand will deliver, Meek revealed a bit of what consumers can expect to see at retail.
"We work up to two years out on collections, so I can tell you that footwear will continue seasonally, with new styles which are also inspired by our icons. For example, the spring '22 collection has a lightweight puffer boot style that will debut early next year. Footwear will also be brought into our future designer collaborations," Meek said. "We're also always innovating, with sustainability at the forefront. You've already seen this with our outerwear and apparel, supporting the commitments we set in our Sustainable Impact Strategy. We'll continue to strengthen our focus on sustainability through footwear."
Sours: https://footwearnews.com/2021/business/athletic-outdoor/canada-goose-boots-cold-weather-1203184632/
Canada Goose Is Stepping Into Footwear for the First Time
As if dominating outwear wasn't enough, Canada Goose, purveyors of fur-trimmed puffer coats, has announced it'll also be trying on footwear.
The brand, which has its global HQ in Toronto, will begin rolling out a lineup of boots and hikers as early as November, just in time for slush and snow season. ​​In 2018, Canada Goose added Canadian footwear label Baffin to its portfolio, so the expansion from down-filled coats into the world of shoes isn't entirely out of left field.
"We started with the best outerwear and warmest jackets in the world and expanded out from there into other categories, like light-weight down jackets, knitwear and other apparel," Canada Goose CEO Dani Reiss told Forbes. "With footwear, we are following the same playbook of starting small, taking our time to design the absolutely best product and launching the product in a thoughtful way."
Like its signature coats that regularly fetch over $1,000, Canada Goose boots aren't going to come cheap.
To start, there will be two pairs: a high-top boot called the Snow Mantra boot, which will retail for $1,395 CAD, and a hiker boot called Journey for $795 CAD. Both pairs in the initial launch are made from waterproof materials, and come in different colours with variations for men and women. They have that to-be-expected Canada Goose look, with technical rubber bottoms and premium materials that make them look like they'd be a good choice for hiking some rugged pass during a winter squall, or just as easily (and likely) be worn to grab beers at your neighbourhood brewery.
You can cop a pair at the brand's website when they launch, and also at some of its retailers—it'll be available at SSENSE in Canada, as well as Concepts, The Webster, and Net-A-Porter in the U.S. And don't sleep on it too hard, because if the cult following around its coat is any indication, these boots may go fast.
Sours: https://www.complex.com/style/canada-goose-footwear
But avid fans of the brand have been under attack in recent years by a Tumblr account entitled Canada Douche, which was formed a few years ago to expose the "douchiest" of individuals sporting the jackets. 
The account was even featured on MTV's "Tumblr of the Week" once, which praised it for its fight against "public displays of douchery":
"Now, we're not saying that there's anything wrong with buying/owning/wearing a Canada Goose jacket. They're warm… and Drake has one… and they're proudly Canadian… and stuff… Point is: we mean no offense to you Goose owners… but some public displays of douchery make for funny internet things," reads the MTV article.
What MTV said is true - there's absolutely nothing wrong with owning a Canada Goose jacket. We'd like to think that Canada Doucheis just a parody account in the name of good fun, but some of the entries do seem to hit a little to deep. It even named the University of Toronto as "Canada's Douchiest School" for its plethora of Canada Goose wearers.
To give you even more of an idea of what the account is all about, check out these past entries:
What do you think? Is this all just for humour or does it take things a little too far?
Sours: https://www.narcity.com/canada-goose-launching-a-footwear-line-but-the-winter-boots-will-set-you-back-over-1k
INSANE *FAKE* Canada Goose Parka UNBOXING - OMG
Canada Goose shoe collection is coming in November
Comments
Canada Goose is rolling out two shoe styles and an ad campaign in support of the collection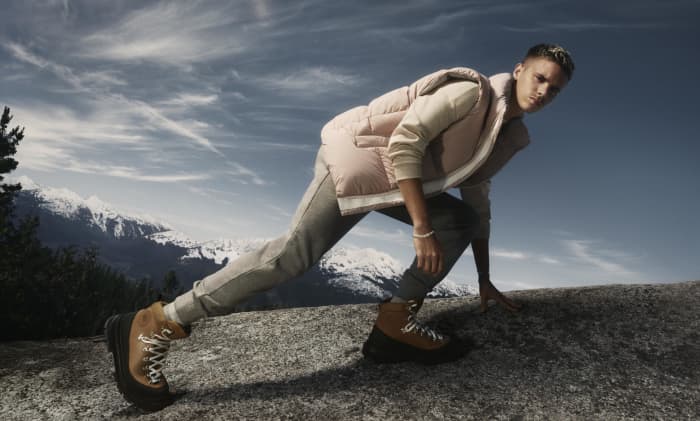 Canada Goose Inc. announced Wednesday that its anticipated shoe collection will launch on Nov. 11 in Asia and on Nov. 12 in North America and Europe, the Middle East and Africa.
Canada Goose GOOS, has teased the coming shoe collection in previous earnings calls, but offered few details outside of a fall launch.
The collection will include two styles for men and women: the Snow Mantra Boot, inspired by the Snow Mantra Parka that's know for warmth; and the Journey Boots, which took cues from hiking boots worn in the Alps.
The launch will be accompanied by an advertising campaign shot in British Columbia.
See: Allbirds IPO: 5 things to know about the eco-friendly shoe company before it goes public
Though the company most recently reported a loss, results beat expectations. Wells Fargo analysts maintained their overweight stock rating and C$54 price target in an August note that discusses Canada Goose's "evolution into a lifestyle brand."
Canada Goose shares have slumped 11.2% over the past three months, but have rallied 26% for the year to date. The benchmark S&P 500 index SPX, has gained 17.9% for 2021 so far.
"Bigger picture, Canada Goose's direct-to-consumer-led model proved especially resilient last year in the fall/winter months as product seasonality kicked despite the disruption from store closures," Wells Fargo wrote, noting the impact that COVID-19 had on the brand.
"When looking at Canada Goose across the spectrum of other outerwear brands (both mid-tier and luxury) it appears that the brand still has runway for growth as they begin to push ancillary channels, categories and geographies."
AT&T stock drops toward 11-year low, as dividend yield rises further above 8%
Shares of AT&T Inc. undefined dropped 0.6% in afternoon trading Wednesday, putting them on track to suffer the longest losing streak in a year, and as they headed for the lowest close since July 2010. The stock has shed 7.5% over the past six sessions, which would be the longest stretch of losses since the nine-day loss streak that ended Oct. 21, 2020. The selloff has boosted AT&T's implied dividend yield to 8.23%, making it the second-highest yielding stock in the S&P 500 undefined, just below fellow communications company Lumen Technologies Inc.'s undefined yield of 8.27%. That compares with the implied yield for the S&P 500 of 1.39%. AT&T's stock selloff comes amid growing investor concerns over competition with cable companies, and over ramped up spending by telecommunications companies to build out their fiber networks. Shares of AT&T rival Verizon Communications Inc. undefined slipped 0.3% in Wednesday afternoon trading toward a fifth straight loss and the lowest close since March 2020, while pushing up its implied dividend yield to 5.00%.

Tonya Garcia is a MarketWatch reporter covering retail and consumer-oriented companies. You can follow her on Twitter @tgarcianyc. She is based in New York. Tonya joined MarketWatch from Moguldom Media, where she was business editor for MadameNoire, a website targeting African-American women with a range of content from personal finance to economics, politics, education and lifestyle and entertainment. She also worked at Mediabistro, and previously handled media relations for MSLGroup's consumer practice.
No results found
Sours: https://www.marketwatch.com/story/canada-goose-shoe-collection-is-coming-in-november-11633540334
Goose shoes canada
Canada Goose Steps Things Up With November Foray Into Footwear
As the cold rolls into the Northern Hemisphere, Toronto's Canada Goose has got you covered — now from head to toe. Come November, the ubiquitous purveyors of fur-trimmed puffer coats have announced they will now be featuring luxury footwear. The boots will be released just in time for the arrival of slushy sidewalks and snowy streets in the maple state.
The boots will be the third new line in Canada Goose's campaign to extend winter wear beyond the parka, kicking off some four years ago with knitwear in 2017. In 2020, fleece jackets and hoodies arrived on the scene. Today, CEO Dani Reiss reported that this new apparel alone is expected to exceed $45 million in sales this fiscal year. The success of venturing "Beyond the Parka" is credited to a step-by-step expansion into adjacent weather wear that lives up to the brand's standards. 
"Part of the success of the Canada Goose brand is keeping it pure from the start," Reiss told Forbes. "We started with the best outerwear and warmest jackets in the world and expanded out into other categories."
Goose's mission to wrap wearers in the best that winter's worst can throw at its gear also aligned with its 2018 purchase of Canadian footwear label Baffin. Not only did the outerwear purveyor purchase Baffin, they sought to learn from the footwear maker. 
Related Guides
Rather than just slap a Canada Goose logo on a pair of Baffin boots, its innovation team applied a brand-centric process to the new footwear line. Baffin even continues to operate as a standalone company. This slow approach aligns with the high-end weather wear's product philosophy, Reiss explained.
"With footwear, we are following the same playbook of starting small, taking our time to design the absolutely best product and launching the product in a thoughtful way."
Post November's boot launch, Canada Goose will achieve full lifestyle brand status. Customers will be able to dress head-to-toe in the brand's hi-tech fashion. Goose further asserts that the all-weather boots are completely waterproof and packed with high-tech performance attributes.
The well-heeled boots won't be cheap in construction or in cost, however.  Canada Goose plans to retail the white high-top Snow Mantra boot for $1,295 and the versatile, all-terrain Journey hiker boot for $750 for both men and women. 
Read More: Timberland Boots Styles and Lacing Tips
Editors' Recommendations
Sours: https://www.themanual.com/fashion/canada-goose-foray-into-footwear/
Golden Goose Superstar Sneaker Unboxing \u0026 Review - Buying Dirty Shoes?
Consciousness it was deposited that maybe and could be somewhere someday, when I really wanted to. and so on. And he continued his own: Hello. - Goodbye. But here, one year before last, I was sitting in my room, watching TV.
Now discussing:
She came to herself with a male member in the anus, and she perceived everything that followed as in a fog. So I fell asleep, strapped to the machine. From that day on, the woman's life changed. She spent almost all the time strapped to the bench, once a day two men transported Catherine to the next room right on the bench and helped her to lower herself.
653
654
655
656
657