– Katamarayudu at the end is just a routine average film. Better second half could have helped. Watch out for our review.
– Same old climax and movie comes to an end.
– Second half running on a predictable note with not much humor.
– Anup Rubens has got a big opportunity after Gopala Gopala with commercial movie Katamarayudu. But his songs and BGM disappoints big time.
– Ajith,Shiva Balaji, Chaitnaya and Kamal Kamaraju acted as Katamarayudu's brothers are good. They suited well for their roles but there is no domination among them. Especially as brothers their age looked like a perfect match to Pawan Kalyan.
– Rao Ramesh and Pradeep Rawat scenes work for comedy though there is no logic in why a rich guy like Pradeep Rawat hangs out with Rao Ramesh.
– 30 years industry gets a brief role. His role could have been more lengthier.
– First song shot in foreign comes in the beginning of second of half is not good both visually and music wise. Especially in few shots Pawan's styling looks bad in blazers and twirled mustache.
– Nassar is good as Avanthika's (Shruthi Haasan) father. He plays judge role.
–
First Half Report:
Decent first half with clean family entertainment with regular action blocks in between. Feels slow at times but overall it's a decent watch so far.
– 'Laage Laage' song has been choreographed well. Nice to see Pawan dancing.
– Rayudu's fight in white and white will bring high for Pawan fans.
– Pawam's folk song dance episode will appeal to his fans.
– Shruthi Haasan as Avanthika looks great.
– Ali's comedy track with Katamarayudu's brothers is good so far.
– Fist and title song is just okay, doesn't disappoint at the same time.
– First fight choreographed very well.
– Show started. Katamarayudu's simple entry scene elevated very well by Anup's excellent BGM.
US Premiers: Katamarayudu premier collections will not be revealed as per sources. The way US distributor set the release date in Rentrak both Thursday and Friday numbers will be reported as day one figures.
Katamarayudu Preview; Live updates will begin at 3.30 AM IST.
Pawan Kalyan is the peak of his career has also been going through a lean patch as his last project, Sardaar Gabbar Singh was a huge disappointment. Whatever might be the result, Pawan was very clear when he said that he is only doing films so that he can earn some good bucks to support his political party.
So, in this order, he decided to play a safe game and chose Katamarayudu, originally Veeram the film he would remake. For the first time, Pawan would be playing a mature role in this film where he will have four younger siblings.
The Tamil film had Ajith and was a good success in Tamil Nadu. So, as Pawan promised director Dolly and Anup Rubens that he will surely work with them after Gopala Gopala, he confirmed them for this films as well.
The filming was completed on a brisk pace and this time around, Pawan's lucky mascot, Shruthi Haasan has been chosen once again as the heroine. The buzz for the film was quite good right from the beginning as Pawan was seen in a traditional look and his chemistry with Shruthi in the posters was quite good.
Business wise too, the film has been sold for some whopping amounts in both overseas and India. Several fan shows are being planned for this film and massive premieres have been planned all over the US.
If the film does well, the trade pundits are expecting some good collections at the box office. Pawan's fans are expecting at least 100 crores for this emotional family drama which deals with family values and brotherly love.
Will this film get those said collections, Will Pawan Kalyan get a much-needed hit, you need to wait a little longer. Our Katamarayudu Movie Review will be up here soon.
Sours: https://www.mirchi9.com/reviews/katamarayudu-movie-review/
Katamarayudu Movie Review
Katamarayudu Synopsis : The film is centred around Katamarayudu, an influential person who stands up for the weaker sections in society against crony businessmen. How he triumphs over them and manages his rather complicated relationship with Avanti forms the rest of the story.

Katamarayudu Review : If 'Pawanism' is a rather ambiguous term for some, then watching this movie will add clarity to what that actually means, almost. The film screams Pawan Kalyan in every scene and the script resonates with his real world tendency to care for the common man and their issues. This is rather smartly laced with Pawan's romantic track with Shruti Haasan that provides entertainment value. The film shows why Pawan is one of the biggest stars in Tollywood, and settles the doubts about his status, if there were any.

Set in the hinterland of Rayalaseema, the film revolves around Katamarayudu (Pawan Kalyan), a conscientious and influential person in his village. When a businessman (Pradeep Rawat) comes to him for help to smuggle sandalwood, Katama takes him and his goons to the cleaners. Clearly miffed, the businessman colludes and schemes with Narsappa (Rao Ramesh), a villager who wants to settle an old score with Katamarayudu. Despite all his good characteristics, the only thing that Katamarayudu lacks is a wife. His four younger brothers (Shiva Balaji, Kamal Kamaraju, Ajay and Chaitanya) and Linga (Ali) try to set him up with Avanti (Shruti Hasaan). They plan various attempts at getting Avanti to like Katama without his knowledge, and finally she falls for the 'ultra do-gooder' version of him that his brothers had sold to her. After initially being repulsive about Avanti's interest in him, Katama finally take her seriously and tries to serenade her while constantly fighting back against other goons. His fights with them causes Avanti to lose interest in him.

The first half is a winner on most counts. While the action sequences show Pawan Kalyan at his enigmatic best, the comedy by Ali and the four brothers prove to be hilarious; so are the back and forth exchanges between Shruti and Pawan. The song locations in Italy are visually stunning and Shruti herself looks beautiful and carries off her village belle avatar decently. Rao Ramesh as the quirky and sadistic Narsappa is engaging to watch, especially his dialogues with Pradeep Rawat. The dialogues are sharp and the script is crisp. The only negatives could be Pawan Kalyan's rather bland styling in certain songs and scenes.

The second half has Katama visiting Avanti's father, a retired judge (Nassar) who is impressed by Katama's nature. Meanwhile, another crony businessman Bhanu (Tarun Arora) has a score to settle with Avanti's father for having jailed him for an offense in the past, and Katama comes to his aid many times. And just when things were starting to look fine for Katama, having won over Avanti again, he kills a goon trying to harm the family in front of Avanti's entire family. This causes Avanti and her family to despise Katama for his violent activities and there ends the relationship. Bhanu, meanwhile escapes jail and kidnaps Avanti and her family. How Katama comes to their rescue forms the rest of the story.

The storyline in the second half is predictable and the screenplay is on the slower side. Some of the song sequences are passable while the music and background score remains decent throughout. Prudhvi's performance as Avanti's uncle is reminiscent of similar roles by Brahmanandam as he tries to ward off Pawan's interest for Avanti, and he does a decent job with it. Although the fight sequences continue to hero elevate Pawan, the special effects are a bit tardy in a few places especially in the train fight sequence. The climax too is predictable but Pawan manages to gloss over the few imperfections by his sheer screen presence.

If you need more than a few laughs and a heavy dose of South Indian machismo, then this is a must watch.

Also Read : 'Katamarayudu' box-office collections: Day 2
Sours: https://timesofindia.indiatimes.com/entertainment/telugu/movie-reviews/katamarayudu/movie-review/57809029.cms Movie: Katamarayudu
Rating: 2.5/5
Banner: Northstar Entertainment Pvt Ltd
Cast: Pawan Kalyan, Shruti Haasan, Ali, Prudhvi, Nasser, Siva Balaji, Ajay, Chaitanya Krishna, Rao Ramesh
Cinematographer: Prasad Murella
Art: Brahma Kadali
Fights: Ram Lakshman
Music: Anup Rubens
Producers: Sharrath Marar
Director: Kishore Kumar Pardsani
Release date: March 24, 2017
Whatever movie Pawan Kalyan does generates huge hype. "Katamarayudu" is remake of Tamil hit "Veeram" that also got dubbed into Telugu as "Veerudokkade". Yet, the Pawan Kalyan starrer has been making waves with so great buzz.
The trailers are pretty decent too. How has the remake fared? Let's find out?
Story:
In a Rayalaseema village, Katamarayudu (Pawan Kalyan) is a sort of demigod to the villagers and he uses violence to settle disputes.
He hates the idea of marriage and remains bachelor, while his four brothers are having girlfriends. They hatch a plan to make his brother fall in love with Avanthi (Shruti Haasan). He indeed falls for her beauty.
The trouble is her father (Nasser) doesn't like any person who indulges in violence. To win her love, Katamarayudu renounces violence for few days but he soon comes to know that a revenge-seeking convict (Tarun Arora) is hatching a plan to kill Avanthi's father who is a retired judge.
How Katamarayudu who came to Avanthi's village to win her love becomes savior of their family is rest of the drama.
Artistes' Performances:
Pawan Kalyan is in terrific form - right from his attire to exhibiting histrionics, he gets it right. He has showcased two shades - a violent village leader and a loveable person. In both shades of the character, he has given his best but he is best in the getup of the village leader.
Shruti Haasan has totally got it wrong, her look and dresses are not at all good. She should also take care of her face that is losing lustre.
Rao Ramesh has once again come up with the best performance in the role of Narsappa. Though his role is serious one, his characterization provides good laughs and his rayalaseema slang is appreciable.
Ali's comedy is stale and Prudhvi has limited role. Chaitanya Krishna, Kamal Kamaraju, Ajay and Siva Balaji as brothers of Pawan Kalyan are okay.
Tarun Arora as the main villain is not that apt. Nasser as Shruti's father is in his regular style.
Technical Excellence:
The film has competent technical and production values. Prasad Murella who filmed "Attharintiki Daaredi" beautifully has captured the locations well. His filming of rustic green visuals as well as barren land of Rayalaseema deserves special mention.
Ram - Lakshman's fights are good but they are lengthy. A fight in particularly is excellent when Pawan Kalyan is asked by his villagers to show off his fighting skills and he does in his inimitable style wearing panche.
Anup Ruben's music is very weak. Except the title song 'Mira Mira Meesam' rest don't cut the ice. Artwork, editing and production values are decent. Dialogues are good in parts.
Highlights:
Pawan Kalyan
First half
Fights
Drawbacks:
Lack of novelty
Lengthy second half
Not so catchy songs
Shruti's appearance
Analysis:
Pawan Kalyan got his hands burnt by writing a silly script called "Sardaar Gabbar Singh" last year. To play the safe game, he has chosen a Tamil hit movie called Ajith starrer "Veeram" and has handed over the reins to Kishore Kumar Pardasani aka Dolly to remake it. Thus "Katamarayudu" has made.
The story has no novelty but has enough elements to turn it into an entertaining masala drama. But the director seems to have changed the story a bit and also screenplay of the original movie to suit the image of Pawan Kalyan.
The screenplay in the first half is decent but the grip is lost post interval. Before the interval, the focus is on establishing Pawan Kalyan in different manner and projecting him in manly way in his rather new avatar.
The stress is also on the aspect of how a person who hates the idea of marriage gets melted with the arrival of a beautiful woman. The love proposal scene is hilarious. Though the scenes go on predictable path, they don't bore us.
There isn't much problem before interval but the trouble begins from thereafter. Right from the first scene in the second half, the story and narrative drive have taken wrong path. A tough guy like Katamarayudu coming to the heroine's village and trying to impress her father is nice idea on paper. But what happens from there is told in rather clichéd way that we have seen in many earlier movies.
A villain trying to take revenge on a judge for declaring his father guilty in a case is such a 70's idea. Nasser fighting for a school building in a small village is also ridiculous plot point.
The climax episode of Pawan Kalyan revealing why he stood behind the family of Shruti and Nasser is narrated in beaten to death way.
The movie is far better than "Sardaar Gabbar Singh" with hero Pawan Kalyan looking damn good and giving better performance but the drive is quite predictable.
Where the director Kishore has succeeded is in bringing out the best from Pawan Kalyan and his rich taking style. Where he has failed is in not adding any novelty to the second half.
A mass-hero movie should have better music, interesting second half and a glamorous heroine. In "Katamarayudu", all these three elements are lacking in.
Anup Rubens has completely failed to understand what one expects from a big star movie like Pawan Kalyan's. Also Shruti Haasan seems to have not taken much care about her looks and her attire.
All in all, "Katamarayudu" has fairly interesting first half and Pawan Kalyan in better form but the story and narration are too clichéd.
Bottom-line: Clichéd Rayudu!
Click Here for Latest Direct-to-OTT Releases (List Updates Daily)
Sours: https://www.greatandhra.com/movies/reviews/katamarayudu-review-strictly-for-fans-80839
Katamarayudu (Telugu Movie) Review - Better Than Veeram?
Katamarayudu movie review: This Pawan Kalyan film is a deeply formulaic drama
Pawan Kalyan's Katamarayudu released on Friday amid huge hype and expectations worldwide. After delivering a flop last year with Sardaar Gabbar Singh, Pawan seems to be very determined to redeem himself at box office this time as he has played very safe in making his latest film, which is deeply formulaic. Katamarayudu  is a commercial film done by the book. It packs all elements that cater to the whims of the actor's Telugu fans. The film is the official remake of 2014 Tamil film, Veeram, which had Thala Ajith in the lead role. Director of Telugu version, Kishore Kumar Pardasani aka Dolly, has tried to remain honest to the original film and has, in fact, borrowed a few heroic shots from the Tamil version.
The writers of Katamarayudu have made some basic changes to the original script to suit the taste of the Telugu film audience. Katamarayudu is a powerful and unelected leader of a village in Rayalaseema, which is known for the valour and short temperament of its native people. For decades now, Rayalaseema has provided a gripping backdrop for hundreds of action-packed Telugu movies. Katamarayudu has four brothers, not by blood but by bond and violence is his first resort to solve the problems of the poor and weak and uphold justice. Another thing about Katamarayudu is he despises women and the concept of marriage. He had a crush when he was a teenager and it obviously failed, which probably made him the way he is.
https://images.indianexpress.com/2020/08/1x1.png
Also read | Katamarayudu: Will Pawan Kalyan make a difference to Ajith's powerless Veeram script?
Cut to the present, all of Katamarayudu's brothers are in love but don't have the courage to tell him about their affairs, fearing whip of his belt. But, still, Katamarayudu is seen as an ideal brother. His brothers collude and decide to make Katamarayudu fall in love. By chance, they run into Avanthika (Shruti Haasan) and she becomes their target. So eventually Avanthika falls in love with Katamarayudu. Soon Katamarayudu finds out that she and her family are in danger. Come on, you know what happens next. He saves them all. End of the story. But Dolly has taken 2 hours 30 minutes to narrate this story set in an overused premise with his outdated filmmaking tricks.
While the antics and methods of the brothers to bring Katamarayudu and Avanthika together are ridiculous, it somehow manages to enthral the audience. The film has a few punchlines and comedy that draws some genuine applause and laughs but for the most part, all the characters in the film have been used only to sing praises of Katamarayudu, which becomes annoying after a certain point. Pawan seems to be a reluctant dancer as he performs in duets set in picturesque foreign locations and those musical numbers only add to the boredom. Even action scenes are choreographed with one purpose only and that is to show how good Pawan looks in slow motion. Action scenes are also a drag. In the climax fight, Katamarayudu, who was so far portrayed as invincible, suddenly takes a beating from the bad guy? Why? To establish he has a heart of gold.
It seemed like even after more than two hours, the director was unsure he has established Katamarayudu's heroism. I'd like to tell him, he succeeded in establishing the heroism of the lead character in the first 10 minutes of the film and he could have used the rest to the time to narrate an actual story.
Well, you may wonder why other characters in the film were not discussed in this review? It is because they don't make a mark. We should blame the filmmakers for writing a screenplay so narrow that could only accommodate Pawan Kalyan.
Sours: https://indianexpress.com/article/entertainment/telugu/tollywood-movie-review/katamarayudu-movie-review-pawan-kalyan-shruti-haasan-star-rating-4583323/
Reviews katamarayudu
Language: Telugu
Director: Kishore Kumar Pardasani
Cast: Pawan Kalyan, Shruti Haasan, Rao Ramesh
In the first scene of Kishore Kumar Pardasani's Katamarayudu, named after the character played by 'Power Star' Pawan Kalyan, we see four cars speeding through rugged Rayalaseema terrain. Suddenly, the shot is inverted. The sky is at the bottom of the screen, the speeding cars on top. You're probably wondering "Why?" But hardened masala-movie watchers will simply go, "Why not!"
The people in those cars land up at Katamarayudu's house, where a camera is positioned at floor level just so it can shoot the hero's feet as he makes his appearance. Slowly, other parts of him come into view, and he demonstrates his heroism by (1) calming a bull (by stroking its head), and (2) sending SUVs flying (by bringing his foot hard on the ground).
This is why you and I aren't masala-movie heroes. When we stamp the ground, all that results is a footprint. When Pawan Kalyan does this, the action creates tremors so explosive that a series of 2000-kg cars are dispatched into the air. And in the matter of microseconds that they remain airborne (after all, even masala movies have to concede that there is such a thing as gravity), Katamarayudu completes an action sequence, beating up a bunch of bad guys.
When we stamp the ground, all that results is a footprint. When Pawan Kalyan does this, the action creates tremors so explosive that a series of 2000-kg cars are dispatched into the air
To be fair, this is a far better hero-introduction scene than the one in the Tamil original, Veeram, where the hero (Ajith) seemed to be organising some kind of charity feeding for a number of men, until it was revealed that he was simply fattening them up so they'd have the energy to take his punches. As outlandish as this idea sounds, it's still in an earthbound realm. I'll take flying SUVs any day.
There are a couple of villains in the wings. (There's actually a third, who makes his entry post intermission.) Rao Ramesh plays a man who was made to dance on coals by Katamarayudu, because he made a poor farmer dance on coals when the latter was unable to repay a loan. The other two villains are played by Tarun Arora and Pradeep Rawat. This is part of the Tamil/Telugu masala-movie experience, heroines and villains who don't speak Tamil/Telugu.
Katamarayudu, though, has a heroine who does speak the language: Shruti Haasan. She plays Avanti, and the villains take a backseat so a romance can unfold. There are five romances, if you think about it. Katamarayudu has four brothers (Chaitanya Krishna, Kamal Kamaraju, Ajay, Siva Balaji), and each of them has a girlfriend – but they have to hide the fact because Katamarayudu hates the idea of marriage. The brothers conspire to find a girl Katamarayudu cannot resist.
As a boy, Katamarayudu used to like a girl who sang and danced, so his brothers think they just need to produce someone who sings and dances. This is a bit like saying I had a friend in school who read Enid Blyton, so if you produce before me, today, someone who reads Enid Blyton, then they'll automatically become my friend. But it's better than the Tamil film, where the hero, as a boy, liked a girl who was called Koperundevi, and the brothers decide that they just have to produce a girl named Koperundevi and the hero will fall for her.
These romantic scenes are amusing. Sometimes, genuinely so. Sometimes because of the contrivances. Avanti sees Katamarayudu rubbing his temples due to a hangover, and somehow convinces herself that he's into yoga. She sees him holding a rooster, and somehow convinces herself he speaks "bird language." Why this peculiar talent should impress someone remained a mystery until I theorised that maybe she considers herself a chick, and it would get awfully lonely if there were no "bird language" speakers around.
Pawan Kalyan does these scenes well, which is another way of saying that he knows what his fans want, and if that means mugging through a scene where he speaks "bird language," then so be it. And those that deify him get the scene where a little girl closes her eyes and prays to god, and Katamarayudu bursts through the doors of a temple. Elsewhere, the actor continues to further his political ambitions (he is the founder of the Jana Sena party) by projecting a oneness with various cross-sections of society. He carries a plough. He donates to a nuns' charity. He joins a group of Sikhs and shouts "Sat Sri Akal!"
The second half gets tiresome when Katamarayudu gives pacifism a shot in order to please Avanti's peace-loving father (Nasser), but the film is always vaguely watchable (more so than Veeram) if only because of the richer production values in Telugu cinema. Even the action sequences are better conceived. When you're talking about the oldest of wines, every little attempt to make the bottle look new helps.
Watch the trailer here:
Sours: https://www.filmcompanion.in/reviews/telugu-review/katamarayudu-movie-review/
Katamarayudu \u0026 Veeram Official Teaser Reaction Review I Pawan Kalyan,Shruthi Haasan,Ajith Kumar
Katamarayudu movie review: This is a Pawan Kalyan show all the way
'Powerstar' Pawan Kalyan's latest action entertainer Katamarayudu, a remake of Ajith's Veeram, sets out to achieve two goals, beyond whatever story it tries to tell.
The first of the two is to portray Pawan Kalyan as a messiah of the downtrodden and helpless. And the second is to set things right, post the debacle of Pawan Kalyan's previous film Sardaar Gabbar Singh. The film succeeds in whatever it tries to achieve, although it doesn't quite do anything spectacular to keep the audiences hooked into its world.
If anything, the film reinforces the notion that Pawan Kalyan's attitude and charisma haven't diminished at all.
Pawan Kalyan from the Katamarayudu teaser.
Katamarayudu makes no bones about portraying its lead actor as a larger-than-life persona, whose gaze alone is enough to send shivers down the spine of the goons and corrupt politicians. It also helps that Pawan Kalyan himself loosens up to dig deep into his fun side and turn this family drama into a fairly entertaining ride, until it hits all the possible cliches to keep the proceedings going.
This is a film whose story might very well have been brushed aside had it not been for the camaraderie between Pawan Kalyan and his four brothers, played by Ajay, Siva Balaji, Chaitanya Krishna and Kamal Kamaraju. The four are evidently in awe of their co-star, respect his persona, and it shows in the film.
But then, this is the kind of film which is more interested in creating whistle-worthy moments for the actor's fans rather than telling a strong story.
We are told that Katamarayudu (Pawan Kalyan) is the most powerful man of his area and he doesn't tolerate injustice to the farmers in the region. He lives in a palatial house along with his younger brothers. His life is almost perfect, except the fact that he doesn't like women, although all his brothers hope to get married someday.
Soon, all of them plot together to introduce a classical dancer Avanthi (Shruti Haasan) to Katamarayudu. The rest of the story is about how Katamarayudu and Avanthi fall in love with each other and how he becomes a better person in the process.
The first half of the film is filled with some genuinely funny moments centered around Pawan Kalyan, Ali and Shruti Haasan. There is a scene where Katamarayudu knows that he has begun to like Avanthi, despite his reluctance to fall in love, and all he does is smile to himself. In another instance, he tells her that he doesn't know how to express his love and that he wanted to send her a "love symbol" on his phone to propose to her.
In the context of the film and its characters, the two scenes tell everything that one needs to know about how director Kishore Kumar Pardasani has treated Katamarayudu's character. It is subtle but pretty well done. Shruti Haasan is gorgeous in the film and delivers a credible performance. Among others, Rao Ramesh shines the most and his trademark dialogue 'Kaani Kaani Kaani Kaani' (Kaani loosely translates to 'but') will stay with you long after you walk out of the theatre.
Despite all its good moments in the first half, Katamarayudu leaves you with mixed feelings in the end. It gives us just enough material to talk about and doesn't try too hard to evoke an overwhelming urge to empathise with its characters. The second half in particular leaves you with a deja vu feeling about heroes rescuing other families and villagers from serious troubles. The uninspiring background score is another big letdown.
There are films which overwhelm you and then there are films which underwhelm the audience. Katamarayudu is the kind of film which just whelms the audience.
Go watch it for Pawan Kalyan and a taste of 'seema pourusham' (Rayalamseema's pride), but chances are that you have seen the same story several times in the past sans Pawan Kalyan.
In the end, when you are asked the inevitable question: how was the film? You know what to say and it's there in the film - Bagundhi, Kaani Kaani Kaani Kaani (Everything is alright, but but but but).
Updated Date: September 27, 2017 13:05:38 IST
Sours: http://www.firstpost.com/entertainment/katamarayudu-movie-review-this-is-a-pawan-kalyan-show-all-the-way-3350434.html
You will also be interested:
Katamarayudu review, Katamarayudu Rating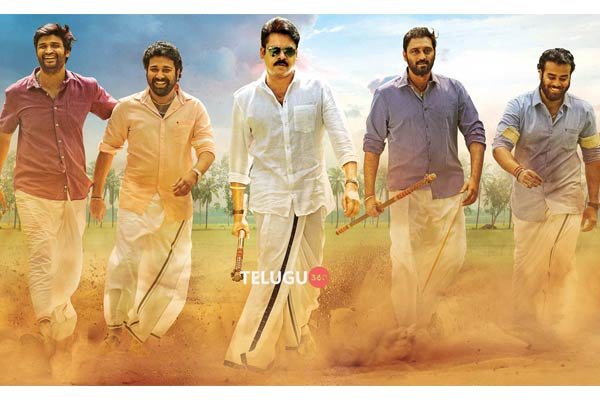 Katamarayudu telugu movie review
After a brief lull at the box office, Pawan Kalyan's Katamarayudu kick starts the Summer fest for movie goers. The movie is released worldwide today(March 24). With Katamarayudu , which is the remake of Tamil movie Veeram, Powerstar Pawan Kalyan is back testing his luck. Kishore Pardasani directed this village based emotional entertainer and Shruti Haasan essayed the female lead. North Star Entertainments bankrolled the film and Anup Rubens is the music composer. Here is the film's review:
Story:
Katamarayudu (Pawan Kalyan) is the head of a village based in Rayalaseema who leads a pleasant life along with his four brothers (Siva Balaji, Ajay, Chaitanya Krishna and Kamal Kamaraju). Rayudu's aversion towards women irks his brothers. It is during this time Avanthi (Shruti Haasan) walks into his life. With the support of his brothers, Katamarayudu gets convinced and expresses his love. Rayudu realizes about the hidden problem in Avanthi's family and the rest of the film is all about how he brings out their family from the problem and win his love. Watch Katamarayudu to know about the complete story.
Analysis:
The first half of Katamarayudu looks fresh and entertaining throughout. The way Pawan Kalyan has been projected will leave everyone in surprise. The songs could have been shot better, they do not sound melodious either. Pawan has been extremely simple and decent which is sure a treat for the audience to watch him on screen. The pre-interval episodes look dragged and the action episode in the train looks completely fake and unusual. Ignoring this, the rest of the first half is sure an impressive show.
The second half of Katamarayudu takes an emotional turn and it will sure disappoint the audience at parts. However, the film picks up back and manages to keep the audience engaging. The emotional episodes and the performance of Pawan Kalyan keeps the film hold well though it looks completely predictable. The dose of action too may bother the family audience and the climax ends the film on a predictable note. The songs in the second half look just ok. On the whole, the second half of Katamarayudu is slow and mediocre.
Performances:
Pawan Kalyan has been simple, relaxed and subtle in the assigned role. He looks uber cool throughout the film and his performance is the major highlight of Katamarayudu. He carried the entire film on his shoulders. Shruti Haasan has been quite decent in emotional parts of the film and she looked completely beautiful. The songs reveal that Shruti gained weight and is out of shape. Rao Ramesh, Tarun Arora, Pradeep Rawat and others elevated the film with their packed performances. Ali, Prudhvi, Siva Balaji, Ajay, Chaitanya Krishna and Kamal Kamaraju have been quite supportive throughout the movie and their performances need a special mention.
Story, Music and Production :
The story of Katamarayudu is predictable and outdated. However, the way the film has been presented impresses the audience. The screenplay and the dialogues looked decent throughout. The music and the background score are a huge let down for Katamarayudu. The cinematography showcased some beautiful village locales and brought a new feel. The production values look just adequate and Kishore Pardasani made sure that Katamarayudu is molded out into a decent family entertainer. He did a decent job.
Verdict:
Katamarayudu is a good entertainer for fans and masses. Pawan Kalyan's getup, controlled performance are major assets, he carries the movie on his shoulders effortlessly. Poor songs, mediocre production values are the negatives. Summer holidays, lack of competition and Pawan's box-office stamina may make this movie a commercial success in India. In overseas, we need to wait and see how audience will embrace this routine film.
Telugu360 Rating 2.75/5
Release Date : March 24th, 2017
Director : Dolly
Music Director : Anup Rubens
Production : North Star Entertainment
Cinematography : Prasad Murella
Starring : Pawan Kalyan, Shruti Haasan
Telugu360 is always open for the best and bright journalists. If you are interested in full-time or freelance, email us at [email protected]
Krishna
Sours: https://www.telugu360.com/katamarayudu-review-katamarayudu-movie-review-katamarayudu-rating-twitter-talk/
705
706
707
708
709