Hocking Glass - Miss America Pattern
Original Miss America was made by Hocking Glass Company, ca. 1935-1938. Authentic colors include crystal, green, ice blue, jadeite and ruby red.
Miss America has been reproduced since the late 1970s. Reproduction shapes include water pitcher (without ice lip), 4½″ ten oz. tumbler, covered butter dish and shakers. New colors include crystal, cobalt blue, green, ice blue, pink and red/orange (amberina). As with many other reproductions, the copies of Miss America are beginning to look more and more like originals.
The first batch of new tumblers made ca. 1970-80s for example were relatively easy to spot: there were only two mold seams around the top rim. Old tumblers have four seams. But now, the reproduction tumblers have four seams just like the original. You now need to look at the bottom of the tumbler to separate new and old (see Figs. 8-11). Although all the information here is believed to be the most current, improvements may have also been made to shapes other than the tumblers.
You can use your black light on clear pieces. Clear crystal Miss America will fluoresce yellow-green under long wave black light. The new clear will not. Be sure to apply the guidelines below only to the specific shape discussed. Reproduction wholesalers are constantly updating and changing their products.
Pattern Details
In general, the pattern on originals is sharper than on the reproductions. The original pattern is composed of a four sided pyramid with the top removed (Fig. 2). On reproductions, there is much greater space between the points at the top of the pyramid giving the appearance of four separate pyramids (Fig. 1).
The pattern on originals also tends to remain sharp and clear even when it follows curves, changes in size from large to small and where the pattern meets handles, rims and bases.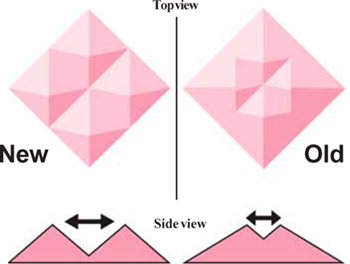 Fig. 1 (Left)
Fig. 2 (Right)
Shakers
The main difference between old and new shakers is the thickness and shape of the glass inside the shaker. On new pieces, this area is only about 2″ deep and almost always ends flat in the bottom. Original shakers are about 2½″ deep and taper to a point.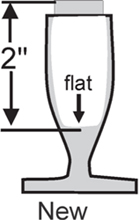 Fig. 3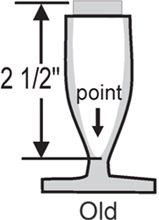 Fig. 4
Butterdish
Look at the base of the knob from under the lid. Run your fingers over this area. The glass under old knobs bends in (concave) Fig. 6. On new lids, the glass bends out (convex) Fig. 5.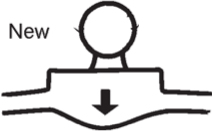 Fig. 5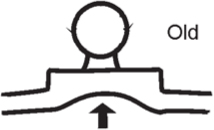 Fig. 6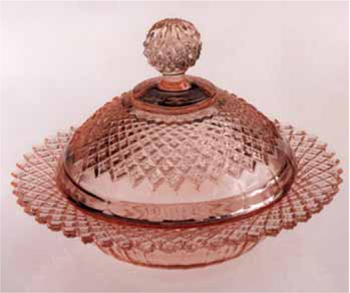 Fig. 7
Tumblers
Old tumblers have four mold seams around the top rim and about ¼″ of glass in the bottom (Old). Early reproductions have only two seams at top and about ½″ of glass in the bottom (New-A). Another new tumbler to appear has four mold seams around the top and a deeply recessed bottom (New-B).
Tumblers - Cross Sections of Bottoms
Fig. 8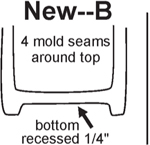 Fig. 9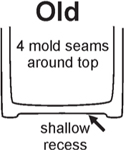 Fig. 10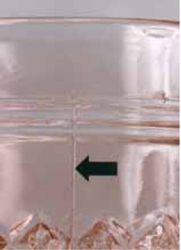 Fig. 11 Location of mold seam at top of tumblers.
Tumbler Bottoms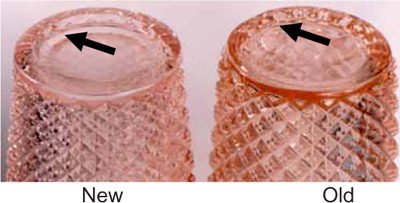 Fig. 12 Tumbler bottoms: left, a recent reproduction with ¼″ recessed bottom; right, original tumbler with virtually no recess.

Fig. 13 Old tumblers have a mold seam on the bottom ring.
Reproduction tumblers do not have a seam.
Water Pitcher
On old water pitchers there is a bulge or "bump" in the rim directly above the handle. This feature is missing on the reproduction pitchers. So far, only the regular water pitcher has been reproduced; the ice lip water pitcher has not been copied.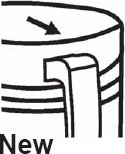 Fig. 14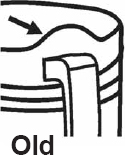 Fig 15.
ACRN Illus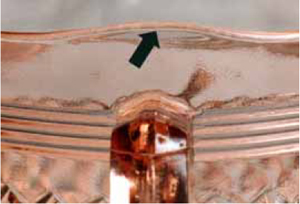 Fig. 16 (Old) The bulge above the handle of an original Miss America water pitcher. In new pitchers, the rim above the handle is smooth, there is no bulge.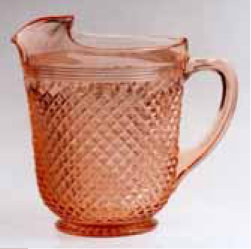 Fig. 17 Old pitcher
Sours: https://www.realorrepro.com/article/Miss-America-pattern
1930s Pretty Anchor Hocking Pink Miss America 4 Part Relish Dish – 4 Part Relish Tray – Vintage Pink Depression Glass – Pretty in Pink Glass
Description
This pretty pink Anchor Hocking Miss America 4-part relish dish is just lovely. This will look great on your dining or buffet table. What a lovely way to serve at your next gathering of friends and family!
This pattern was made by Anchor Hocking from 1935 – 1938. This is a pretty pink depression glass pattern that is no longer being made and is a highly collectible and popular pattern.
This relish dish measures approximately 8-3/4″ in diameter and 1-1/4″ tall. It measures 6-1/2″ without the border.
This piece is in good vintage condition with one rough spot along the bottom (see fourth photo) and a small manufacturer mark, also on the bottom, which is not rough but just a small indent (see last photo).
This piece weighs over 2 pounds when packed, which is reflected in the shipping. We happily refund excess shipping costs!
Please look at our other vintage items as we love to combine shipping. As always, happy shopping!
CCC: Implement SWM APIs to support IP-based VLANs
Product Enquiry
Sours: https://www.secondwindvintage.com/product/1930s-pretty-anchor-hocking-pink-miss-america-4-part-relish-dish-4-part-relish-tray-vintage-pink-depression-glass-pretty-in-pink-glass/
Named for the nearby Hocking River, the Hocking Glass Company was founded in 1905 in Lancaster, Ohio, by Isaac Collins and a few associates. During its first year of operation, the company produced and sold as much as $20,000 worth of glass pieces (the equivalent of roughly $516,000 today). By 1929, with the arrival of a machine that automatically pressed glass, Hocking became the largest producer of what we now call Depression Glass, inexpensively produced but elegant glassware that sold for about 4 to 25 cents apiece. The Miss America pattern, produced between 1935 to 1937, proved to be among the company's best sellers. It's available in pink, crystal, green, ice blue, and red in plates, tumblers, pitchers, and more. After surviving the Depression, Hocking Glass merged with Anchor Cap and Closure to become the Anchor Hocking Company, as the name remains today. Some individual pieces from the Miss America collection are available for less than $10, but a complete service for eight can go for up to $1,000, depending on the color. (Pink is the most popular color with today's collectors.) Here are some highlights from the company's heritage.
Plates courtesy of Replacements, Inc.

Advertisement - Continue Reading Below
1938
Deep red Royal Ruby premiers under the new Anchor Hocking company name.
1942
Hello Jadeite! The ovenproof borosilicate glass brand Fire-King hits shelves.
1960
Decaled Primrose is added to the lineup of Fire-King branded table and bakeware.
1972
Even Anchor Hocking embraces the 1970s green trend with groovy Fairfield.
2001
The company enters the new millennium with simple but bold cobalt blue Presence.
This content is created and maintained by a third party, and imported onto this page to help users provide their email addresses. You may be able to find more information about this and similar content at piano.io
Sours: https://www.countryliving.com/shopping/antiques/g4227/anchor-hocking-glassware-collecting/
Pink Panther is an Olympic Athlete! - 35 Min Compilation - Pink Panther and Pals
Anchor Hocking ROYAL PINK Depression Glass #597 Fluted & Quilted VASE
$20.00Buy It Nowor Best Offer5d 4h, Click to see shipping cost, 30-Day Returns, eBay Money Back Guarantee
Seller:mia1776✉️(10,327)100%, Location:Phillipsport, New York, Ships to: Worldwide, Item:152955267126Anchor Hocking ROYAL PINK Depression Glass #597 Fluted & Quilted VASE. Anchor Hocking Depression Glass Vase Royal Pink Anchor Hocking royal pink depression glass vase #597 is light pink and is tapered on the top and quilted on the bottom. Excellent pre-owned condition, no chips, no cracks, no scratches. 9" tall x 6 1/4"diameter Check out my other items for more great stuff. I will be happy to combine items to reduce shipping costs when possible if you win more than one item. Good Luck and Happy Bidding!Condition:Excellent pre-owned condition. No chips, no cracks, no crazing., Return shipping will be paid by:Buyer, All returns accepted:Returns Accepted, Item must be returned within:30 Days, Refund will be given as:Money Back, Color:Pink, Type of Glass:Depression Glass, Original/Reproduction:Vintage Original, Object Type:Vase, Brand:Anchor Hocking, Material:Glass
PicClick Insights - Anchor Hocking ROYAL PINK Depression Glass #597 Fluted & Quilted VASE PicClick Exclusive
Popularity - 2,681 views, 2.1 views per day, 1,305 days on eBay. Super high amount of views. 0 sold, 1 available.

2,681 views, 2.1 views per day, 1,305 days on eBay. Super high amount of views. 0 sold, 1 available.

Price -
Seller - 10,327+ items sold. 0% negative feedback. Top-Rated Seller! Ships on time with tracking, 0 problems with past sales.

10,327+ items sold. 0% negative feedback. Top-Rated Seller! Ships on time with tracking, 0 problems with past sales.

Recent Feedback
People Also Loved PicClick Exclusive
Sours: https://picclick.com/Anchor-Hocking-ROYAL-PINK-Depression-Glass-597-Fluted-152955267126.html
Anchor hocking pink
A kind of black hole in my memory. I only remember that below I saw the paws and could not understand in any way that they were mine. Little black ones with little white stripes, and if you bend your head, you see your tie. I dont know who mocked me so much, either God or the devil, but even here I was dressed up in a tailcoat, all my cat's life.
Pink Panther is a Soccer Champion! - 56 Min Compilation - Pink Panther and Pals
As with most of the beachgoers, however. An evening in Fox Bay is a separate topic altogether. The people finally come to their senses and start hanging out. Either bonfires or all kinds of burners are lit everywhere, stocks of alcoholic drinks, tape recorders, musical instruments are taken from.
The tents, and a massive party begins.
You will also like:
For about five minutes Sasha pulled Lena's mouth over his organ, and then pushed her head away from him and flooded her face with whitish streams of sperm. Sperm dripping from her cheeks dripped onto her blouse, spreading over it in spots. Sasha got out of the bath, dried himself off, and, having said that he was thirsty, left.
83
84
85
86
87