When we first released statuses in Slack, we included a few default status updates so that you could let colleagues know whether you were on vacation, offline, sick or, perhaps, working remotely.
We picked these because when working in the office together is the norm, it's useful to let people know when you're not in the building. As it turns out, times change. And so does the way we work together.
According to our customers (and our own recent experience!), when the majority—if not all—of your company is "working remotely," that status is basically useless. Instead, you need to give a little more information or context around your availability.
To that end, and with people who might be new to Slack particularly in mind, we've created a handy set of custom emoji for using in your status (or in messages or reactions) for those moments when you need to convey more information.
This emoji pack for remote work is rolling out now and will be available to everyone in the coming days.
You can add this set of emoji by clicking the "add emoji" button within the emoji picker. If you still need help, here's a link to our help center article on adding custom emoji to Slack.
The images range from socially distanced high fives to heads-down work and family time. There's even one about your cat's love for your keyboard.
So what is it we've been hearing from our customers? And why this, rather than using the emoji that already exist?
Many of us are taking care of our children and/or supervising schoolwork during our normal work hours. The Unicode set of emoji covers family groups and teachers, but not the more realistic sense of, My children require all my attention… and they require it right now! Whereas in the past we might occasionally have gone out to lunch, we're more likely now to need to take a little extra time to make lunch.
There are also new emoji for instances when you might be used to signaling to your colleagues visually: Sitting at your desk with headphones on might communicate that you're in a focused state, heads-down, and don't want to be disturbed. Or we might need to take a moment to exercise, or take a deep breath before turning our minds back to work.
Of course, it's always been possible to make a custom status. Some people might take one of the existing standard emoji set and imbue it with meaning by adding a custom message to mean "Do not disturb" or :school-bus: to designate time away from the keyboard for a school run. Others might have uploaded custom emoji to do the same job.
But to lend a helping hand to those who haven't created their own, we worked with artist Jen Lewis (we've been fans of her work in the field of emoji for years) to create this set. If you like them, you can upload them all at once to use immediately, and an admin on your team can create a new set of custom default status suggestions to better reflect the needs of your team.
This is by no means intended to be an exhaustive set of all the custom emoji for remote work that you could ever need—there are many more nuances that could be covered, depending on what people are working on and the way they work. These are merely the most frequently requested.
As time goes on, we'll be expanding our emoji packs to meet more specific needs of different teams, languages and work cultures. But for now, if you want to upload this little set of helpful remote emoji (or "remoji"? Nah, but always worth trying), you can do so by clicking here.
Looking for more support for remote work? We have you covered:
Awesome!
Thanks so much for your feedback!
Got it!
Thanks for your feedback.
Oops! We're having trouble. Please try again later!
Sours: https://slack.com/blog/collaboration/new-emoji-pack-to-help-with-your-remote-work-balance
The Top 100 Custom Slack Emoji You Absolutely, Positively Need or You Will Never Succeed as a Company
Slack might get a lot of… well, slack for distracting people who are trying to get work done. So the fact that you can upload no limit of custom emoji to round out your Slack conversations might not help in that regard. But, we get a lot of work done at Revelry. And Slack emoji just helps us with our game.
We knock out one-week sprints. The solutions we deploy are lean and innovative. Our communication protocol kicks ass.
And, we've managed to add 514 custom emoji to our Slack team.
Yes, five hundred fourteen. And we're not done yet.
They say Slack lets you "bring your whole self to work." Emoji helps you be your whole self with a simple and silent click of the mouse. They can convey your mood or reaction faster and more succinctly than text can.
Slack Emoji Lists Aren't Hard to Find
But be warned: this is no basic list of Five Emoji for Coders. This is no simple list of Twelve Must-Have Slackmoji. This is your monster mega list of 100-ish custom emoji your company Slack needs. It is our gift to you. You're welcome.
Celebrate Good Times, Come On! (It's a Celebration)
Let's start with the reaction emoji that we most like to use. The team completed a tough sprint. Someone went above and beyond in their work. A tough bug was fixed. A glowing review from a client was received. Send the team some love.
Subset #1: Celebratory Dancing
When you really feel like celebrating, you need to dance. And boy, do we have the emoji for that.
Subset #2: Celebratory Drinking!
Lots of people like to celebrate with drinks. We're no different.
:bll:
:gingeroo:
:marg:
:whiskey:
:espresso:
For those who favor non-alcoholic drinks
Ok, But What About When Things Aren't Going So Well?
While we would love for every day to be full of rainbows, those don't come without a little rain. So here are some emoji reactions for when it's really raining. Project overdue? Bugs you can't figure out? Had a giant brain fart publicly on Slack? We got you, fam.
:crying_jordan:
Well, that didn't go as planned
:homer:
That really didn't go as planned
:facepalm:
Did something annoying happen?
:duckhuntdog:
Did something mildly annoying happen?
:bruh:
Did something really annoying happen?
:hr_vest:
Did someone say something NSFW?
:kevin:
:dumpster_fire:
I haven't joined a team Slack channel yet that didn't have a dumpster fire emoji
:dumpster_fire:
Or sometimes twodumpster fire emoji, because really, sometimes dumpster fires have a level of nuance that can only be differentiated by multiple emoji
:this_is_fine:
:disapproval:
:wtf:
:i_dunno:
When you need ¯\_(ツ)_/¯, but in reaction emoji form
:shaggy:
It wasn't me
:90:
Not quite :100:, but hey, you tried?
Status Emoji
Another useful way to use Slack emoji are to reflect your status. Whether it's the office's status or your personal status.
:nocox:
The internet is down
:cox:
The internet is back
:no_coffee:
We're out of coffee
:no_parking:
All the parking spaces are now full
:nocodeship:
Whoops, Codeship is down
:wfh:
I'm working from home today
:cat_typing:
I'm coding
:matrix:
I'm really coding
:sonic_waiting:
I'm waiting for something
:waiting_for_free_heroku_dyno_to_wake_up:
I'm waiting for something very specific
Reaction Emoji (Reactji)
These are some basic reactions that didn't really fit in the other categories.
:ditto:
When you agree with someone
:aliens:
Where did that bug come from? Why is the app doing that when you click on that button? Why does it only crash once every 10 clicks???
:david_s_pumpkins:
Any questions?
:the-more-you-know:
Did you learn something?
:what_year_is_it:
:its_a_trap:
:its_a_tarp:
Because why not?
:excellent:
:all_the_things:
:ballmer:
Developers! Developers! Developers!
:not_bad:
:takei:
Oh my!
Show Off Your Team!
Your team probably has some cool people on it. Or at least your team knows some cool people? Or has some cool pets? Please tell me your team at least has ONE of those things? Then make an emoji for them! Nothing says "Good job, co-worker" like giving them an emoji reaction of themselves.
The Slack emoji here are just examples from our team, but I guess you could take them if you really want to. But that would be weird.
:andre:
:sean:
:dope:
Does someone use a certain word often? Use a Custom Slack Response to post their image any time someone uses that word
:officepup:
:wab:
:wab_2:
Show Off Your City!
If you work in a city that has a rich, cultural history, or just several inside jokes, make emoji for them!
:morris_bart:
Do you have a local attorney who makes hilariously bad commercials?
:blue_dog:
or a well-known local artist?
:brees:
or a local sports team?
:kingcakebaby:
or a scary local sports team mascot?
:crawfish:
or a local food specialty?
:poboy:
:chicago-flag:
Showing some love for our Chicago office
:fly_the_w:
:chicago-dog
What Are We Doing for Lunch?
You Can't Have a Party Without a Party Parrot!
And of course, there will be several variations on the party parrot theme to fit any occasion.
Let's Get Fancy With Combo Emoji!
There's really no reason to use these, other than to prove you can.
Presented Without Comment
Here are a few more that are just fun to use.
The Slack API and Getting Emoji Metrics
Slack has an API that you can use to access your team's messages. Here's a small script I used to find out what our top used emoji reactions were in our #general channel since last year. It does it in batches because the Slack API can only grab 1000 messages at a time. Note: I restricted this to 500 at a time since 1000 caused a timeout more often than not.
And in case you were wondering what our top 20 emoji reactions were:
:joy: 1,064
:clapping: 823
:heart: 612
:+1: 524
:ditto: 523
:100: 436
:revelry: 333
:tada: 240
:wave: 219
:nice: 213
:mullet: 206
:partyparrot: 188
:party_corgi: 184
:beers: 153
:pizzaparty: 150
:bruh: 128
:300: 123
:eyes: 107
:raised_hands: 106
:hr_vest: 102
More Posts by Brad Huber:
Sours: https://revelry.co/resources/remote-work/custom-slack-emoji/
With remote and hybrid workspaces becoming the new normal for many, using the Slack productivity app on your desktop or phone to chat with coworkers is a way of life. While being helpful for work communication, the software isn't without its Easter eggs, like the ability to create custom emoji to go with the 2,000-plus emoji that are already in there. Big whoop, right? But trust me, start making and using custom emojis and your Slack cred will soar.
Emoji have taken over society as a language all of their own, inspiring everything from Apple's Memoji avatars to a dedicated Emoji Movie (with appalling ratings). And new emoji are added every year. 
Making a new emoji for Slack is easy and addictive. Add this skill to your arsenal to show off how much better you are at Slack than your coworkers 😉.
Who can add custom Slack emoji?
All Slack members can make emoji, but not Slack guests. The feature is available on Free, Standard, Plus and Enterprise Grid plans.
Can I make a Slack emoji on the mobile app?
You can't make custom emoji from your phone, but you can access the custom emoji you made on the desktop from mobile. Your emoji will be sandwiched by two colon punctuation signs, so to conjure it on mobile, bookend the name with colons (e.g. :cat:)
Slack also notes that some workspaces won't let you make custom emojis. I know, it's a bummer. If you're not sure, you can contact your workspace or org owner.
Here's how to make a custom emoji on the Slack desktop app
1. Open Slack.
2. Click your workspace name in the top left corner.
3. Click Customize Slack.
4. Click Add Custom Emoji.
5. Upload an image and name it.
6. Click Save.
What are Slack emoji packs?

Slack emoji packs are sets of emojis centered around a certain theme. Think of it like themed sticker packs you can find in text messages or on Snapchat. Here's how to find them: 
1. Open Slack and click the smiley face icon in the message field.
2. Click Add Emoji.
3. Click Emoji Packs (next to Custom Emoji). You'll be able to see and add any available packs. Once added, you can find them in the Custom Emoji section. 
How to make a good quality Slack emoji
Beauty is in the eye of the beholder, but you should make sure you're using a JPG, GIF or PNG file. You'll get the best results with a small, square picture. Slack will resize it automatically.  
Where can I find premade custom Slack emojis to upload?
Premade custom Slack emojis can be found at slackmojis.com. You can scroll through Most Popular, Recently Added and sets with themes like Among Us, Cowboys, Game of Thrones, Sports, Memes and more. When you find one you like, just type the name into a Slack message to use it.
What to do with a Slack emoji once it's live
A well-placed emoji can spice up your work conversations and let you react to activity. Some are almost meme-worthy. Sprinkle them into responses in conversation, and add as a reaction to a message in one of your channels. Choose the emoji or manually type in the code in the message field to use it as a response. To react to someone else's Slack message with an emoji, hover over the message with your cursor and click the smiley face option. From there the emoji library will open.
Search for a custom emoji
You can go back in after you've made the emoji and search for it by name. You don't need to add the colons to search for your emoji. You can also scroll through everyone else's creations for inspiration.
Delete your Slack emoji
Don't worry. If you messed up, it's not there forever. Simply click the "X" to get rid of your Slackmoji. You can't get rid of anyone else's though. If there's a particularly inappropriate emoji, Slack says you can contact an administrator to have it removed. 
Now playing:Watch this: Janelle Monáe talks tech and her love for Slack
8:30
Entertain your brain with the coolest news from streaming to superheroes, memes to video games.
Sours: https://www.cnet.com/tech/computing/slack-emoji-trick-thatll-make-your-coworkers-think-youre-cooler-than-you-are/
How to ADD EMOJI to YOUR NAME in SLACK?
Using Slack
From channels to search, learn how Slack works from top to bottom.
In Slack, emoji serve both a fun and functional purpose. You can add your own custom emoji, or a set of custom emoji from an emoji pack.
What to expect
You can only add custom emoji from Slack on your desktop.
To access custom emoji, click the  Slack icon at the top of the emoji menu on your desktop, or type the emoji code on the mobile apps.
Each emoji pack appears in its own section of the custom emoji menu.
In an Enterprise Grid organization, any custom emoji you add to one workspace will be available for every workspace in your org.
Note: Workspace Owners and Workspace Admins can restrict permissions for adding custom emoji. If you don't have this permission, find an owner or adminto ask for help.
Add custom emoji
Owners, admins, and members with permission can add custom emoji from images in JPG, GIF, or PNG format. Square images under 128KB, 128x128px, and with transparent backgrounds work best. If your image is too large, Slack will try to resize it for you.
From your desktop, click the  smiley face icon in the message field to open the emoji menu.

Click Add Emoji.
Click Upload Image and select a file.
Under Give it a name, enter a name for your emoji, then click Save.
Note: Custom emoji with names used in the latest set of standard emoji will be deactivated. To reactivate custom emoji, enter a new name for it.

Remove custom emoji
Free, Pro, and Business+ plans
Enterprise Grid plan
Workspace Owners and Workspace Admins can delete any custom emoji, while members can only delete emoji they've added.
From your desktop, click your workspace name in the top left.

Select Customize [workspace name]. If you're an owner or admin, you'll need to click Settings & administration first.
Click the Emoji tab at the top of the page.
Search for the emoji you'd like to remove, then click the  delete icon. 
Select Delete Emoji to confirm. 
Org Owners and Org Admins can delete any custom emoji. If you're a Workspace Owner, Workspace Admin, or member, you can only delete emoji you've added.
From your desktop, click your workspace name in the top left.

Select Customize [workspace name]. If you're an owner or admin, you'll need to click Settings & administration first.
Click the Emoji tab at the top of the page to view all custom emoji in your org. 
Search for the emoji you'd like to remove, then click the  delete icon. 
Select Delete Emoji to confirm. 
 
Add an emoji pack
An emoji pack is a set of custom emoji designed with a specific theme in mind. Each pack provides more customized options to enhance how your team communicates in Slack. For example, use the Remote Work pack to customize status suggestions for your team while working from home. Owners, admins, and members with permission can add an emoji pack using the steps below.
From your desktop, click the  smiley face icon in the message field to open the emoji menu.
Click Add Emoji
Click the Emoji packs tab at the top of the page.
Select an emoji pack.
Click Add Pack.
Tip: We'll be adding more emoji packs soon — stay tuned!
Remove an emoji pack
Owners and admins can remove an emoji pack using the steps below.
From your desktop, click the  smiley face icon in the message field to open the emoji menu.
Click Add Emoji.
Click the Emoji packs tab at the top of the page.
Select the emoji pack you'd like to remove.
Click Remove Pack.
Note:It's not possible to remove individual emoji from an emoji pack.
Who can use this feature?
By default, all members but not guests
Available on all plans
 
 
Awesome!
Thanks so much for your feedback!
If you'd like a member of our support team to respond to you, please send a note to [email protected]
Got it!
If you'd like a member of our support team to respond to you, please send a note to [email protected]
If you'd like a member of our support team to respond to you, please send a note to [email protected]
Oops! We're having trouble. Please try again later!
Sours: https://slack.com/help/articles/206870177-Add-custom-emoji-to-your-workspace
Slack for emoji packs
The definitive guide to Slack emojis
Slack emojis are proxies to expressing written words and emotions on a channel chat. Also known as Slackmojis, these emoticons can be used to welcome a new hire, celebrate a teammate's achievement, or simply break the ice between co-workers. It's helpful in showing how you feel without having to write it all in a message. These modern-day hieroglyphics help express emotion, tone, personality, and intent — all of it packed in a standard Slack emoji size, 128 pixels by 128 pixels.

Emojis are ubiquitous in team chat applications like Slack. Though they are widely used in all channels and groups,  people tend to miss out on hacks, finer nuances, and etiquette. In this guide, we will share everything you need to know about Slack emojis — How to create custom emojis, how to use them, and best of all: where to find all the best Slack emojis.
‍

Why use emojis on Slack?

Slack emojis light up conversations without breaking the code of conduct of a Slack workspace. It certainly makes it easier to reply succinctly without having to write out a long reply. Emoji bolster team culture, encourages openness and encourages feedback, leads to higher interactions with different teammates bringing out their fun side and banter, all resulting in a productive happier workspace. In a remote setting, emojis do a good job of replacing the regular water cooler talks and banter. 

Emojis are not all fun and games and can also be used for increasing productivity. Teams use specific emoji to bookmark and notify on Slack. Emojis are also used as an acknowledgment for a task that is assigned or finished and for resolving tickets, issues, and the status of the work. Teams have turned creative with integrating Zapier, automate.io, and other integration bots to alter them whenever someone posts a specific emoji in their channel. This can be used for enhanced coordination to automating workflows.
‍

How to add emojis to Slack?

Slack has a default set of emojis that can also be pepped up to your convenience.  

If you are unable to come up with your own custom emojis, do not fret, we have a list of emoji repertoire you can count on! Here is how you can add them to your Slack workspace:
To add a few emojis one by one:

Click the smiley face icon in the message field to open the emoji menu.
Click on Add emoji
Add an Emoji and name it

Unfortunately, to add bulk emojis at once, you'll need to know a bit of coding and have admin rights to the Slack channel. Here is the guide to add new emoji packs to your Slack workspace.
How to create a custom Slack emoji?

‍
‍
‍
‍
Slack emoji etiquette

Here are a few things to keep in mind when it comes to-dos and don'ts of Slack emojis:


Don't overuse and abuse: Slack emojis are a symbol of brevity, use them as such. Context is very important!
Avoid miscommunication and misinterpretation: It happens in a workplace setting more than you'd think, coworkers sentiment and sensibilities should be taken into account so as to not offend any teammate. There is a thin line between friendly banter and offensive content, so watch out for those double entendres.
Think about who you're interacting with: Choose whether to use an emoji based on your personal relationship with that person. Are you very close to them? Do they use emojis too? Do not use it just because you can.
‍
Different emojis for different situations
1. Pulse, Polls, and Surveys: Polls are a big part of team discussions on Slack channels and emojis can play a big role to gauge the mood of the teams and also getting a definitive understanding of what teammates prefer and prioritize with simple emoji-based responses to polls. Emojis are summarized indicators to see trends, likes and patterns among the teams.
2. Brainstorming ideas: This is a bit similar to polls, but whenever teams brainstorm, there would most likely be differing opinions in any healthy deliberation. Emojis can act as a qualifier that enforces an opinion or disagrees with a hot take, and can lead to the best ideas winning!
3. Work Status: Slack can be a distraction to deep work, especially for developers who need absolute focus to execute their work! Emojis can be a saving grace to update your status and clearly display your current work status, may it be focused on deep work or a busy meeting.
4. Celebrations and appreciations: Clearly, this is why we all use emojis for most of the teams! Whenever a teammate announces a win, we all celebrate with a unique emoji.
5. Breakfast/lunch/dinner: Simply put, show off to your coworkers what you are feasting on currently?
6. Emojis of particular team member: Well, this seems a bit counterintuitive, but hear me out. A lot of workspaces have their team profile photos uploaded as emojis to evoke one of their teammates when they are needed. 
7. Productivity and tasks: As mentioned before in the article, you can add logos as emojis. This helps sort out ticketing, issues, and status updates in a sprint cycle.‍
‍
Slack emoji repertoire
Resource on how to port your emoji from one channel to another: https://github.com/mootcycle/slackporter
Standard emoji cheat sheet: https://www.webfx.com/tools/emoji-cheat-sheet/
100 fun and party related emojis: https://revelry.co/resources/remote-work/custom-slack-emoji/
Old slack emoji for nostalgia merchants: https://github.com/IvyBits/old-slack-emojis
Random slack emojis: https://github.com/phil-r/slack-emoji
Digital oxford slack emojis: https://github.com/omgmog/digitaloxford-slack-emojis
Blob slack emojis: https://github.com/SeanPrashad/slackmoji
Codebender custom slack emojis: https://github.com/codebender/slack-emojis
Slack emoji library of Alexandria: https://slackmojis.com/
Slack guide to slack emojis: https://www.youtube.com/watch?v=xyOO8w85VkY & https://slack.com/intl/en-in/help/articles/202931348-Use-emoji-and-emoticons#desktop-2
Sours: https://www.ricotta.team/blog/best-custom-slack-emoji-reacjis
O que é Slack? Como usar o Slack em 2021? (tudo que você precisa saber) - Slack Tutorial Completo 🚀
Best custom emojis for Slack and the workplace
😁 🌎 🎉 📅
Happy World Emoji Day! To celebrate this special day on July 17, we're taking a closer look at the not-so-humble emoji.
Emojis have come a long way over the last few years, but (aside from ancient Egyptian hieroglyphics) today's emojis originated in the late 1800s. The first emojis came from facial expressions formed out of punctuation, and it's fair to say that these are still pretty popular today :-O
Over the last few years, emojis (or emoticons) have exploded in variety and usage, with an increasing number of people using emojis in the workplace. Emojis are almost everywhere, from text-based conversations on email or Slack, to marketing materials and content aimed at customers and clients.
Emojis have become a huge part of everyday language, helping to express emotion, tone, personality, and intent (important when you're not in a face-to-face conversation) and make conversations more fun. Plus, you can use emoticons to break up text and add structure (like bullet points) in areas where text formatting options are limited.
From custom Slack emojis to emojis in your text editor, there are so many ways to incorporate emojis into your everyday work conversations and marketing. So, let's look at what's new for emojis in 2020, how to encourage emoji usage at work, and some practical tips to help your team confidently use emojis (without overdoing it).
New emojis to check out in 2020
How up to date are you with your emojis? The world of emojis continues to grow, with 117 new emojis released by Emojipedia in 2020. New emojis include a range of people, faces, foods, objects, and symbols.
Faces/bodies
Nature
Plants/food
Objects
Smiling face with tear
Disguised face
Pinched fingers
Anatomical heart
Lungs
Black cat
Bison
Mammoth
Beaver
Polar bear
Dodo
Feather
Seal
Beetle
Cockroach
Fly
Worm
Potted plant
Rock
Wood
Blueberries
Olive
Bell pepper
Flatbread
Tamale
Fondue
Teapot
Bubble tea
Pickup truck
Roller skate
Magic wand
Piñata
Nesting dolls
Knot
Thong sandal
Military helmet
Accordion
Long drum
Coin
Mouse trap
Toothbrush
Headstone
Placard
People
Tools
Buildings
Symbols
Ninja
Person in tuxedo
Woman in tuxedo
Person with veil
Man with veil
Woman feeding baby
Person feeding baby
Man feeding baby
Mx claus
People hugging
Sewing needle
Boomerang
Carpentry saw
Screwdriver
Hook
Plunger
Bucket
Hut
Ladder
Elevator
Mirror
Window
Transgender symbol
Transgender flag
Since different platforms roll out design updates at different times, you might start to see these pop up gradually throughout the year. In fact, you might still be stumbling across new emojis from 2019. The most popular emojis from last year were 🥰 Smiling Face with Hearts, 🥺 Pleading Face, and 🥴 Woozy Face. And so far, the #1 most popular emoji from the 2020 list is Pinched Fingers 🤌 (If you can't see these yet, your browser/platform might still be rolling them out.)
New emojis mean new ways to express yourself in conversations at work, but also new ways to communicate in your marketing. If you're one of the first brands to use an emoji, it could spark curiosity and increase the number of people who pay attention to your content.
But new emojis aren't the only way to get noticed and spark curiosity...
How to use custom Slack emojis
Did you know that you can add custom emojis on Slack? Of course, Slack already has plenty of built-in emoji characters, but why stop there? You can use emojis in Slack to express thoughts and emotions within your message, talk in code (that only your team will understand), and appropriately react to someone else's message with the perfect emoji.
This feature has played an important role in expressing and sharing Tiny's company culture (especially when so many of our team work remote/distributed). One of our software architects, Dylan, has made it his duty (since he has Slack admin access) to add custom emojis for a whole range of things. 
The cloud team invented a whole language to describe what they're doing, and when we went remote, we had to add a language for our statuses, with emojis for "here", "out", "brb", "back" and "lunch". Lately, the DX and Cloud teams have started to talk in whole hieroglyphic sentences, and part of the joke is trying to decipher them.

Dylan Just, Software Architect @Tiny
Here are just some of the custom Slack emojis you'll find in Tiny's workspace...
Work-related
Work-related emojis include everything from software we use to common expressions used by our developers to describe where a project is at. If you're a developer, you'll probably benefit from using these emoji combinations in your work conversations, too.
Culture
We have emojis specific to our company values, along with a few emojis that... well, are a little tricky to explain unless you're one of us.
Conversation
A picture speaks a thousand words. Or in this case, replaces anywhere from 1-3 words. Emojis can be a way to save time in everyday conversations (especially when the same topics keep popping up) or make them more fun and exciting.
Fun, memes, and pop culture
From political figures to our favorite memes and TV shows… with so much pop culture knowledge, it's surprising our team gets any work done at all! 😜
If you'd like to do something similar for your team (we recommend it!), Slack has a tutorial on how to add custom emoji. They have an unofficial directory of custom emojis to get you started, or you can upload your own image files off the interwebs (or even use pictures of things from the office) for an extra-custom setup. Feel free to save some of our custom emojis here, too.
The sky's the limit here. The word on the street is Uber has 14,000+ custom emojis, so don't hold back.
Add emoji pickers to your applications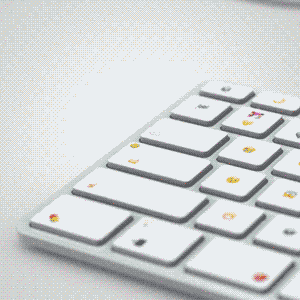 Another way to encourage emoji use at work and in your content is by incorporating them into the text entry components of your applications. While there are shortcuts on Windows and Mac to open up an emoji panel, not all your users will be familiar with these, but they will probably be familiar with the process of selecting emojis via a toolbar.
The TinyMCE WYSIWYG editor, used in over 100M+ software products worldwide, has an optional Emoticon plugin that enables emojis as part of your editable text areas. Like Slack, one of the big advantages of using this plugin is that you can add your own custom emojis and override the default database. You can remove any emojis that you don't want accessed (ones that might be off-brand, open to misinterpretation, or inappropriate) and add your preferred emojis, customizing them to your company culture, brand style, and audience's interests.
If you're a developer and you're interested in adding emojis to your applications, see our previous article on how to add an emoji picker to your text areas. Or, if your software is already built with the TinyMCE editor, it's as easy as having one of your developers turn on the plugin!
We recently added our WYSIWYG editor (with emoji picker) to a simple real-time chat app. Check it out...
Advanced emoji usage: How to combine emojis like a pro
Most people are proficient at using emojis here and there, but what about combining multiple emojis to create something new, replace a phrase, or tell a story? Or, combining emojis that tell your brand story with shapes and colors that match your brand style and products?
The best emoji combinations should get your point across and not require too much interpretation. Here are some examples we've come across (and some we've used) to get you started:
| | |
| --- | --- |
| ☁️ 😄 ☁️ | Head in the clouds |
| 🙅 ☕ | Not my cup of tea |
| | Broken bone from a scooter accident |
| ☁️ | Ship software to the cloud |
| 🙏 ➡️ ⏰ | Thank you for your time |
| 👍 🌃 | Good night |
| 💁 ✋ | Talk to the hand |
| 🍺 🤏 | Hold my beer |
| ❌ ▶️ 🔥 | Don't play with fire |
| 🚀 ⛳ 🎯 | The launch hit all the targets |
| 💛 🟨 🟡 🌼 🌻 📒 🐝 🚧 🐤 💐 🏵️ 🌟 ⭐ ✨ | Yellow emojis |
| 🍏 📗 🥗 💚 🥬 🟢 🟩 🍵 🤢 🥒 🦗 🐢 🍐 🔋 🚛 🎋 🌳 🌲 🌴 🌱 🥦 🍃 | Green emojis |
| 🍎 🔴 🟥 🧧 🔻 🔺 ❤️ | Red emojis |
| 📘 💙 🔷 🟦 🔹 🔵 ☄️ 🐋 🌐 🧿 | Blue emojis |
| ⚙️ 🖨️ 📟 👨 💻 👩 💻 📀 💽 💻 💾 📡 📱 🖥️ 💿 📲 🖱️ 🖰 ⌨️ 🤖 🔗 | Technology emojis |
| 🍇 🍈 🍉 🍊 🍋 🍌 🍍 🥭 🍎 🍏 🍐 🍑 🍒 🍓 🥝 🍅 🥥 🥑 🍆 🥔 🥕 🌽 🌶 🥒 🥬 🥦 🧄 🧅 🍄 🥜 🌰 🍞 🥐 🥖 🥨 🥯 🥞 🧇 🧀 🍖 🍗 🥩 🥓 🍔 🍟 🍕 🌭 🥪 🌮 🌯 🥙 🧆 🍳 🥘 🍲 🥣 🥗 🍿 🧈 🧂 🥫 🍱 🍘 🍙 🍚 🍛 🍜 🍝 🍠 🍢 🍣 🍤 🍥 🥮 🍡 🥟 🥠 🥡 🦪 🍦 🍧 🍨 🍩 🍪 🎂 🍰 🧁 🥧 🍫 🍬 🍭 🍮 🍯 | Food emojis |
| 🍼 🥛 ☕ 🍵 🍶 🍾 🍷 🍸 🍹 🍺 🍻 🥂 🥃 🥤 🧃 🧉 🧊 | Beverage emojis |
*Note: if you can't see some of the above emojis, you might be using a device or browser that's not yet up to date with the newest Unicode standards (sorry about that).
Final tips for using emojis in your workplace
Watch for double meanings
When using emojis in the workplace, it's important to be aware that some emojis have double meanings. In some cases, an emoji might look like a fruit, but instead, it might be more commonly used to represent something else.
For example, only 7% of people use the peach emoji as a fruit (obviously you're in that 7%, right?).
Be aware of cultural differences
It's important to consider cultural differences when using emojis. For example, the "OK hand" could mean something positive to you (like, "yes", "good", "correct", or "I'm okay") but in other cultures, it could be seen as offensive. At the same time, this gesture represents the number nine in American Sign Language (ASL). 
Also, be aware of skin-tone usage. If representing your brand, it's often safest to stick with the default yellow skin tone for your people/face emojis. If using emojis to express yourself personally, you could use the default yellow or choose the skin tone that's closest to your own.
Check out this quiz to find out just how much you don't know about what animal emojis could mean in different cultures.
Keep it work appropriate
Some emojis might be okay to use with friends and family, but not with co-workers, customers, or clients. For example, the kissing face and heart emojis could be misinterpreted and used as evidence of sexual harassment. 
Use emojis to be friendly and appreciative, but don't overdo it. Of course, this will depend on your brand personality. If your company sells lipstick, the kissing emojis might be totally appropriate in the right context. But if in doubt, leave it out.
Start with the popular emojis
If you want to play it fairly safe and you're not a big emoji user, start with some of the most popular emojis. Unicode has a list that ranks emojis by frequency, with the most commonly used options, including 😂 ❤️ 😍 🤣 😊 🙏 💕 😭 😘 (but go easy on the heart/kissing ones).
Use emojis as punctuation
Did you know you can use emojis as punctuation? If not, that's okay - it's a relatively new thing. But if you haven't already, try using an emoji in place of a full stop 😊 You'll probably find it looks better than putting a full stop before or after an emoji 😊.
Know when to hold back
It's not always appropriate to use emojis. For example, stick to words only if you're communicating about something quite serious (like legal stuff), or you're with someone who might prefer a more conservative or formal approach (like a senior executive you don't normally talk to). 
Research done in 2016 found that 39% of senior managers interviewed thought it was unprofessional to use emojis in work communications. Another study found that using a smiley could make workers seem less competent. Of course, these were just small studies and emoji usage has evolved a fair bit since then, but it's worth remembering that emojis aren't for everyone, and certainly not for every situation. 
Understand the context first
Emoji usage depends very much on context, so pay attention to how your colleagues use emojis and try to mirror their communication style. Like other parts of your communication (like the tone and words you use, and even the way you dress), you have to know your audience and read the room. And if you're new to the team or brand, it's best to ease yourself in before you hit them with a 💩 emoji.
Emojis have consequences
Emojis aren't just fun little pictures - they form part of your communication, so it's important to realize they can have legal consequences (just like your words). So, choose your emojis carefully to ensure they don't communicate the wrong meaning to colleagues, customers, or clients.
Create an emoji policy
If your team plans to use emojis in their communications with each other and/or with customers, it's a good idea to include this in your company policies and style guides. Write some guidelines around what emojis should and shouldn't be used, in what context, and how often. That way, you should avoid most of the problems that come with emoji usage, while ensuring your brand is represented in a really consistent way.
Happy World Emoji Day!
We hope you enjoy this year's World Emoji Day and that this article has helped you learn some new things and get some creative ideas about using emojis in your workplace. 
This World Emoji Day on July 17, make it your mission to use some new emojis, whether it's creating custom Slack emojis, having some fun with your content, posting a tweet with #WorldEmojiDay, or sending a coded message to your colleague. 
By the way, make sure you follow us on Twitter at @joinTiny and subscribe to get Tiny's weekly blog updates. Send us an emoji-filled tweet and let us know what you thought about this article!
Sours: https://www.tiny.cloud/blog/custom-slack-emojis-combinations-work/
You will also like:
I closed my eyes, now Im not so ashamed. The final groan on the home theater screen and I hear the sound of the door opening. The rustling of the jacket, the sound of the unlacing of the grindos. a couple more steps to the archway to the bedroom and silence.
863
864
865
866
867