Jackie Chan, Bruce Lee, Stephen Chow… Even though Hong Kong is a really small city (roughly one-twelfth the size of New York), it gave birth to quite a few good movies and movie stars. Do you want to learn Cantonese in a fun way while also understanding more about Hong Kong culture? Here are ten famous Cantonese movies for you to work through in your spare time! We've even gone to the effort of translating some of the most memorable Cantonese movie quotes so that you can get a taste of what each film's about before picking and choosing your favorites! Here are some tips to improve your pronunciation while watching movies in Cantonese.
Table of Contents
In the Mood for Love
Infernal Affairs
Shaolin Soccer
Fist of Fury
Police Story
A Simple Life
A Better Tomorrow
Ip Man
Love in the Puff
Ten Years
Bonus: A Local Cantonese Cartoon that Warms Your Heart
Conclusion
1. In the Mood for Love (2000)
Cantonese Title: 花樣年華
Romanization:faa1 joeng6 nin4 waa4
Director: Kar-Wai Wong
Stars: Tony Chiu-Wai Leung; Maggie Cheung
In the Mood for Love is arguably one of the best Hong Kong movies in centuries. Directed by the internationally renowned filmmaker Kar-Wai Wong, the movie paints the love story of two middle-aged Hong Kongers in the 1960s, starring the handsome Tony Leung Chiu-wai and the elegant Maggie Cheung Man-yuk. Both betrayed by their partners, the lonely next-door neighbors are eager to seek comfort in each other—but are hesitant to go further.
Famous Quote from Movie (Cantonese Written Form): 那個時代已過去。屬於那個時代的一切,都不存在了。
Romanization:naa5 go3 si4 doi6 ji5 gwo3 heoi3. suk6 jyu1 naa5 go3 si4 doi6 dik1 jat1 cai3,dou1 bat1 cyun4 zoi6 liu5.
English Meaning: That era is gone. Everything that belongs to that era no longer exists.
2. Infernal Affairs (2002)
Cantonese Title: 無間道
Romanization:mou4 gaan3 dou6
Director: Wai-Keung Lau; Alan Mak
Stars: Andy Lau; Tony Chiu-Wai Leung; Anthony Chau-Sang Wong
Infernal Affairs is a Cantonese undercover police thriller that has earned high praise and inspired an Oscar-winning remake (Martin Scorsese's The Departed). Starring an abundance of famous Hong Kong movie stars, this 100-minute Cantonese thriller is a journey of finding out who the mole is, and who the cop is.
Famous Quote from Movie (Cantonese Speech Form): 出嚟行,遲早要還 。
Romanization:ceot1 lei4 hang4, ci4 zou2 jiu3 waan4.
English Meaning: This is expected.
3. Shaolin Soccer (2001)
Cantonese Title: 少林足球
Romanization:siu3 lam4 zuk1 kau4
Director: Stephen Chow
Stars: Stephen Chow; Wei Zhao; Yat-Fei Wong
Most, if not all, Hong Kongers have watched Stephen Chow's comedies and can quote a few lines immediately. Perhaps one of the best and most well-known of Stephen Chow's movies, Shaolin Soccer mixes the popular movie theme—kung fu—with another popular sport (soccer), in a ridiculous plot that's sure to make you laugh hard. The quote introduced below has become part of everyday language and is still used excessively seventeen years later!
Famous Quote from Movie (Cantonese Speech Form): 做人如果無夢想,同條鹹魚有咩分別呀?
Romanization:zou6 jan4 jyu4 gwo2 mou4 mung6 soeng2, tung4 tiu4 haam4 jyu2 jau5 me1 fan1 bit6 aa3?
English Meaning: If we don't have any dreams in life, we are no different than a salted fish.
4. Fist of Fury (1972)
Cantonese Title: 精武門
Romanization:zing1 mou5 mun4
Director:Wei Lo
Stars: Bruce Lee; Nora Miao; James Tien
Fist of Fury (also known as The Chinese Connection) is a Cantonese action film starring the greatest martial arts icon Bruce Lee in his second major role after The Big Boss (1971). The martial arts master played a student of Huo Yuanjia, who fought to defend the honor of the Chinese against foreign aggression and to seek revenge for his master's death.
Famous Quote from Movie (Cantonese Speech Form): 我少讀書,你唔好呃我 。
Romanization:ngo5 siu2 duk6 syu1, nei5 m4 hou2 aak1 ngo5.
English Meaning: I am not well educated. Don't lie to me.
5. Police Story (1985)
Cantonese Title: 警察故事
Romanization:ging2 caat3 gu3 si6
Director: Jackie Chan; Chi-Hwa Chen
Stars: Jackie Chan; Maggie Cheung; Brigitte Lin
Police Story is a Cantonese action film written and directed by the famous Jackie Chan, who also starred in the lead role. In the movie, Jackie (the cop) is framed and has to prove his innocence with both wit and power. A cool fact: The theme song of this movie, The Story of a Hero, has become one of the songs that represents the actual Hong Kong Police Force!
Famous Quote from Movie (Cantonese Written Form): 你别管我,命是我的,我有分寸。
Romanization:nei5 bit6 gun2 ngo5, meng6 si6 ngo5 dik1, ngo5 jau5 fan1 cyun3 。
English Meaning: Leave me alone; this is my life, I know what I'm doing.
6. A Simple Life (2011)
Cantonese Title: 桃姐
Romanization:tou4 ze2
Director: Ann Hui
Stars: Andy Lau; Deanie Ip
A Simple Life (also known as Sister Peach) depicts the relationship between a man and his aging maid. This heart-warming movie has earned numerous awards and its lead actress, Deanie Ip, won the Best Actress Award at the 68th Venice International Film Festival.
Famous Quote from Movie (Cantonese Written Form): 即使沒有別人給你理由,生命依然值得堅持。
Romanization:zik1 sai2 mut6 jau5 bit6 jan4 kap1 nei5 lei5 jau4, sang1 ming6 ji1 jin4 zik6 dak1 gin1 ci4.
English Meaning: Even if there is no reason to, life is still worth living.
7. A Better Tomorrow (1986)
Cantonese Title: 英雄本色
Romanization:jing1 hung4 bun2 sik1
Director: John Woo
Stars: Lung Ti; Leslie Cheung; Yun-Fat Chow
Starring the handsome Yun-Fat Chow and the multi-talented Leslie Cheung, A Better Tomorrow centers around the tension between an ex-gangster and his policeman brother. It became a blockbuster not only in Hong Kong, but also in other parts of Asia. Proof? The most famous game show host in Korea, Yoo Jae Suk, can still recite some of its most famous quotes and its Cantonese theme song after almost thirty years! (https://www.youtube.com/watch?v=y95U6UE6YpA)
Famous Quote from Movie (Cantonese Speech Form): 「你信唔信有神?」 「信,我咪係神 !」
Romanization:「nei5 seon3 m4 seon3 jau5 san4?」 「seon3, ngo5 mai6 hai6 san4!」
English Meaning: "Do you believe in god?" "Yes, I am god."
8. Ip Man ( 2008 )
Cantonese Title: 葉問
Romanization:jip6 man6
Director: Wilson Yip
Stars: Donnie Yen; Simon Yam; Siu-Wong Fan
Ip Man is a martial arts movie based on the real life of Bruce Lee's teacher, who fought for dignity during the Sino-Japanese War. Donnie Yen's portrayal of Ip Man has earned him international attention and he soon became a new martial arts icon.
Famous Quote from Movie (Cantonese Speech Form): 我要打十個!
Romanization:ngo5 jiu3 daa2 sap6 go3!
English Meaning: I want to fight with ten people at the same time!
9. Love in the Puff (2012)
Cantonese Title: 春嬌與志明
Romanization:ceon1 giu1 jyu5 zi3 ming4
Director: Ho-Cheung Pang
Stars: Miriam Chin Wah Yeung; Shawn Yue
Love in the Puff is a Cantonese romantic comedy sequel to the 2010 film Love in a Puff, featuring Miriam Yeung and Shawn Yuen as an ex-couple, who find it difficult to get over each other. As the story is relatable and the lines are colloquial, this movie became an instant hit in the city.
Famous Quote from Movie (Cantonese Speech Form): 成世人流流長,總會愛上幾個人渣。
Romanization:seng4 sai3 jan4 lau4 lau4 coeng4, zung2 wui2 oi3 soeng5 gei2 go3 jan4 zaa1.
English Meaning: Life is long, no wonder we would fall in love with a few bastards in our lifetimes.
10. Ten Years (2015)
Cantonese Title: 十年
Romanization:sap6 nin4
Director: Jevons Au; Zune Kwok; Chow Kwun-Wai; Ka-Leung Ng; Fei-Pang Wong
Stars: Jevons Au; Fun-Kei Chan; Peter Chan
Ten Years is a Cantonese speculative fiction movie composed of five different short films. It envisions Hong Kong in the year 2025, with diminished freedom of speech and human rights. Even though it was produced under a tight budget, this movie was a hit when it was released and influenced the city both culturally and politically.
Famous Quote from Movie (Cantonese Written Form): 我不想做到這一刻,才放棄原則。
Romanization:ngo5 bat1 soeng2 zou6 dou3 ze5 jat1 hak1, coi4 fong3 hei3 jyun4 zak1.
English Meaning: I don't want to give in and betray what my beliefs after all the efforts.
11. Bonus: A Local Cantonese Cartoon that Warms Your Heart
McDull, Prince de la Bun (2004)
Cantonese Title: 麥兜菠蘿油王子
Romanization:mak6 dau1 bo1 lo4 jau4 wong4 zi2
Director: Toe Yuen
McDull is the "flawed" mascot of Hong Kong. He's a cute and kind piglet cartoon character that was featured in several TV shows and movies. Even though he's not very smart, his warm nature has captured the hearts of both kids and adults. If you're looking for a touching movie with strong local Hong Kong elements, this is your movie!
12. Conclusion: How CantoneseClass101 Can Help You Learn More Cantonese
Want to level up your Cantonese after watching these movies? No worries. With CantoneseClass101.com, you can have your daily dose of Cantonese whenever and wherever you want, through your mobile apps, desktop software, and our website. We offer entertaining, engaging, and effective lessons on various aspects of the Cantonese language and culture.
Until now, we've delivered more than 750,000,000 lessons to thousands of happy students from all around the globe. You can learn Cantonese with over 1060 audio and video lessons delivered by our knowledgeable and energetic hosts, detailed PDF lesson notes, abundance of vocabulary learning tools, spaced repetition flashcards, and a lively community to discuss the lessons with fellow learners. What are you waiting for? Download our lessons, enjoy our audio and video files, and start learning now!
Start with a bonus, and download the Must-Know Beginner Vocabulary PDF for FREE! (Logged-In Member Only)
Posted by CantoneseClass101.com in Cantonese Language, Cantonese Phrases, Cantonese Words, Learn Cantonese, Site Features
Sours: https://www.cantoneseclass101.com/blog/2019/05/24/best-cantonese-movies/
Hong Kong was once the Hollywood of the East. At its peak, around the early 90s, the local movie industry was the first in the world – in terms of per capita production and the second-largest exporter of films – second only to the US.

The influence of Hong Kong cinema can be seen far and wide. Bruce Lee remains a global icon and his martial arts movies are classics. The groundbreaking action of The Matrix would never have come about if not for John Woo films and the action choreography of Yuen Woo-ping. Quentin Tarantino ripped off Ringo Lam's City on Fire for his debut, 1992's Reservoir Dogs. Moonlight owes much to the style of Wong Kar-wai films and the auteur was an influence acknowledged by Soffia Coppola when she collected the Oscar for Best Original Screenplay for Lost in Translation.

So with such a massive cultural legacy, what are the best Hong Kong movies of all time? We present to you this definitive ranking of the best films made until 2018.

RECOMMENDED: More of a funny romance kind of person, then check out Hong Kong's best romcoms, or settle in for some laughs with the best of Stephen Chow's movies.
An email you'll actually love
By entering your email address you agree to our Terms of Use and Privacy Policy and consent to receive emails from Time Out about news, events, offers and partner promotions.
🙌 Awesome, you're subscribed!
Thanks for subscribing! Look out for your first newsletter in your inbox soon!
The 100 best Hong Kong movies: 100-91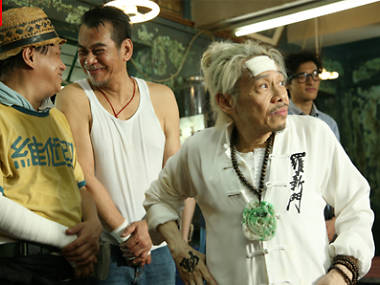 100. Gallants 打擂台 (2010)
Dir Derek Kwok, Clement Cheng (Leung Siu-lung, Chen Kuan-tai, Teddy Robin)
"If you don't fight you won't lose. But if you fight, you must aim to win!"
Kung fu stars of yesteryear carry this spirited homage to an old genre by two up-and-coming directors. That the low-budget retro action comedy was named best picture at the Hong Kong Film Awards reveals as much about our cinema's current nostalgic wave as it does a gradual changing of the guard.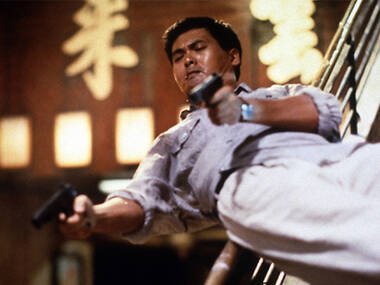 99. Hard Boiled 辣手神探 (1992)
Dir John Woo (Chow Yun-fat, Tony Leung Chiu-wai, Teresa Mo)
"I play a tune to every cop who dies. I don't want to play the next song for you."
Life is cheap (and bullets apparently cheaper) in this ultra-cool, ultra-stylish shoot 'em up. From Chow's gun-fu-fighting supercop to Woo's cameo as a contemplative jazz bar owner, and from its birdcage-kicking teahouse shootout at the start to its hospital-exploding, baby-saving climax, Hard Boiled remains any action fanboy's wettest dream.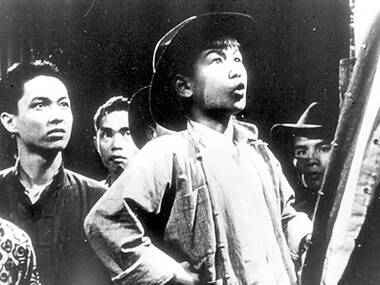 98. The Kid 細路祥 (1950)
Dir Fung Fung (Bruce Lee, Yee Chau-shui, Lee Hoi-chuen, Fung Fung)
"Last night I dined with Pak Yin. Tonight I dine with Tam Lan-hing."
Bruce Lee shined in his first leading role as A-Chang in this vivacious social comedy, playing a 10-year-old orphan who's raised by a righteous uncle (Yee), groomed by a skilled thief (Fung) and involved in all sorts of trouble around the factory of a hilariously forgetful miser (Lee Hoi-chuen, Lee's father).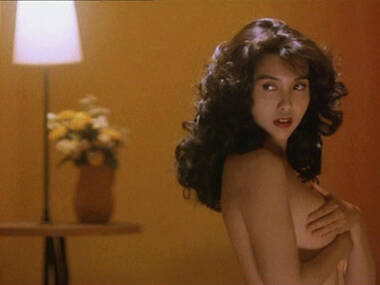 97. Naked Killer 赤裸羔羊 (1992)
Dir Clarence Fok (Chingmy Yau, Simon Yam, Carrie Ng)
"Once I rammed a toothbrush up a man's nose. It hit his brain and he was killed instantly."
Man-hating lesbian assassins populate this Wong Jing-scripted and produced erotic thriller, whose absurdly OTT campness renders it a cult fave internationally. Yau's classic one-arm-over-the-breasts posture unleashed a new era of sex icons who, even while topless, don't reveal their goods.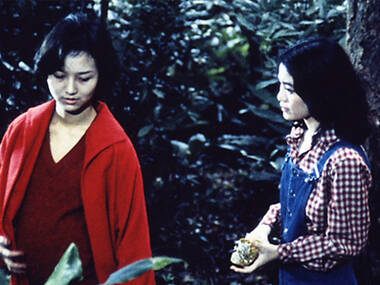 96. The Secret 瘋劫 (1979)
Dir Ann Hui (Sylvia Chang, Angie Chiu, Tsui Siu-keung)
"Tie the two monkeys to the tree!"
Part pseudo-ghost story, part Hitchcockian mystery thriller, Hui's debut feature wraps a brutal double murder at its core with disorienting editing, fragmented chronology and some utterly haunting sequences. Its final scene, involving a cleaver and a pregnant woman, is as ridiculously gory as it is surreal.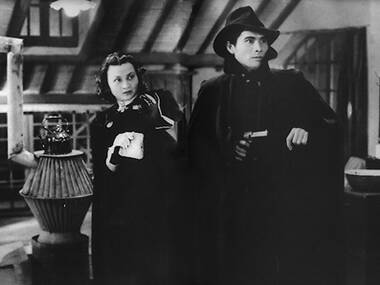 95. Orphan Island Paradise 孤島天堂 (1939)
Dir Cai Chusheng (Li Lili, Li Qing)
"Orphan Island! Is this heaven or hell?"
The oldest movie on our list is a war-time drama which passionately fuses espionage noir with social-realist drama. Set during the Orphan Island period of Shanghai, the film follows a group of revolutionary patriots-cum-assassins who finally earn the support of the suffering public. 'We're all Chinese,' so they repeatedly chant.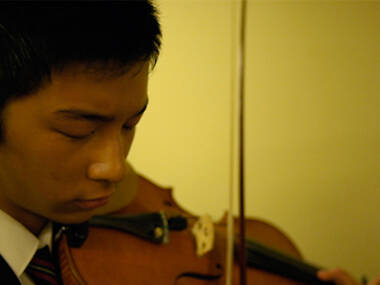 94. KJ 音樂人生 (2009)
Dir Cheung King-wai (Wong Ka-jeng)
"I want to be a human being."
Cheung's magnificent documentary sees egotistic music prodigy Wong Ka-jeng questioning his existence at the age of 11 – when he's arguably peaked; at 17, the boy's free spirit was already corroded by meaningless competitions and his parents' divorce. His struggle is largely unspoken – and it's all unspeakably sad.
* Did you know…
… Wong's story context was very specifically chosen? "I put Wong against the backdrop of [his secondary school], which symbolises the elite education and middle class culture," says Cheung, "but I wasn't interested in Wong's subsequent education in the US, so the filming stopped at that point."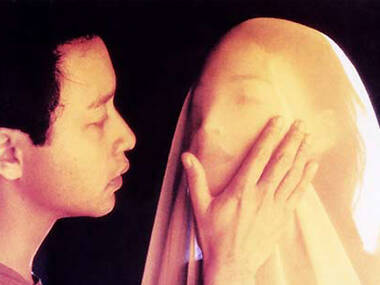 93. Viva Erotica 色情男女 (1996)
Dir Derek Yee, Lo Chi-leung (Leslie Cheung, Shu Qi, Karen Mok)
"Nobody asked you to be Wong Kar-wai! Can't you be Wong Jing instead?"
It's not quite the highbrow smut it aspires to be but Viva Erotica, which tells of the artistic pursuit of a downtrodden filmmaker reluctantly engaged to helm a softcore skinflick, remains one of the few satires on Category III filmmaking that manages to be frank, funny and humane all at once.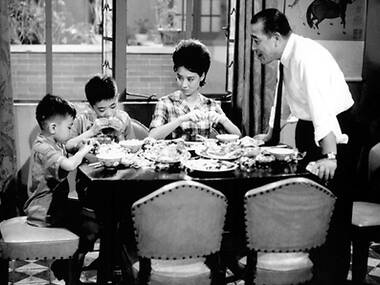 92. Father Takes a Bride 小兒女 (1963)
Dir Wang Tianlin (Lucilla You Min, Wang Yin, Kelly Lai Chen, Wang Lai)
"Dad, we don't want a new mum."
The transience of youth and the difficulty in affirming love in all circumstances are delicately alluded to in this Eileen Chang-scripted family melodrama, which sees a middle-aged widower's (Wang Yin) decision to remarry being disrupted by his three children's fear of a potentially evil stepmother.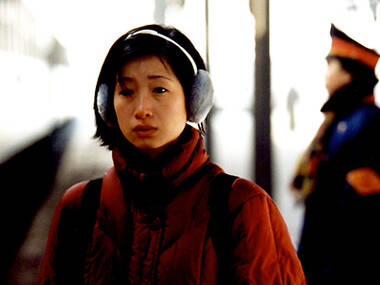 91. Durian Durian 榴槤飄飄 (2000)
Dir Fruit Chan (Qin Hailu, Mak Wai-fan)
"I got the king of all fruits for your birthday."
The quests for better living of two Mainland migrants – a Chinese opera performer working temporarily as a prostitute (Qin) and a young daughter overstaying her visa (Mak) – become intertwined through the stinky, exotic fruit in this gently observed effort, the first title in Chan's unfinished 'Prostitute Trilogy'.
The 100 best Hong Kong movies: 90-81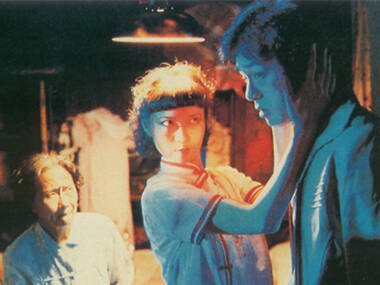 90. The Spooky Bunch 撞到正 (1980)
Dir Ann Hui (Josephine Siao, Kenny Bee)
"Is she human or ghost?"
A Cantonese opera troupe encounters the vengeful ghosts of a war-time forged medicine disaster. From phantoms and curses to spells and possessions, this New Wave representative is a furiously paced, Cheung Chau-set horror farce which throws every creepy facet of Chinese superstition at the audience.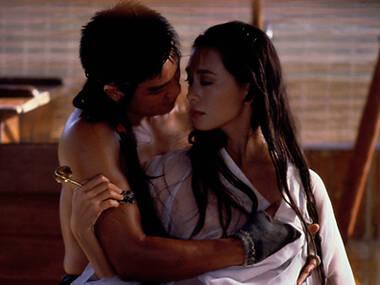 89. An Amorous Woman of Tang Dynasty 唐朝豪放女 (1984)
Dir Eddie Fong (Pat Ha, Alex Man, Zhang Guozhu)
"My heartfelt gratitude, great hero. I won't let your kind go easily satisfied!"
Ha cements her sex symbol status in this landmark period erotica of progressive feminist and existentialist undertones. As a Taoist priestess-cum-literati, and hostess of nightly orgies, her pleasure-seeking heroine refuses to be tied down in matrimony or, indeed, to any one lover – male or female.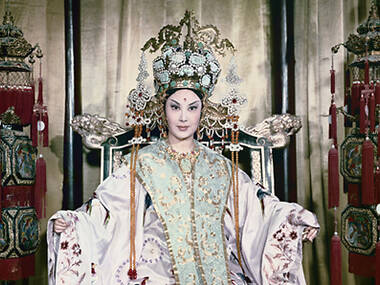 88. Empress Wu 武則天 (1963)
Dir Li Han-hsiang (Li Lihua, Zhao Lei, Grace Ting Ning)
"People oppose me, hate me, blame me and even want to kill me. But I'm still alive!"
Maybe it's the distractingly sumptuous visuals, or maybe it's the battle of wits which characterises its sophisticated dialogue, but this operatic tale about China's first female ruler was initially panned by the critics – before it came to be seen, belatedly, as a consummate historical costume drama with a female-empowering touch.
---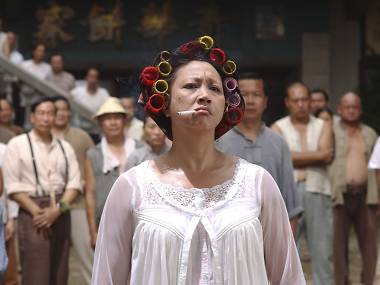 87. Kung Fu Hustle 功夫 (2004)
Dir Stephen Chow (Stephen Chow, Danny Chan Kwok-kwan, Yuen Qiu)
"No more soccer!"
The underdog hero of Hong Kong cinema went mega-budget for this CGI extravaganza, a martial arts comedy so outrageously cartoonish it put its writer-director-producer-star temporarily on the world map. Film buffs will be in heaven spotting the references, from Bruce Lee lore to The House of 72 Tenants (1973).
86. Laugh, Clown, Laugh 笑笑笑 (1960)
Dir Li Pingqian (Bao Fong, Shek Hwei, Kung Chiu-hsia)
"Laugh and you'll never get old."
A sadder than sad story about a fun-loving optimist whose interest in comedy performance is despised by both his family and his wealthy future in-laws, Li's tragic-comedy follows the 50-year-old father (Bao) as he maintains a dignified façade after losing his long-held accounting job in an occupied Tianjin in the 1940s.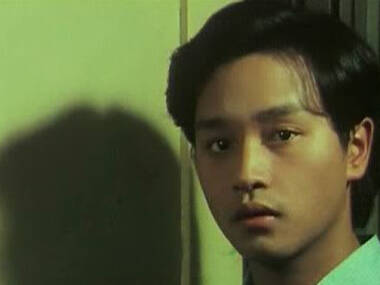 85. Nomad 烈火青春 (1982)
Dir Patrick Tam (Leslie Cheung, Pat Ha, Kent Tong, Cecilia Yip)
"Let me declare again that I don't love you."
Daring in form and casually nihilistic in content, this New Wave classic is a youthful slice-of-death drama which became notorious for its open attitude to sex – there's lovemaking on a moving tram! There's also an abruptly violent conclusion, oddly involving the Japanese Red Army.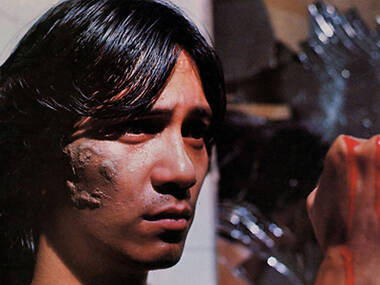 84. Man on the Brink 邊緣人 (1981)
Dir Alex Cheung (Eddie Chan, Kam Hing-yin, Callan Leung)
"I wouldn't mind dying heroically."
A fresh-faced policeman (Chan) assigned to infiltrate the triads sinks into a downward spiral of violence in this early New Wave gem. Clearly inspired by Serpico (1973), Cheung's gritty look at his protagonist's escalating alienation and disillusionment would later kick-start the sub-genre of undercover cop drama in Hong Kong.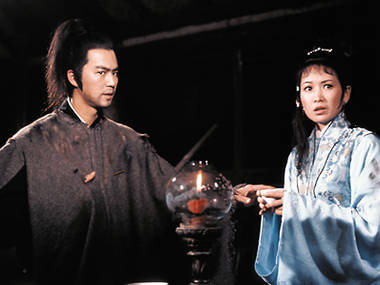 83. The Magic Blade 天涯‧明月‧刀 (1976)
Dir Chor Yuen (Ti Lung, Lo Lieh, Ching Li)
"Last year's duel decided only the winner; today's decides who will live."
Ti's poncho-wearing, solitary swordsman slashes through the vanity of the martial underworld in Chor's most celebrated adaptation of wuxia novelist Gu Long. If low on realistic characterisation, this swordplay fantasy hypnotises with its brooding ambience and imaginative weaponry.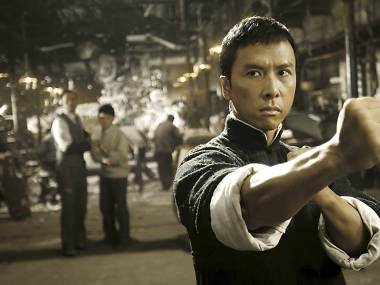 82. Ip Man 葉問 (2008)
Dir Wilson Yip (Donnie Yen, Simon Yam, Lynn Hung)
"I want to fight ten!"
After S.P.L. (2005), Dragon Tiger Gate (2006) and Flash Point (2007), the Yip-Yen combo reaches its zenith with this engrossing martial arts biopic on the titular Wing Chun legend. Patriotic fluff it certainly is, but Yen displays enough deadpan cool and dignified invincibility to shine in the role of his life.
* Did you know…
… Donnie Yen was once approached by director Jeff Lau – when his buddy Wong Kar-wai was still filming his own Ip Man movie – to play the master back in 1996? "Actually, I was signed to play Ip Man; I took the deposit too," clarifies Yen. "And Stephen Chow [was to] play Bruce Lee. But then the company fell apart and the movie never went [into production]."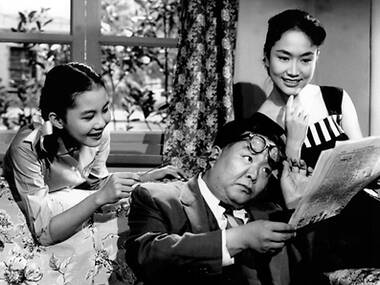 81. Mambo Girl 曼波女郎 (1957)
Dir Yi Wen (Grace Chang, Peter Chen Ho, Kitty Ting Hao)
"I… am not your sister."
Chang made her star turn in this Mandarin musical about a talented singer-dancer who, while showered with affection by her family and classmates, discovers on her 20th birthday that she's an adopted orphan. Not even an unsettling search for her birth mother could dampen this truly buoyant song-and-dance showcase.
The 100 best Hong Kong movies: 80-71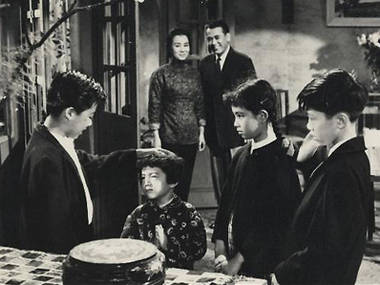 80. The Great Devotion 可憐天下父母心 (1960)
Dir Chor Yuen (Cheung Wood-yau, Pak Yin)
"It's the parents' duty to bring up their kids. Why can't we even manage that?"
A beloved schoolteacher contracts tuberculosis, sees his five children begging on the street for his wife's medical fees, and borrows from a loanshark before finding his infant daughter dead due to delayed medical attention in this classic melodrama – arguably the ultimate weepie for parents.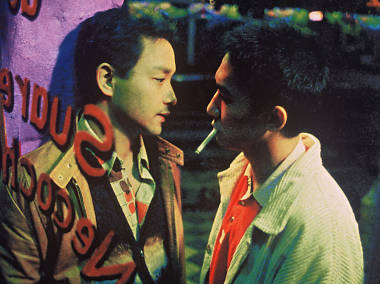 79. Happy Together (1997)
Dir Wong Kar-wai (Leslie Cheung, Tony Leung Chiu-wai, Chang Chen)
"Lai Yiu-fai, could we start over again?"
A pair of bickering Cantonese gay lovers (Cheung and Leung) stranded in Argentina may be an unusual idea of cinematic poetry but Wong, who was named best director at Cannes, managed the impossible with this lyrical break-up movie. His eye for wistful symbolism – highlighting Buenos Aires as Hong Kong's antipode – is out of this world.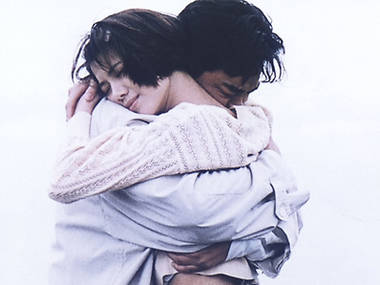 78. C'est La Vie, Mon Chéri 新不了情 (1993)
Dir Derek Yee (Anita Yuen, Lau Ching-wan)
"Don't look down upon me, I'm not big mouth. I've come back from the dead, kid."
Yuen plays the role of her life in this superb remake of Doe Ching's Shaw Brothers tearjerker Love Without End (1961). As an ultra-bubbly cancer patient from a Cantonese opera-singing family, her doomed romance with Lau's worn-out jazz composer is still one of our cinema's greatest romances.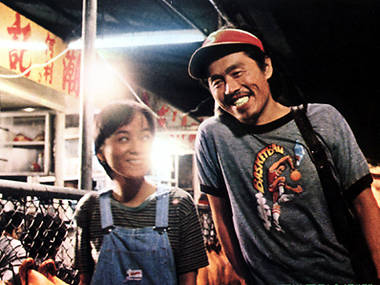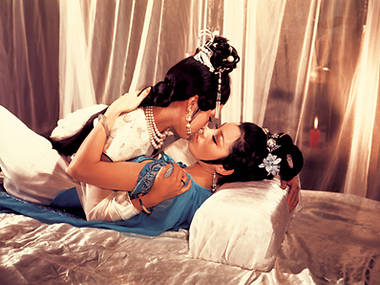 76. Intimate Confessions of a Chinese Courtesan 愛奴 (1972)
Dir Chor Yuen (Lily Ho, Betty Pei Ti, Yueh Hua)
"I use love to take my revenge."
Controversial on its initial release due to its lesbian and exploitation themes, Chor's rape-revenge epic – mixing swordplay with period erotica – still arrests the senses with the sheer intensity of its tale, which sees a defiant beauty (Ho) exacting vicious retribution on her tormentors years after being abducted into a high-class brothel.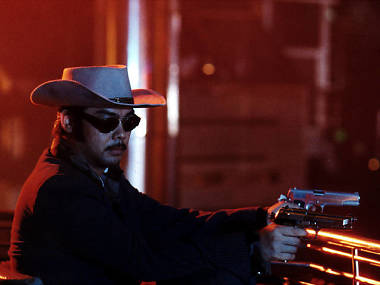 75. A Hero Never Dies 真心英雄 (1998)
Dir Johnnie To (Leon Lai, Sean Lau, Yoyo Mung, Fiona Leung)
Johnnie To's finest entry in the heroic bloodshed canon sometimes feels like the director is trying to out-John Woo John Woo. Some critics consider A Hero Never Dies a sly parody – Sean Lau's role in the final shootout is either the highpoint of loyalty or simply absurd. There's double handguns, male bonding (to the detriment of relationships with women), honour, betrayal, bullets flying everywhere and inevitable bittersweet deaths. Taken at face value, as we like to do, the film is a last-gasp portrayal of those heroic archetypes late 80s and early 90s Hong Kong cinema became famous for – and we love it for it.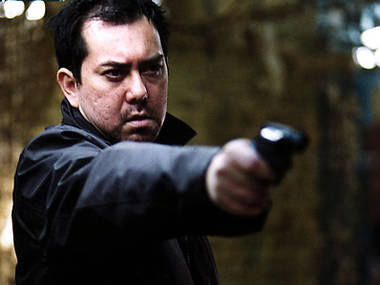 74. Beast Cops 野獸刑警 (1998)
Dir Gordon Chan, Dante Lam (Anthony Wong Chau-sang, Michael Wong)
"Sometimes I feel there's a barrier between us. A plastic barrier."
One of the funniest police thrillers Hong Kong cinema has ever seen, this offbeat dramedy alternates between ferocious meat cleaver battles with vicious mobsters and bantering sessions among three unorthodox cops, who philosophise their way through a lifestyle of drugs, bribes and loose women.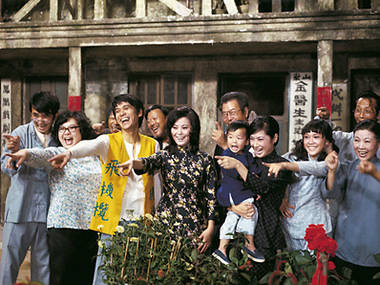 73. The House of 72 Tenants 七十二家房客 (1973)
Dir Chor Yuen (Hu Chin, Yueh Hua, Ching Li)
"Turn off the water tap downstairs! Is this a rebellion?"
A crowd-pleasing social satire which struck a chord with the TVB-loving population of the time, Chor's adaptation of a 1940s stage comedy turns domineering landlords, corrupt firefighters and policemen into the laughing stock of the people – revitalising Cantonese dialect cinema along the way.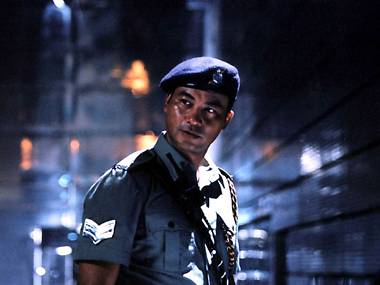 72. PTU
Dir Johnnie To (Simon Yam, Maggie Shiu, Lam Suet)
"He's fine. There's no complaint. There's no case."
Yam bends the rules in this convoluted nocturnal thriller, which is set in nightmarish motion when Lam's uniformed buffoon loses his gun and his Police Tactical Unit mates decide to secretly retrieve it for him before the night ends. Cynical irony abounds.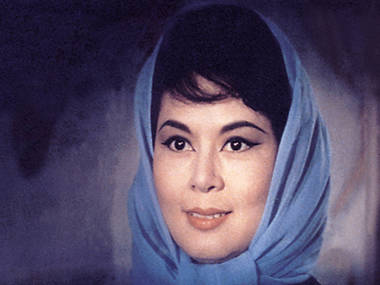 71. The Blue and the Black 藍與黑 The Blue and the Black 2 藍與黑續集 (1966)
Dir Doe Ching (Linda Lin Dai, Kwan Shan, Pat Ting Hung)
"If I didn't love you, I wouldn't hate you."
Released in two parts on the second anniversary of Lin's suicide, Ching's adaptation of Taiwanese writer Wang Lan's poignant WWII novel charts the decade-spanning affair of a pair of star-crossed lovers, who have long been kept apart by family pressure, the ongoing war, and more than a few lamentable life decisions.
The 100 best Hong Kong movies: 70-61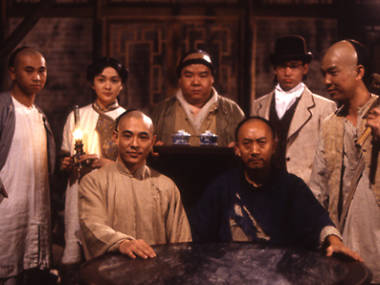 70. Once Upon a Time in China 黃飛鴻 (1991)
Dir Tsui Hark (Jet Li, Yuen Biao, Rosamund Kwan)
"Master Yim, win or lose, it's just a game."
Jet Li turned from Mainland wushu champion to international action star with Tsui's nationalistic reinvention of the folk legend of Wong Fei-hung. Its climatic warehouse combat, partly on flopping ladders, is easily one of the best fight scenes of kung fu cinema.
* Did you know…
… Which Hong Kong film would rank Number 1 if it was compiled by Chow Yun-fat? "Tsui Hark's Once Upon a Time in China," the actor tells Time Out, before repeating it twice.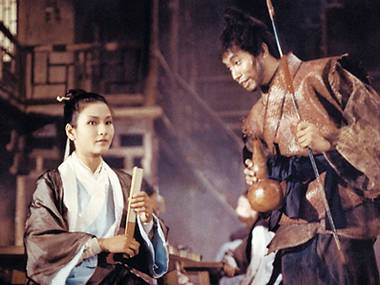 69. Come Drink with Me 大醉俠 (1966)
Dir King Hu (Cheng Pei-pei, Yueh Hua, Chen Hung-lieh)
"Better to be an honest beggar than a devil in monk's clothing."
Before the iconic director moved to Taiwan and shot Dragon Gate Inn (1967) and A Touch of Zen (1971) – indisputably two of the greatest martial arts films ever made – Hu refined the genre with this deliberately-paced quest for justice by Cheng's female knight Golden Swallow and Yueh's heroic swordsman Drunken Cat.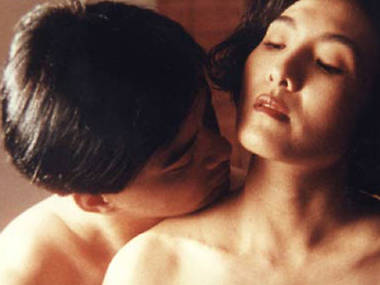 68. To Liv(e) 浮世戀曲 (1992)
Dir Evans Chan (Lindzay Chan, Josephine Koo, Anthony Wong Yiu-ming)
"We are not British subjects. We are only British objects."
Starting out as a cinematic response to Liv Ullmann's condemnation of our city's deportation of 51 Vietnamese refugees in 1990, Chan's impossibly intellectual post-Tiananmen essay-cum-melodrama offers everything from a Van Gogh 'prank' to a reciting of Invisible Cities. Last but not least: the other Anthony Wong emotes.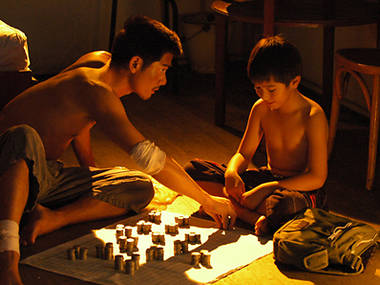 67. After This Our Exile 父子 (2006)
Dir Patrick Tam (Aaron Kwok, Ng King-to, Charlie Young)
"Why? Why did you make me steal?"
Kwok won his second of two consecutive best actor awards at the Golden Horse with this exceptional comeback effort by Tam. Crisply edited and masterfully narrated, the Malaysia-set drama takes an unflinching look at a gambler's destructive influence on – and unfathomable betrayal of – his young son (Ng).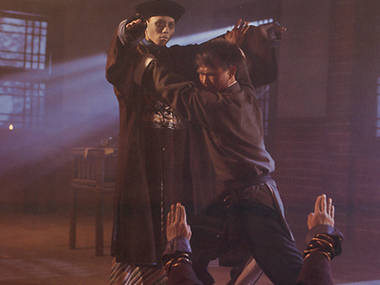 66. Mr. Vampire 殭屍先生 (1985)
Dir Ricky Lau (Lam Ching-ying, Ricky Hui, Chin Siu-ho)
"A corpse becomes a jiang shi because its last breath fails to leave the body."
A supernatural game-changer that started a franchise and set the rules for all things jiang shi, Lau's uproarious horror comedy popularised the mythology of Chinese hopping vampires (commonly said to be corpses reanimated out of indignation) – if not also sticky rice, the most hated item of the undead.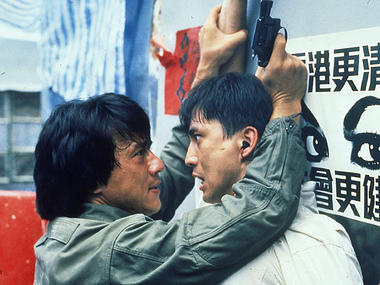 65. Police Story (1985)
Dir Jackie Chan (Jackie Chan, Brigitte Lin, Maggie Cheung)
"There're four witnesses last year who said the same thing as you. Guess what happened to them?"
Chan defied death – and incurred a variety of injuries – as a brave and truly athletic cop in this pinnacle of action choreography, whose death-defying stunts amaze from start (which sees the actor hang onto a speeding double-decker bus with an umbrella) to finish (with a glass-shattering, escalator-jumping climax).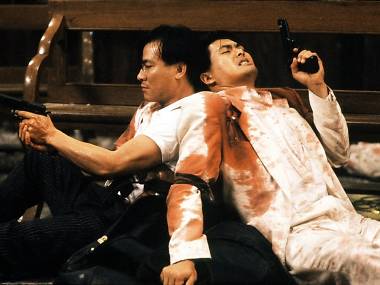 64. The Killer 喋血雙雄 (1989)
Dir John Woo (Chow Yun-fat, Danny Lee, Sally Yeh)
"I'd like to have a name to remember you by."
That church! Those white doves! The awesomely sappy Cantopop soundtrack! Arguably Woo's most artistically accomplished film of the 1980s, this one-last-job epic plays like a perfect cross between Jean-Pierre Melville and Sam Peckinpah, deftly reversing Chow and Lee's roles in City on Fire (1987) to thrust male bonding into high camp.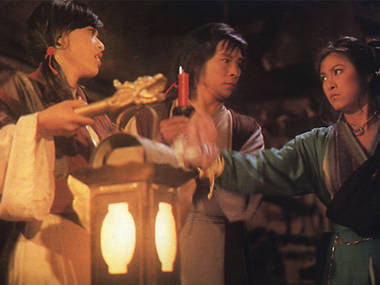 63. The Butterfly Murders 蝶變 (1979)
Dir Tsui Hark (Lau Siu-Ming, Michelle Yim, Wong Shu-tong)
"Are there really killer butterflies in the world?"
The maverick director's career-long schizophrenic sensibilities originated here: a breathtaking debut which encompasses everything from a wuxia writer-turned-detective as narrator, a medieval castle as the site of its locked room murder mystery, and millions of butterflies as its terrorisers. Hitchcock would have smiled with envy.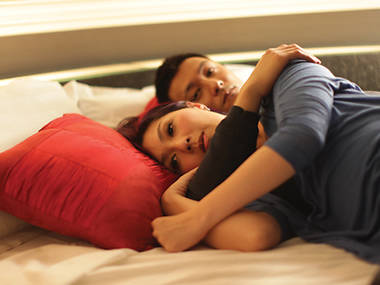 62. Love in a Puff 志明與春嬌 (2010)
Dir Pang Ho-cheung (Shawn Yu, Miriam Yeung)
"We don't need to do everything in one night."
From the hazy ambiance of its KTV lounge parties to its uncannily realistic portrayal of Cantonese banter's amusing ways, Pang's bittersweet rom-com about two chain-smoking would-be lovers looks reality square in the eye: while urban romances may be capricious, our city's indoor smoking ban is permanent.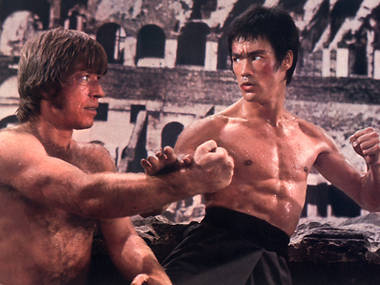 61. The Way of the Dragon (1972)
Dir Bruce Lee (Bruce Lee, Chuck Norris, Nora Miao)
Let him know. If I ever see him here again... He won't leave alive!
The only film written, produced, and directed by Bruce Lee was to have been the first of a series in which he cast himself as Tan Lung, out-of-town strong-arm, here hired by the Chinese owner of a restaurant in Rome to sort out their problems with the local syndicate. The film has the roughness you might expect in a first directorial effort, and also a perhaps unexpected leaning towards comedy. Lee makes great play on his character as the country boy without weapons confronting the denizens of the technologically-powerful West and winning hands down. Fight fest addicts will relish confrontations with Chuck Norris, Robert Wall and Wang Ing Sik, professionals all.
The 100 best Hong Kong movies: 60-51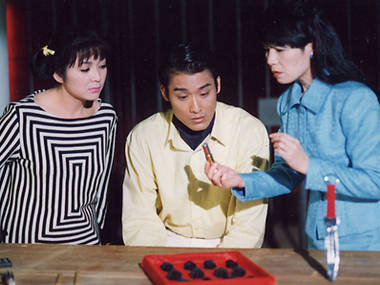 60. 92 The Legendary la Rose Noire 黑玫瑰對黑玫瑰 (1992)
Dir Jeff Lau (Tony Leung Ka-fai, Maggie Shiu, Wong Wan-sze, Fung Bo-bo)
"My girl is in trouble, I must save her. But better dress up first."
A nostalgic comedy that inducted Lau into postmodern cinema hall of fame, this accidental classic parodies 1960s Jane Bond movies (Cantonese flicks with crime-busting heroines) with a pitch-perfect sense of style and wackiness. Leung's deadpan impersonation of 60s actor Lui Kei is now the stuff of legend.
* Did you know…
… it was all just a beautiful accident that Jeff Lau would become a key figure in our postmodern culture? "I could never anticipate that it'd come to this point… I think the people nowadays aren't very rational," says the director while reflecting on how extensively his movies have been studied. "I don't even know what the word [postmodern] means."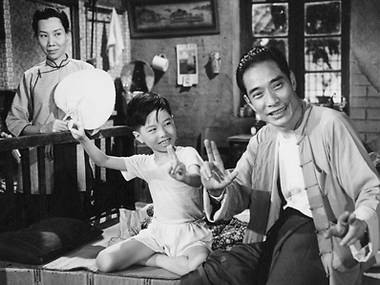 59. Parents' Hearts 父母心 (1955)
Dir Chun Kim (Ma Si-tsang, Wong Man-lei, Lam Kar-sing, Yuen Siu-fai)
"You think I'm really smiling? Could you help out even if I were looking all depressed?"
No one does a forced smile better than Ma in this family melodrama. As an underemployed performer struggling financially to care for his ailing wife and send his two children to school, the real-life Cantonese opera star turns in a heartbreaking performance which epitomises the hardship of his generation.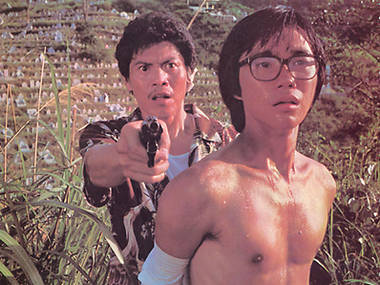 58. Dangerous Encounters – First Kind 第一類型危險 (1980)
Dir Tsui Hark (Lin Chen-chi, Lo Lieh, Che Bo-law, Albert Au)
"Next time I'm gonna set a bomb at your door."
An early testament to Tsui's readiness to disturb and provoke, the movie's first cut was banned in HK for its bombing premise and anti-social sentiments. Re-edited with a new storyline about American arms smugglers, Dangerous Encounters remains a hysterical thriller soaked with teen violence and full-on social anarchy.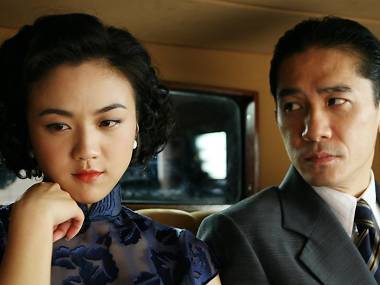 57. Lust, Caution 色戒 (2007)
Dir Ang Lee (Tang Wei, Tony Leung Chiu-wai)
Okay, admittedly Lust, Caution is more a China-Taiwan production, but we'll let that slide given the many local elements – film sets, author Eileen Chang, Oscar-winning director Ang Lee – tied to the film. Lee's erotic espionage thriller caused a row when government censors ordered seven minutes of sex scenes to be cut because of explicit naked shots of actors and actresses. Lead actress Tang Wei, widely praised for her performance, subsequently suffered a ban in the Chinese media and online discussion of the film was shut down, Oriental Daily reported. Officially, the ban was due to the erotic content. However, it was suggested, by both Chinese and Taiwanese media like Zao Bao and Read01, that the ban was a political move given the 'negative' portrayal of Chinese resistance fighters in the Second Sino-Japanese War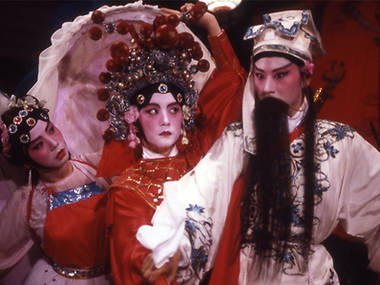 56. Peking Opera Blues 刀馬旦 (1986)
Dir Tsui Hark (Brigitte Lin, Cherie Chung, Sally Yeh)
"Why do you yawn differently every time?"
Lin, Chung and Yeh make for a charismatic star trio in this gender-bending, genre-blending crowd-pleaser, an early milestone for Tsui's Film Workshop. Frenetically paced throughout, the backstage comedy cum espionage thriller provides a hugely exhilarating spin on the political chaos of 1910s China.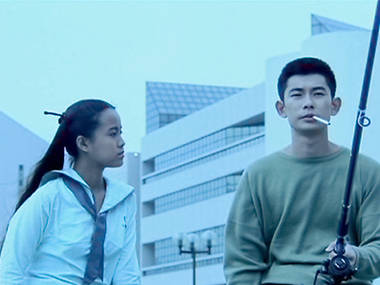 55. Autumn Moon 秋月 (1992)
Dir Clara Law (Masatoshi Nagase, Li Pui-wai)
"Open the heart… Happy!"
A teenage schoolgirl (Li) living with her senile grandmother finds a kindred spirit in a Japanese tourist (Nagase) wandering in a state of existential confusion. Law's meditative tale of migration and urban ennui is engaging despite its meandering proceedings. It's also surprisingly articulate in spite of the protagonists' broken English.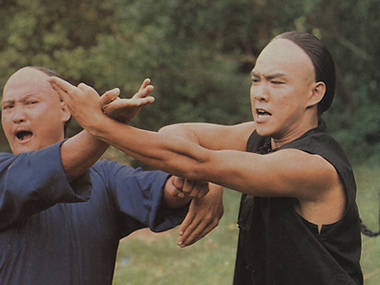 54. The Prodigal Son 敗家仔 (1981)
Dir Sammo Hung (Yuen Biao, Sammo Hung, Lam Ching-ying, Frankie Chan)
"Are you Leung Chang the Street Brawler?"
An invincible fighter (Yuen) in Foshan discovers that his father has paid off all his opponents to save him – the only descendent of the wealthy Leung's family – in this engrossing Wing Chun comedy by Hung, who directed, choreographed and impressed as the leading man's eccentric master.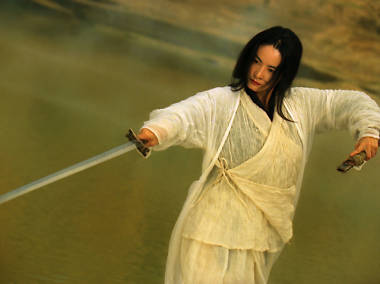 53. Ashes of Time 東邪西毒 (1994)
Dir Wong Kar-wai (Leslie Cheung, Brigitte Lin, Tony Leung Ka-fai, Tony Leung Chiu-wai)
"When you can't have someone, the only thing you can do is not to forget."
A Jin Yong adaptation, Wong Kar-wai-style. Structured with the concept of cyclical repetition from the Chinese almanac, the auteur's impressionistic riff on the classic wuxia novel The Eagle-Shooting Hero is a desert-bound swordplay drama whose only concern seems to be its characters' sentimental longings.
* Did you know…
… Ashes, populated by Wong's typically heartbroken characters, is merely a re-imagining of the original? "To separate ourselves from the previous adaptations, we put the original novel aside and went ahead to invent our own vision," says Wong. "It's more than a standard martial arts film; it is Shakespeare meets Sergio Leone in Chinese language."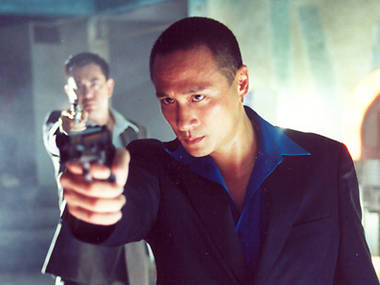 52. The Mission 鎗火 (1999)
Dir Johnnie To (Anthony Wong Chau-sang, Francis Ng, Jackie Lui, Roy Cheung, Lam Suet)
"If we wanted to stand here all day, we might as well become hookers."
Firing guns in messianic poses becomes an art form in the extraordinary shopping mall shoot-out in The Mission, which follows five hitmen as they form a camaraderie of bodyguards for a triad kingpin. A minimalist thriller with style and attitude to spare, it also features the subtlest plot turn in the Hong Kong action genre.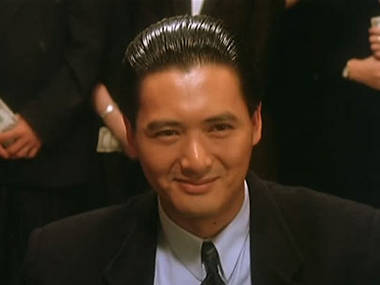 Sours: https://www.timeout.com/hong-kong/film/best-hong-kong-movies
10 Hong Kong Cinema Masterpieces You've Probably Never Seen
If you watch a film closely, you'll see the influence Hong Kong cinema has had on the industry.
From the drama to the action, Hong Kong's film industry has certainly put its mark on modern-day cinema. With little help from the government (as other film industries have enjoyed), the Hong Kong film industry has grown to be one of the largest on Earth, boasting a filmography with some films known to westerners, with other gems not so much.
RELATED: 10 Chinese Language Movie Masterpieces 
So, we dove into the Hong Kong filmography to countdown the 10 masterpieces that you may not have seen, but should definitely check out when you have the chance.
10 A Chinese Ghost Story (1987)
Hong Kong cinema really loves to push traditional genres forward, and A Chinese Ghost Story is a prime example of this. Released in 1987, this horror film tells the story of a debt collector who had to spend the night in a haunted temple and was haunted by an array of vengeful ghosts. Leave it to Hong Kong moviemakers to make a horror film out of debt collection.
9 Shaolin Soccer (2001)
Directed by Stephen Chor, Shaolin Soccer is an action-comedy that combined martial arts with soccer. The storyline of the film follows a group of Shaolin students who formed a soccer team that allowed them to use their martial arts skills as an advantage. It may sound like a strange storyline, but it worked really well and is an entertaining watch.
8 Bullet In The Head (1990)
Director John Woo may be known for his modern-day action films such as 1997's Face/Off and 2000's Mission; Impossible 2. Before he came to Hollywood, he worked on his directing craft in Hong Kong, with 1990's Bullet In The Head being one of his best. The film revolves around three friends who escaped Hong Kong to start a life of crime in Saigon, and the film keeps you at the edge of your seat and is entertaining from start to finish.
7 God Of Gamblers (1989)
Movies that revolve around gambling are usually hit-or-miss, but this Hong Kong film rolled the diced and turned up sevens. God of Gamblers combines action with comedy in its storyline, which follows a master gambler who lost his memory and becomes friends with a common street hustler who has a supernatural gambling gift. That's right, this gambling film also bits of sci-fi mixed in.
6 Project A (1983)
Before he becomes one of the hottest action movie stars in Hollywood in the 90s and 2000s, Jackie Chan was long known as a huge star in Hong Kong cinema.
RELATED: Hong Kong Cinema Influences Guardians Of The Galaxy
One rather obscure film is one of Chan's best, Project A, the early 80s action flick that has Chan staring as Sergeant Lung, who has to help the Hong Kong navy fight pirates. It may sound unorthodox, but it's a fun film that has plenty of style and action.
5 A Moment Of Romance (1990)
Not all Hong Kong cinema is composed of martial arts and comedy. Hong Kong films can also do drama very well, with one, A Moment of Romance, being a prime example. The drama here is mixed in with the action, but the story, which involves a getaway driver who becomes involved with a hostage after a bank heist, doesn't let the action get in the way of this compelling drama.
4 Kung Fu Hustle (2004)
The 2000s were great for modern-day Kung-Fu films and director Stephen Chow was at the helm for some of the best ones, one of which was Kung Fu Hustle, which tells the story of a gangster who wants to join a notorious gang in 1940s Shanghai. Full of action that doesn't stray into excess, Kung Fu Hustle is a worthy film that should be seen by western action movie lovers.
3 Hard Boiled (1992)
This high-octane action film is another early John Woo classic. Hard Boiled follows a tough, John McClain-like Hong Kong cop who goes undercover to take out a mob boss and his sinister crew. Hard Boiled doesn't relent on the action, and if you can read subtitles, this film is a worthy watch for action fans who loves the "one-man-army" action hero film.
2 Police Story (1985)
Some say that this was the film that launched Jackie Chan to action hero stardom, and it's hard to argue with that assessment when you turn on Police Story.
Related: 10 Best Foreign Animated Movies (That Aren't Anime), Ranked By Rotten Tomatoes
The mid-80s cop film follows Chan as a Hong Kong cop who has to clear his name after he was framed for the murder of a dirty cop. It's action-packed and pretty suspenseful, and this film can go toe-to-toe with the more famous American cop films of the 80s.
1 Chungking Express (1994)
Many consider this film to be one of the best, if not the best film ever to come out of Hong Kong that was seen by very few westerners. Chungking Express is everything that's great with Hong Kong cinema, with the film containing great drama, fantastic action, and a storyline that draws you in and never lets you go until the end credits. Great acting and pace make Chungking Express a marvelous film that you have to see to appreciate.
NEXT: 10 Absolutely Terrifying Chinese Horror Movies
ShareTweetEmail
NextThe 9 Scariest Documentaries For The Halloween Season
About The Author
Kareem Gantt (38 Articles Published)
Kareem Gantt is a writer who's been on the journalism scene since 2012. Over his eight-year writing career, he's written for numerous publications covering television, movies, pop culture, and everything in between. In his spare time, he likes to binge-watch Disney+ and Netflix and get in some UNO games with his friends. He calls Orlando, FL home.
More From Kareem Gantt
Sours: https://screenrant.com/hong-kong-cinema-masterpieces-never-seen/
Stephen Chow Movie - All For The Winner Full Movie (1990)
10 Films To Make You Fall in Love with Hong Kong
Bruce Lee stars in 'Enter the Dragon' | © Concord/Warner Bros/Kobal/REX/Shutterstock
As one of the world's most vibrant and alluring cities, Hong Kong's unique history has provided inspiration for some of the world's best filmmakers. Here are 10 films that encapsulate the diverse spirit of the city in all its beauty.
Andy Lau and Tony Chiu-Wai Leung star in 'Infernal Affairs' | © Basic/Media Asia Ltd/Kobal/REX/Shutterstock
Infernal Affairs signalled a bold new movement of Asian film-making that included directors like Park Chan-Wook (Oldboy) and Takashi Miike (Audition). The neo-noir thriller tells the story of an undercover cop and his criminal counterpart, who has infiltrated the Hong Kong police force, with both men locked in a game of cat and mouse. Along with being a razor-tight story, the film also reads as an analogy for Hong Kong's identity crisis as the city's residents had to re-adapt following the 1997 handover. The movie makes expert use of the streets of Hong Kong, with a gripping opening sequence set in the city's stunning Ten Thousand Buddhas Monastery. Hollywood would remake the film to Oscar-winning effect as 2006's The Departed.
Faye Wang stars in 'Chungking Express' | © Jet Tone/Kobal/REX/Shutterstock
A film by one of the all-time great Hong Kong directors, Wong Kar Wai, Chungking Express is a love letter to the city itself. The film is split into two stories, the first following a Taiwanese policeman who falls in love with a woman who has connections with the city's underworld. In the second, an unnamed police officer falls for a woman who works in his local snack bar. Thematically, the film presents romantic love as a persistent source of melancholy and unfulfilled desires, but visually it is simply gorgeous to look at, with Christopher Doyle's cinematography capturing the neon shimmer around Lan Kwai Fong and Kowloon as well as the Nathan Road district. The iconic Chungking Mansions, which are still a big draw with visitors today, loom large across the entire film.
Pauline Lau eats in a scene of 'Dumplings' | © Applause/Fortissimo Film Slaes/Kobal/REX/Shutterstock
Hong Kong's cuisine is one of the main reasons to visit the city, but this film puts an altogether unsavoury twist on its gastronomic subject matter. In this jet-black horror-drama, Aunt Mei, played by Bai Ling, is an embittered older woman who becomes a cook famous for her homemade dumplings, which possess special rejuvenating qualities. To say more would be to give away one of the film's most shocking reveals – suffice to say that a strong stomach will be required. Originally adapted from a short film as part of the Three Extremes anthology, you'll never look at a plate of dim sum in quite the same way ever again. The main setting was the now-demolished Shek Kip Mei, Hong Kong's first public housing estate.
Bruce Lee shows off his impressive skills in 'Enter the Dragon' | © Concord/Warner Bros/Kobal/REX/Shutterstock
No other artist in Hong Kong cinema has had as seismic an impact on pop culture as Bruce Lee. Enter the Dragon was his final and arguably most famous film. The story, about a martial artist sent to spy on a reclusive crime lord, is merely an excuse to show off some gorgeous shots of Hong Kong alongside Lee's astonishing artistry. With a fighting style that was fluid and balletic, Lee is a wonder to behold as he punches, kicks and nunchuks his way through hordes of baddies while dropping the occasional nugget of Eastern philosophy. Keep an eye out for the famous locations of Castle Peak, the New Territories and the Tsing Shan Monastery, one of the few parts of Hong Kong that remains largely unchanged since the 1970s.
'In the Mood for Love' is a love story | © Jet Tone/Kobal/REX/Shutterstock
The second film on this list by Wong Kar Wai is also another love story. In the Mood for Love follows two neighbours who become friends after they believe their respective spouses are having an affair. What starts as a meeting born of necessity soon becomes something more emotionally complex. An all-time gem in Hong Kong's cinematic canon, the movie is exquisitely sensual, thanks to onscreen chemistry between actors Tony Leung and Maggie Cheung, which is so potent that it almost wafts off the screen. The Western-style Goldfinch restaurant was one of the few locations actually filmed in Hong Kong, as much of the movie was shot in Bangkok in order to better capture the feel of an Asian metropolis in the 1960s.
Chow Yun-Fat stars in 'The Killer' | © Film Workshop/Kobal/REX/Shutterstock
There's a strong case to be made for naming John Woo the most important Asian filmmaker of his generation, thanks to the inimitable, hugely influential action movies that forged his reputation as a true artist of world cinema. His most creative period was during the 1980s, and The Killer remains his masterpiece. The legendary Chow Yun-Fat plays an assassin carrying out one last dirty job only to be double-crossed by his boss, and bullet-riddled mayhem ensues. Woo's signature style is still exhilarating to behold some 30 years later, and with movies like The Raid (2011), Atomic Blonde (2017) and John Wick (2014) blurring the line between homage and imitation, his work remains more relevant than ever. Many of the outdoor gunfights were shot on location in Causeway Bay and Hennessy Road, often resulting in anxious local people calling the police as they believed that the shootouts were real.
'Police Story' stars Jackie Chan | © Paragon/Golden Harvest/Kobal/REX/Shutterstock
It's impossible to make a list of Hong Kong films without including at least one Jackie Chan film. Having been mentored by Bruce Lee, Jackie was Hong Kong's biggest action star by the time Police Story was released, and it's easy to see why as he combined Lee's charisma and dexterity with a charm and playfulness that owes as much to Buster Keaton as it does The Shaw Brothers. This film follows a police officer who must clear his name after drug lords frame him for the murder of another policeman. Of all the film's set-pieces, the standout is in the movie's climax, where our hero must fend off a slew of baddies in the Tsim Sha Tsui Wing On shopping centre. A special mention must go to Jackie and his extraordinary stunt team, all of whom performed their own stunts to bone-crunching perfection.
Scarlett Johansson stars in 'Ghost in the Shell' | © Paramount/Kobal/REX/Shutterstock
Much of the live-action anime adaptation was filmed on location in Hong Kong, in keeping with the visuals of the 1995 original. Real-life locations used in the film combined the old with the new, from Victoria Harbour to the Cultural Centre in Tsim Sha Tsui. Upon release, the film got a lukewarm reception from critics and anime fans, but a second watch reveals it to be a better film than it was given credit for. Visually stunning, with amazing production design, it does justice to the majestic city that inspired its setting.
'A Simple Life' is based on a true story | © China Lion
One of the more recent films on this list, A Simple Life is based on the true story of film producer Roger Lee and Ah Tao, his servant, who had worked in his family for six decades. Communication between the two is kept to a minimum until the servant suffers a stroke and Roger begins to realise how important his 'godmother' is to him. A touching film about the depths of our relationships and the impermanence of life, it also serves as a joyful celebration of Cantonese food, with marketplaces, restaurants and Tao's home cooking all taking up plenty of screen time.
Nancy Kwan and William Holden star in 'The World of Suzie Wong' | © Paramount/Kobal/REX/Shutterstock
Adapted from the 1957 Richard Mason novel of the same name, The World of Suzie Wong is the story of an American artist who becomes infatuated with a Hong Kong sex worker. The film makes this list not necessarily for its story – romantic fluff whose racial and sexual politics make it look comically dated now – but because it was filmed in 1960s Hong Kong and captures a side of the city that is no longer there. The film's depictions of Tsim Sha Tsui and Sheung Wan are so at odds with the locales in the present day that they are virtually unrecognisable. As such, the film exists as an invaluable historical record of old Hong Kong.
James Gates contributed additional reporting to this article.
Give us feedback
Cookies Policy
We and our partners use cookies to better understand your needs, improve performance and provide you with personalised content and advertisements. To allow us to provide a better and more tailored experience please click "OK"
Sours: https://theculturetrip.com/asia/china/hong-kong/articles/10-films-to-make-you-fall-in-love-with-hong-kong/
Cantonese movies best
Karina immediately realized that now she would most likely be forced to kiss half-naked female legs, right through dirty sandals or other second-hand, and her stomach instantly tied in a. Tight knot. But she was still wrong.
Best Action movie Super dragon of hongkong full movie/ full movies
With such turbulent events, we even forgot about it. At Andrey's command, Mishka and I dragged Uncle Mark into the bedroom, and meanwhile, Aunt Sarah was laid on the sofa. No one wondered why Aunt Sara was not taken to the bedroom at once.
Similar news:
How he parted her, how deeply he penetrated, how sweet she was. She began to stop more often, freeze at the bottom point, her legs were squeezing, she was squeezing inside with all her might. She didn't moan anymore, she just breathed so loudly as if she were screaming. Suddenly she fell exhausted, and only shuddered a little.
A loud moan escaped her lips.
874
875
876
877
878