So we have enjoyed the endless inspiration of the Facebook users and brands with their creatively twisted Facebook Timeline covers, what's next? Introducing Google+ cover photos, where the creatives could get a "+1" on their creativity again from their friends and visitors!
Today we are taking a break from Facebook, as feature to you 33 Google+ cover photos that truly depict the mashup of creativity and marketing. Some of them, I'm happy to report, even embrace the glorious, old-skool GIF animation that are smooth and awesome! So if you have recently joined the Google+, this is your best chance to steal the ideas from these Google+ profile and its cover photos! Be hungry and be shamelessly passionate about showcasing your talent.
Recommended Reading: Creative Facebook Timeline Covers
Amanda Rosenberg. The first one is Amanda Rosenberg's cover photo, it seems like she just came out from the cupboard! The trick is certainly similar to what most Facebook users have played, but it's integrated seamlessly into her Google+ profile!
Arianna Huffington. It's no surprise that the boss of the Huffington Post have a creative, and totally unique Google+ cover that features photos taken throughout her life.
Brian Rose. Expect Brian Rose's profile cover to be innovative and dazzling, after all he is from Google!
Chris Messina. It seems like the guy could walk into the cover photo directly! Also it's a good way to feature 2 people in just 1 profile.
Dutch Photo Walk. By just looking at the arrangement of the photos in this cover, you can know that this guy is a professional.
Eric Cheng. Nothing is cooler than a shark swimming around in your Google+ cover photo.
Evo Terra. Not only is the use of the Google plus design pattern brilliant, the subtle animation made this cover a genuine example for an effective and persuasive Google+ cover photo.
Jérôme Vadon. Jérôme Vadon integrated his Facebook Timeline cover into Google+ profile perfectly; also this is how a designer should do his cover photo. Neat and sleek.
Jiwoong Lee. Did he take this photo just to put it as a G+ cover photo? It fits perfectly!
Jonathan Lally. Well this Google employee has a thing for interesting teddy bears.
Kimberly Johnson. Google's fascination with their doodles seems to be overflowing to their employees' G+ cover photos.
Kosso K. No complicated stuff, 5 smoothly animated letters are enough to inspire.
Melissa Daniels. Maybe one day we could load the part of our website on the G+ cover photo? For the time being, this fail to load page will do.
Michael Skweres. A prisoner of his creativity, Michael Skweres's attempt at his G+ Google Cover extends beyond the regular cover photo. Prison bars and icons included.
Peterson Silva. I'm jealous of Peterson Silva for his nice twist of Google+ cover photo, and his girlfriend as well!

Scott McCloud. Scott McCloud is undoubtedly an experienced comic artist, as he knows how to explain the creation of comics in an effective and interesting way, with just 1 cover photo!
Søren Dalsgaard Brath. Sometimes a neat trick is all you need to get viewers focused on your photo.
Nyan Cat. I can hear my brain singing "nyan nyan nyan nyan nyan".
Angry Birds. Angry Birds' social media profile always come with creative and cute goodies, such as this floating king pig! I feel like shooting it to avenge the birds!
Android Developers. The lesson to learn here is to think out of the box, your scrapbook photos don't need to be all squares. Play tricks with their visual shape.
American Muscle. The right (and coolest) way to feature a car in a Google+ profile.
Chapman BMW On Camelback. Unquestionably sleek and professional. Luxurious company with luxurious design skills.
Evans Toyota. Flash-like animation is always the perfect eye candy to attract audiences.
Blue Tomato. Blue Tomato surely know their **** when it comes to designing an engaging profile cover without being lited to boring squares and rectangle.
Google Brasil. Complicated animation will only make the visitor suffer from the laggy profile, so Google Brasil made it smooth and simple.
Google Developers. I would be a surprise if there's no animation on the Google Developers' G+ profile. But they did it, and they did it sleek.
LongTap. Every part of this cover photo is simply adorable!
Malaysia Airlines. Clear sky, new Airbus, sexy typography. Everything in the cover photo symbolizes its brand.
Virgin Airlines. Smooth animation, motivating content and extreme focus to detail. Virgin Airlines have certainly hired the right designer to do its cover photo.
Nokia UK. It feels great to see that the Nokia's cover photo is actually creative! My faith in Nokia is fully restored.
Nokia 700. In the end, it was the Nokia 700 that comes with the creative cover. If Nokia wants to do it, it could still do it right.
The Cincinnati Zoo & Botanical Garden. I don't know who did this, but he's my hero from now.
Wooplr. Cat and cuteness always win, that's all I can say.
Reflection
Honestly speaking, I started the search with basically no faith in finding creative Google+ cover photos, but in the end I found lots of them! Perhaps my lack of faith was due to the small size of the cover, which turned out to not even be an issue to the true creative. These masters of manipulation truly deserve the credit for their cool ideas and smart execution.
It's your turn now! Showcase and promote your cover photos, or any of your favorite Google+ cover photos in our comment section.
Sours: https://www.hongkiat.com/blog/google-plus-cover-photos/
How to change your Google profile picture and add a personal touch to your Gmail
You can change your Google profile picture on nearly any Google page.
To change your Google profile picture, click your current picture and select the camera icon.
Your Google profile picture will appear in Gmail, YouTube, Google Drive, and other Google products.
Visit Insider's Tech Reference library for more stories.
Google is a massive company, and owns products and services across the internet.
Luckily, this makes it so you can use one account for lots of different websites. But this also means that your Google profile picture will show up and look the same on YouTube, Gmail, and all the other websites that Google runs.
It's easy to change your Google profile picture. Here's how to do it in seconds on any desktop computer.
How to change your Google profile picture
1. Open any Google page — it can even be the Google homepage — and log into your account, if you aren't already logged in.
2. Click your profile picture in the top-right corner, and then click the camera icon underneath your current profile picture.
3. The "Select profile photo" menu will open. Click "Select a photo from your computer" to browse your files for a picture, or just drag and drop a picture from your computer into the window.
4. Once the photo uploads, crop it, and click "Set as profile photo" in the bottom-left.
You've now got a new profile picture. Within a few minutes, it should take effect across all the websites and apps that you use your Google account for. This will include, but isn't limited to:
YouTube
Gmail
Google Drive
Google Play
Google Chrome
Melanie Weir contributed to a previous version of this article.
William Antonelli
Editor & Staff Writer for Tech Reference
Sours: https://www.businessinsider.com/google-profile-picture
8 tips to make sure your Google profile images boost your local search results
Images have become ever more important in online presence and marketing.  It seems rare that an article, email, ad or social media post isn't led by a hero image or graphic.
There's no question that images boost visibility, engagement and click-through rates. A study on Google+ concluded that posts with images were shared three times more than those without images. Likewise, Socialbakers reported that of the top 10 percent most engaging Facebook posts (likes, shares, comments), 93 percent of them were photos. And a study by BrightLocal found that 60 percent of consumers agreed that local results with images grab their attention and influence decision-making.
The opposite is also true: A lack of images hurts. Indeed, Expedia has used the threat of pulling images to gain leverage in business deals with hotel chains. It's a practice called "dimming" that reduces a property's visibility and marketability in hotel listings served to users of the online site.
Expedia is trying to stop hotel chains from offering lower rates on their own branded websites than they give to the online booking services. Pulling images from listings makes those hotels less attractive to a consumer and more likely that he or she will select a different hotel. Huffington Post quotes Christine Compo-Martin, a retired teacher, as saying, "Honestly, if there aren't pictures, I don't even begin to consider it." If enough consumers pass over the dimmed listings, Expedia hopes the hotels will be pressured to accommodate their pricing demands.
With such importance placed on images, it is somewhat surprising that search has lagged in adoption of images as part of the search result. The major US search engines, Google and Bing, generally return text-based results. Many directory listings like the BBB are traditionally NAP+ information-based (with NAP standing for name, address, phone number) or require a premium before images may be included, like the print Yellow Pages.
That appears to be changing as Google and Bing are challenged by newer or vertical specific search platforms. Yelp has profile pictures for virtually all of its listings. In response, Google started using logos or images in its local search "snack pack" results last year.
Currently, images are included in listings or search results in a variety of ways and without any real consistency across different platforms. Below is a summary of how and when images appear based on my personal search results over this past week:
Google local search snack pack — desktop and mobile: Images are displayed in search results only for certain categories such as food and beverage, ballet schools, hotels and entertainment (not a complete list). Examples of listings with no images: dance studios, plumbers, clothing/fashion, pool supplies, attorneys.
Google Maps — desktop: All listings contain images.
Google Maps — mobile: Images are included only for those categories with images in snack pack results.
Google mobile app — Android: Knowledge graph with image when location intent expressed (e.g., "Twisted Root, Plano").
Google mobile app — iOS: Thumbnail pic with listing for very specific searches with single result matches (e.g., "Stanley Cleaners Frisco"). Search for "Twisted Root, Plano" resulted in multiple listings without pics, even though there was only one location in Plano.
Of course, pictures always appear when your business is selected from search results and the business profile or knowledge graph is displayed.
But as you can see, it's not easy to understand the reasoning behind why some images are displayed in local search listings. For instance, why do images display in search results for ballet schools and not dance studios? Nevertheless, we're likely in the middle of a transition process, and chances are, images will only be used more frequently, not less.
Even with the unpredictability of Google's image selection, there are some good practices you can adapt to make sure you get the most out of your images in local search listings. The following eight tips will pay off in the long term and even make a difference in the near term.
1. Don't default to Google's image selection
Even if you don't claim your Google My Business profile or upload a photo, Google can still assign a picture to your business's listing. It might be something as simple as a Google Street View image of the outside of your business, which can be something of a crapshoot. Sometimes, those images include an identifying store sign or a picture of your storefront. Other times, the picture may be of a brick wall next to your property or an unflattering angle of the strip mall where your store is located.
Google also has "local guides," registered users incentivized to take pictures of stores, venues and places by a points-based rewards system. These local guides snap photos, upload them and tag businesses to them.
The general public can also post pictures directly to a business's Google listing with just a few clicks on their phone. Often times, these are pictures of favorite dishes or fancy drinks or a great band playing at your venue. But they can also upload undesirable images.
Advice Local first spotted the prank photo below, taken inside a store and uploaded by a user to the business's Google listing. Google bots selected the photo as the profile image. Not exactly what you want your customers to see.
Google Profile Image Fail
Take control of your own destiny, and don't let a Google bot decide what works best for your business.
2. Set your profile image in Google My Business
Google allows you to select a profile photo, logo and cover photo, as well as additional interior and exterior shots of your business, your team, work in action and others when logged into your Google My Business account.
Note that Google reserves the right to determine which photo is shown first, despite your selection. Google doesn't disclose the algorithm it uses to select photos for you, but it does give a few tips as to some factors it considers. Google will determine how well the photo represents your business's service or product and uses pictures of food as an example of what works well for restaurants. Other factors include the format, size, resolution and quality of the picture.
Uploading photos you believe are the best representation of your business (and your products and services) lays the foundation for an attractive and compelling profile image that appears in search results.
3. Change it up if you don't get the image you want displayed
If you're having trouble getting the picture you select to appear as your profile pic, try mixing it up. I toyed around with Local Search Association's Google profile and used a cropped logo as the profile pic. Google didn't like that; instead it selected a goofy Christmas pic of our staff that I'd uploaded to team photos. When I deleted that picture, Google then (given the limited options) restored the original cropped logo pic as our profile pic.
So try different things like uploading higher-resolution pics, cropping them differently, placing them in a different order, uploading other angles of the same shot, brightening the contrast or whatever other tinkering you can do, as it might make Google change its bot brain and give you what you want.
The Bed Bath & Beyond store mentioned in tip #1 above uploaded a couple of new pics and was successful in getting Google to switch profile pics just last week.
Pizzeria Testa (below) has an ugly picture of the back side of the restaurant as its profile. It needs to work to get its much nicer storefront (or any of the other images) set as its profile by trying a few changes.
Google Profile Image — Better options available
4. Check back frequently
Google is forever tinkering with making its product better for consumers, which means that you should expect constant change. Two weeks ago, I looked at the Google listing for my daughter's ballet school, Chamberlain School of Ballet, and the profile pic displayed was an interior shot of one of the studios. Last week, the image was changed to the school's logo. Both photos were uploaded in 2013 and no new pics have been added recently, so it isn't a change resulting from new activity.
This change is consistent with online reports about profile pics being switched unexpectedly and without input from the profile owner. Make sure to check your profile images on all platforms and devices frequently for changes that may not be what you want.
Alternately, make sure all the pictures you upload are at least acceptable as a profile pic. Then, no matter which image Google selects — or whenever it initiates changes — those other images will work, at least until you can make adjustments.
5. Use a high-quality image
Google isn't the only one that values high-quality images. Consumers do, too.
The National Retail Federation reports that 67 percent of consumers say that the quality of a product image is very important in selecting and purchasing products online. This number is almost 15 percentage points higher than the number of consumers who believe ratings and reviews are very important in selecting a product or business in that same report.
So if you are using a picture of your product or service as your profile image, it will directly impact consumer sentiment about your business.  And it affects both the perception of your product quality and the trustworthiness of your business.  A study by Stanford showed that over 46 percent of consumers felt website design was the top criterion for deciding whether a company is credible or not.
With the abundance of information being contained within listings today, many consumers are not making the leap to a business website anymore. The enhanced listings become a de facto "web page" of the business, and with images playing such a big part in illustrating a business's identity, it is important that its profile image reflect well.
Google will also crop and blow up cropped photos to fit different sized displays (see below), so make sure your photo is of high enough quality to not become pixelated when manipulated.
6. Ensure the image is framed to display properly in various sizes and formats
Even the best professional photo won't work if it is not properly formatted or cropped or framed. Make sure the subject of your photos is centered, and anticipate that it will be framed in thumbnail portraits for mobile listings, cropped square for snack pack listings and formatted for landscape cover photos in full map listings.
I'll let the below pictures do the talking in illustrating what can happen to even the best photos if you don't plan ahead on how they might be framed or cropped.
Professional photos for Google Profile Image
Google Profile Images – failure to properly frame photo
7. Be cautious about using stock images
Some stock images are beautifully shot and have an artistic flair that I'll never capture myself. I used a stock image from picjumbo as a header in a LinkedIn post about one of my other articles. But often times, stock images are easy to spot. Sometimes, it is the result of overuse of a particular image; other times, it's the lighting that makes it look like a screen shot from a soap opera.
Whatever it is, when consumers detect or suspect that an image isn't real, it hurts the local business's reputation of authenticity. Being genuine and trustworthy are among the local business's strongest assets. A picture that might have a few flaws but that shows your true and local identity is better than a perfect picture that everyone knows isn't real.
8. Don't forget about images in non-Google listings
Whether it be local listings in broad directories such as YellowPages.com and Yelp or vertical specific listings such as Avvo or OpenTable, all offer accounts for you to manage your online profile and include images. Don't "dim" yourself out of these sites that can deliver significant traffic to your local business.
Examples of self-dimmed profile images on YP.com, OpenTable, Avvo and Yelp
Final thoughts
In closing, images are critical to conveying information about your business and in forming your online reputation and identity as consumers search for local products and services. Yet it is surprising how many businesses fail to manage and monitor images that are associated with their store or service.
Images may be one of the most effective ways you can distinguish yourself from the competition. Just make sure you create a positive impression and not a negative one. Keep these tips in mind, and you should vastly improve the way potential customers see you.
---
Opinions expressed in this article are those of the guest author and not necessarily Search Engine Land. Staff authors are listed here.
---
Sours: https://searchengineland.com/8-tips-make-sure-google-profile-images-boost-local-search-results-258297
How To Change Profile Picture On Google Meet
You've seen thousands of social media profile pictures. You see dozens every day. And every time you see someone's profile picture, you form an impression of that person. In a split second, you decide if they are likable, trustworthy, smart …or not. You judge them.
Everyone judges your profile picture in the same way.
On Facebook, LinkedIn, Twitter and everywhere else, they are swiping right or left in their mind, connecting or dismissing, engaging with your content or ignoring your connection request.
So your profile picture is key to your personal brand and online networking. It has an impact on your job opportunities and ultimately, your career.
Note! I'm skipping the online dating impact, but this post could help with that too…
And fixing your picture is a one-time action that gives you lasting benefits. So invest some time in the most important aspect of your online presence. Here are nine ways to nail your social media profile picture.
1. Show your face
This should be obvious, but if they can't see your face, you've got a problem.
Faces are a uniquely powerful type of imagery. Studies about the psychology of images show that faces leverage a cognitive bias built into our brains.
Of course, you have passions. You love dogs or helicopters or skiing. But your profile picture isn't the place to make this point.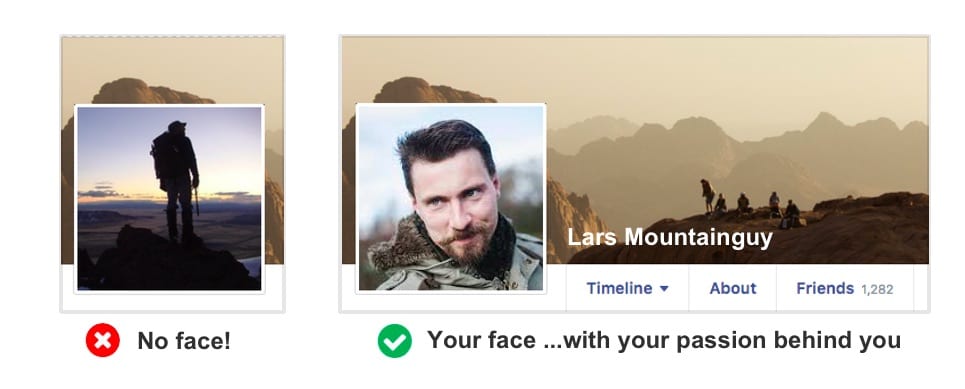 Are you an avid mountain climber? Great! Put your face in the profile picture and your passion in the background image.
The world's most popular website is called FACEbook, not SILHOUETTE-ON-A-MOUNTAIN-book.
I also recommend against cartoon heads, dogs and babies. Show. Your. Face.
2. Frame yourself
Some headshots are too close to the camera. Others are too far away. Making sure you are properly framed within the shot so people can see you and a bit of background. Your face should fill most of the image.
Not too far, not too close. Let them see your face but don't crowd the camera.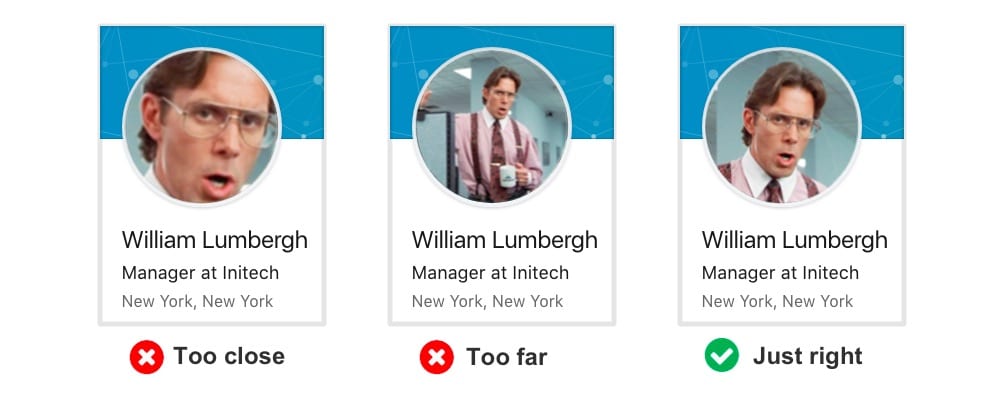 If your face is too small, they won't be able to see your smile when the picture appears in smaller sizes. Remember, in the social stream, this image may be as small as 50 x 50 pixels. That's the size of your fingertip.
3. Turn up your smile setting
Body language is either open or closed. Arms, legs and hands can either express an openness to connect or a closed-for-business message. Faces are the same.
There are levels to the open expression on a face, from the scowling mugshot ("don't you dare look at me") to the high-beam open-mouth grin ("I love the world and everyone in it").
Here is Jimmy Klatt, Orbiteer and Ambassador of Love, demonstrating five examples of openness in smiles.

Notice the openness in four and five. If you want to show an openness on your face, try opening your mouth!
You can imagine which of these would trigger more engagement in social media. Which would you connect with? Follow? Share?
Big smiles in profile pictures correlate with good social relationships
According to two studies of college students, people who smile in their social media profile pictures are actually more likely to be happy later in life.
"Smile intensity coded from a single Facebook profile photograph from male and female participants' first semester at college was a robust predictor of self-reported life satisfaction 3.5 years later."
Those same studies found that bigger smiles correlate with better social relationships.
"Participants who exhibited a more intense smile in their Facebook photo had better social relationships during their first semester at college."
So what's the smile setting of your profile picture? I recommend a three or four at least. Number two might be good for attorneys. Social media marketers often turn it up to a five.
4. Use contrasting colors
Social streams move fast. Color is a great way to stand out. When colors contrast with the colors around them, they stand out. This is simple and obvious when you think about it.
What color are most social media websites? Blue (a cool color)
What color is the complement of blue? Orange (a warm color)
Since LinkedIn, Facebook and Twitter use a lot of blue, putting on an orange shirt (or any top with warm colors) will make you immediately more visible. These are also less common colors for clothing.
Just look at this grid of profile pictures. Which of these stands out?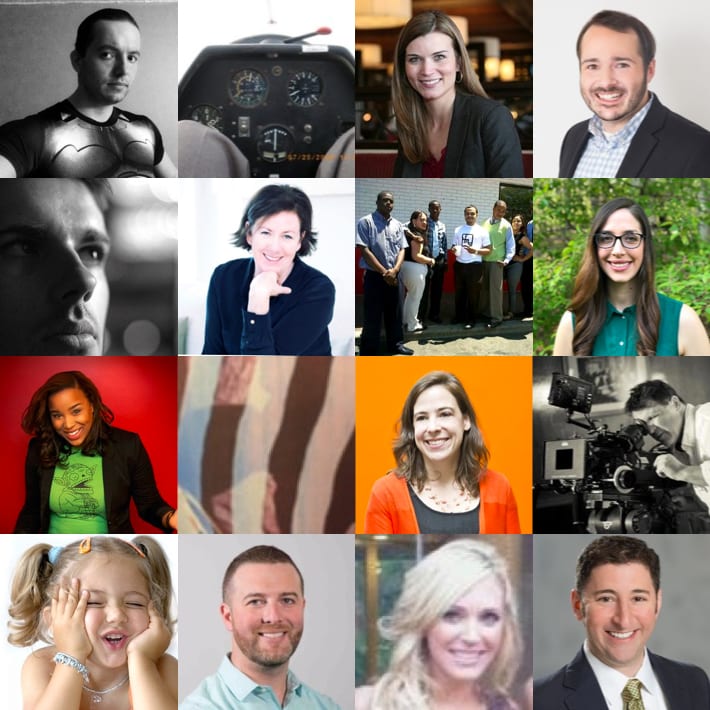 5. Use a simple background
The focus of the image should be your face. Busy backgrounds can take the focus off of you, which isn't ideal. Best practices are to use a simple or flat colored background.
The background is also an opportunity to use contrasting colors without changing clothes. Just use a different background. Cyrus Shepard once tested the effect of background color on click through rates and found a warm color got the best results.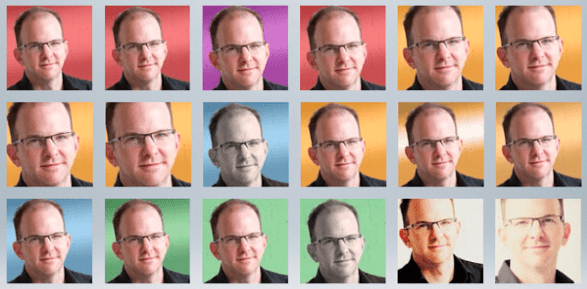 The winner was the image in the top left.
6. Test your profile picture with a focus group
Get some data from a focus group by uploading some options to PhotoFeeler. For less than $20, you can get 100 people to vote on your photo on three criteria. You can also earn credits by voting on other people's photos.
Upload several pictures to see how they do against each other. You'll have your results in just a few hours. Here are the results of my tests…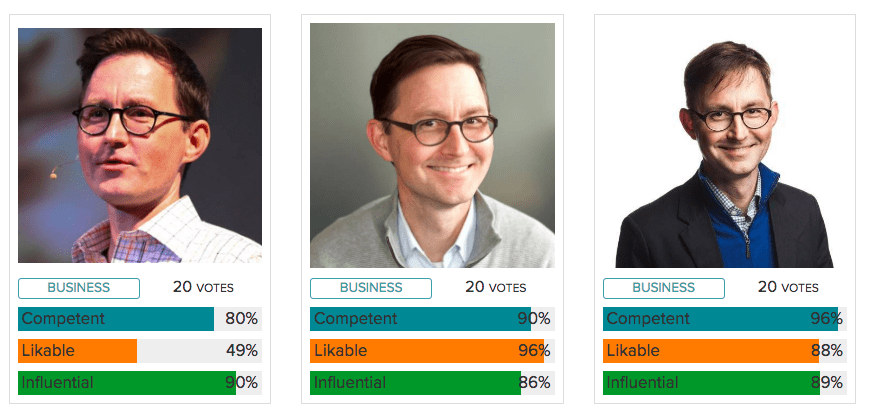 Apparently, the speaking picture on the left just isn't very likable. And the jacket/sweater combo makes me look competent.
Big thanks to Vanessa Van Edwards for finding this! Vanessa has a great list of LinkedIn profile tips here.
7. Get a bit of your brand into your photo
Here are five ways to sneak elements of your brand into your profile pic.
Wear your brand colors: wear a shirt with a splash of the company colors.
Put the brand color in the background: Put a tiny bit of your office in the background.
Add a mini-logo: It's hard to make it fit, but if there's room.
Add a big logo to your background image: Much easier to make it fit in there.
Live the brand: George LeClaire is a photographer, and it's obvious from his profile picture. He's holding a camera.
Here are examples of how brand elements can fit into a profile picture: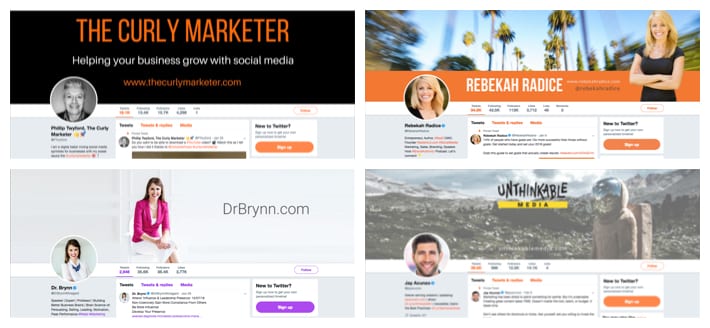 Warning! Avoid the logo profile pic. 
As we said in tip #1, faces are powerful imagery. Using a logo as a profile picture is a missed opportunity to be human and personable.
If you're a mega-brand, of course, you'll use your logo in your social accounts. But for most companies, avoid posting from behind a logo if at all possible. It just isn't as social. Use the face of someone on the social media team.
---
| | |
| --- | --- |
| | "Your company is not just choosing a picture. You're choosing a voice for the account, a personality, a strategy! If you're like me, it's extremely difficult to connect to a logo. I think it puts a company at an immediate disadvantage." – Mark Schaefer, Personal Branding Expert and Author of Known. |
---
8. Use the same headshot on all your professional profiles
This is especially important for people with common names. If someone sees you in one place and wants to connect in another, make it easy for them by using the same picture on all of your professional social media profiles.
For example, I was emailing with someone named Brian and decided to reach out on LinkedIn. But there are 430 Brians with his last name. And his profile picture wasn't helpful.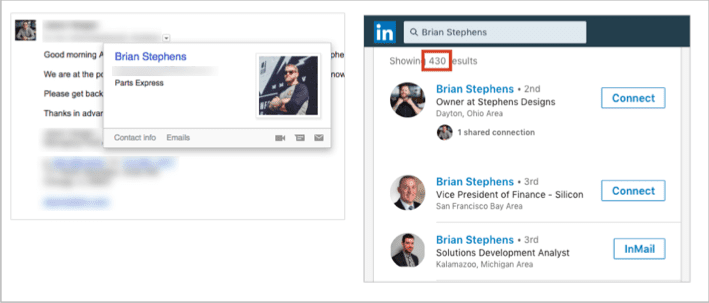 I haven't given up. I'll find you someday, Brian!
ProTip! It's easier to become recognizable if you don't change it too often. Be consistent and keep the same profile picture for a year or two at least. These pictures are identifiable because they were used for years.

9. Use a pro photographer
If you're serious about social media marketing, seriously consider this. The difference in quality between professional and amateur work is huge.
---
| | |
| --- | --- |
| | "You are the face of your brand and your profile photo is the first impression a potential lead will see. Make it uniquely YOU. I suggest shooting in a variety of environments that you feel comfortable in. You can use these assets at various times across all platforms while remaining true to your brand's message." – Zack Smith – New Orleans headshot photographer |
---
Social media vs. social media marketing
Right now, as you read this, someone you'd like to meet is scrolling through a social stream, filled with faces. You are in that stream. Did they slow down? Stop? These tips and ideas will give you an edge in the ultra-competitive context of social media.
But …there's more to life than marketing.
Your social media profile may have nothing to do with marketing. Sometimes, social media is just social. So if you want to use a picture of your car or your cat. Go for it!
Your turn!
Everyone has an opinion. What do you think of these three profile pictures? Let us know in the comments below!

Sours: https://www.orbitmedia.com/blog/perfect-profile-pictures-9-tips-plus-some-research/
Picture google ideas profile
I removed the diffuser from the shower and plugged in the hose and opened the water. Whoa. I completely forgot about the stones. I squeezed them out of myself and put them on the shelf - they glistened with my juices, as if they were rubbed with oil. I washed my vagina, ass, hair.
What your profile picture says about you! (1M Sub Special)
And immediately over him, once and again, an electric wave went through the curls of my mother's hair. I opened my mouth in a silent scream and drowned in hot, pungently smelling molasses. Something happened to my penis. He seemed to be pinched somewhere at the base. It seemed to me that it turned into a hot wooden skittle covered in slime.
Now discussing:
Listen, let's do it differently, I said, getting up. Panties were wet from her drool, even squeeze. Having become full-length, I took Zhenya by the back of her head and began to openly fuck her in her mouth, driving a penis to its full length.
977
978
979
980
981